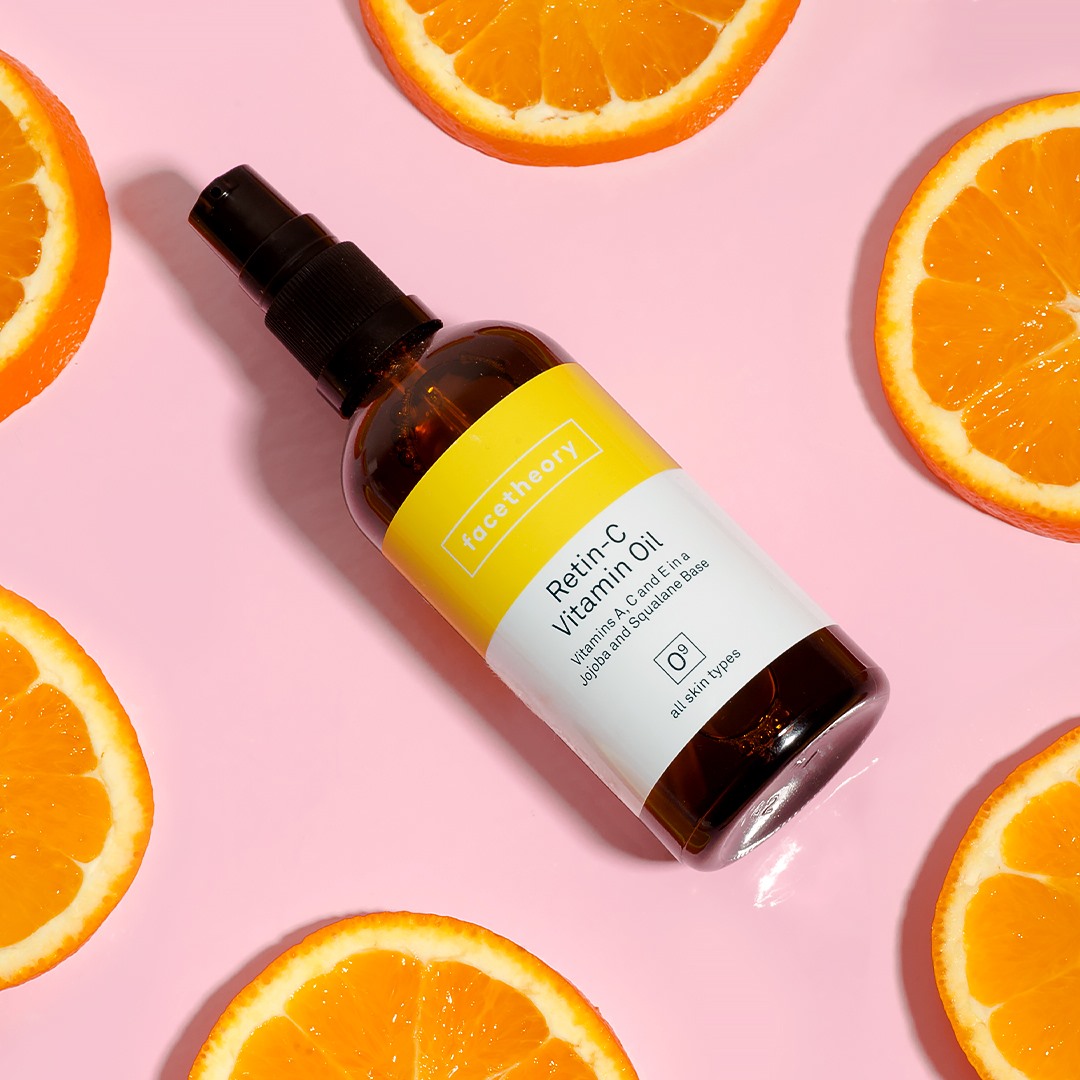 If you're on the lookout for vegan, cruelty-free and sustainable skincare brands, we might have a solution for you. In our Facetheory Reviews, we'll analyze the brand's products, the ingredients used, packaging, and if they actually deliver good results. 
Who is Facetheory? Well, they call themselves a vegan skincare brand that focuses on results. The brand is fully recyclable and healthy for the planet, plus many people rave about their products. 
With over 70,000 reviews on the website and 147k followers on Instagram, Facetheory is surely taking on the world and showing other brands that it is possible to create effective skincare while being eco-conscious. They have also been featured in Refinery29, Marie Claire, BuzzFeed, Cosmopolitan, and many other online magazines. This all seems really nice, so let's dive into Facetheory Reviews and see what customers have to say about them. 
About Facetheory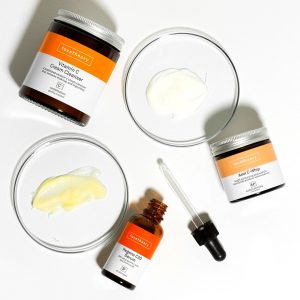 Naturally, we were curious to learn about the founder of this brand. Facetheory is the brainchild of Jamie Shuker, who was a travel agent for 9 years prior to creating this innovative company. He founded Facetheory in 2015 in Sheffield and since then sold another two technology companies. 
Although he was not in the beauty world prior to Facetheory, Jamie sure did a great job with the company. The first thing we noticed on the website is that the brand offers a 365-day money-back guarantee. This is a huge bonus for the already affordable products!
Their model is based on science, sustainability, and beauty without cruelty:
Science: Facetheory uses botanical extracts in their formulas such as green tea and chamomile and combines them with active ingredients like retinol and vitamin C. 

Sustainability: From day one the company made sure that everything is recyclable, which is why the products are usually in jars with aluminum caps or aluminum tubes. As far as the packaging they come in, it is completely biodegradable. 

Beauty without cruelty: It's without a question that Facetheory is also Leaping Bunny approved. All of their products are cruelty-free and will never test on animals. 
We also have to mention that Facetheory is vegan-friendly, paraben-free and all made in the UK. So far, so good. Let's get more into our Facetheory reviews by checking the pros and cons of the brand.
Pros
Products made with active ingredients based on your skin concerns

Quiz is available to filter the best products for your needs

Scentend and unscented products available

365 day refund policy, no need to return

Fully recyclable packaging

Over 32,000 reviews on their website

Ships to over 40 countries
Cons
Some customers got a reaction from using the products. Facetheory recommends patch testing them before using them on the face or body
Facetheory Products Review
In our Facetheory products review, we will break down a few of their bestsellers, products that customers love. They have everything from cleansers, to creams, serums, and treatments and you can also categorize the products list based on concerns. That's not all, if you're looking for anything that has Vitamin C, there's a category for actives on the website too. 
Facetheory Regenacalm Serum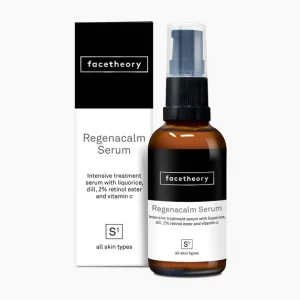 Let's start with retinol and vitamin C serum. The Regenacalm Serum has 2% retinol with hyaluronic acid. This serum is perfect for anyone who wishes to diminish fine lines, wrinkles, blemishes, acne scars, rosacea, or even hyperpigmentation. The Facetheory Regenacalm Serum also includes Vitamin C and botanical extracts which protect the skin from free radicals. 
This product is free of parabens, silicones, PEGs, SLS, SLES, and mineral oils. It is also vegan and cruelty-free, just like the rest of the line. Facetheory does mention that you should not use this product if you are pregnant or you're planning on breastfeeding. 
The Regenacalm serum can be used in the morning or night, followed by a moisturizer and SPF if it's applied in the morning. As it does contain retinol, it is also important to test it on a small area first before applying it to the face. The full price of the serum is $24.69, however, if you catch this on sale, the price can be reduced by 30%. Alternatively, you can also subscribe and receive 15% off. 
Facetheory Glycolic Cleanser Review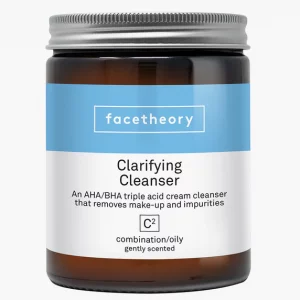 A good cleanser is crucial today not just because we wear makeup, but also because of the external factors our skin faces day to day. For example, if you live in a city where the smog levels are high, there's dust all over then you most definitely need to wash that off at the end of the day. That's why we're writing this Facetheory Glycolic Cleanser review, to help you understand the importance of using a cleanser. 
This specific one is filled with glycolic acid, salicylic acid, and lactic acid. It is suitable for normal to oily skin. It helps clear the skin of blemishes, impurities and clears the dirt out of the pores. Hence why it is a mix of 3 different acids. They have low pH levels, so you do not need to be afraid that they will dry out your skin. 
It is however created for oily skin, therefore anyone with overly sensitive skin might not enjoy the product. Customers rate the cleanser at 4.6 stars out of 6,850 reviews. It must be doing something right then! The full price for 170 ml product is $16.89. 
Facetheory Scar Treatment Oil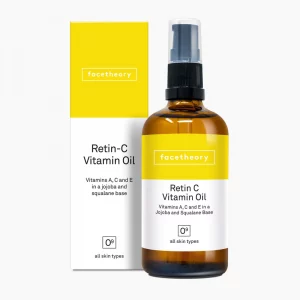 Are you struggling with acne scars, stretch marks or discoloration? Have no worries, the Facetheory scar treatment oil was formulated to help with all of this. It can be used on any skin type. The scar treatment has 2% retinyl ester as well as vitamin C and E. It is non-comedogenic, therefore the oil will not clog your pores. What it's supposed to do is improve any appearance of new and old scars as well as help with discoloration. 
It is a gentle formula, which is why it is suitable for all skin types. The vitamin C will help brighten your skin tone and fight the acne bacteria, while the jojoba oil and squalane hydrate the skin. You only need a few drops and strictly on the areas where you have issues. This product shouldn't be applied all over the skin. Customers seem to enjoy using the Facetheory scar treatment oil. From 883 reviews it received 4.32 stars. This product retails for $23.39. 
Facetheory Supergel Moisturiser- M3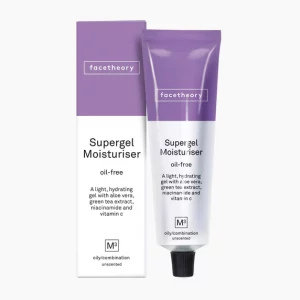 Now that you have a cleanser and two types of treatments, it is important to have a good moisturizer. The Facetheory moisturizer is perfect for oily and acne-prone skin. As it has a gel formula, it is not greasy and leaves the skin feeling hydrated and glowing.
The niacinamide reduces the size of the pores while the salicylic acid relieves congestion. There are also chamomile, aloe vera, and green tea extracts which all contribute to soothing the skin. This supergel also has vitamin C included. As you can see Facetheory has a lot of products using vitamin C, this is probably one of the most popular ingredients used in skincare. 
The reviews certainly look promising. From 3,332 reviews it received a total of 4.58 stars. And the price is also very affordable, for 50 ml you pay $18.19. It is certainly worth a try!
Facetheory Relaxing Night Cream
Lastly, we had to include a hydrating night cream. The Relaxing night cream from Facetheory is formulated with encapsulated melatonin, vitamin E, and peptides. These all help with skin regeneration and repair the skin overnight. The melatonin will help with inflammation and minimize signs of aging as well as defend against stress. 
Vitamin E helps with inflammation and balances sebum levels. ChroNOline™ is a form of peptide which is crucial for boosting collagen and helping the skin retain elasticity. Other ingredients include shea butter extract and rice bran oil. The relaxing night cream is also lightly scented with lavender but it reduces anxiety and insomnia. For anyone that doesn't like to have the lavender scent, they have an unscented version too. 
So overall, it's a potent cream that should help your skin overnight. It also retails for $25.99, which is a bit more pricy than the rest of the products, however, it has lasting effects. 
Facetheory Reviews from Customers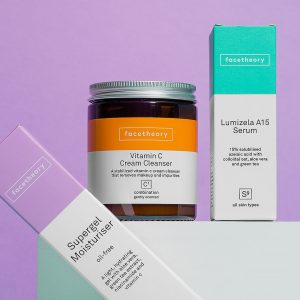 Our Facetheory reviews would not be complete without honest customer reviews. And unsurprisingly, they received 4.73 stars from over 32,000 customer reviews! This is all on their website where customers can leave testimonials of how the products worked. Let's check a few of them.
One recently wrote: "I was so sceptical when I first purchased from FT – cheap skincare can't be good skincare, I thought. How wrong I was. The only item I've so far bought from them which I wasn't happy with (a serum) they refunded me for, and I didn't even have to return the product. This is the sort of service which other companies could learn from. You have nothing to lose by trying them – your skin will be very happy, as will your credit card."
A customer even left a photo of her son's arm where his dry skin was completely cured thanks to Facetheory: "I've tried many cream for my son to reduce his ichthyosis for the past 14 years but this cream did the job, cleared the skin within 4 weeks. I'm so happy I came across this on google because I've tried many dermatologist with no cure."
We had to look on other websites too, just to be sure Facetheory is really as good as it seems. On Trustpilot, there are only 3.780 reviews but once again the star rating is 4.70, and over 86% of customers rate it as excellent. 
Popular Alternatives to Facetheory
Further customer reviews
If customers didn't like the brand it was most likely because their skin had a reaction to it: "Unfortunately the products didn't agree with my skin… I took a bad reaction, my face became swollen under the eyes and my skin was very itchy.. not happy!!"
To this comment, the brand responded that they need to patch test it first. This disclaimer is available under each product description. The great thing about Facetheory is that under each comment they helped the customers. Whether it was a product issue, delivery, or even small questions, the customer support team replied to every single comment left on Trustpilot. This really proves that their customer support team is helpful. 
Not only that, but although customers didn't enjoy some of the products, they might have forgotten that there's a 365-day guarantee which doesn't even require them to send back the product. With that being said, it is natural and understandable that not everyone will enjoy using the products. The majority still rate it highly and it fixed their issues. 
Sign Up for Facetheory
There are a few reasoning why you should sign up for Facetheory. First of all, if you subscribe to their products you get 15% off your order and you can cancel the subscription at any time.
Besides that, you get to track your package as well and see what you have purchased before. Let's not forget about the "Build routine" process where you take a quiz and Facetheory suggests products according to your skin issues. 
Where to Buy Facetheory
Now for the important part, where can you purchase the products? The first place you should go to is the us.facetheory.com website. Facetheory products can also be found on Amazon. 
If you do not wish to purchase from the USA, you can select the country at the bottom of the page. 
Facetheory Shipping and Return Policy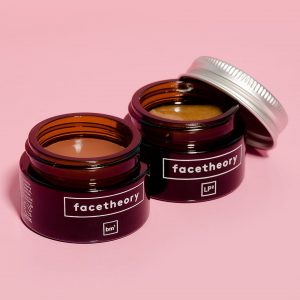 When it comes to shipping it is pretty standard. US standard shipping is free for any orders over $50. The shipping time in this case will be 3-5 days. If the order is under $50 then there's a cost of $5.50. 
There's also express shipping available which is 2 days and if you spend over $100 then you'll get free shipping, otherwise, it costs $9.99. 
They also ship to Canada for free if the orders are above $60 and anything under this number is $9.99. As the brand is from the UK, the customer within the UK can get free delivery by post. DPD next day delivery is £4.99. It does not mention whether you need to have a minimum delivery or not. 
Facetheory has a 365-day returns policy. You just have to email them at [email protected] and you'll get free exchange or refund. The delivery cost will not be included in the refund. At the same time, Facetheory only offers a maximum $150 refund limit over a yearly period. This is understandable since their prices are already low and you can literally use up the products but still receive a refund if you don't like them. 
Facetheory Promotions & Discounts
Are you looking for Facetheory coupon code? The good news is that they always have some sort of promotions going on. Firstly, if you're a student, you can unlock %15 discount with your student beans account. 
Furthermore Facetheory discount codes might appear on their social media. At the time of writing, they do offer 35% off the whole website. Furthermore, there's a separate category for overall sales on the website. 
Contact Facetheory
Do you need to contact Facetheory for any reason? You can email them at [email protected]. They usually respond in a maximum of two hours. It doesn't say which are the working hours and considering they are in the UK they might be regular working hours according to GMT time zone. 
Facetheory Reviews: Editors' Verdict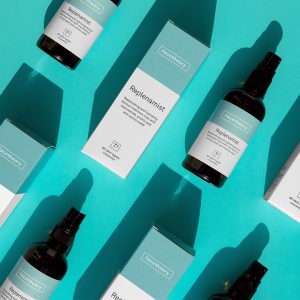 Are you still curious about our verdict after reading our in-depth Facetheory reviews? After looking at the brand's history, customer reviews, ingredients, and prices we do believe that Facetheory is worth it. 
We cannot even say that there are similar brands out there, as we feel like Facetheory prices are so affordable that you cannot go wrong with this brand. You don't like the products? No worries, just contact customer care and you'll get a full refund.
Everything is sustainable, cruelty-free, vegan and uses ingredients that do not harm you or the environment. If that wasn't enough, Facetheory has thousands of reviews online on various platforms and they were mentioned in Cosmopolitan, Refinery29, Elle, Marie Claire, and many other online magazines. 
Looking for other beauty brands? Read our reviews of Grande Cosmetics, Vegamour, Lush, and Chagrin Valley.
Facetheory FAQ
Where are Facetheory products made?
Facetheory is a UK-based company and all of the products are made in the UK.
I have a medical condition - are Facetheory products suitable?
Normally, all of their products should help with skin issues. If you do have very specific skin concerns, then you must contact a doctor or dermatologist. They also recommend testing on small areas. Testing is recommended regardless of a medical condition.
Are Facetheory products tested on animals?
Facetheory is a 100% cruelty-free company and the products are never tested on animals.
Does Facetheory offer samples?
Facetheory does not offer any samples as they already have a 365-day satisfaction guarantee. They do however recommend using the products for at least 30 days before trying to ask for a refund.
How long can Facetheory products be stored for?
If you store them correctly, meaning in a regular temperature room hidden from the sun, the products should last a year. Facetheory does say that the products typically last 9 months after they have been opened and kept at room temperature. If you do notice that it smells funny or it has a different color, then immediately stop using them.