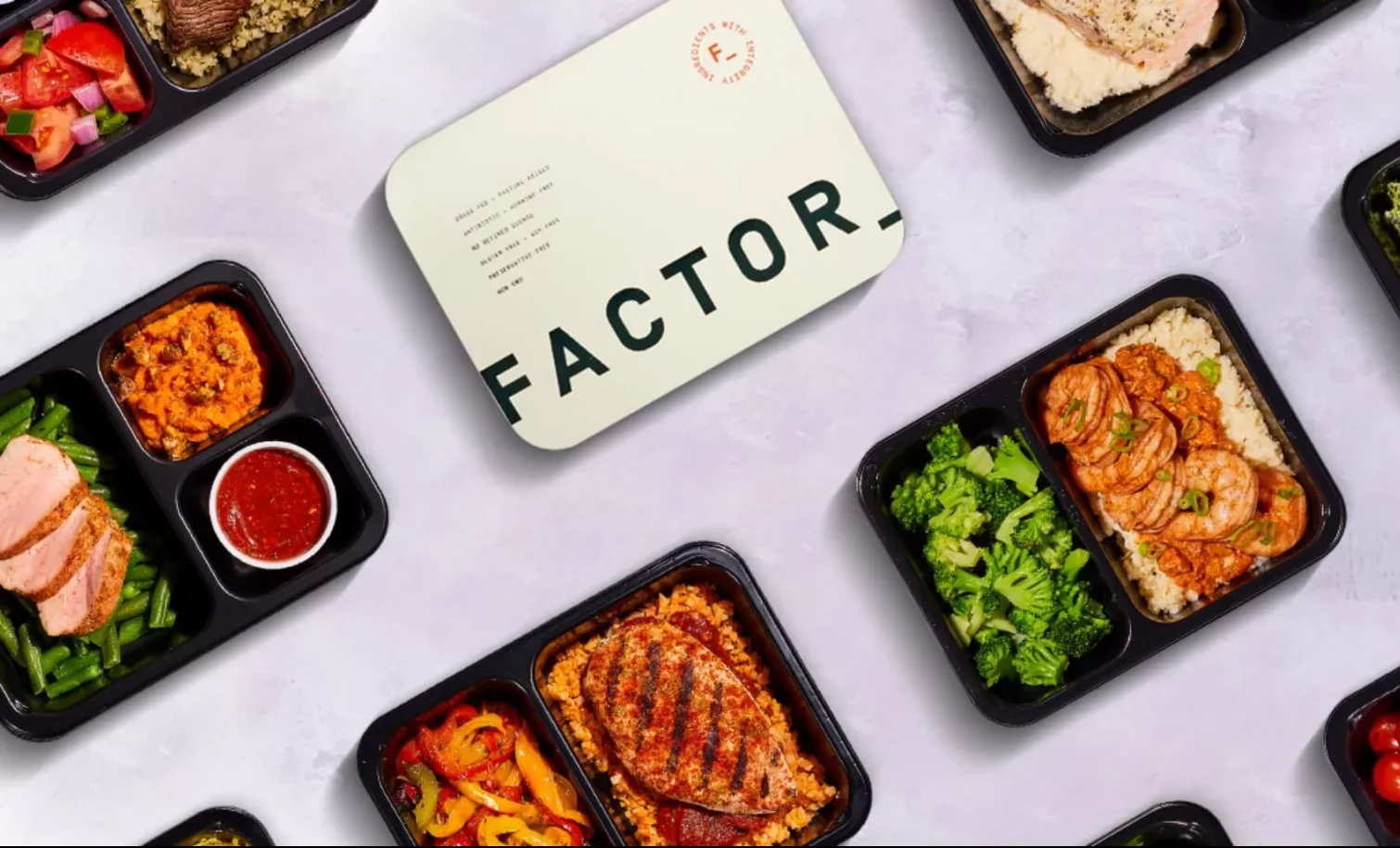 Have you ever struggled with healthy eating before? The answer is probably yes. It has never been easier and difficult at the same time to maintain a healthy lifestyle. Difficult? Why would we say that? Well, you have so many options for extremely healthy food and there are also options for processed foods. The latter ones were created to be addictive, to never feel like you are satisfied after you have finished a meal. So how do we choose healthy options? With this Factor reviews, we'll demonstrate how easy it can be to have healthy meals which are also delicious. 
We will also look into why you should choose Factor instead of other companies. Why is it different, where is it available, and if it's affordable enough or not. If you're trying to get into a healthy lifestyle, but not sure which meal subscription company to choose, then just keep on reading our Factor reviews and find out if they are suitable for your needs. 
About Factor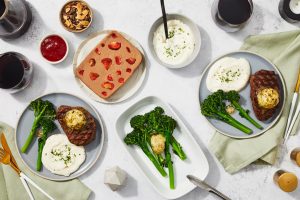 You have probably heard of HelloFresh by now. It is a meal subscription company that delivers fresh food on a weekly basis and you can create delicious meals. HelloFresh is also the company that acquired formerly known Factor and now just Factor in order to strengthen this type of subscription in America as well. 
But who founded Factor? Although there isn't too much information out there about the story of this company, we were able to find out that Nicholas Wenimont is the founder of Factor. The company started delivering in 2011 and as per online sources, it was acquired by HelloFresh in 2020. 
There is, however, a difference between the two companies. While HelloFresh delivers fresh ingredients for your meals, meaning you will have to actually cook the food, Factor delivers already made meals that you only need to heat up. This is probably more convenient for anyone who is aiming to eat balanced meals but without the hassle of cooking. Factor "takes the stress out of healthy living'', while providing fresh, ready-prepared meals to support your very busy life. 
Factor was featured in Forbes, Cosmopolitan, Good Housekeeping, USA Today, and CNET. It also has a great amount of followers on Instagram and Facebook.
Now that we are more familiar with the company, let's check the meal options, prices, and menus. Just get a cup of tea and keep on reading our Factor reviews.
Pros
Weekly menus available

4 different types of diet

Prices are relatively affordable

You can cancel at any time

Meals are already prepared, you just have to heat them
Cons
They do not ship anywhere else besides the USA

Meals are not specifically created for weight loss
Factor Plans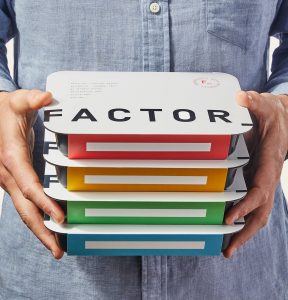 As we have mentioned before, Factor is a meal subscription company that delivers pre-made meals to your home. You get to pick how many meals you want each week, the type of meals, and Factory will just do the work for you. They will shop, cook, and deliver freshly made meals that you can enjoy throughout the week and not think about spending hours and hours in the kitchen or even sitting through traffic to get to the supermarket.
These are the option for healthy meal plans:
4 meals/week – $15/meal

8 meals/week – $12.38/meal

12 meals/week – $11.50/meal

18 meals/week – $11/meal
The more options you choose per week the cheaper it gets. Let's do the math. If you are alone and you order 4 meals/week you'll spend $60 plus you'll also have to buy groceries for the rest of the days. The average cost of feeding one person in the USA is about $350/month. One might spend about $80/week to get groceries, but we haven't added the time you spend cooking, picking up the food, and even planning what you're going to cook.
If you order the 8 meals it would probably be cheaper and if you are a family or you're living with your partner then it's even better. Sure, it is ultimately the most affordable when you go and pick up your own groceries and prepare the food. What Factor offers is not just the option to have a healthy lifestyle, but also taking out the possibility of throwing away food.
In addition to the plans, Factor also has an app that you can download. There you can see your meals each week, you get to pick the menu or you can just let the chef pick for you. If you are away it is also possible to skip the meals and the best part, you can cancel anytime you want!
Factor Chef's Choice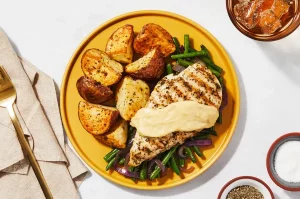 Now that you are familiar with the first part of Factor reviews, their prices as well as how all of this works, you are ready to choose your box full of pre-made meals. There are 4 dietary options to choose from and the first is the Chef's Choice.
This means that you do not follow a specific diet, you can eat whatever your heart desires and you'll be happy receiving recommendations from the very chefs of Factor. The meals will include anything from keto to vegan and calorie smart meals.
Great, let's see some options then. Keep in mind that these are just examples as the menu will change weekly!
One of the top-rated meals is the Greek Lemon chicken with roasted potatoes and haricot verts. That's a mouthful! This meal was inspired by the Mediterranean diet so if you're into that, this is the one for you! Under each meal, you'll find out the calories and nutritional facts.
The greek lemon chick per serving has 610 calories out of which 39g is protein and 41g of carbohydrate. You'll also see the whole ingredients list and see if you're allergic to something or not. We have to say, this meal looks delicious! 
Factor Keto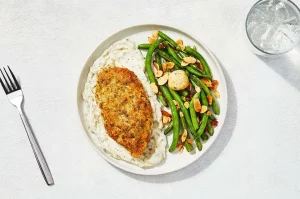 The Keto diet has died down a little bit, although there are still many people who require it due to health issues. Keto is also a great option if you're more sensitive to carbs. The main idea of keto is low carb intake and high fats. These are healthy fats, like avocado or certain oils. Apparently, keto is supposed to keep your energy higher too. It can be difficult to get used to, but you'll definitely see the benefits.
One of the examples on the weekly menu is Herb-Crusted chicken with mashed cauliflower. Now you see, normally you'd have mashed potatoes with chicken. This is where keto steps in, the potato is switched to cauliflower and this takes the carb intake to only 14g of carbs. People who are doing keto usually eat around 50g of carbs/day. This recipe is 660/serving so it should give you plenty of energy to go on with your day.
Eating healthy doesn't mean it is not tasty. Of course, having fast food and processed food will always taste better thanks to the additives used. Once you get used to healthy foods, your body will feel better and will crave more and more fresh produce.
Facto Calorie Smart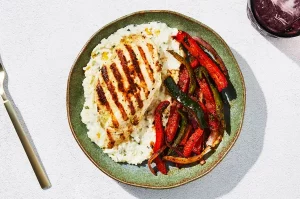 Calorie Smart is for people who are trying to keep a check on their weight. These meals are all dietitian-approved and they are usually 550 calories/meal. So that's a good 100 calories less than the previous meals we have checked. Having a calorie-smart meal doesn't mean you will eat less of these macronutrients. It means that you'll probably be eating foods that have low calories but are very filling. 
One of the meals is the Jalapeno Grilled chicken with creamy corn grits and roasted peppers. As you can see the peppers add a lot of flavor to the dish while keeping your calories low. Instead of potatoes which would be too heavy, you have a creamy polenta with parmesan and mascarpone. You'll get a total of 44g of protein and only 35g of carbs. It's a delicious meal. 
Factor Veggie and Vegan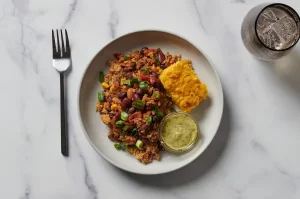 Last, but not least, we have the Veggie and Vegan menus. Anyone who doesn't consume meat or is just trying to reduce their meat intake will benefit from these meals. It's a common misconception that vegetarian meals are not healthy or yummy. They are delicious and often times healthier. Packed with vegetables and plant-based protein, they will give plenty of energy throughout the day.
Alright, let's see some examples. The three-bean vegan chili is not only vegan, but it is also calorie smart. It only has 400 calories and the beans will give you 14g of protein. Besides the beans, there's also tofu-based cream which will take away the potential dryness of the veggie quinoa. There's no dairy in this dish, and it's perfect for anyone on a diet. 
Factor Reviews from Customers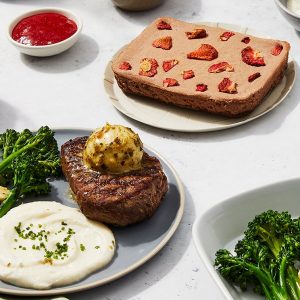 Factor looks amazing and seems like they have versatile meals, packed with healthy micronutrients. The price is acceptable too, considering these meals are already prepared. Whether you are on a diet or you're just trying to have a healthy lifestyle, you'll surely find suitable meals for you or your family. 
But let's see what customers have to say about the company. Firstly we checked Trustpilot. There are a total of 22,500 reviews on the website and Factor received 4.0 stars. That is quite an amazing score from so many reviews. From the people who have reviewed it, we found that they enjoy the variety of the meals. They are tasty and easy to heat up. 
"The food is so good and I just heat it for 2 minutes and then eat it. I like the number of choices for each week."
We also looked at the bad reviews on Sitejabber, although there weren't too many. As you can imagine, most customers have an issue with either delivery or customer service. They complained about calling the company during business hours and not being too efficient. We couldn't help but notice how Factor replies to each of these reviews, whether they are good or bad. 
Further customer reviews
Very few customers commented on the taste. This one review is a bit concerning. 
"I only had two deliveries of this service. I had 18 meals every two weeks. Halfway through my first week I noticed an odd smell and taste. It isn't easy to explain. It's chemical, almost like bleach smelling. The taste lingers and I tasted it even when I was not consuming the meals"
While some said the food made them sick for some reason. We do have to say that whether you purchase your pre-made meals from a subscription-based company or from the store, there is a high chance that every now and then it might not be as expected. The good thing is that their customer service team will help and refund it's the case. 
Sign Up for Factor 
There isn't a separate page to sign up to Factor, however, you can start by selecting your preferred menus and meals per week. After you have created your account, it will be easy to navigate each week. You can change your subscription in your account at any time. The Factor sign in option is easy and very useful to have everything online. 
Where to Buy Factor
As far as we have researched the internet, the only place available to purchase Factor meals is their website at Factor75.com. After all, it is a subscription-based company, so you will not be able to purchase the meals from other websites. 
Factor Shipping and Return Policy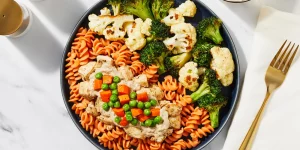 Shipping policy
It's no wonder that you'll have a lot to throw away each week with Factor packaging. They use BPA-free and CPET plastic containers. These are safe for your food and also safe to use in the microwave. But the best of it all, they are 100% recyclable. 
Now that you know what your meals arrive in, what do Factor ship with? They use carriers like CMS, UDS, Blue Streak, AxleHire, Lasership, UPS, or FedEx. They deliver to 48 states in the USA. Alaska and Hawaii are not within their delivery range.
One more thing to know about delivery is that you do not need to be home to receive your boxed. The frozen gel packs keep your boxes fresh and cool. So as long as you have a selected place where your meals can be left, you can take them inside throughout the day. Meals are delivered from 8 am until 8 pm!
Returns
There's no return policy for the meals. If you do not like them for any reason, you'll have to get in touch with customer service. At the same time, if your meals arrived above a certain temperature and you need to dispose of them, you have to call customer service so they can further assist you. 
Factor Promotions & Discounts
Thankfully these meal subscription services usually bless us with discounts on your first few orders. For example, Factor gives you 60% off of your first purchase. There are also offers such as 40% off + free shipping. Usually, when you sign up and you are a new customer, you'll benefit from a major discount.
You can also get a Factor gift card which is called factor freebies. This means you can gift your friends meals and they still have the flexibility to skip or cancel any time. 
Contact Factor 
You can contact Factor in two different ways:
Via chat on their website, which is available 24/7 
The customer service team is available at the number 888.573.5727 from 6 am-11 pm ET Monday-Friday and 7 am-7 pm ET on Saturday and Sunday.
Factor Reviews: Editors Verdict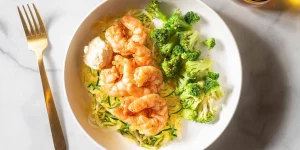 Now that we have reached the end of our Factor reviews we can give an honest verdict. After going through the reviews, and checking the menu and price we have to say that Factor is worth it. Bear in mind that they are only available in the United States. If you are anywhere outside of the states, you will have to find a different meal delivery service.
Factor meals seem to be tasty, the nutritional values are quite amazing and the majority of customers love the food. There are a few of them who are not 100% pleased, however, that is normal for each company.
These meals will save you a lot of them when you're trying to be healthy, plus you can take advantage of their offer when you first start ordering. After all, you have nothing to lose! 
Looking for other food and drink reviews? Consider reading our reviews of Zoa Energy Drink, Driftaway Coffee and Atlas Coffee Club. 
Factor FAQ
How do I view the menu without signing up?
The menu is available on the main website. Simply go to 'Weekly Menu' on the right corner of the screen and you'll see the various types of meals.
Can I cancel my subscription at any time?
Yes, you can cancel your subscription at any time. You can also just take a break from it as you're allowed to skip meals as many times as you wish to. If you choose to cancel, make sure to do it before the cutoff time, which is on Wednesdays at 11.59 pm CT.
Are these meals for weight loss?
Factor 75 meals were not created specifically for weight loss. They can help with your fitness goals as you have calorie-smart options. Please note that if you need to keep a strict diet, it is always best to consult with a dietician.
Are your meals on nutrition apps?
The meals are available on MyFitnessPal, LoseIt, and Carb Manager. If you use any of these apps, you'll be able to select them by searching the name within the app. If you're using other apps, you'll just have to manually enter the details.
What if I have an allergy?
If you know you are allergic to something, you have to review each meal individually and make sure there are no ingredients that could cause an allergic reaction. All of the ingredients are showcased under each meal, so you'll have to be extra careful when choosing your meals.