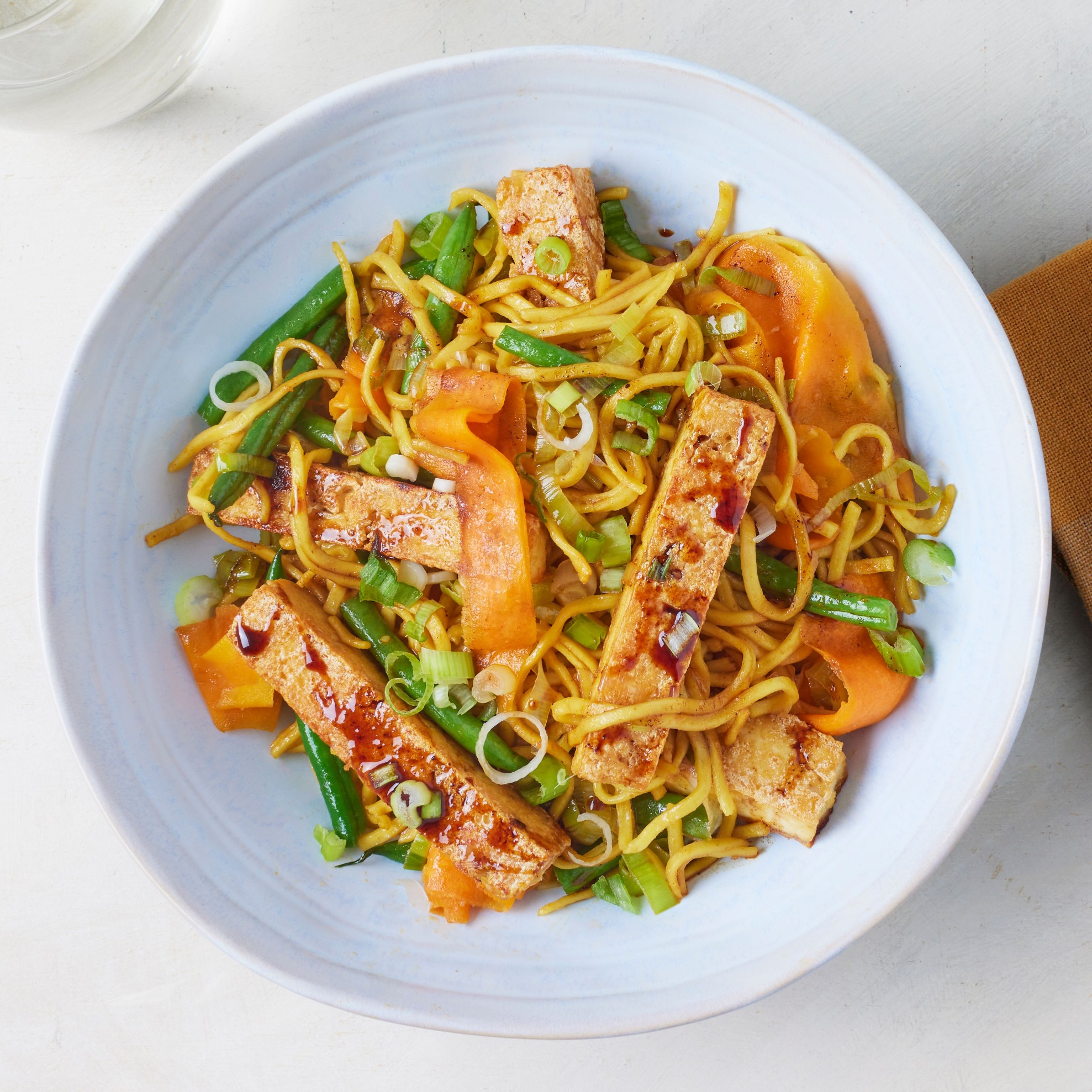 You are no nutritionist, yet you constantly have to figure out ways to eat healthy, affordable, and timely while dealing with other life issues. We don't know you personally, but if you're eating unhealthy food, it's likely because picking out and cooking healthy food is a real hassle. A good food subscription box would make eating well less of a hassle, and we are here to show you how.
Firstly, you need a reputable food subscription box service that meets your lifestyle needs. For example, some people have easy access to quality fruits and veggies but would like the ease of receiving recipes and spices for their meals. Others are looking for complete meal kits and ready-to-eat (after heating) meals. Regardless of what you need, a food subscription box on this list provides it. All you need to do is read it. So we start your journey to healthy eating right here. 
10 Best Food Subscription Boxes for Lunch
The modern meal kit delivery industry is not a very old one. Still, there are already many companies and services looking to carve themselves a market share. As such, this wasn't an easy list to compile. However, we compiled it, and we had a lot of considerations in mind while we did. So, rest assured that this is an excellent guide to procuring great meals, snacks, and drinks.   
1. Daily Harvest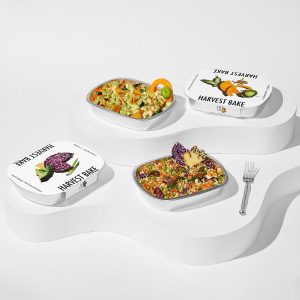 From a planetary health perspective, good food is food that doesn't involve animal cruelty or damaging the atmosphere and environment to grow. On the other hand, healthy food from a human perspective provides vital nutrients and doesn't subtract years from your expected life span. Few brands combine both perspectives effectively, but one of those that do is Daily Harvest. As a result, the Daily Harvest food subscription box is entirely plant-based but still nutritionally sound.
The packages in each box vary according to the plan you are on and the meal choices made beforehand. For instance, Daily Harvest subscription plans are in three sizes; large, medium, and small. The plans contain 24, 14, and 9 items, respectively. As for specific meals within the boxes, the company offers quite an extensive catalog for a vegan operation. Available meal options include soups, flatbreads, ice cream, smoothies, etc.
Daily Harvest isn't all talk and sales, though. The brand shares its methods and ideas on the daily Harvest website to bolster its reputation and facilitate a transparent operation. Suppose you've been looking for a vegan food subscription box with a vast selection of meals. In that case, Daily Harvest should be on your list of considerations.  
2. Mindful Chef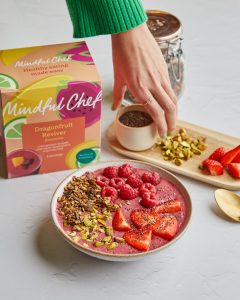 The homepage of the Mindful Chef website tells you all you need to know about how the company is performing. 340,000+ customers, over 23 million meals, and an average rating of 4.6 from 17,000+ reviews; those are great numbers for a company that's only been around since 2015. In their words, they are the UK's highest-rated recipe box, and it isn't hard to see why.
Mindful Chef is the brainchild of three friends who came up with the idea of starting the company while selling their daily catch to locals after a fishing trip. As such, they put a lot of emphasis on local sourcing their ingredients. The company claims to use 100% British meat and poultry, with its fruits and vegetables sustainably sourced as well. These represent an aspect of their planet-friendly approach to creating a food subscription box. In the spirit of transparency, Mindful Chef provides information about suppliers on its website.
Regarding the box proper, Mindful Chef has 20 recipes from which customers can make their selections. When the weekly subscription box goes out, it contains 5 of these recipes. All Mindful Chef recipes are free from refined sugar, refined carbs, and cheap fillers. In addition, the company also offers vegan, gluten-free, and dairy-free recipes for interested customers.  
3. TokyoTreat
From the name, it should be evident that this particular food subscription box deals in Japanese offerings (snacks, specifically). The company describes its box as the biggest Japanese snack box on the planet, but we see it as the best Japanese food subscription box for snacks. Using a monthly, quarterly, biannual, or annual plan, you get access to as many as 20 full-size Japanese snacks every month.
Among the snack offerings, you can expect Japanese instant Ramen, Japanese bakery goods, and drinks exclusive to Japan. Of course, trying delicacies and snacks from other countries and cultures don't hurt, and many people of different backgrounds have bought into the TokyoTreat offerings. The company provides express shipping globally and has made deliveries to over 150 countries.
The company recognizes that things can get out of hand with unfamiliar food. Therefore, TokyoTreat provides information on their upcoming boxes ahead of time to tackle the problem of allergies and other dietary issues. The information includes ingredients and potential allergens for all of the items within as well. 
So far, the TokyoTreat brand continues to meet its subscribers' expectations. In some cases, they even surpass them. The Japanese food subscription box has an average rating of 4.8 from 15,000+ reviews. Not Bad for an exotic snack provider.
4. Lifebox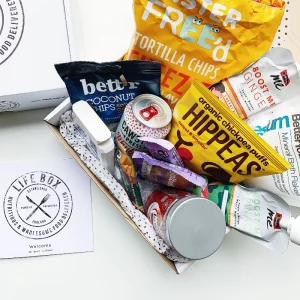 The owner and founder of Lifebox, Alicia Cooper, is a nutritionist. That qualified vision should lend extra credence to a food subscription box. But that's not the highlight inspiring customers to patronize Lifebox. For starters, their food boxes are entirely plant-based and gluten-free. In addition, the company describes its offerings as being "suitable for omnivores, vegetarians, flexitarians, vegans and many more.".
In many ways, the operation of Lifebox is a classic case of someone doing what they love and growing with it. From the onset, the company has grown without external funding, leaving Alicia to do what is right by her dietary beliefs rather than chasing sales. In her words, she runs Lifebox as "a labor of love.". In line with this independence, the company hasn't limited itself to snacks or food. Instead, a Lifebox food subscription box contains healthy snacks, drinks, food, and supplements. So far, its services have earned features from women's Health, Vogue, Marie Claire, and other reputable media outlets.
Lifebox understands that not all customers are ready to commit to a subscription, and they offer independent boxes for sale. Alternatively, you could also get a prepaid bundle. Whichever box or bundle you get, you can feel safe knowing that Lifebox was the 2021 Independent Best buy Award winner.
5. Blue Apron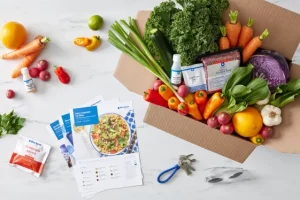 When Matt Salzberg, Matt Wadiak, and Ilia Papas started Blue Apron in 2012, the meal kit delivery business wasn't as crowded as it is today. However, Blue Apron's motive was clear; to simplify healthy eating for its customers. The company remains one of the leading meal delivery services, so it's easy to conclude that  they have succeeded. Their healthy food subscription box is also very successful, earning them a place on our list. 
As you would expect of a leading food subscription brand, Blue Apron strives to provide excellent service across the board. In their book, that means partnering with farmers, maintaining a sustainable distribution system, and providing instructions that are easy to understand and implement. Predictably, customer satisfaction is also high on their list of considerations. In the modern world, that extends beyond the quality of products to also include how they are sourced and made. Blue Apron is very sustainable in this regard.
Their meal kits come with ingredients and recipes. The plant-based ingredients are usually natural and non-GMO. On the other hand, Blue Apron's animal-based ingredients are from organically raised animals. This means animals are fed an all-natural diet, free from hormones, antibiotics, and other chemicals used in conventional industrial livestock rearing.
Regarding their food subscription box specifically, Blue Apron offers different plans to feed two to four people per recipe. In addition to their primary service, they also deal in the sale of kitchen tools, wines (to wash down meals), and aprons (because why not). 
6. Sakura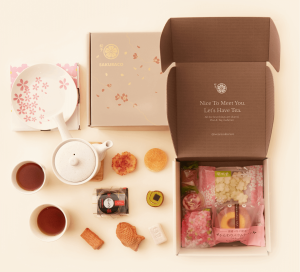 You might be wondering why we have another Japanese food subscription box on the list, but we'd have you know that this is nothing like the first. Though Sakura curates and delivers must-try snacks, they delve deeper into Japanese and Asian Culture with the Japanese Teas and sweets that their boxes contain. The typical Sakura food subscription box contains Japanese cakes, tea, traditional Japanese sweets, Japanese home goods, etc. In a way, though, all of their products are traditional and locally made.
The cultural heritage these Japanese food subscription box offerings represent is worth reading about. According to the company's website, the products in their boxes come from century-old family makers that draw upon generations of knowledge. Information about these makers, their products, and the aspects of Japanese culture guiding their approach is present in the 24-page culture guide accompanying purchases.  
The company also provides information about past and upcoming boxes to help potential subscribers decide whether their food subscription box is for them. This information includes the list of ingredients used and the allergens present. Suppose the approach seems similar to that of TokyoTreat. In that case, you should know that the two brands are interrelated. You could thank Ayumi Chikamoto et al. for the Japanese flavors you enjoy on both fronts. 
7. Factor 75

Just as there are options to pump yourself full of health-damaging processed foods, snacks, and drinks, companies also specialize in making healthy food accessible to people craving a better dietary lifestyle. This list is proof of that, and Factor 75 has a healthy food subscription box that fits the criteria for our list.
The company started this healthy food subscription box service in 2011 under the leadership of its founder, Nicholas Weinmont. However, it is currently owned by HelloFresh. The latter is a big name in the meal subscription delivery business. Although they specialize in delivering fresh ingredients and produce, Factor 75 goes further and delivers readymade meals to your doorstep. As such, no need for recipes or short-duration cooking; all you need is to heat the food and eat healthily.
The first step to eating healthy with this brand is selecting a suitable plan. Factor 75 subscription plans are weekly, and you can order between 4 to 18 meals per week. Specifically, there are four plans; 4-meal, 8-meal, 12-meal, and 18-meal. You can check the prices for each plan on the company website, along with the meals you may need. 
Factor 75 meals are further broken down into four classes or dietary options to simplify selections for most customers. Available dietary options are the keto diet, calorie smart diet, vegan or veggie diet, and the Chef's choice. The last option is not a diet but a plan that allows you to pick from any diet and eat any meal your stomach craves. 
8. Simply Cook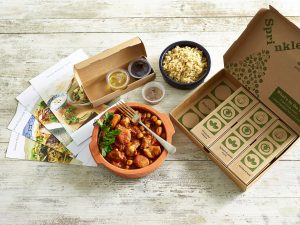 Simply Cook is unlike any other food subscription box on this list up to this point. Where the above brands look to supply ready-to-eat snacks and complete meal kits, Simply Cook provides subscribers with a stock pot, curated ingredients, and a recipe. Simply Cook shows you how to cook and provides ingredients to make the meal taste as they envision. However, it leaves the acquisition of major ingredients (like meat, vegetables, etc.) up to you. Furthermore, the brand's products are gluten free, making them ideal for supplying you with a gluten free food subscription box and recipe.
There is also a surprise for people eager to up their cooking game with Simply Cook. To usher in new customers, the company offers first-timers a chance to choose four meal recipes of their choice and have the first food subscription box delivered to them for free (there is a small token of a delivery fee as well). Once done, you would receive your first gluten free food subscription box from the brand and a recipe card indicating the other ingredients you need to make the dish a reality.
It almost seems like Simply Cook is offering less than other similar food subscription services, but that isn't the case. Their operation takes into consideration the convenience of the customer. By leaving out the main ingredients of a dish, they leave customers with more grocery shopping to do but also ensure that you can cook on your own time rather than racing to avoid spoilage of any produce. You have to appreciate such thoughtfulness, but the Simply Cook subscription is easy to cancel if you don't.
9. Imperfect Foods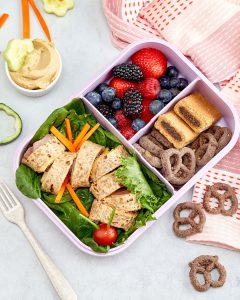 You know how groceries, fruit, and veggies you obtain from supermarkets always look perfect. Well, it turns out that not all fruits and veggies are made perfect; Imperfect Foods keeps those visibly not-so-beautiful ones from wasting and provides them to you on the cheap. Cheap, in this case, is not relative to supermarket quality groceries but to farmer's market quality. This is because you would be getting them fresh. Not all perfect looking but fresh and healthy.
Getting started with an Imperfect Foods food subscription box is as uncomplicated as we made the above explanation look. All you need to do is sign up (for free), take an online assessment quiz detailing how you shop, and the company will assign a shopping window and weekly delivery day to you. Then, based on the assessment results, the company pre-fills your weekly cart with the food they think meets your preferences. You can add/remove items from the cart or skip the weekly delivery altogether.
In truth, this is unlike the other subscription businesses on this list because they don't charge a regular subscription fee. Instead, Imperfect foods automatically bills you for the cost of the groceries in your cart (and the delivery fee) after your shopping window closes. So, in essence, you pay after the fact and only for what you receive—a perfect plan to purchase Imperfect but healthy produce.
10. Catalina Crunch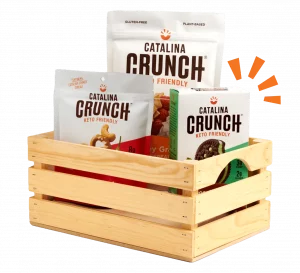 You have reviewed food subscription boxes containing snacks, wine, drinks, teas, recipes, and spices. Catalina Crunch adds cereal to the list. Sure, theirs is a snack food subscription box, but it provides cereal as well and does so with a significant positive; they are low carb and low sugar.
The company founder, Krishna Kaliannan, developed Type 1 diabetes as a teenager and had to do away with many of his favorite carbs, sugar-filled snacks, and cereals. In his time (a couple of decades ago), that probably meant eating some pretty poor-tasting cereal alternatives. We can only imagine what low-sugar snacks tasted like in those days. We can surmise that they tasted bad enough to motivate Krishna to start a business.
Today, Catalina Crunch has a range of keto-friendly snacks, sold 11 million pouches of cereal in 2021, and has over 10,000 5-star reviews. That's evidence that their customers love them. In addition to this satisfaction, they offer customers the choice to buy independent snacks or build their own snack food subscription box. If you pick the latter, you can also change selections between deliveries, alter the frequency of your boxes, and cancel your plan if you wish. Convenient, right?
Best Food Subscription Boxes: Editor's Verdict
We feel good providing these services to you guys. The world is busy making fortunes, taking care of families, and dealing with many serious issues. These can make cooking (an already stressful chore for most) seem impossible. Unfortunately, eating out is not a good idea (considering we don't know what goes into many of those meals), and it is expensive to sustain. The only logical solution is to sign up for a food subscription box or boxes that meet your nutritional needs without subjecting you to headaches. This article brings you the best food subscription box services around. All that is left is for you to do your due diligence, pick one that suits your lifestyle, and say hello to eating healthy in style.
Are you interested in drinks to try out with these foods subscription boxes? Check out our reviews of Cardiology Coffee, Bev Wine, and Atlas Coffee Club.