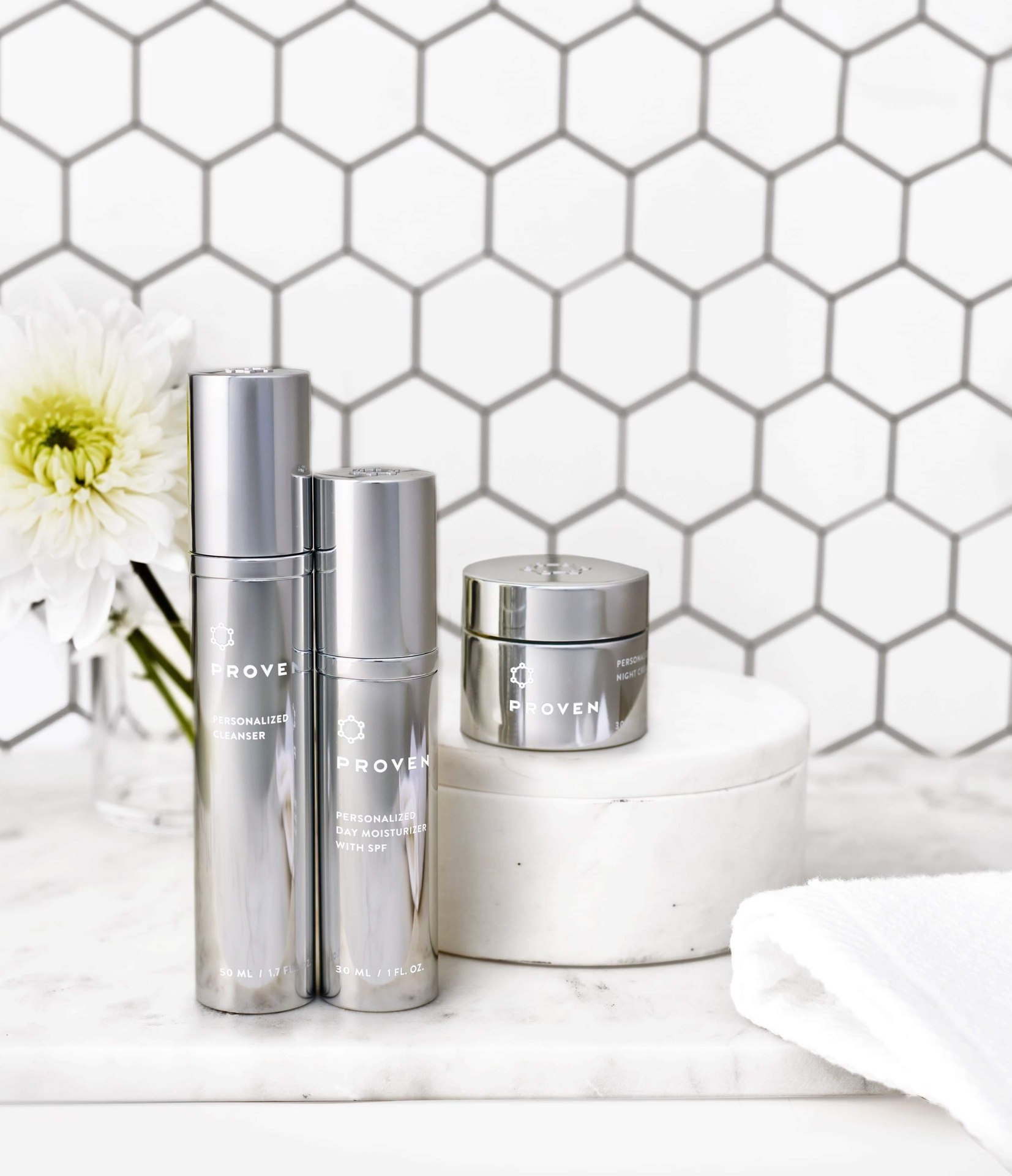 If there's one skincare rule that applies to everyone, it is that skincare isn't one-size-fits-all. What your skin needs may be drastically different from what your friend's skin needs even if you have similar skin problems and goals. Indeed, skincare is a subjective journey and the only way to get to the good skin destination is to find out what works for you, specifically. In this Proven Skincare Reviews, you might just find out what your skin needs.
But how can you do that without experimenting and therefore wasting time and money on routines and products that don't work for you? Well, one way is to try personalized skincare which Proven Skincare does. Formulated by Standford dermatologists and tailored to your skincare concerns, lifestyle and environment, Proven certainly looks promising. But is it worth the hype, and more importantly, your money? In this Proven Skincare review, we evaluate the brand's formulations. We'll also talk about the key ingredients and take an in-depth look at the brand itself. The customer ratings is an important part of this review as well. Stay tuned to read more!
About Proven Skincare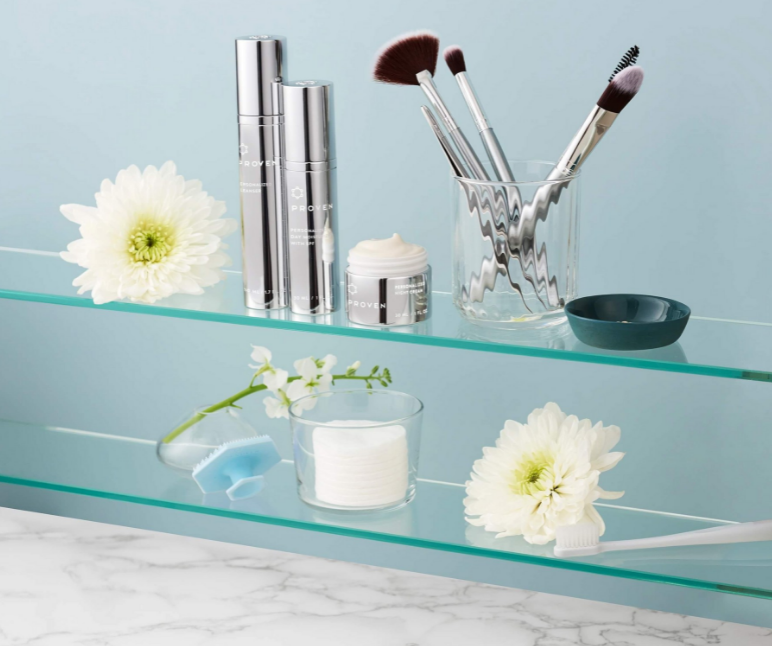 Proven Skincare was created as a personal mission. In Ming Zhao's words, the CEO and founder of the brand, "As a person who had been told she had "difficult" skin, I was continually searching for better skin care. But finding the right products was time-consuming, frustrating, and expensive. And worst of all, nothing worked consistently."
After meeting co-founder Dr. Amy Yuan in 2018, the two women created a holistic approach to skincare relying on science and artificial intelligence. With the world's largest skincare database called The Skin Genome Project, which has won MIT's 2018 Artificial Intelligence Award, the San Francisco-based company offers tailored skincare products formulated via artificial intelligence and machine learning.
The Skin Genome Project can precisely analyze the effectiveness of over 20.200 skincare ingredients, as well as the information about over 100.000 individual products, plus the water hardness in your location, UV index and even humidity, coupling the data with the answers you give to the Skin Genome Quiz on the website. The result? A skincare line developed only for you and one that evolves with your skin's needs.
The brand and its products backed by scientific data have been featured in more publications and websites than we can count. Forbes, Glossy, LA Weekly, Refinery29, Byrdie, People, The Today Show are only some of many publications and websites that rave about the new-to-market revolutionary brand.
When you use products from the Proven Skincare line, you can be sure that the products are created uniquely for you and should, therefore, provide actual results for clearer, firmer, more beautiful skin.
Pros
Skincare tailored to your skin with the Skin Genome Project
Formulas backed by artificial intelligence with a comprehensive quiz
A complete skincare line that evolves with you and your environment
Membership available with 35% savings with a shipment every 4, 6, or 8 weeks
Fair prices considering the visible results on the skin
Evidence-based ingredients and third-party clinically tested formulas
Free from phthalates, parabens, SLS, formaldehyde, and palm oil
Cruelty-free
Cons
Available for purchase only in the continental US
No choice about what ingredients go into your formulations
More expensive than standard drugstore skincare products
Not suitable for vegan consumers
Proven Skin Care Products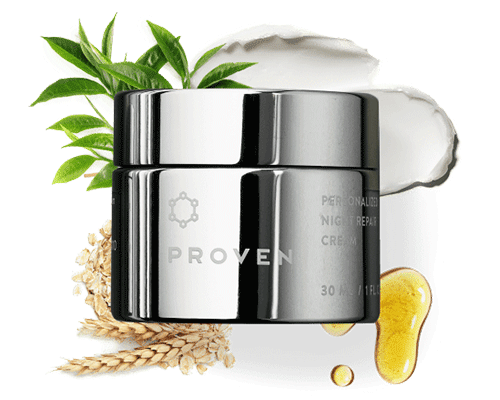 The Proven skincare products are formulated after combing through thousands of customer reviews, scientific data, and skincare ingredients to offer your skin the most effective active ingredients.
All these products are made in the USA, in an FDA-approved and GMP-accredited laboratory, following safe formulation processes. As the brand uses the most effective ingredients for long-term skin health, it so happens that not every Proven skincare product is vegan.
The Proven skincare products are formulated to suit everyone's skin, relying on three crucial actions to achieve and maintain healthy skin:
cleaning
protecting
repairing
Currently, the brand only offers three products: a cleanser, day cream with SPF, and night cream; it's worth noting though that the company is continually developing more products to add to their simple but effective skincare line. The products are non-comedogenic and are typically have anti-acne and anti-aging ingredients that really work/ These include retinol, niacinamide, alpha hydroxy acids, and antioxidants such as green tea extract and ginseng extract.
The Proven skincare set offers results that you should notice within two weeks of starting your routine. But since skin cells take an average of 28 days to renew (or go through their skin cycle), you may not notice results before four weeks or about a month. Your skin may also "rebel" against certain ingredients in the products at the beginning, which is known as "skin purging" (this usually happens with retinol and acids).
The products are cruelty-free and completely free from:
phthalates
parabens
SLS
formaldehyde
palm oil
Proven Skincare Cleanser
This cleanser is suitable for people with any type of skin tone and will work wonders. It is formulated with all of the environmental factors in mind, so it's cruelty-free, clean, and has a bunch of beneficial ingredients. The cleanser will help remove dirt, makeup and make your skin glowy and fresh. Of course, it's formulated to match your skin type, so you will need to take the test to get your customized skincare set.
Proven Day Moisturizer
Moisturizers are a must need in our skincare routine. Regardless of your skin tone, skin type, texture, or age you should add moisturizer. The good thing about this custom skincare brand is that they will make sure the product suits your own personal needs. This cream receives extra points for being an SPF moisturizer as well.
Proven Night Cream
Whether you have dry skin or not, night cream can help in many ways. The Proven night moisturizer has granactive retinol and vitamin C as its main ingredients which will help restore elasticity. It is quite a heavy-duty cream. Promises to repair the skin and fine lines, plump, and firm while you enjoy a good night's sleep.
Key Proven Skin Care Ingredients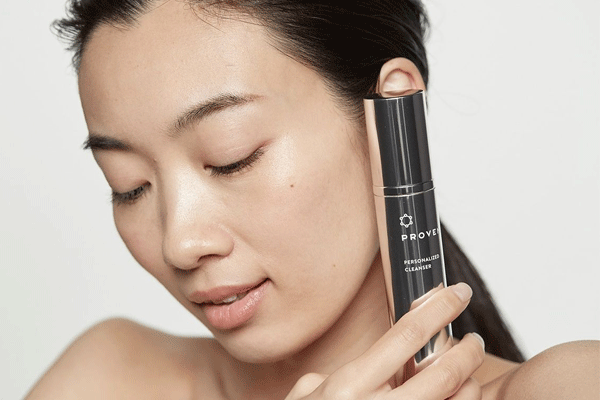 The Proven skincare products include a blend of gentle ingredients that can be powerful. These ingredients will provide the best results for your skin. The Skin Genome Quiz defines the formulation of the products you get when you first subscribe to the membership. It's worth repeating that the research is backed by scientific data from the Skin Genome Project.
When you take the 3-minute Skin Genome Quiz on the brand's website, you will see the quiz's live results and the ingredients that Proven will use in your cleanser, day moisturizer, and night cream.
For this Proven Skincare Review, we've taken the Skin Genome Quiz and were assigned a skincare formula based on:
Licorice Root Extract
Vitamin B5
Acetyl-Glucosamine
Peptide
Mandelic Acid
Sodium Hyaluronate
Glycerin
Neem Oil
Marula Oil
Sea Kelp Bioferment
It was quite exciting to see how Proven achieves the formulation of 3 multifunctional products that represent a complete everyday routine. The formula is based on more than 47 factors about your specific skin concerns, lifestyle, and environment to offer the very best skincare at a reasonable price.
How to Use the Proven Skin Care Routine
Proven has thought of a specific skincare routine with three essential products. A cleanser, a day moisturizer, and a night cream to protect and balance the skin. The brand recommends a straightforward, 3-step routine with products that offer double-use. For example, the cleanser can be applied as a one-minute mask.
The recommended Proven morning routine should look something like this:
Cleansing with lukewarm water only and following with any other skincare products you may want to include in your routine
Applying the Proven day moisturizer with SPF
Applying your everyday makeup if you use it
The recommended evening routine is as follows:
Optional makeup removing phase (with oil or micellar water)
Using Proven cleanser as a one-minute mask by massaging 1-2 pumps onto the wet face and letting it sit for 1-2 minutes before rinsing
Using any other products may like to incorporate into your routine
Applying the Proven night cream as the last step
The brand highlights that the skin typically requires an adjustment period to get used to new ingredients. As such, you might need a complete skin cycle (28 days) to start seeing results. Proven also notes that if you start experiencing skin issues such as redness or minor breakouts, you shouldn't quit as this is a normal process that you need to push through to see results. However, if you believe your skin is having an unusual reaction to any of the Proven products like an allergy or uncomfortable rash, you can get in touch with the brand to refine your product formulation.
Proven Skincare Membership
When you order a Proven set as a one-time order, you receive a 20% discount from the products' total value.
The brand also offers the possibility of receiving a new skincare set every 4, 6, or 8 weeks. When you choose to subscribe to the Proven Skincare membership, you will receive a greater 35% discount that allows you to get every set at $119, which is pretty neat.
Subscribing to the brand's membership is an easy way to get to personalized skincare products. You can update your answers to the Skin Genome Quiz any time you feel your habits or skin concerns have changed. This allows Proven to continually improve upon your personalized formulations. Of course, if you're pleased with the results of your original formula, you can continue using it for as long as you like.
To start a membership, all you need to do is answer the Skin Genome Quiz as accurately as possible on the brand's website, with the information about your skin concerns, lifestyle, and environment. The questions include:
Skin concerns: sensitivity, redness, wrinkles, hyperpigmentation, acne, loss of elasticity, dryness
How sensitive is your skin?
How often do you experience breakouts?
Do you have blackheads/whiteheads?
How often do you experience redness?
Do you get bumps?
Do you get large/inflamed pimples?
Are you concerned with dark circles?
In photos, does your skin appear matte or shiny?
Are there any products/ingredients you are allergic to?
The quiz is very specific about your skin. The number of hours you stay in front of your cell phone or computer screen, how often you expose yourself to the sun, and so on. These questions about your lifestyle help the brand live-formulate your Proven products.
Proven Skincare Reviews from Customer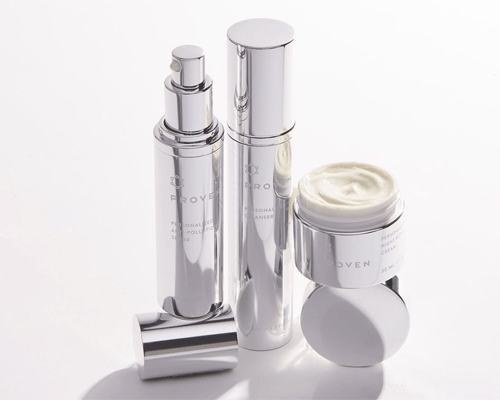 This Proven Skincare review wouldn't be complete without us looking at customer reviews.
We want to start by saying that in general, when we're looking for customer reviews about skincare brands, we usually find that most are mixed. However, Proven seems to be an exception. This brand has amassed almost entirely positive reviews, with the odd complaint about a too-thorough quiz here and there.
Practically all customers – including the once skeptical ones – like the fact that each product is tailored to their specific skin problems and goals. One review reads: "I've been using Proven for approximately half of a year, and I've seen a noticeable difference in my skin's hydration and general quality. I appreciate having a simple skincare routine that uses chemical products I can understand. The tailor-made formula is one-of-a-kind."
Popular Alternatives to Proven Skincare
Further customer reviews
Other customers highlight the efficiency of the products. "Proven has totally transformed my skin. It is softer, with fewer wrinkles, and I am a 48-year-old man." And: "I've used a lot of products that don't live up to their claims but have had great results with Proven. My skin looks clearer and smoother than it has in probably ten years."
Even folks with sensitive skin seem to like Proven. "Proven is one of only two products that doesn't make my skin react negatively, and it looks great." Another one reads: "I am a 51-year-old woman who's always struggled with minor to moderate acne… I now feel I have the best-looking skin of my life."
We should mention, however, that we've found a handful of complaints about the "intimidating" quiz with lots of options and the "impossibly long list of ingredients". In general, it seems that this line is best suited to folks who are at least somewhat into skincare; those that prefer super-natural and gentle products with a short list of simple ingredients may want to look elsewhere.
Proven Skincare also has great reviews on TrustPilot, scoring 4.7/5 out of over 4,2k reviews.
In conclusion, the dozens of reviews we've come across were more than decent, with customers using Proven for a few weeks/months before leaving a review. Smooth skin, fewer signs of aging, fewer wrinkles, acne, and spots were all highlighted by the happy customers. What's not to like? Well, perhaps that subtle white cast that the moisturizer with SPF leaves on some folks.
Where to Buy Proven Skincare
At the moment, you can only purchase the Proven Skincare line from the brand's official website. This allows the company to supervise and streamline the production process. In doing so, the brand ensures that you get the most accurate product formulations for your skin's needs.
Shipping and Return Policy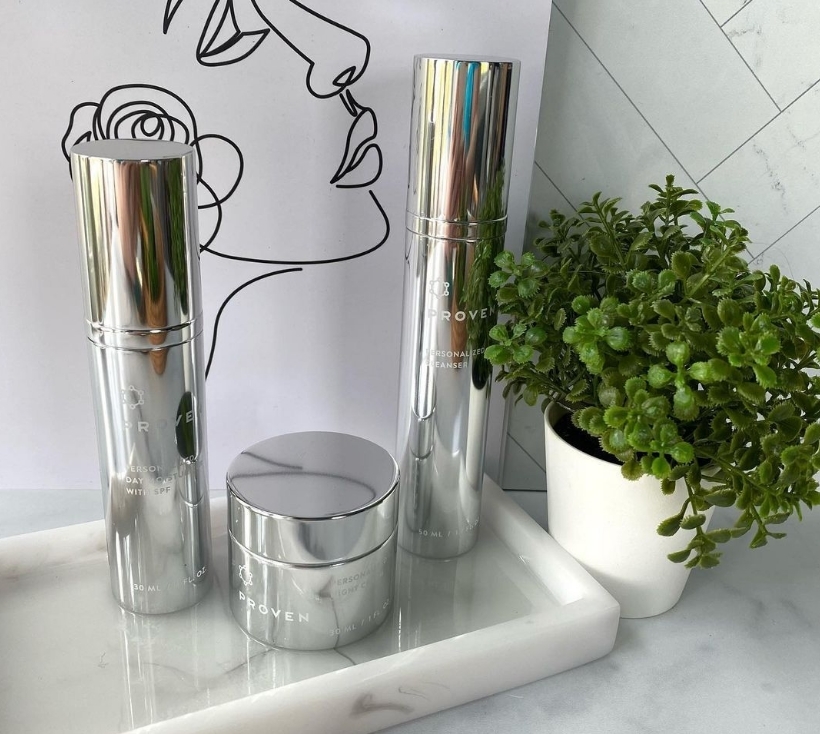 Shipping
At the time of writing, Proven Skincare only ships to the continental US, with free shipping included in your purchase for all orders.
Once you check out, the company takes 1 to 2 weeks to process the order and finalize your personalized formulations before shipping it out. You can then expect your parcel to arrive in 5-7 business days.
Returns and Reformulation
Proven Skincare products are formulated after a thorough examination of scientific data for your skin. For this reason, the brand does not accept returns at this time.
However, since products are tailored to your skin and its needs, the Proven Skincare night cream and SPF day cream are eligible for re-formulation within 28 days of purchase. If you need to refine your products, so they best target your skin needs, you can email [email protected] for customer assistance.
Contact Proven Skincare
Should you need to contact Proven Skincare for any questions we have not addressed in this review, you can do so via:
Proven Skincare Reviews: Editor's Verdict
They use clinically proven ingredients in their formulas which are tailored to specific needs. The Proven skincare set truly targets most skin problems, including pimples and blemishes, hyperpigmentation, and fine lines. These formulas are also backed by Ivy League science, which we, like any other good skincare addict, deeply appreciate.
Another thing we like about Proven is the possibility of re-formulation of products. Which is perfect if your skin doesn't like an ingredient or two in the daily or nightly moisturizer. We also like the fact that even though this is personalized skincare, the brand only takes two weeks at the very latest to ship out the products.
Based on our Proven Skincare Reviews, it looks like a great brand to try out. If you are looking for products that are formulated with thoroughly researched ingredients, Proven might be the one. Proven products are actually fairly priced considering that they're made for you and your skin only. So, for those looking for a simple yet effective skincare routine, we definitely recommend it!
Are you still looking for popular brands? Why not read our reviews of Lumin Skin, Curology, Dr Squatch Soap, and Espa Skincare.
Proven Skincare FAQ
Where are Proven Skincare products made?
According to their website, Proven Skincare products are all made in the USA and the laboratories used are FDA-approved and GMP-accredited.
Are Proven Skincare products cruelty-free?
Proven Skincare is 100% cruelty-free, they do not test on animals.
Does Proven practice clean beauty?
Yes, Proven does practice clean beauty. They do not use ingredients such as parabens, phthalates, parabens, or even palm oil.
Are Proven Skincare products vegan?
Proven does not confirm that they are a 100% vegan, they only mention that all of the ingredients are non-toxic and derived from nature and science.
Proven tries their best to ensure none of the ingredients come from animal derivates nor they are tested on them.
How long do the Proven products last?
According to Proven, if you are using the recommended dosage available on each packaging, your products should last around 6-8 weeks. This way Proven can continue evolving the products based on your skin and seasonal changes.