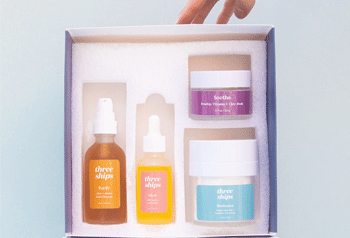 Affordable beauty is something many of us are striving for these last years. Especially after the pandemic, when the beauty scene has witnessed the resurgence of high-quality beauty and cosmetics brands at a mid-range price point. Three Ships Beauty is one of the cosmetics brands that live by the motto "100% natural and 100% affordable". From face serums to detox face masks, the offer is wide and varied. Is Three Ships Beauty the skincare brand we've all been waiting for? Stick around to find out. In this Three Ships Beauty review, we will break down the brand for you to understand whether the products are worth the buzz, and more importantly your time.
About Three Ships Beauty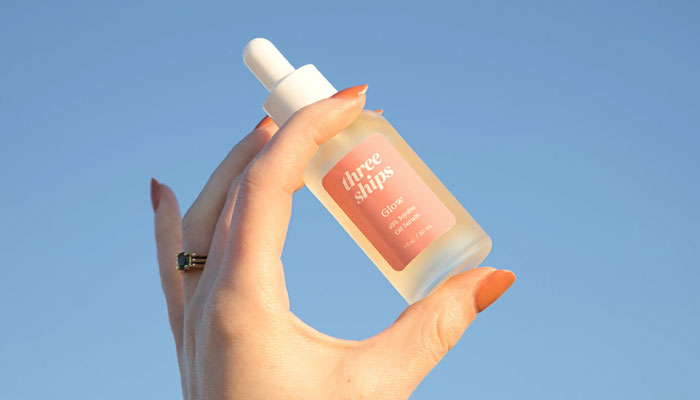 Frustration is the door to some of the greatest inventions, and the same goes for the best formulations in the skincare industry. The founding duo, Connie Lo and Laura Burget, found in 2017 that they could not keep up with the way the skincare industry was pricing and formulating products.
To create a solution between cheap and ineffective products and expensive price points, they invested $4.000 in Three Ships Beauty. A brand that believes in natural, effective formulations at the best price.
In 2017, the two founders started experimenting to put together efficient recipes. Therefore, they created a vegan, cruelty-free, and free from toxic ingredients like SLS and parabens brand. Three Ships Beauty strives toward the all-natural formulas, with plant derivatives like aloe vera and natural extracts at their core.
At the core of the brand, are tales of adventurers going to great lengths to find the mythical Fountain of Youth. Some legends say that the fountain was discovered by a fleet of only three ships, thus giving its name to the brand. In addition, Toronto-made products are created following the belief that great discoveries can be made with limited resources, even today.
More about Three Ships Beauty
One of the upsides of Three Ships Beauty is the promise that the products will never exceed $40 in price while still being as effective as they can get – which is already more than a lot of skincare brands today can promise. As per Three Ships Beauty: "We will continue to only make beauty products that are effective, natural, and affordable until this becomes the industry standard."
To this day, the company offers a wide selection of nature-inspired products, including serums, face creams, toners, cleansers, and even lip treatments to offer a fully efficient routine that will leave you with clear, bright skin.
And it seems like the products are a hit all over the world since the biggest publications have featured Three Ships Beauty on their pages. Forbes, PopSugar, Elle Magazine, and Refinery29 have all been conquered by the Three Ships Beauty storm. Let's get on with our unbiased Three Ships Beauty Review.
Pros
A wide array of skincare products that include face creams, lip treatments, face masks, cleansers, and more
Clean formulas with natural ingredients, no fillers or toxic ingredients
Cruelty-free and vegan brand (Leaping Bunny certified)
Educational glossary available on the website
30-Day return policy
Cons
Not available for worldwide shipping from the official website
Three Ships Beauty Best Sellers Review
Three Ships Beauty, in four short years, has managed to set itself as the must-have natural and affordable skincare brand. The product philosophy is simple and includes:
the highest-quality natural ingredients with high concentrations of natural actives
utter transparency about the origin of the ingredients and their properties
a 'less is more' vision that allows the customers to use only the necessary products in their routine
The belief that 'natural' must really mean 100% natural drives Three Ships Beauty day in, day out. As such, all the ingredients are plant-derived – no place for artificial ingredients with the brand.
Purify Aloe + Amino Acid Cleanser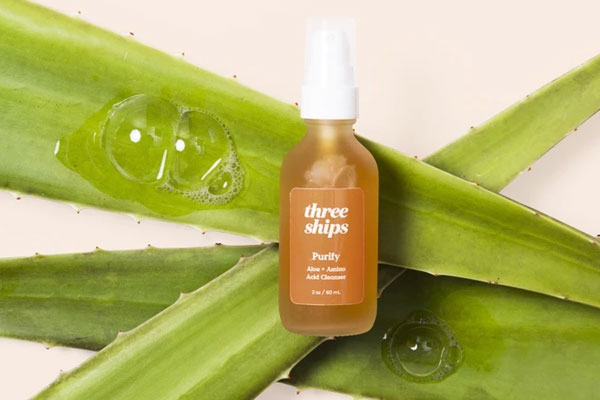 With 207 reviews making a whopping average of 4.8 out of 5, the Purify Aloe + Amino Acid Cleanser is definitely one of the best-sellers of Three Ships.
The formula contains 26% aloe vera, and it is made to replenish your skin's moisture barrier. Unlike mainstream face cleansers that strip your skin of its natural oils, the Purify Aloe + Amino Acid cleanser is perfect for dry and normal skin types. At the same time, it should work for oily skin as well, however, that is to be tested by customers.
With an RRP of USD $20, it can seem a bit expensive for a face cleanser, but customer reviews tell us that it's a product you can put all your trust in:
"This is my second bottle of purify cleanser. It is very light and doesn't make my skin tight and dry afterwards."
"Lovely! This cleanser isn't too heavy or thick, just right. Makes my skin feel nice after wash."
This 60 mL of Amino Acid Cleanser you can get for less with the Subscribe & Save membership is bottled with only the finest ingredients:
A blend of 10 amino acids that help to improve moisture retention, thus reducing the appearance of wrinkles and fine lines
Cucumber extract to hydrate and condition the skin to receive the serum and cream products
Aloe vera provides moisture and acts as a protective layer on top of the skin
Glow 49% Jojoba Oil Serum
Glow 49% Jojoba Oil Serum (RRP USD $31) is a fast-absorbing botanical extract made from jojoba oil, which mimics the chemical structure of our skin's natural sebum. Since it is a lightweight product, it can be used at night or during the day – it's up to you.
Jojoba oil is known to minimize the appearance of pores and reduce excess oil, which means that theoretically, even combination and oily skin can use this serum. To make it even more of a hydrating bomb, Three Ships has incorporated Vitamin E and camellia oil into the serum to offer the skin even more softness and elasticity.
Among the core ingredients of this serum, we can highlight:
Jojoba oil aids the skin into thinking that it has produced enough sebum, thus helping it balance its production without any additional products needed
Camellia Oil, with its exceptional ability to penetrate into the deepest layers of the skin, since once again its chemical structure resembles that of our sebum
Vitamin E, which is an anti-inflammatory and antioxidant agent, used as a natural preservative both for the product and the skin
What customers say:
"Makes me feel so gloomy and clean! Super moisturizing and quality product and packaging!"
"I got a second refill of this oil. It is the perfect nighttime serum and I notice an immediate difference in the texture of my skin being smoother and also very hydrated for the next morning. And it smells amazing!"
Calm Lavender Hydrosol Toner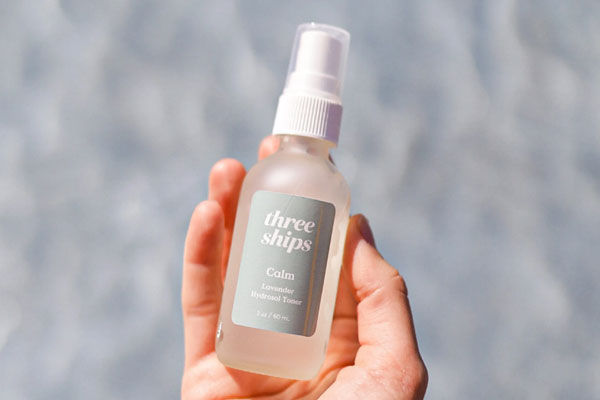 The Calm Lavender Hydrosol Toner (RRP USD $17) is described as a "natural skin-conditioning tonic, penetrating deep into the skin to promote even tone". Made for combination and oily skin, the toner is brightening and fresh. 100% of the customer testing base said they felt their skin more moisturized.
Some ingredients of the Calm Lavender Hydrosol Toner include:
Lavender Hydrosol: lavender flower water is a highly diluted version of lavender essential oil, and it is a brightening, clarifying tonic
Witch Hazel: it is a natural astringent that controls oil secretion and bacteria growth on the skin
Glycerin: it is a plant derivative that locks moisture into the skin, giving it a bright, youthful glow
This is a much-loved product of Three Ships, with reviews reading:
"This leaves my face feeling more refreshed than anything, it makes my face feel so clean (after a wash) without making it feel dry, my skin feels firm and hydrated, it's kind of amazing it can do all of that at once."
Detox Green Tea Antioxidant Clay Mask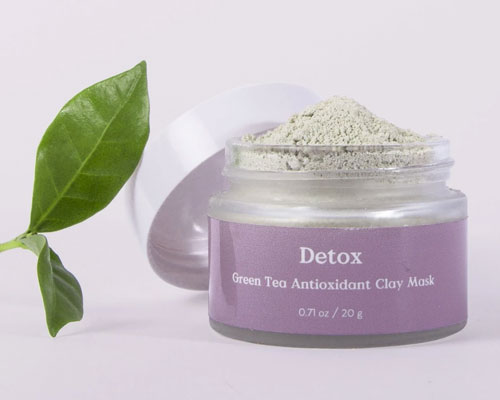 The Detox Green Tea Antioxidant Clay Mask (RRP USD $17 for 20 g) is a super-efficient, brightening face mask. The formula blends French green clay and green tea extract for helping maintain collagen levels, which are responsible for the elasticity and the bright appearance of the skin.
To use the Detox Green Tea Antioxidant Clay Mask, you need to mix 1 tablespoon of the mask with a few drops of water or toner, until a thin paste is formed. Apply evenly onto the face with a mask brush, avoiding the eye area. Let dry for 8-10 minutes, and rinse.
Ingredients of the Clay Mask include:
French Green Clay attaches to impurities to eliminate them. It helps leave the skin balanced and cleansed
Kaolin Clay is a type of gentle clay that helps with redness and excess oils
Green Tea Extract balances the skin's oil production and tightens the skin to prevent acne breakouts and enlarged pores, making it perfect for oily skin as well
One review read:
"I love this mask. My favourite feature is that it washes off so nice and doesn't leave my skin feeling tingly or burny as most masks do."
Three Ships Bundles & Kits Review
In addition to self-standing products, Three Ships Beauty offers a variety of bundles and kits for the face or the lips. The bundle prices are striking, and the easy instructions really make you want to start and keep up a daily skincare routine.
Lip Treatment Kit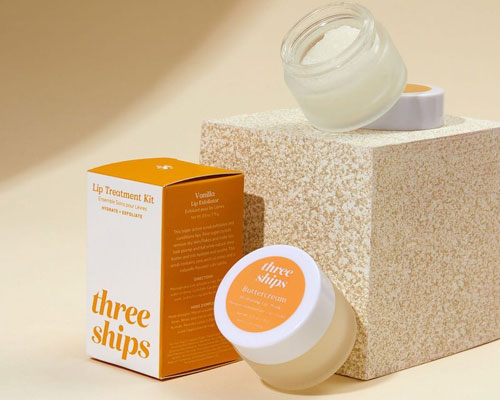 The Lip Treatment Kit is regularly priced at USD $31, and it is really formulated as a nourishing and restorative treatment. If you find yourself applying lip balm throughout the day without great success, considering the Lip Treatment Kit is a great idea.
The Kit is very easy to use:
First, massage a pea-size amount of Vanilla Lip Exfoliator on the lips, and rinse off.
Then, apply the same amount of Buttercream Hydrating Lip Mask on the lips, and leave overnight, throughout the day, or rinse off – your call.
Some of the core ingredients of the Lip Treatment Kit include:
Shea Butter is a lip conditioning agent that nourishes deeply
Coconut Oil, which creates a protective moisturizing barrier on the skin
Sunflower Seed Oil heals dry skin and activates the growth of new skin cells
The Kit seems to be a hit, with reviews reading:
"I love this kit. The scrub works well & it doesn't have a bad taste like some others do. The balm is so silky."
Self-Care Kit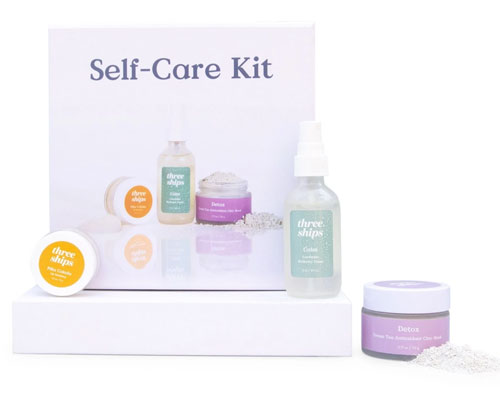 The Three Ships Self-Care Kit is an absolute steal, with an RRP of $47 and three full-sized products to pamper yourself. Furthermore, the bundle allows you to save 25% compared to buying the products on their own, and it comprises three of the brand's bestsellers:
the Calm Lavender Hydrosol Toner is a natural tonic that contains lavender, aloe vera, and witch hazel
the Piña Colada Lip Exfoliator, formulated with fine sugar crystals, shea butter, and natural oils
the Detox Green Tea Antioxidant Clay Mask is made to cleanse the pores and draw out impurities from deep within the skin, helping it glow again
One review read:
"I love this package deal! The toner is so refreshing and calming for my skin. Unlike other toners it doesn't dry out my skin but leaves it feeling fresh. I use it midday for a spritz. The detox mask has helped when my skin has some blemishes pop up and helps even my skin tone as well."
Three Ships Beauty Review from Customers
Our Three Ships Beauty review wouldn't be complete without customer reviews. We have taken a look at some of the reviews and below you can see the comments left by customers.
First of all, the website offers dozens upon dozens of more-than-happy customers, with most products averaging almost 5 out of 5.
For example, the Calm Lavender Hydrosol Toner which garners a beautiful 4.5 out of 5, I have read reviews like:
"So refreshing and light! Not an overpowering lavender smell."
"The feel and fragrance of the toner is calming and light. It is easy to use and feels great on the skin. I love it."
Secondly, the Glow 49% Jojoba Oil Serum boasts a stunning 4.8 out of 5, and it looks like it is an absolute must-try as a reparative night product:
"Makes me feel so gloomy and clean! Super moisturizing and quality product and packaging!"
Lastly, the reviews we have found emphasize how glowy, healthy, and rejuvenated their skin felt after using Three Ships Beauty products. From the Calm Lavender Hydrosol Toner to the lip treatment kit, it seems like the high concentration of natural actives and the affordable price point have made Three Ships Beauty the star of the skincare world.
How to Sign Up for Three Ships Beauty
Signing up for Three Ships Beauty membership is very easy. First, you need to answer a short 6-question quiz to assess your skin type and needs.
If you'd like to subscribe to the Three Ships membership, it will allow you to enjoy 10% off your product with a delivery every 8 or 16 weeks. For instance, members can purchase the Glow 49% Jojoba Oil Serum for $27.90 instead of $31.
Where to Buy Three Ships Beauty
Three Ships Beauty is available on quite a few retail platforms, which makes them even easier to find:
Three Ships Beauty official website
Well.Ca
Well + Good
Indigo
Today's Shopping Choice
Target
Three Ships Shipping and Return Policy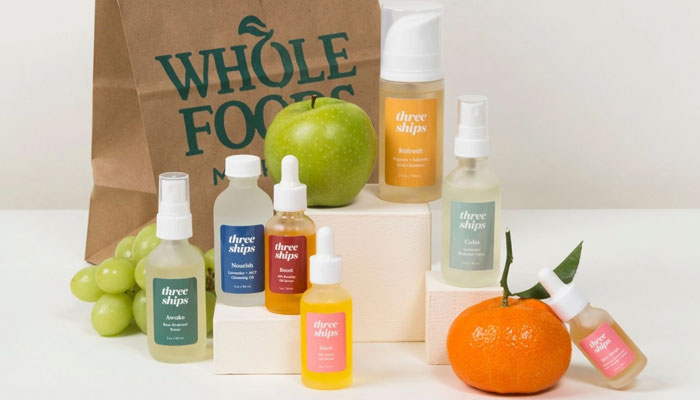 Shipping Policy
Shipping is at this time only available to the USA and Canada. Free shipping is available on orders over $45 USD ($6 USD on lower totals) and over $50 CAD for Canadian orders.
The shipping time ranges between 5 and 7 days for the United States, and 5 to 8 days for Canadian orders. After your order is shipped, you will receive a tracking number for your order from USPS, FedEx, and UPS for the USA, and Canadian Post for Canada.
Return Policy
The return policy of Three Ships Beauty is pretty flexible, which is a great point for a skincare company. If you are not 100% satisfied with your purchase, you are free to return it for a full return. The brand also pays for the return shipping, provided that you return your order within 30 days of purchase.
The only condition is that the products must be returned in gently used or completely new condition only. To initiate a return, you only need to email [email protected] with your name, order number, the item you are returning, and the reason. You will get an answer within 3 business days and a return shipping label. The refund then takes 5 days to process.
Three Ships Promotions & Discounts
At the time of writing, I have found a few Three Ships Beauty promotional codes on the Internet that range from 15% off to 20% off your order.
In case there is no available discount code when you place your orders, you can still save on your Three Ships Beauty products by purchasing the mouthwateringly priced bundles.
By subscribing to the brand's newsletter, you will also be able to enjoy 10% off your order, and all orders over US $45 get free shipping.
Contact Three Ships Beauty
If you still have questions this Three Ships Beauty review has not answered, you can contact the team via:
Email at [email protected]
Phone: (844) 475-7697
Facebook
Instagram
Three Ships Beauty Review: The Editors' Verdict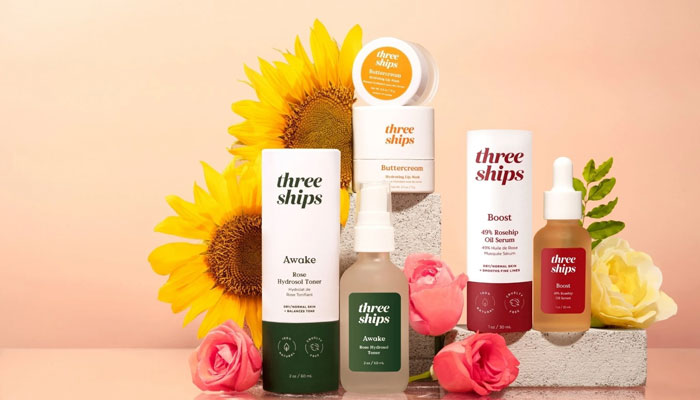 Finally, for this complete Three Ships Beauty, we have taken into consideration all the elements that make a brand a truly great brand. We've seen that Three Ships Beauty focuses on offering the modern woman of any age or skin type the best of nature. These products are made to answer specific skin needs. You'll find products for dehydrated skin, oily or combination skin. Pretty much everyone with any type of skin issue can try out their products.
The all-natural, vegan, and cruelty-free formulas are definitely a plus. Furthermore, one can't deny that a routine under $40 is an enjoyable one. Especially when it is effective and truly respectful of the skin, the planet, and the wallet. Knowing that the products are dermatologically tested on voluntary human beings rounds up overall great performance for Three Ships Beauty. Editors' verdict? Yes, we do believe the brand is worth the hype and your money.
But we also have to be honest and say that with so many all-natural and affordable brands on the market, you'll have to decide ultimately, if Three Ships Beauty is the one for you. After all, your skin is one of the most important organs in your body and you should take good care of it. We hope our Three Ships Beauty Review is useful and trust you'll make the right decision!
Here are a few more popular all-natural beauty brands to consider: Green Goo Review, Proven Skincare Review, Dr. Squatch Soap Review, and Be Natural Organics Review.
Frequently Asked Questions
Are Three Ships products paraben, sulfate, synthetic fragrance, and phthalate-free?
Three Ships Beauty uses only the highest-quality natural ingredients in their recipes, with high concentrations of natural actives. A "wholesome" approach to beauty is the brand's ultimate goal.
As such, you will find no toxic ingredients nor fillers in their products, and the brand is transparently free from:
Parabens
SLS + SLES (Sodium Lauryl Sulfate and Sodium Laureth Sulfate)
Phthalates
Phenoxyethanol
Toluene
Mineral Oil
Ethylenediaminetetraacetic Acid (EDTA)
Formaldehydes & Formaldehyde-releasing Agents
PEGS (Polyethylene Glycols)
Plastic Microbeads
Artificial Colorants/Flavours
In addition, Three Ships Beauty is pregnancy safe and gluten-free.
Does Three Ships test on animals?
Three Ships Beauty does not test on animals. The natural skincare brand prides itself on its status as:
cruelty-free
vegan
gluten-free
pregnancy safe
free from toxic ingredients
Their natural skin care products will forever be vegan, Leaping Bunny certified cruelty-free, gluten-free, pregnancy safe, and free of the following ingredients.
The products I ordered don't work for me. Can I return it?
If you happen to be dissatisfied with your Three Ships order, you can return it for a refund. The products must be in new condition, or lightly used to be eligible for a refund.
Do Three Ships offer samples?
Three Ships Beauty does not offer any samples. They do have a 30-day return policy, so in case you have purchased a product and you didn't end up liking it, you can just return it back.
What is the shelf life of Three Ships products?
As long as you do not open them, they are safe to use up for a year. After you have opened it, each product has a symbol on the back showing the expiry date. You have to look for the 6m or 12m symbol.