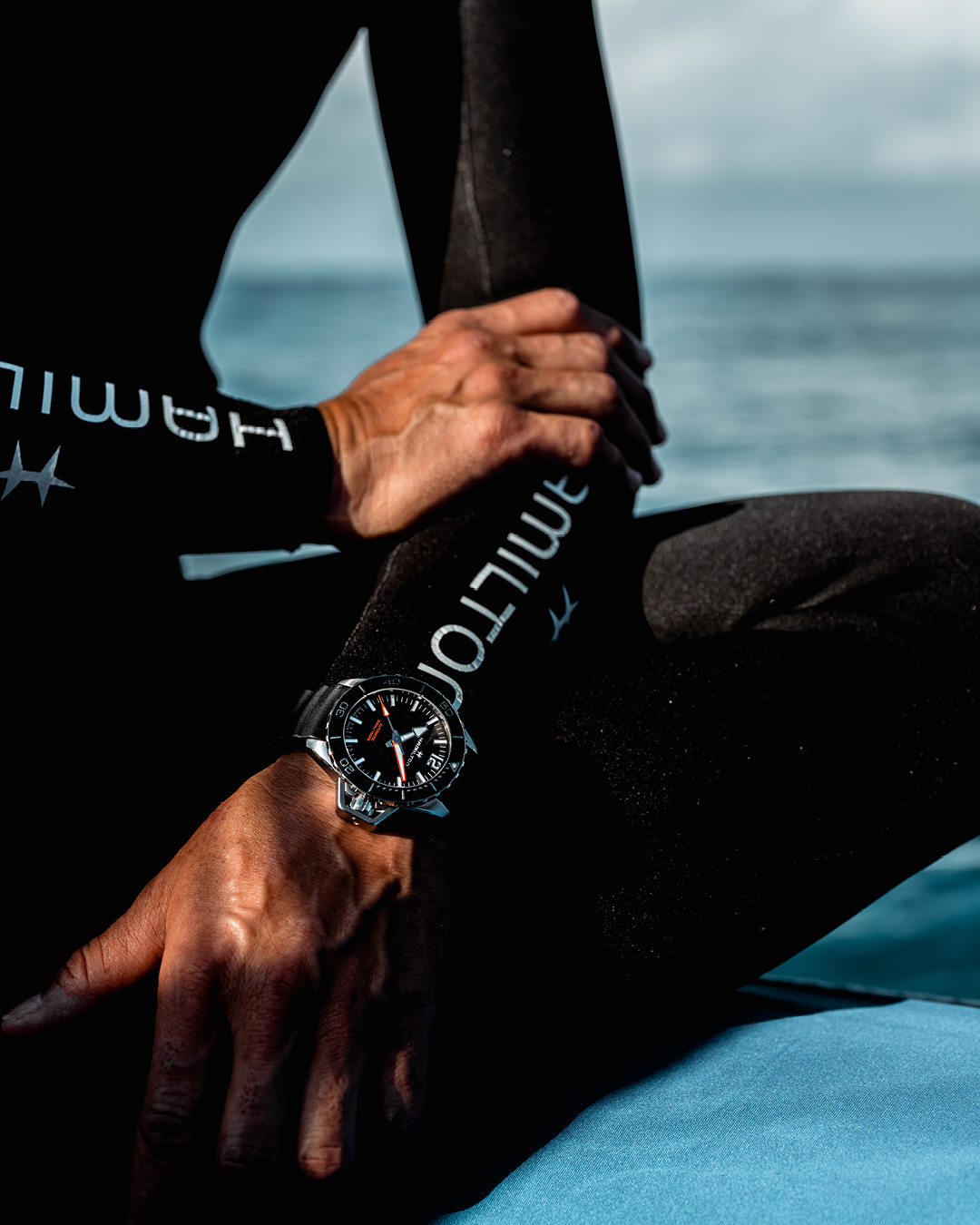 Known for its practicality and Swiss precision, Hamilton Watch is one of the most famous companies with strong roots in the United State's watchmaking history. If you are into watches, you most likely have already come across this brand and we are sure that you have many questions that need answers. Good news, in our Hamilton Watch review, we are going to answer all your questions.
We are going to look behind the brand's history and production, take a close look at the watches and see what previous customers have to say about their experience with the company.
About Hamilton Watch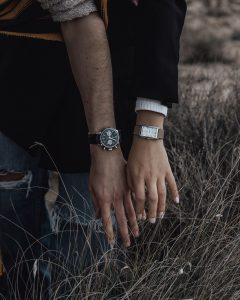 The history of Hamilton roots back to 1892. This is the year when the company was established in Lancaster, Pennsylvania, where the first Hamilton Watch factory was based in the first 111 years of the brand's life. Hamilton pioneered the American watchmaking industry by creating watches that were accurate and reliable. This was especially crucial at that time, the early days of the American railroads. Hamilton watches helped to synchronize timing on the rails and this way prevent and reduce accidents.
In 1918, with the fast development of aviation, Hamilton watches came handy helping the coast-to-coast US Airmail service. Over time, the company became part of the Swatch Group and in 2003, they moved the Hamilton Watch headquarter and production to Biel, Switzerland.
Today, with the prestigious Swiss label, Hamilton Watch has over 3000 stores worldwide. From mechanical to automatic and quartz watches, this company has got it all, no matter what type of timepiece you prefer on your wrist.
But before we dig deeper in our Hamilton Watch review, let's take a quick look at the most important pros and cons you should know about before placing your order:
Pros
Large selection of mechanical, automatic and quartz watches for both men and women

The company launches collections, all featuring a different styles

Well-made, high-quality watches that are made to stand the test of time

Long-lasting straps

Free ground shipping for all orders

Besides being a premium brand, you can find affordable items too, under $500.00
Cons
It is a premium watch company, so be prepared that particular watches can be quite pricey, with some items costing more than $6,000.00

The worst customer review described the watches as average
Hamilton Watch Products Review
In the next section of our Hamilton watch review, we are going to take a close look at some of the most popular items. And as we always do, in the end, we are going to analyze customer reviews from multiple sources and see how people see the brand and the products they sell. Without further ado, let's get into our review!
Hamilton Watch Men's Watches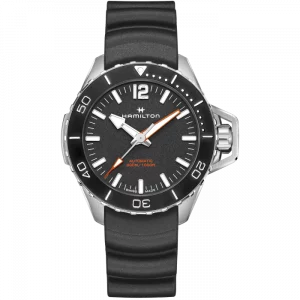 Looking at the Hamilton watches for men, the very first impression is that you can choose from a wide selection of chronograph, automatic, classic, elegant, or even sports watches. As you can read on the website, these pieces are all characterized by "American spirit and Swiss precision" and we have to say, for a good reason. The Hamilton men's watches are stylish, iconic pieces that elevate your look and offer you an outstanding style.
The sizes start below 35 and go up to over 45. In terms of movement, you can choose an automatic, mechanic, or quartz watch with the case being made of stainless steel, titanium, or bronze. What we genuinely liked about the Hamilton men's watches is their versatility. The dials and the straps are available in multiple colors, so you can really play with matching your straps and dial colors, depending on your taste. You can choose from many types of straps such as calf, cow, goat, or ostrich leather, but you can also opt for a canvas, nato, textile, or stainless steel strap. It really depends on what you prefer.
Obviously, we are also looking at prices. The cheapest men's watch costs $375.00. This is the Khaki Field King Quartz Watch, featuring a black dial color and brown cow leather strap. The most expensive timepiece is the iconic watch of the Jazzmaster collection, the Face 2 Face II Auto Chrono, which costs $3,955.00. According to the company's website, there are only 1,999 pieces made of this watch, so in case you want to get your hands on it, you better not wait long to purchase it.
Hamilton Watch Women's Watches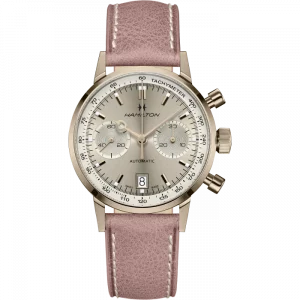 Similar to the mens, the womens Hamilton watches category is also impressive. If you are looking for a high-quality watch that can serve as your day-to-day or occasional accessory, you should really check out the Hamilton watches. Thanks to the large selection of styles, materials, and colors, it is quite easy to find a piece you can use to take your outfit to another level.
Women's watches feature Automatic and Quartz movements and their water-resistance ranges from 3 bar (30m / 43 psi (98.43ft) to  10 bar (100m / 43 psi (328ft). You can choose from 4 different buckle types such as folding clasp, pin buckle, butterfly, and H-buckle.
The prices range from $445.00 to $2,295.00. The most expensive women's watch is the Jazzmaster Open Heart Lady Auto, which balances contemporary sophistication and elegance with refined craftsmanship. If this seems like a too big investment, take a look at more affordable pieces under $500. The Adore Quartz from the American Classic collection is a vibrant, chic watch to wear daily. Yet, due to the unexpected double strap, it will spice up your look and turn heads for sure. Another remarkable piece under $500 is the Lady Hamilton Vintage watch with the Quartz movement. This beautifully made watch is the perfect accessory for occasions when you want to feel elegant and emphasize your feminine vibes.
Hamilton Watch Khaki Field
The Hamilton Field watch is for you if you are into military style. The Khaki Field collection includes watches inspired by the army style, so these pieces are mostly resilient and robust, and most importantly sporty.
The collection has 71 timepieces with the case material being stainless steel, titanium, or a combination of bronze and titanium. The dial color comes in beige, black, blue, brown, green, grey, silver, and white. The straps of the Khaki Field come in variations too, so no matter whether you prefer a leather strap or you like the nato style, you can easily find a strap for your particular taste.
In terms of prices, the cheapest piece is the already mentioned Khaki Field Quartz watch which costs $325.00. The most expensive watch in the collection is the Khaki Field Auto Chrono, an automatic, military watch made for adventures. This watch has a 10 bar (100 m) water resistance and features an exclusive H-21 automatic caliber timing. And another interesting thing to know about this $1,795.00 watch is that it was featured in the first and second seasons of Jack Ryan, worn by John Krasinski.
Hamilton Watch Automatic Watches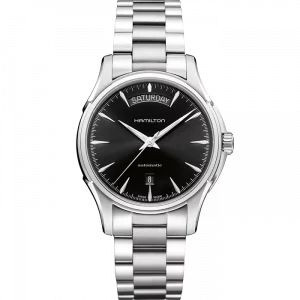 If you want to treat yourself to a good Hamilton automatic watch, do not hesitate to take a look at the website. In this category, you will find a wide selection of both women's and men's automatic watches between a quite large pricing range. There are 7 collections including automatic watches such as the already mention Khaki Field collection, the American Classic, the Broadway, the Khaki Aviation, the Khaki Navy, the Venture, and the most luxurious of all, the Jazzmaster.
The cheapest Swiss-made automatic watch costs $575.00. This watch is part of the Khaki Field collection, but you can find affordable watches under $700.00 from the American Classic, and Khaki Navy collections too. The most expensive, as you might have already guessed is the Jazzmaster Face 2 Face limited edition watch, which you can purchase for $6,195.00. This extraordinary watch has an undoubtedly unique look, featuring a rotating case housing not one, but two dials. Definitely an outstanding timepiece and a conversation starter.
Hamilton Watch Mechanical Watches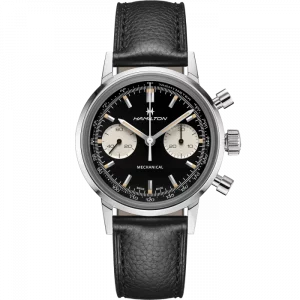 In case you prefer mechanical watches, this category might be your favorite by the brand. Inspired by the good old-fashioned Hamilton pocket watch, most items in this category have a simple, yet elegant style. The dial colors come in black, blue, brown, green, grey, and white, while the straps are made of calf leather, canvas, cow leather, nato, stainless steel, or textile. The starting price of this category is a little bit higher than in the case of automatic watches. The cheapest item costs $625.00 and you can only find very few options under $700.  However, the other end of the price point is lower, with the most expensive mechanical watch costing $845.00.
Hamilton Watch Review from Customers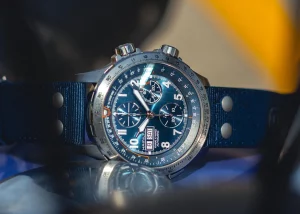 Now let's dig even deeper and see what customers say about the Hamilton watches. On the company's official website, there is an entire page full to customer reviews. Here you can find feedback and review from the average customer to a watch collector. One collector says "As a watch collector of all styles and price ranges I find this watch to be as good a value as I have ever seen. Well done, Hamilton."
Another customer, who bought a Hamilton watch describes his experience very positively, saying that "The strap that came with the watch lasted over 4 years of daily wear. Replaced it with the same strap, look forward to 4 more years". Mostly, the feedback is positive. Those who seem less impressed by Hamilton, describe their purchase as average.
Popular Alternatives to Hamilton Watches
Looking at the customer reviews, it seems that people are happy with their purchase and Hamilton watches are a worthy investment for many. On both the official website, Amazon, Trustpilot or any other similar platform there are hundreds of 5-star reviews showing customer satisfaction with the brand.
Sign Up for Hamilton Watch
We have also looked into the sign-up process on the Hamilton Watch website. Once you create an account, you can enjoy the fast checkout feature, track your orders, add more than one delivery address, and many more. The process is straightforward and you can complete it within a few minutes. You will be asked to add your personal information such as your first name, last name, your address information and create a password for your account.
Where to Buy
If you want to treat yourself or surprise someone dear with a Hamilton watch, the easiest way is to order the item you like from the official website. However, Hamilton is not only an online brand, you can find many store locations worldwide. To find the closest store to where you live, use the Store Locator feature on the website. You can also find the Hamilton watches sold by third-party retailers such as Amazon, Nordstrom, etc.
Hamilton Watch Shipping and Return Policy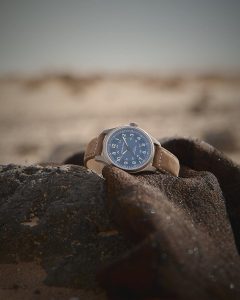 Shipping
Once you order a Hamilton watch, your order will be processed within 24 hours of credit card approval. Depending on how fast you want to receive your package, there are 3 shipping options you can choose from:
Standard ground: This shipping type is free of charge and your order will arrive within 5 to 7 business days.
Expedited 2nd Day: Free of charge, it allows you to receive your order within 2 business days.
Rush Overnight: If you choose this type of delivery, make sure to place your order on weekdays before 12 PM EST. Orders placed after this time will be shipped the next business day. Also, keep in mind, that in case your order needs verification or you asked for any special adjustments, it will take 1 to 2 business days to receive your order. Depending on your location, the cost of Rush Overnight shipping will appear on the checkout page.
When it comes to returns, you have 14 days from the date of delivery to return your order via mail. You can either ask for a full refund or you can choose the exchange option. If you return your order via mail, the company won't cover the return shipping cost. However, if you opt for an exchange, they won't charge you any delivery fee for shipping the exchange item to you.
Returns policy
In terms of the return process, you can get in touch with the company by calling them at 0-800-234-8463 (from 9 AM to 7 PM EST between Monday and Friday) or you can email them at [email protected].
You are also instructed to complete the online return form. Once you are done with this, you will receive a pre-paid FedEx label in your email inbox. You will need to add this label to the package you want to return.
Use the following address as the return address:
The Swatch Group (U.S.), Inc.
C/O – Hamilton Ecommerce Division
55 Metro Way, Suite 1
Secaucus, NJ 07094
The easiest way to send your package to Hamilton is to drop your package at the nearest FedEx location. Needless to say, any damaged, stretched or worn items won't be approved for a refund.
Promotions & Discounts
Our Hamilton Watch review couldn't be complete without giving you some sweet tips and tricks on where to find promotions and discounts. Unfortunately, on the official website is quite challenging to find any deals, there are hardly any sales or discounts to help you save money on your order. At the time of writing, the company offers free ground shipping for all orders.
Other retailers offer coupon codes and special discounts on Hamilton watches, so if you don't necessarily want to shop from the official website, it is worth a try to do a quick research online or in stores.
Contact Hamilton Watch
If you want to contact the Hamilton Watch customer service, head to the contact page of the official website. Here you will be asked to fill in a contact form with your request type, personal details, and message regarding the issue you seek assistance for.
For quick support, you can call the company at 1-800-234-8463.
Hamilton Watch has over 3000 stores worldwide. You can use the store locator feature to find the nearest stores to your location. The same is true for the service center finder.
Another useful page on the website where you can learn about customer-related issues is the Customer Service page. Depending on the type of inquiry, you can find here the FAQ section or user manuals, learn about service prices, watch care, watch interventions, service process, etc. Scrolling through this page is definitely a good way to start your research if you come across any issues.
Hamilton Watch Review: Editors' Verdict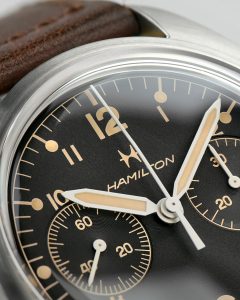 To end our Hamilton Watch review, it is time to give you our unbiased, 100% honest opinion about the brand. Based on all we learned today, we can confidently say that Hamilton Watch is a well-established, trustworthy brand that starting in the early 1900s, stood the test of time. Their timepieces are all well-made, high-quality, precise, and practical. So if you are looking for a stylish, yet Swiss guaranteed quality watch, Hamilton is your go-to brand.
Are you still looking for other amazing watch brands? Check out our reviews of Nixon, Daniel Wellington, Lord Timepieces, and Original Grain Watches. 
Hamilton Watch FAQ
My watch is defective, what do I do?
According to the company's website, a defective watch should be returned to the Hamilton Watch warehouse within 30 days as postmarked. Once the Quality Control Department checks the damaged or defective watch, the company will send you a replacement.
How do I determine my wrist size?
If you need help determining your wrist size, you will find an instruction on the official Hamilton Watch website. Just head to the FAQ section and you will see a pdf document with lots of helpful instructions on how to decide which watch band size fits you the best.
Can I get my Hamilton watch engraved?
Unfortunately, according to the Hamilton Watch website, it is not possible to get individual orders engraved.
Are there still replacement parts for my old Hamilton watch?
The company guarantees the availability of all replacement parts for at least 10 years after the end of production of each model. Hamilton Watch pays special attention to vintage and collection pieces, and according to the website, they do their best to ensure that these items can be serviced properly. In case they cannot provide you with a replacement part for your Hamilton watch, they will offer you the option of exchange at a favorable rate with the loyalty program.
How long is the lifetime of a watch battery?
Depending on the type of watch, the dimensions and the amount of energy used by different functions, the lifetime of a watch battery varies from 2 to 5 years.