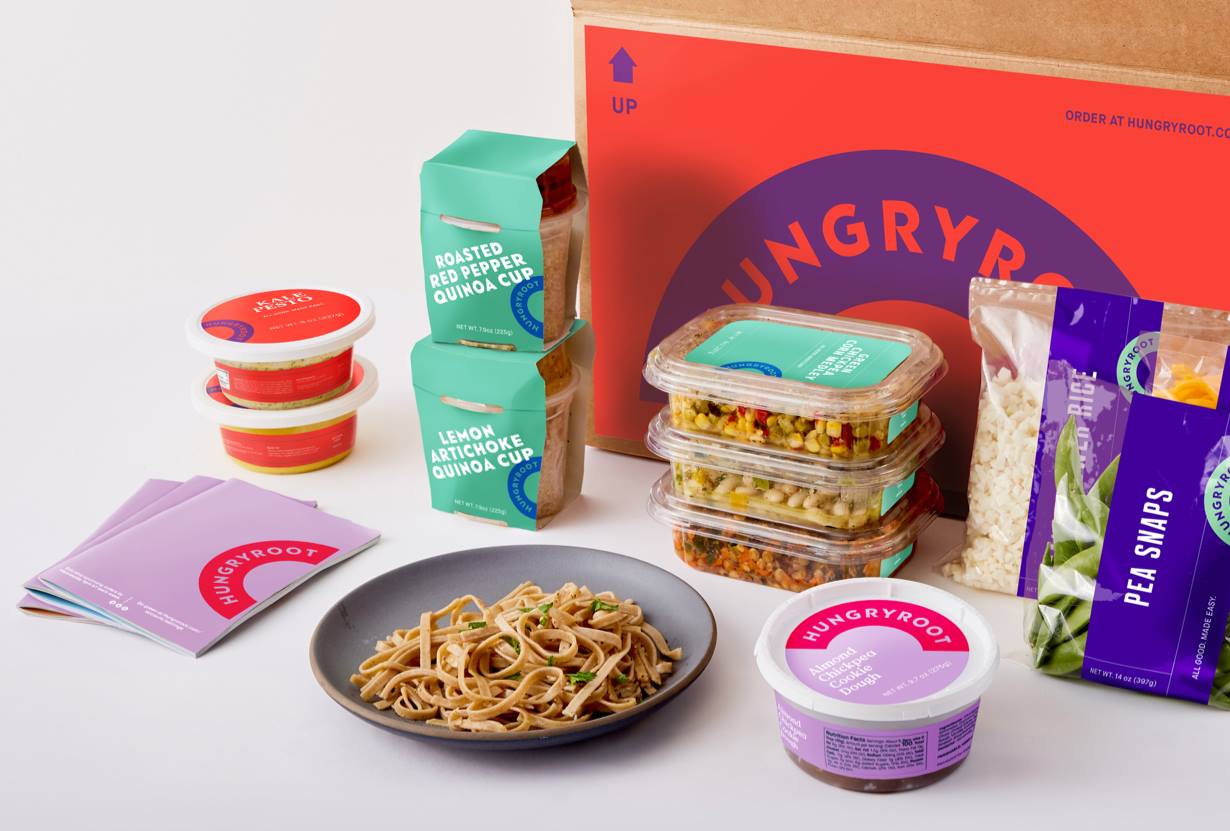 Due to our busy schedules, we're always looking for faster and simpler ways of preparing meals. The good news is that Hungryroot can help solve such problems, and make sure that you are consuming healthy food. The brand is a unique blend of grocery and meal delivery services that blend healthy produce, pasty items, proteins, and groceries to help you make delicious meals. The food service provider is ideal for professionals, busy students, couples, and singles who wish to spend less time in the kitchen but not compromise on taking fiber, rich grains, and fresh produce. We'll examine Hungryroot reviews, its menu, customer ratings, return policy, discounts, and more to help people determine if its service is worthwhile.
About Hungryroot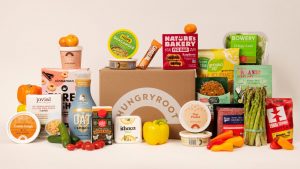 Hungryroot is an AI-powered online grocery service that offers healthy and modern food recipes to support fast and simple meal planning. Its core mission is to help consumers shop, cook, and enjoy healthy foods. It's a combination of a meal delivery subscription and grocery service and offers ready-made meals and fresh groceries. 
This service provider was founded by Ben McKean in 2015 as a solution to offer customers nutritious meals instead of dictating what they should eat. The company lets customers shop for fresh ingredients and generate thousands of recipes from its platform. It helps consumers eat healthier meal plans using simple ingredients.
Buzzfeed and Business Insider reviewed the company and found that their meal subscription boxes feature numerous unique qualities with their wide range of dietary accommodations and healthy ingredients. The brand has 282k Instagram followers and more than 245k followers on Facebook. 
Before we delve into Hungryroot reviews from customers and its menu, we'll look at the pros and cons of this food subscription company.
Pros
The brand boasts of delicious and healthy meals

Customers get the chance to enjoy clean, healthy, and mainly organic ingredients

You can cook most of the meals in less than 15 minutes

It is easy to modify your membership and customize your inbox

They provide quick and easy to prepare recipes and accommodate a wide range of preferences and allergies

The brand offers free shipping for orders worth more than $70
Cons
Some customers find the meals a little more costly than purchasing your groceries and preparing meals at home

They don't offer phone support

They do not accept exchanges or returns
How Does It Work?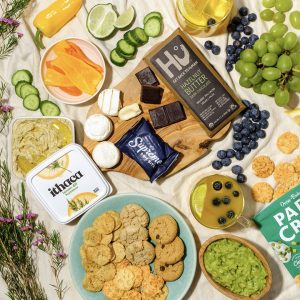 The idea behind Hungryroot is to offer customers a wide variety of healthy groceries that they can shop for separately or in combination with flavorful recipes that they can cook at home. Hungryroot is similar but not the same as the typical weekly subscription box, where you'll receive a meal kit delivery service. 
This meal delivery service provides the ingredients that you can use to prepare your meals. Since most of the ingredients supplied by Hungryroot are pre-cooked or full-cooked, preparing foods in the kitchen becomes simpler. 
Signing up for Hungryroot starts with a detailed quiz with basic questions, including family size, weekly budget, and records. These questions help to understand your needs and preferences. The platform prompts you to answer whether you like vegetarian, dairy-free, vegan, gluten-free, tree nut-free, egg-free, pescatarian, soy-free, or shell-free ingredients. 
Other preferences include plant-based proteins, seafood, and animal meat. You also answer questions about dietary restrictions and the type of meals you like to prepare.
The system recommends a personal plan, but you can still customize your basket. The system then creates a plan and suggests the number of servings for each meal. At this point, you can adjust the serving sizes. The cost of each serving can be as low as $9.49. 
The next step involves picking your nails and grocery items. Hungryroot includes a wide variety of meals and grocery items from its private brand and other popular brands like Pipcorn Popcorn, Califia oat milk, and Pukka Tea. 
Preview your options
After picking your meals and grocery items, you have an option to preview and check if the options appeal to you. All products on this site are devoid of preservatives, artificial sweeteners, colors, partially hydrogenated oils, and high-fructose corn syrup. 
The lack of these ingredients means they are healthy whole foods. All grocery items and recipes have a credit value. The number of credits depends on the serving. When ordering recipes, you can order from 2 to 10. 
The Hungryroot menu also offers weekly meal options comprising 3 to 5 ingredients and a large selection of groceries. Because Hungryroot is a weekly subscription service, you should edit your subscription weekly or skip per week if you don't want groceries to avoid charges. Hungryroot also allows you to cancel your subscription at any time via the website or app. 
Hungryroot Recipes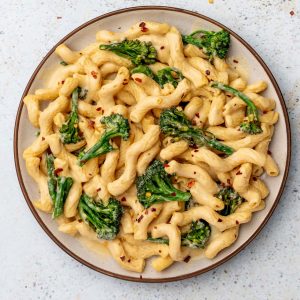 Are you ready for your grocery delivery of traditional meal kits? The Hungryroot menu consists of eight categories of healthy food, including veggie noodles, stir-fry flatbreads, grain bowls, pasta salads, wraps, and market plates. Typically, they include a maximum of four ingredients. If you are unsure of the recipe to pick, check the recommendations on the site by filtering based on dietary preference and preparing your mouth-watering meals.
There are loads of Hungryroot recipes designed for different types of people. Some of the most popular recipes on this site include the spiced tofu coconut curry skillet. This recipe includes tofu, and you can serve it over brown rice or quinoa and blend it with a coconut curry sauce. This meal is protein-packed. Blending coconut milk curry paste and spices results in excellent ready-made curry sauce with an irresistible flavor that would be hard to find in the local stores. 
Chickpea pasta with pesto and zucchini is another protein pack meal that tastes great. It features sauteed zucchini Banza, chickpea pasta, and Hungryroot's pre-made pesto sauce. You'll love it, especially in your add plant-based grated parmesan cheese.
More recipes
Another great option to go for is the cauliflower zucchini with garlic parmesan and portobello mushrooms. This homemade pasta meal is pretty easy to prepare in less than 15 minutes. The process starts with heating oil and sautéing the Portobello meatless mushrooms. 
You also need to boil the cauliflower linguini for 3 minutes. Finally, sauté the spinach, the other ingredients, and the garlic parmesan sauce. You will love its wonderful flavor if it's your first time trying cauliflower linguine. Furthermore, the pre-made sauce is quite delicious. 
Cauliflower gnocchi with broccoli and marinara can't be left out when it comes to great meals. Cauliflower gnocchi tastes great with a marinara sauce and sautéed broccoli. Consider topping it off with some bacon parmesan. This cauliflower variety is not common, and you'll be excited to try it out. 
Hungryroot Groceries
Hungryroot lets you enjoy fresh and healthy groceries. By taking the quiz, you get access to healthy groceries each week and recipes on how to prepare your groceries into easy and quick meals. 
The large product selection includes natural nutrition servings, including your regular groceries. Hungryroot has over 16 fresh vegetables on the site. The groceries also include veggies, pre-made flavourful sauces, and dressings compatible with different diets. 
Some of the groceries you can find on this site include red bell pepper, baby Romaine lettuce, microwave-ready sweet potato and Russet potato, rainbow veggie mix, and Asian salad mix. It also has super blend salad, broccoli florets, shaved Brussels, sweet baby broccoli, cauliflower florets, 7 veggie stir-fry, red potatoes, fingerling potatoes, red onion, leafy arugula, baby spinach, baby Bella mushrooms, garden peas, rosemary, thyme, and fresh garlic. 
Hungryroot Meals Pricing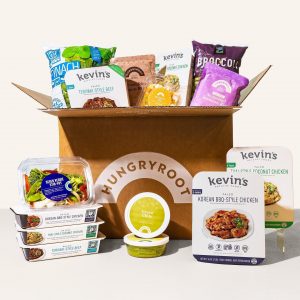 If you are asking yourself: How much does Hungryroot cost? The price structure on this site is fully customizable, and it's more of a grocery service than a meal kit service. The recipe servings for your lunch or dinner will cost $8.49 to $9.99; ready-to-eat desserts and breakfasts arrange $3 to $5 per serving, while snacks are $2.50 to $5 per serving. 
Hungryroot reviews show the pricing structure is different from the typical meal delivery kits because it's a flexible hybrid between a personalized grocery service and a meal delivery service. Depending on how you answer the signup quiz the system assigns, you will click credits depending on your household size and the meals and snacks you wish to purchase each week. 
For example, if your plan relies on Three 4 servings recipes, 4 to 6 breakfast ovens, and 5 to 7 snack services in addition to 4 to 6 sweet servings, your weekly total will be $173.85 and equivalent to 82 credits; this means each credit is worth $2.12. Meals start at 8 credits for each recipe and can be as high as 28 to 30 credits. On the other hand, grocery items start at 0.25 credits and can be as high as 8 to 10 credits. 
Different pricing on different meal options
Since the pricing depends on your plan, and his plan includes a fixed number of credits, the price won't change if you use the same amount of credits. Remember that some ingredients, such as meats, require more credits, so you will pay more if you choose meat-heavy plans. The lowest plan you can choose and the order includes six servings per week and goes for $60. 
Hungryroot offers you the option to include more servings in increments of 2 to 4 and a flat increase of $10. Also, remember that the cost per serving goes down as you order more. For instance, a 6-serving plan will cost $9.99 for each serving, while a 10-serving plan will be approximately 8.75 dollars per serving. Let's see Hungryroot reviews from customers. 
Hungryroot Reviews from Customer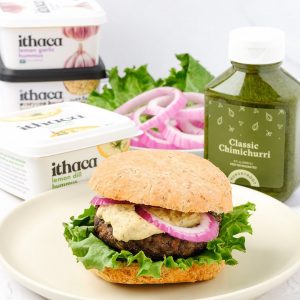 Our Hungryroot review checked what customers think about their meals and service. On the company's website, most customers are happy with the brand. They stated that the platform offers healthy organic, delicious foods that make preparing meals seamless. 
They also said that the service provider provides high-quality organic foods that may not be easy to find in local stores, such as cashew cheddar cheese, cauliflower linguine, and black bean brownie batter. 
Trustpilot gave the company an average rating of 3.1 out of 5 stars, with the majority praising the brand for offering tasty meals. We also came across a few customers who have negative sentiments about the brand, with some of them complaining that their meals are quite costly.
Sign up for Hungryroot
To sign up for a Hungryroot subscription, you should be a US resident and have a valid US mailing address, which excludes Alaska, Hawaii PO Boxes, and DPO/ APO /FPO. Additionally, you must create a Hungrypost account to be eligible for promotions. When you sign up for this service, you get a free item or gift for every order. Remember that promotions are limited to one account or per household.
Hungryroot Shipping and Return Policy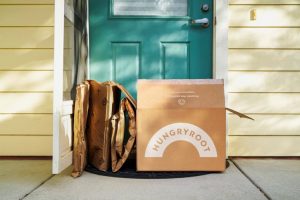 Shipping
Currently, Hungryroot ships to 48 contiguous States and Washington DC but excludes Alaska and Hawaii. Depending on your location, you can enroll for Monday to Sunday deliveries. Because the service provider uses different carriers in different styles, they cannot offer scheduled delivery dates. 
The company's deliveries happen between 8 a.m. to 9 p.m., or it can be later during peak season. You have the freedom to change your delivery before 7 p.m. ET Monday or Thursday, depending on your chosen delivery plan. Also, you can skip your Hungryroot delivery box for a maximum of three consecutive weeks. 
Return Policy
Because of stringent rules regarding the transportation of fresh foods such as ice and packaging, Hungryroot does not permit exchanges or replacements. If you're unhappy with any items in your delivery, contact the customer care team or mark them as "never" in your profile to ensure you won't receive them in the future. 
Promotions and Discounts
Hungryroot offers frequent discounts and promotions to new members and existing clients. For instance, new members get a 30% discount on their first box exceeding $99.
 Also, check out for a promo code before you check out to enjoy special discounts. The company offers plenty of promotions for different diets, including dairy-free, gluten-free, vegan, or vegetarian foods. The promo codes help to sweeten the deal. 
Before you check out, check for a gift or promo code and click apply to enjoy the discount on the order. The simplest way is to click and paste the promo code. 
Contact Hungryroot
If you have any questions or need answers about any services offered by Hungryroot and we haven't answered in our Hungryroot reviews, you can contact them by sending an email to [email protected]. You can also text them at 855- 222- 5704. Their customer care attendants are available from 10 a.m. to 6 p.m. EST daily but unavailable on the 4th week of July, Christmas Day, Thanksgiving Day, and New Year's Day. 
Hungryroot doesn't offer phone support, but you can get immediate help online. 
Hungryroot Reviews: Editor's Verdict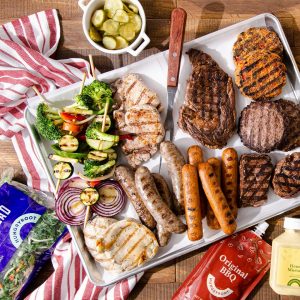 After perusing Hungryroot reviews from different sites, we have concluded that the brand is worth checking out. The company makes meal preparation and snacking easy and fun. 
The platform is an excellent medium for discovering new foods, recipes, and snacks and how to prepare them. The service includes a bundle of groceries that will help you prepare satisfying meals throughout the week without visiting the grocery by yourself. 
Hungryroot is ideal for those who want to prepare fresh meals using fresh ingredients without much effort. It's also a suitable solution if you lack access to a grocery store with a wide range of gluten-free vegan and other specific diet-best groceries and products. The platform offers easy recipes that enable you to prepare foods using the combinations available. 
Hungryroot is undoubtedly the ideal solution for anyone seeking nutritious meals that don't require lengthy cooking. It's an excellent spot for those who prefer plant-based alternatives and are not heavy meat-eaters. 
Interested in other food and drink brands? Read our reviews of CookUnity, Bev Wine, and Death Wish Coffee.
Hungryroot FAQ
Is Hungryroot worth it?
If you're wondering: Is Hungryroot worth it? The answer is yes. It's the ideal solution for those struggling with diet restrictions, lack of time to prepare meals, and limited budgets. It's a great option to tailor your meals to your taste, preferences, and dietary requirements. The food here is delicious, and the recipes are quite convenient.
How do I rate the food I receive?
After receiving your delivery, click on the icon located at the bottom to rate the recipes. You can rate recipes a week before your most recent delivery out their clock icon above the delivery date. When rating recipes become your routine, you will be receiving more recipes. Rate the recipes by giving them a star rating on the delivery page.
Where does Hungryroot ship from?
Are you wondering: Where does Hungryroot ship from? Hungryroot has distribution centers across the country and uses different carriers to ensure your deliveries arrive fresh and timely. If you want information about the carrier in your area, you can contact customer care and submit your zip code. Hungryroot deliveries reach clients in 24 to 48 hours, depending on their location.
Can I add more items to my weekly plan?
Yes. If your subscription is active, you can add more items to your deliveries. Add extra items that meet you are allocated credits depending on your plan size. After adding extra items, click and confirm the extra charges and click Green to save the changes at the bottom of the shopping cart.