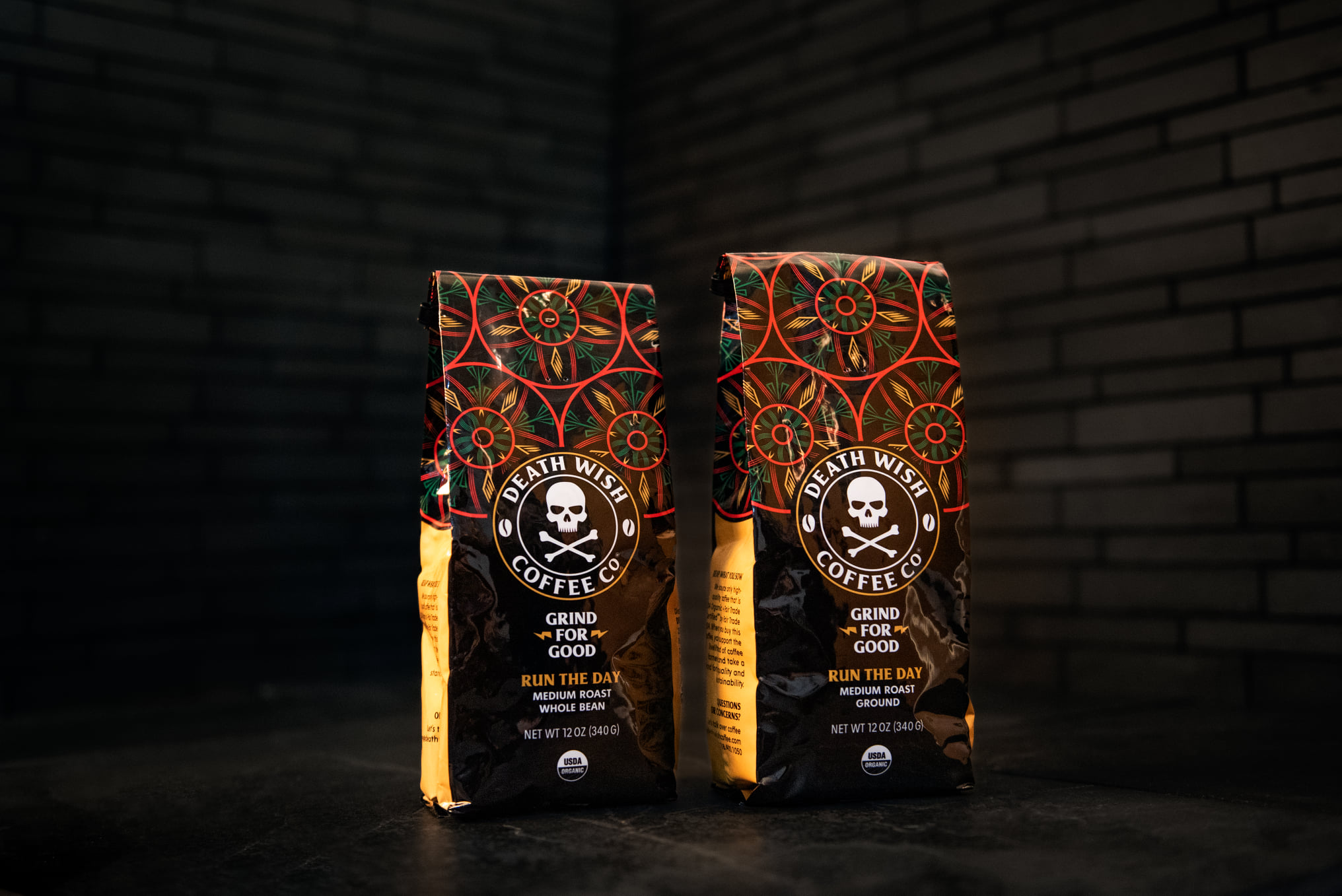 Have you ever wanted to try out the world's strongest coffee? Well, now might be the time. Death Wish Coffee is a company that swears to make the strongest coffee in the world. Their delicious blend of beans will please even the most discriminating coffee connoisseurs. Made from 100% Arabica beans, its coffee will amaze your taste buds with its rich and bold flavor. This Death Wish Coffee review will look at different aspects of the company, including its best-selling products, customer ratings, discounts, and promotions, to determine if this brand lives up to the hype. So, if you love to drink coffee, then carry on reading our honest reviews! 
About Death Wish Coffee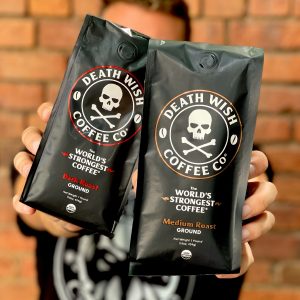 The Death Wish Coffee Company is a New York-based coffee company founded in 2012 by Mike Brown. He wanted to create a strong, dark roast coffee that could be enjoyed by all who tried it. Death Wish Coffee Company has since grown into one of the largest producers of high-caffeine coffee globally, selling its products in over 20 countries worldwide.
Its mission is to produce and deliver the world's strongest coffee to those who can handle it. Firstly, the brand aims to ensure that everyone who tries Death Wish Coffee can enjoy it without experiencing any negative side effects or health risks associated with drinking too much caffeine.
Secondly, the company uses only the highest quality Arabica coffee beans from the most fertile regions to ensure that we provide you with a cup of coffee full of flavor and caffeine. Its coffee is 100% organic, certified Kosher, and Fair Trade Certified™. Lastly, it's also non-GMO Project Verified, gluten-free, vegan friendly, and contains no artificial ingredients or preservatives.
This Death Wish Coffee review found that the brand has been featured on Forbes, Inc., Good Morning America, USA Today, and The Wall Street Journal, to name just a few. The brand is very proud of its products and hopes its clients enjoy them as much as possible.
Pros
Smooth and flavorful dark roast

Whole beans, pre-ground, and K-Cups are all available

Ecologically sound and ethically sourced

Money-back guarantee

Subscriptions for money-saving services are available

They accept returns and exchanges

Their coffee is safe to drink
Cons
There isn't a light or medium roast available for this recipe

All coffee grinders aren't equipped to handle oily beans

Their subscription is only available to US customers
Death Wish Coffee Products Review
Death Wish Coffee is not just making coffee – they are making history. The company is creating a legacy for itself by pushing itself and its products to new extremes. Death Wish Coffee pods have taken this industry to a new level by being the first company to offer coffee at an ultra-high concentration of caffeine (over 1000 mg per 12 oz cup). There is plenty of competition among the coffee brands in the USA, however, Death Wish Coffee is one of a kind. Here is an overview of its best-selling products.
Death Wish Coffee Bagged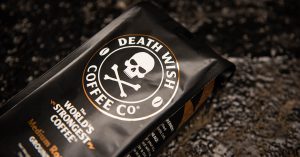 The company offers coffee that can be enjoyed hot or cold, with milk or without. It contains caffeine, which enhances mental alertness and physical activity. It also has antioxidants, which help prevent harmful free radicals from causing damage to the body. 
Death Wish Coffee Bagged is a dark roast coffee roasted to perfection. This coffee has more caffeine than most other brands, and it comes in a convenient bag.
It has twice the amount of caffeine as Death Wish Coffee K Cups and is packed with flavor. Death Wish Coffee Bagged will please any coffee lover with a bold, smooth taste and no bitter aftertaste!
For premium quality, the company roasts the beans in small qualities. The signature blend uses only 100% Arabica beans sourced from the world's finest growing regions. For example, you can purchase Espresso roast coffee which is made from robusta beans. This ground coffee will soon become your favorite!
The company is confident in its products and offers a 100% money-back guarantee if you aren't completely satisfied.
Death Wish Coffee Single Serve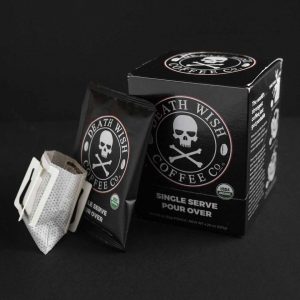 Death Wish Coffee Single Serve is a premium, small-batch, light roast coffee that is highly caffeinated and delicious. Each 12-oz bag of Death Wish Coffee Single Serve contains the highest quality beans and is expertly roasted in small batches to ensure peak freshness. This ground coffee is simply delicious! 
Death Wish Coffee Single Serve comes from the same family as its regular Death Wish Coffee but with an added caffeine boost. The coffee is made up of bold Columbian, Arabica beans, which are ground and brewed to perfection to produce a dark roast with a smooth finish. 
This coffee has more caffeine than any other instant coffee in the world. Death Wish cold brew coffee is made by steeping it in water for several hours at ambient or cold temperature.
This Death Wish Coffee review discovered that the product is tested by an independent lab and found to contain 454 mg of caffeine per can (about 14 cups of coffee). 
If you're looking for a cup of coffee that will kick your butt, look no further than Death Wish Coffee Single-serve. This Death Wish Instant Coffee is bursting with USDA Certified, Fair Trade organic coffee that gives you natural caffeine designed to boost you.
Death Wish Coffee Canned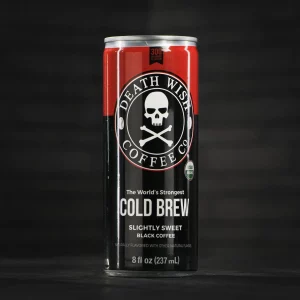 Worries about your caffeine intake because you don't have enough time to make it in the morning? In December 2015, Death Wish Coffee released a line of canned coffees for retail sale. Brown stated that they were excited about their new cans, and it had been a great experience for them to get where they were, and they were exhilarated to offer their customers the incredible product.
Furthermore, the brand took the original Death Wish Coffee and canned it for your convenience! You can now enjoy this full dark roast anywhere you go, even when camping, hiking, or working on the job site. Just make sure to drink responsibly. 
Death Wish Coffee Canned is available in two varieties: Original Blend and Decaf Original Blend. Each can contains 12 ounces of coffee and retails for $2.99 each at select retailers across the U.S., including Whole Foods Market, ShopRite, and Wegmans Food Markets locations nationwide and online at Amazon Fresh Grocery, FreshDirect, and Instacart. But besides Death Wish, there are other brands that offer delicious decaf coffee.
Death Wish Coffee Run the Day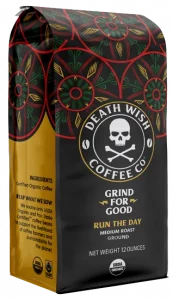 In the U.S., the average cup of coffee costs $1.37. That's a little too much money to spend on a cup of Joe. But brewing a great pot of coffee can be tricky and time-consuming if you don't know what you're doing. Death Wish Coffee is a great affordable alternative. Have a look at this ground coffee from the brand. 
A smooth and balanced coffee with bright acidity, a light body, and an earthy, nutty finish. The roasting process makes the coffee's quality go higher with these. The Death Wish Coffee Run the Day is perfect for a person looking for a more aromatic experience. The coffee is a blend of the finest Arabica beans from Ethiopia, Colombia, and Brazil, creating a slightly sweet, full-bodied coffee with a rich aroma. To bring out the flavor of this fine blend, the company roasts it slightly.
The Run The Day Coffee Blend is perfect for people who want a balanced cup of coffee without any bitterness or acidity. It also makes an amazing espresso. Although be aware of your caffeine intake for the day!
Death Wish Coffee Subscription
If you love coffee subscriptions and the convenience to get it on your doorstep, you should consider signing up. Death Wish Coffee Subscriptions start as low as $14.50 per month. Your subscription will automatically renew after 28 days for the same price (minus discount) unless you unsubscribe at least 24 hours before the end of the current period. You can cancel your subscription at any time from your account page.
Subscription benefits include free shipping (with purchase) and discounts on select products. You can join the Death Wish Coffee crew today by buying your subscription.
Death Wish Coffee Review from Customers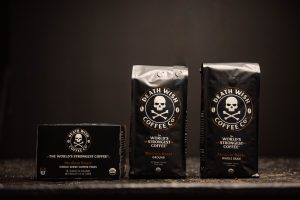 We could not end this Death Wish Coffee without having to hear the customers' experience and what they think about the brand, their Arabica beans, and if they could refer other people. We went through several sites, including the brand's website.
The brand had a five stars rating from all the reviews we found on its site. The review section was full of positive remarks about how the coffee was worth every coin and for the lovers of booster coffee to kick start their day, and then this is just it.
The brand has 4.6 out of 5 stars from over 37272 reviews on Amazon. The site went ahead and broke the rating into percentages whereby 80% of the customers left a 5-star rating, 10% gave a 4-star rating, 5% gave a 3-star rating,2% gave a 2-star rating, and finally, only 3% left a 1-star rating.
One of the customers stated that they tried the coffee, and it worked more than their expectations. He brewed it to keep himself alert during work, but after the 3 death cups, he had to reduce some of his extra energy by jogging. He was able to control the computer directly by thought. The customer ended his review by referring to people who want their businesses to run smoothly despite the task's time and heaviness.
Popular Alternatives to Death Wish Coffee
Further customer reviews
There were also a few negative Death Wish Coffee reviews, with most customers complaining that the company does not offer light and medium roast and their subscription is only available to customers from the United States. Some customers also complained that their coffee grinders aren't equipped to handle oily beans. 
The positive reviews generally outnumbered the negative ones, which shows a high percentage of customers love their coffee. Another similar brand you might wish to look at is Eight Ounce Coffee.
Sign Up for Death Wish Coffee
If you wish to join the Death Wish Coffee family, visit their official website and click on the team bar. You will be requested to add your personal information, like your email name and password. Signing up will allow you to be among the first people to be notified in case of any promotions and discounts available on their site. You will also be eligible for 15% off on your first order and enjoy fast checkouts every time you shop on their site. 
Where to Buy
If you are based in the United States or Canada and wondering where to buy Death Wish Coffee, you can order directly from their website DeathWishCoffee.com. Customers can also buy their coffee from several online retailers: 
Death Wish Coffee Walmart
Death Wish Coffee Amazon 
Alternatively, you can get their products in a local store. Be sure to use their handy store locator to find the closest store near you. 
However, the best place to get their products is directly from their website. You can not only order coffee in various quantities, but you can also sign up for a subscription. The subscription saves you 15% on everything and allows you to receive your beans weekly, biweekly, or monthly. So, if you want to find commitment, don't waste your money: Just Register and subscribe.
Death Wish Coffee Shipping and Return Policy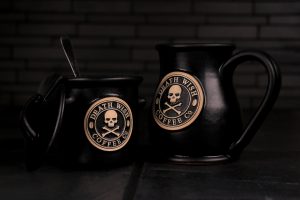 Death wishes coffee ships internationally and locally. The shipping cost depends on the location and the type of shipping used. Their distribution centers are open from Monday to Friday from 6 am to 12 pm E.T.
Every day, Death Wish Coffee proudly roasts beans. They strive to ship orders within one business day. 
However, If you are not completely satisfied with your Death Wish Coffee order, we will gladly refund your money. If you don't like it, let them know within 30 days of purchase for a full refund.
Send them an email with your order number and a brief explanation of why you want to return the item, and they will create a prepaid shipping label for you. When your return arrives at their fulfillment center, they will process your refund and notify you. 
Promotions & Discounts
The brand has several promotions and discounts to offer its customers, including 15% off after signing on their newsletter and 10% off the first order the customer makes.
You can also take advantage of Death Wish Coffee discount codes to save some cash. Also, to be part of the first people to get notifications about promotions and discounts, sign up with the brand and subscribe to their newsletter.
Contact Death Wish Coffee
For any inquiries about Death Wish Coffee that this review could not cover, you can reach out to the brand's support team from Monday to Friday, 8 a.m. to 5 p.m. through the following channels:
Emailing them at heydeathwishcoffee.com

Calling them through their phone at (518)400-1050
Death Wish Coffee Review: Editors' Verdict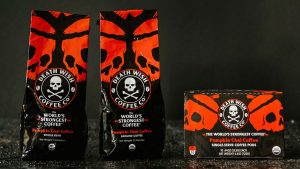 From this Death Wish Coffee review, we can conclude that the brand offers great coffee that is a sweet adventure if consumed responsibly.
There is always some subjectivity in coffee, so it's worth experimenting with the ratios to see if the recommended amounts are ideal for you. Drinking coffee is all fun and games, but you have to balance your caffeine intake. You may discover that adding slightly less coffee or adjusting the number of water results in a better cup for you. 
Because everyone has different tastes, what appeals to one buyer may not appeal to another. If you want to try Death Wish Coffee or any other type of coffee, don't let a lack of devices and gizmos deter you. The heights of coffee brewing with a saucepan or kettle may not be reached, but you should get a good idea of how the coffee tastes and whether it will rock your world.
Are you looking for similar coffee brands? Why not check out our reviews of Bulletproof Coffee, Angelinos Coffee, Blue Bottle Coffee, and Driftaway Coffee.
Death Wish Coffee FAQ
How Strong Is Death Wish Coffee?
According to the brand, a 6-ounce cup of Death Wish Coffee contains 402 milligrams of caffeine. This is more than double the amount in the same serving size as the Starbucks Pike Place Roast. The company behind Death Wish says that it's one of the strongest coffees, and many customers have agreed based on the reviews we came across on the internet.
Where Are The Beans From?
Death Wish Coffee says its coffee beans come from India and Peru. Weather conditions can affect the strength and flavor of coffee beans, just like any other crop.
They continually test their beans to ensure they are the strongest, best-tasting, and most delectable. The finest results come from Indian and Peruvian beans, also the priciest.
Where is Death Wish Coffee based?
Death Wish Coffee is based in Saratoga Springs, New York
What is the shelf life of Death Wish Coffee?
Death Wish Coffee is available online and in retail stores. The shelf life of Death Wish Coffee is up to two years. The company recommends storing the coffee in a cool, dry place. It should not be refrigerated or frozen. If the package arrives damaged, do not use the Product, even if it appears to be undamaged. Death Wish Coffee's shelf life depends on how long it has been since you opened it and how often you have used it.
Does Death Wish Coffee offer free samples?
Death Wish Coffee does not offer free samples. However, you can purchase a variety of roasts from the company's official website. The brand also offers a subscription service called the Death Wish Coffee Club, which allows subscribers to receive various blends every month at a discounted rate.