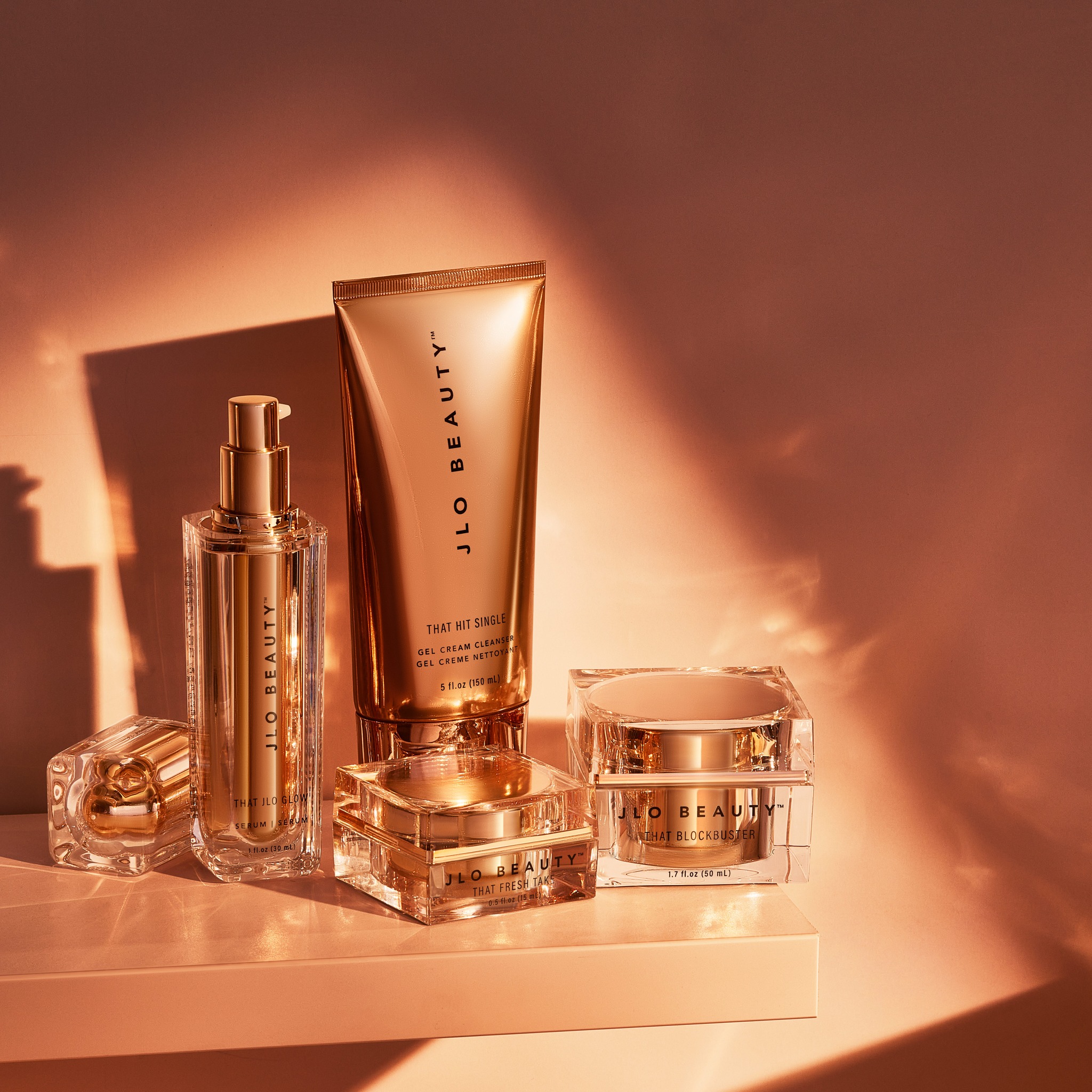 Have you ever wished to look like JLo does? Did you ever wonder how she looks like she's still the same age as when 'Jenny from the Block' came out in 2002? Well, now is your chance to use the same products as her. Of course, a healthy lifestyle also counts, she doesn't look so youthful because of her skincare line. With this JLo Beauty reviews we'll soon find out if her products are worth the hype.
Although she's now over 50, she looks confident, beautiful, like she pretty much stopped aging. JLo Beauty seems to be a brand that carefully chose the ingredients and she didn't just slap her name on it. Let's find out whether you can achieve the same glowing skin as the one and only Jennifer Lopez. 
About JLo Beauty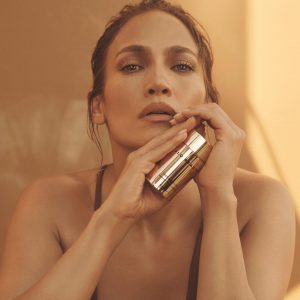 Jennifer Lopez started 2021 with a bang, releasing the long-awaited skincare line by the queen of, well, everything. She has been popular since the early 2000s, however, now JLo is even more respected and loved than ever. Why is that? She is a fierce businesswoman, still an amazing singer, mother of twins and she just looks healthy and strong. It's only natural that women her age or even younger wish to achieve the same glow. 
Genetics do play a big role, however, our way of living and the products we use on our skin can play an even bigger role. JLo Beauty was built on 20 years of research, meaning she's had 20 years to access any product and figure out what she likes and doesn't like. It also means that with all the traveling and touring, her skin still looks ageless and beautiful so she must be doing something right. This skincare line has also been in the development for over 2 years, making sure the products she puts out are worth every penny. 
The tagline of the brand is 'Beauty has no expiration date', and she is right. We are always beautiful and we should feel youthful at any age. Jennifer wanted to create a luxury brand but with more accessible prices for people to use throughout their lives. Her secret to flawless skin is 'The 5 S'S', which are sleep, supplements, sunscreen, serum, and sano (vivir sano, AKA, living a healthy, sane life). 
Pros
The basics of skin care are available with a list of amazing ingredients

JLo Beauty is cruelty-free and some products are vegan

They are also free of parabens, SLS and SLES (which can be found in the majority of products)

Free shipping if your order is over $50

Rating over 4 stars from customers

The option to subscribe and save 15%
Cons
Prices are higher compared to other similar brands

Does not ship internationally, only Canada can purchase through Amazon or Sephora
JLo Beauty Products Review
As the brand is only 1 year old, there aren't too many products to choose from. She definitely created the basics of skincare and currently, you can shop around 8-10 different products on the website. Some of these are serum, face cream, cleanser, eye cream, and sheet mask. 
We will talk about the most important ones that you definitely need in your daily skincare routine. Bonus point for JLo, all of their products are Leaping Bunny Certified! 
JLo Beauty Moisturizer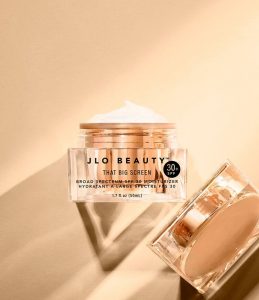 The first product we would like to mention and which we all need is a good, reliable moisturizer which also has an SPF. If JLo has been wearing SPF for the past 20 years, then it must be worth it. The JLo Beauty moisturizer is defined as a luxurious, luminizing moisturizer. It should block out UVA/UVB rays, street pollutants, free radicals, and blue light damage. Quite a lot of promises! 
We looked into the ingredients list to see why it's working. 
Hydration complex in it, which is made up of hyaluronic acid, glycerin, and natural sugars. So far so good! 
Licorice root will make the skin look brighter, and clear the pores. 
Marine bamboo is the ingredient that protects your precious skin from high-energy blue light. 
It is also free from parabens, phthalates, oxybenzone, mineral oil, and fragrance.
This is quite an impressive list of ingredients, and we're starting to understand why they are working. As far as the price goes, she was not wrong, these are mid-range prices, not too affordable but also not on the very pricy side. The cream costs $54 dollars, however, if you subscribe, you'll save 15%. More on this in a bit! 
Out of 299 reviews on their website, 4.1 stars were given to the JLo Beauty 'That Big Screen' SPF moisturizer. A few of the customers who didn't love the product complained that it started peeling after a few minutes of application. If JLo listens to her customers, she will surely have to improve the peeling issue. 
JLo Beauty Mask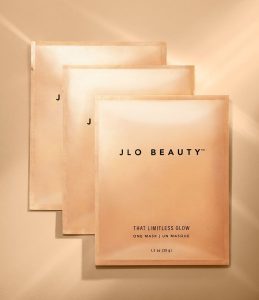 Although moisturizers hydrate the skin on a daily basis, sometimes you need an extra layer of hydration. This is where the JLo Beauty mask can be helpful. The Limitless Glow sheet mask was customized for JLo, to tighten and lift, hydrate, and offer luminosity back to the skin. As it is a 2-piece mask, it molds to your face and provides deeper hydration. 
The main ingredients are:
JLo Beauty Olive Complex is an antioxidant-rich, 4-part olive blend of squalane, fermented oil, extra virgin oil, and leaf extract. We definitely haven't seen this in other products!
Japanese rice sake ferment is the ingredient that brightens and conditions the skin.
Yeast-derived ferment is another antioxidant that smooths your skin. 
Sugar-derived matrix was added to tighten and make you feel like you've just received a lift.
The price for the 'That Limitless Glow' sheet mask is $48 and $40.80 if you subscribe to receive it again. This is definitely more pricy as you only receive 3 packages, so it comes to $16/mask if you purchase it full price. 
As far as the reviews go, it received 311 receives so far and 4.4 stars. A little bit better than the previous product. Whoever gave it 1 star thought the mask was useless, they didn't fit on the face as nicely on the face as it was advertised. So maybe they are quite literal when they say it was customized for JLo? We also cannot ignore the majority of the good reviews! 
JLo Beauty Glow Serum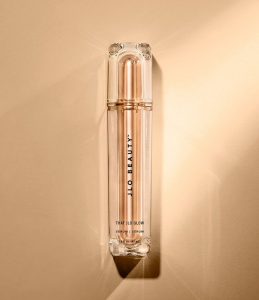 Now, serums are never considered a necessary step in your skincare routine. Cosmeticians say that it's an added step if you wish to go for the extra mile or anyone over 30. 'That JLo Glow' serum is supposed to tighten and lift once again, while hydrating and providing an instant glow to the skin. Okay, so what is different in this serum?
The ingredients list is literally the same as the sheet mask. We will not bore you by repeating what they do. It seems like they created two different products for the same purposes. One for people who only need these added ingredients every once in a while, hence why it comes in a mask form. The other is for anyone who wishes to add these ingredients to their daily skincare routine.
The price is very different. Much more expensive than the rest of them. A 45 ml bottle costs $79 and if you subscribe you'll save 15% so it comes down to $67.15. Surprisingly enough, the reviews are not bad. A total of 4.5 stars were given out of 385 people who reviewed the serum. The people who gave it 1 or two stars had issues with layering the rest of the product with the serum, others said it simply didn't do what it promised to do. 
JLo Beauty Gel Cream Cleanser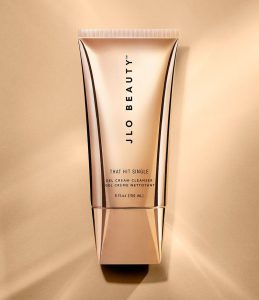 JLo beauty products so far looked promising. We have another one that's supposed to be working miracles on your skin. The 'That Hit Single' gel-cream cleanser is a 1-was cleanser. Usually, skin specialists advise you to double-cleanse at that will clear out all of the makeup, however, this cleanser was made to clear everything in one go while brightening the skin and giving it a defined, baby-soft look. 
The ingredients look a bit more different than before:
JLo Beauty Olive Complex, you already know what this does!

The rice bran, coconut fruit, and Japanese knotweed root extracts are antioxidants that protect the skin and have soothing benefits.
Glycolipid is a fermented blend of rapeseed oil and sugar, this is what helps to get rid of the makeup and excess oil.

It is also free from parabens, phthalates
JLo Beauty Dietary Supplement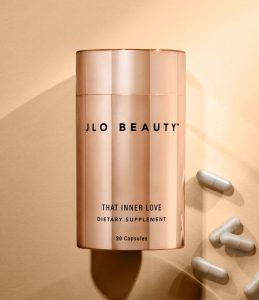 It is a pretty brave thing to come out with Dietary Supplements as a skincare brand, especially in your first year. JLo did that too! 'That Inner Love' Dietary Supplements are defined as 'beauty is an inside job'. These capsules offer nutrition, boost the body to fight stress, supports skin renewal, and even have collagen production. 
Again, a lot of promises, so let's see what are the ingredients:
Vitamins C, E, and A are pretty straightforward ingredients.
Copper and manganese, support the natural collagen production of the skin.
Olive fruit extract has antioxidant benefits and improves hydration and radiance.
For 90 Capsules, which will last you 90 days, the price is $72. If you subscribe then it reduces to $61.20. But does it really work? There are only 10 reviews on the website so far, out of which the dietary supplements received 4.6 stars. Most people recommend it, some have been using them for months and have seen results in their skin. Only one person gave it 1 star and they started feeling nauseous from taking the capsules the first week. 
JLo Beauty Reviews from Customers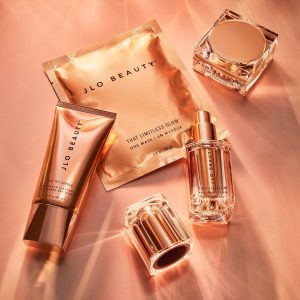 This is where everything got interesting. If anyone wants to read reviews about a company, they would usually go either on the brand's website or on Trustpilot. You have already read about the products which were reviewed on the website, however, there is no page for JLo Beauty reviews on Trustpilot. We are not exactly sure if this is good or bad.
Nevertheless, we went on other websites to check reviews. For example, on Amazon, each product has more or less the same stars. Although it doesn't seem like a valid seller, since the customer mentioned they received open products. We probably wouldn't recommend shopping from here!
The good news is that on Influenster there are a total of 1,000 reviews with photos and videos. Thankfully, all of the creams, serums, or masks received over 4 stars from customers. Is it really worth the hype then?
Sign Up for JLo Beauty
There are two ways of signing up for JLo Beauty. One is when you enter the website for the first time, there's a pop-up to enter your email address.
If you wish to do this later, you can do so by scrolling to the bottom of the screen and entering your email or phone number. There are no discounts when signing up, however, you will receive emails about special offers or insider perks. 
Where to Buy JLo Beauty Products
Are you wondering where to buy JLo Beauty products from? Needless to say that the first website you should go to is jlobeauty.com. Besides that, it is confirmed that products are available through Amazon, so good news for any Amazon lover!
Last, but not least, JLo Beauty is available through Sephora as well. 
JLo Beauty Shipping and Return Policy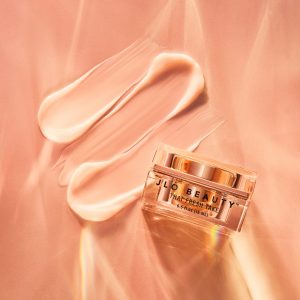 Shipping
JLo Beauty only ships within the USA for the moment. All US orders benefit from free shipping if the order is over $50. If you are in Canada you can shop the products through Amazon or Sephora. International fans cannot get their hands on these products unless they purchase them from eBay or other websites where kits might be available. We always recommend sticking to the websites where it's confirmed they ship from and it's a trusted seller.
Returns
Although having more expensive makeup, JLo Beauty has a 60-day Money-Back Guarantee. If you do not fall in love with your product after 60 days of using it, you can just send it back and get a refund, even if the container is empty! That is amazing. The shipping and handling price is not included though. 
JLo Beauty Promotions & Discounts
Does JLo Beauty have any promotions or discounts? Yes, they do! 
First of all, there is a Subscribe + Save offer which is available with all of the products. Jennifer Lopez was not joking when she said these products were created for life. By subscribing, you'll save 15% on each product. You can change your shipping interval from 30,60 to 90 days. This can also be canceled at any point. 
Secondly, if you go on the website, there are a few discounts. For example, at the time of writing, you can get the 'That JLO Starter Kit', which includes the gel-cream cleanser, the serum, hydrating cream and you'll receive the sheet mask as a free gift. With this bundle, you'll get free shipping, even though the price is slightly under $50. This is just an idea of what it could be on the website, promotions and discounts can change at any given time!
JLo Beauty Customer Service 
How can you contact the JLo Beauty Customer Service team? There are two ways:
By Phone at 888-853-3169 (not mentioned at what times)

Or via live chat 
JLo Beauty Reviews: Editors Verdict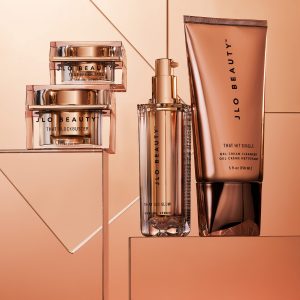 Are you still curious about what we have to say about these products after going through the details of the JLo Beauty reviews? Is it worth the hype and investment of your money into these products? Well, after going through the ingredients list and feedback from customers, JLo seems to be a brand that cares about what they use in their products. We would only assume that Jennifer Lopez doesn't just create a few products for extra cash, but really uses the knowledge she gained through these years of using hundreds of different skincare products.
We are also certain that by the time these can get better and they will expand the brand more. After all, they are only 1 year old and it hasn't been overly advertised on social media. One more thing we noticed is that not many famous influencers talked about the products either, so it might just be that JLo wanted the people to try them first instead of sending thousands of PR packages.
Should you buy the items then? We do believe that it's worth trying out if you are a fan of JLo and wish to see what she created. In case the ingredients list appeals to you, then again it's worth the try. But if you are just looking for reliable skincare products, then there are probably other brands that have more years behind them and are more affordable. We'll let you be the judge!
Still looking for other skincare brands? Read our reviews of Clinique Review, Juice Beauty Review, Aesop Review, and Cardon Skincare Review.
JLo Beauty FAQ
Is JLo beauty cruelty free?
Yes, JLo Beauty is 100% cruelty free. They do not test on animals and neither do the suppliers. In fact, all of the products are Leaping Bunny certified.
Are JLo beauty products made for all skin types and ethnicities?
JLo Beauty designed these products for everyone. Regardless of your skin type or ethnicity, you shouldn't be afraid to try them out.
Are JLo beauty products vegan?
Only two of the products are vegan at the moment. These are the That Fresh Take eye cream and the That Star Filter complexion booster.
Do any of the products have a fragrance?
According to them only the That Blockbuster Hydrating Cream and the That Hit Single Cleanser have some fragrance, however, nothing too hard. The rest of the products do not contain fragrances. Moreover, everything has been tested for skin and eye irritation.
What are JLo beauty products formulated without?
As already mentioned in each product description, JLo Beauty products do not contain the following: sulfates (SLS and SLES), parabens, formaldehyde, phthalates, mineral oil, and many more.