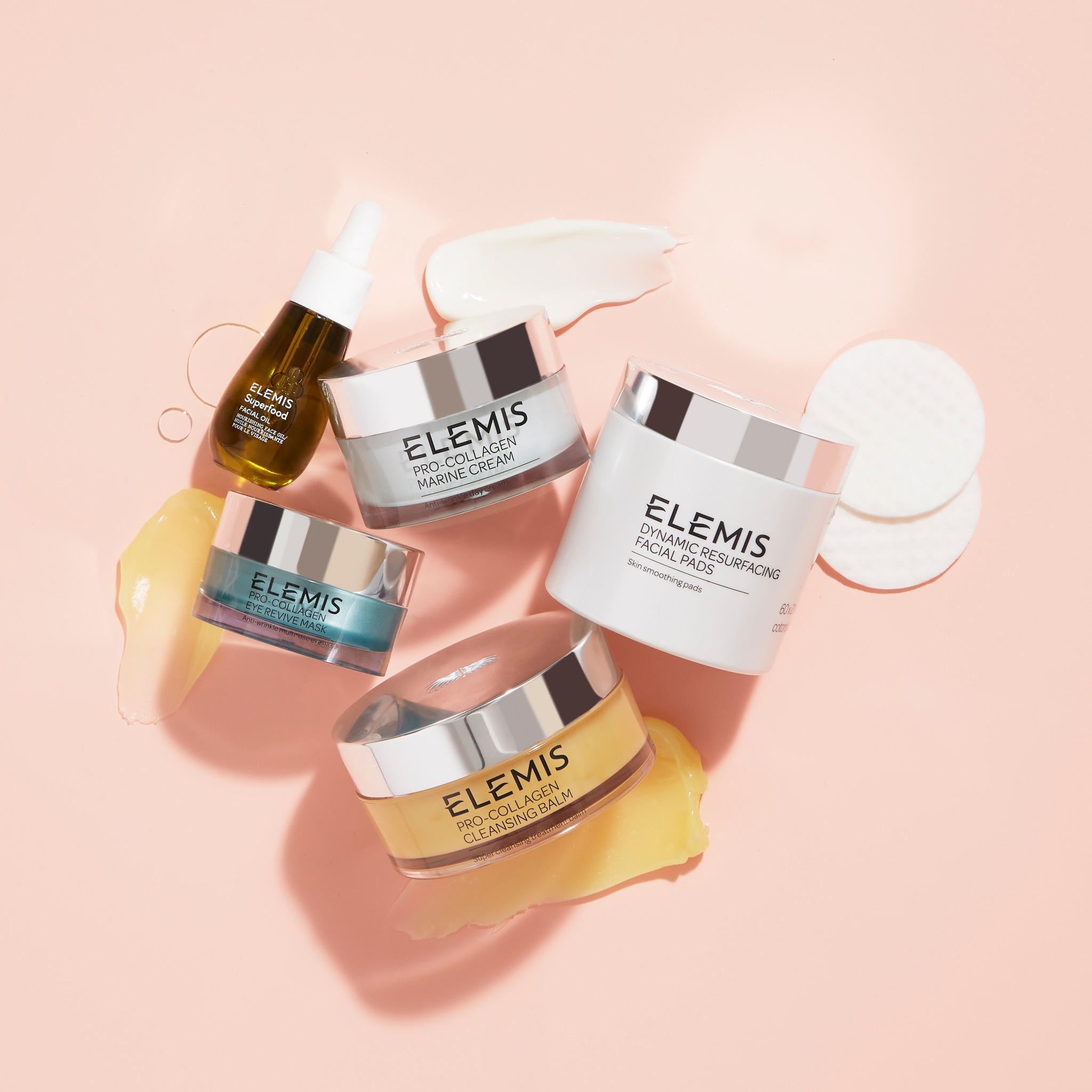 With so many skincare brands on the market, how do we know which brand to choose for our skin problems or even to maintain a healthy skincare routine? It is quite a difficult task, and even though testing products can lead to finding the perfect brand/product for you, it also costs a lot of money. This is where Elemis can step in. We do not claim that Elemis is the best skincare brand out there, but with this Elemis review, you can see and decide for yourself whether these Elemis skincare products are suitable or not.
If you are a skincare fanatic then you have probably heard about the Elemis before. And in case you are just researching brands and trying to find a cream that doesn't break you out, then just read our unbiased Elemis review!
About Elemis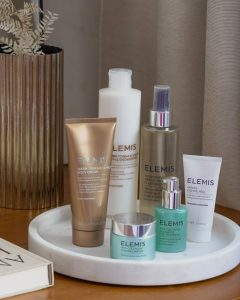 Elemis's story is impressive and inspiring. Just proves how so many brands before 2000 found gaps in certain industries and took advantage of that. Elemis was founded in 1989 in London by Linda Steiner.
Linda, who was then an investor and entrepreneur, came up with the idea of bringing to life a skincare line inspired by elements of nature.
Her co-founders, Noella Gabriel, Sean Harrington, and Oriele Frank have all helped Linda in taking Elemis to a whole new level and after 33 years the brand is still well known and loved by customers all over the world.
So what does Elemis promise you when you purchase their products? Well, first of all, the brand is all about skin wellness and 'truth in beauty.
They are even featured in great publications such as USA Today, Women's Wear Daily, Stylist, Cult Beauty, Glamour, and many more.
Their portfolio of working with millions of clients all around the world has led to perfecting each formula and making sure your individual skin concerns are taken care of. As Elemis also has in-store beauty treatments, so make sure to check the store locator!
Pros
Wide range of products suitable for all ages and skin types
Natural products used, fruit extract
No chemical ingredients used
Highly rated products by customers reports available on the website
Free online consultation with cosmeticians
Cons
Some of the customers experienced a reaction from using the products
Elemis tests on animals within China due to Chinese strict laws
Elemis Skicnare Products Reviews
With this Elemis Products Reviews, we just want to show why it is worth investing or just trying their products. Celebrities such as Catherine Zeta-Jones use Elemis and are in love with many of the products.
With each item on the website, customers have reviewed them and given their honest opinion on how the formula worked for them.
What we also love about the Elemis skincare products is the research and reports showcased under them. Elemis informs how many customers tested the products and whether they were happy with them or if they have seen noticeable results.
Pro-Collagen Elemis Cleansing Balm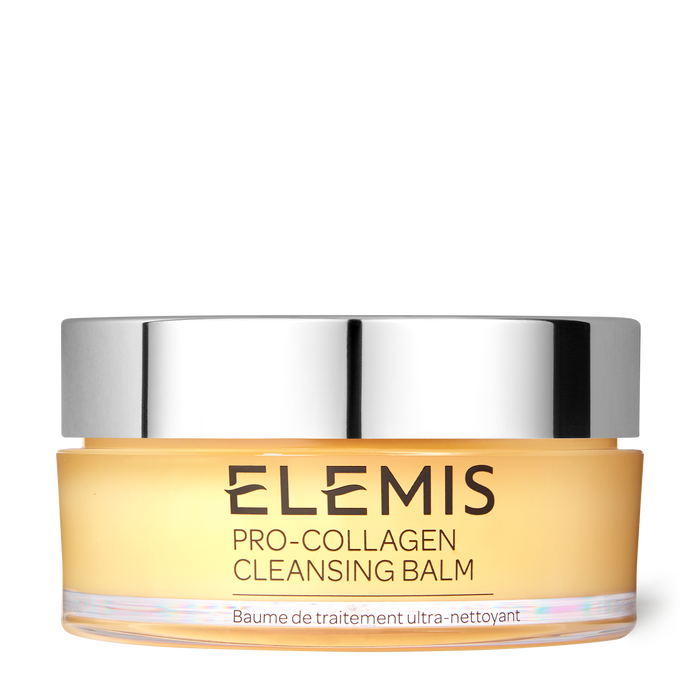 This product is very much talked about in the world. The Elemis Pro Collagen line was created to provide intense hydration to your skin as it starts to lose its flexibility over the years.
This line promises to smooth out any fine lines and wrinkles (not that there's anything wrong with them!) and leave your skin feeling youthful and fresh.
The first product to talk about within the line is the Elemis Cleansing Balm which received an award in 2021.
Beauty influencers rave about this on Youtube and Instagram, it is supposed to melt away your long-lasting makeup which has been sitting on your face for hours and hours.
Although cleansing balms can dry out the skin, the Elemis cleansing balm will leave your skin glowy and soft while taking off all of your makeup.
A small disclaimer, we are not stating that you should just use this cleanser to remove all makeup, however, the cleanser will help you take your makeup off easier than a makeup wipe would.
Currently, this product retails at $38.00 for 50g and it contains ingredients such as Elderberry and Starflower Oil as well as Padina Pavonica. These main ingredients are put together to help break down products while feeding your skin some hydration.
Out of 1267 reviews the cream received 4.9 stars.
Elemis Papaya Enzyme Peel Review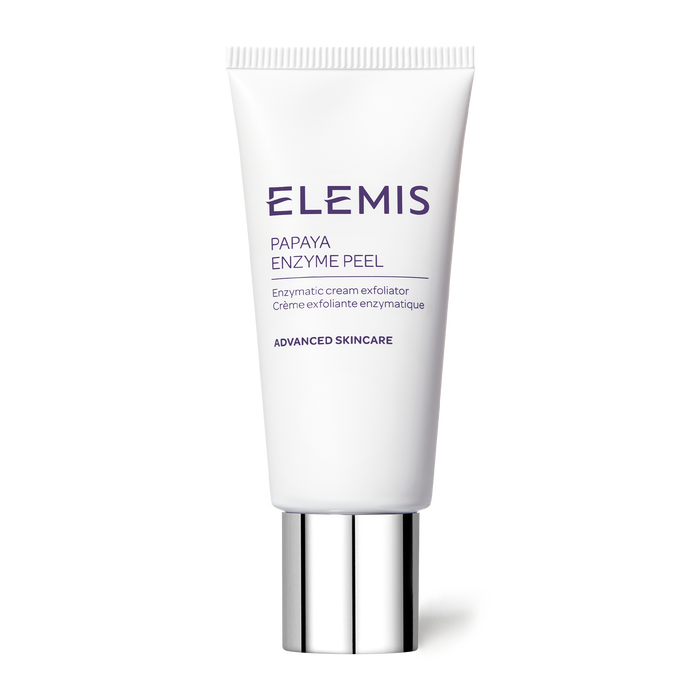 Would you like to feel as if you just booked an appointment with a skin specialist and they are cleansing your face in a spa? Well, by using your Elemis Papaya Enzyme Peel you can feel the same but at the comfort of your home.
As Elemis is all about Wellness and having healthy skin, using their enzyme peel will make you feel like you're getting a skin treatment at an expensive salon.
What does it do? According to their website, it 'purifies, revitalizes, smoothes', all in one. You should only use it twice a week as it can be quite harsh, especially for sensitive skin. If you have skin texture, it is a great product.
The ingredients list is quite simple, it consists of papaya, pineapple, and bladderwrack. If you notice a pattern in the Elemis skincare products, all of the ingredients are natural and focus on the wellbeing of the skin, rather than having harsh chemicals.
The price is also an important factor in this Elemis Papaya Enzyme Peel review. For a 50 ml bottle, the price is $45.00. Considering you only have to use it twice a week, this is a really nice price point, it will last you a good amount of time.
With just 407 reviews, the enzyme peel is rated at 4.8 stars on the website.
Elemis Pro Collagen Marine Cream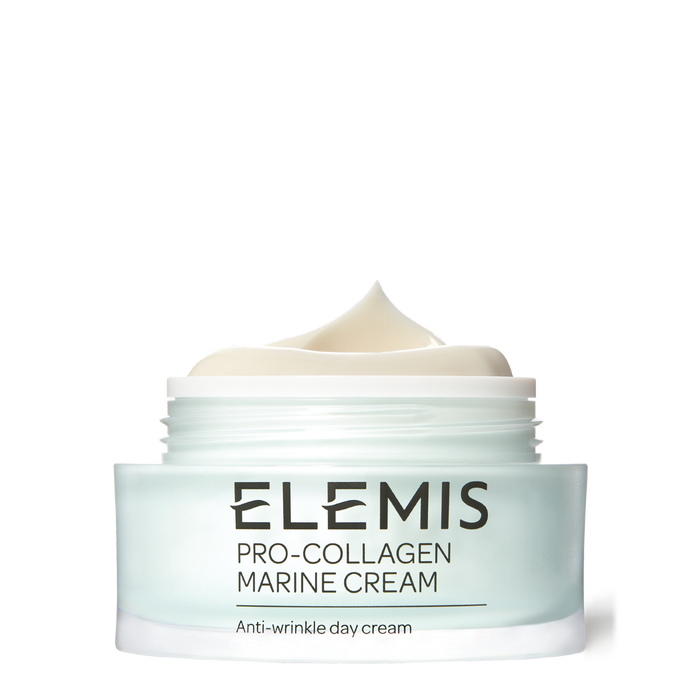 As we move on with the Pro Collagen line, the Elemis Pro Collagen Marine Cream is another product everyone raves about on the internet. This anti-wrinkle day cream seems to be working wonders on many different skin types.
While the previous products had an average price, this one retails for $128.00 for a 50 ml tub.
It promises to firm, smooth, and hydrate your skin. The formula is clinically proven and it will leave your skin glowing and help its elasticity. The main ingredients used are mimosa, rose, and Padina Pavonica.
Mimosa acts as an anti-inflammatory ingredient. Rose gives the cream a natural fragrance while also calming the skin. Padina Pavonica is included to ensure you are hydrated enough from the outside and from within.
How well does this product work? Based on Elemis Pro Collage Marine Cream reviews, over the span of 4 weeks, 38 people trialed the product in Elemis clinics and 100% agreed they saw instant hydration in their skin.
A few years before, 120 people tried out the product and 95% also agreed that it works wonders.
The marine cream has a total of 4.7 stars and 772 people gave it a 5-star rating.
Elemis Pro Collagen Rose Facial Oil Reviews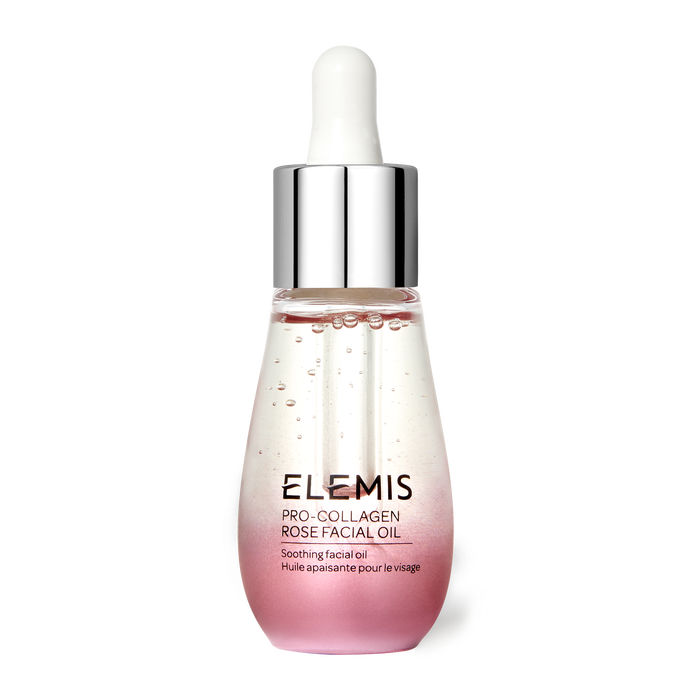 Following our quest for ultra-hydrated and radiant-looking skin, in this Elemis Pro Collagen Rose Facial Oil Reviews, we will reveal why it's beneficial for us to use oils on our face.
Whether you have dry or oily skin, adding facial oils can make a difference in your skincare routine. The rose facial oil from Elemis will soothe, nourish and smooth out any fine lines or wrinkles.
What is the difference between the cream and the oil? Although both are absorbed into the skin, the cream was developed for wrinkles specifically, while the oil is here to soothe your skin and soften your fine lines.
The ingredients list consist of two key ingredients, which are English rose oleo extract and rosehip seed oil, as well as Padina Pavonica also found in the Pro Collagen Marine Cream.
For 15 ml of oil the price is $79.00, while that seems like a high price to pay, Elemis recommends using 3-4 drops each morning and evening. If someone feels like they do not need oil in the morning, they can even skip it and just use it in the evening after cleansing.
If you are afraid that your skin will look greasy, in a 2019 study 120 people tested the oil and 94% agreed that the oil absorbed into the skin and felt lightweight.
The oil only has 222 reviews to this day and 4.8 stars received from customers.
Elemis Pro Collagen Eye Revive Mask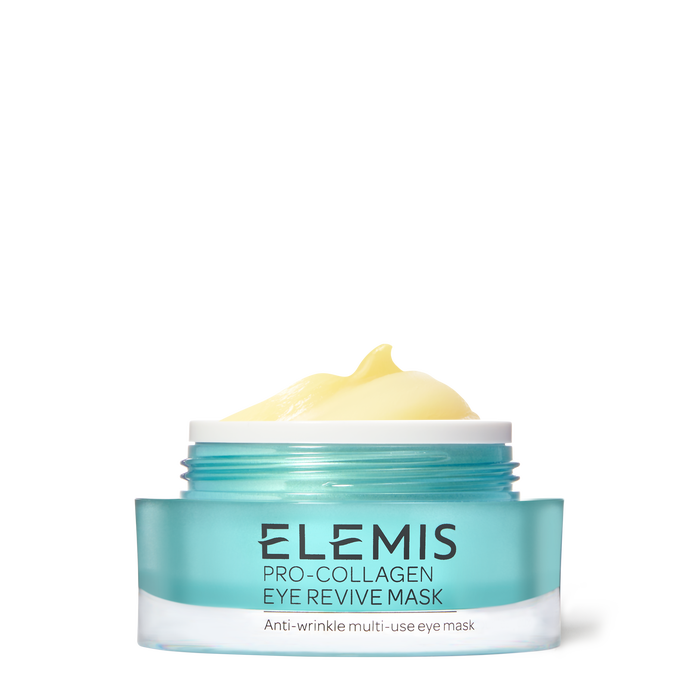 Your skincare routine is not complete without the Elemis Pro Collagen Eye Revive Mask. This anti-wrinkle multi-use eye mask is here to erase puffiness and dark circles while reducing the wrinkles around your eyes.
The best thing about this product is that it is a 3-in-1 formula, which means you'll be able to use it for an overnight mask, undereye primer, and to moisturize your under eyes whenever it's needed.
For someone who uses makeup every day, in order to avoid your concealer from creasing, the eye revives mask will be perfect to hydrate your skin throughout the day.
The very first ingredient used is the watermelon snow algae which is rich in antioxidants and it's supposed to prevent the appearance of wrinkles. Other ingredients include bush clover, flash filler hyaluronic acid, and the already known Padina Pavonica.
Just like the rest of the Elemis Pro Collagen products this one is also on the pricier side. Retailing at $82.00 for a 15 ml tub.
This is not uncommon, eye creams are usually available in just 15 ml size as you do not have to use a huge amount. Elemis recommends you use the revive eye cream either daily or at least 3 times a week to see results.
Even fewer reviews than the rest, at 196 reviews the eye mask received 4.5 stars.
Superfood Kefir Tea Mist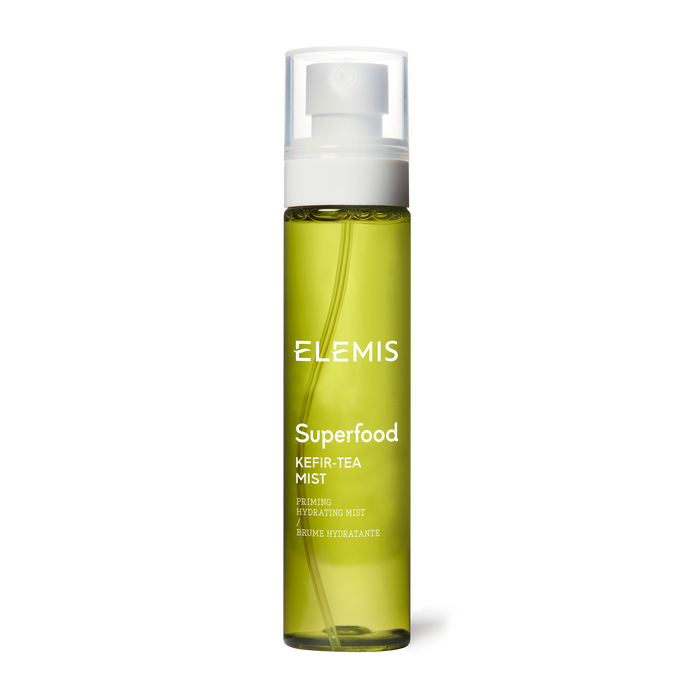 The last product we want to talk about is the Superfood kefir tea mist. You might be wondering what is this for. It acts as a toner, primer, hydrating mist and sets your makeup for an all-over glow.
It is actually perfect to use before and after your makeup, but also on your bare skin to hydrate it on a daily basis.
The reason why this formula works so well is due to the fact that it has Aloe vera, Rooibos extract, and kefir ferment extract. Kefir extract is present to soothe and give a healthy-looking appearance to the skin.
Rooibos will do pretty much the same and it is rich in antioxidants, while aloe vera is already known for its healing and moisturizing effects.
This all sounds promising and for a 100 ml bottle, you only pay $33.00. Yes, the price is lower on the Elemis skincare products outside of the Pro Collagen line, however, this is a mist which means you will need to use more of it than with a cream.
Since the mist is also a 4-in-1 formula, you will end up replacing your primer and setting spray, which ultimately saves you money.
Finally, the Tea mist has 4.8 stars out of 207 reviews.
Elemis Reviews from Customers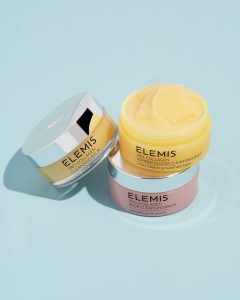 Let's see the Elemis skin products reviews from customers. In each of the product reviews, we have included the star rating found on elemis.com. But what do people have to say about the renowned skincare brand?
It is quite normal for customers to be giving better reviews on the brand's website so it is always better to look at other websites to see what customers really think.
To give you an honest review, we went on Trustpilot to see how many, if any, bad reviews are. To our surprise, even on Trustpilot Elemis has 4.8 stars from 1,066.
The number of people reviewing the brand is pretty low considering how well-known Elemis is, not to mention how long it's been on the market.
Popular Alternatives to Elemis
Further customer reviews
Most of the customers are praising the brand for its customer service. Even when products went missing Elemis would replace them and send an extra gift as an apology. A few people also mention that the Elemis skincare products are amazing and they would re-order them.
As for the bad comments, 'terrible customer service', 'very poor customer service' are the main ones. We do have to mention that it's only 7% of bad reviews, which is fairly reasonable.
A few people had some issues over Christmas and even fewer people are complaining about the effectiveness of the products.
We also went on Amazon as more people tend to order from there as well as leave honest reviews. The above-mentioned products pretty much received the same star rating, most of them over 4.5 and praising them.
As the shipping would be down to Amazon, customers are more likely to mention the products and how they work on their skin.
"Light and absorbent face cream which lasts all day"
"Incredible effect on the skin, especially for older ladies"
"Would definitely recommend"
Just to name a few, customers are happy and pleased with their products and would recommend them to others. After all, the reviews speak for themselves!
Sign Up for Elemis
Signing up to brands like Elemis should be second nature. They always come with perks, discounts and many times free gifts on your birthday.
You can register with your email on elemis.com. If you enter your birthday and join their Loyalty Program you'll receive a free gift.
Elemis will also gift you 15% off your first purchase if you sign up. So what are you waiting for? If you've been wondering to purchase any of their products, now is the time with some extra money off your order.
Where to Buy Elemis
If you like our Elemis review so far and you think it's worth investing in, then head over to elemis.com to find some of their bestselling Elemis skincare products. Alternatively, they also have a store locator on their website.
If you are in New York, for example, you'll see on the map the different stores they have. Just to name a few, Oasis Day Spa, Ink48 Spa, or Ulta Beauty 86th St.
The cool thing is you can even book a virtual consultation with one of their Practitioners. Simply select your time zone, if you have a preferred practitioner and book it.
After going through the booking on the website it did not mention paying a fee. Seems like it is for free and you'll just have to download Zoom and be ready for an in-depth online consultation with one of their cosmeticians. Pretty cool!
Elemis Shipping and Return Policy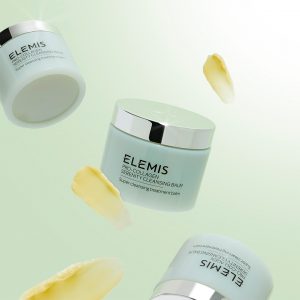 When it comes to ordering from Elemis there are a few different delivery fees to pay. 3-day delivery costs $12, 2-day delivery is $15 and next-day delivery costs $25. It does not mention anywhere that Elemis would offer free shipping on any amount of orders, which is not ideal.
Elemis delivers worldwide, within the USA, Canada, Asia, Africa, Europe, however, you have to be on the right website to place your order based on which country you are in. For US orders you would have to access us.elemis.com.
On the bright side, Elemis does have a 90-day refund from your purchase date only on products unused and in the original packaging. Note that only purchases made from elemis.com will be refunded.
Elemis does also not refund postal charges, so you will have to cover the cost of the return charge as well unless the items were wrongly sent, faulty or damaged.
Elemis Promotions & Discounts
We have already mentioned that by signing up you'll get a 15% off of your first purchase. At the time of writing Elemis does not seem to have any other discounts or promotions running. It is always worth checking their social media or affiliates for exclusive promo codes.
The codes and discounts can be used at the checkout while you are signed in to your account or as a guest. Simply add it in the "add promotional code" area.
Contact Elemis
Do you need to contact Elemis? These are the ways to do so:
Email them by filling out their Contact us form
Call them at 0117 316 1888 – only open through Monday – Friday from 9 am until 6.30 pm
Elemis Review: Editor's Verdict
If you are still curious about our verdict after reading the Elemis review then here it is! We think that Elemis is a skincare brand you should try at least once. All of the products are tailored to help your skin not just on the surface, but from within.
Elemis is a brand that has been on the market for over 30 years so they really know what they are doing and after all the reviews speak for themselves.
A brand with an overall of 4.5-4.7 star review must be good. With a few complaints about customer service, most people seem to enjoy using their products and more than 90% saw results from the first few times of applying any creams or oils.
Transparency
Not many companies are transparent when it comes to results. It is easy to write an ingredients list and mention that it should do this or that to your skin. What customers really want to see is if people like themselves have had any benefits from using those products.
As each item is reviewed on the website, some even took before and after photos and saw major improvement. Let's not forget the Amazon reviews. There are hundreds of pictures to go through, so if you're interested in one product, it's worth looking into these before-after photos.
We also learned that Elemis has a fair price point on most of its products. This does not include their Pro Collagen line which is on the pricier side.
Although we do recommend your try Elemis products, only you can be the judge if this brand is suitable enough for your skin problems and needs.
Still on the hunt for the right skincare products to keep your beauty? Make sure to take a look at our popular beauty brand reviews of City Beauty, Dime Beauty, ESPA Skincare, and Better Not Younger.
Elemis FAQ
How can I receive samples through ELEMIS?
Samples are not available for direct purchase through the website. If someone has made an order on the website or purchased through the phone, they might be eligible for samples.
Elemis does offer an in-store demonstration of their products, so if you are in an area with an Elemis store, have a look at them.
Do ELEMIS test on animals?
Elemis does not test on animals. They also make sure that none of their suppliers test on animals either. Elemis is sold in China where it is compulsory to test on animals due to hygiene permits.
They are working hard to end animal testing for beauty products as it has been proven many times that it can be done without harming animals.
How do I book a Virtual Consultation?
You can book an online consultation by selecting the Explore tab and choosing 'Book a virtual consultation'. You'll have to fill out the information required on the website and you'll receive a confirmation email with a Zoom link. This is free of charge!
What are active natural bases and why does ELEMIS use them?
Active bases in products are more powerful and deliver better results. According to Elemis, the first extracts will be much more effective than the last one from the same extract.
Do ELEMIS products contain alcohol?
Elemis products contain alcohol such as Cetyl, Stearyl, and Cetearyl which are all beneficial to the skin. They avoid using other types of alcohol that can lead to dryness.