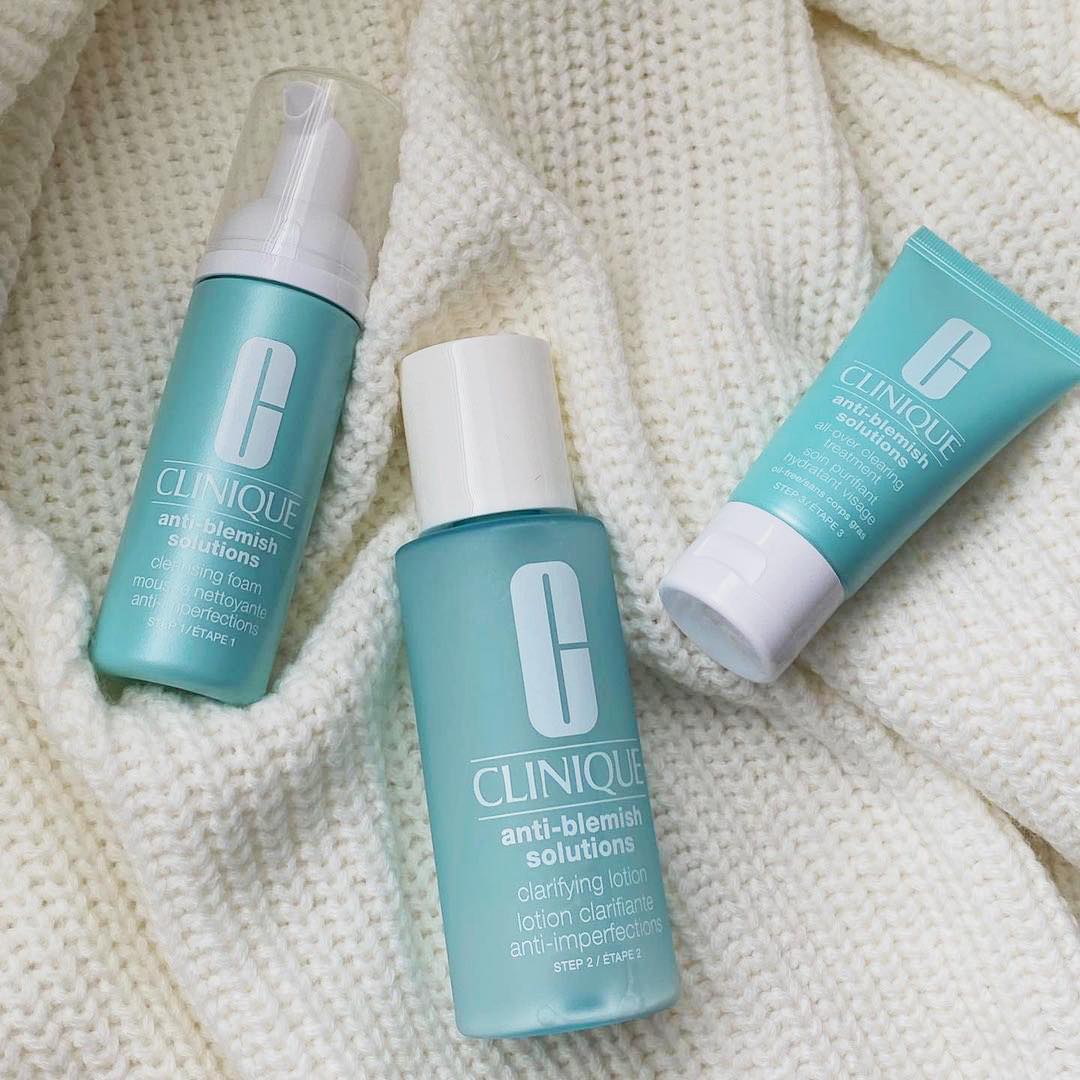 Headquartered in New York City, Clinique manufactures naturally- sourced, high-quality skincare products that improve the tone quality of your skin. With more than 22,000 customer consultants worldwide, the brand sells foundations, lip colors, makeup removers, mascara, moisturizers, and more. The company believes in science, progress, and taking intelligent steps every day. We will explore Clinique reviews from customers, their award-winning products, shopping policy, and much more. In turn, this will help you decide this cosmetics brand lives up to the hype.
About Clinique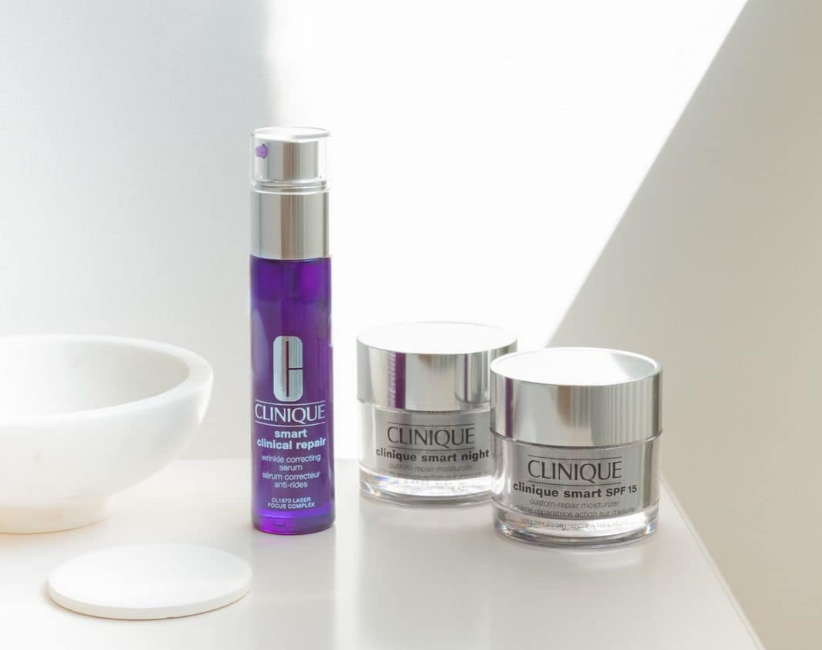 Clinique has been well on its way to making a difference in people's lives through its skincare products since 1968. With a safe-ingredients usage policy, this e-commerce company will never change. The brand avoids using irritants, allergens, and ingredients that may have adverse side effects on customers. All products sold at Clinique undergo various tests to ensure they do not contain parabens, fragrances, or phthalates to enhance skin safety.
Standards and efficacy are critical attributes of Clinique. All their products must reach the highest standard before releasing them into the market. These products undergo the customary dermatologist testing, stability, clinical, and sensory tests.
Clinique Overview
Clinique believes in making high-quality skin products using safe ingredients and delivering maximum results without irritating skin. Their vision of 2025 entails producing recyclable, reusable, and refillable products in the hope of increasing their post-consumer recycled- PCR by up to 50%.
Estee Lauder owns Clinique and ensures that products are available to customers, including in beauty shops, departmental stores, and online. The brand has steadily garnered an impressive 3.4 million followers on Instagram, and it is no wonder it has been featured in various media publications. These include Allure Magazine, Vogue, Vanity Fair, and Refinery29.
Furthermore, various Clinique's products have won awards, such as Allure's Best of Beauty Award in 2019 and CEW Choice Beauty Award by Insiders in 2014.
Pros
They offer free standard shipping when you make an order
Avail their products to various beauty shops as well as departmental stores
Their products are free from harmful ingredients, such as phthalates and parabens
They have experience 50+ years in manufacturing high-quality makeup and skincare products
Their products are ophthalmologist and dermatologist tested
They enforce sustainable measures throughout their production line
Cons
They don't offer 24/7 customer support
Some customers complain of delays in shipping during holidays
They haven't stated the days you are eligible for returns and exchanges
Clinique Product Review
In addition to their sensitive skin-friendly makeup, Clinique has an expansive range of skincare products targeting various skin concerns. With that said, here are some of their best-selling products.
Clinique Moisturizer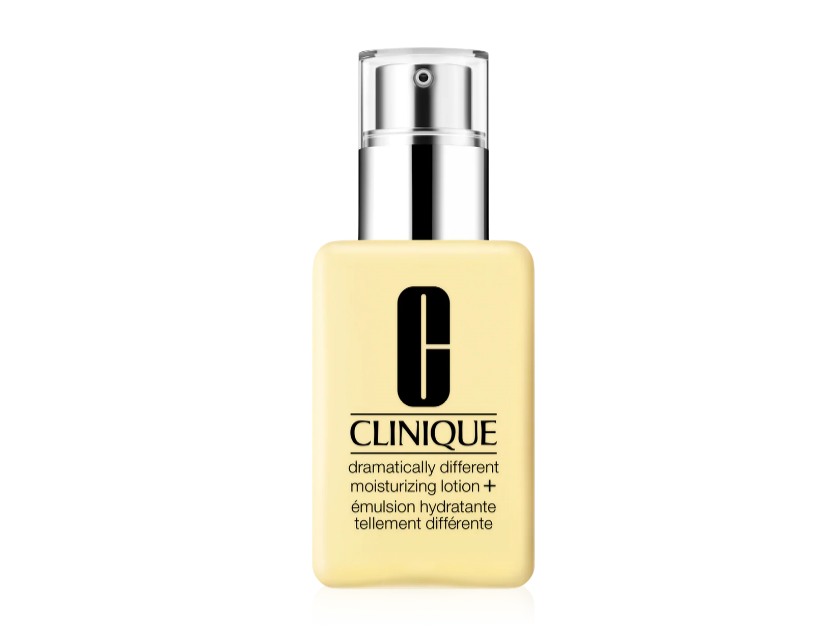 Designed to eliminate skin dryness Clinique Moisturizer is a radiant, skin-glowing lotion that helps strengthen your skin's moisture barrier by 34% after applying it. Available at $32.50, this moisturizer has proven to be a formula that instantly doubles hydration.
Clinique reviews show customers love this skincare lotion because it delivers 8-hour hydration, keeps harmful irritants out, and leaves their skin silky. The brand's blend of barley extracts, cucumber fruit, and sunflower seed cake also comes with added benefits.
These ingredients help your skin retain moisture levels and improve balance and resilience. Clinique Moisturizer goes ahead to exclude harmful substances such as denatured alcohol, sulfate, and SLS from its mixture, ensuring you use healthy products. All you need to do is smear a small amount into your hands and spread it across your face or throat twice daily.
Clinique Almost Lipstick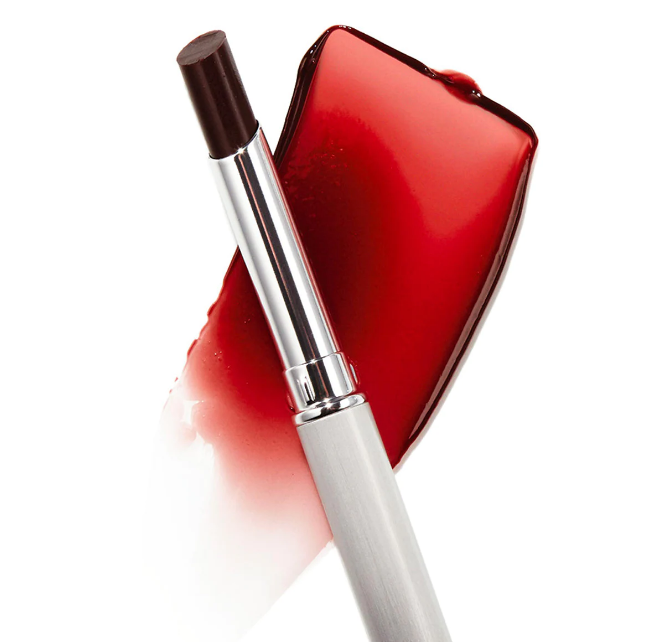 Enjoy the benefits of lip gloss and lipstick with the Clinique Almost Lipstick. With the option of either choosing the Almost Lipstick in black honey or pink honey, customers have a balm that easily layers when applied directly to the lips.
A transparent pigment glides over a glossy, slip of light color, giving customers an Emollient-rich moist feeling topped off with a chameleon-like ability of the classic black honey. The classic Black Honey camouflages in that it flatters all skin types yet unravels the beauty and uniqueness of the wearer.
It might look different on the tube, but do not be fooled; it is as mystique as it is enchanting. Get ready to interact with a formula that screams soft-shine first and highlights your inner beauty. You also have the option of wearing it under another lip color, or you can choose to wear it alone.
Clinique Acne Solutions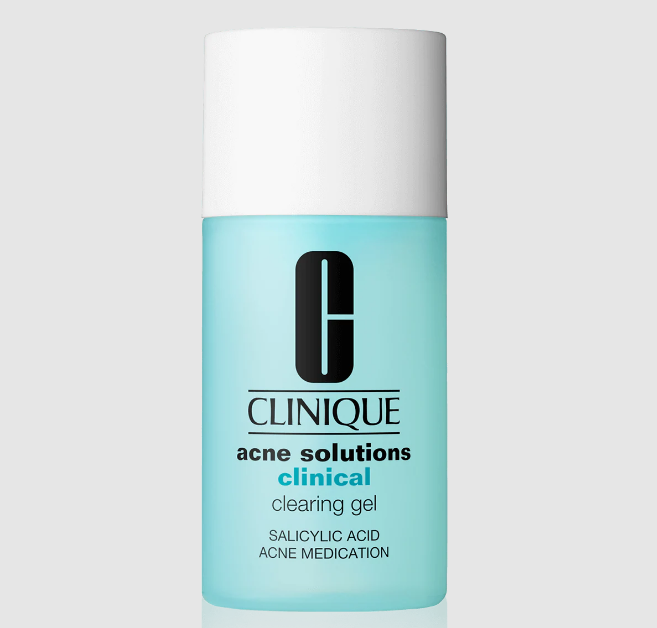 It's time you stopped worrying about those terrible spots on your face, as Clinique Acne Solutions has got you covered. This product does wonders on any acne-prone skin, whether you are 14 or 40.
Available in a 15ml-oz tube, Clinique Acne Solutions cost $19.00, and they are a topical treatment recommended for clearing acne. If you have acne-prone skin, this fast-drying formula is the most suitable acne treatment on the market.
Based on Clinique reviews, customers praise the brand's acne solutions because they contain salicylic acid, which clears skin blemishes while preventing new ones from developing. Apart from clearing skin blemishes, salicylic acid also removes dead skins that clog your skin pores.
The product features Laminaria Saccharina extract, which eliminates oil build-ups that usually lead to breakouts. It also contains Benzalkonium Chloride, an ingredient that assists in balancing skin.
Because it contains witch hazel, the product eases inflammation while soothing your sensitive skin. After cleansing your face, apply a thin layer twice daily.
 Clinique Lipstick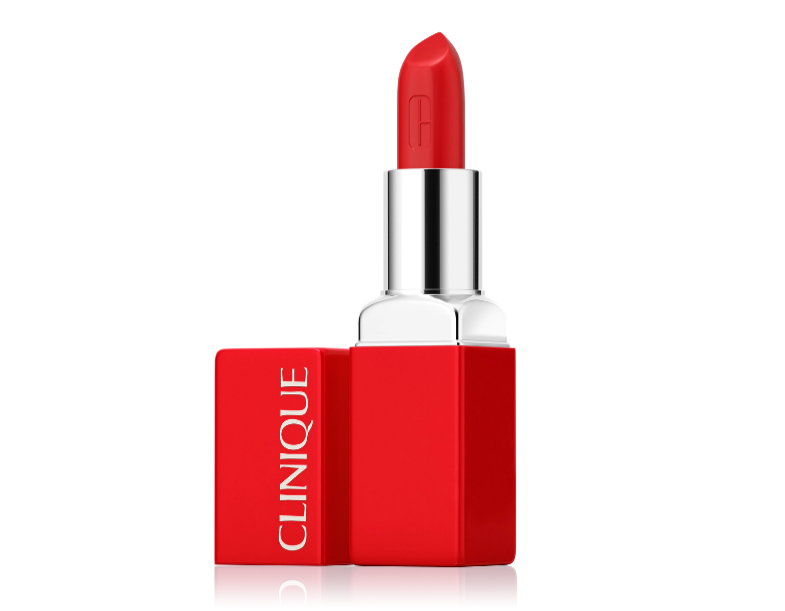 Find any shade of formula for luscious lips with the Clinique Lipstick. With various lipsticks to choose from, their lipstick set is an additional skincare accessory that every woman should have. 
The new Clinique Pop Red is kind to all skin types. It's free from parabens, phthalates, and fragrances, and this Clinique Lipstick offers an 8-hour color-true wear, matches your undertone and skin tone, and serves as a blush, too.
Your lips will be under an 8-moisturizing feeling due to the pomegranate petals and squalene that keep them soft. The brand chooses to spoil you with seven custom-fit red shades that match just any color of foundation you choose to wear.
Apply the lipstick to clean and bare lips, though you can also wear it with a lip liner. If you use it as a blush, prevent breakage by slightly rolling up the bullet point. If you want a flash color on your cheeks, swipe the lipstick on the back of a sanitized hand while using the Clinique Buff Brush.
Clinique Smart Custom Repair Serum
Available at $98.00, the Clinique Smart Custom Repair Serum targets wrinkles from any angle while helping repair, re-plump, and resurface skin for all skin tones and surfaces. An expert panel of scientists and dermatologists designs the intelligent custom repair serum to deal with creases and outsmart wrinkles.
Do not be surprised that many customers commend the serum because it rejuvenates, smoothens, and makes their skin supple, restoring the youthful bounce. The brand used a slew of anti-aging ingredients to come up with this rich and eccentric formula. These ingredients include hyaluronic acid, potent retinoid, and peptide-rich blend.
The ingredients help you fight lines and wrinkles. The product also uses CL1870 to boost natural collagen to repair your skin.
Clinique Face Wash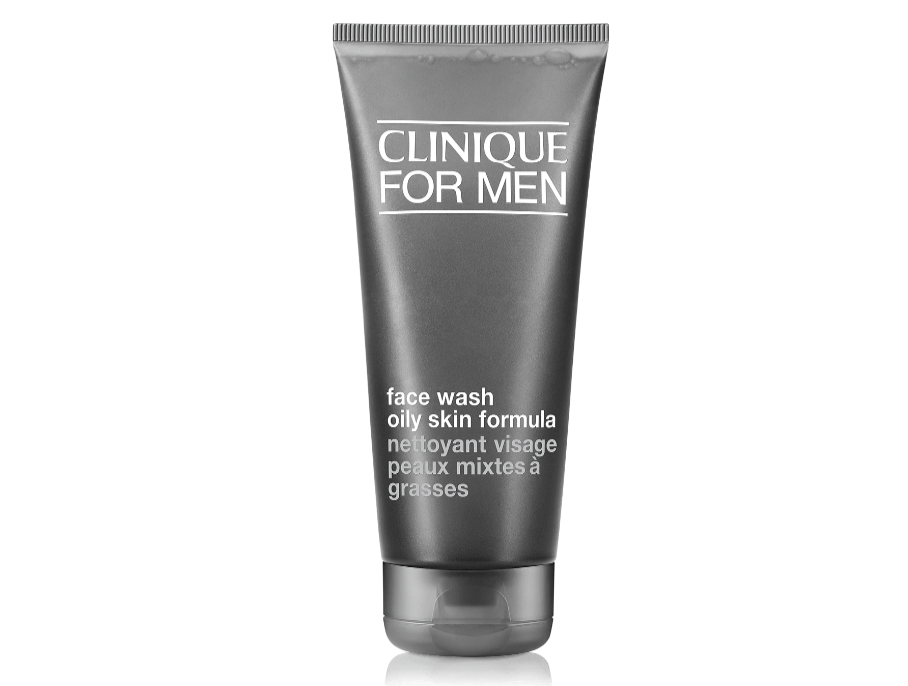 Designed to cleanse all oily and normal skin types, Clinique Face Wash is an oil-free formula for men that helps remove excess surface oil, leaving your skin feeling comfortable, fresh, and not dry or tight. Available at $21, the brand recommends using the face wash two times daily: morning and night. However, after following this procedure at night, be sure to do your shaving in the morning.
The product contains Lauramidopropyl Betaine, an ingredient that helps soothe your inflamed sensitive skin. Because it's less irritating than water, this ingredient helps maintain your skin's natural barrier and protects it from bacteria, allergens, and water loss.
It also features Sodium Chloride, which absorbs toxins, grime, and dirt while cleansing your skin's pores deeply. This ingredient also helps in the restoration of the protective barrier in your skin and allows it to hold hydration.
Clinique Eyeliner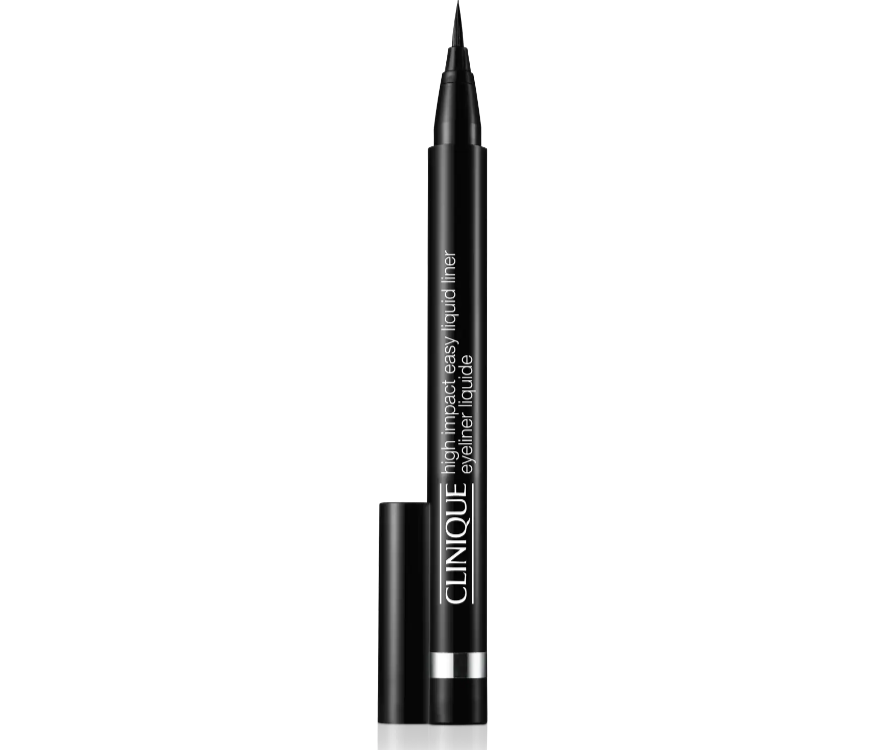 Move from high drama to natural beauty with the Clinique Eyeliner. Their ophthalmologist-tested formulas have made the company the number one eyeliner in the United States.
Suitable for all skin types, this eyeliner provides you with a 24-hour smudge-free look and does not affect sensitive eyes. You also don't have to worry about applying this product right, as it's easy to apply.
Its deep colors range from thick to thin. For a thicker line, use the flat part of the pen, while for a thin line, use the narrow tip. The eyeliner does not affect the contact lens of the wearer, and it's ophthalmologist-tested, allergy-tested, and free from fragrance.
Clinique Moisture Surge Eye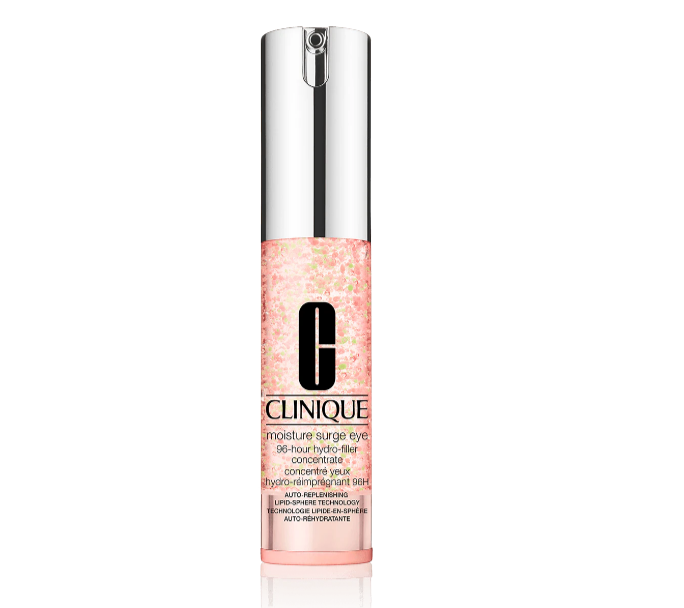 Formulated to keep your skin healthy and glowing, Clinique Moisture Surge Eye is an ultralight water gel that offers intense skin hydration. Dermatologists specifically designed this product for dry and oily skins.
The Clinique Surge Eye will cost you $35.00, and it is designed to replenish your skin and hydrate the area around your eyes while keeping it moisturized for 96 hours.
This product features lipid-sphere technology, aloe butter, and antioxidants. Lipid-sphere technology and aloe butter work together to rebuild the lipid barrier of your skin to reduce moisture loss. The antioxidants help break the environmental stress cycle that can result in premature aging.
Use this product under makeup, alone, or as an eye mask. All you need to do is smear a pinch amount in your hands and massage it around your eyes.
Clinique For Men Skincare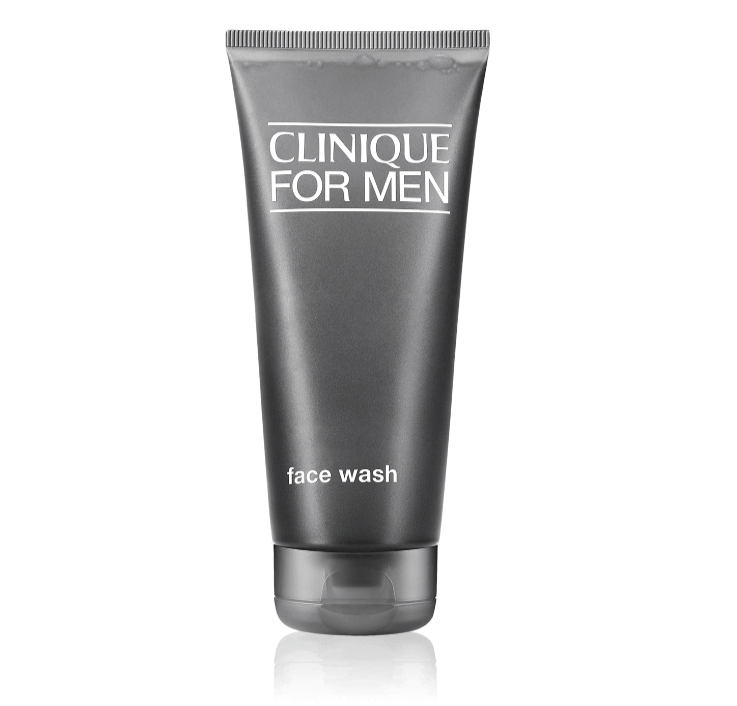 The brand offers a variety of skincare products for men. The Clinique for Men Skincare collection includes products for both dry and oily skin types. Clinique has a variety of creams, anti-fatigue hydrating concentrates, colognes, and more.
The Clinique for the men starter kit is a man's best friend during those long drives and vacations that keep your skin clear and shine-free. The starter kit comprises a face wash, cream shave, and moisturizer. The oil control face wash cleanses and removes the excess oil, and the cream shave offers a luxurious rich buffer against nicks and razor drag.
Lastly, mattifying moisturizer offers lightweight skin-strengthening ingredients and oil-free hydration. The Clinique for men skincare body cream softens skin and tops it off with a mint scent. Apply it to your body however you want for a long-lasting fragrance. You can get this product for only $42.00 to find out how the cream hydrates your skin, lightly scents it and leaves you with a Clinique happy feeling.
Clinique Reviews from Customers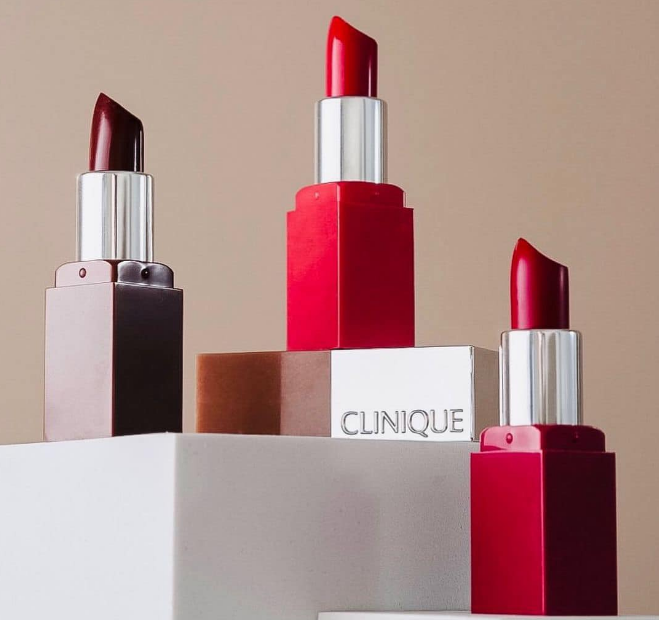 We checked reviews that customers have written on their site. Many consumers commend the company on how well the products blend, smoothen, and hydrate their skin. Most of the products have a 4 or 5-star rating, with customers parsing their effectiveness and how kind they are to their skin.
The Influencer website has more than 446.4K of consumer reviews on Clinique makeup. A high percentage of customers applaud the brand's formula as one that leaves lasting hydration. Some customers stated that they tried their creams and lotions, and they revitalized and smoothen their complexion. Others praised their lipsticks and acne solutions, saying they glimmer and rejuvenate their skin and bring the best out of them.
Overall, customers are satisfied with the products that Clinique offers. However, some customers had a few issues when ordering online. But their customer support team quickly tackled these issues and reached an agreement. These customers even went ahead and left positive reviews.
Sign up for Clinique
Signing up for your Clinique account is easy and only takes a few minutes of your time. You might have to provide your email address and create a strong password. This Clinique review also found that signing up with your mobile number places you at a better place for receiving the current and best Clinique deals.
Where to Buy Clinique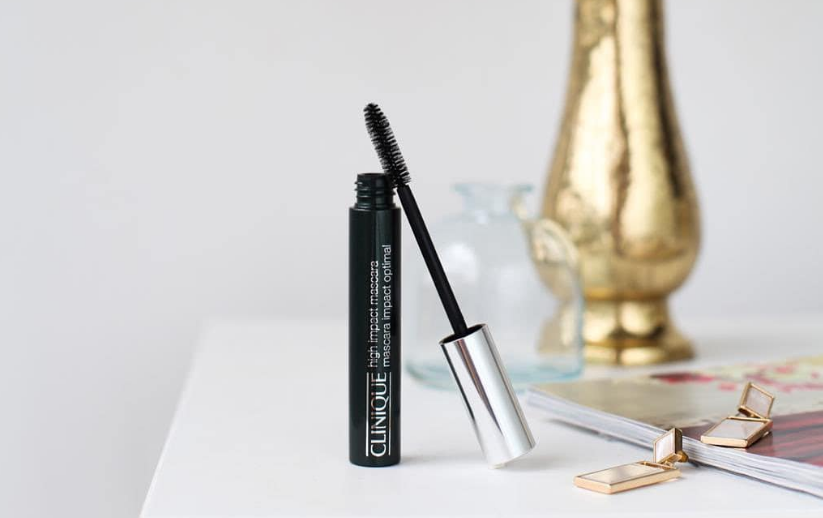 You can purchase Clinique products on their site Clinique.com. If you want to find the stores that sell Clinique products, head over to their Store Locator page. Their products are also available at select retailers, including Macy's, Ulta Beauty, Nordstrom, Walmart, Hudson's Bay, Amazon, Shoppers Drug Mart, and Sephora.
Clinique Shipping and Return Policy
Clinique online only ships within the United States, including the U.S. territories, P.O. boxes, and APO/FPO/DPO. The shipping fee for the Standard option is free. 2nd Day shipping fee ranges from $10.00 and $15.00, while the cost for Overnight shipping ranges from $15.00 -to $20.00. They calculate the shipping fee based on the total amount of your order.
If you are unsatisfied with the product you ordered from the brand or received a damaged or wrong item, the Clinique returns policy allows you to return the items.
Clinique Promotions and Discounts
We found multiple promotions and discounts that allow you to get high-quality products at affordable prices. Clinique offers a free 7-piece kit for orders worth $45. Any purchase you make on their site earns you up to 6 free samples depending on prices. For instance, spending $60 gives you 4 samples, while $90 grants you 6.
The brand is currently offering various products at a discount of up to 50% off. By joining their Smart Rewards program, you get 15% off your first purchase, free shipping, free full-sized products, and a birthday gift.
Contact Clinique
You can reach out to Clinique's customer support team via the following contact methods:
Live chat feature on their site
Phone number: 1-800-419-4041
Email: customercare@clinique .com
Clinique Reviews: Editor's Verdict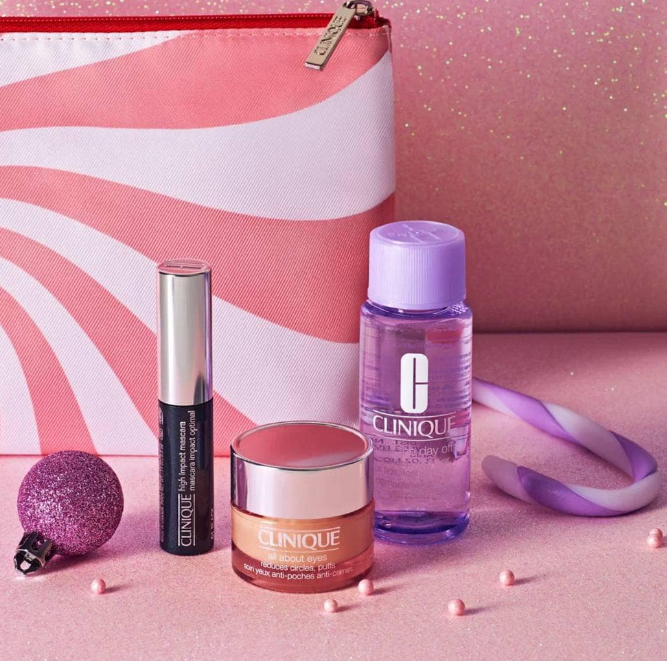 If you are wondering: Are Clinique products good? The answer is yes. Based on the hundreds of positive Clinique reviews from customers, we can't help but recommend the brand. Apart from its 50+ years of experience in cosmetics, it is evident that the brand knows something that its competitors don't.
Clinique has continued to demand respect and recognition in an ocean of thousands of beauty skincare brands through the years. Consumers shopping at this brand quickly become returning customers and refer their loved ones and colleagues.
We were stunned by the number of positive results relating to the customer service, quality of products, and their effectiveness. If you are looking for a trustworthy brand that offers effective skincare products and an exhilarating shopping experience, look no further: Clinique is your ideal cosmetics brand. 
Still looking for other makeup brands? Read our reviews of Besame Cosmetics Review, Kylie Cosmetics Review, Erno Laszlo Review, and Buxom Cosmetics Review.
Clinique FAQ
Is Clinique cruelty-free?
All products that Clinique offers are cruelty-free. That means their products are never tested on animals. They also do not allow other people to test their products on their behalf.
Is Clinique full of chemicals?
No. All their products are custom-compounded on-site, excluding ingredients such as fragrance. Exposure to fragrance chemicals can lead to loss of coordination, forgetfulness, nausea, throat irritation, and other neurotoxic and respiratory symptoms.
What makes Clinique different from other brands?
The brand avoids ingredients that cause skin irritation and allergies. Their products are also free from parabens, fragrances, and phthalates. They are also effective and kind on your skin.
Does Clinique contain formaldehyde?
No, the company does not use formaldehyde in its products. This chemical irritates the throat, nose, eyes, and skin. High levels of exposure to formaldehyde can cause some types of cancer.