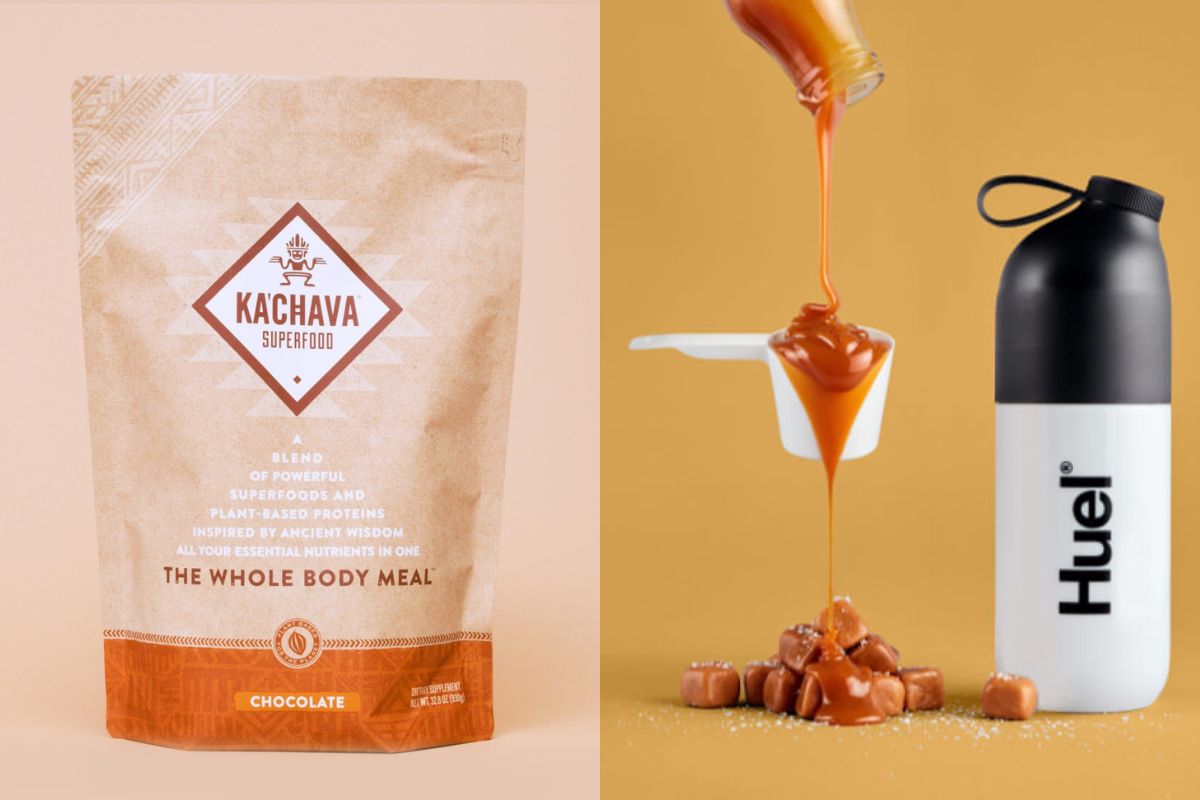 If you've decided to take the plunge on meal replacement protein shakes, then our Ka'chava vs Huel review is a great place to start narrowing down the options and deciding which one is right for you.
We'll be taking a closer look at some of the most important factors customers consider when choosing which brand to try out, including what goes into the finished product, how it's produced, and even the sustainability of the packaging.
Not forgetting the all-important taste test, we've looked at hundreds of customer reviews and independent taste tests to give you the lowdown on what these shakes are really like without all the studio photography and gourmet recipes. 
Ka'chava vs Huel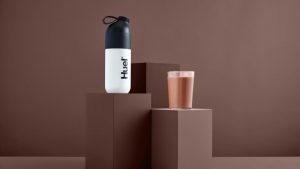 Comparing Ka'chava vs. Huel can be tricky if you're just looking at the meal replacement shakes, so we'll have to take a deep dive into Huel and Ka'chava ingredients to find the essential differences. But it's not all that simple because powdered Huel meals are only a small part of its range, whereas Ka'chava has chosen to focus purely on powdered meal replacement shakes.
Huel protein mix is available in several flavors, unflavored, gluten-free, Huel black edition, and a variety of ready-to-drink or eat formats. If you're not convinced by replacing a meal with a completely liquid shake but still want to try the benefits of a plant-based protein mix, one of Huel's solid, chewable products could be a great place to start.
The Ka'chava range is considerably simpler with only one product: powdered meal replacement shakes, available in a range of delicious flavors. Choosing the right product is as simple as picking your favorite flavor, and Ka'chava's money-back guarantee gives you the peace of mind of knowing you're safe if you're anything but completely satisfied or if you simply don't like it. 
Huel and Ka'chava side effects are pretty similar, with some customers experiencing changes in the color or consistency of their stools, sensitivity to ingredients they had never consumed before, or intestinal discomfort while changing their diet.
As with any major diet change, you should consult a health professional before starting your new diet and seek medical attention in the case of any major changes to your health. 
Pros and Cons for Ka'chava and Huel
Ka'chava
Pros
100% money-back satisfaction guarantee.
All products are gluten, dairy, and soy-free and almost all are organically grown.
Cons
Limited range of products.
More than double the price of Huel per meal.
Huel
Pros
Less than $3 per meal.
Range of chewable products, meals, and more.
Cons
The UK-based company may be harder to contact for US customers.
US stock levels and flavor range can fluctuate regularly.
Ka'chava Powder vs. Huel Powder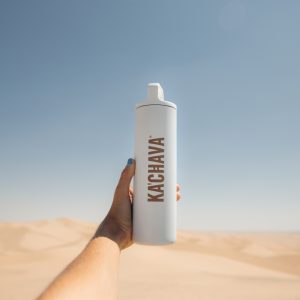 The only place to make a direct comparison of Ka'chava vs. Huel is by looking at the respective protein powders that make up Huel and Ka'chava meal replacement shakes. The complete ingredients are available on the company websites, but we can get a good idea of the differences by comparing the nutrition facts for a single portion.
Huel nutrition facts tell us that a single meal replacement shake provides 400 calories and 30g of protein. Ka'chava nutrition facts tell us that a portion contains 240 calories and 25g of protein. A portion of Huel also provides slightly more of your daily recommended dietary fiber intake. Both products boast a similar list of micronutrients and probiotics. 
It doesn't seem like we're getting a lot more for the extra cost of a portion of Ka'chava, but one thing we are getting more of is sugar – A portion of Ka'chava contains 6g of sugar, 5 of them added, whereas a portion of Huel contains less than a gram of added sugar. 
6g is still only about 10% of your daily sugar allowance, so it's not a dealbreaker, but does it at least taste better for the double price tag?
As with nearly all protein and meal replacement shake products, it really is an acquired taste, and customer opinions vary wildly, even when looking at reviews of a single flavor. Some customers will describe a given shake as completely unpalatable, whereas others will rave about the flavor being just right.
We did notice that among those who disliked either shake, Huel received more criticisms for being gritty, whereas Ka'chava was more frequently described as glutinous or "goopy". While we can't say either description has our tastebuds tingling, if you dislike gritty or overly thick textures, this might be the thing to tip you one way or the other.
Package and sustainability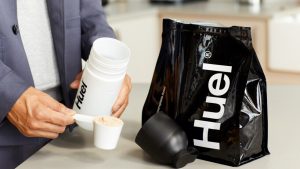 Another good point of comparison when looking at Ka'chava vs. Huel is the packaging and sustainability of both products.
Both Huel and Ka'chava are made from a wide range of plant ingredients sourced from all over the world and from a range of suppliers and intermediaries – it's easy to see how quickly you could lose track of some of the sources!
Ka'chava has chosen to make its shakes almost entirely out of organic ingredients, and this goes some way to explaining the higher price tag on the finished bags. Huel states that it has intentionally chosen not to focus on organic certification to keep the price at a more affordable level.
Predominantly organic ingredients may be a dealbreaker for some customers, but it's important to realize that a lack of organic certification doesn't necessarily mean unsustainable or unethical farming practices, as this varies from product to product.
Like most bulk-packaged meal replacement shakes, Ka'chava and Huel come in difficult or impossible-to-recycle packaging with a fairly low proportion of recycled ingredients. This is necessary to maintain the quality and shelf-life of this type of product 
Even if you can't recycle the packaging in your area, if you're replacing meals that would each come in their own packaging (or be made from individually packaged ingredients), then you're still significantly cutting down on the overall waste you produce.  
Product types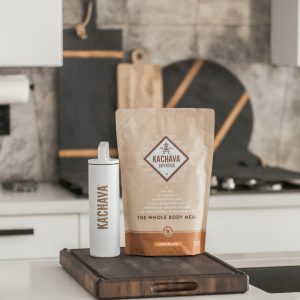 Ka'chava protein powder is available in a range of delicious flavors, including the popular Ka'chava chocolate and brand-new matcha flavor. You can order individual bags or sign up to subscribe and save to get a massive $10 reduction on every bag.
Huel protein powder is a little more complicated as it's available in several types, each with a different flavor range. Classic Huel powder is now available in a slightly more expensive gluten-free version as well as the athlete-focussed Huel black edition with fewer carbs and more protein to power your toughest workout. The availability of some flavors does vary in the US, so make sure to grab your favorites when they're in stock.
In addition to powdered meal replacements, Huel sells a range of ready-to-drink shakes in individual bottles, two kinds of protein bars, and new Heul Hot and Savory ready-to-eat meals. These ranges can be a great way of getting started if you're not quite ready to give up solid food for one meal a day.
Quality
When it's not certified organic like most of Ka'chava's ingredients, you may be asking yourself: 'Is Huel healthy?' but that's a difficult question to answer without knowing a lot about your personal health and lifestyle. Your doctor, nutritionist, or other health professionals can give you more information on whether a meal replacement shake is right for you.
Remember that an organic certification for most of the ingredients doesn't mean that a Ka'chava meal replacement is automatically good for you, and you can still have sensitivities or allergies to individual ingredients. 
Customer review ratings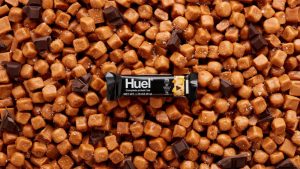 Ka'chava vs. Huel comparisons come up fairly even in terms of customer reviews, with those who like the respective flavors and textures rating them highly and raving about the simplicity of replacing a whole meal with a balanced shake.
Negative reviews almost solely consist of people who have been unable to create something they can stomach from the powder and are upset they now have a whole bulk bag to contend with.
When opinions are so divided, it's easy to see why many might be reluctant to take the plunge and potentially end up with a lot of something they don't like. A big element in Ka'chava's favor is their money-back guarantee: ensuring that if you aren't completely happy with your product, you can return it for a refund, even if you used up the whole bag trying.
The new Huel Hot and Savory range has been a massive hit with customers as it is a "real food" product with all the nutritional completeness of Huel meal replacement shakes. As easy to make on the go as a ready meal or pot pasta product, this range of fully chewable meals is a game-changer in the meal replacement market.
If you're wondering how to get hold of Ka'chava, where to buy Huel, or what discounts are available, then head over to the company websites, where you can view the entire range for both brands. A limited selection of Huel products is also available through Amazon.  
Ka'chava vs Huel: Editor's Verdict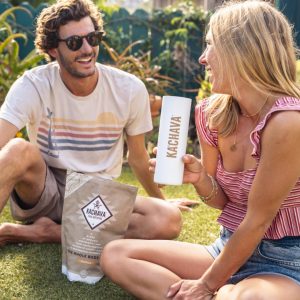 If you're not convinced that you're ready to give up a whole meal's worth of real, chewable food, then Ka'chava vs. Huel is an easy choice because Huel offers an extensive range of products beyond meal replacement shakes to give you a convenient breakfast or lunch without compromising on nutrition or chewing!
When it comes to the shakes, choosing a Ka'chava meal replacement or Huel meal replacement is more of a personal choice and will depend on which texture profile you prefer, how closely the flavor range matches your preferences and your personal lifestyle choices regarding organic or GMO products.
Ka'chava's money-back guarantee is certainly tempting if you're new to the world of meal replacement shakes, but at nearly twice the price of Huel per meal, we can't help but think that's a lot to pay over time for a few extra organic certifications and a money-back promise!