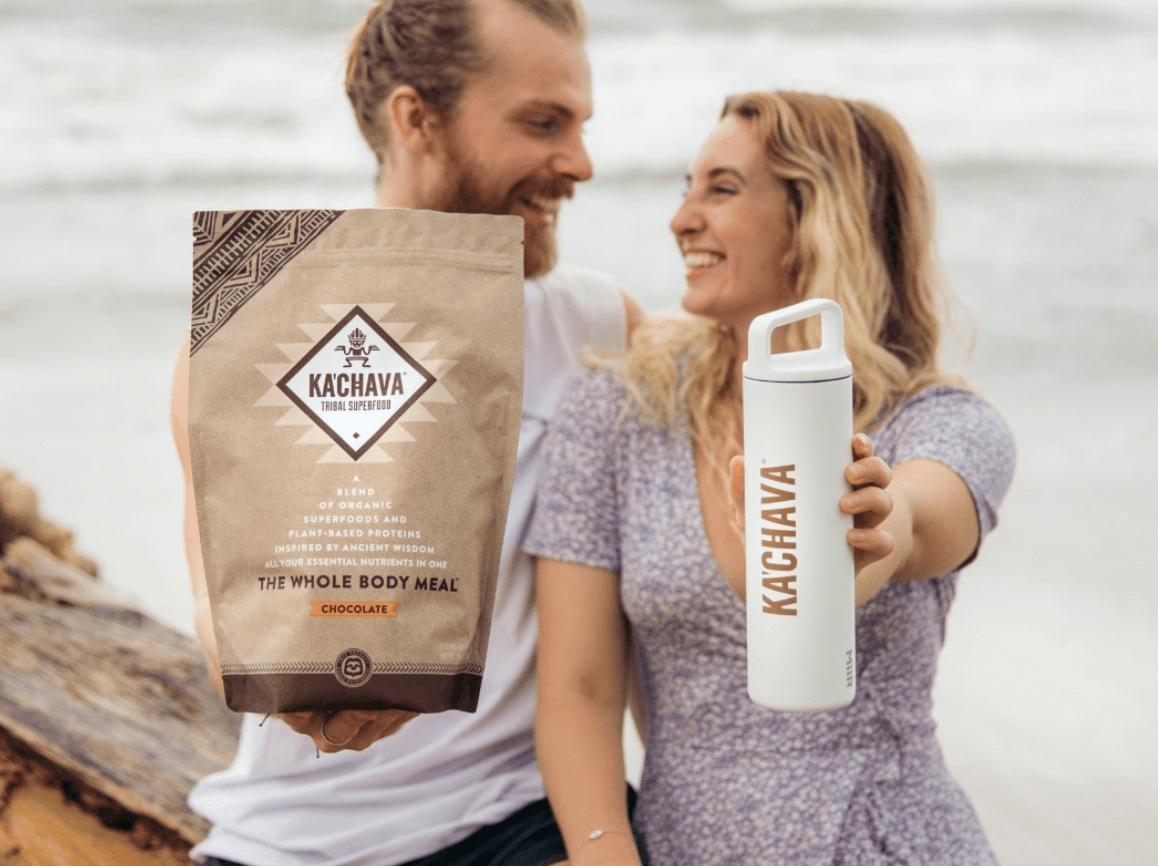 Kachava is the name of a mindful health brand that provides a plant-based formula nourishing the body. It works as a fuel for mental and physical well-being with plant-based proteins and organic superfoods. It is an all-in-one superfood meal packed with useful nutrients and offers many health benefits. With an overall 4.5/5 stars out of all the Kachava reviews, the product is well-loved by many. The brand has over 135k followers on Instagram. Our Kachava review below includes real customer reviews on the effects of the meal. You'll also learn useful details about Kachava and whether or not a purchase is worth it. 
About Kachava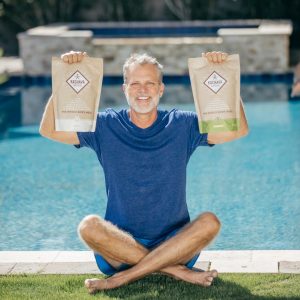 Kachava, also known as 'Ka'chava', was created by Simon Malone in 2014. He started the brand to bring health-conscious individuals a low-calorie, high-nutrient meal. As Malone himself has mentioned, Kachava is inspired by ancient wisdom. It was developed to bring people in harmony with the earth.
Since its creation, Kachava has been a huge success, offering various vitamins and minerals, proteins and antioxidants, adaptogens, digestive enzymes, and probiotics. It's among the best meal replacement brands.
It is an all-in-one meal replacement shake that offers you all the essential nutrients for your wellbeing. In addition, it is made with only plant-based ingredients without any extra artificial fillers. 
Kachava claims to be a healthy meal option that offers you all the best nutrients that your body needs to thrive. As a result, it has gained popularity over the years.
It has been featured in several publications such as Forbes, Business Wire, and The Beet. It also competes with a league of similar brands, but it is largely successful and a top player.
In addition, the brand is based in Henderson, Nevada, and they ship their products all over the United States and to international orders. And they offer a subscription service where members can get a regular supply of the Kachava protein powder.
Also, they offer environmental support by working with The Rainforest Trust to save over 25,126 acres of rainforest. Let's dig into these Kachava reviews!
Kachava Ingredients

 
Kachava comes in a protein powder that is easy to make into a meal shake. All you need to do is mix the formula with some water until all the powder dissolves. It is an organic protein and plant-based superfood that offers several health benefits.
So whether you're an athlete or an office worker trying to maintain a healthy diet, the products offer the functional fuel you'll need. 
The brand is completely open about what's in the formula. Kachava contains 70 plant-based ingredients that are mostly organic and all-natural. It is made with coconut milk which helps to give the rich, creamy result after the powder is well-blended with water.
It also consists of 5 plant protein sources, including the Sacha Inchi protein, which was popularly used during the Aztec times. 
Kachava contains 25 grams of protein per double scoop serving, and it is a complete meal in a single drink. It is ultra-filling, but it doesn't have any excess calories. If you're looking for a meal replacement on a busy day, these protein powders are the best.
It helps manage hunger and regulate blood levels. The meal contains 240 calories, 25 grams of protein, 9 grams of fiber, and 7 grams of healthy fats.
While it isn't made for weight loss, Kachava is made with whole, healthy foods to help you manage weight gain. It contains vegetables and a digestive enzyme blend which helps to cleanse the body and remove impurities.
It is free of dairy, soy, gluten, and it also does not contain any artificial flavors or preservatives.
Pros
Organic, plant-based, all-natural ingredients
Offers a full money-back guarantee
Tasty and satisfying meal replacement superfood
Easy to prepare
Vegan, Gluten-free, soy-free, and no artificial colors or added sugar
Transparent and complete ingredient information
Cons
It comes in limited flavor options
Does not offer international shipping
More expensive compared to competing protein shakes brands.
Kachava Products Review
Kachava offers a whole-body meal formula that contains essential nutrients the body needs in a single meal. The ingredients combine to help improve immunity, digestion, energy, appearance, muscles, weight balance, and mental health.
Ka'chava meal replacement is appropriate for anyone living a vegan lifestyle or a plant-based diet.
According to the manufacturer, a Kachava shave can effectively replace your breakfast, lunch, or dinner, and it will leave you satisfied until your next meal. It also contributes to a healthy and low-calorie diet perfect for obese people.
You can also incorporate the protein supplement into your meal plan if you're trying to gain weight.
Below you'll find our extensive review on Kachava replacement meals and other products that the brand offers. We will also confirm if most of the benefit claims made by the manufacturer are true or not.
Here are some of the bestseller Kachava flavors;
Ka'chava Shake Vanilla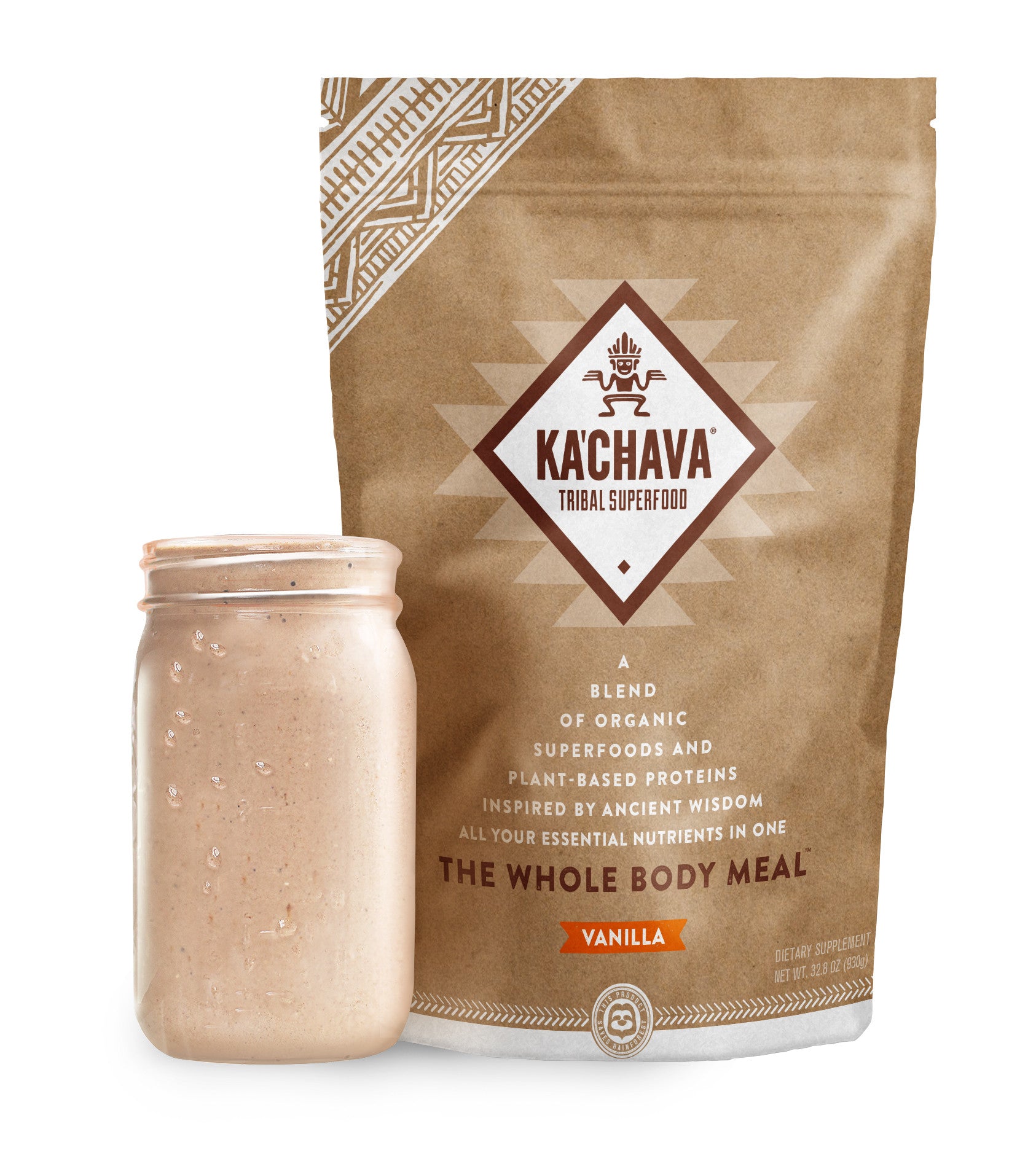 The vanilla Kachava shake is one of the brand's two classic flavor options. It tastes very delicious just as is, and it also leaves room for experimentation. It has a sweet-smelling vanilla flavor, and it doesn't contain any dairy products.
However, it still has a thick and creamy constituency. The shake also incorporates a rich blend of all-natural ingredients.
The protein powder consists of a natural vanilla flavor, and it does not contain any artificial coloring. With five grams of added sugar, the Kachava shake tastes delicious.
However, there is no unsweetened option for people on a low-sugar diet. In addition, since Kachava shake contains tree nuts, it may not be suitable for people allergic to nuts.
One of the benefits of the vanilla flavor is that it is one of the most versatile options you can work with. You can easily prepare your meal by mixing the formula with cold water in a blender, and you're good to go; however, you can take the recipe further by adding frozen fruits such as raspberry or blackcurrant.
It also pairs well with peppermint extract to create a candy cane effect.
With the vanilla flavor, you can make a variety of shakes with other organic flavors and fruits. Unfortunately, it's very unusual to find a pleasant-tasting vanilla protein shake.
They often taste chalky and bland, but Kachava vanilla shake contains sugar, which is very tasty.
Kachava Chocolate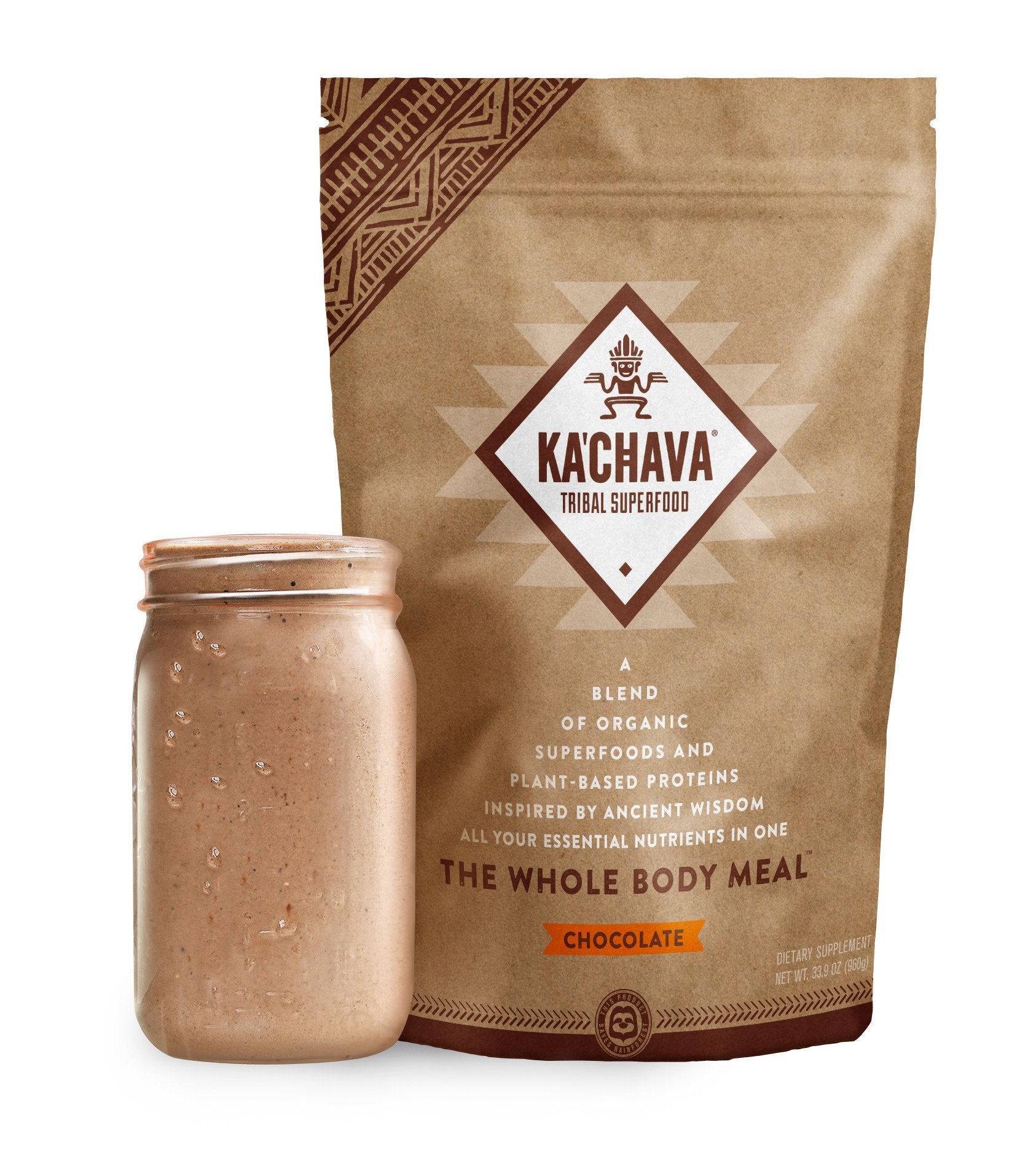 Looking for a plant based protein blend that tastes amazing? After the Kachava vanilla, the next popular flavor is the Kachava chocolate. Unlike the vanilla pack, which is 60g, Kachava chocolate comes in a 62g serving pack.
On the front of the pack, you'll find a complete list of the 70+ ingredients in the protein meal. It is made with fresh organic cocoa and coconut milk to give a lovely chocolate flavor.
The Kachava chocolate has a rich and delicious taste, and it is perfect if you only mix it with cold water. However, you can create your recipes and add organic fruit extracts, non-dairy yogurt, or any other flavors you can find.
It may be a bit tricky to get a perfect smoothie blend on your first try, but at every meal, it gets better.  
Ka'chava Coconut Acai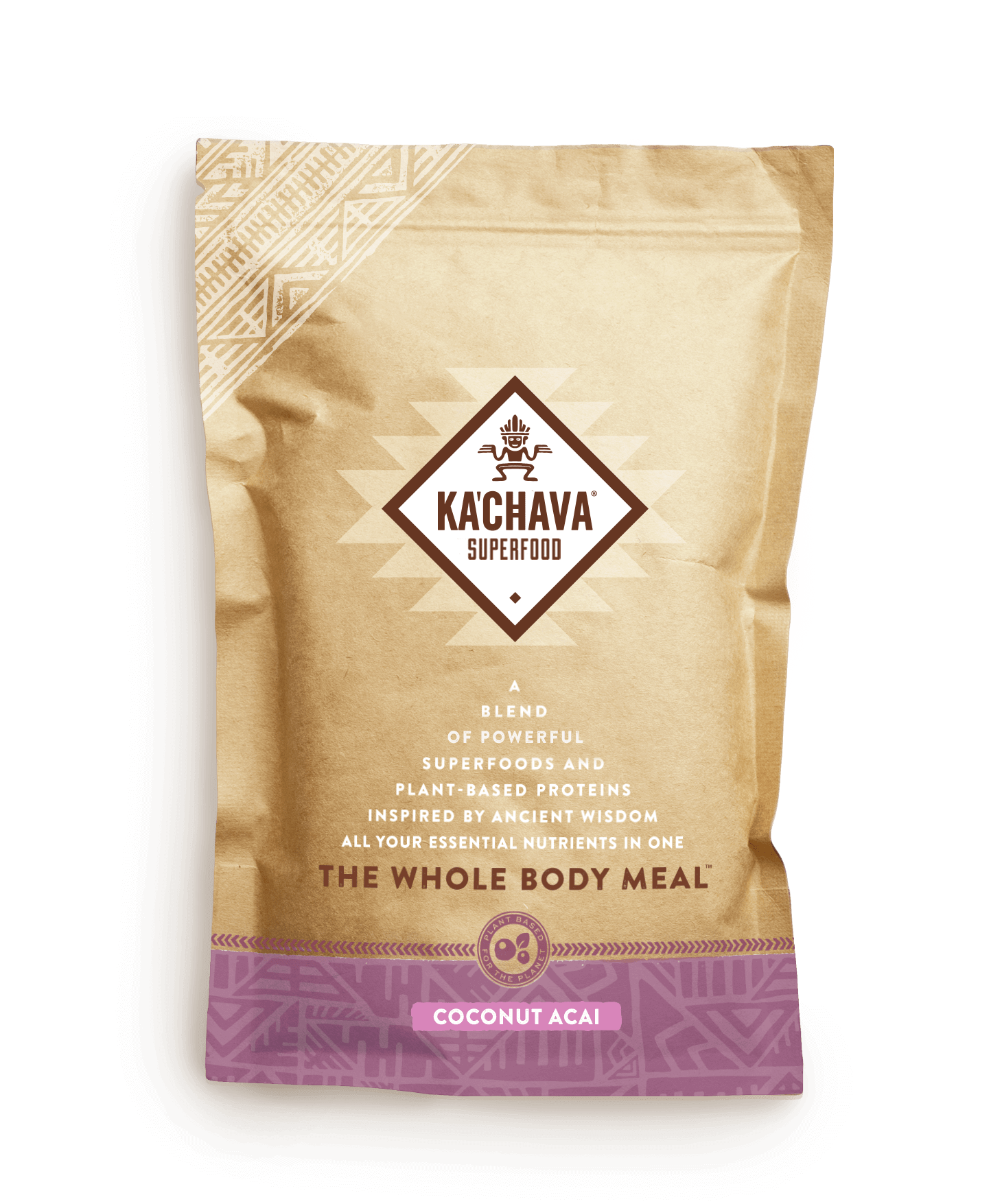 Continuing our Kachava reviews, you may know that Ka'chava recently introduced the Coconut Acai and Chai flavor and the classic vanilla and chocolate flavor. Coconut acai involves a combination of acai and coconut milk essence to create a tasty blend.
The Kachava coconut acai is an exotic flavor, and it's perfect if you don't mind an adventurous protein shake.
In addition, the Kachava Coconut Acai has a bright lilac color, and it has a delicate floral scent. It comes in a convenient package that contains 15 meals per bag, and two scoops of 62g serving size will give a satisfying mix.
It is also perfect in the original flavor, and you can also modify the taste by creating new recipes.
Ka'chava Bottle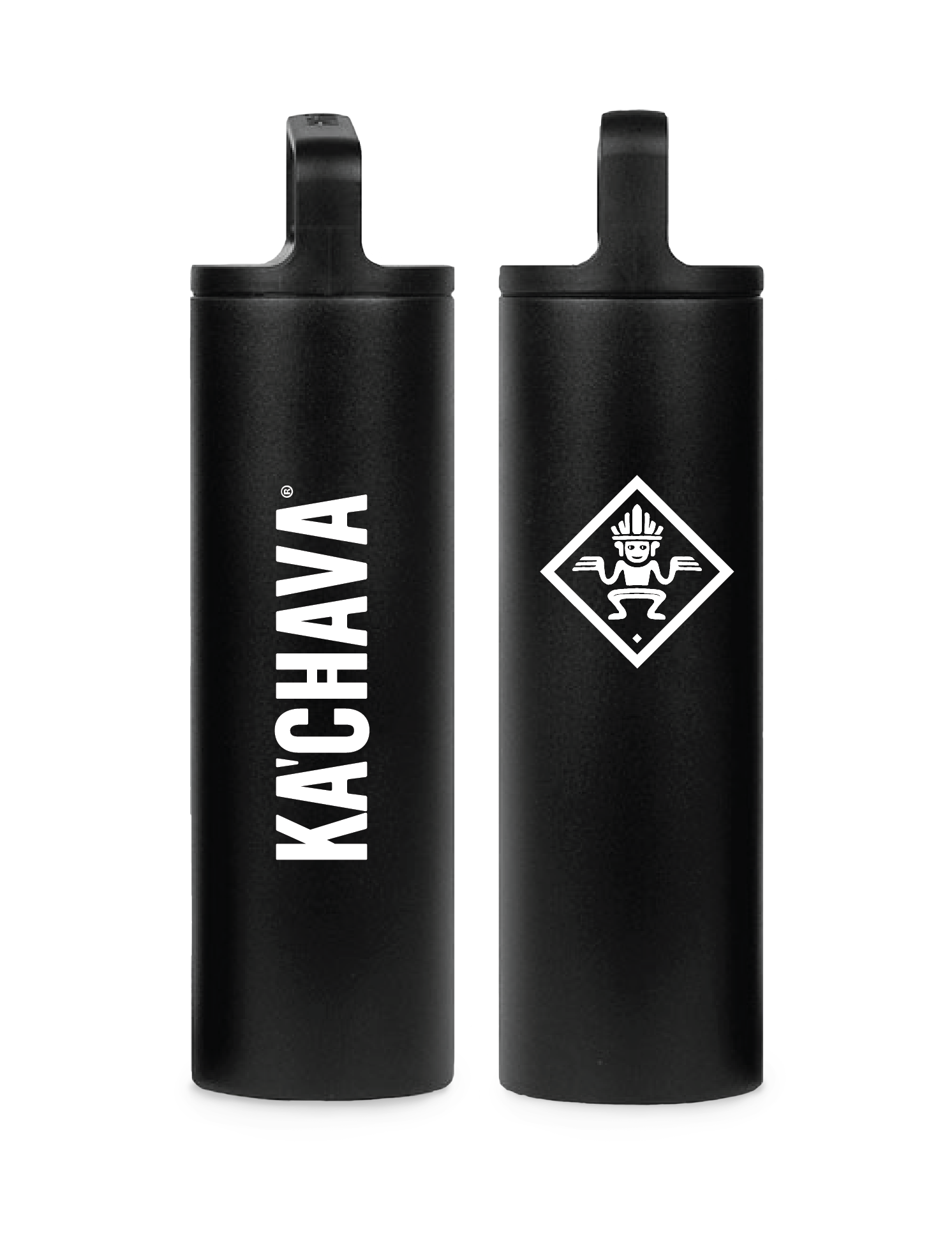 Kachave bottles are also available on the brand's website, and they're also bestsellers. The container features a screw-off plastic lid with a sleek metal body. As a result, it is a lightweight container that you can easily carry everywhere.
In addition, it has a functional and compact design, which helps prevent any leak and keeps the Kachava shakes cold.
The Kachava bottle is versatile, and it offers you a way to carry your meal along with you everywhere you go. It comes in different color options such as white, black, white & gold designs.
However, the downside to this bottle is that because of the screw lid, the lid could be very messy, especially when it contains the protein shake.   
Kachava Bars
Kachava also provides healthy protein bars as a meal supplement to help you maintain a regular diet. Protein bars are a convenient meal and snack option suitable for anyone.
Unlike standard bars, Kachava bars don't contain any sugary binders or added sugar, so it has a natural, tasty flavor. It also has a soft, non-sticky texture compared to others.
These Kachava bars are free of gluten, soy, artificial flavors, or added sugar. Therefore, it is suitable for most dietary choices. For instance, it is vegan-friendly and keto-friendly.
The protein bars contain a total of 200 calories and 13g fiber, 11g protein. It is made from plant-based ingredients such as cashew, cassava fiber, flax seeds, etc.
Kachava offers two varieties of protein bars in chocolate and peanut butter option. The chocolate bar is layered with real organic cocoa, and it tastes just like a brownie.
Thanks to the monk fruit sweetener, the peanut butter bar also has a lovely sweet taste.
Kachava bars are made with nuts, seeds, and other real-food ingredients that form visible chunky bits. It is also chewy, and it is a perfect light snack that you can have before your next meal.
A single box of 12 bars costs $39.95, and the bars are currently sold out. Kachava only supplies the bars in limited batches on their website. 
Kachava Reviews From Customers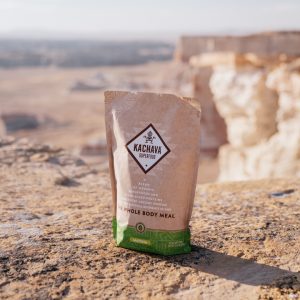 In addition to our independent Kachava review, we also checked what real customers say about the products. There's a review page on the brand's main website that contains honest opinions from real users.
The brand has an overall rating of 4.7/5 stars and 32,464 reviews. The customer reviews help offer insight into the actual user experience.
The review page has many positive comments, and most customers were satisfied with their product. For example, a customer stated, "I am enjoying each Ka'chava flavor I purchased!
They taste good, and I feel great! I have energy, and I already told others about this product!" Other reviews are similar to this, and many users are satisfied with their purchases.
The website also contains videos from real customers sharing their experiences using Kachava. There are mainly positive reviews about the customer experience with the protein shake on the website.
However, a few negative reviews are mainly about the poor quality of the Kachava bottle. Nevertheless, according to the website, this brand is well-loved.
On Amazon, Kachava has a total rating of 4.5/5 stars and 4 525 global reviews. It is a popular product, and there are many positive comments from customers. However, there are also a few negative comments from unimpressed users. 
Popular Alternatives to Ka'Chava
Further customer reviews
One commented, "Be very careful purchasing this, there's no return policy, and it is very expensive. Also, I did not like it; it does not shake well with water, almond milk, etc. even when blended, it is uncontrollably thick."
Customers also comment that the coconut shake has an unpleasant taste compared to the vanilla flavor.
Overall, most customers claim to enjoy this product in various flavors. However, while some customers opted for the chocolate flavor, others couldn't stand the taste.
Some other customers also commented that the shake is not a suitable meal replacement. They still felt unsatisfied even after a full meal.
Finally, the customer reviews on Kachava protein shake varies from positive to negative comments. Most of the reviews on the brand's website are similar to those on external sites like amazon, which shows that they're trustworthy.
It's also clear that customer reviews are mostly based on individual preferences and personal tastes. Other meal replacement powders probably have the same type of reviews.
Sign Up for Kachava
If you're impressed so far, and you'd like to be part of the Kachava tribe, then you can sign up and get a membership subscription. Then, all you have to do is choose the flavor and quantity you want and a subscription period. Then, you can confirm your order with your email, shipping, and billing information.
Where to Buy Kachava
Kachava offers their meal replacement shakes exclusively on their website. You can choose a one-time payment at $69.95 per bag or a timely subscription service that costs $59.95/bag. In addition, some vendors resell Kachava products on online outlets such as Amazon.
Kachava Shipping and Return Policy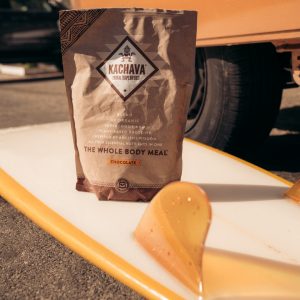 Kachava is based in Nevada, and they ship to all the 50 states in the United States and specific US territories, such as American Samoa, District of Columbia, Puerto Rico, etc.
They offer standard shipping for 4-7 business days and Priority shipping which takes 2-3 business days. They also offer express, next day shipping which only takes one business day. 
The brand offers a 30-day return period where you can return your order if you're not satisfied with the product. Kachava's return policy also comes with a full refund, including the shipping fee for one bag of every flavor.
Promptly contact the customer care representative to begin processing your return. 
Kachava Promotions and Discounts
Kachava costs a little more than similar protein meal replacement options in the market, but they offer value for your money. They also offer deals and discounts to encourage more people to patronize their business.
For example, you can enter your email to get an 11% Kachava discount code to use right away on your first order. 
If you also opt for the subscription plan, you will get 10% off each bag purchase. There's also free shipping when you order two or more bags simultaneously.
You can also follow newsletter updates on any Kachava promo code or discount you should look out for. 
Contact Kachava
You can contact Kachava via:
Is Ka'chava good for you?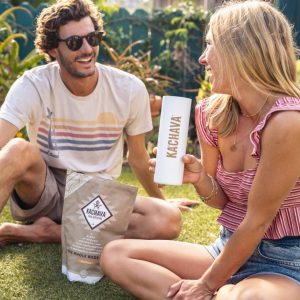 Is Ka'chava the world's healthiest meal shake? Probably not, but it's amazing for many reasons. A Kachava monthly payment costs about $120, and for a protein shake, this amount is a little high-priced. So it's normal for you to wonder if Kachava is worth it before you spend your money.
Based on the collective Kachava reviews, the brand scores an overall 4.5/5 star rating. It offers you value for your money by providing a healthy and satisfying meal replacement option.
A single meal is filled with adaptogens, digestive enzymes, probiotics, superfoods, antioxidants, and high-value ingredients that offer many valuable benefits. It is just as satisfying as a regular meal.
Kachava is a suitable meal replacement plan for people with vegan and plant-based diets. It also has a delicious taste and is a complete meal in one goal.
Is Kachava worth it? Our verdict is yes if you're looking for a convenient and healthy single-serving superfood that is packed with nutrients. For the high price, it is well made.
It incorporates a variety of fresh organic ingredients to create a perfect blend. It is also extremely satisfying and helps you save money in the long run. 
If you are looking for other meal replacement brands, you should check out Huel, Orgain, Soylent, and Garden of Life. 
Kachava FAQ
Is Kachava healthy?
Yes, Kachava is a healthy and nutritious meal, but it may not be suitable for pregnant women or breastfeeding mothers. The formula also contains tree nuts, an allergen and may be harmful to people with nut allergies.
Is Kachava FDA approved?
Yes, it is. The brand ensures that it meets all the standard manufacturing requirements of the Dietary Supplement Health and Education Act (DSHEA) and the FDA regulations.
How many times a day can I drink Ka'Chava?
Ka'Chava states on their website that they are designed as a once-per-day meal as it only contains 240 calories. You can take it twice in case you're making smoothies and you wish to add different nutritious sources which can be found in Ka'Chava.
Does Ka'Chava contain caffeine?
Ka'Chava claims that they do not add caffeine to any of their products. Disclaimer: coca powder naturally has low caffeine, so in case you are sensitive to it, choose the Vanilla Ka'Chava.

Does Ka'Chava offer samples?
They do not offer samples as all of their bags are risk-free to try. According to their research, some people take longer to figure out how to make Ka'Chava properly. If you are not happy with it for any reason, they offer a full refund, even if the bag is empty!
What are the benefits of Kachava?
There are a number of benefits to Kachava, including its ability to improve digestion, detoxify the body, and boost energy levels. Kachava is also a good source of vitamins, minerals, and antioxidants. Additionally, Kachava has anti-inflammatory and anti-cancer properties.
How effective is Kachava for weight loss?
Kachava is a meal supplement powder that has been shown to be effective for weight loss. The high fiber content in Kachava helps to keep you feeling full and satisfied after eating, while the protein and healthy fats help to promote healthy weight loss. Plus the shake is only 240 calories.