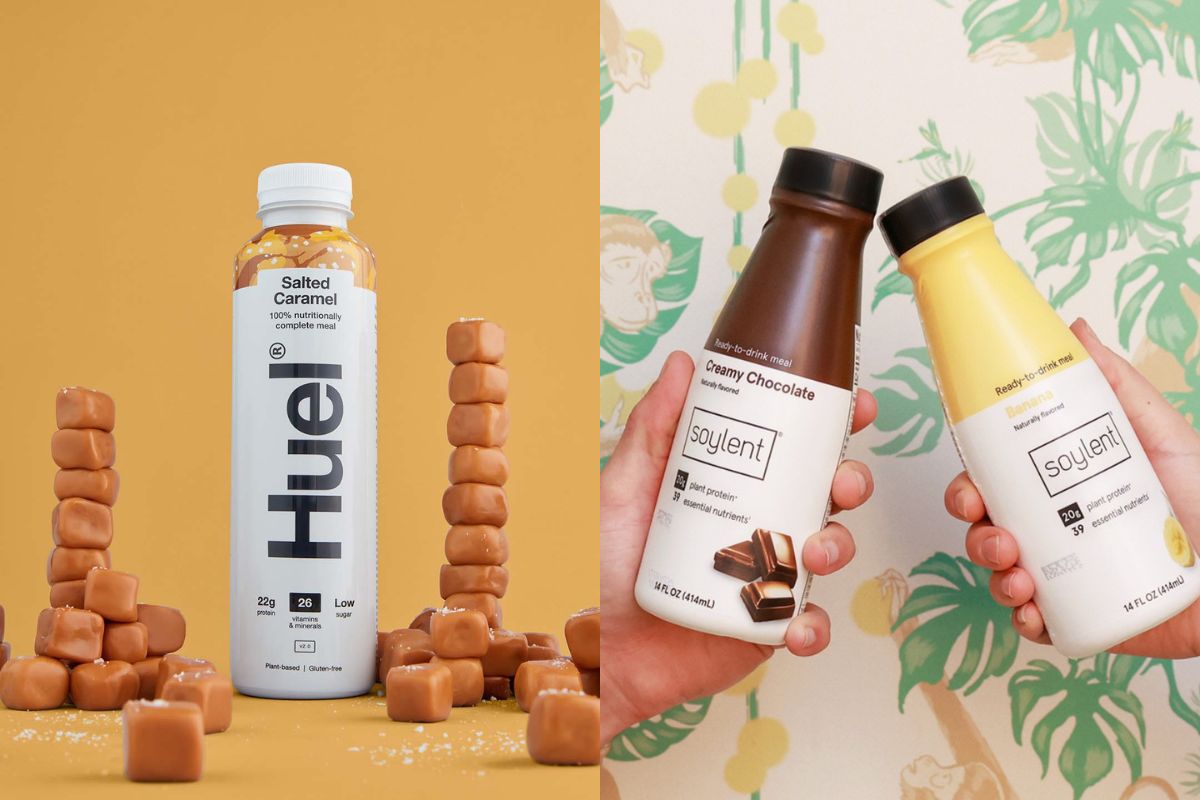 Protein shakes, in one form or another, have been a feature of some specialized diets for years, but in this Huel vs Soylent review, we're going to look at two of the leading lights in the meal replacement protein shake revolution that are bringing the concept to the mass market. No longer existing only as a calorie boost for the hardcore gym-rat seeking that extra bit of protein on top of their three meals a day, Huel meal replacement and Soylent meal replacement packages are designed from the ground up as complete substitutes for one or more of anyone's normal, daily meals.  
Huel vs Soylent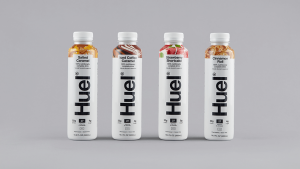 If you've decided to try replacing one or more of your daily meals with a complete protein powder product, then you've probably already come across these two giants in the meal replacement market. We're here to help you decide between Huel meal replacements and Soylent powder, so you don't have to do all the research yourself.
Both companies use advertising centered heavily around the meal replacement capabilities of their products, and both are loud and proud about the green credentials of their plant-based ingredients. But there are actually quite a few differences if you dig below the clean, simplistic packaging and take a closer look at the products.
We'll be looking behind the labels of Soylent drinks and peeling the packaging back from Huel protein powder to get a real idea of where they differ in terms of ingredients and taste, as well as taking a closer look at the sustainability and packaging of these meal replacement brands. 
About Huel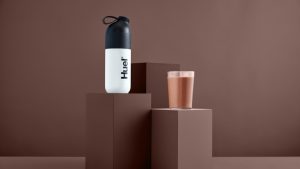 Huel powder v3.0 can be considered the main product in the range with all other Huel products, from Huel Hot and Savory to Complete Protein Bars, based on the same formula of plant-based ingredients. Now available in a gluten-free version or as Huel Black Edition for a lower carb mix, there's a Huel powder to fit into any lifestyle.
Huel powder contains all 27 essential vitamins and minerals as well as having the recommended fat, protein, carb, and fiber split for a balanced diet. 
The protein in Huel meal replacement products comes from a combination of brown rice, oats, and peas milled ultra-finely and combined with extracts of coconut, flaxseed, and sunflower seeds. The newest version is smoother and easier to mix, with an extra boost of Vitamins B and C from kombucha culture and acerola cherries.
Huel packaging is not recyclable, but the brand points out that because a single pouch replaces a huge number of meals, a relatively small amount of waste is produced compared to preparing food from scratch. In fact, if you replaced all your meals with Huel and lived for 96 years, you would only produce a single pallet of waste!
You can read our full review here.
About Soylent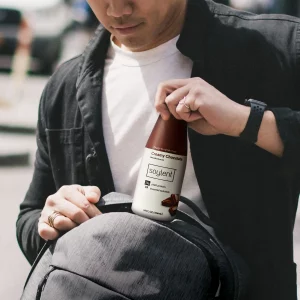 Soylent powder is the original Soylent replacement meal, and, like the Huel equivalent, the rest of the range is based on their unique formula for complete meal replacement.
Soylent takes a rather different approach from Huel to sourcing essential nutrients, which they describe as 'pro-science' and pro-GMO. This allows them to create a product with fewer ingredients than many leading competitors while still providing basic nutrients.
The main ingredient, soy, provides a large number of nutrients by itself and has a naturally smooth texture and pleasant flavor, meaning that Soylent has to add fewer additional ingredients to meet the desired nutrition and flavor profile.
Again, as a result of the decision to include heavily processed and GMO ingredients, Soylent has been able to pare down the ingredient list to fewer items that provide more benefits than many competing products.
But keeping the ingredients list as short as possible has not stopped Soylent from adding a whopping 15g of sugar to each serving of Soylent powder – a higher percentage of your recommended daily value than any of the included vitamins!
These added sugars may make Soylet powder more tasty, but for anyone watching their sugar intake, there's no option to buy an unsweetened version. So you're stuck with copious natural AND artificial sugars with Soylent, whether you like it or not!
You can read our full review here.
Huel vs Soylent Pros and Cons
Huel
Pros
The basic powder is available in a wide range of flavors.
Minimal added sugar and only natural ingredients.
Cons
Non-recyclable packaging.
Not all flavors and products are available to US customers.
Soylent
Pros
Fewer ingredients.
USA-based company.
Cons
Soy-based formula is not suitable for people with soy allergies.
Large amounts of added sugar.
Nutrients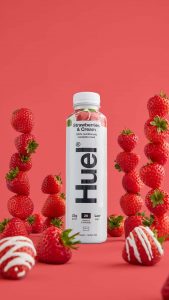 Whether you're looking for Huel or Soylent nutrition facts, you'll be pleased to know you can find full details on the respective company websites, alongside Huel and Soylent ingredients for every product/flavor. 
For the sake of our Huel vs Soylent review, we're going to compare the nutritional value of the basic meal replacement powders for each:
Both companies consider a 'serving' of their powders to be around 100g, or enough to provide 400 calories. As the recommended caloric intake for a healthy adult is 2,000 calories per day, this means you'll need five "meals" to meet your daily needs.
But it's not all about calories: you need a balance of nutrients in a healthy diet. So checking the Soylent and Huel nutrition facts for any meal replacement is essential.
In the basic range, both brands contain all the essential nutrients necessary to be considered a meal replacement, and also make it clear in the FAQs that it's not recommended to replace ALL your meals with these products due to the current limitations of food replacement technology. 
Huel
That said, Huel does contain more nutrients and beneficial substances – such as vitamins, minerals, probiotics, and kombucha – in a single powder than you'll find in the Soylent powder. 
However, this may come at the expense of taste and texture, as Soylent is frequently rated as easier to drink with a better basic flavor (thank you, extra sugars!). Because Huel is made up of large quantities of raw foods with minimum processing (other than grinding), Huel powders can sometimes be lumpy or difficult to mix and may be less tasty without additives. 
It's also worth mentioning the carbohydrate breakdown of Huel ad Soylent replacement meals. While both products offer a gross carbohydrate content of around 40-45g. For Huel, only 1g of this is sugar, whereas Soylent powder contains a whopping 16g in every serving – enough to put you significantly over the recommended daily limit if you consumed five a day!
Packaging and sustainability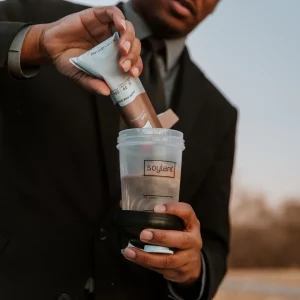 A wealth of research and science is available to show that following a plant-based diet is a quick way to dramatically reduce your carbon footprint, and replacing a meat-based meal with Huel or Soylent products is an easy, hassle-free way to reduce your environmental impact.
While Huel's non-recyclable packaging might initially put some people off, it's important to note that these products are designed to have an extremely long shelf life, and robust packaging is an important part of maintaining quality over time. In addition, one bag contains a large number of meals with no piles of separate ingredients, all needing their own wrapper.
The sustainability of farming used to supply each company with ingredients is a complex subject, and comparing farming methods and crop yields would need an article of its own. There's no easy answer – especially when the jury's still out on whether GMO crops used by Soylent are a benefit or a threat.
While neither company uses entirely organic ingredients, if your strive to follow a more natural diet and lifestyle, there's no question that the Huel philosophy would fall closer in line with your own beliefs since they avoid GMOs and use organic ingredients where possible, for example, the stevia and coconut sugar found in Huel black edition.
Huel vs Soylent: Product Types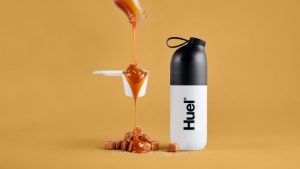 Huel powder is available in a range of naturally sweetened flavors as well as the 'Original' Huel protein powder for a less sweet, more oaty taste. An unflavored, unsweetened version is available, but its earthy flavor isn't for everyone. 
The unflavored version is ideal if you intend to add Huel protein powder to savory dishes for a nutrition boost. But, if you want to completely replace meals with a convenient protein shake, a flavored version is recommended.
As well as bulk bags of its meal replacement powder, Huel offers snack replacement bars and pre-mixed, ready-to-drink meal replacement shakes, which can be purchased in bulk on its website. 
Soylent's leading product is the classic Soylent drink, available in a wide range of pre-mixed flavors. These contain significantly less added sugar than the Soylent powder, so if you're watching your sugar intake, stick to the pre-mixed shakes!
Soylent's range is as streamlined as its ingredients list: Soylent replacement meals are available powdered, pre-mixed, or squared (in the form of a bar for on-the-go snacking). 
You may be asking yourself, 'is Huel healthy?' or 'is Soylent healthy?' but there's no easy answer to such a complicated question, and it really depends on what makes up the rest of your diet and how much of the product you are consuming in place of meals.
Quality
The latest (and some might say greatest) addition to the Huel range is the Huel Hot and Savory collection of instant meals, featuring everything from plant-based mac-n-cheese to spicy Indian curry, all with the same complete nutrition as Huel protein powder. 
Soylent replacement meals are much simpler, but customers really rate the quality of their highly refined ready-to-drink meal replacement shakes. 
Customer reviews
Both Huel and Soylent enjoy devoted customers ready to shout about how the products have revolutionized their lifestyles. =
We've noticed that people trying meal replacement shakes for the first time often find the unflavored powder versions of either product quite a shock to the system: it's a good idea to start off with a pre-mixed shake in your favorite milkshake flavor before splashing out on a bulk bag.
When it comes to taste and texture, Soylent is a clear winner with customers thanks to the naturally smooth and blendable properties of soy itself. Customers say that Huel has a naturally less pleasant flavor and can be difficult to mix. 
However, on TrustPilot Huel has a better overall score than Soylent.
We noticed that a lot of customers were surprised by how much they could taste the pea protein in the Huel black edition, and it sometimes overwhelmed any flavorings they added to their shakes.
For Soylent, the major negative we saw in customer reviews was the overwhelming sweetness or flavor of the artificial sweeteners. The texture of shakes made from Soylent powder also seems to be a point of contention and it doesn't match the premixed shakes as well as many customers would like.
Huel vs Soylent: Editor's Verdict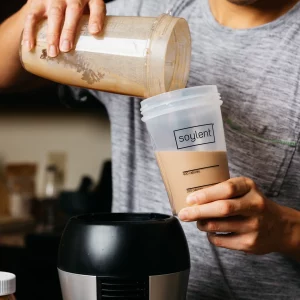 The Huel vs Soylent debate really comes down to what you're looking for in a meal replacement product and how many meals you want to replace with a more convenient option.
If you're just looking for the simplest way of ensuring you get the nutrition you need for a busy day without having to stop and worry about the contents of your meal, then Soylent pre-mixed shakes are an ideal way to make up for the breakfast you've been skipping every workday.
However, if you're looking to replace more than one meal, want to increase your intake of specific micronutrients, or you're a bit skeptical about highly processed diets, then Huel provides more complete nutrition and offers a greater variety of tastes and textures.
If you are still looking for other meal replacement brands, consider reading our reviews of Ka'chava, Aloha Bars, Athletic Greens, and Orgain.