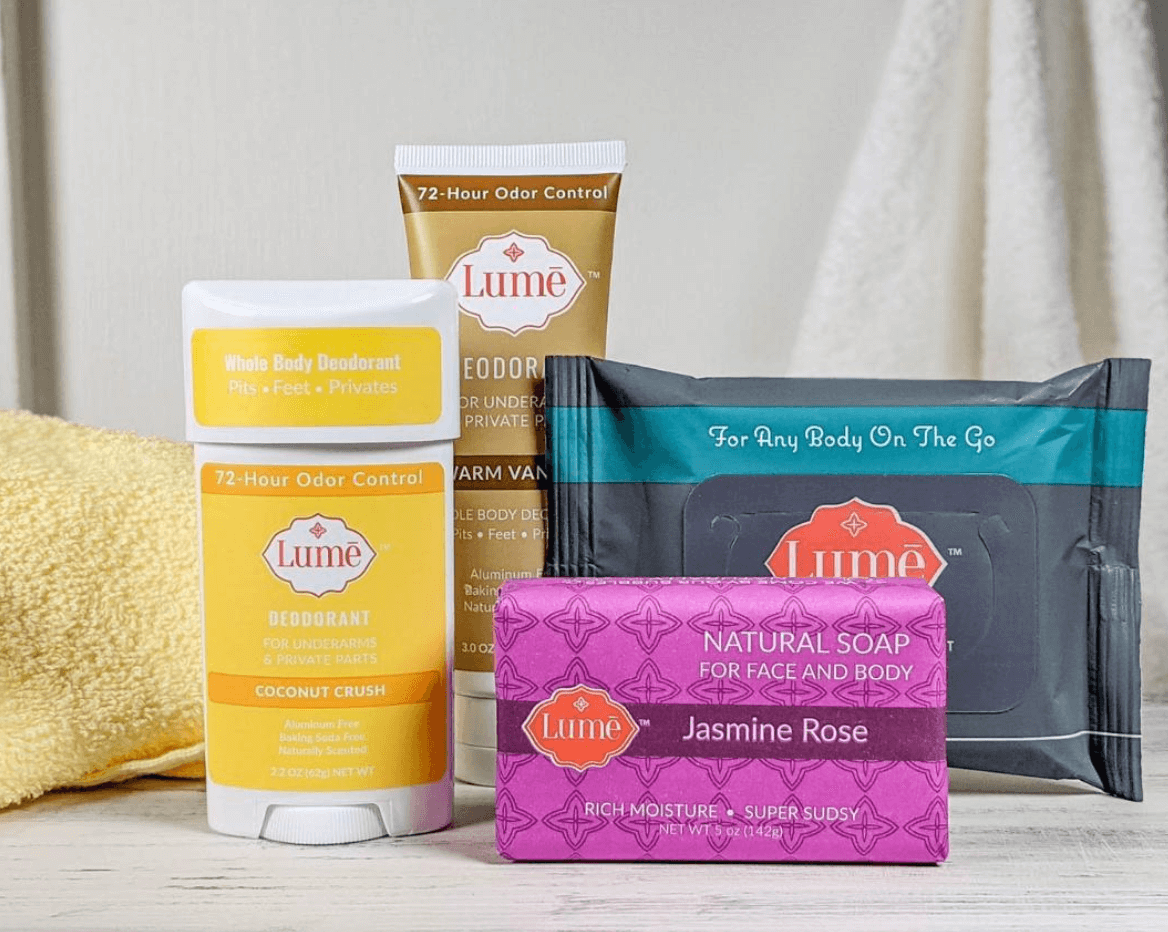 Using a deodorant feels like second nature today. But how do you find a deodorant that works for you while also making sure the environment doesn't suffer? Well, you start to look for natural deodorants. Although there's a controversy about natural deodorants not being as effective as Rexona or Dove from your local store, but in reality, we just need to let our bodies get used to them. And if that wasn't enough, there are now deodorants for your different body parts too! That's exactly what we're discussing in our Lume reviews.
An all-natural, effective deodorant that nourishes the skin without taking from it, leaving you feeling radiant and fresh for hours on end. Don't believe us? Take a look at Lume reviews and you'll be rushing to get your hands on some Lume!
About Lume Deodorant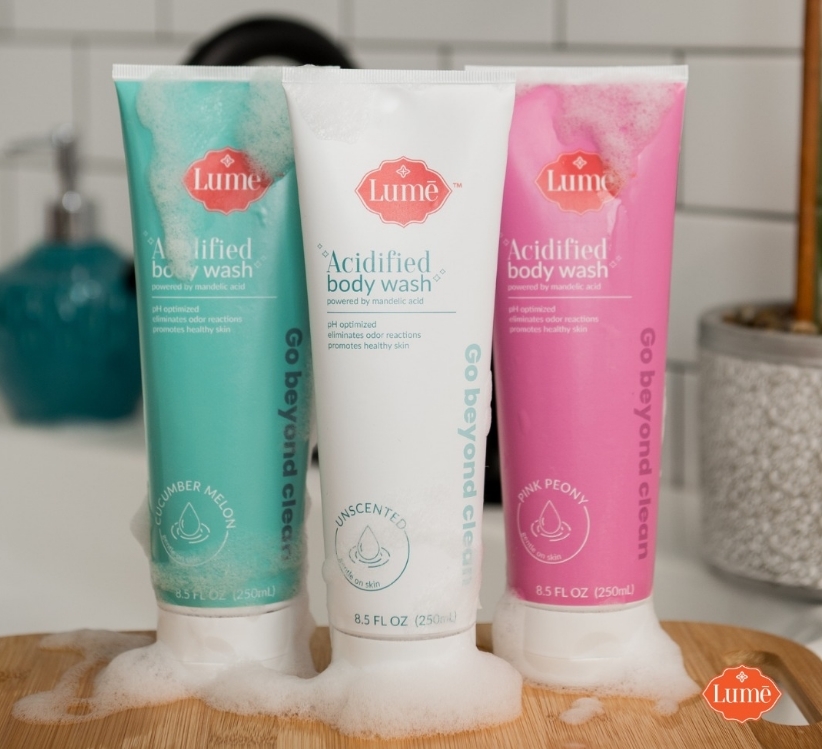 Unlike most coming of stories, Lume started off from a curious and determined OB/GYN in training with persistence to find real solutions for real women and men.
Shannon Klingman, the creator of Lume Deodorants, sat years ago completing her medical training, and it was during that time that she realized the misdiagnoses that women often underwent when complaining about body odor in the nether regions.
Instead of simply treating it as an external condition, experienced doctors often passed it off as a case of BV, resulting in the woman taking antibiotics that her body did not require. 
Fast forward years of research and grit, and Shannon Klingman had developed LUME, a line of all-natural deodorants that claimed to keep the user odor-free for 72 hours while protecting their skin from damage caused by harsh chemicals. 
Today, Lume functions as an all-over deodorant, safe for use neck to toe. And it feels fresh technology helps users' nether regions smell like the back of their hand – a feat that is no small thing for any deodorant company, and that too with the achievement of being all-natural. Continue reading our extensive Lume reviews to find out more about the brand. 
Pros
Suitable to use all over the body
It promises to keep the wearer odor-free for a whole 72 hours
It's 100% aluminum-free
No baking soda
Cruelty-free brand
100% naturally derived products
Easy to rub in, no film left behind
Lume Deodorant is developed and trained by medical professionals, rendering its safety in the best of hands
Money-back guarantee within 30 days of purchase
Cons
Not all customers love their scents
Some deodorants contain nuts, which can cause allergic reactions
No international shipping
Lume Deodorants Review
So, you might be wondering: what is Lume Deodorant? Well, Lume Deodorant is what the name suggests – a deodorant! But it's much more than just that.
Not only does Lume provide the user with 72-hour hygiene and freshness, but it does all that without ever compromising the quality of their products, meaning that users experience non-harmful products that are a great fit for even the most sensitive of skin types!
And since the deodorants come in both sticks and tubes – or even bundles if you love them that much – there's bound to be something at Lume for everyone!
Bay Rum Lume Deodorant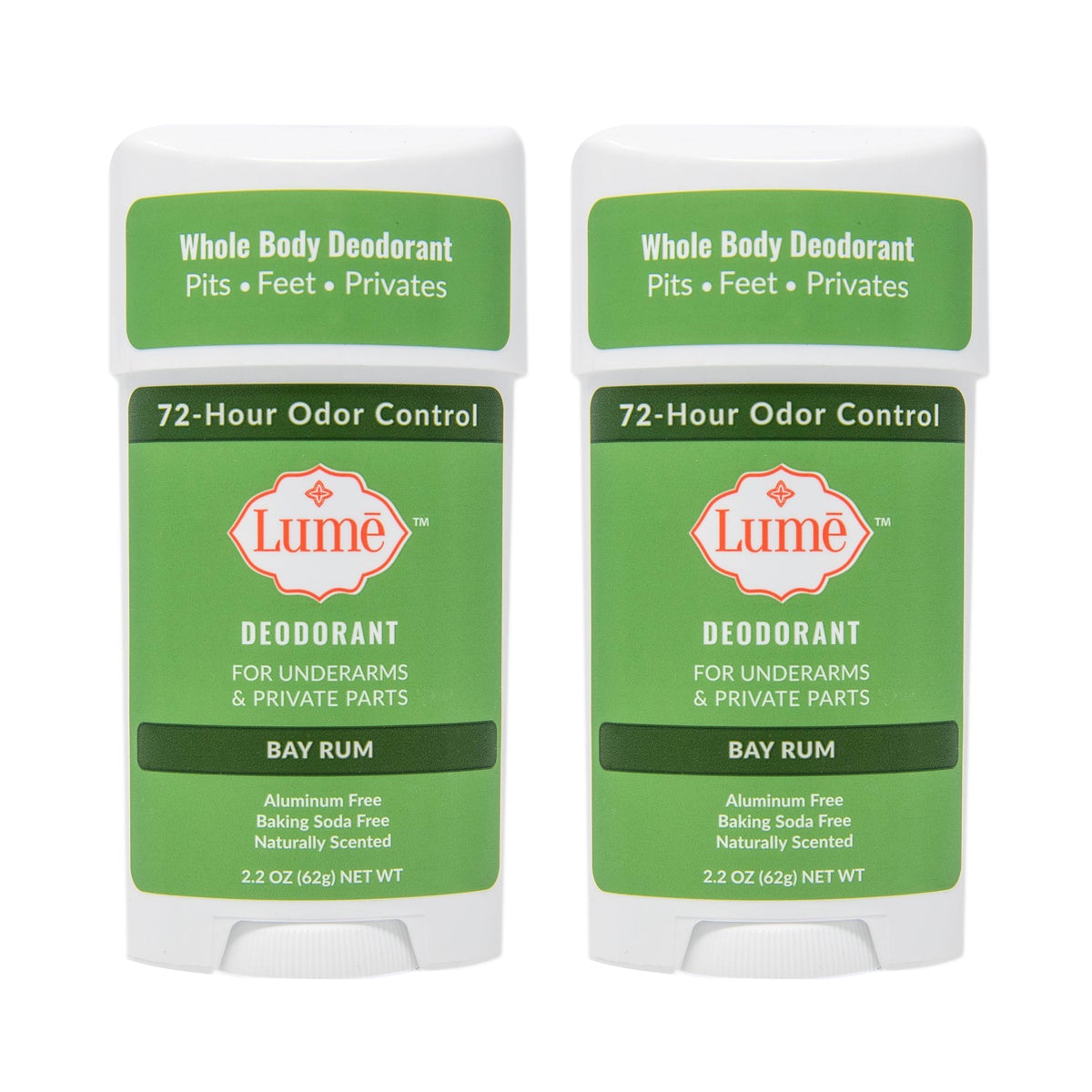 There's no doubt that a Lume all-natural deodorant is a surefire winner, and the Lume body deodorant in Bay Rum cream stick is amongst their top-notch varieties.
Currently priced at $25.98 after a limited time 13% discount, there's no better time than now to snatch up a pack or two. And since the deodorant comes in a two-pack, customers get an even better deal! 
Spiced bay rum leaf with hints of citrus, the cream stick deodorant is easy to use and apply, blending in like a lotion and leaving no deodorant film screen behind in residue.
And the best part is that the Bay Rum Lume deodorant follows after all other Lume products, making it aluminum, paraben, and baking soda-free – meaning that your skin will stay healthy and fresh!
And the winning factor? Lume's Bay Rum deodorant offers users 72-hours of absolutely no odor – that's right, 100% odor gone! And Lume isn't just for your pits, it's safe for external use just about everywhere.
Any area that is exposed to bacteria caused by fluids is a Lume area! So treat your pits, bellies, feet, and all to Lume! What better time to use natural deodorants than now?
Lume Deo Clean Tangerine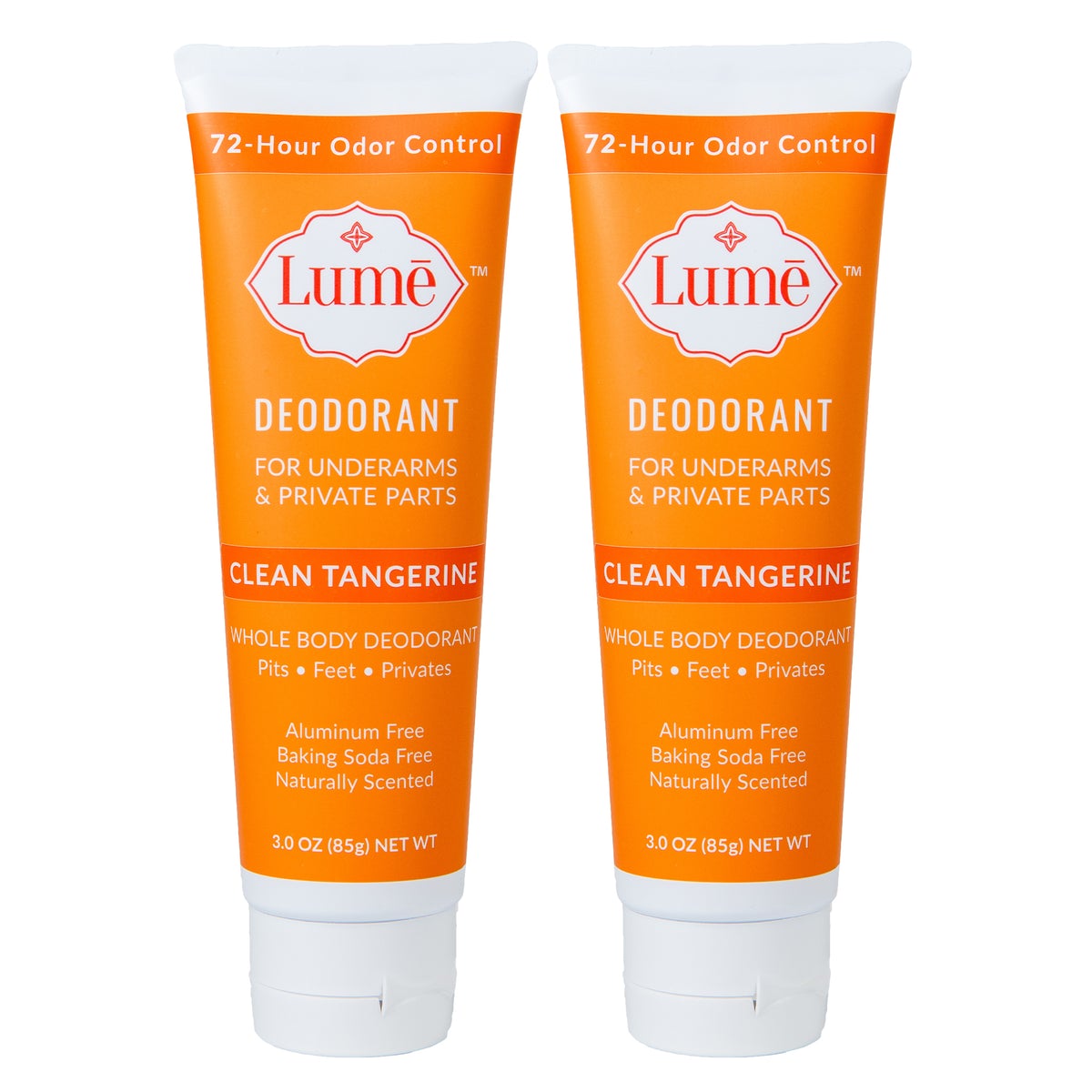 The Lume Deo in Clean Tangerine is nothing short of a burst of fresh air. Exclusively priced at $32.98 for a limited time offer after a 13% discount, customers can avail of this 2-pack deal in bright tangerine mixed with a cool herbal effect.
With a guaranteed odor control for 72-hours, the recommended way to use Lume Deo in Clean Tangerine is to apply it after showering thoroughly and drying. 
Apply a small amount in a circular motion and rub in a larger circle until it is absorbed into the skin, making sure to only use an amount that is absorbed within four to five seconds. Pair with fresh, clean clothes for optimum hygiene and a long-lasting anti-odor effect. 
And the real cherry on top is that the Clean Tangerine Lume deodorant is made following true Lume ideology, meaning that it is aluminum-free, paraben-free, and baking soda-free.
This not only makes Clean Tangerine a vegan and cruelty-free deodorant, but it also makes it an inclusive product in terms of skin types that can use it, as the deodorant is gentle on all skins, yes, all skins! 
That's not all, we know that you'll love your Clean Tangerine deodorant so much that you'll be delighted to know that you can use it all over your body!
Pits, bellies, feet, privates, wrists, knee and elbow cracks, and your neck – there's really no other deodorant you need when you have a Lume deodorant in your life, and the Clean Tangerine is one of their finest.
Jasmine Rose Soap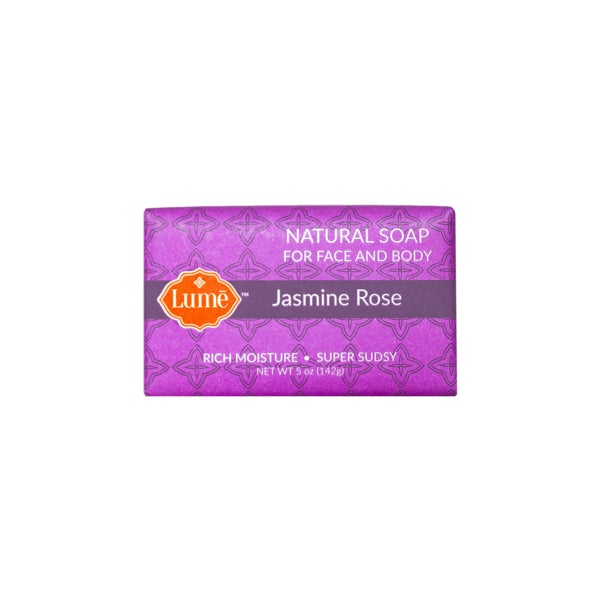 Lume didn't just come out with deodorants, but other bath products that are important for our body's overall wellbeing.
The perfect accessory to gently cleanse and protect your skin, Lume's Jasmine Rose soap consists of a triple-milled bar that is developed by certified doctors, ensuring that your skin will be in pristine condition without suffering any damage from chemicals and toxins. 
And the soap is free from parabens, sodium lauryl sulfate, phthalates, and artificial dyes, meaning that the soap is both cruelty-free and vegan, making it the perfect choice for all types of skin.
What's more, the Lume Jasmine Rose soap is hypoallergenic, making it safe to use externally without the risk of an infection or allergy. And since the soap is made using ingredients from naturally-derived plant oils, the scent added is 100% natural. And the best part?
Lume's Jasmine Rose soap is reasonably priced at $6.99 a bar – or $5.99 for customers on a subscription service – making it the perfect addition to your skin and shower routine. Pair it with your Lume natural deodorant and you'll be smelling fresh!
Cucumber Melon Acidified Body Wash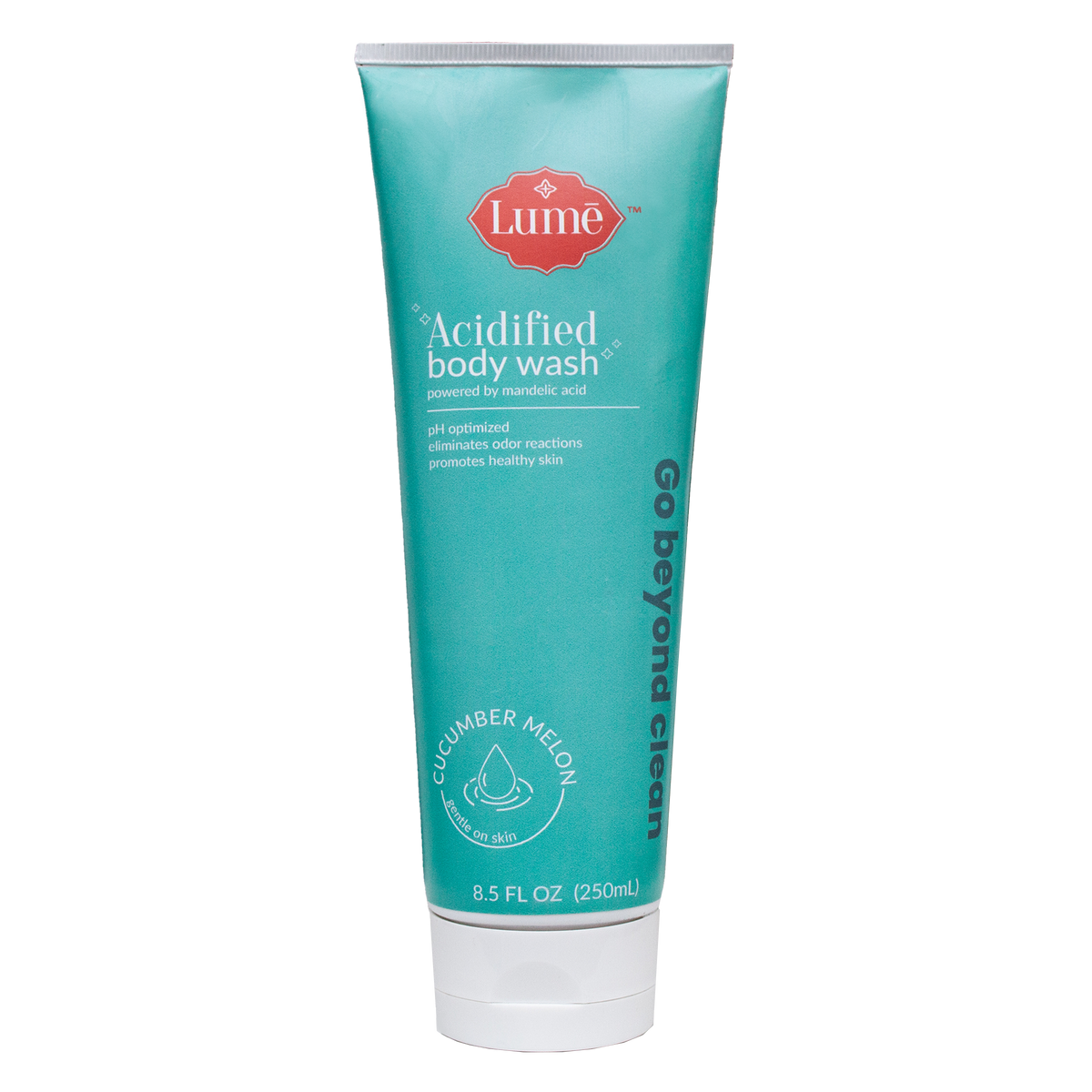 Are you in need of a reenergizing hit? The Cucumber Melon Acidified Body Wash by Lume is just what you need! One shower with this and you'll be as cool as a cucumber and as relaxed as a melon, all while being full of energy and brimming to go – perfect for those busy days we have ahead of us! 
You might be wondering: what is 'acidified' body wash? Well, acidified body wash is scientifically proven to help you smell up to 3.5 times better as it controls pH reactions which are often odor-causing – every single time!
It also leaves the skin feeling healthier and smoother by protecting the skin's acid mantle.
And the best part is that the body wash is developed by doctors and approved by gynecologists, meaning that you can leave all of your skin concerns behind – yes, people with sensitive skin, we're talking to you!
Oh, and you can also use Lume's Cucumber Melon Acidified Body Wash on your face. So it's really an all-in-one product, perfect for on the go or at home! 
The Cucumber Melon Acidified Body Wash is currently priced at $19.99 for a limited time – reduced from the standard price of $24.99 – or $17.99 for subscription customers.
Pink Peony Body Butter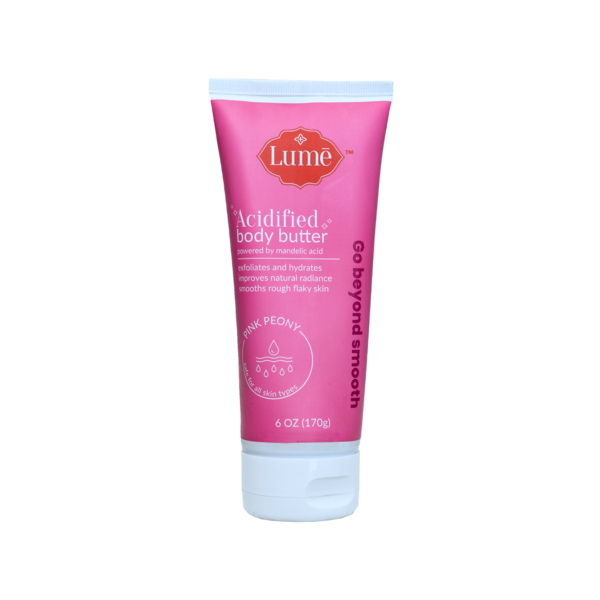 It's up to us to take care of our body, and the number one way to give our skin complete moisture and nourishment is through Lume's Pink Peony Acidified Body Butter.
Powered using the all-natural AHA Mandelic Acid, this body butter is medically tested to reduce the skin condition known as Keratosis Pilaris, or chicken skin, which causes raised bumps on the surface of the skin. 
And one of the best things about Lume's Pink Peony Acidified Body Butter is that it restores the skin's moisture up to two times after a single use, and improves the skin's hydration up to three times after a usage period of two weeks, given that you use the body butter daily. 
It's simple to use, simply lather on a small scoop of Pink Peony body butter and gently massage it into your skin until absorbed, leaving your skin feeling smooth, soft, and supple. Not only will the body butter nourish your skin, but it will also support the body's microbiome. 
And not only that, but it'll also leave you smelling perfectly pretty with its blend of pink peonies with rose and citrus, giving you that final boost of confidence for your big day.
Reasonably priced at $34.99 – or $29.99 for subscription customers – the 170g body butter tube is bound to last you a while.
Lume Reviews from Customers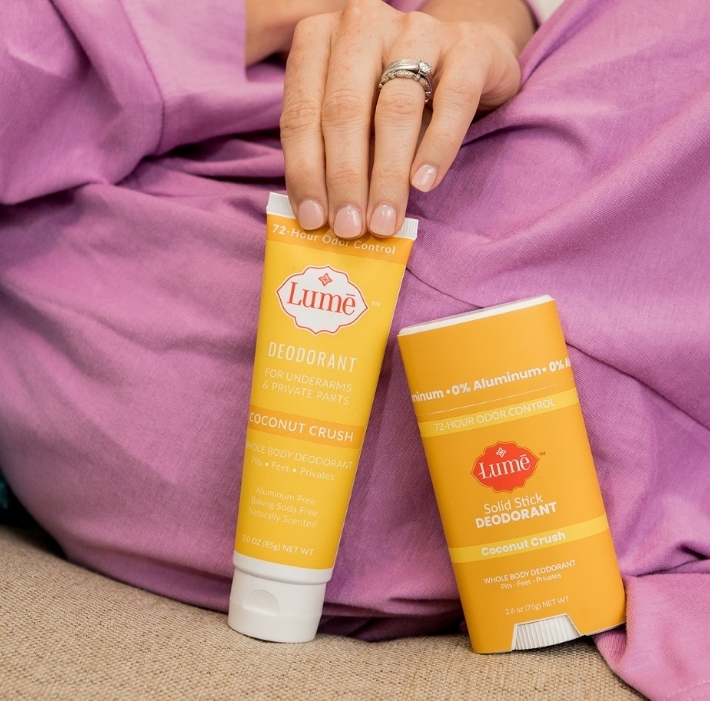 It's natural to feel skeptical while buying a product online, and there's really only one way to put these worries at ease: reading up on customer reviews.
Existing customers often know the ins and outs of a product, warning you beforehand about any shortcomings and preparing you for the experience – good or bad – that you are about to have, and reviews on Lume deodorant do all that and more.
First things first, Lume is a straight-up winner when it comes to ratings. With a cumulative 4.7 stars – out of a possible 5 – gathered over more than twenty thousand unique customer reviews, it's clear that Lume's customers are loving it, and one thing that they really seem to love is Lume's quantity. 
'A single bar of Lume's body soap lasts me the same amount as four regular soap bars' said one loyal customer who was loving what Lume had to offer.
Not only are the long-lasting quantities major points of convenience with customers not having to go through the process of replacements and refills on a repetitive basis, but it also massively helped customers save up and spend on other areas of need – and we all know how important budgeting is in a pandemic. 
Customers were also big fans of Lume's odor repelling powers, 'Lume is actually legit! It actually lasted me 72 hours!!' said one customer with a chronic problem of body odor and sweat.
And even the few customers that had complaints spoke about how Lume's customer service team promptly handled their issues, leaving them with an experience that was above satisfactory. 
Sign Up for Lume Deodorant
You can sign up for Lume to get news about products and also check your current subscription or recent orders. All you have to do is head onto Lume's website and enter in your basic details – name, email ID, and password – and you're all set to go. 
Where to Find Lume Deodorant

 
The only way to guarantee Lume authenticity and quality is to purchase Lume products through methods listed by Lume themselves: through their website and on Amazon.
Of course, the easiest place is the Lume website, but Amazon is also a great place for those looking for deals or wanting more in-depth reviews. So, to buy Lume deodorant is really a walk in the park. 
Lume Shipping and Return Policy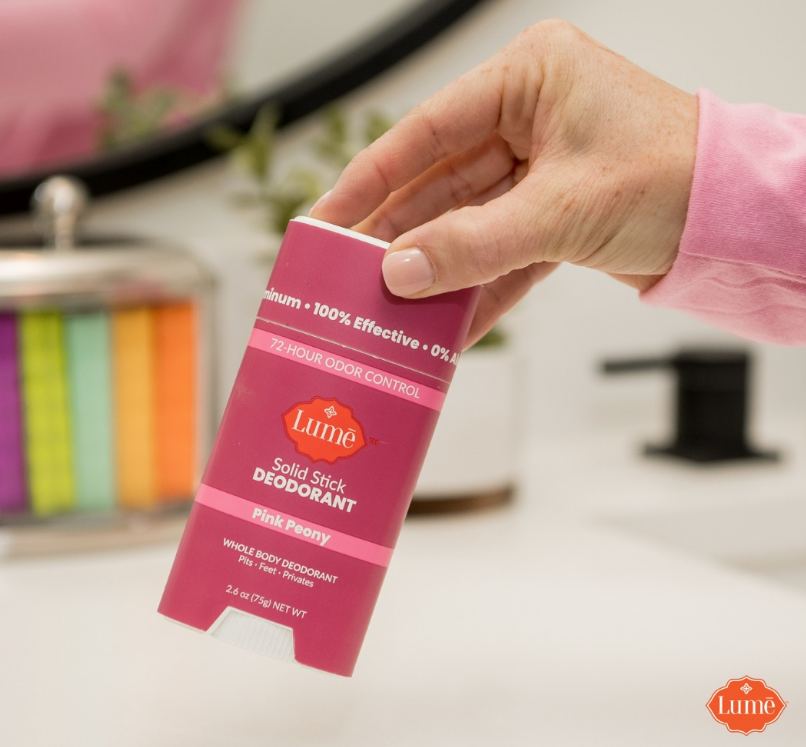 Lume's shipping is rather restricted. While they do ship to most of the US, they exclude the Virgin Islands, Guam, American Samoa, and the Northern Mariana Islands.
Unfortunately, international shipping is not part of Lume's services, and the only non-US location they cater to is Canada, that too for an additional fee. 
International customers wanting to get their hands on some Lume products must do so through third-party buyers, but in that case, the complete responsibility of product arrival lies solely with the customer and not Lume. Shipping usually takes 7 business days.
As for Lume's return policy, they ask customers to reach out to their customer care team for complaints. If the issue persists, Lume offers full refunds within 60 days of purchase, given that products are not damaged or lost. 
Lume Promotions & Discounts
Lume knows that its customers love a good deal, which is why it's no stranger to offering promos and discounts – both internally and externally:
Customers who subscribe to Lume avail of a special discounted price on all products
Various Lume products are currently on sale with a discount of 13%
Milled.com offers a free gift when customers purchase Lume products worth $60 or more
Contact Lume Deodorant
There are two ways of contacting Lume customer service:
By using the chat option on the website.  It is available: Saturday 10:00 AM – 02:00 PM 

CDT and

Monday – Friday 08:00 AM – 06:00 PM 

CDT

You can also send their customer support team an email at [email protected]
Lume Reviews: Editor's Verdict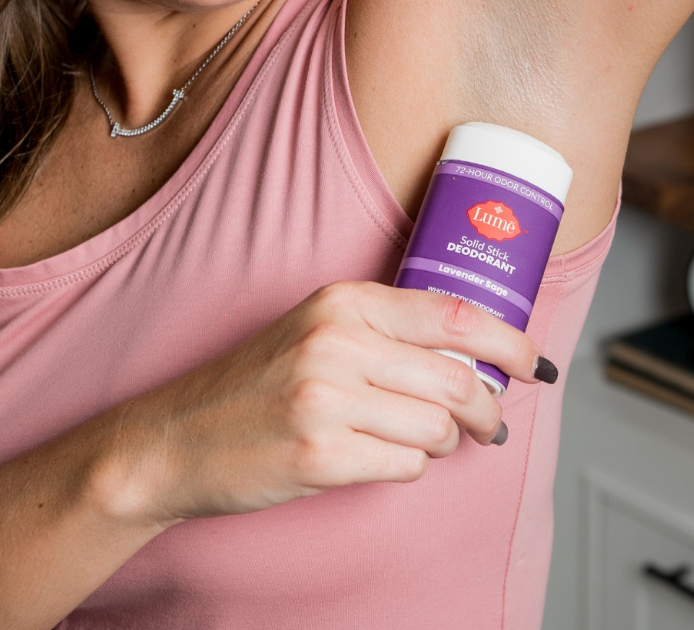 So, did our honest Lume reviews convince you? According to customers, online Lume is a great brand that creates an all natural deodorant all the while keeping in mind your skin and the environment. Most people are quite happy with their purchase. We do have to advise that getting used to a natural deodorant might take a bit of time. For anyone who's been using a regular spray deodorant, your body needs time to adjust.
Lume does mention on the website that you should allow at least 4-14 days. Once the body is happy with the new product, you'll be odor free for 24 hours. Thankfully, Lume offers 60 day returns policy. In case the products do not work for you, you can always just return them.
So our final verdict? Lume is worth the try!
Looking for other natural clean beauty brands to try on? Check out our popular reviews of Thrive Market Review, Vert Beauty Review, RMS Beauty Review, and Native Review.
Lume FAQ
Does Lume really work?
Yes, it really does! Lume promises to control odor for 72-hours, and it does this by preventing bacterial growth on external skin
Is Lume Deodorant really natural?
Yes, Lume deodorant is paraben, aluminum and baking soda free, making it a 100% natural product.
Does Lume Deodorant control sweat?
Lume is not an antiperspirant therefore it will not be able to control sweat as other deodorants do. Some of the ingredients help to absorb the wetness. The formula was created to fight the odor as the sweat itself is healthy and necessary.

How long do Lume products last?
All of their products have a different shelf life and it will always depend from person to person. As it's 72-hour odor control, some people might not apply it every day. See examples for a few of their products if a pea-sized amount is used:
150 applications from a 3 oz Deodorant Tube

110 applications from a 2.2 oz Cream Deodorant Stick

37 applications from a 0.75 oz Mini Deodorant Tube



Are Lume products safe to use during pregnancy & while breastfeeding?
Yes! Lume is absolutely safe to use during pregnancy or while breastfeeding. They made sure everyone feels inclusive.