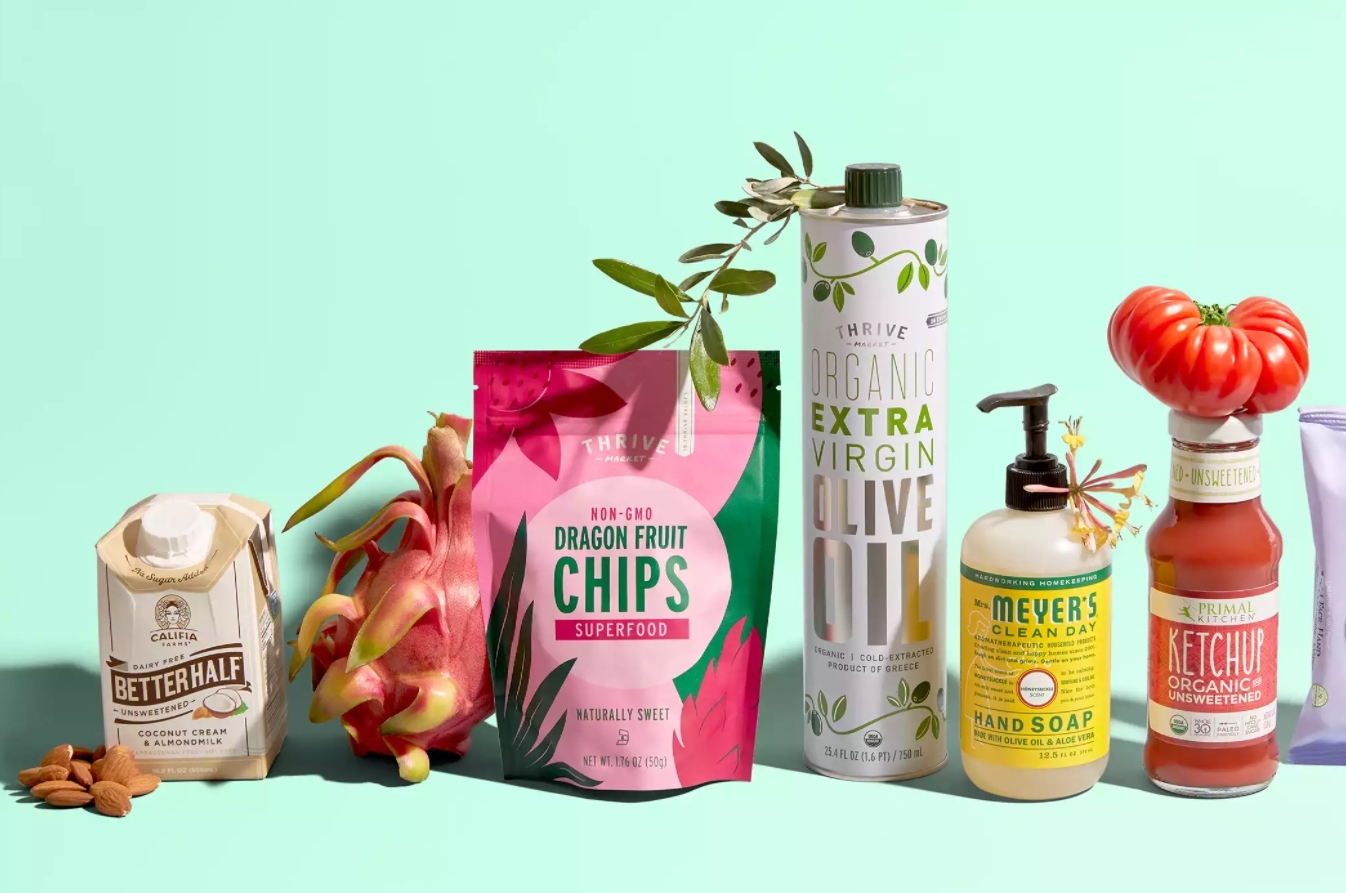 Healthy food helps you have great glowing skin and better health. However, finding convenient, reliable, affordable ways to shop for healthier foods is challenging. That's where Thrive Market comes in, as this e-commerce membership-based retailer offers organic and natural food products. We'll look at Thrive Market reviews to see if this online store is worthwhile.
Launched in November 2014, the company addresses the monetary and geographical challenges that often bar communities from healthy food. Their goal is to make healthy living affordable and easy for everyone in the United States.
To help you determine if Thrive is worth checking out, keep reading.
About Thrive Market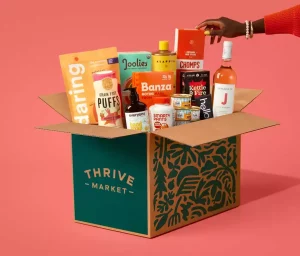 If you are still wondering: What is Thrive Market? It's an online grocery shop that sells natural, organic foods at wholesale prices. Nick Green, Sasha Siddhartha, Kate Mulling, and Gunnar Lovelace launched this company after realizing the untapped market of people who wished to bring healthy products into their homes but could not afford it was huge.
The founders decided to take a grass-roots approach to fund their business idea after convincing 200 investors who understood the consumer need and the mission, including Jillian Michaels, Tony Robbins, who are all well-known in the wellness community.
By 2016, the founders had raised more than $140 million from Invus, Cross Culture Ventures, E-Ventures, Greycroft Partners, and celebrities, including Demi Moore, Will Smith, and John Legend.
As the country's largest retailer of exclusively non-genetically modified foods, their online grocery store carries more than 6,000 of the highest-quality beauty, home, personal care, supplement, and food products from more than 400 top brands on the market.
Members pay an annual membership fee or opt for a monthly membership. The company donates a free annual membership to a low-income American family for every paid membership.
All products Thrive Market offer on its online shop meet their rigorous standards for quality, affordability, and sustainability. In February 2016, they launched a mobile application for devices that run on Android and iOS systems, allowing customers to shop for organic foods on the go.
Additionally, they deliver exclusive educational content that inspires and empowers members to live healthier and happier lives. Let's get into our Thrive Market Reviews.
Pros
Tons of grocery brands that are organic and non-toxic
Products are sustainable and ethically sourced
Offers a user-friendly mobile app for iOS and Android users
Affordable organic, natural products
Fast, free, carbon-neutral shipping
More than 6000 organic food products
Cons
They don't ship internationally
The shipping time frame is between 7 and 10 days
They do not accept returns once they ship your order
Phone support is not available 24/7
Thrive Market Products Review
Whether you are looking for organic baby food, hypoallergenic cleaning products, gluten-free snacks, Thrive Market diets cater to all lifestyle and dietary needs. Our reviewers investigated some of the best-selling Thrive Market products to see if they are healthier and offer bang for your buck. Some of these products are stuff you could find at your local health food store, however, ordering online is just much more convenient.
Thrive Market Collagen Peptides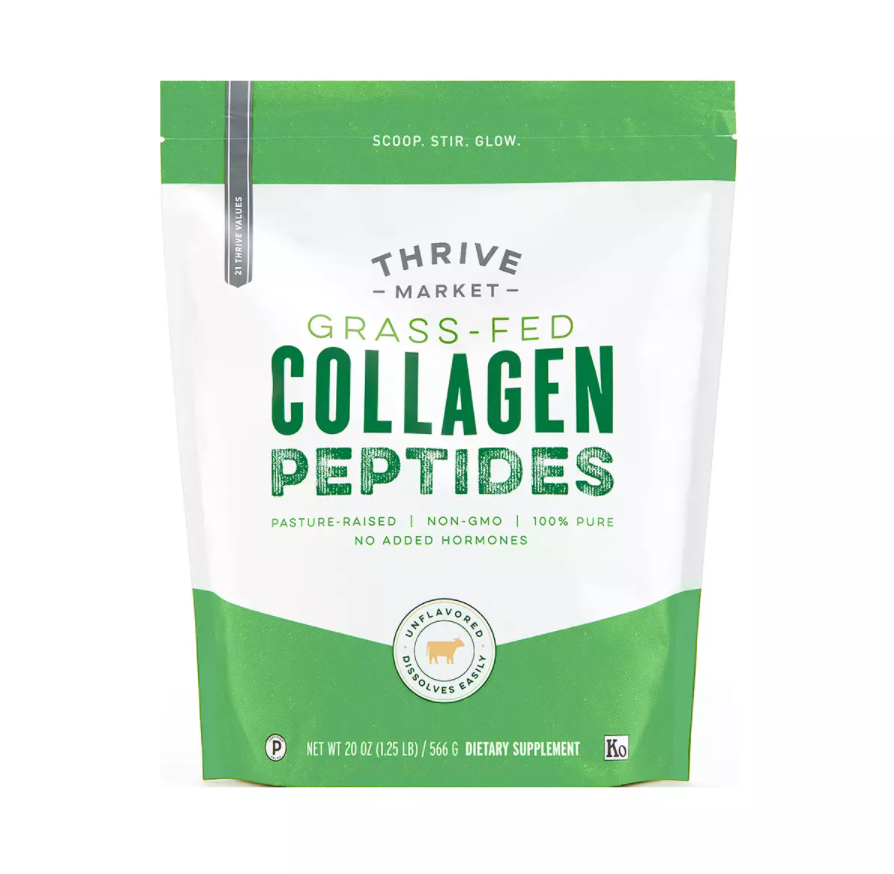 Mixing Thrive Market Collagen with an afternoon smoothie is a great way to ensure you have healthier hair, nails, and skin. It improves skin elasticity and hydration for older people and helps to reduce wrinkles. The daily supplement does not contain GMOs, and it's derived from grass-fed, pasture-raised bovines.
This color-and-additive-free fine-ground powder is textureless, tasteless, and hydrolyzed. That means it dissolves in coffee or oatmeal fast, and it can also be absorbed into the bloodstream with ease.
The supplement is keto-friendly, and it reduces the appearance of varicose veins and improves acne. These collagen peptides are also dairy-free, paleo, salt-free, yeast-free, preservative-free, and gluten-free. The product is available in vanilla, matcha mint, chocolate, and mocha caramel.
Thrive Market reviews show that buyers love their collagen peptides, as the product scored an average rating of 4.8 out of 5061 reviews. A significant number of customers love how it mixes well with hot liquids and say it's effective in reducing wrinkles.
Thrive Market Organic Extra Virgin Olive Oil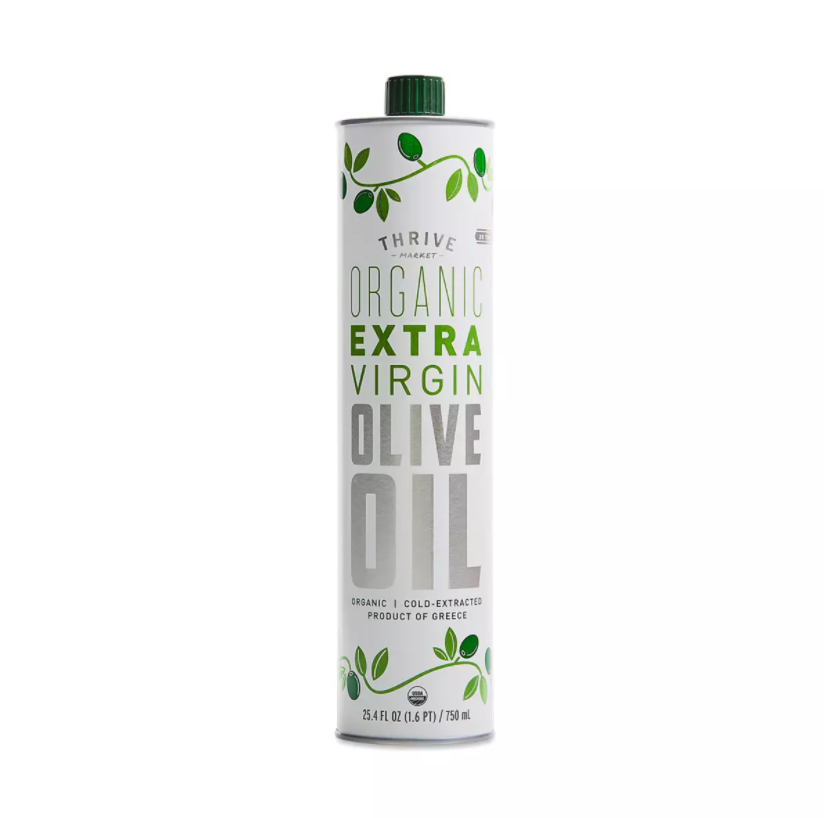 This extra-virgin olive is made from certified organic Koroneiki olives, and it is cultivated, picked, and bottled in Crete, Greece. Thrive Market Organic Extra Virgin Olive Oil is grown, harvested, and processed without using any harmful chemicals, and it's traceable from the farm to the bottle to ensure you have peace of mind.
Salt-free, gluten-free, and dairy-free, this oil packs a fruity, peppery flavor that confirms it is rich in healthy polyphenols. This extra-virgin olive features fat-soluble vitamins K, E, D, and A.
Vitamin A is an essential nutrient that supports your skin's immune system, prevents breakouts, and helps speed up healing. It also promotes natural moisturizing, meaning that it hydrates your skin, giving it a radiant glow. Essentially, it helps promote and maintain a healthy epidermis and dermis, the top two layers of the skin.
Having healthy levels of Vitamin D can help prevent your skin from premature aging. Vitamin D can also help treat various skin diseases, such as eczema, psoriasis, and dry skin. Vitamin E doubles as an antioxidant and minimizes or prevents the appearance of scars, and reduces UV damage in your skin.
Finally, Vitamin K helps to make the proteins required for blood clotting, which is crucial in healing bruises, wounds, or areas affected by surgery. It also helps certain skin conditions like stretch marks, which result from the tearing of the dermis when you experience rapid growth of your body.
You can drizzle it over salads, pasta, or over-roasted fish or dip fresh slices of bread into the oil to enjoy the full spectrum of flavors.
Thrive Market Organic Raw Cashews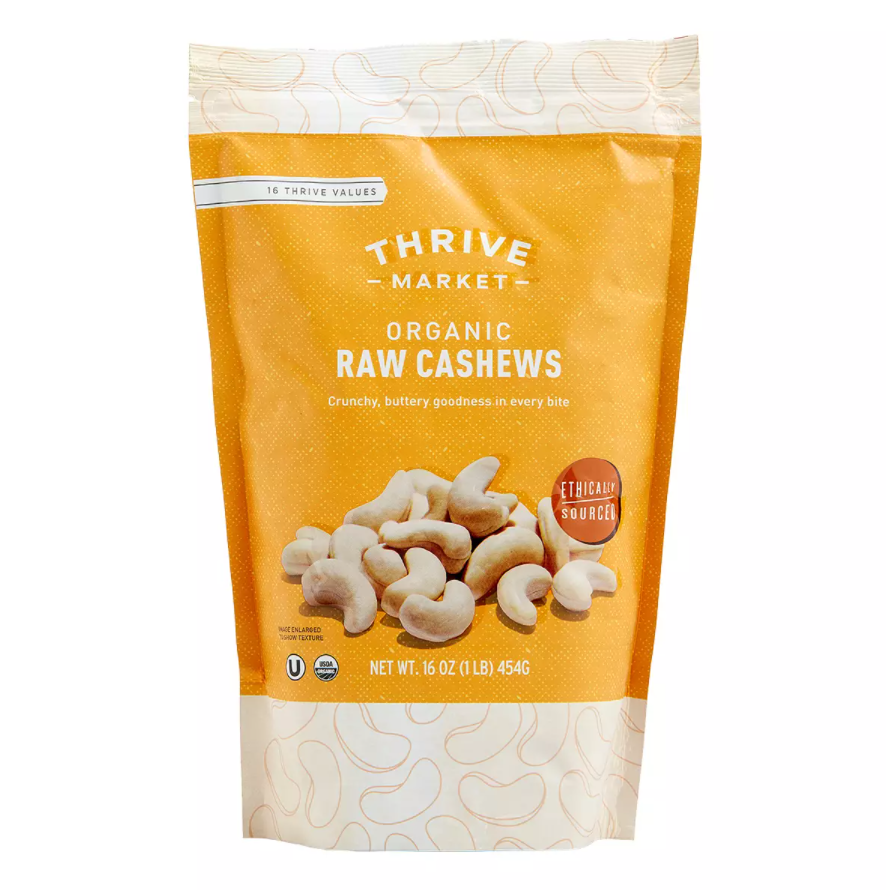 Sourced from Indian farmer cooperative groups, Thrive Market Organic Raw Cashews are mouth-watering for snacking on. These rich, buttery nuts are ready to be eaten, as they feature a mild nutty taste that makes them delicious on their own, or atop soups, salads, and stir-fries. For creamy, non-dairy milk, you can soak these organic raw cashews and blend them with vanilla, salt, a pinch of salt, and water.
Thrive Market Organic Raw Cashews are good for your body, hair, and skin. They feature iron, selenium, magnesium, zinc, and Vitamin C, which give you a sun-kissed glow. Because they have high levels of phosphorus and copper, they can help you have healthier, fuller, and shinier hair.
These cashews are also packed with antioxidants that stimulate the growth of cells in the body. In turn, your skin can regenerate quickly and help maintain its elasticity. They also have vitamins and proteins that prevent wrinkles and improve your skin complexion.
Moreover, the raw cashews feature Vitamin C, which helps to reduce tans and blemishes. Vitamin C also slows down the weight gain process, lowering your chances of getting stretch marks. It comes in a 16-oz pouch and is also available in Organic Dry Roasted & Salted Cashews flavor.
Thrive Market Grass-Fed Beef Sticks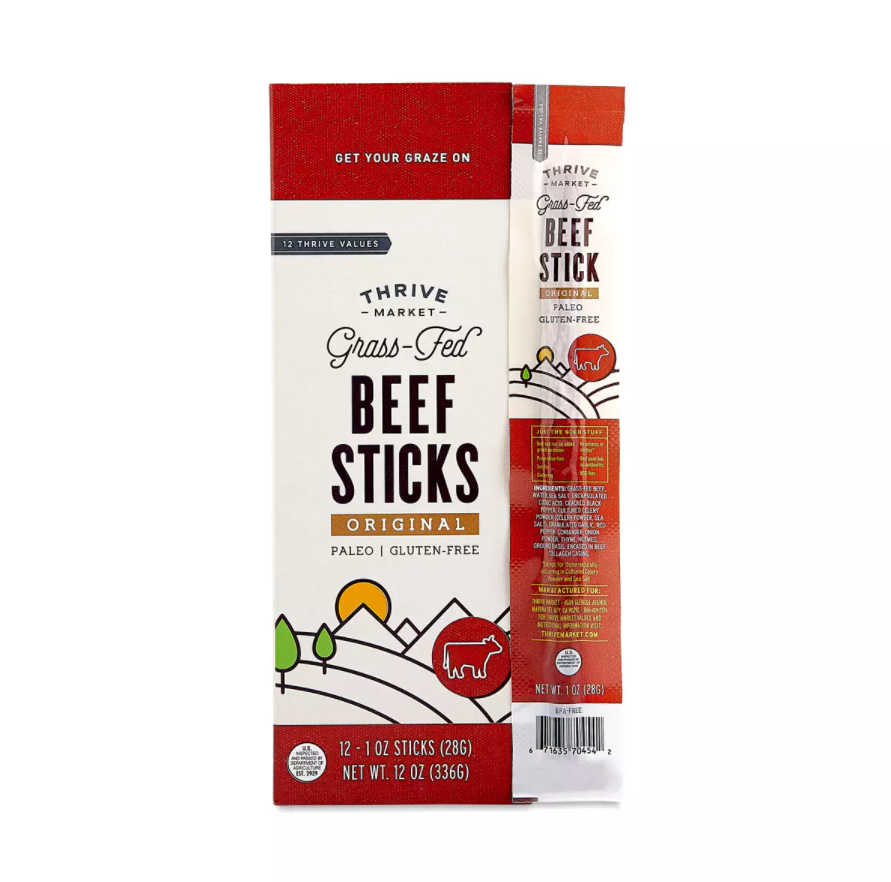 Thrive Market offers Grass-Fed Beef sticks from grass-fed beef from Tasmania, Australia, which is lower in total fat and free from growth hormones, antibiotics, preservatives, and artificial ingredients.
These grass-fed beef sticks are rich in Omega-3 fatty acids, which helps to improve the composition of the fatty acid in your skin while balancing its inflammatory response. That means your skin will stay softer and less inflamed.
By helping you to keep your fatty acid levels up, Thrive Market Grass-Fed Beef Sticks reduce the effect of sun damage, minimize signs of aging, and soothe effects on dermatitis and irritation. They are also the perfect snack to have on hand, as they are grain-free, paleo, BPA-free, gluten-free, and super luscious.
These Certified B Corporation's grass-fed beef sticks also don't have a processed or pressed texture that lower quality, corn-fed beef often has. Furthermore, they contain cracked black pepper that produces a burst of flavor with every bite of these beef sticks. Black pepper's anti-inflammatory and antibacterial properties help cure acne and skin infections.
Additionally, Thrive Market Grass-Fed Beef Sticks contain cultured celery powder, which is loaded with folate, niacin, and Vitamins A, B, C, and K. For this reason, it can help repair skin damages and keep your skin healthy. These vitamins also play a role in collagen production, which helps to nourish your skin.
Granulated garlic is another ingredient found in these grass-fed beef sticks, which has antiseptic, antiviral, antifungal, and antibacterial properties from allicin. It can, therefore, help destroy the bacteria causing acne, improve blood circulation, and reduce swelling and inflammation. These beneficial effects will allow your skin to receive more nutrients.
Thrive Market Organic Coconut Milk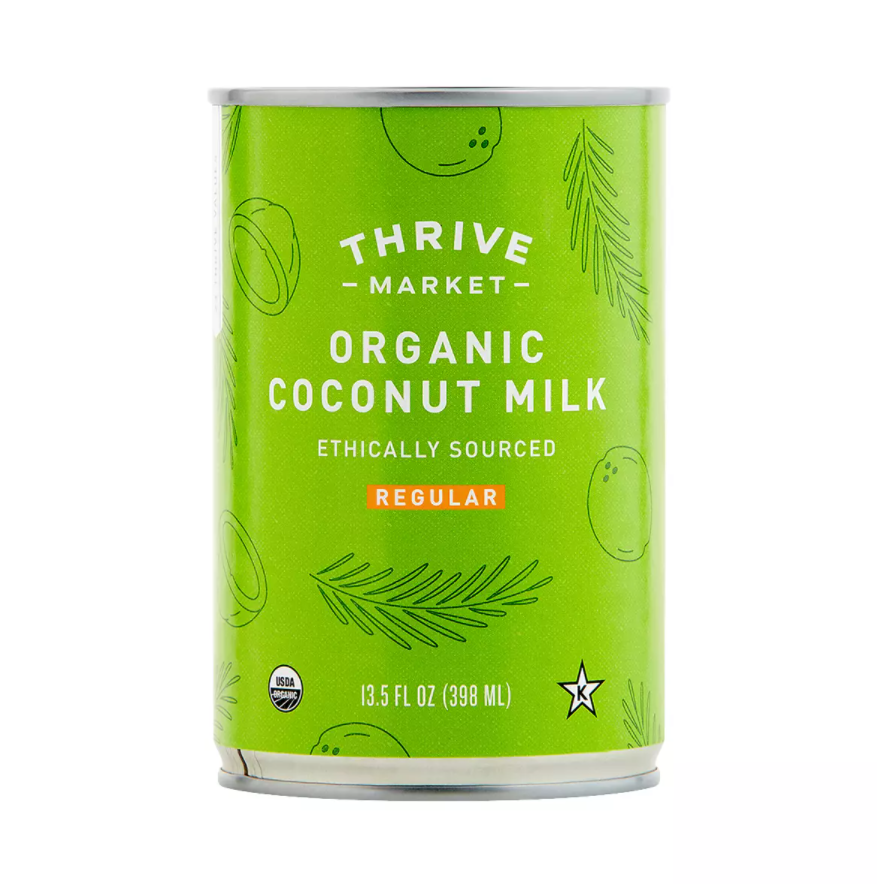 You can enhance savory and sweet dishes with this gluten-free, dairy-free organic coconut milk that features a silky texture and rich taste. Thrive Market Organic Coconut Milk contains healthy antioxidants and skin oils with several skin-friendly benefits.
Because it's naturally low in carbs and high in fat, this coconut milk is ideal for a keto diet, which helps in lessening the appearance of varicose veins and improving acne.
Your body tissue forms free oxygen radicals during the metabolism process. These are deadly to cellular components and can contribute to tumor growth and aging. Antioxidants contained in this coconut milk can help neutralize those harmful substances.
It's also rich in medium and short-chain triglycerides, which are healthy fats that prolong the feeling of satiety. In turn, you will eat less food and avoid giving in to any cravings. Additionally, your body converts them to energy faster than long-chain fatty acids, which are often stored in your body and contribute to obesity.
Popular Alternatives to Thrive Market
When your immune function becomes impaired or weakened, it can spell disaster for your skin, as it becomes more vulnerable to hypersensitivity and inflammation. Your skin will also start to break out, and it won't heal efficiently. Thrive Market Organic Coconut Milk contains lauric, which boosts your immune system and ensures you maintain healthy skin.
Packaged in a 13.5-oz tin, this lactose-free milk is less greasy and has a subtle scent. You can try it in soups, curries, or desserts if you are looking for that perfect hint of rich, tropical flavor. This coconut milk is also available in a different flavor — Organic Coconut Milk – Lite.
Thrive Market Membership Cost
Thrive offers a 30-day free trial, and you can subscribe to a paid membership once this period is over. The annual Thrive Market membership cost is $59.95, which allows you to enjoy 25% to 50% off usual retail prices and free shipping when your orders amount to over $49. They also have a monthly membership that costs $9.95 per month.
Thrive Market Reviews from Customers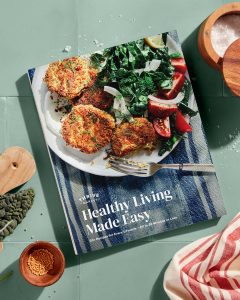 We checked Thrive Market reviews to see what customers say about this online grocery store and its products. Reviews on Thrive's site are dedicated to the products they offer, and all of their products have positive reviews.
Trustpilot has 3,143 reviews and gave Thrive Market a 4.3-average score out of 5. Most customers who left reviews said that their products are affordable and healthy, and they would recommend them to other people looking for healthier food options. Other members praised the company for offering free plans customized for first responders, veterans, teachers, students, and low-income families.
Trustpilot has a couple of customer complaints; some customers stated that the site is not easy to navigate, while others complained about the shipping time frame.
Sign Up for Thrive Market
Signing up for Thrive Market is a straightforward process: You only have to visit the brand's site and then hit the Login button or head to the How it Works page, where you'll scroll down and click on the Join Thrive Market button.
During the sign-up process, you'll receive a gift and 40% off your first purchase if the total of your order is more than $49. To qualify for a gift you need to subscribe to the annual membership.
Where to Buy
You can buy Thrive Market products on their website ThriveMarket.com. They also have a mobile app for iOS and Android devices, which means you can shop for organic, natural food products on the go. Don't forget to check out other amazing superfoods.
Shipping and Return Policy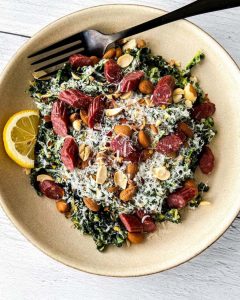 Shipping
Thrive Market ships to all commercial and residential addresses in the conterminous United States. They don't ship to Canada, Rico, Puerto Rico, Hawaii, Alaska, and P.O. boxes, but they have plans to do so soon.
All orders ship within one business day. Frozen orders ship from Monday to Thursday, Grocery orders ship every day, and wine orders ship Monday to Saturday. The company sends a confirmation email with tracking details when they ship your order, and you can use their mobile app to track your orders. Shipping costs vary by the type of order:
Wine: Free shipping on orders more than $79, or $13.95 for orders equal to or less than this amount.
Frozen: Free shipping on orders more than $99, or $19.95 for orders less than or equal to this amount.
Grocery: Free shipping on orders that amount to $49, or $5.95 if the total amount of the orders is $49 or less.
Return Policy
Due to their commitment to reducing their carbon footprint, Thrive Market doesn't accept returns of items once they ship them. But if you're not happy with the quality of the item you have ordered, you can notify them via chat. However, you have to do this within 21 days after receiving your order. They don't accept refunds on some merchandise, including final sale items, gift memberships, gift cards, and digital downloads.
Promotions & Discounts
Thrive Market has regular sales where you can buy items at discounted prices. Someone can also buy you a Thrive Market gift card. You'll then receive an email with a code that you have to insert in the Enter Gift section, and the amount on that gift card will apply to your order.
Also, you can receive a gift with your order by filling out an online quiz. You can access more savings by going to the Thrive Market's list of products offered with their cashback promotions.
Contact Thrive Market
Many customers stated that Thrive Market Customer Service is top-notch. The support team is responsive, kind, and ready to help anyone with issues with their order, and you reach them via the following contact methods:
Thrive Market Reviews: Editors' Verdict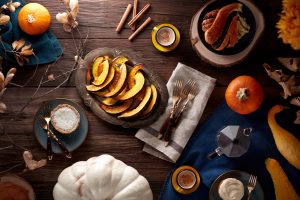 Based on Thrive Market reviews, many people flock to their online grocery store because they offer a great selection of organic and natural food products, with more than 6,000 products readily available at affordable prices.
Their products are designed to serve the needs of all dietaries and lifestyles. Because they have a mobile app, you can shop from anywhere and any time, making it convenient. The company constantly offers coupons, freebies, and in-store sales on discounted items.
So if you were asking yourself: Is Thrive Market worth it? The answer to your question is yes. We recommend you try its products if you're looking for healthier food options online.
Check out more of our superfood brands such as Sprout Living, HumanN, Suncore Foods, and Revive Superfoods.
Thrive Market FAQ
Where are the products that Thrive Market offer sourced from?
The company sources its products from different regions, and you can find details by reading the product description of the item you are interested in.
Are all Goods products on Thrive Market's site certified organic?
Most of their goods are certified organic, but some are not. You can use a filter to narrow down your results and find certified organic items.
What is the shelf life for Thrive Market products?
This will depend on each product purchased. Thrive Market guarantees a 60-day freshness on most of their items, some products will exceed this date. For more information on individual products, you can reach out to their customer service team.
How much does the Thrive Market membership cost?
The memberships can cost either $59.95 yearly or $9.95 monthly. You save 50% if you take the yearly membership.
Is Thrive Market easy to cancel?
You can cancel your membership at any time without extra charges. Your membership will continue until your paid membership period.