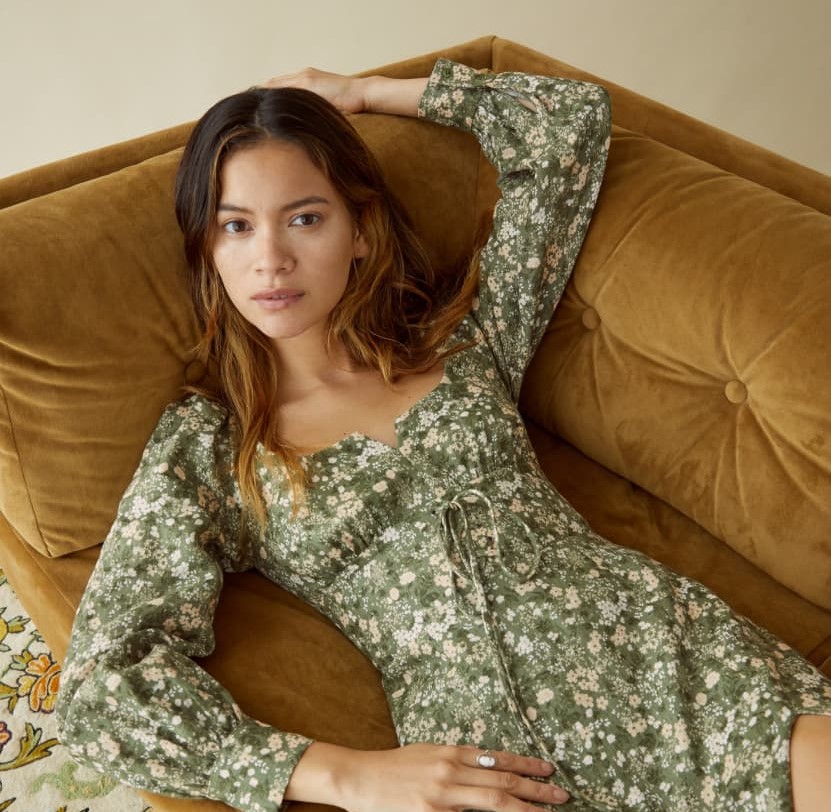 If you wonder what sustainable clothing options you got besides wearing nothing but a smile, you might want to take a look at how Reformation approaches the fashion industry. The brand defines itself as the 2nd most sustainable option after being naked aiming to make sustainable clothing accessible to everyone. However, based on Reformation reviews buyers tend to find the pricing point slightly higher than ideal.
The brand offers a large selection of chic women's clothing and accessories, made mostly of all-natural, eco-friendly, and recycled fabrics. Undoubtedly, it sounds pretty amazing, but are these clothes really worth your money? To help you decide whether this company offers a proper solution to eco-friendly clothing or not, below we are going to share our unbiased Reformation review with you.
About Reformation Clothing Brand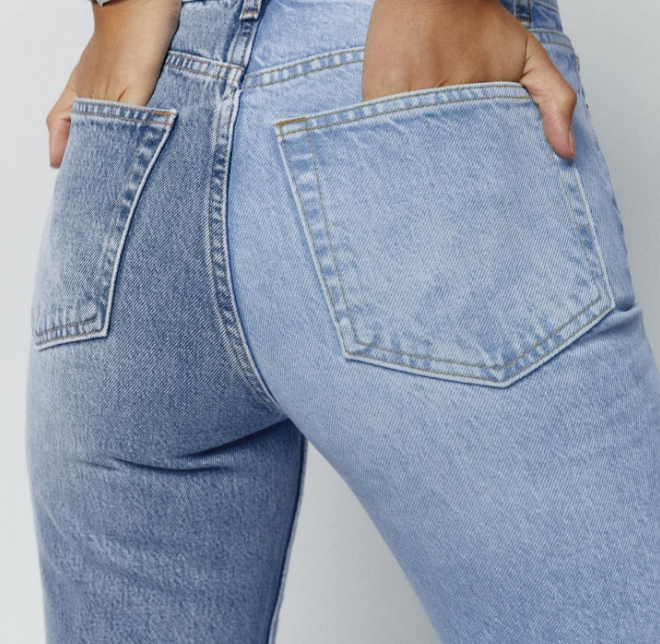 Founded in 2009, the company's mission is to make sustainable clothing accessible to everyone, as well as celebrate the feminine figure throughout their apparel. Yael Aflalo founded the Reformation brand in a small storefront on La Brea in Los Angeles, where at first he gave vintage clothes a new life, then expanded into creating brand new pieces in a sustainable way.
Reformation operates a demand-based production, launching limited-edition collections weekly with small quantities of each product to avoid generating waste and keep their designs exclusive.
The collections include a broad range of loungewear, activewear, jeans, and elegant dresses, as well as bridal apparel, and a wide selection of shoes from western boots to chic summer sandals.
From the very beginning, the brand's core values stayed the same: sustainability and ethical approach throughout the whole production process. Moreover, after 12 years of operation, Reformation now aims to receive its official carbon neutral certificate and pushes forward to become a Climate Positive brand by 2025.
But let's stop for a second. Before we dive deeper to find out more about the Reformation clothing brand in terms of their apparel and reputation, let's start our Reformation review by taking a quick look at some of the main pros and cons of the company.
Pros
Sustainable and ethical approach in the production process
Large selection of chic clothes for different occasions
One-stop shopping experience thanks to the diversity of collections
Versatile and classic designs
Availability in all sizes from XXS to 3X
Free standard shipping for all orders within and outside of the U.S.
Free return shipping for all orders
Cons
Pricier than average, with dresses starting at $78
Sizing tends to run small
According to Reformation reviews clothes are of poor quality
Shoppers consider the customer service unhelpful
Reformation Jeans Review
As most Reformation reviews focus on the jeans collection, being signature pieces of the company, let's start with our Reformation Jeans Review. In 2017, the brand launched RefJeans, and with that, they introduced a well-known material made in a brand new way: water-saving denim that since then has helped the brand to restore millions of gallons of water. Buying Reformation clothes while helping the planet is not a bad idea!
Ranging between $98 and $198, the jeans enjoy high popularity among customers and they vary from low rise to super high rise, allowing everyone to find their perfect style and fit. The high waisted jeans are still trendy today, so why not try a pair?
You can purchase your RefJeans in different cuts and fittings choosing from the bootcut, wide leg, straight leg, relaxed style, or skinny jeans.
For example, Reformation offers jeans made of three different types of denim:
Rigid denim: Made of the combination of Organic Cotton and TENCEL™ Lyocell
Comfort stretch denim: The fabric is made of organically grown cotton and TENCEL™ Lyocell, using only a minimal percentage of Elastic or Ecolycra
Super stretch denim: To create the super stretch fitting, the company uses Organic Cotton, TENCEL™ Modal, Polyester, Elastane and Elasterell-p
In terms of wash, customers can choose their favorite style between:
Light
Medium
Dark
White
Black
Printed
Color
Reformation Dress Review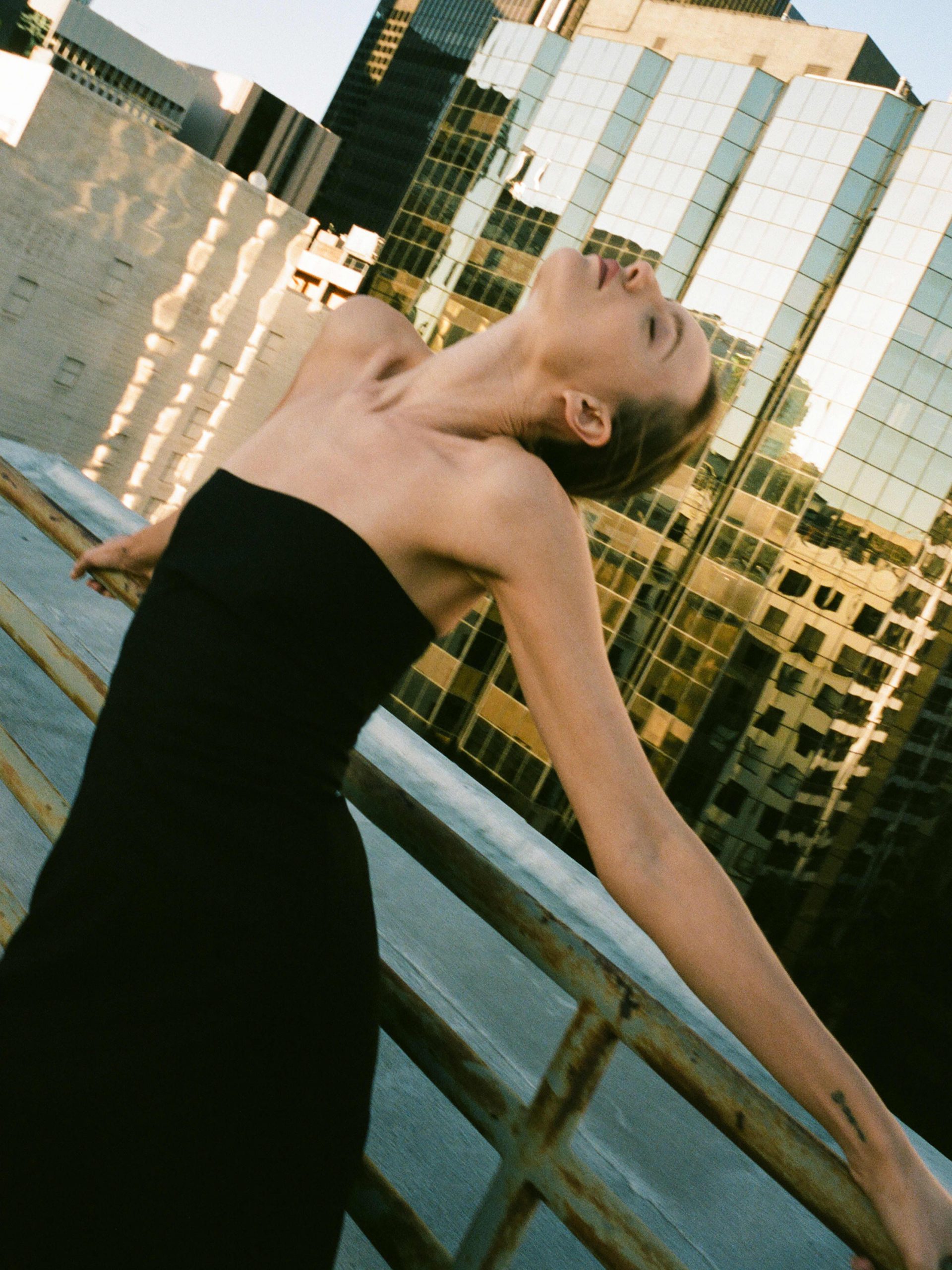 Continuing with our Reformation dress review, the very first thing the customer can notice is the wide variety of dresses in terms of colors, occasions, and materials.
Priced between $78 and $448, Reformation dresses are really good options to have in your closet as they are ideal for any occasion. From cocktail to simple day wear, shoppers can choose from a broad range of different dresses. The length of the dresses varies from the mini to maxi, while you can pick from different sleeve types such as puff sleeves, short sleeves, long sleeves, or ¾ length, but you can find strapless and sleeveless Reformation dresses too. They are extremely flattering if you choose the right style and fit for yourself.
Regarding the fabrics, based on the current production, you can filter the dresses by 13 different fabrics:
Comfort stretch denim
Cotton tape
Crepe
Deadstock
Georgette
Jersey
Knit
Leather
Linen
Shirting/Poplin
Silk
Velvet
Voile
Reformation Tops Review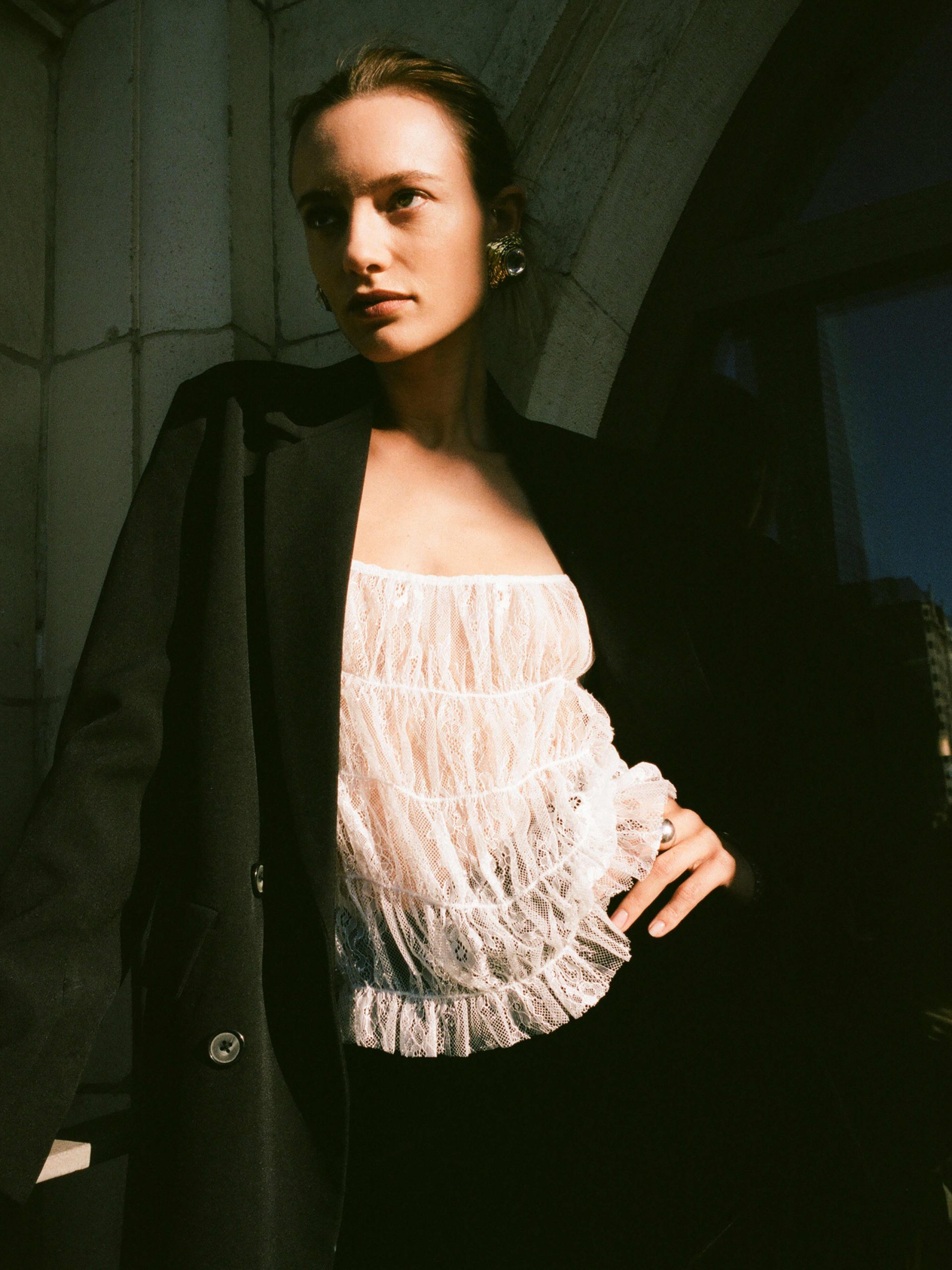 Reformation offers a wide range of stylish tops for women of all sizes. Yes, you heard it right, the sizes range from XXS to XL, extended to 3X. Tops are priced between $38 and $228 and there are lots of chic and trendy prints to choose from.
The large selection makes it easy for anybody to find their favorite, as the collection includes classic tailored white button-downs, comfy long-sleeved sweaters, and bold summer tops perfect for a hot summer night by the beach. From organic cotton to cashmere, Reformation has got it all, however, you cannot filter the tops by the type of fabric. This means that in case you are looking for tops made of a certain type of fabric, you will need to spend some time scrolling down and clicking on multiple products until you find the one you like.
Reformation Wedding Collection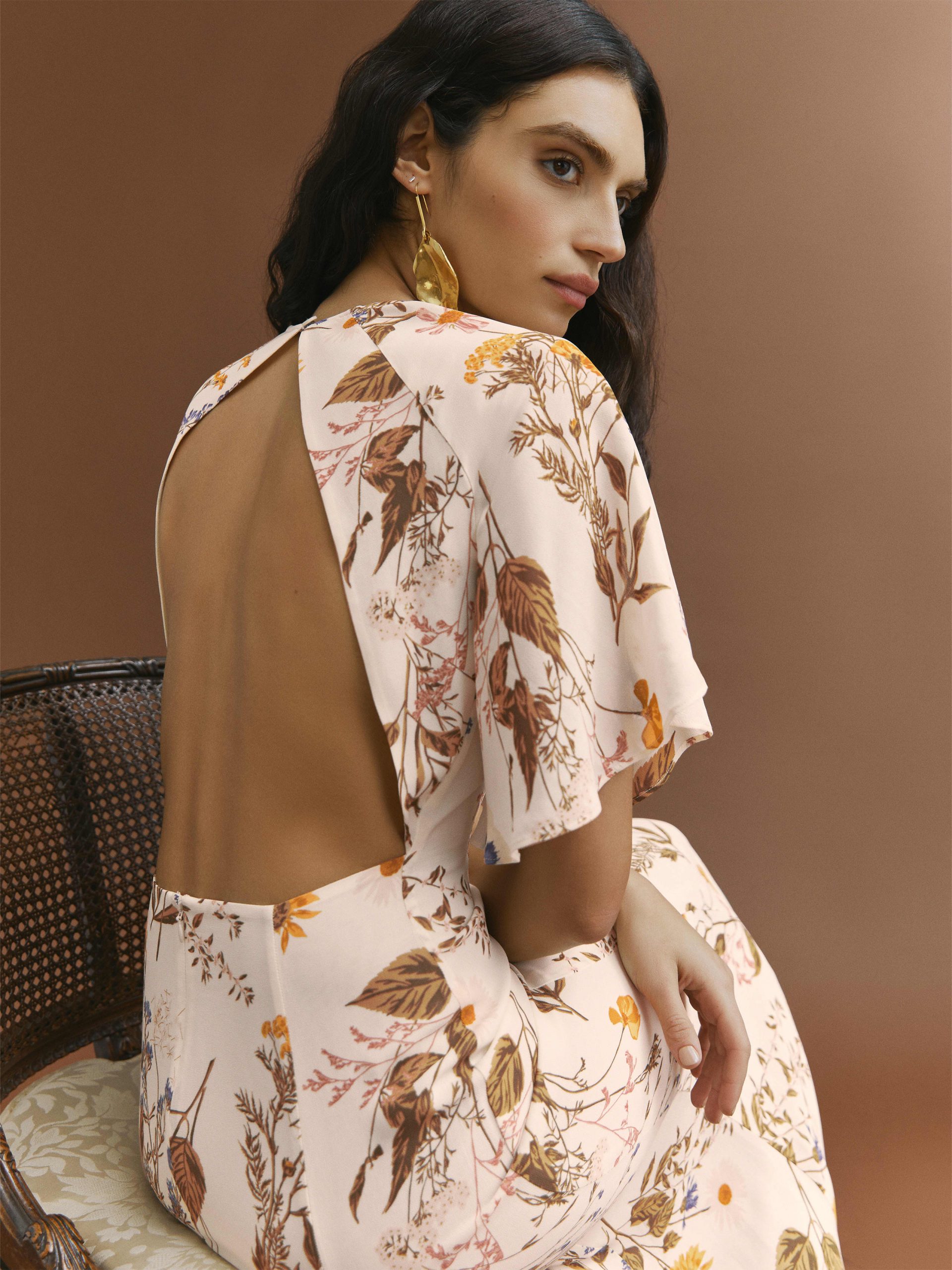 Besides the huge range of Reformation dresses, the company also offers a large selection of sustainable wedding dresses "for more sustainable marriages". While there are no Reformation reviews on this particular promising yet, the dresses are undoubtedly beautiful creations made from eco-friendly fabrics.
There are 4 different categories the customer can choose from:
1. Brides: Ranging between $218 and $598, the bridal collection includes mini, midi, ankle, and long dresses. While some items such as the Hestia or Gabbie dresses represent traditional wedding gowns, other short or two-piece dresses tend to be more modern due to their unexpected cuts and prints.
2. Bridesmaids: Priced between $148 and $488, customers can buy Reformation bridesmaids dresses in 17 different colors, such as:
Navy
Danube
Mineral
Celadon
Kelly Green
Kelly
Forest
Spruce
Emerald
Black
Blush
Praline
Cherry
Paprika
Toile de Jouy
Juniper
Lipstick
3. Black Tie Wedding Dresses:Both brides and guests looking for more elegant options can choose from a huge selection of black tie wedding dresses priced between $118 and $528.
4. Casual & Elopement Dresses: Ranging between $118 and $598, this collection includes casual and elopement dresses meant to be worn at outdoor parties, during holidays, or even honeymoons.
Also, we cannot leave out from our Reformation dress review the fact that the company has a bridal line called Wedding Help Desk with an individual email address where future brides or bridesmaids can get in touch with a "marriage expert" and ask for further information about sizing and shipping.
Reformation Shoes Review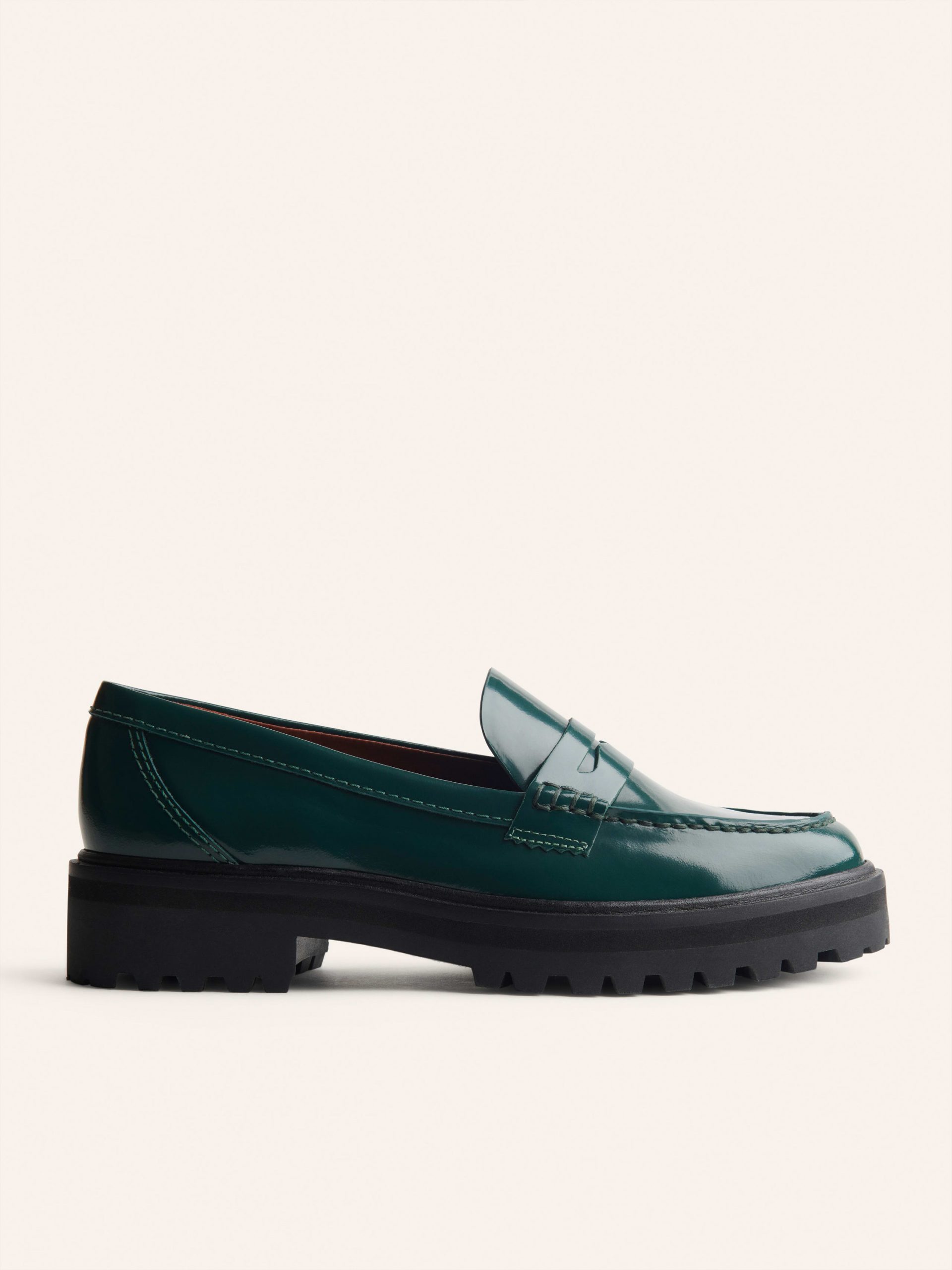 We don't need to tell you that chic clothes and stylish shoes go together. Well, it looks like Reformation is on the same page with us, as their collection of shoes is a pretty good addition to the clothing they make. Furthermore, the collection includes shoes for various occasions, from high heels made to be worn at fancy black-tie parties to flats and boots perfect to run your errands in the city.
In terms of pricing, the price point varies between $148 and $398, while the sizing ranges from US size 5 to 11. Reformation offers a size guide with US, UK, EU, and IT shoe size conversion, so customers can easily find out which size might be the best option for them.
Regarding the type of shoes, shoppers can choose from 8 types of Reformation footwear:
Flat sandals
Heeled sandals
Platform sandals
Ballet flats
Boots
Loafers
Ankle boots
Knee-high boots
Reformation Sizing Guide
Reformation claims that "a perfect fit is the most important part of buying clothes". However, they also emphasize that no matter their clothes are tailored to be true to size, all body types are different.
To help customers find the right-sized items, they offer well-detailed size guide shoppers can rely on when selecting the size of clothes or shoes they want to buy. The sizing guide includes alpha and numeric measurements and size conversions, denim measurements and size conversions, and shoe size conversions.
Looking at Reformation sizing reviews, most customers are happy with the fit, only a few shoppers report that the clothes run small or are not true to size.
Reformation Reviews from Customers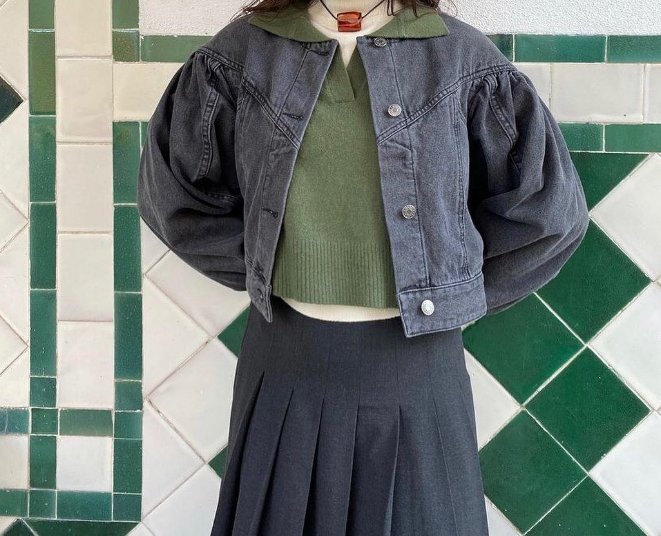 Overall, it seems that customers are generally satisfied with the Reformation brand, describing the clothes as flattering and good value for money. They also appreciate the company's ethical approach to creating sustainable clothes from eco-friendly and recycled fabrics. They report a "great shopping experience" and refer to the brand as "the go-to for any occasion".
However, scrolling through Reformation reviews on multiple platforms, we found some notably bad comments, too. The main complaint seems to be the overall experience with the customer support team in terms of the return policy. Shoppers describe their experience as awful and terrible, raising red flags about the brand. Some customers are also disappointed about the quality of clothes, telling that the items they received were pilling or ripped.
Sign Up for Reformation
We also looked into the sign-up process on the Reformation website and we found that it was quick and easy with an instant login option. Customers can also subscribe to their newsletter, however, you won't receive any discounts or promo codes for completing this action.
Once you sign up, you can add your personal details, shipping address, credit card details, e-gift card number, you can pick your favorite store, check the RefScale of your orders and create a Favorite list with the clothes you like.
Where to Buy Reformation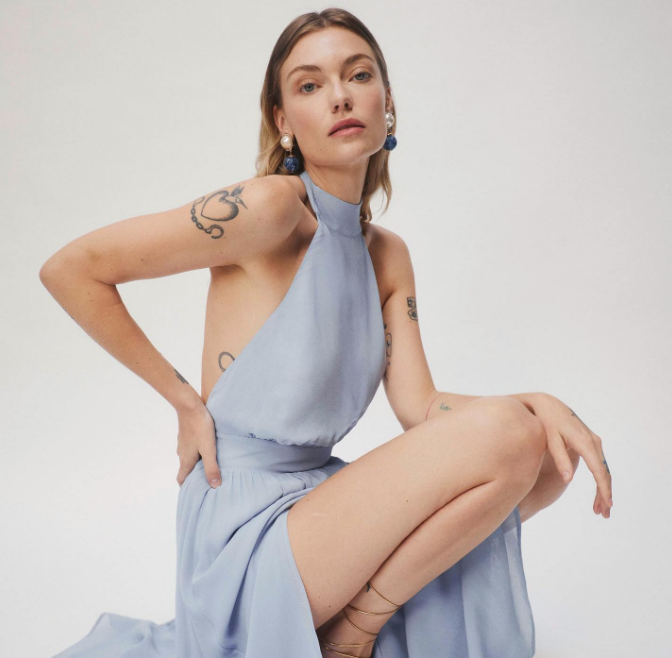 Since the early years of the brand, customers can enjoy both online and in-store shopping. Reformation clothing and accessories are available through the official Reformation website, as well as on third-party retailer sites such as Net-A-Porter, Nordstrom, Farfetch, Yoox, etc. Also, customers can visit a total number of 24 physical stores of which 21 are located in the U.S., 2 in London UK, and 1 store in Ontario, Canada. An additional store in San Diego, CA is going to open soon.
Reformation Shipping and Return Policy
Shipping
Reformation differentiates two types of shipping: shipping of U.S. orders and non-U.S. orders.
There are individual pages dedicated to each shipping type, sharing some major information customers might want to know.
Also, as you might have read in other Reformation reviews, the company offers 100% free shipping on all orders worldwide. However, there are exceptions and special cases where you will be charged an extra amount for getting your order delivered. To shine a light on the shipping policy practiced by the Reformation brand, in the next section we are going to highlight the most important things you should know about:
U.S. Shipping
Orders are mostly shipped within 2 business days from the Reformation warehouse located in Los Angeles. Once an order is shipped, the expected time of arrival is 3 to 10 business days. Exceptions are Hawaii and Alaska, where it might take up to 2 to 4 weeks to receive your order.
Cost & ETA
Standard: free of charge, delivery within 5-10 business days for continental U.S. or 2-4 weeks for Hawaii and Alaska
Ground: $10, shipping within 3-7 business days
Expedited: $20, shipping within 3-5 business days
Express: $25, requires 2 business days
Next day delivery: $40, your order arrives in 1 business day
Non-U.S. shipping
Reformation ships to many European, Asian, South American, and African countries and they offer free express shipping for all non-U.S. orders. Once orders outside the U.S. are placed, they are shipped within 2 business days and received within 3-8 business days from the ship date. Also, non-U.S. buyers benefit from access to a tracking system, where they can check up on the shipping process.
Returns
All orders inside and outside the U.S. are subject to a free return policy. In case you wish to receive a full refund you need to make sure the order is in perfect condition, with the original tags attached, just as you received it. Customers can also return orders in Reformation stores.
According to the website, all return shipping is free of charge. Exceptions are apothecary, lingerie, hosiery, jewelry,  eyewear, vintage clothes, final sale items, and gift purchases.
Reformation Promotions & Discounts
According to Reformation reviews, the company regularly offers discounts and promotions of 20-50%. On special occasions such as Black Friday or Cyber Monday customers can benefit from even better discounts up to 80% off. Before confirming your purchase, it is worth scrolling through verified coupon codes and actual promotions, as you might get lucky and save some money on your order.
Contact Reformation
If you got any issues or questions about the Reformation clothing brand, you can contact the company's customer service via:
E-mail: [email protected]
Bride line: [email protected]
Phone: (885) 756-0560
Facebook: Reformation
Instagram: reformation
YouTube: Reformation
Pinterest: Reformation
Twitter: Reformation
According to the official website, the Reformation brand's "love hours" are available from Monday to Friday from 7 am to 7 pm PST.
Is Reformation a Good Brand? — Editors Verdict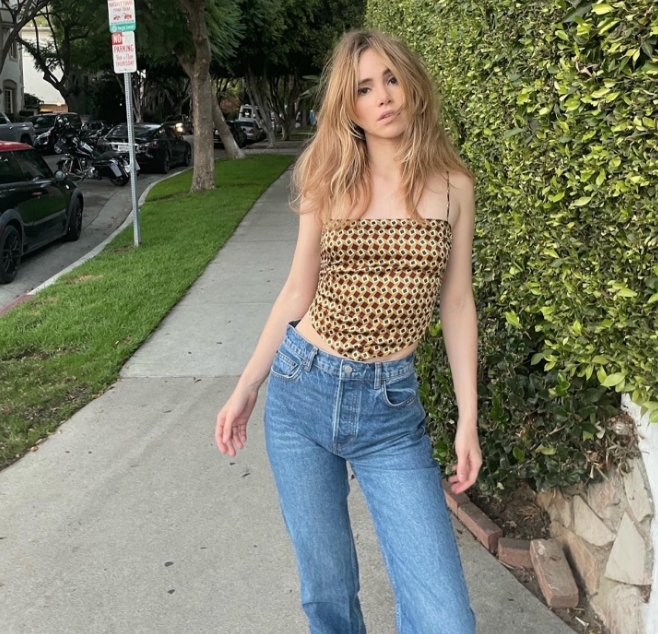 After spending hours researching the company and scouring the internet for Reformation reviews, we feel a bit conflicted regarding the quality of clothing items and the customer support offered by the Reformation brand. While some customers are satisfied with their orders, others give an account of disappointment and bad experience.
So the question here is simple as that: is Reformation a good brand or not? Taking all into account, we believe that the brand is on the right path creating beautiful sustainable clothing and making it available to everyone all across the world. For a sustainable fashion brand, their price range is reasonable, their website and apparel are convincing, so maybe a few small improvements here and there could enhance the overall brand reputation, too.
Although, we advise shoppers to research the fabrics carefully and in case there are any doubts in terms of the quality, sizing, or return policy, just get in touch with the support team before placing the order.
Want to step up your fashion game? Make sure to read our reviews of MatchesFashion, Fashionphile, and Cuts Clothing.
Reformation FAQ
Is Reformation a Vegan Brand?
Reformation is not considered a vegan brand, but they tend to use fabrics that are not only vegan-friendly but plant-based and quickly renewable too. In addition, they implemented an animal welfare policy which they discuss in great detail on their website. They also have a prohibited material list that excludes the use of certain animal-sourced products such as fur, exotic skin, etc.
Is Reformation True to Size?
On the Reformation website, customers can find a detailed size guide for all types of clothes. Also, the company claims that they spend much time fitting their clothes on different body types and sizes, to make sure everyone can get the perfect fit.
Scrolling through Reformation reviews only a few customers seem to be unhappy with the size or fit of their orders, while others rate the brand true to size. However, according to overall Reformation sizing reviews, it seems that Reformation dresses tend to run small, so in case you are in-between sizes, sizing up might be a good idea.
How does Reformation verify that their certifications are actually legit?
Reformation went through reviews by third-party companies to verify their methodology. Certifications can be found on their website, some of them are GHG Verification, RefScale Verification, and GHG Scope & Boundary.
Do Reformation clothes run small?
Some of the items do run small, such as denim materials. It is recommended to size up. Dresses and skirts are usually true to size, however, if you do not wish for a tight fit, do size up.
How do I care for my Reformation garment?
Firstly it is crucial to not tumble dry Reformation clothing. They recommend air drying or hanging items on a clothesline. It is also important to avoid placing them under direct sunlight.