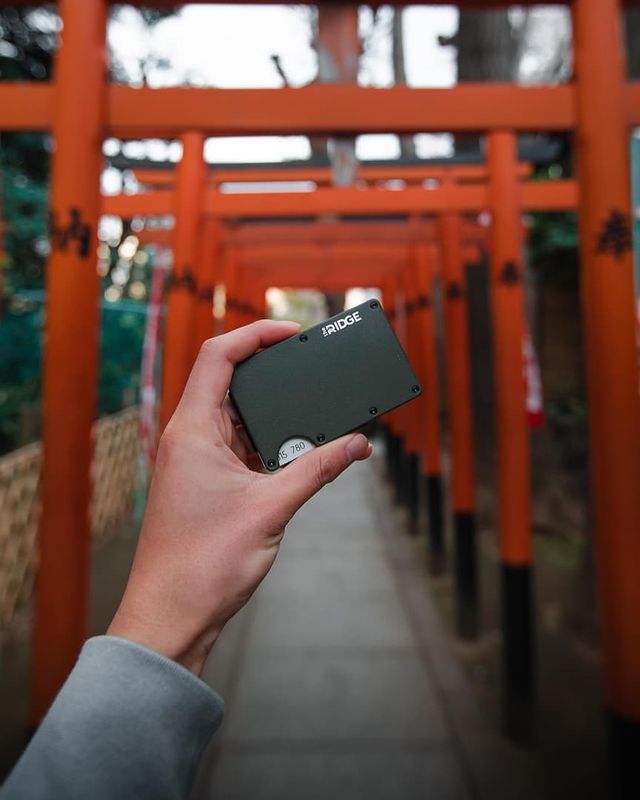 Since all things technology is now crafted following state-of-the-art designs, why shouldn't everyday items like wallets become more stylish too? Over the last few years, wallets like Ridge wallet have taken the world by storm. Their goal? To make your wallets sleeker, and lightweight, and provide a luxurious experience every time you pluck out your credit card. And luxurious they are, with brands like Ridge Wallet blending avant-garde designs and data theft protection in finely crafted wallets. Long gone are the days when men were afraid of getting their wallets picked out of their back pockets. The top-of-the-range Ridge Wallet is undoubtedly a high standard in the minimalist wallet matter. If you're looking for the best Ridge Wallet alternative in terms of price, design, and durability, welcome. That's what we'll look into today, with great newcomers and renowned brand names on the lightweight wallet scene. Let's dive in!
About Ridge Wallet
Minimalism lifestyles are all the rage, and Daniel and Paul Kane have jumped on the trend in 2013. Their Kickstarter campaign brought Ridge Wallet to life with over $200.000 raised. The father and son duo set out to conquer the world with one of the most influential brands of the future. Check out our full Ridge Wallet review as well!
If Ridge Wallet has conquered the world in such a short time, it is because of its no-excess vision. "To do more with less" seems to be the perfect slogan to describe Ridge, who brings performance and design together in a full line of accessories. Even if you're looking for a cheaper Ridge Wallet alternative, there is no wonder why you would be attracted to a sleek matte Ridge wallet.
Should you wish to turn your life around in a minimalist effort, you can now do so with Ridge backpacks, pocket knives, money clips, and even chargers. It is the wallets, though, that have caught the public's attention. Ultra-light carbon fiber (1.6 oz), aluminum (2 oz), titanium (2.5 oz), and high-quality leather are only a few of the modern materials Ridge Wallet uses in its products.
More about Ridge Wallets
Easy to use, Ridge Wallets are small (on average 86 x 54 x 6 mm) and can hold up to 12 cards. It's then up to you to upgrade your wallet to a genuine fashion accessory with a fancy money clip or a cash strap. Built-in RFID blockers are another notable highlight of the Ridge wallets and prevent your data from being skimmed when you're out. The whole collection has been very well-received, notably on Instagram, where Ridge Wallet has garnered a following base of about 170K fans.
So why would you look for a Ridge Wallet alternative? Well, as high-end as the wallets are, the cheapest Ridge wallet retails for $85. The price gap is something that Ridge Wallet competitors such as Aviator Slide or Shevrov Wallets have nestled their offer in. As such, you can now find your perfect wallet at a fraction of the cost in our list of Ridge Wallet competitors. The question is, will you be able to resist the likes of the ultra-creative Decadent Wallet Tropical ($95) and Damascus ($140) designs when you see them?
10 Ridge Wallet Alternative Brands
Among the brands on this Ridge Wallet alternative list, we have selected the 21st Century companies focused on simplifying the way you live. As such, you'll find wallets like Ridge Wallet that are lightweight, in an array of materials, all more luxurious than the next.
Already famous brand names and newcomers alike strive to glaze the reputation of minimalist wallets. Let's see what alternatives are available to enhance your everyday on the go!
1. Bankr Stack Wallet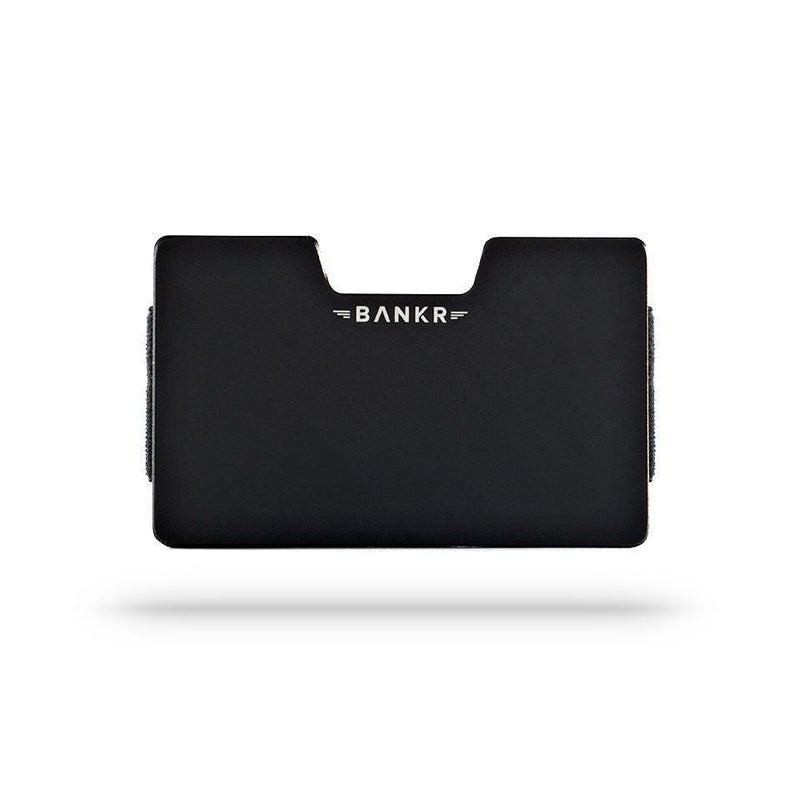 First up on this list, Bankr Stack Wallet – probably the best Ridge Wallet alternative. The brand's mission is easy to understand: "simplify yet enhance everyday carry and utility products." A genuine Ridge Wallet cheap alternative, Bankr Stack rose to fame with their bestselling Stack Wallet, a sleek, expandable cardholder. Completed by a removable cash clip, it securely holds up to 15 cards.
Customers can choose between three collections, the luxurious Brushed series (starting price $69), the beautiful Matte collection ($69) to redefine your everyday elegantly, and the Art series with curated designs like Frostbite and Spl/t ($99). Safe and easy to carry, the RFID Bankr Stack wallets are perfect for minimalism lovers who still want to take as many cards around as possible. Only for no-fuss, trendsetting people.
2. Aviator Slide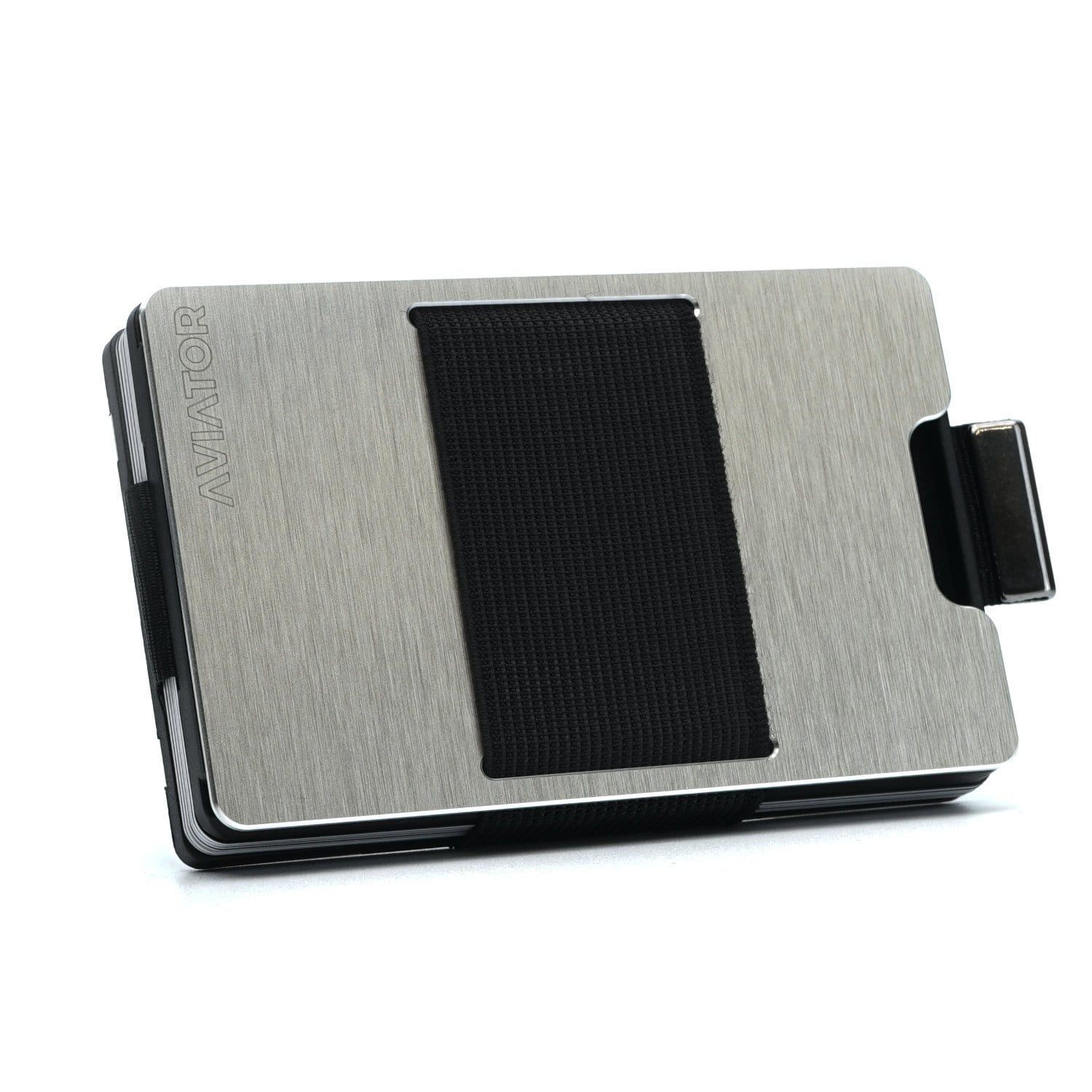 While Bankr Stack Wallet is undoubtedly one of the best Ridge Wallet competitors, Aviator Slide is one of the modern wallet brands that thorough style enthusiasts should look to. Choose between three fine materials; ultralight carbon fiber, pure titanium, or high-grade aluminum. Whichever you end up picking, it seems like Ridge Wallet vs Aviator Slide is a comparison that doesn't even need making.
The high-quality materials are made in Germany, with the possibility to customize your wallet with your own accessories before your order gets shipped. Only 24 to 48 hours are necessary to custom-make your wallet, and orders over €40 enjoy free worldwide shipping.
So, why is Aviator Slide the best Ridge Wallet alternative? Well, if you're looking for durable materials and a functional wallet that adds value to your life, Aviator Slide has worked on prototypes for two years before actually launching its Kickstarter campaign.
Priced at €65 for the cheapest Aviator Slide wallets and up to €105 for a Canada or Swiss-themed wallet with a 3D clip, you'll find there's not much difference between the two brands budget-wise. The main upside would be the sturdy Europe-made, high-quality wallets that even offer a coin tray – all customized to suit your needs on a day-to-day basis. All of this, combined with RFID protection. Of course.
3. Fantom Wallet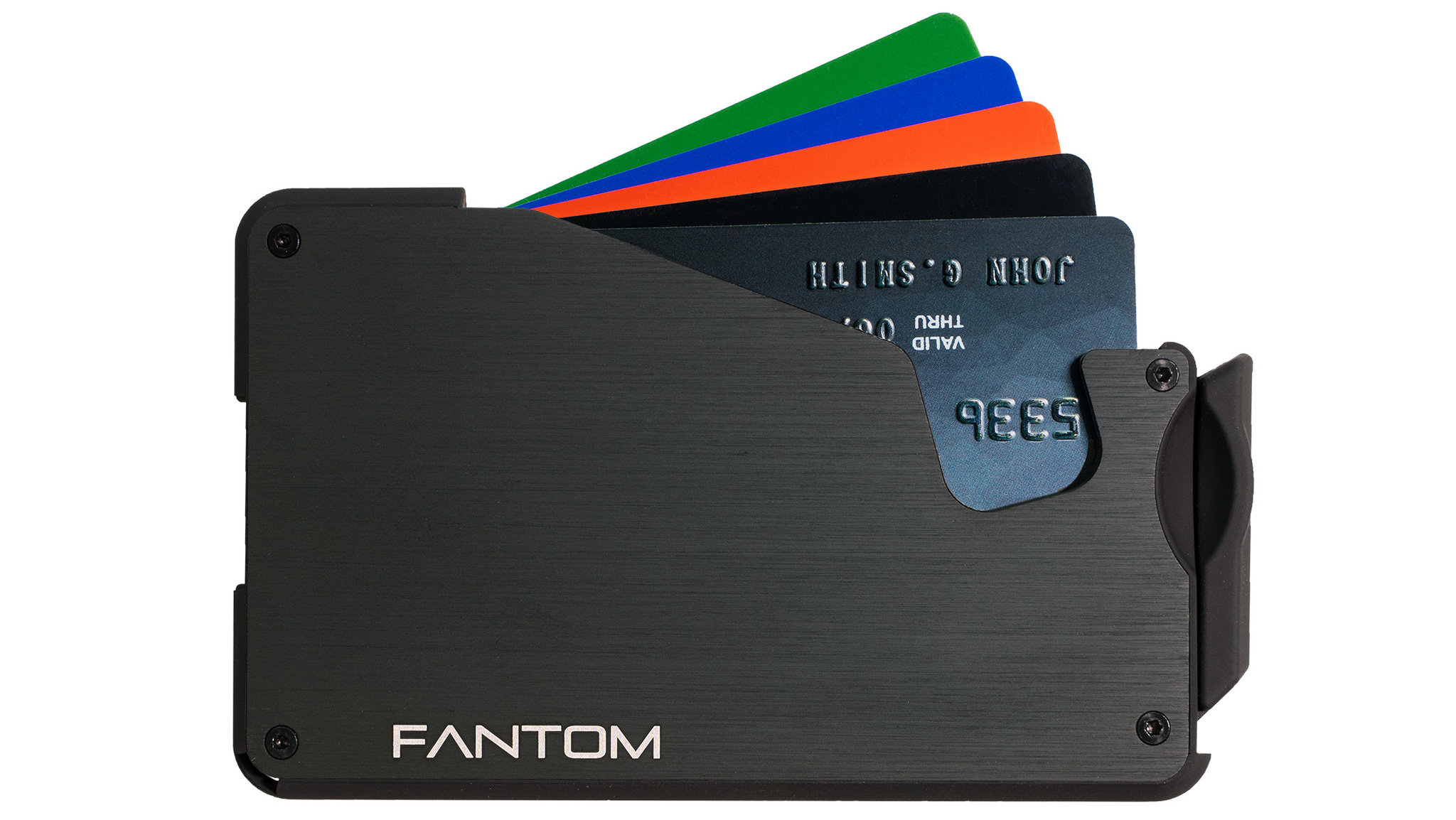 Fantom Wallet's cheapest wallet – Fantom ($59) – is even more accessible than the cheapest Ridge Wallet. Once again, we're on a Ridge Wallet cheap alternative that focuses on high-quality materials and an ultra-lightweight feature. The main highlights of the Fantom wallets include a fanning opening of the wallet – with the touch of a button, it fans out to allow easy access to any of your cards. A coin slot is included in the wallets, making Fantom a proper Ridge Wallet alternative.
The 2014-established Fantom was launched via Kickstarter campaigns – four campaigns, to be exact. The Fantom Wallet is their latest invention and the little sister of already successful camera gear brands. Featured in Gear Hungry, Cool Things, and Unbox Therapy, Fantom Wallet has conquered the world in less than two years, since the release of their first wallet in 2019.
The ultra-high-quality carbon fiber is the same grade as that for race cars and airplanes, making sturdy wallets that can hold between 4 and 13 cards. Yet, Fantom carbon fiber wallets do not feature RFID protection – bear this in mind as you're looking for alternatives to Ridge Wallet. If you'd like to complete your wallet collection, you can also look into the cash holder, coin holder, or durable money clips signed by Fantom.
4. Rossm Carbon Fiber Wallet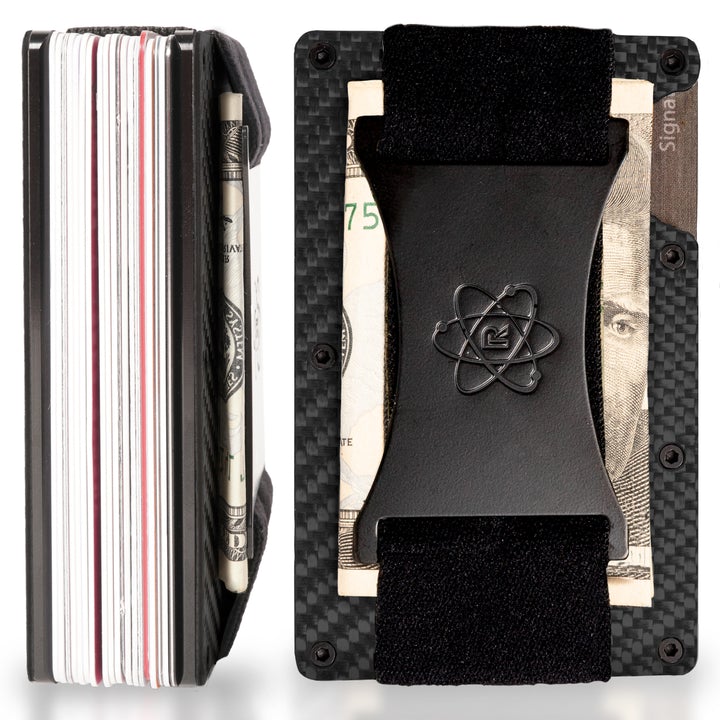 Among all the Ridge Wallet competitors, Rossm is one of the best choices to make your way into the minimalist lifestyle at a fraction of the cost. Inspired by "the go-getters, the innovators, the dreamers," the 2018-founded Rossm brand faces overpriced wallets on a day-to-day basis with industrial quality products that play – and win – on three fronts: research and development, innovation, and design.
Ridge Wallet vs Rossm is a battle where those looking for minimalist, fair-priced wallets would do well to consider Rossm as the best Ridge Wallet alternative. Free US shipping and 10% off your first order will help you make the transition from bifold wallets effortlessly. One of the newcomers on the slim wallet scene, Rossm crafts "slim, minimalist RFID-blocking Carbon Fiber wallets" designed for the all-American. With a 100% moneyback guarantee on all their products – and a one-year warranty. Not bad for a minimalist wallet nicely priced at $29.99, including cash strap, right?
Whether you want to play it minimalist all the way with only a few cards or want to carry around all your stash, Rossm Carbon Fiber Wallets can hold up to 14 cards. Add to it the lightweight 3K carbon fiber weave, and you've got a perfectly secure, lightweight (2 oz only!) and ultra-thin 6 mm thick wallet to boast as soon as you have the opportunity.
5. Decadent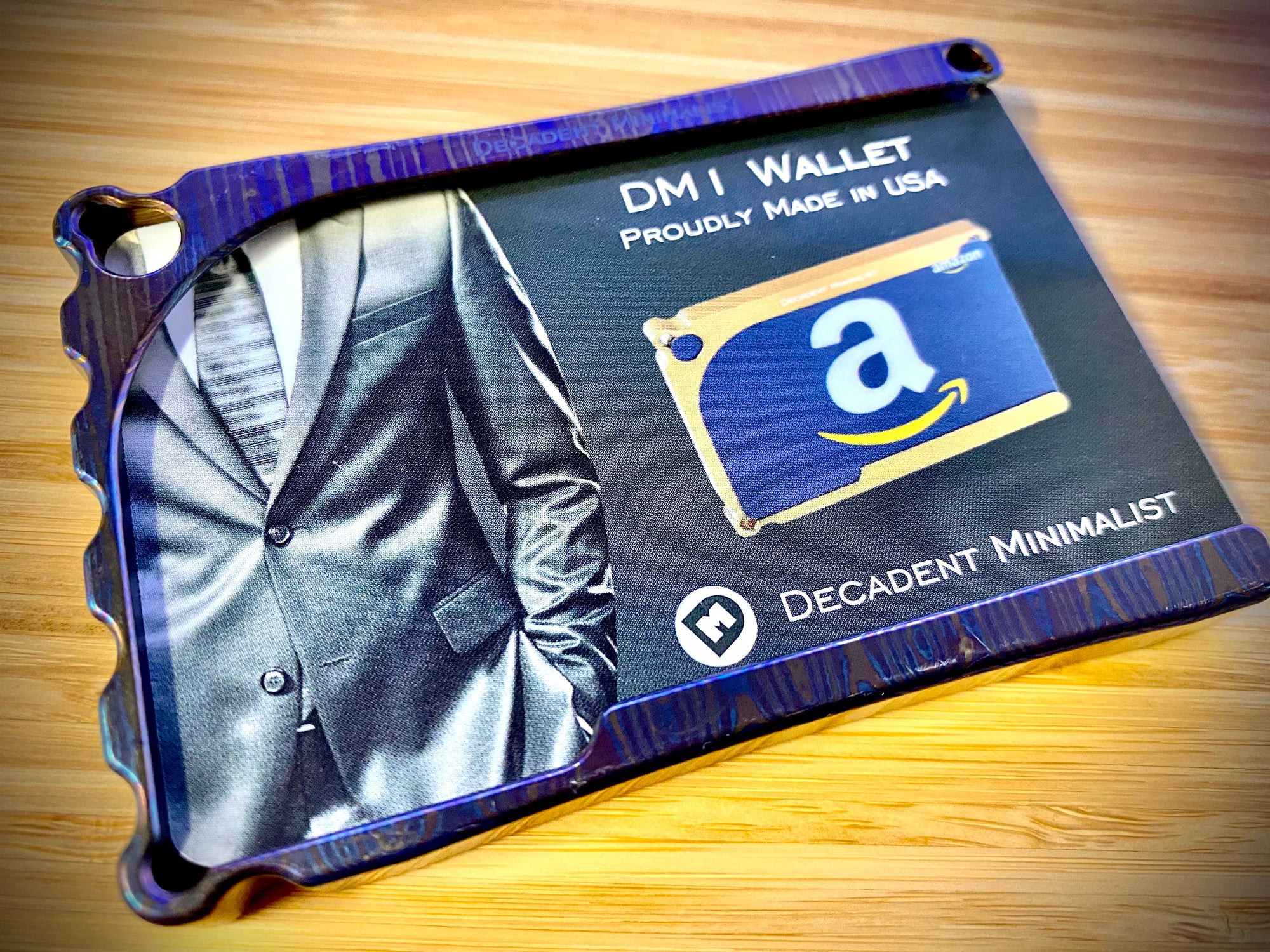 If Decadent is the best Ridge Wallet alternative, it's due to their spectacular work on materials. Not only does Decadent offer aluminum and titanium wallets, but two specific collections stand out from the usual wallet crowd: nickel and Damascus MokuTi. Of course, with such fine work on unusual materials, you can expect prices to follow the lead.
For instance, their Titanium Damascus wallet retails for $499 with 5 card slots, with options for 8 or 12 cards. The exclusive Damascus MokuTi material is a multi-alloy material worked with layers, hand torched, with a flame-anodized option to give it its unique colors. Looking for a cheaper option? The bestselling DM1 aluminum wallet ($99) comes in an array of beautiful colors, even lighter than most minimalist wallet brands (14g for a 5-card wallet).
Decadent is all about that extra layer of luxury, that extra layer of thinness (a 5-card Decadent Damascus Wallet weighs only 0.89 oz or 25 grams), that extra layer of decadent minimalism. From their Kickstarter campaign in 2014, Decadent has come a long way, and you can purchase their innovative USA-made designs from their official website, Amazon, and a selection of authorized retailers.
6. Shevrov SV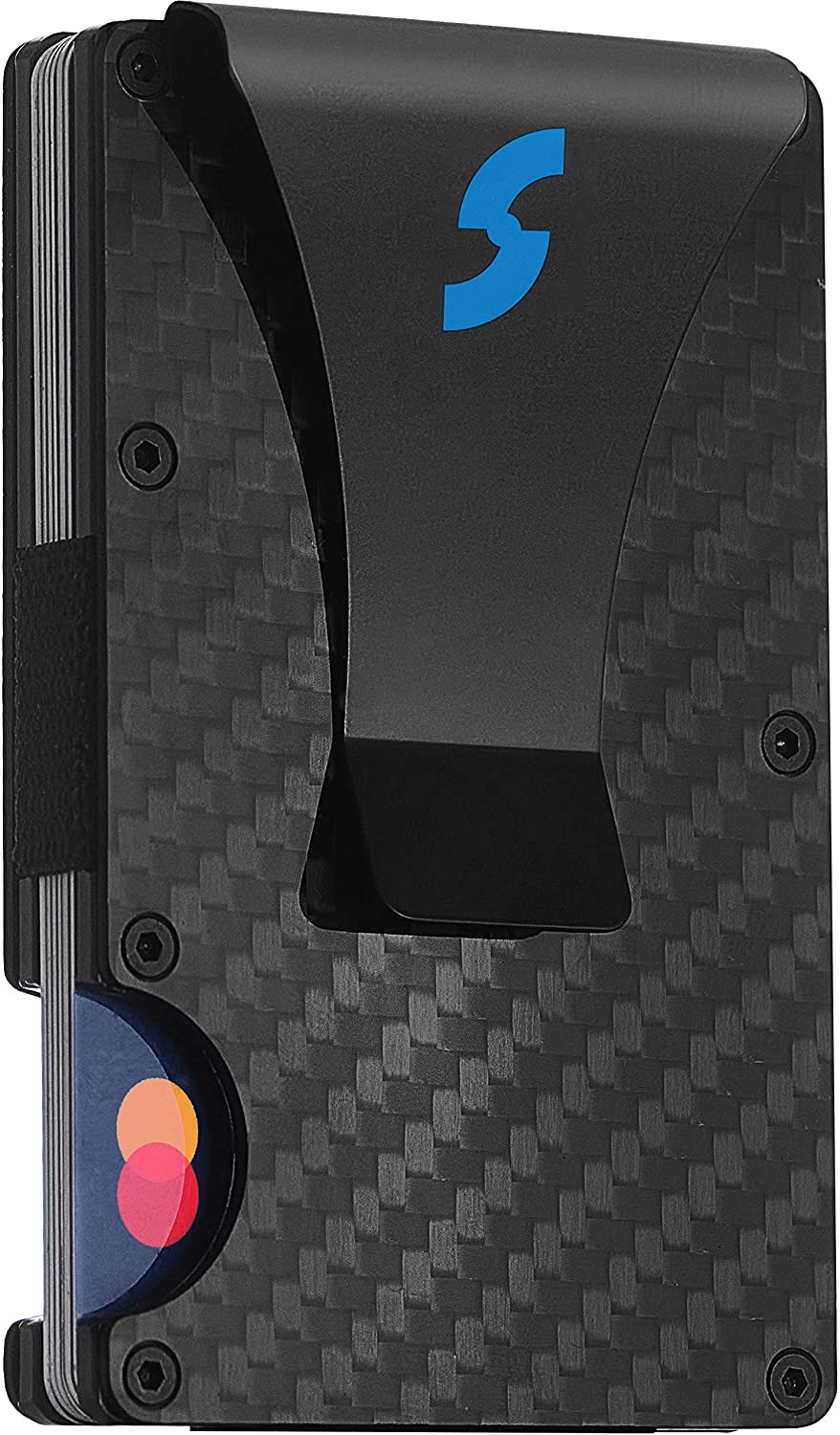 Shevrov SV is a Ridge Wallet alternative exclusively available on Amazon. The carbon fiber wallets offer RFID protection that will allow you to roam around freely. In the competition between Ridge Wallet vs Shevrov, the latter offers prices set well under Ridge. The ultra-lightweight aluminum design boasts all the sobriety needed to make you look like that person when you have business lunches.
The black carbon fiber wallet is one of the best-placed on this list, with 12 cards and nine bills for around $23. Luxurious looking, the Shevrov SV wallets are engineered with anti-scratch technology to protect their look for good. Although they are openly designed with beauty in mind, Shevrov wallets certainly do not skimp on sturdiness and durability.
7. Fidelo Prestige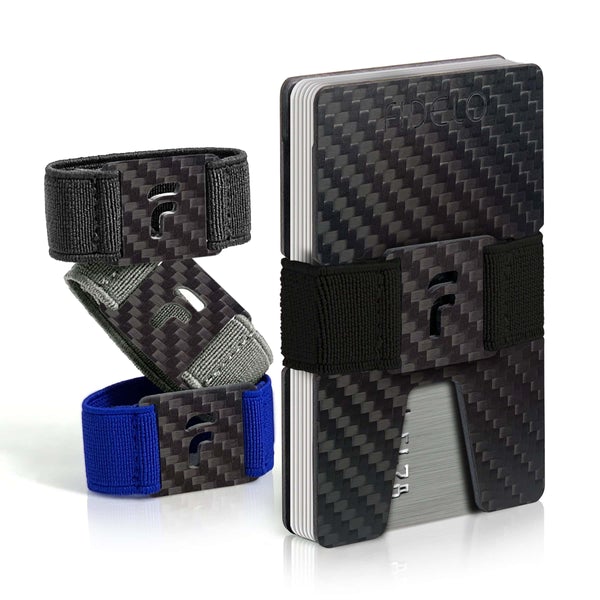 It's safe to say that Fidelo Prestige is one of the most accessible brands among all Ridge Wallet competitors. Their bestselling 3K carbon fiber wallet retails for $37.90, a "game-changer" when it comes to finding a Ridge Wallet cheap alternative. Each of the premium Fidelo Prestige wallets carry up to 12 cards, and you can customize your wallet with four different bill fold bands to secure your cash.
It's an investment that doesn't break the bank and the perfect gift idea for a man. The stronger-than-steel design resists scratches while looking good, providing functionality and style. Fidelo Prestige offers RFID protection, but not just any – with the ability to block frequencies up to 13.56 MHz, Fidelo wallets make it pretty much impossible to steal your data. You can even enjoy a one-year money-back guarantee if you're not completely happy with your wallet, but we're not sure you'll need that.
8. Armour Supply Co.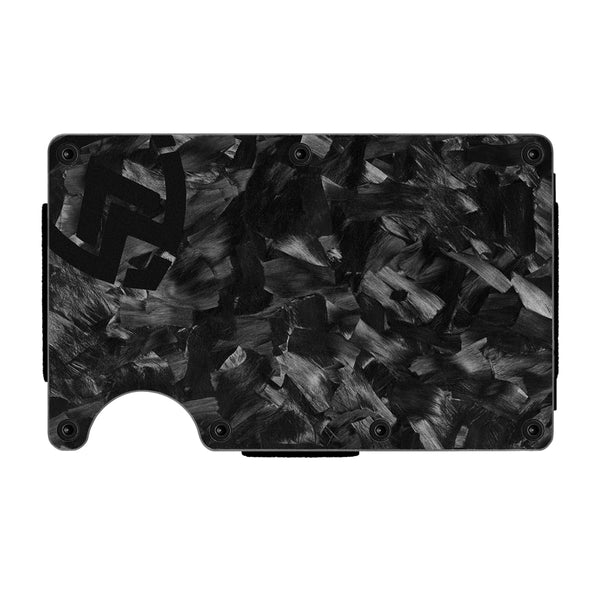 Armour Supply Co. has placed the everyday American at the core of its design process since 2017. In just four years, the Ridge Wallet alternative has set itself as a go-to wallet brand for whoever wishes to bet on quality and minimalism. To "disrupt the overpriced and outdated models of the wallet industry," Armour Supply Co. emphasizes research, development, quality, and aesthetics.
Although not the cheapest Ridge Wallet alternative (around $100 for a titanium or carbon fiber wallet), the RFID-blocking technology and the wallets holding up to 12 cards and five folded bills are a great place to start on the minimalist scene. With just 2.30 oz, it's one of the lightest wallets, even when you include the money clip and cash strap – both included with all Armour Supply Co. designs.
The brand goes further than all other minimalist wallets with a selection of tools gifted when you order your wallet – a multitool card, replacement screws, a mini screwdriver, a key holder, and a bottle opener are all part of the gang. A lifetime warranty backs any order, and a portion of the sales are given back to the homeless veterans' community.
9. Dango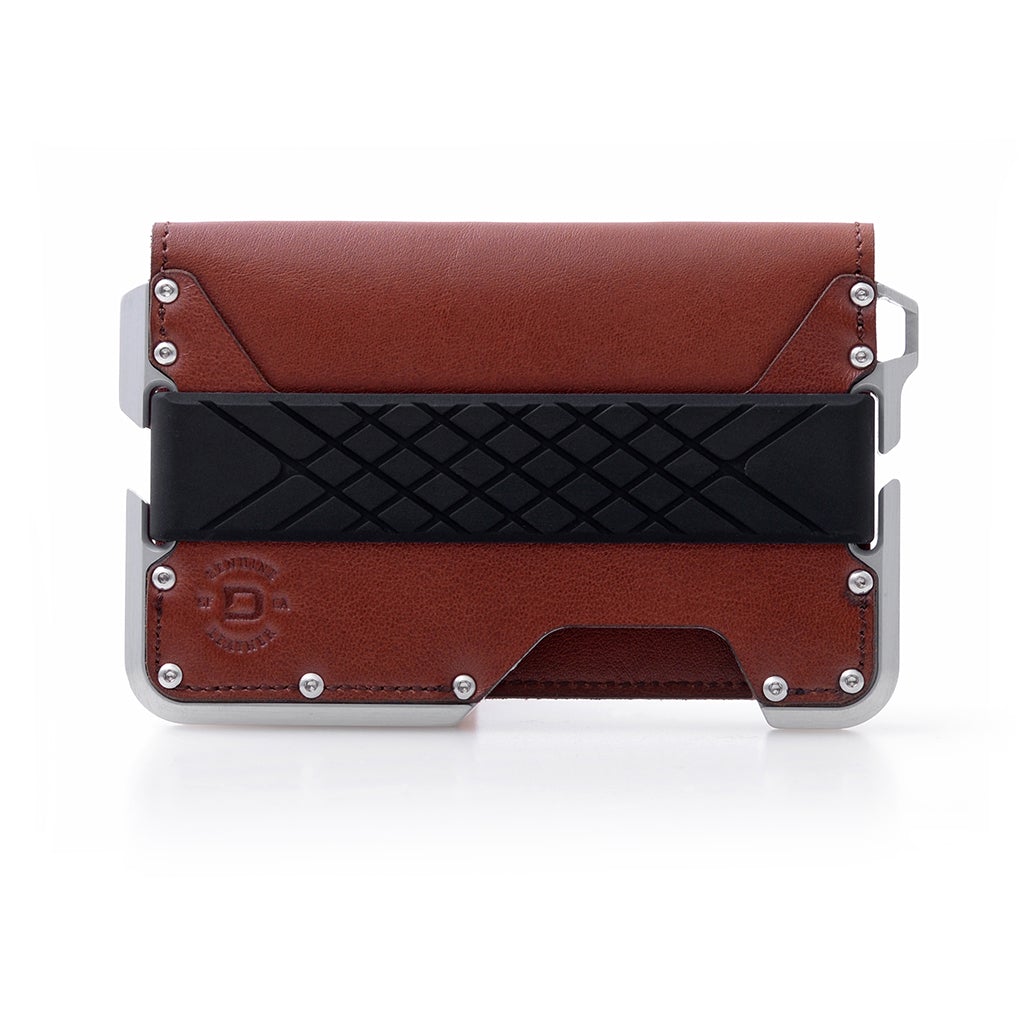 Let us set the tone; look elsewhere if you're looking for a Ridge Wallet cheap alternative. In the battle between Ridge Wallet vs Dango, we're definitely on a more luxurious level of the modern minimalist wallet. Dango has built a full apparel and accessory line made in the USA that spans various wallet collections to socks, hats, phone accessories, and watches. With free US shipping over $49 and recurring discounts, the brand helps ease your way into minimalism with class.
Dango has birthed seven wallet collections that range from A-series, a collection of adjustable and adapter compatible wallets starting at $79, to the P-series, a notebook and pen-ready wallet design line ranging from $79 to $134. Bestselling Dango wallets include bifold wallets, along with ultra-minimalist models from the aluminum Maverick series, with a more professional look ($99 to $299 apiece). Looking to elevate your style without losing your freedom? Dango is the one for you.
10. Radix One Black Steel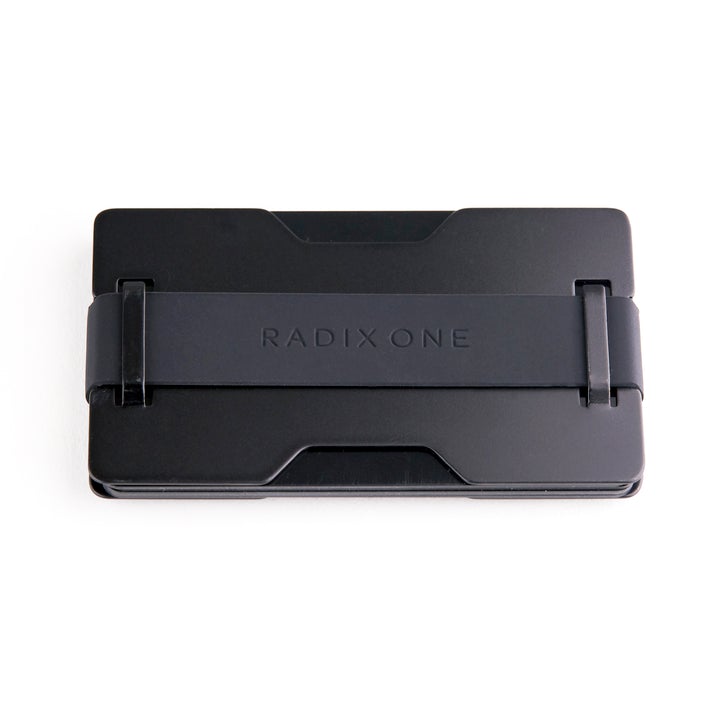 Radix One is the cheapest Ridge Wallet alternative (RRP $14.99). Granted, few wallets like Ridge Wallet cost so little. Still, do not bias the brand based on its budget-friendly prices. Radix One is the best Ridge Wallet dupe if all you're looking for is replacing your bulky wallets without RFID protection.
Since all Radix One wallets will set you back only $14.99, the only question, really, is which color to choose; sober whites, grays, and blacks, or out-there cyan blues and reds? The ultra-slim wallets will help you strengthen your minimalist lifestyle whether you choose to bring about four or ten cards. The ultra-lightweight polycarbonate plates brought together by a secure band are a hassle-free solution to carrying cards and cash.
If what you're really looking for is the RFID protection, then the Radix Element wallets – sturdy aluminum or eccentric walnut wood – are still a cheaper option than Ridge Wallet, at $34.99 a pop for up to ten cards.
Ridge Wallet Alternative: Editor's Verdict
On the quest for the best Ridge Wallet alternative, we've seen many modern companies craft wallets built on simplicity, functionality, and safety. Brands like Radix One or Rossm focus on wallets like Ridge Wallet that do not break the bank while offering the RFID-blocking protection we need to protect our data from being scanned and stolen.
Others like Dango or Decadent work with a more luxurious approach to make using your wallet a true experience of the future. You are bound to find your wallet of the future in this list – it all depends on your budget and the material you'd like to try. What is sure is that you'll love the transition to minimalism. There are also other great alternatives such as the Ekster Wallet if you didn't find above what you've been looking for.