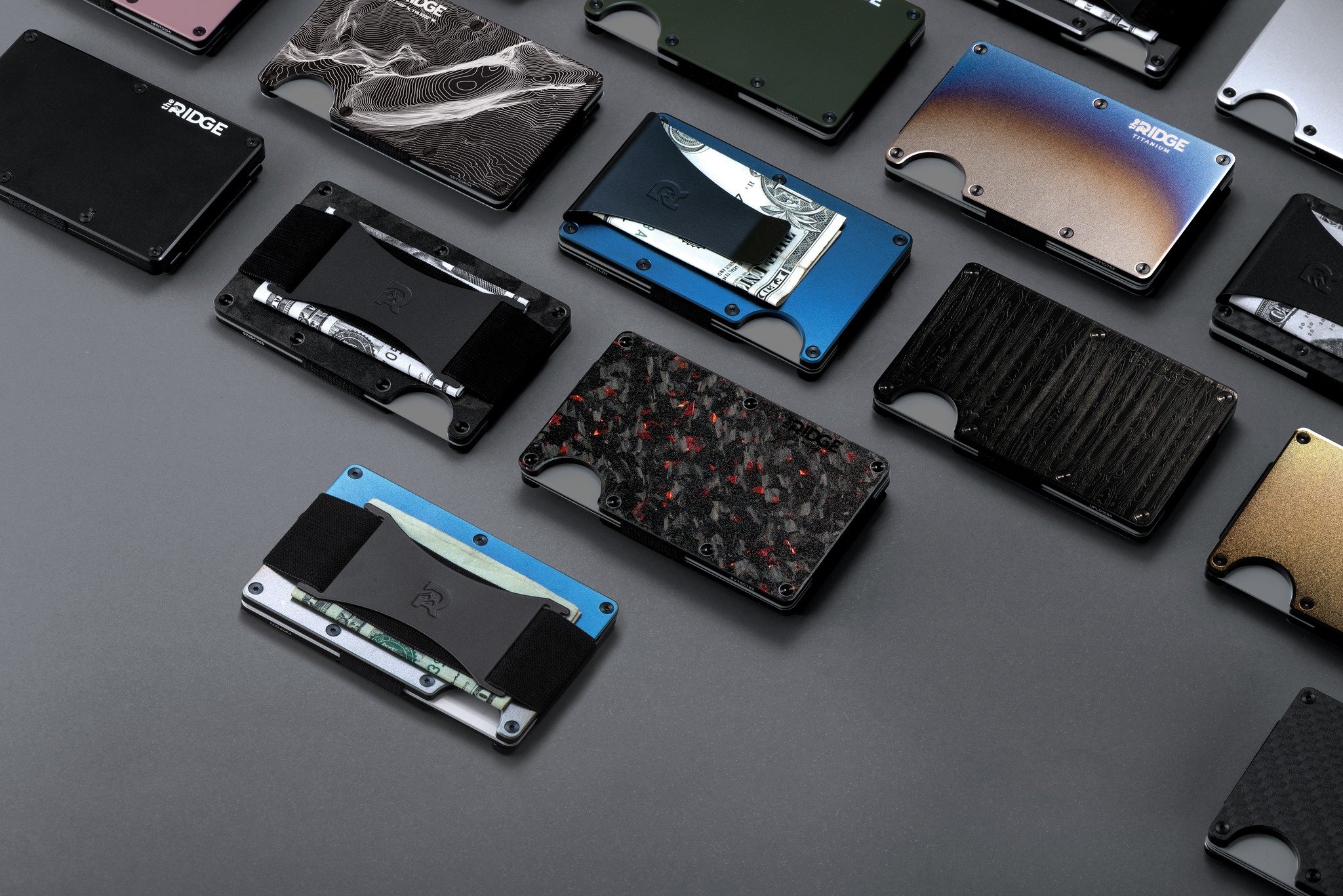 Do you ever look in your wallet? Besides when making a payment that is. We are fairly certain that if you went through everything inside your wallet right now, a large part of what you'd find does not need to be in there – whether that's unnecessary receipts, business cards from people you'll never call or stamp cards for places you're not likely to ever visit again. And that's why we're writing this Ridge Wallet review, to help you organize your wallet like never before. Replacing traditional leather for anti-theft RFID-blocking metals, the super slim design can hold up to 12 cards while accommodating banknotes with an additional elastic or a money clip. It's a design that's minimalist without being limiting.
But one might ask, what is so special about this wallet? And what justifies the rather hefty price tag of $95 upwards? And are Ridge wallets worth it? In this Ridge wallet review, we are going to answer all of these questions and more by taking a deep dive into the Ridge world – its background, features, philosophy, and existing customer reviews. So stay to the end.
About Ridge Wallet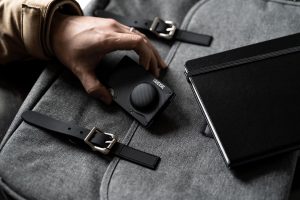 Founded by California-based father and son duo Paul and Daniel Kane, the Ridge started out in 2013 on Kickstarter, where the pair raised over $260,000 with the initial goal being only$12,000. But what prompted the Kanes to do this? It was experiencing the very same issue that their company went on to solve for over a million people worldwide thus far – a need for a more reliable and simpler way to carry and organize their cards and cash.
In fact, Daniel, the younger of the two Kanes, never liked the bulky feeling of a wallet in his pocket and in college often resorted to carrying his essentials – card, ID, some cash – tied together with a rubber band. Effective but not very good-looking. When going back home, his father Paul gave him a hard time about the sloppy look of his space-saving solution. As a compromise, they looked for something that would be just as space-saving yet sleek and stylish at the same. But in 2013, there was nothing of the sort on the market so they decided to make it themselves. So originally, the idea was a men's Ridge wallet. However, nowadays, women are just as interested in minimizing their load.
Instead of the traditional leather that men's wallets and women's purses are usually made of, the Ridge wallet is made from metal, which in turn makes for a modern look, with diverse options of various price categories on offer to choose from. However, each one has an in-built RFID-blocking feature that prevents a form of wireless theft. Essentially, the wallet blocks the signal sent from the thief's reader to the microchip of your card.
The Ridge Wallet was featured in Men's Health, NY Times, and Rolling Stone Magazine and it is very popular on Instagram and Facebook.
Brand values
Yet the brand values go far beyond making your back (or front) pocket less bulky. It's about letting go of the unnecessary as the founders believe that you don't need to bring everything to be prepared for anything. In fact, by carrying less you live more as you're not weighed down by all the needless things. That's also why the company has eventually gone further than wallets and started making the likes of key cases, bags and phone cases in the same spirit and with the same philosophy. Let's get into our unbiased Ridge Wallet review!
Pros
Slim, space-saving design
Sleek, modern look
Lifetime warranty
Anti-theft RFID-blocking feature
A wide variety of styles with different colors, patterns and metals on offer
Scratch-resistant metal
Customizable modular design
Free returns within 45 days
Free international shipping
Each wallet comes with a handy elastic cash strap or money clip (or you can choose to add both)
Cons
Cost is on the pricey side with ranging from $95 to $225 per wallet depending on the material
Ridge Wallets Review
As previously mentioned, the company's signature product, the Ridge wallet, is available in a series of metal finishes, which are:
More on these later though as we look at each individually and closely. The wallet also comes in a series of more premium materials, such as stainless steel or even 18ct gold plating.
But how to use Ridge wallet? No matter the material, each design boasts the same minimalist design. And as we keep mentioning how slim and space-saving this thing is, it's only fair we told you exactly how slim – 6mm. That's right. The width is 8.6cm and the height is 5.4cm. Yet, it can house up to 12 cards. Featuring a patented dual-track design, it lets you push out the cards with your finger via a side cut-out opening. Every order is also equipped with a choice of an attachable money clip or an elastic cash strap to hold any banknotes. But if you'd like both, there's only a $7 additional charge.
And if you're one to carry change around, you can purchase the additional slide-on cavity tray that grips onto the base of the wallet and provides space for loose coins or single keys.
But without further ado, let's meet the individual Ridge wallets.
Ridge Wallet Carbon Fiber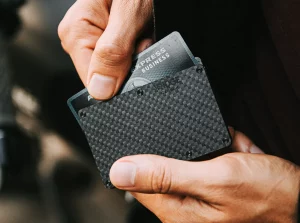 Carbon is used for crafting all sorts of commonly used materials – from plastics to steel, which is a combination of carbon and iron. And that's what the Ridge Wallet Carbon Fiber 3K is made from, specifically by weaving little sheets of this versatile material that are then filled with resin to achieve a sleek matte finish resistant to scratches. Molded into a shape with beveled edges, the design is finished with a logo stamp in the top right corner.
The Carbon Fiber wallet is the brand's original use of carbon. And incidentally, it is a material that Daniel Kane was very excited by and the ways it could be worked, to the point that the brand now offers wallets made with forged carbon too.
Retailing at $140, this style sits at the mid-range in terms of pricing and it is the strongest yet lightest option out of the whole offering (not to mention innovative), which is how it made its way onto the list of bestsellers.
Ridge Wallet Titanium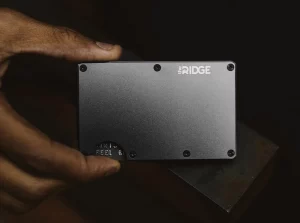 Another metal that the brand utilized for its original product is titanium for the Ridge Wallet Titanium. Using specifically Grade 5 titanium, it's the most commonly used version of the metal liked for its high strength at a lightweight, useful formability, and high corrosion resistance. It's used in the likes of aircraft turbines, engine components, and marine applications.
Of course, these benefits come in handy when made into a wallet that is undoubtedly strong, durable, and scratch-resistant. Available in five various colors and treatments, including a stonewashed rugged finish, undoubtedly the most popular is the burnt version, which retails for $125. Hand-torched and hardened, this treatment creates a colorful holographic finish contrasted by a logo print in white.
Ridge Wallet Aluminum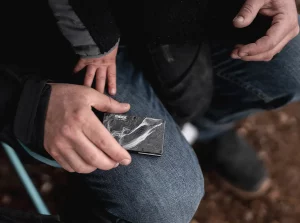 Next on our Ridge Wallet review is the aluminum one. A team favorite, the Ridge Wallet Aluminum is the signature, flagship product of the company. Known for its lightness, aluminum was the obvious first choice for the founders as it is also one of the most abundant metals and most commonly used. It balances durability with lightness in equal measures and its anodized plating ensures a scratch-free surface.
Selling for $95, this is the most affordable option from the offering and it also comes in the widest variety of colors and patterns – whether it's a classic navy shade, metallic rose gold, or vibrant tropical flowers.
Individual Ridge Wallet Money Clip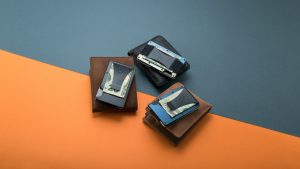 As previously mentioned, the Ridge Wallet Money Clip can come with your wallet free of charge, as you have a choice between the elastic cash strap and the clip. However, if for any reason you need to buy one individually, whether your original one got damaged, lost or you initially chose the elastic, the option to buy the money clip individually is there. And don't worry, every one of the brand's wallets is fitted with a pre-machined slot on the front and back for easy customization – so every Ridge wallet will be able to fit a money clip.
The money clip retails for $12 and is available in a choice of two classic colors – black and silver – the clip is topped with a logo engraving. It's like the perfect minimalist wallet!
Ridge Wallet Cavity Tray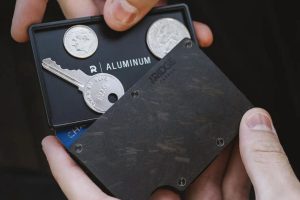 For those saying, 'But what about my coins?', Ridge has a solution too – the Cavity Tray. With the world becoming more digital and contactless, many don't carry cash around anymore, not to mention loose change. At the same time, there are still those that do and the brand sees you and caters to you too. The cavity tray is a tray (surprise!) that slots onto any Ridge wallet and provides space for coins, loose keys, or any other small items.
Crafted from the company's signature aluminum, the interior is lined with silicon with an aim to reduce the noise and jingle of the loose items inside. However, after reading through reviews, some customers reported that the lining didn't help much and that the jungle is still very loud.
Meanwhile, the depth of the extra compartment is designed so that multiple coins can be stacked on top of one another in case you like to carry more than a few coins with you. And it only adds an additional 3mm to the width of your Ridge wallet and an additional $17 to the price.
Ridge Wallet Reviews from Customers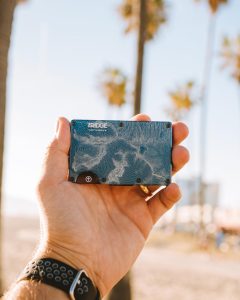 As promised at the start of this Ridge Wallet review, we are going to look through some very telling customer reviews. And while the majority of customer feedback is extremely positive, with products scoring 4.8/5 stars on an average on the brand's website based on anywhere from 2000 to 8000 reviews each, there are of course some negatives.
Interestingly, most of the complaints are not so much in regards to the products, as they are about the customer service. Customers claim that Ridge often doesn't answer customer emails, doesn't send replacement products for those lost in the mail, there is no telephone contact to call and delivery often takes weeks rather than the promised 2-3 days.
Another issue is the price as customers believe the quality and design of the wallet is not worth the rather hefty price tag.
Here are some samples of Ridge Wallet customer reviews for you to have a look at and make your own mind up:
"It is an excellent product. I immediately threw away my bulky wallet and am storing 10 cards and a driver's license in it. Money folds neatly in the attachment at the back. A very compact way to travel with money and credit cards. I highly recommend it."
Further customer reviews
"I should have read the bad reviews before ordering, I'm amazed there is a lot of people not getting their products like me. I'm surprised they charge a lot of money for their products but use the lame and unreliable USPS. I'm still waiting for my wallet and supposedly it was delivered. Don't waste your money people."
"After reading all the other reviews here I had to respond. This is a minimalist wallet. I've been carrying it every day for 2+ years and have had none of the issues most have described. Does it take some getting used to? Yes, it does. Is it hard to shuffle thru a stack of cards? Yes, however, if you're truly going minimalist you shouldn't be carrying more than three cards. I lost a screw, contacted Ridge and they sent me a whole bag of replacements. If you periodically check the screw you won't have any issues. After two years my cash strap is worn out and the wallet has taken a beating but still performs as advertised. My fiancee and two of our friends have them and we all enjoy their simplicity. Good product, maybe a bit high price-wise but overall it has been a good purchase."
On independent websites such as TrustPilot Ridge Wallet has incredible 4.5/5 score.
Sign Up for Ridge Wallet
Ridge gives you the option to sign up for an account, which makes checking out quicker and easier. It also allows you to see all your previous orders.
At the same time, you can sign up for the brand's newsletter at the bottom right corner of its website to stay informed about new launches, promotions, etc.
Where to Buy Ridge Wallet
But where to buy Ridge Wallet? Of course, the products are available on the company's website. The wallets are also available in a range of physical and online stores worldwide such as Nordstrom and wallets.co.uk. To find your nearest store, go to the Store Locator on the brand's site. Furthermore, we also have written about Ridge Wallet Alternatives.
Ridge Wallet Shipping and Return Policy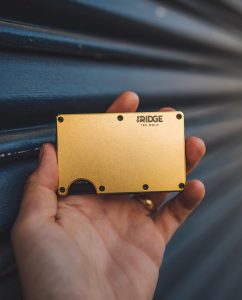 Shipping
Ridge offers free worldwide shipping on all orders over $34. How great is that? Considering that its cheapest wallet retails for $95, we reckon you won't have a problem getting that free shipping. Domestic US orders arrive within 3-7 business days, while international packages take between 7-14 days to arrive. However, many customers have complained about delayed arrival, incorrect tracking numbers, and on occasion, parcels sent to the wrong destination and getting lost in the process.
Returns
If you're not satisfied with your order for any reason, you are free to return it within 45 days of purchase. Ridge offers free domestic returns and exchanges and provides customers with a prepaid USPS label.
However, if you feel the product doesn't function properly at any point, the company promises to do everything possible to make it right as part of the lifetime warranty. This includes replacement parts in the event of failure or loss of the elastic, screws, inner plates, or money clip. But the warranty doesn't cover scratches, dents, chips and scrapes, damages caused by accident, abuse, neglect or shock, improper use or storage of the product, unauthorized modifications or repairs.
Ridge Wallet Alternatives
Ridge Wallet Promotions & Discounts
If you're after a little discount or a Ridge Wallet coupon, you're in luck because the brand regularly offers promotions and discounts and organizes giveaways. At the moment, you can shop with 15% off site-wide on the brand's website with the code RIDGE15.
And if you refer a friend, not only that they will receive 10% off their first purchase, but you will get $15 off yours for one friend and up to $75 for sharing with five friends.
Contact Ridge Wallet
We have tried to be as thorough as possible and cover every basis imaginable. However, if you feel this Ridge Wallet review left a question unanswered, feel free to get in touch directly with the company via:
Is Ridge Wallet worth it?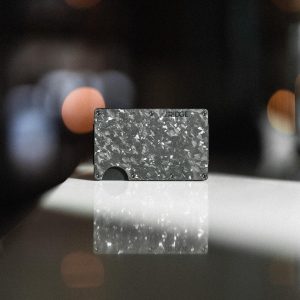 Now that this Ridge Wallet review has gone through every aspect and every crevice of this undeniably innovative company, there is only one question left to answer – are ridge wallets worth it? In short, yes. In length, Ridge is not a perfect company. But is any? Offering an unparalleled product, the brand lets people let go of the unnecessary and lead a more streamlined minimalist lifestyle with something as simple as a wallet.
It is a durable and long-lasting design, which comes with a lifetime warranty no less. So if anything goes wrong at any point, Ridge will be there to assist you. Is it pricey? Yes. But so is any luxury high fashion wallet that does nothing special other than display its covetable branding. One area that the company should perhaps improve in is its communication and customer service.
Are you loving these types of brands? Check out our reviews of Von Holzhausen, Groove Life, Nixon, and Ekster Wallet.
Ridge Wallet FAQ
How does the Ridge Wallet compare to other wallets on the market?
The Ridge Wallet is a slim, minimalist wallet that is designed to streamline how you carry your cash and cards. It is made from a single piece of aluminum, which makes it extremely durable. The wallet can hold up to 12 cards, and has a money clip on the back for cash. It also has a RFID-blocking liner, which protects your cards from electronic pickpocketing.
Who is the founder of Ridge Wallet?
Ridge Wallet was founded in 2013 by Daniel Kane and Paul Slade. The company is based in San Francisco, California.
How does the Ridge Wallet hold up over time?
The Ridge Wallet is made out of titanium and carbon fiber which makes it extremely durable. The wallet can withstand a lot of wear and tear and will not break easily. Additionally, the Ridge Wallet has a lifetime warranty so if anything does happen to it, you can get a replacement.
How does the Ridge Wallet protect your information?
When you carry a Ridge Wallet, your personal information is protected in several ways. First, the wallet's RFID-blocking material prevents your credit cards and other RFID-enabled devices from being read by electronic pickpockets. Second, the wallet's minimalist design means that it doesn't have any unnecessary compartments or pockets that could potentially expose your personal information.
How does the Ridge Wallet make it easy to access your information?
The Ridge Wallet is a great way to keep your information organized and accessible. It has a lot of features that make it easy to use, including a built-in search bar and a variety of different ways to view your information. You can also add notes and reminders to help you remember important details. The Ridge Wallet also makes it easy to share your information with others, so you can always keep your contacts up to date.
Are Ridge wallets made in USA?
Yes, all of the Ridge wallets are made in the USA. The company is based in Los Angeles.
Does ridge wallet actually block RFID?
Absolutely. It is specifically designed with an RFID-blocking material that protects you from chip reader theft.
Which ridge wallet is best?
This will depend on everyone's preferences, however, most people would go for the aluminum version that also features a money clip.