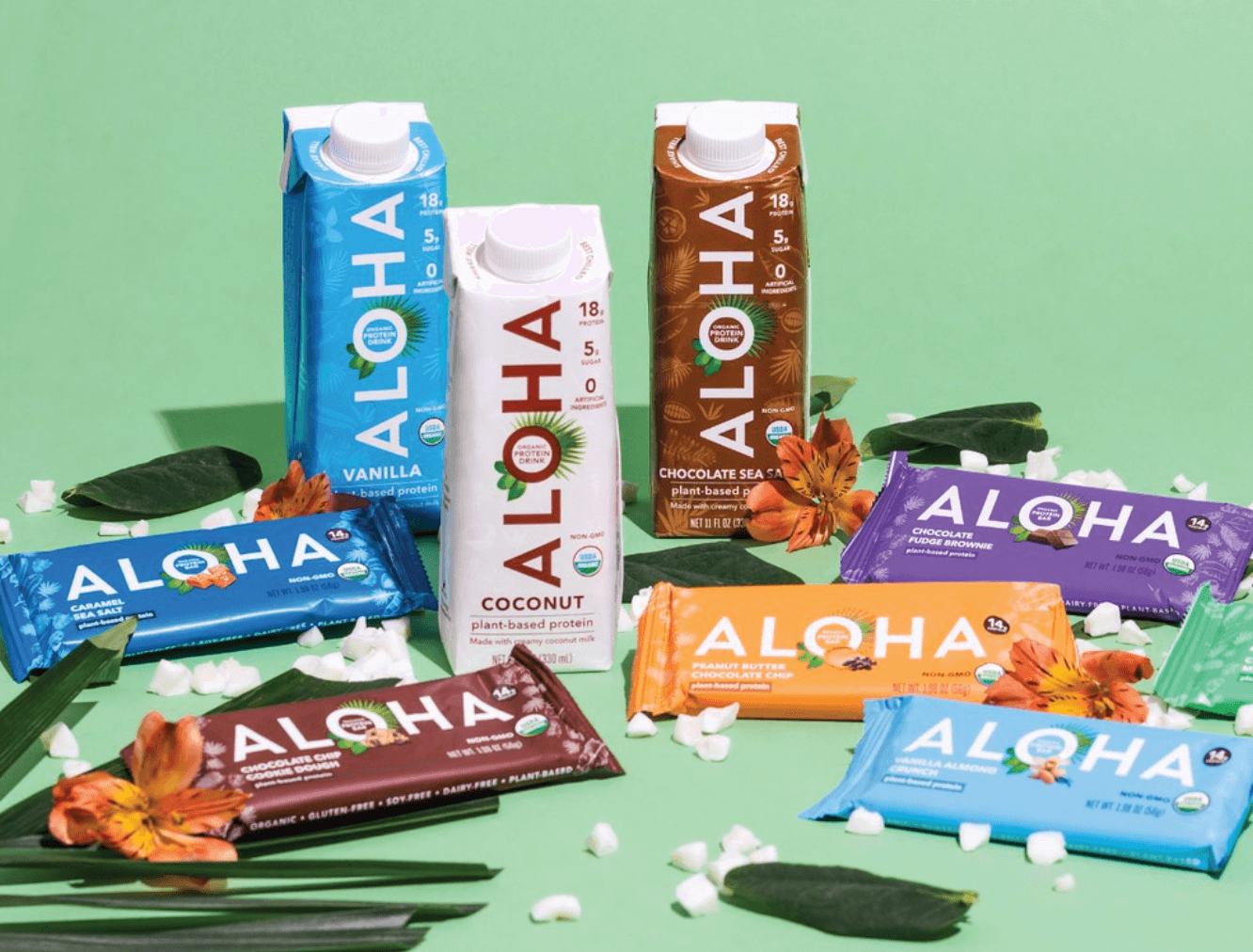 Aloha Bars are vegan, gluten-free bars made from plant-based ingredients rich in protein and nutrients. The ALOHA team prepares the bars to be tasty, filling, and nutritious. In their years of circulation, Aloha Bars have become a favorite among athletes and people looking to ingest fats and protein needed during exercise while still meeting their daily dietary requirements. In this Aloha Protein Bars review, we look at what makes this vegan protein bar a cut above the rest and whether or not it's worth your money. Read on to find out.
About Aloha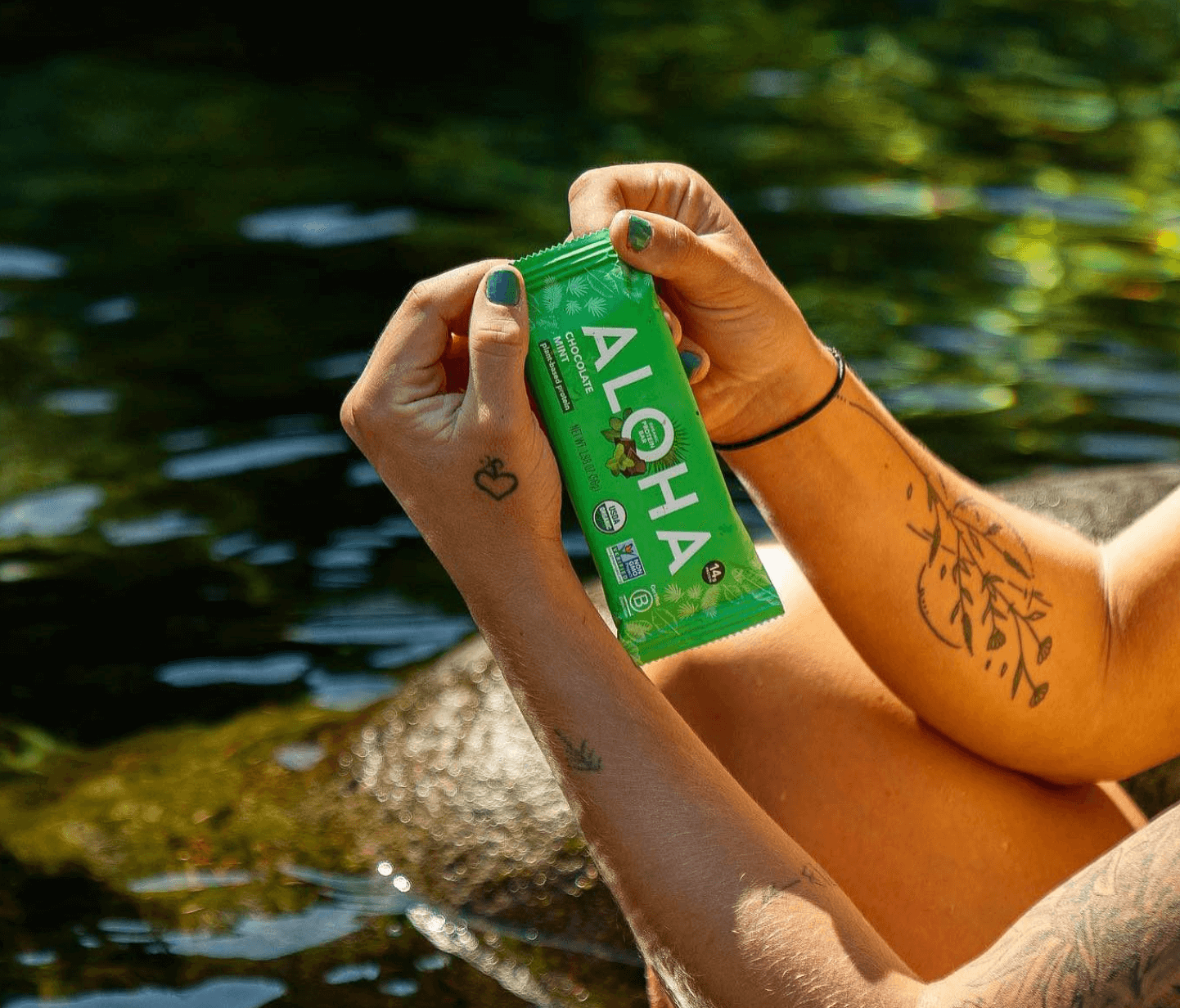 ALOHA is a B Corp certified nutrition enterprise in the health and wellness industry. It specializes in non-GMO plant-based protein powder, bars, and beverages. Since its inception, Aloha's vision has held the stance that plants are the most preeminent source of nutrition.
Their perspective on nutrition has led them to produce healthy but portable foods such as vegan protein bars, vegan protein powders, green and herbal teas, and superfood green powders.
By concentrating on vegan, organic, and non-GMO meals, ALOHA ensures that its products are healthy, delicious, and produced naturally. Their B Corp certification means that they meet sustainable and ethical business standards.
This standard gives buyers assurances that their products are delicious and socially responsible.
Due to the high quality of its goods, the firm has gained popularity in the health and fitness industry. It has also featured in esteemed publications like Business Insider, Healthline, Forbes, and Good Housekeeping.
ALOHA has also solidified its social media presence by amassing over 86.5k actively engaging followers on Instagram and 560k on Facebook. Their following is a testimony to their innovative products, which have led many health experts to recommend the brand's vegan protein bars.
Pros
ALOHA is B Corp certified; therefore, accountability, transparency, and verified high standards are a guarantee
Their products are all-natural and healthy
Their vegan bars and powders are beneficial to anyone on keto, paleo, and vegan diets
Their products are packed with nutrients thanks to the quality of ingredients used
Their customer care is prompt and efficient
Their protein bars are inexpensive compared to other vegan protein bars
Cons
Their vegan protein bars are only available in limited flavors
ALOHA only sells its products within the U.S.
They don't offer refunds or returns
They only ship within the United States
Aloha Protein Bars Products Review
ALOHA has a wide range of protein bars to satisfy your nutritional requirements while giving you various options. These protein bars come in two flavors: chocolate and vanilla. Below is an overview of some of the most popular Aloha Bars.
Mini Aloha Protein Bar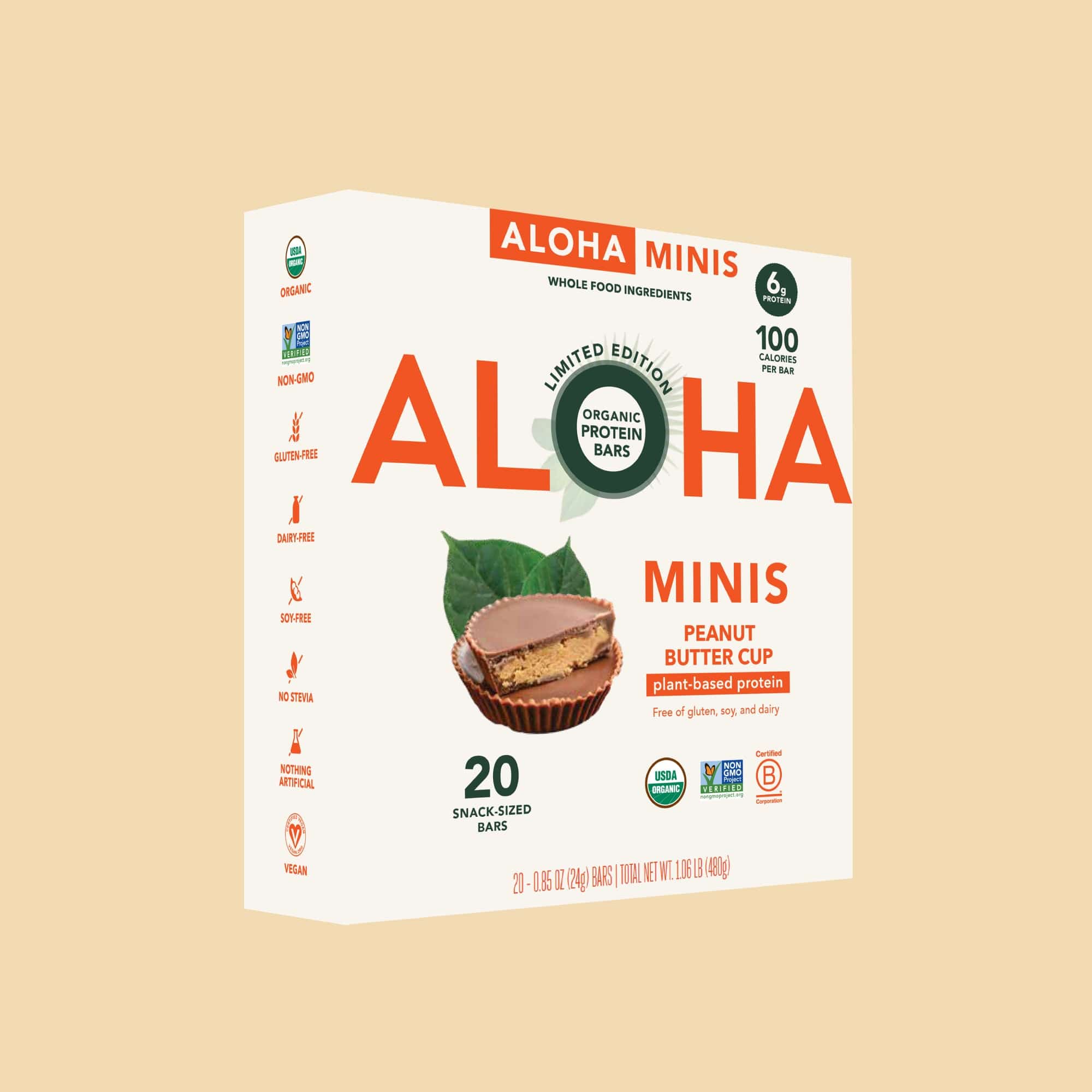 These are bite-sized bars that are ideal for both children and adults. They are pre-portioned to take on the go and are perfect for hikers, runners, yogis, and even kids' lunch boxes.
The Mini Aloha Protein Bar contains the same nutrients present in the regular bars. They are also gluten-free and made using natural ingredients.
One example of these mini Aloha Protein Bars is the Peanut Butter Chocolate Chip. This vegan protein bar is ideal for people who prefer a healthy alternative to enjoy their favorite candy bar.
Their mini size makes them easy to bring along on short trips where you do not have the time for a big meal.
This Aloha Bars review found that this protein bar contains 10g of carbohydrates, 110 calories, 40mg of Sodium, 0mg of cholesterol, 6g of proteins, 4g of dietary fiber, 2g of total sugars, 1.5g of saturated fat, 0g of trans fat, and 5g of fat content.
The ingredients used include Organic protein fiber with pumpkin seeds and brown rice.
It also contains other organic ingredients such as Tapioca fiber, peanuts, Tapioca syrup, roasted pumpkin seeds, vegetable glycerin, Monk fruit, Cocoa butter, Sea salt, Vanilla powder, and organic chocolate chips made from sugar cane and chocolate.
Peanut Butter Cup is another mini protein bar containing 11g of carbohydrates, 100 calories, 60mg of Sodium, 0mg of cholesterol, 6g of proteins, 4g of dietary fiber, 2g of total sugars, 1.5g of saturated fat, 0g of trans fat, and 4g of fat content.
Mini Aloha Protein Bars Overview
Its organic ingredients include tapioca fiber, peanuts, tapioca syrup, dark chocolate, protein blend of roasted pumpkin seeds and brown rice, vegetable glycerin, Monk fruit, cocoa butter, sea salt, cane sugar, and sunflower lecithin. The pumpkin seed protein tastes really good!
At only 34.99, Peanut Butter Cup is an affordable, quick snack.
The mini protein bar is the Coconut Chocolate Almond. With its cost at 34.99, this bar contains the same Aloha Protein Bars nutrition, only differing in total fat at 6g, Sodium at 30mg, 2g of dietary fiber, 3g of saturated fat, 110 calories, and 10g of carbohydrate content.
Its organic nutrients are similar, only differing in its tree nuts, Alamos and Coconut. It also has vanilla powder, chocolate liquor, and natural flavors.
Aloha Plant-Based Protein Bar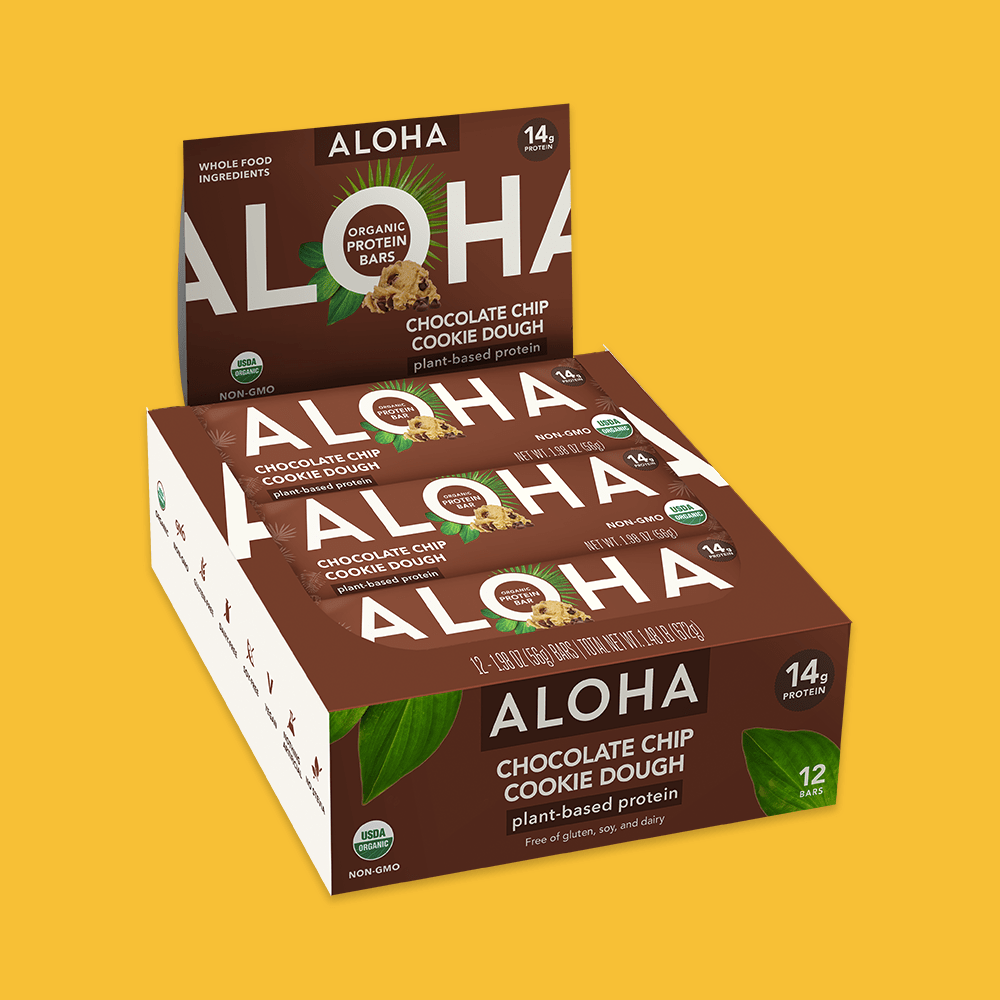 Like the minibars, which are instant snacks, the organic plant-based protein bars Aloha are also handy, although larger. Regular consumption can help you improve your well-being by increasing your strength, stamina, and concentration.
These vegan protein bars are delicious, all-natural, gluten-free, non-GMO, and USDA organic with no artificial ingredients.
Available in chocolate and vanilla flavors, Aloha plant-based protein bar also contains antioxidants and omega fatty acids, which can improve your immune system.
This Aloha Protein Bars review found that this company offers an expansive range of plant-based protein bars. One of these is the Chocolate Almond Protein Bar.
This bar contains 260 calories, 13g of total fat, 7g of saturated fat, 0g of trans, 0mg cholesterol, 70mg sodium, 22g of carbohydrate, 6g of dietary fiber, 4g of total sugars, and 14g of protein.
The Aloha Protein Bars ingredients used in production are a protein blend made of pumpkin seed and brown rice, tapioca syrup, coconut, almonds, chocolate chips made of cocoa butter, chocolate, and cane sugar, vanilla powder, chocolate liquor, vegetable glycerin, cocoa powder, tapioca fiber, evaporated coconut water, sea salt, monk fruit, vanilla extract, and other natural flavors.
All these ingredients are organic and give the bars their delicious taste. For $32.99, Chocolate Almond Protein Bars offer a good meal with high protein content.
Aloha Protein Powder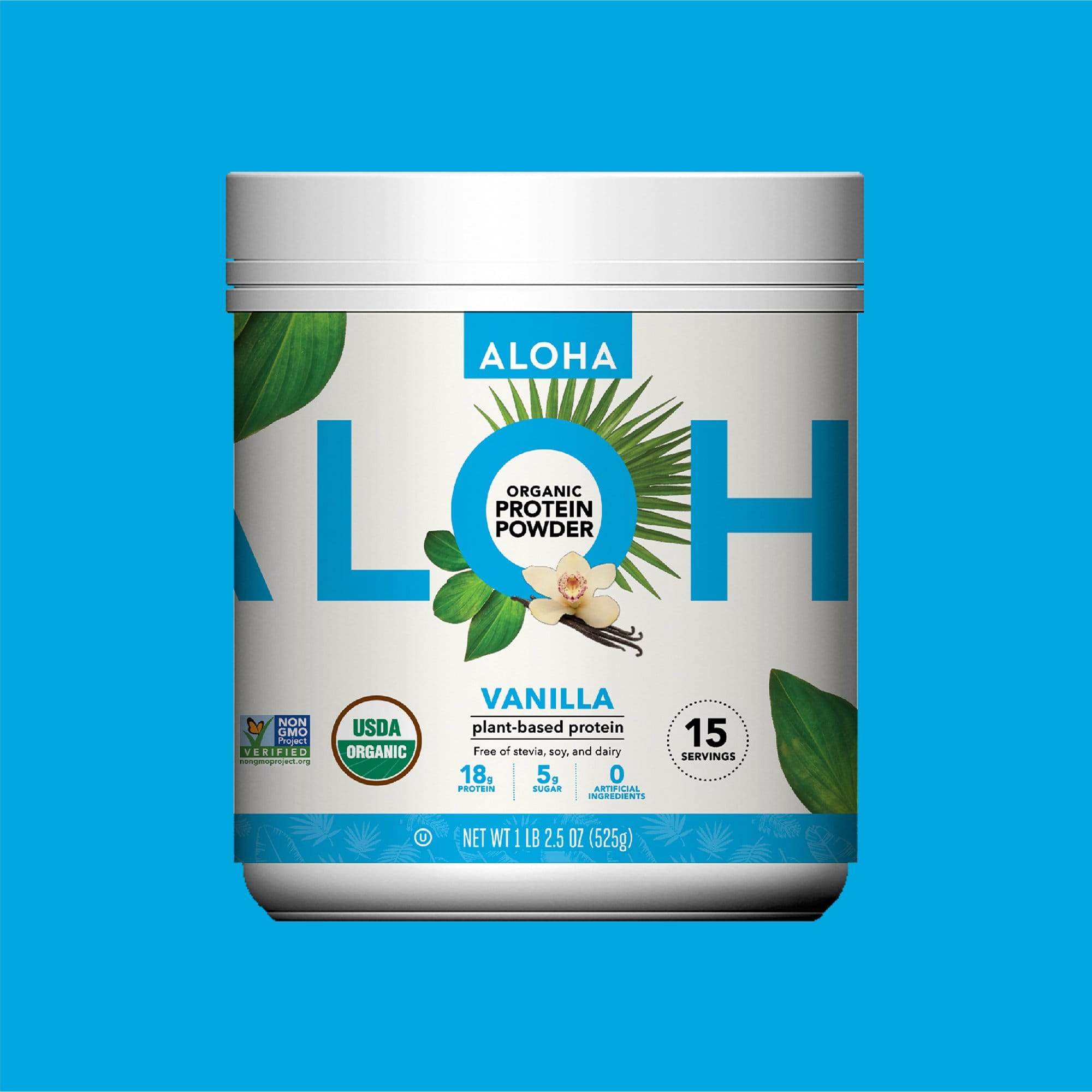 As one of the new products this brand offers, Aloha Protein Powder is a powdered supplement containing 100% plant-based protein made of organic pea, brown rice, pumpkin seeds, and hemp seed. Additionally, the supplement has added antioxidants and omega fatty acids.
The protein powder comes in two flavors: chocolate and vanilla. It is suitable as a meal, snack, or smoothie for those who seek to improve their protein intake. The product has a good number of positive reviews from users.
This protein powder is organic with no artificial ingredients. It is gluten-free, non-GMO, with no soy. It is USDA organic, meaning you can use it however you want. You can add it to your coffee or mix it with your oatmeal.
Our Aloha Bars review also discovered that it comes in two varieties: Aloha Vanilla Protein Powder and Aloha Banana Protein Powder. The first option contains 130 calories, 2.5g of fat, 0g of saturated fat, 0g of trans fats, and 0mg of cholesterol.
It also has 250 mg of Sodium, 10g of carbohydrate, 5g of dietary fiber, 5g of total sugars, and 18g of protein.
For only $32.99, you can get a one-time purchase of Aloha Vanilla Protein Powder. However, if you subscribe and save, you get 10% off, which amounts to $29.69. Visit the ALOHA site to view all these products and make a purchase.
Aloha Protein Drinks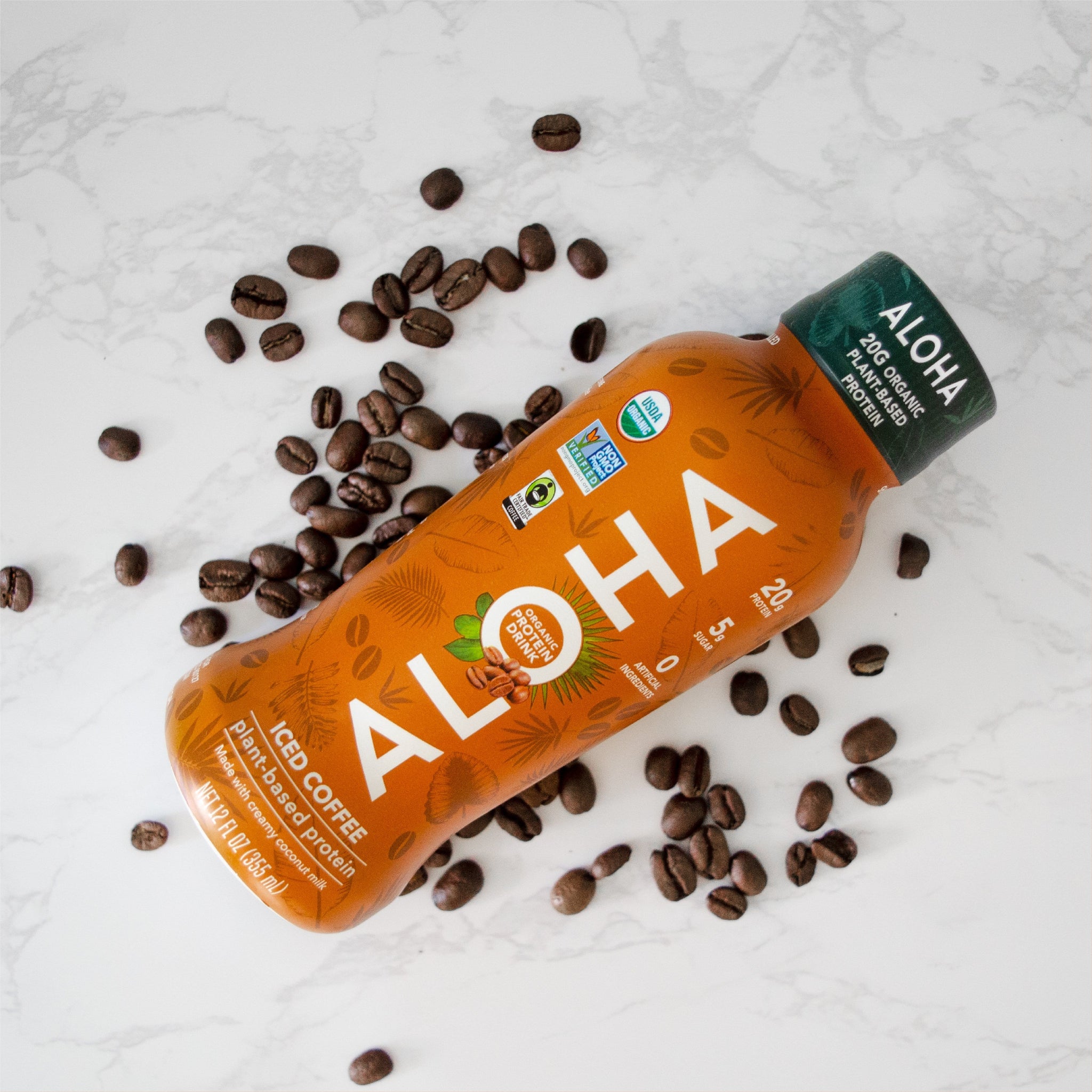 Made from brown rice, hemp seed, and pumpkin seed, Aloha Protein Drinks or Aloha Protein Shakes are vegan beverages that contain vital nutrients needed in a healthy individual. These drinks are 100% pure organic and vegan. Some of the best flavors are brown rice protein or chocolate chip cookie dough.
Like other products from ALOHA, they are also gluten-free, non-GMO, and certified by USDA. They come in chocolate and vanilla flavors and are dairy-free, with no added sugars.
Popular Alternatives to Aloha Protein Bars
ALOHA offers a wide selection of protein drinks. Each of these drinks has a unique blend of ingredients, making them nutritious and tasty.
The ingredients used to produce these protein drinks are all organic and include; fair trade Coconut Milk made from coconut cream and water, blue agave inulin, protein blend from brown rice and peas.
Other ingredients present include; potassium citrate, coconut water, coconut sugar, sunflower lecithin, natural flavors, monk fruit extracts, and Medium Chain Triglycerides. For only $39.99, you can get your hand on any Aloha Protein Drink of your choice.
Aloha Bundles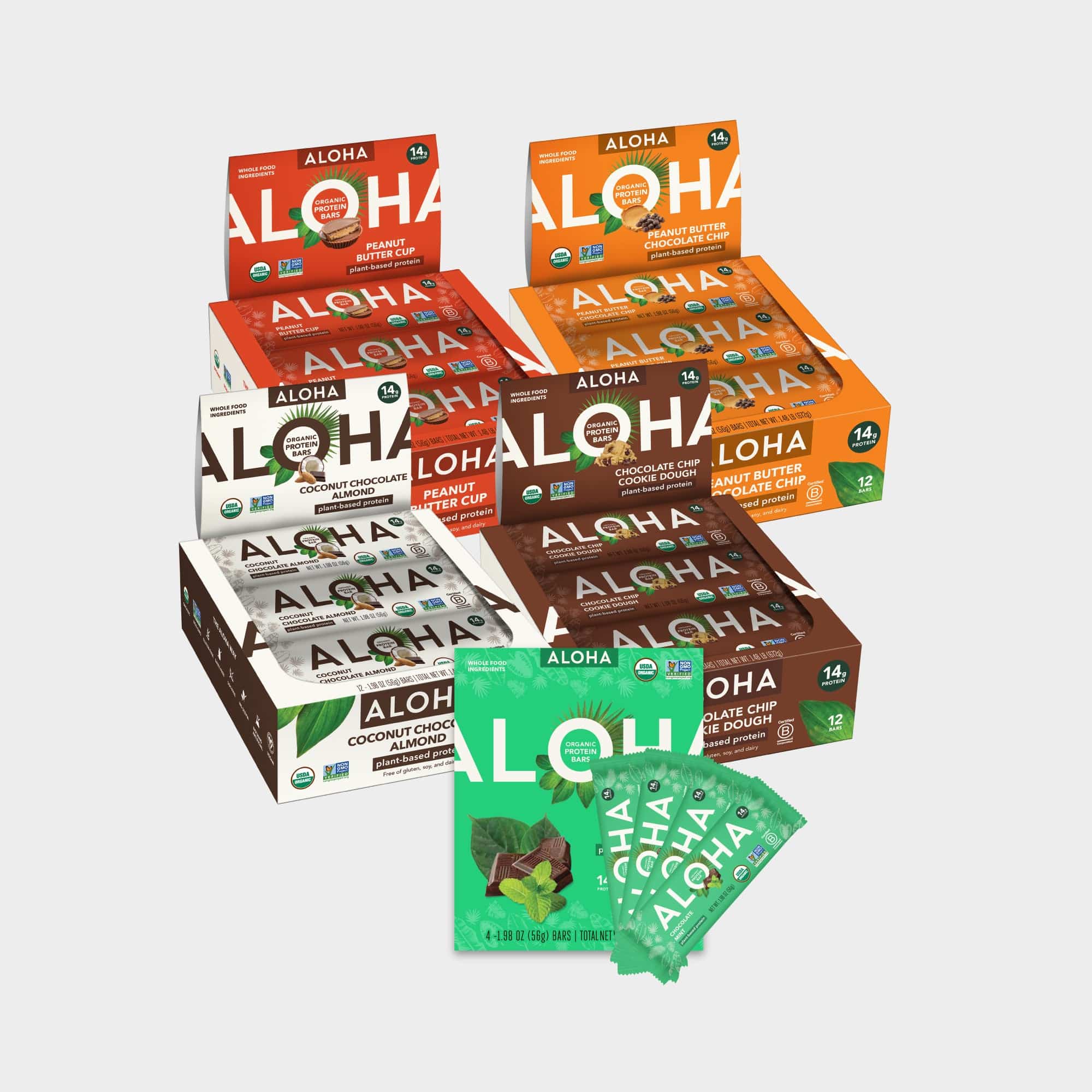 Of all ALOHA products, Aloha bundles are the most economical choice. It comes with every product needed to make the best homemade protein bars, shakes, and drinks.
Instead of buying the products separately, you can save money by getting a bundle containing each of the above items at a discount.
These bundles are perfect for those who want several Aloha products and want to save some cash. It contains everything from protein powders, bars, and drinks.
When shopping for Aloha bundles, you get to save 25% off your purchase. It is a deal you wouldn't want to miss.
Aloha Bars Reviews from Customers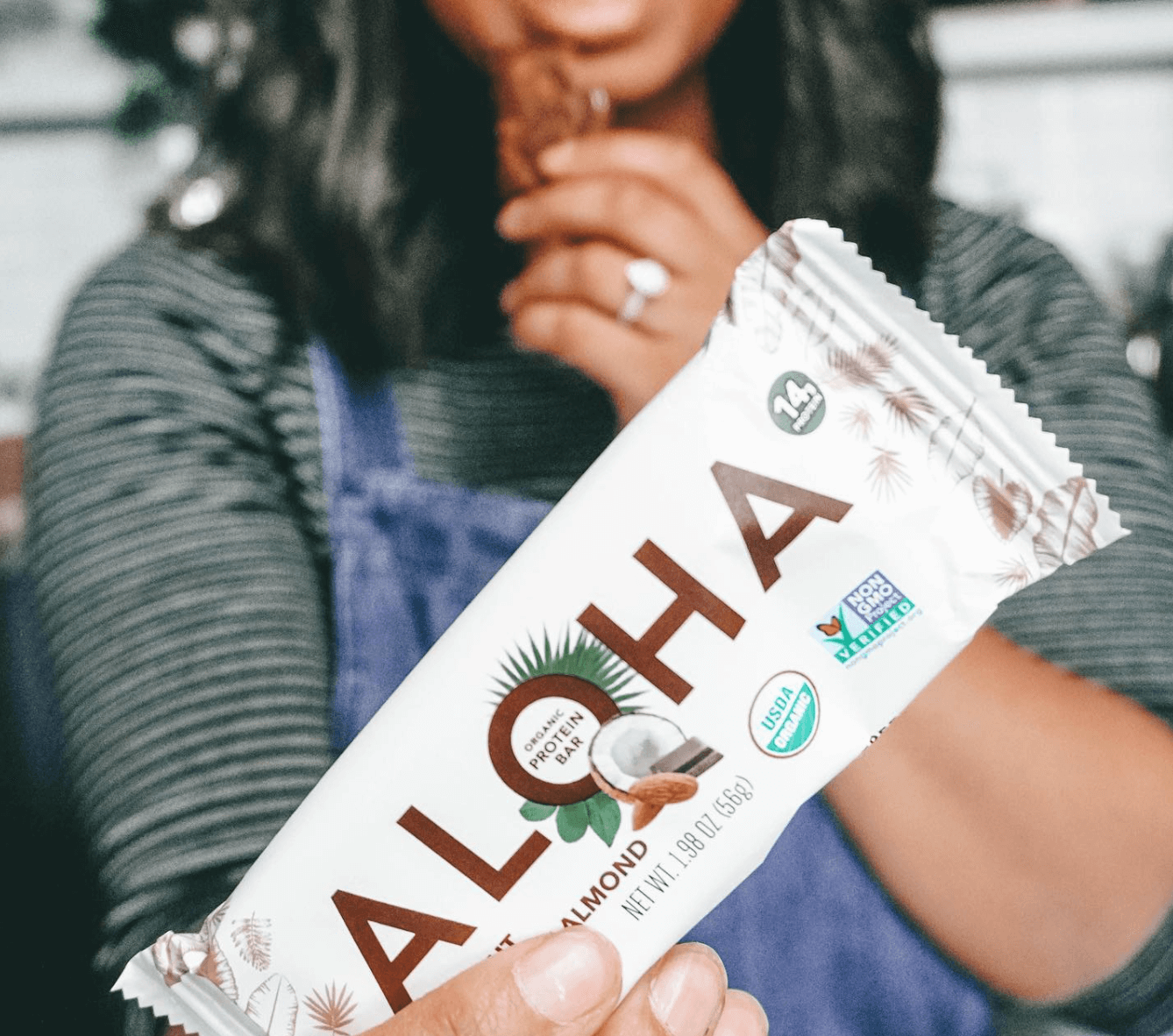 The Aloha Bars reviews we analyzed indicate that most customers feel satisfied with the products and services they received from this company. Their comments about the products are predominantly positive.
On the ALOHA website, most customers have given Aloha products a 5-star rating, which shows that they enjoyed the bars. Although most comments were positive, we also found some customers who raised concerns regarding the limited flavors.
These shoppers felt that the brand needs to provide more flavors because the existing three are not enough.
However, on the independent websites such as Sitejabber and Amazon there are some concerns raised in comparisson of the quality and the price. But the majority of the reviewers can not deny the great taste and positive impact.
Sign Up for Aloha Bars
Sign up for an account on the ALOHA website and get exclusive deals, discounts, and bundles. Once you sign up, you will unlock a 15% discount on your first purchase. To create this account, you will need to provide your first and second name, email address, and password.
You will need to provide this information only once, and each time you visit the website, you can log in using your email address and password. Also, subscribe to the newsletter to get updates on any new products and promotional offers directly in your email inbox.
Where to Buy Aloha
For those wondering where to buy Aloha Protein Bars, they are in stock in multiple stores where you can buy them. These stores include Kroger, Harris Teeter, Sprouts, The Fresh Market, and Wegmans. Check the website to find out which stores are in your area.
Alternatively, you can place your order on their site Aloha.com and get your products delivered to your doorstep. This option requires a minimum purchase of only two bars. All you will need to do is provide your full names, email address, city, state, postal code, and country.
Aloha Bars Shipping and Return Policy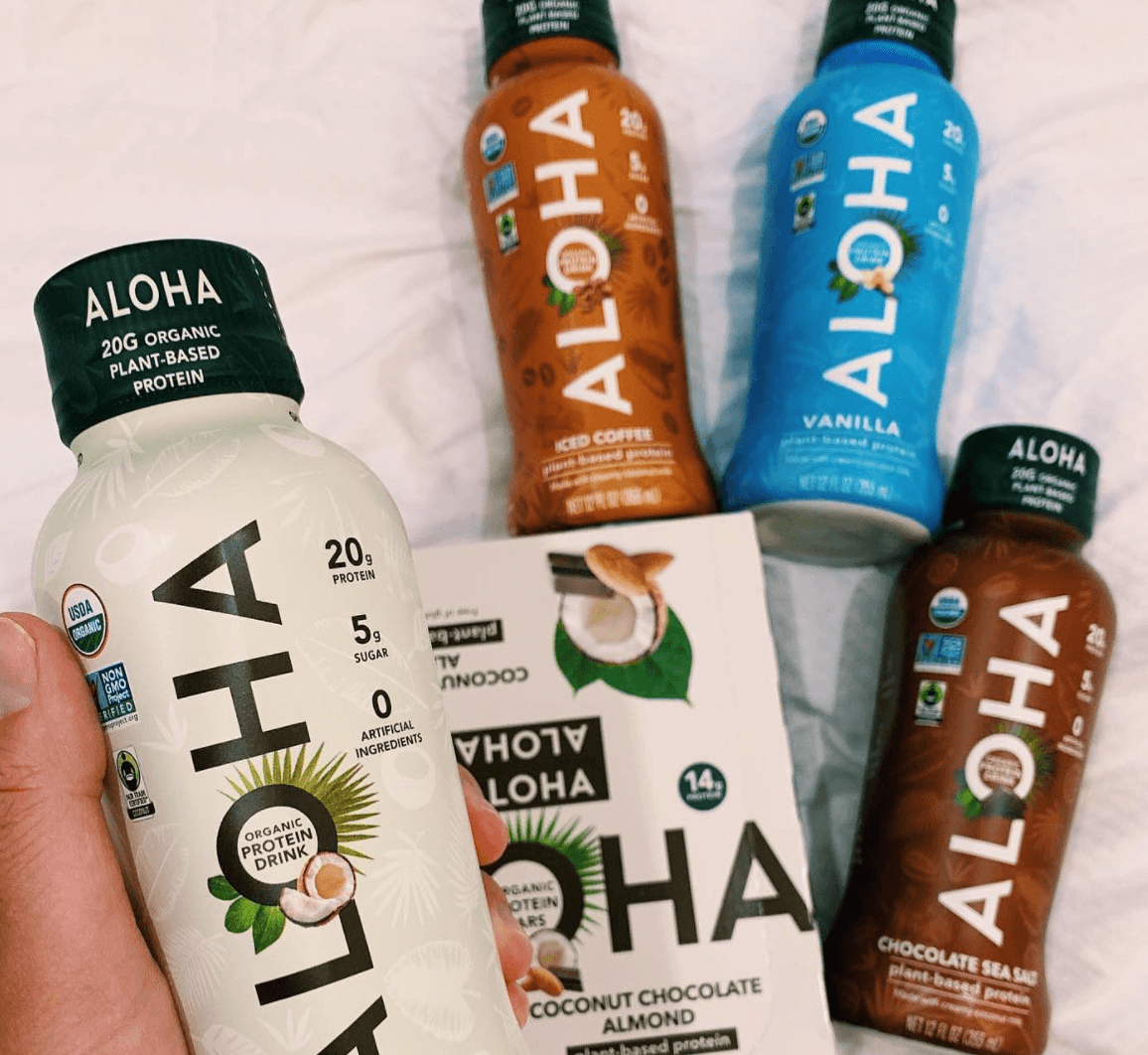 Shipping Policy
ALOHA has plans to expand and provide its products to international customers. At the moment, they are busy and working tirelessly to increase their capacity and share all their bars with the world.
With more orders, they will be able to expand their reach towards meeting the needs of all their clients.
Currently, ALOHA delivers throughout the United States, except Alaska. They also ship to areas in Hawaii. However, they only do this for bars and powders and a minimum order of $40.
Since summer 2020, you can expect ALOHA to deliver your order within two business days in the mentioned areas. If your order does not reach you or gets stolen, you can contact their customer support team.
Return Policy
Unfortunately, once they have shipped your order from their warehouse, Aloha cant make any adjustments on the purchase or give you a refund.
Therefore, if you accidentally place an order or want to make adjustments to your purchase, contact them before the shipping process begins. You can reach out to their support team for assistance.
ALOHA avoids reusing, reselling, or taking returns to maintain the products' integrity and ensure their customers' safety and health. If you purchase your protein bars through Amazon, Shoprite, or Kroger, you are still not eligible for returns, refunds, or exchanges.
However, if you have any questions or problems with your order, you can contact Aloha and provide your lot code, name, and order number.
Contact Aloha Bars
There are various ways to contact Aloha Bars. You can reach them through their email at [email protected], and they will respond to every email in less than 12 hours. You can also send them a message on their website.
Aloha Protein Bars Review: Editor's Verdict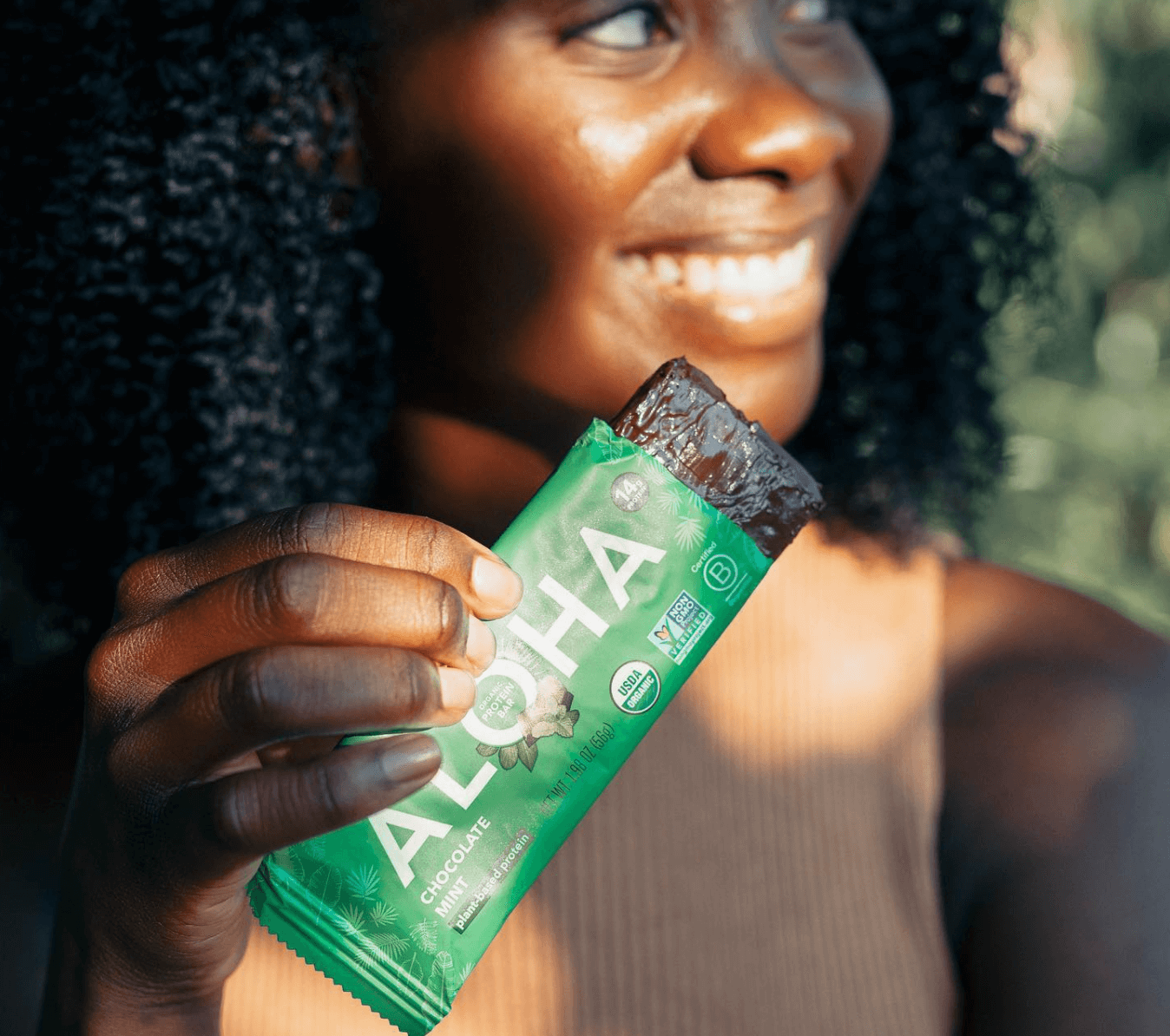 Customer remarks and market acceptance are the things that determine the value and quality of a product. Our Aloha Bars review found that most shoppers left positive feedback after purchasing their products.
According to their remarks, these bars are healthy and fulfilling. They also describe them as tasty, filling, and convenient.
Aside from the products, customers also commend the brand for its excellent customer service and timely delivery. They mention that Aloha's representatives are helpful, and they provide quality assistance to any customer with questions or concerns.
Their B Corp certification is a testament to the ALOHA's emphasis on standards and principles of social and environmental responsibility. They have also partnered with online e-commerce businesses. Therefore, you can receive their products from anywhere in the world.
Considering all these Aloha Protein Bars reviews, we can make a non-biased verdict that Aloha Bars are a good product and the best of their kind.
We, therefore, recommend them to anyone looking for a protein bar full of nutrition, with some good taste to them, and is healthy and filling. Try Aloha Bars today.
Looking for some tasty ready-to-go meal? Consider reading our popular brand reviews of Ka'chava, Orgain, Torpeaka, and Shakeology.
Aloha Bars FAQ
Are Aloha products certified Organic?
Yes. All ALOHA goods are USDA-certified organic.
Are ALOHA products Kosher?
Yes. The Orthodox Union has certified the ALOHA brand's foodstuffs and goods as Kosher.
Are ALOHA products safe for kids?
Yes. In addition, ALOHA products have all passed the crucial tests: the kids-taste approval and the parent-nutrition approval. As such, you can confidently have your kids snack on them.
Are ALOHA products safe to consume for pregnant or nursing mothers?
ALOHA's products are handmade with care and shelf-stable natural ingredients that are edible, safe, and healthy. However, you can consult a health professional if you feel concerned about ingesting such foods during or after your pregnancy.
What is the best way to mix the protein powder?
Try keeping it simple by shaking it together with plant-based milk or water. Blend it to make a power-up smoothie. You can also add it to your brownie mix. Remember, there are no set rules in mixing protein powder.
Where can I buy Aloha Protein Bars?
If you are wondering: Where can I buy Aloha Protein Bars? You can purchase Aloha Bars directly through their official site Aloha.com. Their protein bars are also available on Amazon, Shoprite, Walmart, and Kroger.
You can find Aloha Protein Bars near me by checking their Store Locator page.