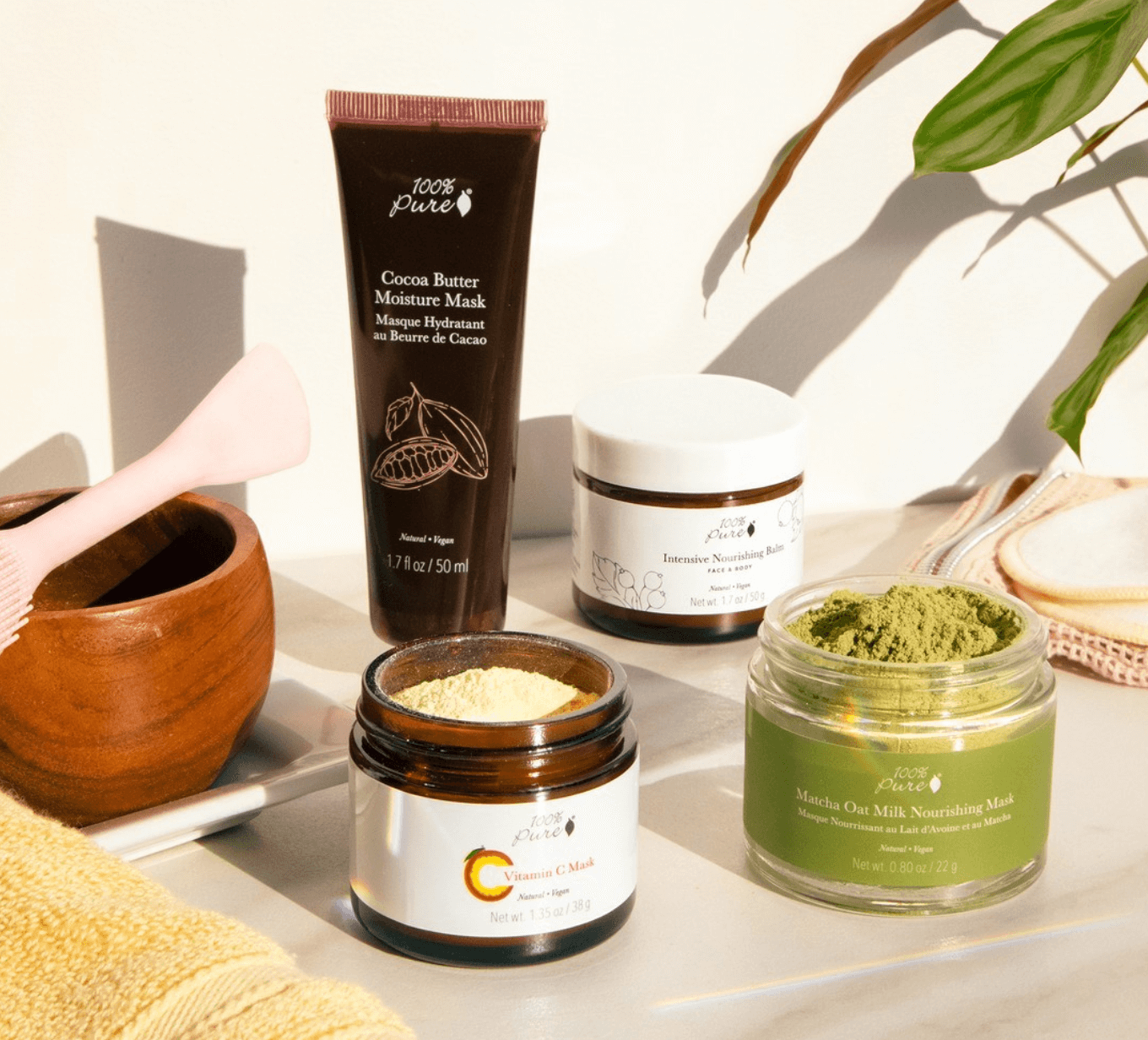 There are so many brands on the market today that are natural and good for your skin. Thankfully, companies are bringing us quality skin care while being eco-conscious, cruelty-free, and good for the planet. Now, we are in a difficult spot when we have to choose which brands to purchase from. If you wish to try out an all-natural brand, that offers easy-on-the-skin products and it's also affordable, then 100% Pure might be the one for you. In our 100% Pure Review, we'll have a look t the ingredients, what customers have to say about the brand and why it might work for your skin needs.
Sometimes reducing your skincare steps can help in the long run, especially if these products are environmentally friendly and do not include any harsh chemicals. Is 100% Pure cosmetics the one? Well, in our unbiased 100% Pure review we hope you'll figure out whether the brand is worth your money!
About 100% Pure
So what should we know about the company? Let's start with the founders. The three founders are Susie Wang, James Wang, and Ric Kostick. They all gathered together to bring you this cruelty-free brand that uses natural ingredients.
This is a brand that sticks to its promise of producing the purest, healthiest and nontoxic products, and it shows in the quality. They are, above all, environmentally friendly and cruelty-free, which means they never test any of their products on animals.
They go through a meticulous process to ensure that none of the ingredients they use come from animals. Avoiding widely used FD&C colors and heavy metal dyes, they acquire their pigments from fruits, tea, vegetables, and cacao.
Another important thing is that their formulas follow high purity guidelines and never include harsh or harmful components, so it is really a win-win for your skin and your aesthetics. 
Let's dive into the 100% pure brand review to give you honest insight on the brand.
Pros
These products are natural and environmentally friendly
They go through a meticulous process to ensure that none of the ingredients they use come from animals.
They avoid the FD&C coloring and harmful dyes, so your skin doesn't get damaged.
Their formulas follow high purity guidelines
They provide a complete ingredient glossary so that you can check it out before buying, which makes them pretty transparent, making them a good brand.

They have excellent customer service and their team is always there to help you out and honestly, this is something I haven't seen often.

They have a huge variety of products to choose from.

The prices are pretty affordable
Cons
It might get confusing to choose the right kind of product for you since there are too many. So, you should browse when you have some time to spare.

You might never want to stop.

Their products, since they are natural, don't sometimes last as long on your shelf (but that depends on the product you're using) as the products that are out there in the market (probably because of all the chemicals they have in them), but for the sake of your skin, it is worth it. You might not want to stalk them up.
100 Percent Pure Skincare Reviews
People are OBSESSED with their skincare products and it's time for some 100 percent pure skincare reviews. Maybe you will be obsessed too!
Coffee Bean Caffeine Eye Cream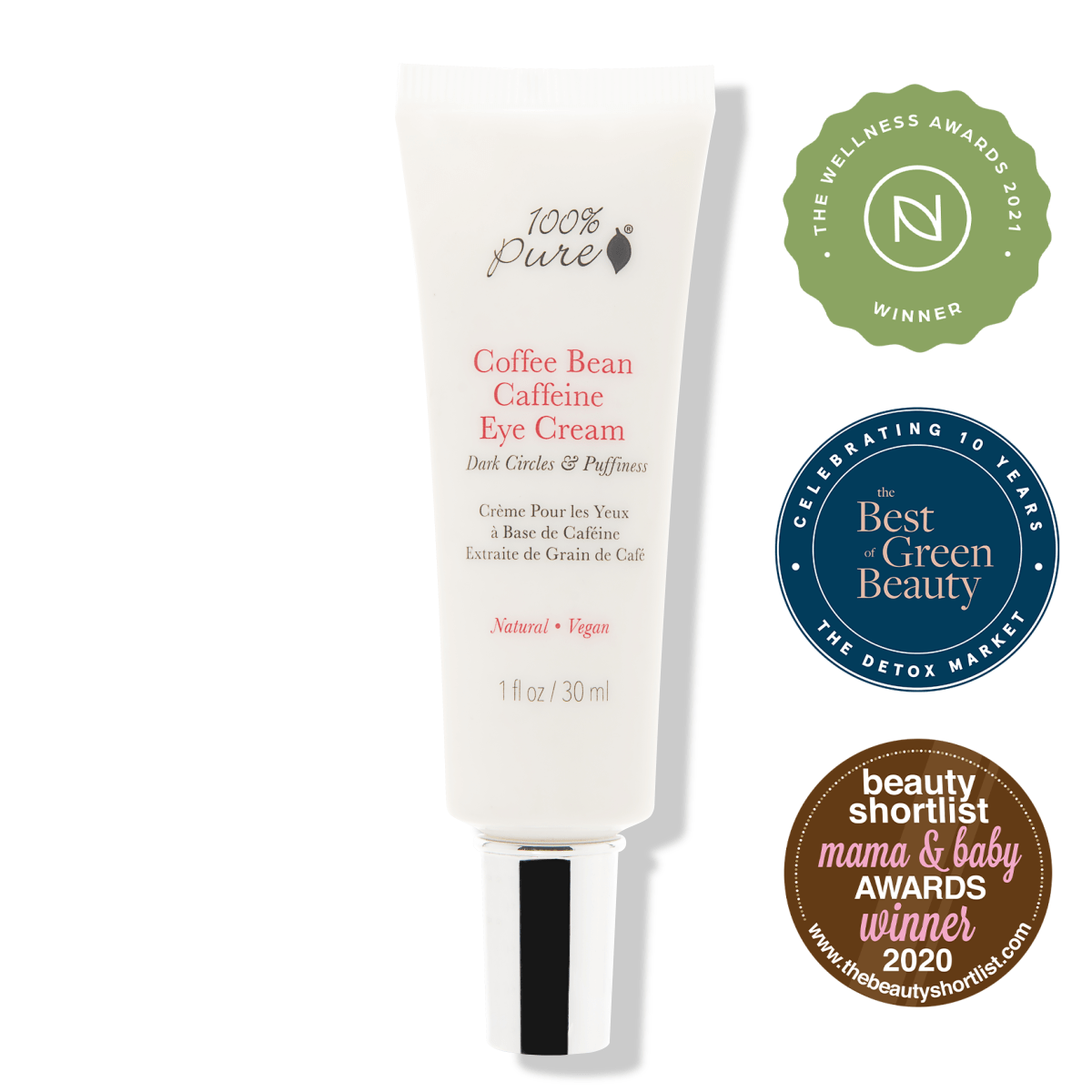 Many women, particularly those who are in their twenties, just apply their regular all-over face moisturizer to their eyes. Even more astonishing is the number of women who don't use any natural eye cream at all! Using an Eye Cream is super important if you are a student, a mom, or someone who doesn't get enough of the beauty sleep.
Get rid of all those dark circles with this amazing Coffee bean Caffeine Eye Cream. Here's why it is so special and why you should give it a shot. 
Why Do Customers Love It?
The caffeine from green tea and coffee helps de-puffs, increases blood circulation, and helps get rid of dark circles. It has anti-aging antioxidants and rosehip oil to help keep the eye area looking young.
The customers absolutely loved the smell. It feels great and invigorating and would make you look less weary by reducing the dark circles under your eyes. The best thing about it was that it's non-greasy and comes on smoothly and quickly. This is a must-have on your dressing table.
Here's What The Customers Have to Say
The customers are super satisfied with this product and here is what they have to say about it. One happy customer Karen said, " Was never a fan of eye creams until I stumbled across this one year ago — didn't really need it at the time, but definitely noticed an improvement in the puffiness after just a single use.
Very happy that the product performs JUST as well now (if not better) as it did then! Also, love the brightening effect and the subtle coffee bean scent."
Shearin was a first-timer too and she loved it saying, "This is the first eye cream I am using in a while. I love the smell and it helps moisturize my eyes. No issues with breaking out and feels nice and refreshing. Definitely recommend it!" 
Chauni loved the fact that this eye cream works as an antioxidant. She said, "I love putting on this eye cream in the morning. The smell is amazing. I also love that since it has green tea & caffeine, and that it's an antioxidant. Which is really good to help with UV and pollution. Anything to protect my skin is a win!!!"
100% Pure Makeup Reviews
Here are some of the makeup products that everybody fell in love with. Let's look into the 100 pure makeup reviews. 
Fruit Pigmented Berry Naked Palette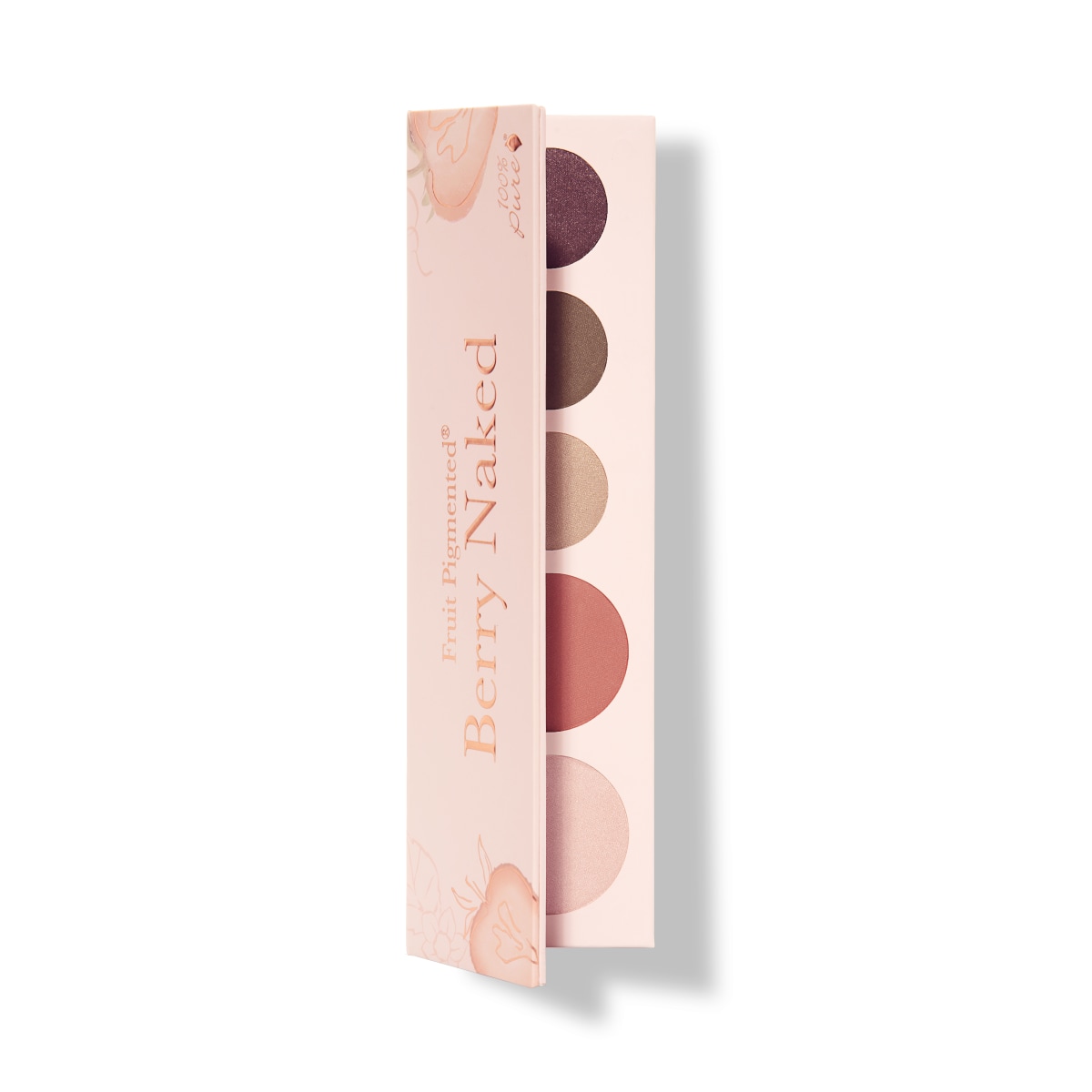 A makeup palette is a must but how about if you get at least three products in one palette without losing the quality? Then the Fruit Pigmented Berry Naked Palette is just the right product for you because this set has stunning eyeshadows, blush, and highlighter all in one set makeup palette. The best thing about it is it is suitable for all skin types.
It is organic and would not be harsh on your skin nor would it damage your skin. Here's why the customers loved this product so much. 
Why Do Customers Love It?
This is yet another one of the most popular products. There is stunning blush, neutral, and really cool metallic tones in this beautiful palette. Colored with vegetable and real fruit pigmentation, this set includes a highlighter, eyeshadows, and blush.
The best thing about it is that it has an ultra-smooth application and does not get flaky at all. However you might want to grab this one quickly, it does run out of stock every now and then but they are quick to restock it though. 
Here's What The Customers Have to Say
One of the customers, Jen, loved the colors. She said, "I bought this palette for my mom for Christmas and she loves it. All of the colors are so pretty and go on nicely. It was back-ordered for a while so I was so happy to see it back in stock. Got it for a great price too! So happy!"
Tanya said that it was totally worth the wait. She went on saying, "The Berry Naked Palette was back-ordered and I waited for a few months until it came in stock.  It was definitely worth the wait.  The colors are gorgeous and were accurately represented from the pics online. 
I use the blush and highlighter on my cheeks and eyes and they provide additional fun colors to play with.  Overall the colors are gorgeous and really complement my olive skin. They don't seem to last as long as conventional eye shadow, but not an issue for me given the toxin-free ingredients."
Mlle used it as a day-to-day palette and loved the results. She said, "This is my go-to palette for everyday use. My skin tone is warm, but these cool-toned shades actually compliment me better than the warm-toned palettes. This might be a universal palette. I like the ease of application of every color. Heck, I don't even use a brush.
My fingertip is all that's needed to blend the colors effortlessly. For a night out, I apply the darkest color more liberally. What a well-rounded palette."
100% Pure Hair & Body Review
Their all-natural and organic body and hair products are heavenly. Here is a 100 pure brand review of some of the hair and body products they offer.
Seaweed Detox Bath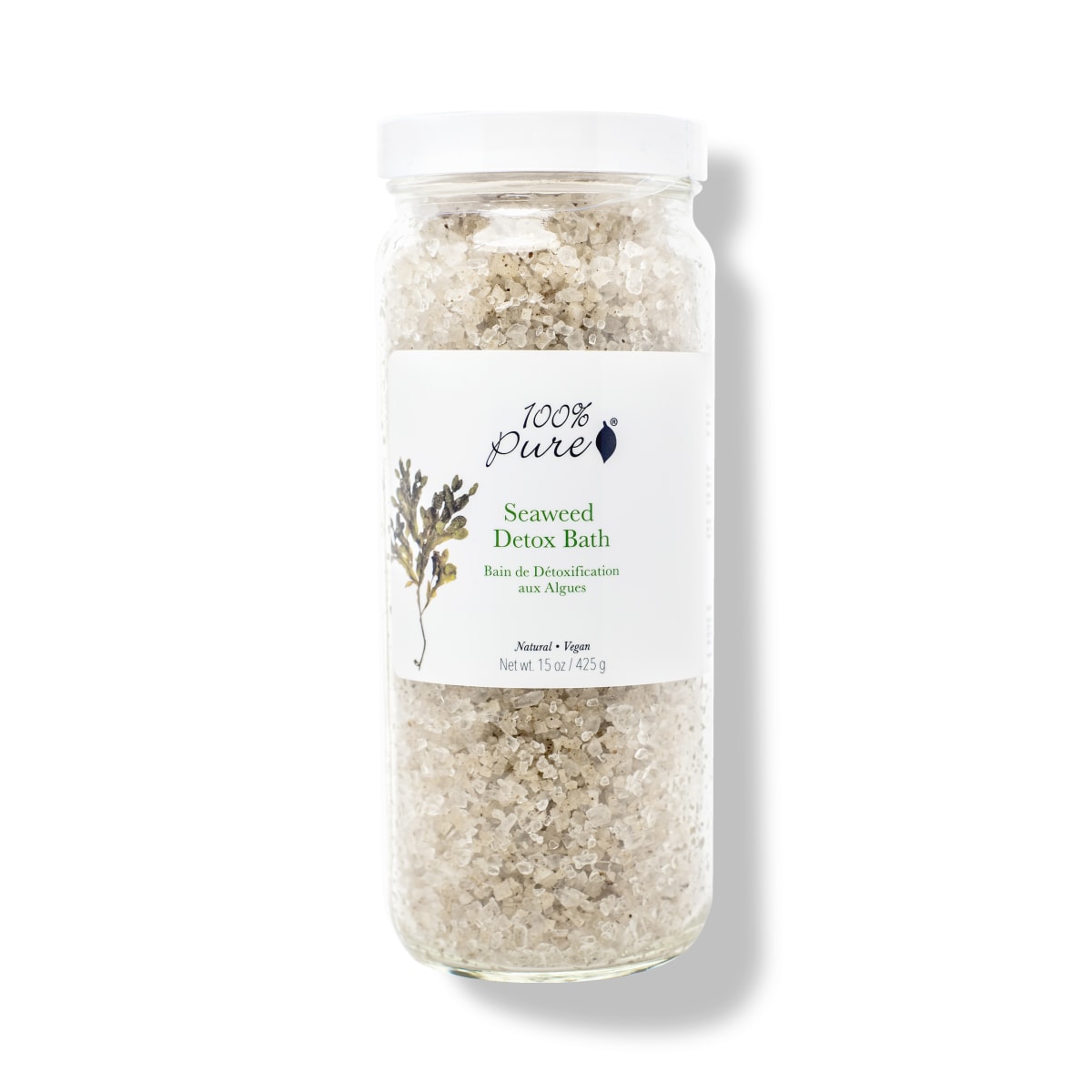 Taking a seaweed bath can not only be relaxing but also has a lot of benefits as well. Natural anti-aging properties in seaweed promote skin elasticity and suppleness. It not only cleanses and detoxifies but also smoothens and tones the skin whilst replacing essential oils that have been stripped away by everyday routine.
Premature wrinkles, as well as the expansion of lines and wrinkles, are caused by dry and damaged skin which Seaweed Detox Bath reduces. Here's why the customers love this product. 
Why Do Customers Love It?
This artisanally produced bath salt mix has been developed to cleanse and stimulate circulation. Heavy metals, lymphatic drainage, and toxins are drawn out since this product is made of seaweed, ginger root, and dandelion. Tea tree, eucalyptus, and rosemary infusions help to improve circulation while also delivering relaxing aromatherapeutic advantages.
The bath soak replenishes nutrients, minerals, amino acids, and antioxidants, with dozens of medicinal trace elements straight from the sea. It is perfect to draw that long hot water bath and allow it to wash away your everyday stress.
Here's What The Customers Have to Say

 
Laurie said that it was a fantastic experience for her. She further said, "FANTASTIC product.  I never would think I could feel it working.  But as the aroma hits you, you begin to feel joy. Then and you soak the water feels as if it's opening pores. Afterward, there was a grayish color to the water. Yet my husband was brown! He too loved it."
Jill found it very relaxing. She said, "Helps my body to feel relaxed. The cool feeling freaked me out the first time (it feels like you're using icy hot), but the other reviews gave me assurance and I've used 2 jars of this without a problem."
100% Pure Home Review
One thing that the customers absolutely love about this brand is that they have some really cool home products too! This one was loved by most. 
Tranquility Essential Oil Reed Diffuser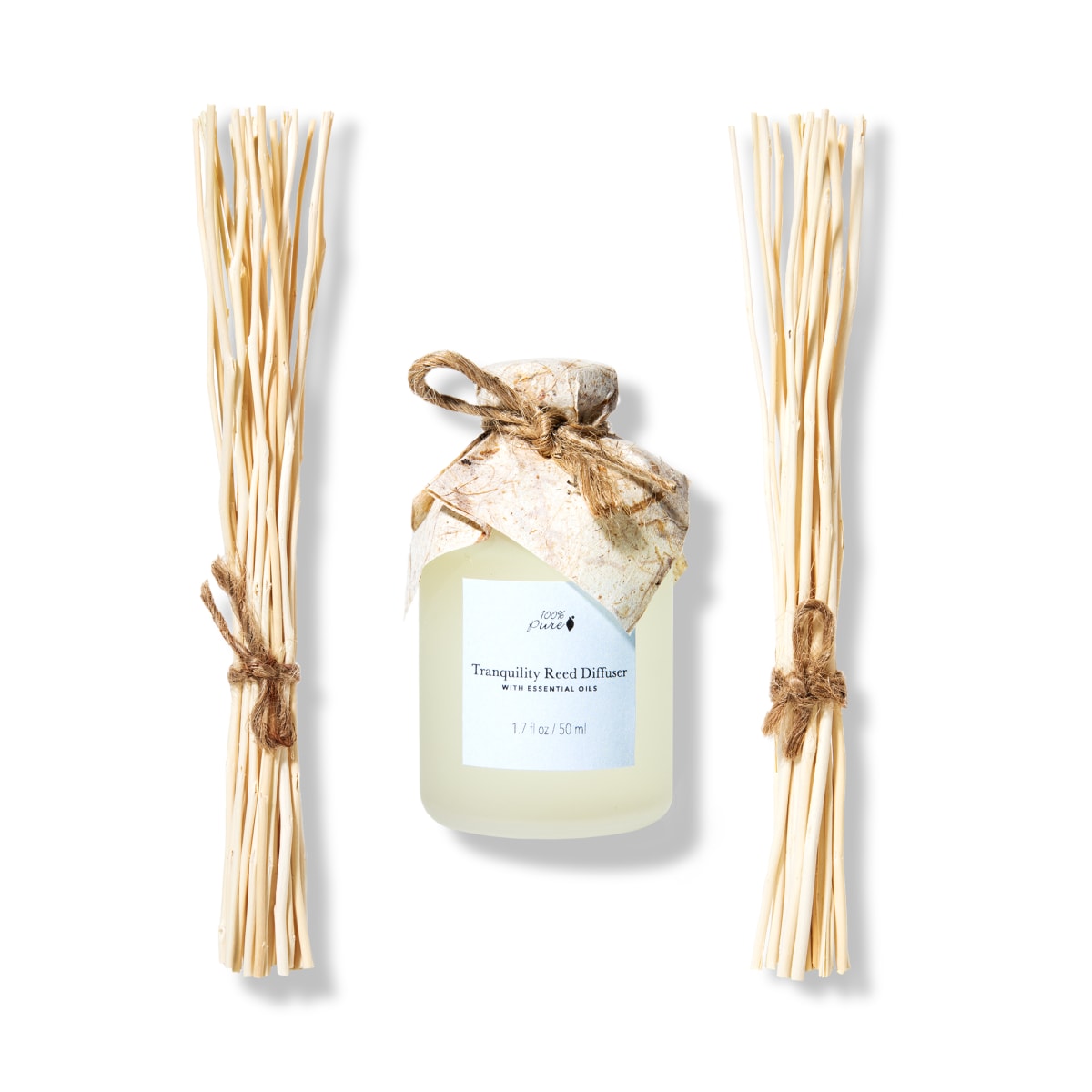 Home is a sacred space and who doesn't want to feel all tranquil and at peace within their homes? De-stress yourself with this amazing product that will bring nothing but calm. 
Why Do Customers Love It
With lavender, mint, and eucalyptus essential oils, this eco-friendly product creates a relaxing atmosphere. Dried stems of Arrowleaf sida are used to make the biodegradable diffusing sticks, which are housed in a frosted, recycled glass jar.
This natural oil diffuser lasts up to three months for you to enjoy a pleasant aroma. With the purest essential oils, this non-toxic mist encourages tranquility and relaxation.
Here's What The Customers Have to Say

 
Ken said that the little jar was so powerful and went on saying, "I am totally impressed with the potency of this product when it is so small but fills the room with an excellent aroma." 
While Stephanie said that it has a "great scent".
100% Pure Gift Sets Review
Looking for gift sets? We got you covered! Read on to find a perfect gift for your loved ones. 
Perfectly Polished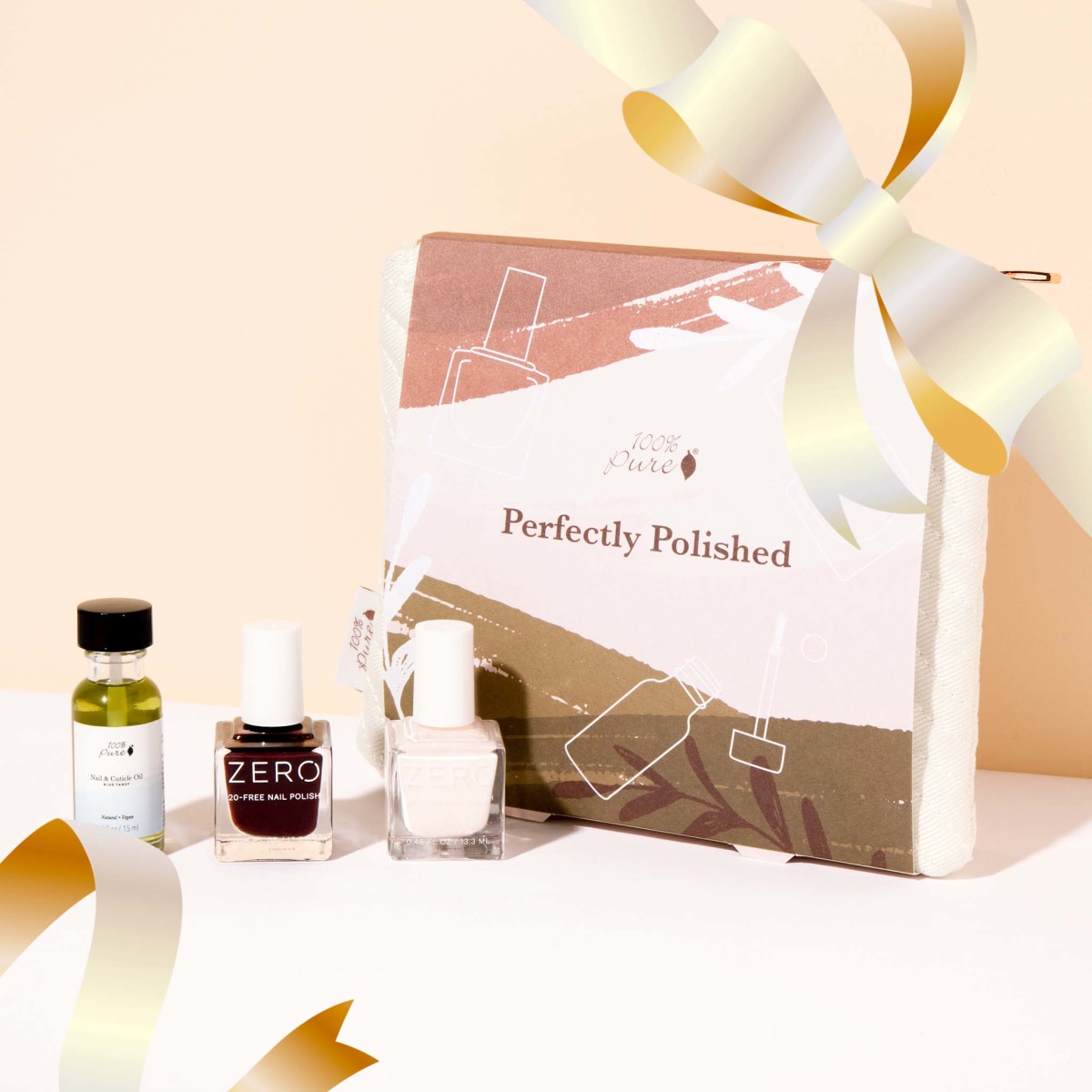 Who doesn't love a spa day at home? This product is perfect to gift a loved one or even get for yourself. You have to treat yourself every now and then and especially if you are someone who rarely ever gets time to go out to the salon and get that very well-deserved mani and pedicures.
Why Do Customers Love It
With gorgeous colors of nail paint, you can find the right manicure or pedicure at home. For a complete salon experience, a soothing Nail & Cuticle Oil are also included in this set.
It not only looks amazing but will also hydrate your nails and even help them grow because this product is all organic and therefore not harsh on your nails. 
Here's What The Customers Have to Say 
PeiJung said, "The oil seemed to make my nails stronger. The colors are fantastic! Elderberry layered with other colors can change so much. Very versatile and fun to play with!" While PY said that it was so much better than she expected and "I love both colors, especially elderberry.
It is such a beautiful, unique, rich color. I have your nail polishes in other colors as well, but elderberry is probably my new favorite. Also, the nail and cuticle oil is a must-have. It is so nourishing and smoothing." 
100 Percent Pure Reviews from Customers

 
You can look up the customers' 100 Percent Pure reviews before buying the products. They are very transparent about it which is always a plus. This is what our customers have to say.
Ken said that the Tranquility Essential Oil Reed Diffuser was so powerful and that impressed her. She was quite satisfied with the product and loved that the product was so eco-friendly. She loved the fact that it is so small but filled the room with an excellent aroma. The lavender, mint, and eucalyptus essential oils in this product helped promote a calm atmosphere and relieve her stress.
Lavender has been shown to reduce pain, and aromatherapists believe it possesses analgesic and anti-inflammatory properties. Mint essential oil is used in aromatherapy to alleviate cold symptoms including cough, as well as to relieve pain, improve brain performance, and reduce stress which made this product so brilliant for Ken. Looking for some aromatherapy? This is your go-to product.
Tanya said that it was totally worth the wait. The Berry Naked Palette is one of the very popular products and was back-ordered and she had waited for a few months until it came in stock but was definitely worth the wait. She found the colors to be gorgeous and the fact that they were accurately represented from the pics online.
Further customer reviews
Tanya used the blush and highlighter on her cheeks and eyes and they provide additional fun colors to play with. She went on to say that overall the colors were gorgeous and really complement her olive skin. However, they didn't seem to last as long as conventional eye shadow, but it wasn't an issue for her given the toxin-free ingredients.
Jill found the Seaweed Detox Bath very relaxing. She said a long, nice bath helped her relax. The cool feeling freaked her out a bit. It was because of the ingredients like tea tree and eucalyptus essential oils.
The cooling effect of these ingredients aids in the relief of muscle fatigue as well as the promotion of overall health by diminishing or eradicating harmful bacteria & illnesses when they come into touch with them.
It is used to relieve burns, acne, rashes, dandruff, and other allergic responses on the skin, which makes this product perfect if you are looking to wind down after a long day at work. Jill is currently on jar number 3 and she is in love with this product.
Perfectly Polished
About Perfectly Polished our customer PY said that she absolutely fell in love with the colors and that it was so much better than what she's expected. She loved both colors and found them to be beautiful, unique, and rich. While she has tried our other nail polishes in various colors but she liked this one (elderberry) the best and it quickly became her new favorite.
She also found the nail and cuticle oil very nourishing and soothing and called it a "must-have." It stimulated nail growth by increasing circulation all-around nails. This products aids to protect the cuticle & nails from trauma. The cuticle oil can also assist to improve the nail's health and growth.
If you paint your nails, cuticle oil can help keep your manicure looking shiny for longer which of one of the reasons why this customer cherishes this product so much.
Sign Up for 100% Pure
It's very easy to sign up on 100% Pure website. By signing up you get points, vouchers, shipping discounts, and more! 
Where Can You Buy 100 Pure Cosmetics?
If you are wondering where can you buy 100 Pure Cosmetics, look no further! You can buy them at over 14 store locations including Fashion Square, Santana Row, Berkeley Elmwood Shopping District, Westfield Galleria at Roseville, Woodfield Mall, Vancouver Mall, Denver International Airport Concourse A, and more!
100% Pure Shipping and Return Policy
Let's check their shipping policy. If you are within the USA then every order above $50 is free of charge. Their shipping time is usually 1-3 business days, that's only for processing. Free shipping means that the total delivery time can be anywhere between 5 to 10 days.
If you do not want to wait that long, there are 3 more options. These are the ones in case your order is over $50:
Upgraded Ground takes 4-7 days and costs $4.00
2-day delivery is $18.99 regardless of the order amount and it takes 3 business days
Overnight is $29.99 and takes one business day. This one does not include the taxes.
Unless you are eager to get your product overnight, it's probably worth waiting a bit more and getting free shipping or paying $4 and getting it a bit sooner.
In Canada, you have to order for a minimum of $99 before getting free delivery and that will take 4-7 business days. This applies to the UK and EU too. One thing to note is that 20% duties and tariffs are not included in the product pricing. In this case, it is better to order it from one of their EU sites.
If you aren't satisfied with this product you bought, they offer a refund or exchange on gently used items within 60 days (minus shipping cost). Returns are eligible for store credit after two months (60 days).
100% Pure Promotions & Discounts
They offer a 10% student discount. To validate your student status, simply press the "Connect with Student Beans ID" option, complete on-screen instructions, and get a one-time-use discount code. 
Contact 100% Pure
If you ever need to contact them, it's quite easy. A customer service person will help you, all you have to do is contact them at [email protected].
Or you can visit their FAQs page for more details. 
100% Pure Review: Editors' Verdict
Are you still curious about our final verdict after reading the 100% Pure reviews? Well, overall the brand seems to be doing a really great job. Their mind is in the right place, using carefully sourced ingredients, not testing on animals, and even taking care of the packaging.
These beauty products have definitely been working well for a high number of customers. As with any brand, there are skin types that will not like the natural ingredients since they can be more potent. If that is the case, you can just return the product.
We'll leave you to try out 100% Pure cosmetics products and see for yourself whether it's worth the hype or not!
If you are still searching for organic and non-toxic skincare cosmetics, check out our brand reviews of Thrive Market, AILLEA, Evolve Beauty, and Kopari Beauty.
100% Pure Cosmetics FAQ
Is 100 Pure Cosmetics Safe?
100% PURE products are safe and organic since they include no synthetic chemicals, sulfates, parabens, artificial colors or perfumes, harsh chemicals, or phthalates.
Are 100% Pure Products Gluten-Gree? If So, Where Does The Vitamin E Come From?
The majority of their items are gluten-free. They are sensitive to this because they are aware that several people are allergic to gluten. Vit. E is a frequent gluten-containing substance.
However, since the Vitamin E that they use in their products is made from cold-pressed rice bran, so it's gluten-free
100% PURE® products are based around antioxidants. Why are antioxidants so important?
We have seen the term antioxidants used in skincare many times. Their role is to prevent and stop cellular damage caused by oxidants. Thanks to today's world, our bodies are exposed to a high number of free radicals, therefore antioxidants are important for the wellbeing of our skin.
Is 100% PURE® Good for Sensitive Skin?
Yes, these products also work well on sensitive skin as they do not contain chemical preservatives, artificial fragrances that usually irritate the skin or even harsh detergents.
Are 100% PURE® products safe for kids?
100% PURE® products are non-toxic, free of parabens, sulfates, phthalates, and other harsh ingredients, making them suitable for kids to use. Parents' supervision is still recommended.