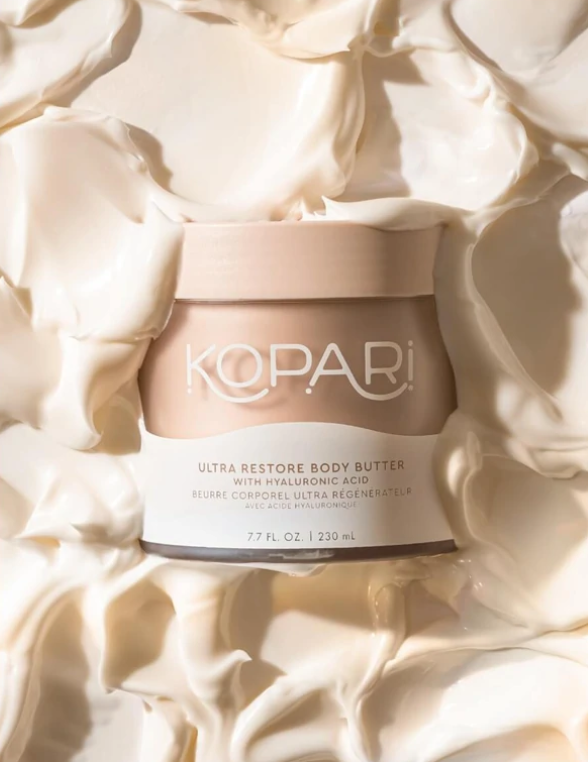 If there's one thing we're entering 2022 with, it's fresh and healthy skin. Gone are the days of home remedies with the tendency to go wrong or downing our body weight in water in a bid to renew our skin. Now we go for products that have been tried and tested and are designed specifically for our individual skin types. Say hello to Kopari beauty! An all-natural beauty company that curates both skincare products and light and natural makeup to make you glow from the outside while helping you protect what's on the inside! Skeptical about what you want to put on your skin? We're with you, which is why Kopari reviews are exactly what you need to put your mind at ease!
About Kopari Beauty
The brainchild of Kiana Cabell and Gigi Goldman, Kopari Beauty has been a frontrunner ever since its launch in 2015. Based on the ideology of cleanliness through purity, every Kopari Beauty product – whether it's for your skin or hair – starts with the purest coconut oil extracted from small family-run farms in the Philippines.
Kopari Beauty believes in the power of pure, organic coconut, which is why their entire company is founded on this single ingredient. It's used as a base in all of their products, and since they're so concerned about the quality of what they give to their consumers, their entire production process – including sourcing and distributing – is based on sustainable methods.
And that's not all, they're also cruelty-free and vegan, making sure to minimize negative external impacts through their company's existence because Kopari Beauty is obsessed with natural and healthy living for all! In fact, they swear on it – pinky swear. Curious to know more? Carry on reading our Kopari reviews!
Pros
Kopari Beauty products are sulfate-free, phthalate-free, and paraben-free
100% vegan
Kopari Beauty is cruelty-free
Their production process is based on sustainable methods
Kopari Beauty uses only the purest ingredients to ensure authenticity in their products
Wide range of products, including skincare, haircare, and personal care
They buy organic coconut oil from family-based farms in the Philippines - small scale businesses are supported and more families eat well
All of Kopari Beauty's products are produced in stainless steel production units to ensure that their chemical makeup remains intact
Cons
There have been some reports of their deodorant resulting in a skin rash
Kopari Beauty's products have failed to work for some customers, having not solved their skin or hair issues
Kopari Cosmetics Review
Let's face it, cosmetics and skincare are girls' best friends. After all, we're over hot girl summer, now it's all about feel-good summer. And what are the two most important things about feeling good about yourself?
Some glitz to make your face shine on a day out, and a relaxing skincare routine to prep you for the day ahead in the morning and wash away the day's stress at the night. Well, Kopari Beauty's got it all with their range of cosmetics and skin and hair care lines! If you already love coconut oil and you have been using organic coconut for your hair and skin, you'll definitely love their products!
Kopari Deodorant Review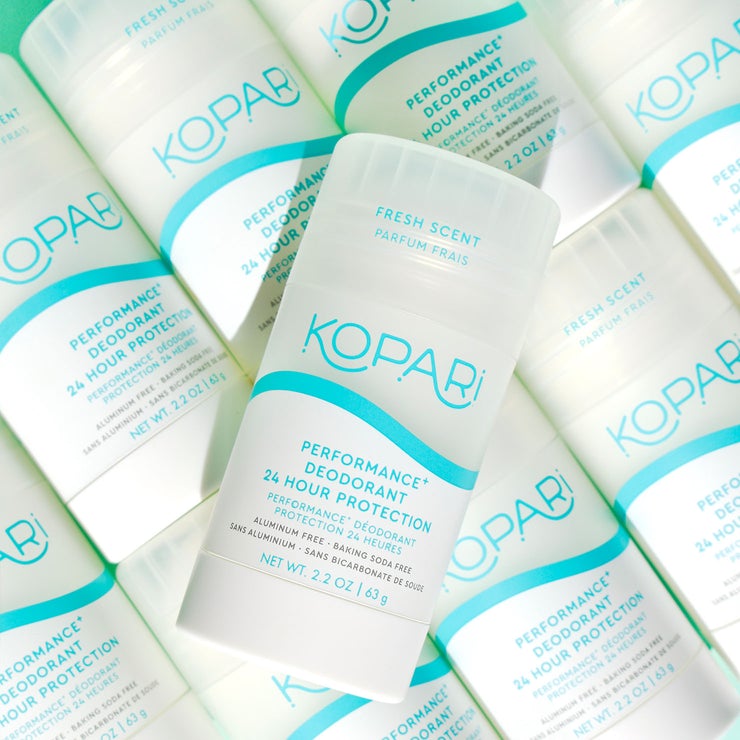 If there's one thing you can count on, it's Kopari deodorant reviews. They always tell you just as it is because let's face it, no one wants to give a false deodorant review, it's basic hygiene!
Packing a small line of ten products – bundles included – Kopari Beauty deodorants are designed with one motive in mind: giving the user long-lasting hygiene and comfort while keeping ingredients 100% natural. Yes, this is an all-natural deodorant! Kopari Beauty offers aluminum-free and baking soda-free deodorants to protect skin while giving it the pamper and comfort that it is worthy of.
Kopari Beauty currently has five deodorant varieties in town, namely, Original, Driftwood Charcoal, Beach, Gardenia, and Tropical, each carefully crafted with the freshest and most natural of ingredients, all while packing in a scent that will leave you feeling heavenly.
And the best part? All Kopari Beauty deodorants include sage oil which has naturally soothing properties, making them a great pick for irritated or sensitive skin. Sage oil, coconut oil, and shea butter are all amazing ingredients. We love to see them used in Kopari products! So, if you want to give your skin a treat, then Kopari Beauty is the way to go.
Hydrating Kopari Body Wash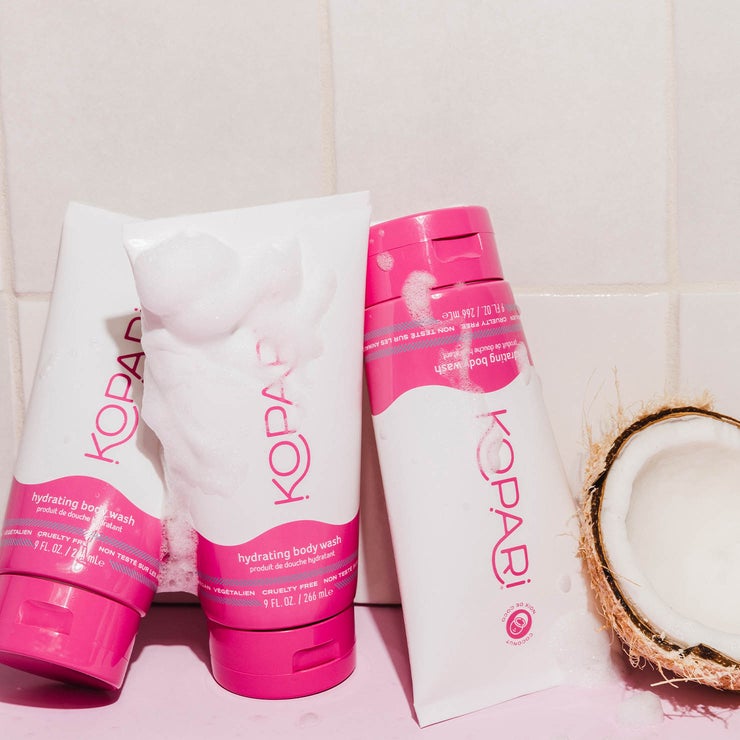 Just like the natural deodorant, Kopari body wash is nothing less than a treat for your skin! Everyone knows that a hot shower with your favorite sudsy body wash is what any girl needs after a long tiring day, and Kopari body washes are a tier above the rest.
Not only are they packaged in oh so pretty pink and white tubes, but their squeezy mechanism also makes them great to use in the shower or bath.
Currently available in two types – the hydrating gel body wash with aloe vera and sea kelp, and the coconut latte energizing body wash with caffeine and macadamia seed oil – both have a price of  $18 a bottle for a one-time purchase. Customers can also get a 10% discount by subscribing to Kopari Beauty, or save $3 if they buy two bottles of body wash in the same order.
With both varieties smelling oh so good, it's really a matter of personal preference! While the aloe vera and sea kelp variety soothe skin, the coconut latte energizes with its kick of caffeine, but what both do is leave you feeling spotless and squeaky clean after a vegan, cruelty-free, toxin-free wash.
100% Organic Kopari Coconut Melt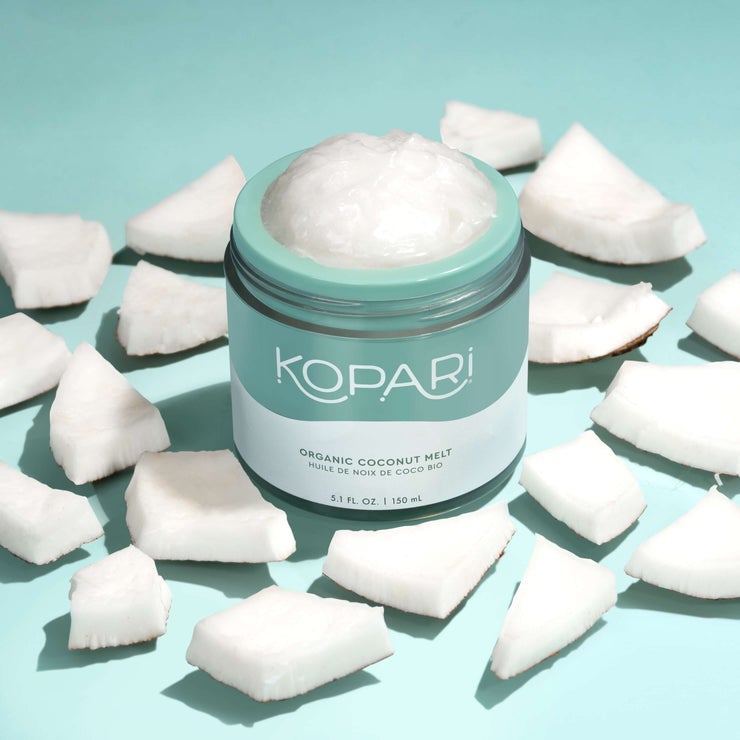 If you thought that you had seen the best of Kopari Beauty then hold onto your horses, the Kopari Coconut Melt is about to blow you out of town! Kopari Beauty's coconut melt is nothing short of a superfood for your skin – in fact, Kopari says so themselves!
What is the Coconut Melt, you ask? Well, it's straight-up organic, unrefined, and pure coconut oil, from the shell. And it comes in recyclable packaging.
And the Coconut Melt (or oil) is unrefined, which means it's brimming with fatty acids, proteins, and vitamin E that fully nourishes and replenishes your skin like nothing else! In fact, Kopari's Coconut Melt is a great treatment for dry, cracked, bumpy, dull, and rough skin, giving it the makeover that it truly needs!
And the best part? You can use the Kopari Beauty Coconut Melt on any part of your body as it's a multi purpose product. It's 100% safe! For best results, Kopari recommends using the product directly after showering, and then once again before going to bed at night.
Moisturizing Kopari Lip Gloss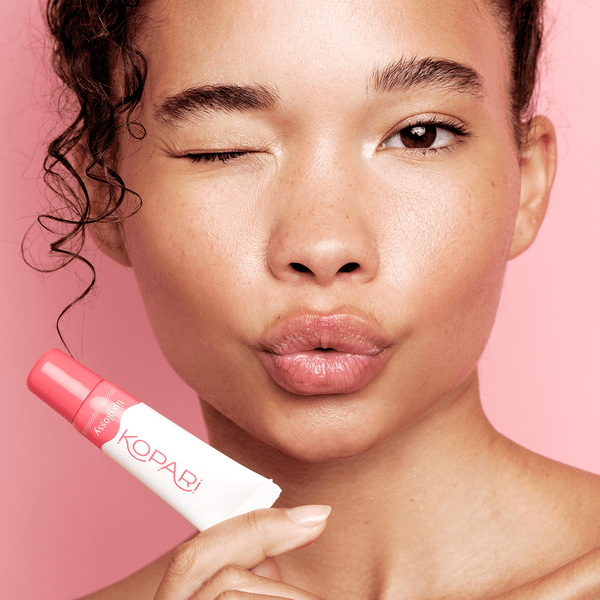 Taking care of your pout is a top-tier priority, and Kopari agrees, which is why they've crafted their Moisturizing Kopari Lip Gloss, designed to keep your lips feeling blissful!
Available in three shades and priced at a mere $13 per tube, Kopari's lip gloss seems like one of the best investments you can make towards self-care this year.
It's made with real shea butter and coconut oil, which means that it will leave your lips feeling utterly hydrated and smooth for hours on end, all without leaving that gooey glossy after trace that is a trademark of lip glosses everywhere. So, it really combines comfort and health in one.
And the best part is that the Moisturizing Kopari Lip Gloss fits into your look no matter what it is. Since it's available in three shades – Clear, Birthday Suit, and Watermelon – customers can use it on different occasions, but be sure to grab extras of your favorite ones!
Oh, and don't even worry about eating with this one. Thanks to its non-sticky formula, you will be eating and drinking comfortably.
Starry De-Puff Kopari Eye Balm Review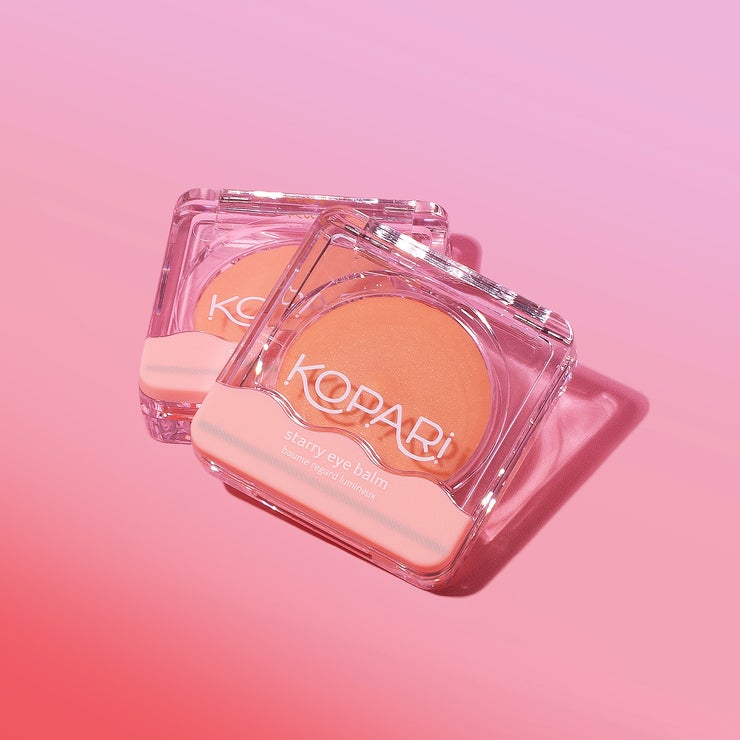 Are you worried about the dark circles beneath your eyes? Are you tired of always looking tired? Well, this Kopari eye balm review is just what you needed to come across.
Kopari's Starry De-Puff Eye Balm with Hyaluronic Acid and Caffeine is the perfect solution for tired and dull-looking eyes.
Its natural ingredients swiftly work against fine lines, puffiness, wrinkles, and dark circles without clogging up the under-eye area with heavy formula. And what's more, is that you can even use it as a light and smooth primer before putting on your makeup for the day!
Not only will it help your makeup sit well, but it'll also protect your delicate eye area from harmful chemicals.
Kopari Reviews from Customers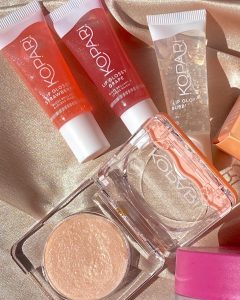 So, you're about to put something on your face, what's the first thing you do? Sure, you've read the ingredients and checked the company's production methods, but if there's one thing you can do to inch that much closer to a pleasant experience it's to read up on reviews by existing and past customers. And these Kopari reviews will make you feel more joyful than ever!
Customers seem to love Kopari, and even that doesn't seem like enough. With an average rating of 4.5 stars out of a possible five, it's clear that Kopari Beauty is winning over the market.
One thing that Kopari customers seem to love is its versatility. 'I love how I can get Kopari products for my body, face, and hair. It makes shopping so much easier!' said one customer who was a fan of the Kopari Coconut Melt and De-Puff Eyebalm. So, Kopari was winning full points for convenience.
Another thing that customers seemed to love is Kopari Beauty's quality! 'I've never seen such fast and long-lasting effects from any skincare product before. Kopari's been a life-saver for me' says a customer who got rid of all her dryness problems after meeting Kopari. So, customers are loving Kopari's all-natural ingredients and the wonders that they're doing for their skin.
Customers are also fans of Kopari Beauty's packaging, particularly loving its skincare bundles and sets. 'My Kopari skincare bundle is perfect for traveling, it fits right in my hand-carry and I don't have to miss out on my routine when traveling. It's been a game-changer!' Kopari's a travel companion for sure!
Further customer reviews
And of course, customers seemed to be in awe of Kopari Beauty's customer service. 'I was confused about which product is best for my skin, and Kopari's customer care team helped me soo much!' said a customer who ended up purchasing – and loving – the Coconut Melt.
And while the reviews for Kopari Beauty are raving, there were some customers that didn't love love love the brand. Of these, one of the major complaints that they had was related to product packaging. 'My Coconut Melt spills so easily, it should really be in a squeeze bottle and NOT a jar' while another customer said that her deodorant arrived leaking.
And one customer that had rated the brand poorly did so over their quantities! 'The bottles were so tiny, I was really expecting bigger quantities.' So, seems like Kopari isn't everyone's cup of tea, but the scale definitely weighs heavier on the positive.
Sign Up for Kopari
The complete way to become a Kopari girl is by signing up! And since Kopari loves its customers so much, they've made the registration process super simple.
All you have to do is head over to their website and find yourself on the signup page. Once there. Simply enter in your name, email ID, password, and birthday and you're officially a Kopari member. Welcome to the family!
Where Can I Buy Kopari
Previously, Kopari did not ship internationally. Although there are still a few countries where Kopari doesn't ship, you can get them at your local retailer. So, you can purchase Kopari beauty on the website within the United States and Canada.
Kopari also has a separate website for UK customers, including Wales.
And of course, Kopari products are stocked in larger retail outlets, such as in Anthropologie in New York City.
Kopari Shipping and Return Policy
Dealing with Kopari shipping and returns is the easiest if you're placed in the US, as shipping costs a standard $5 and takes between three to eight days. As for customers in Canada, the exact shipping fee varies according to the weight and value of your package, but fees fall in the $15 to $80 range.
As already stated, Kopari does ship internationally. Search their UK website in case you are within the UK and check out their website if it ships to other countries. In case you're getting the products from a retailer, you'll have to contact them for returns and not Kopari. The brand does not facilitate any damaged or misplaced goods.
As for returns, Kopari entertains returns within a 60-day window from the date of purchase, and even refunds the entire amount – with return shipping! For unsatisfied customers given that they adhere to the 60-day window and products are returned in either new or gently used condition.
Kopari Beauty Promotions & Discounts
Kopari offers a 10% discount to customers when they subscribe to the brand – they just love you that much – and it also offers dollars off when customers buy products in larger quantities. As for discounts and promo codes, Kopari partakes in sales throughout the calendar year, all customers have to do is keep their eyes peeled and sign up so they get all exclusive sale information right in their inboxes!
Contact Kopari
If you've got any queries, Kopari's customer care team is always there to help! You can either leave them a message on their website or email them at [email protected] and you'll soon get a response.
Kopari Reviews: Editors' Verdict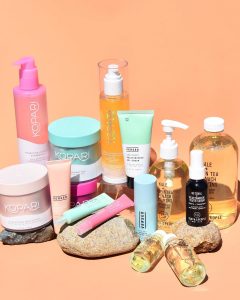 So, did we convince you with our Kopari reviews? Are you any closer to trying out their products? Our final verdict is that they are worth the purchase. If you are struggling with sensitive skin, or dry skin or you just wish to invest in a natural skincare brand, Kopari is the one to go for.
At the same time, in case you have been a fan of coconut oil for a while, then what's a better way to indulge in this love than to try Kopari's products? We will leave you to decide for yourself if Kopari is the right brand for your personal needs.
Still on the hunk for all-natural beauty products for your skin and body? Read our brand reviews of Coco & Eve Review, KORA Organics Review, Evolve Beauty Review, and Fig+Yarrow Review.
Kopari FAQ
How to use Kopari coconut melt on hair?
You can use your Kopari Coconut Melt as a hair conditioning mask! Simply apply it on dry, unwashed hair and leave it in for 40 minutes - or overnight! - and then wash for healthy, happy, bouncy hair.
Is Kopari deodorant natural?
Yes, Kopari deodorant is 100% natural. It's sulfate, paraben, and phthalate-free, meaning that the deodorant contains no toxins and is vegan and cruelty-free!
I have acne-prone/oily skin. Can I use Kopari products on my face and body?
Many people believe that when you have oily skin you shouldn't add any oils. Kopari says that adding oil to your skincare routine will help balance your skin and will reduce the appearance of acne.
Coconut oil is great for your skin as it will dissolve hardened sebum, tighten pores and keep your skin fresh and healthy. It is still recommended to check with your dermatologist in case you're using any medications and wish to replace them with Kopari products.
Do Kopari products offer sun protection?
No, Kopari products do not have SPF so you will have to apply sunscreen after you have applied any of the Kopari products on your face.
Do Kopari products contain sulfates, parabens, phthalates, etc?
Kopari does not actively use any of these ingredients. They do mention that some of the facilities might use them, therefore some products can have these ingredients.