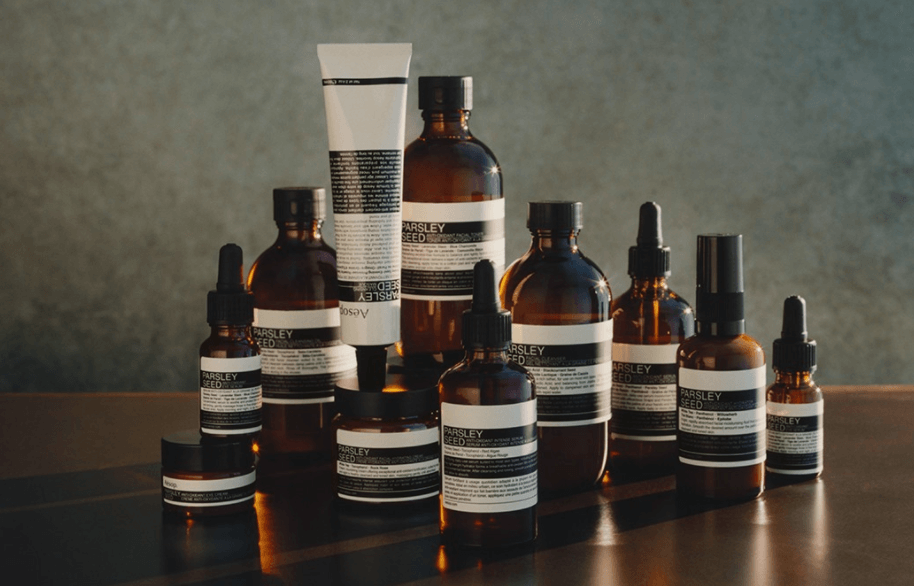 Despite the fact that your skin's the largest organ in our bodies, many individuals overlook caring for it. Healthy skin isn't only important for keeping up the appearance but it also helps people feel better about themselves. Your skin is constantly exposed to sunlight and contaminants from the environment. It's impossible to undo harm once it's been done. Even though maintaining a decent skincare regimen is crucial, knowing what you are putting up on your skin is also extremely important It is so difficult to find skincare products or cosmetics these days that are good quality as well as natural, easy on your skin, and affordable. It's time we all get real and give you a genuine, Aesop Skin Care Review so you can decide on your own and buy on your own terms. Let's take a closer look at what Aesop has to offer.
About Aesop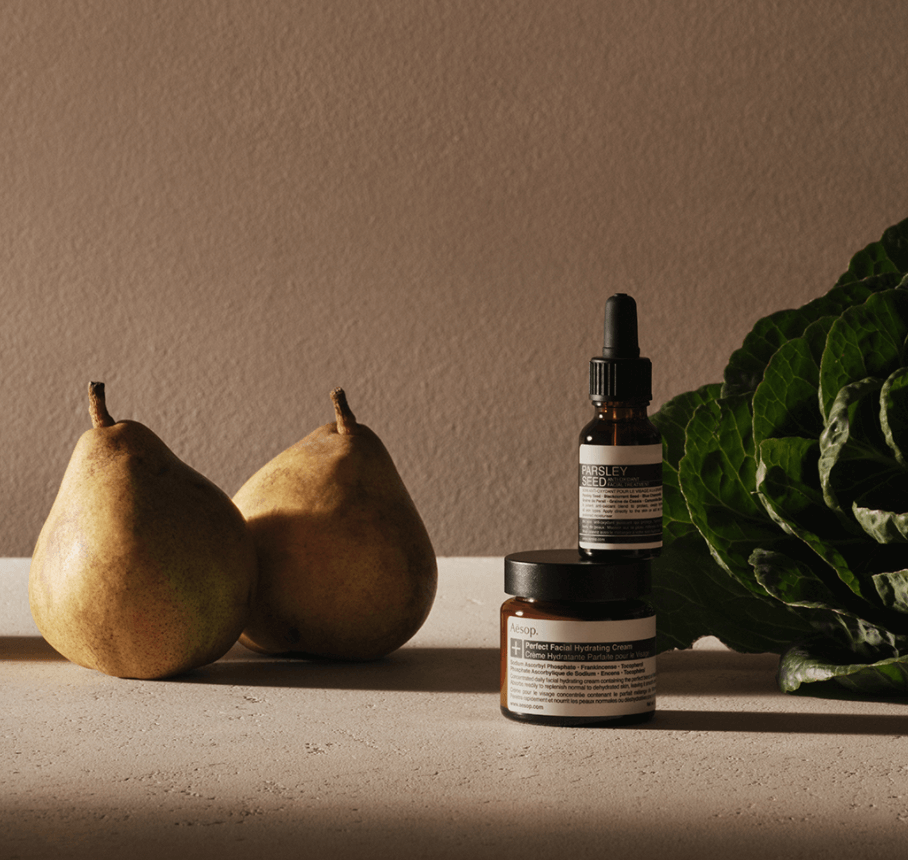 Aesop isn't only a name. It is a brand that sticks to its promise of providing its customers with the best. Aesop produces skincare, body care, and hair care formulas with painstaking precision, efficiency, and sensory pleasures in mind.
The brand was launched in 1987. They have stores and offices around the globe, with the headquarters in Melbourne.
Their goal is to provide high-quality hair, body, and skincare products; they conduct extensive research to determine plant and laboratory-made substances and only utilize those that have a track record of efficacy and safety.
Aesop's customer service is one of the aspects that people adore about them. In every one of their distinctive stores, knowledgeable advisers will be happy to introduce the Aesop collection and assist you in making your choices. If you tell them about your skin, hair, or body concerns they will point out the best Aesop skincare products for your needs. Their range is broad enough to fit most people's skin needs.
Let's dive into the Aesop Skin Care Review to give you honest insight on why the customers love their products and then, you decide!
Pros
These products are natural and environmentally friendly
They go through a meticulous process to ensure that none of the ingredients they use come from animals
Their formulas follow high purity guidelines.
They have excellent customer service and their team is always there to help you out.
They have a huge variety of products to choose from.
The prices are pretty affordable
Cons
It might get confusing to choose the right kind of product for you since there are too many. So, you should browse when you have some time to spare.
Their products, since they are natural, don't sometimes last as long on your shelf (but that depends on the product you're using) as the products that are out there in the market (probably because of all the chemicals they have in them), but for the sake of your skin, it is worth it. You might not want to stalk up too much.
They do not accept returns for items that are bought in an Aesop signature store, retail store, or elsewhere online.
Aesop Skincare Products Review
Aesop has a huge variety of products. From body cleansers, body balms, and lotions to shampoos and deodorants, you'll find everything here. Let's look at some of their bestsellers and see what their customers love about them so you know what suits you the best.
Aesop Deodorant Review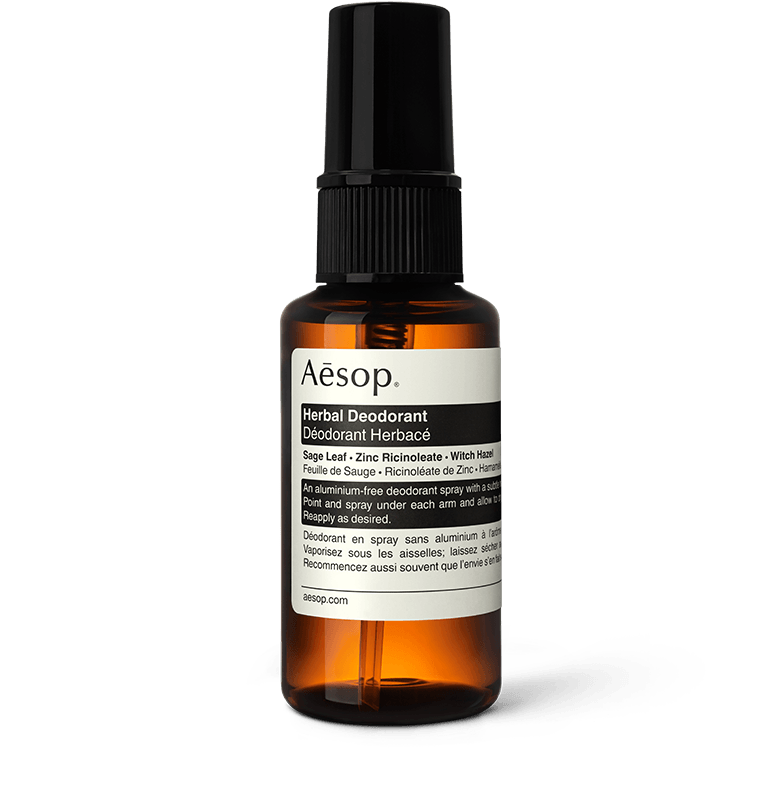 One of the first Aesop skincare products is deodorant. Everyone uses a deodorant on a regular basis —in fact, you could be sporting one presently!— however, when it is about choosing the perfect deodorant for yourself, it might be a difficult task.
With several different types of perfume available in the market, finding the best odor-fighting option for your requirements can be difficult.
Take into account your daily schedule, any skin concerns, and your personal preferences while searching for the right deodorant for you. Don't worry though, we are here to help you out with our Aesop Deodorant Review.
This deodorant is one of its kind. It is a botanically based, aluminum-free formulation with Zinc Ricinoleate as well as a pleasant infusion of herbal extracts to enhance composure under pressure. It works on sensitive skin types as well.
Camphor, herbaceous, and fresh is three words that come to mind while describing the scent.
This product lowers and conceals an underarm smell in a simple and lightweight spray, which is one of the features that clients adore. Witch Hazel, Sage Leaf, and Zinc Ricinoleate are the key ingredients that give it a herbaceous, fresh, and delightful scent.
What The Customers Say About It
Izabella Sarkozi found its herbal scent very refreshing. With a perfect 5 star review she highly recommended it and said, "This product comes in a plastic bottle, a very pleasant refreshing herbal fragrance, lavender stong tones at first, and later once the potency of the lavender fades, then there is this gentle floral scent on the skin, and makes it makes this purchase so worth it.
I sometimes spray a little on the inside of my face mask, making my journey on the tube better. I recommend it to all lavender and wildflower lovers."
Another customer, Mary E. Micallef said that it was absolutely perfect and with the perfect 5-star review she said, "I do not want to ever run out of Aesop herbals.. more of a personal scent than a deodorant. Lovely."
Aesop Geranium Leaf Body Cleanser
Your shower gel could be your secret weapon in the fight against dry skin. The appropriate body cleanser, such as Aesop body wash, for your particular type of skin, may help you manage the most difficult problems of skin dryness by being nourishing and delightful.
However, some of the fancy ones might do your skin more harm than good. In this case, we resort to gentle and, more importantly, restorative body cleansers for assistance.
Herbal products are your best bet, Aesop geranium leaf body cleanser being one. Let's look into why their customers love it.
A revitalizing bathing gel that softly removes dirt and offers a pleasant alternative to traditional soap. The fragrant body wash gel has Geranium Leaf Extract that not only cleanses but also deodorizes your skin without dehydrating it.
If you are looking for something fragrant but also something that is herbal and not harsh on your skin, this product is ideal for you.
What The Customers Say About It
This product is quite popular among customers. With a 5-star review, Hull said it was a spa-like experience.
While recommending the product they said, "The scent for this shower gel is lovely and you don't need a lot to make nice suds on a washcloth. When I go camping or on a trip, I would always look forward to returning home so I can use this luxurious shower gel. It's a little spa experience you can bring home."
Aesop Body Balm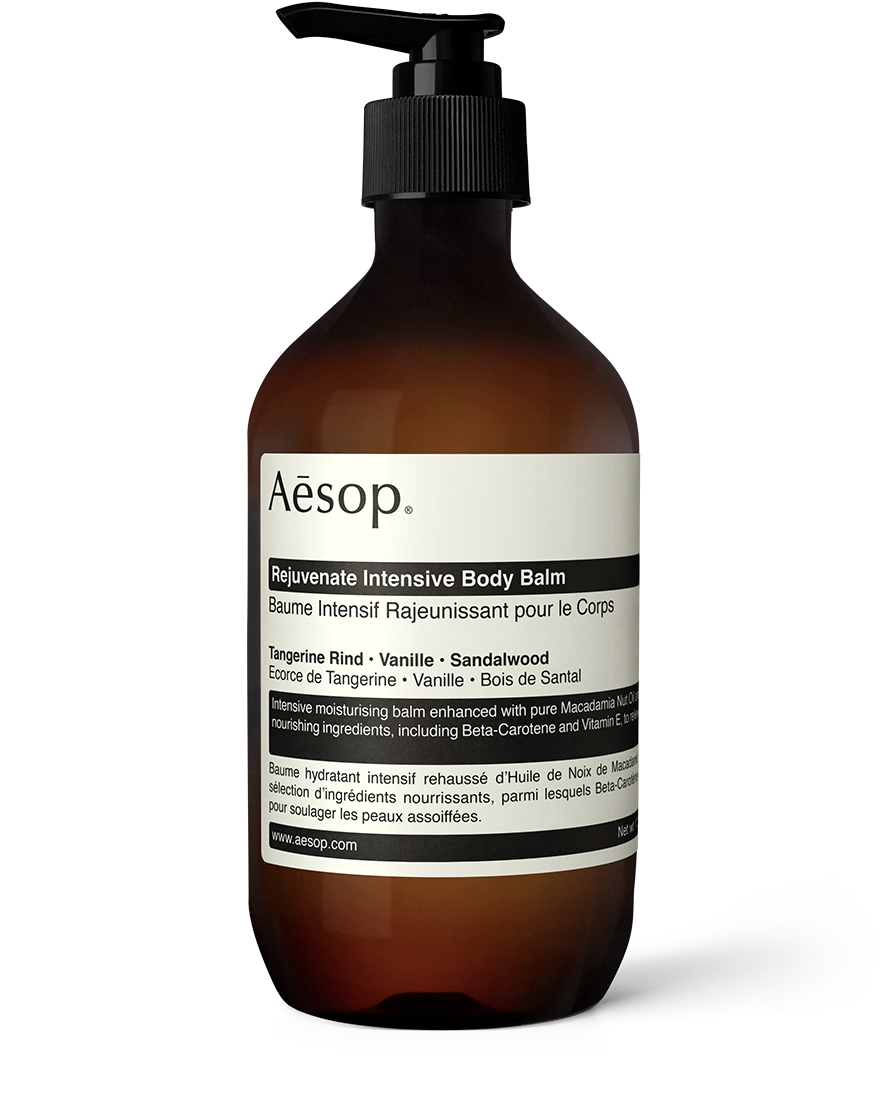 Body balms are excellent for keeping in moisture and hydration because it forms a protective shield over your skin. Aesop Body balm has the extra benefit of adding moisture to parts of skin that are susceptible to roughness and dryness.
Body balms, unlike skin creams and lotions, can help heal and revitalize dry and cracked knees, elbows, ankles, and heels. Aesop body balm is gentle on the skin and one of the customer favorites. Let's dive into why their customers love it so much.
It's a rich, moisturizing balm containing nourishing Sandalwood oils and Macadamia Nut oils. This body balm is very nutritious and beautifully perfumed. Tangerine, Vanilla Bean, and Sandalwood, plant active ingredients are used to create this formula.
Skin gets replenished with an abundance of moisture. It's scented with a light, refreshing scent that enlivens your senses. The skin on the body looks to be softer, smoother, and more healed. This product is ideal for any and all types of skin, but especially for rather dry skin.
What The Customers Say About It
This product is quite popular among customers. With a 5-star review, Coco said "When I Die Out My Ashes In This Bottle." It is that good.
She continued saying, "Smells so good I wish I could bathe in this stuff. Fine as far as moisturizing. Seriously, I would have every item in my bathroom smell like this if I could."
Aesop Body Lotion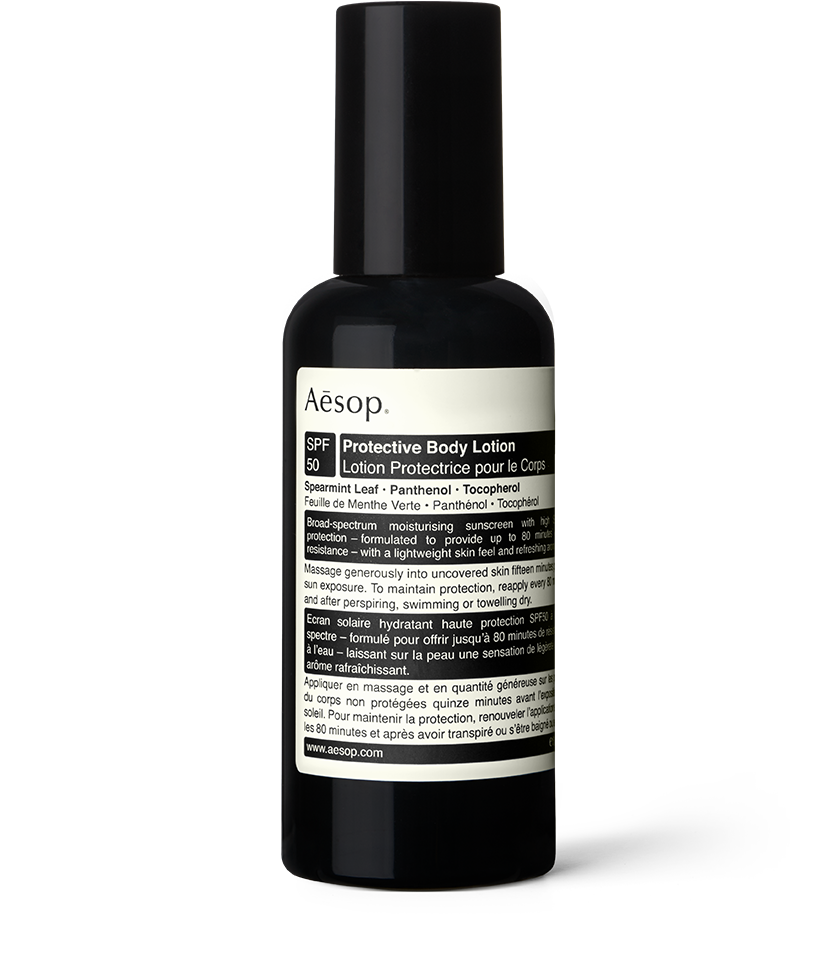 The importance of skin care cannot be overstated. Dry skin is caused by a variety of factors, including winter conditions, heat, skin ailments, etc.
One of the biggest factors is using soaps which include nasty chemicals that dehydrate the skin, and while not normally dangerous, you might need to use moisturizing lotions to relieve the discomfort and for healthier skin.
Harsh skincare products are never a good idea. Aesop body lotion is something you might want to look into.
The sunscreen is multi-purpose since it works like a moisturizer and offers a sunscreen that works on a broad spectrum since it is a high SPF of 50.
It doesn't feel greasy at all since it has a lightweight feel, so don't worry about it feeling caked on or too oily. The refreshing scent of the sunscreen can also make it great to apply and go out for the day.
What The Customers Say About It
Kelly Waterman, with a 5-star review, called it a perfect lotion. She said "Great lotion/sunscreen and goes on nicely-not too thick," and that she would totally recommend it to everyone.
Aesop Shampoo Review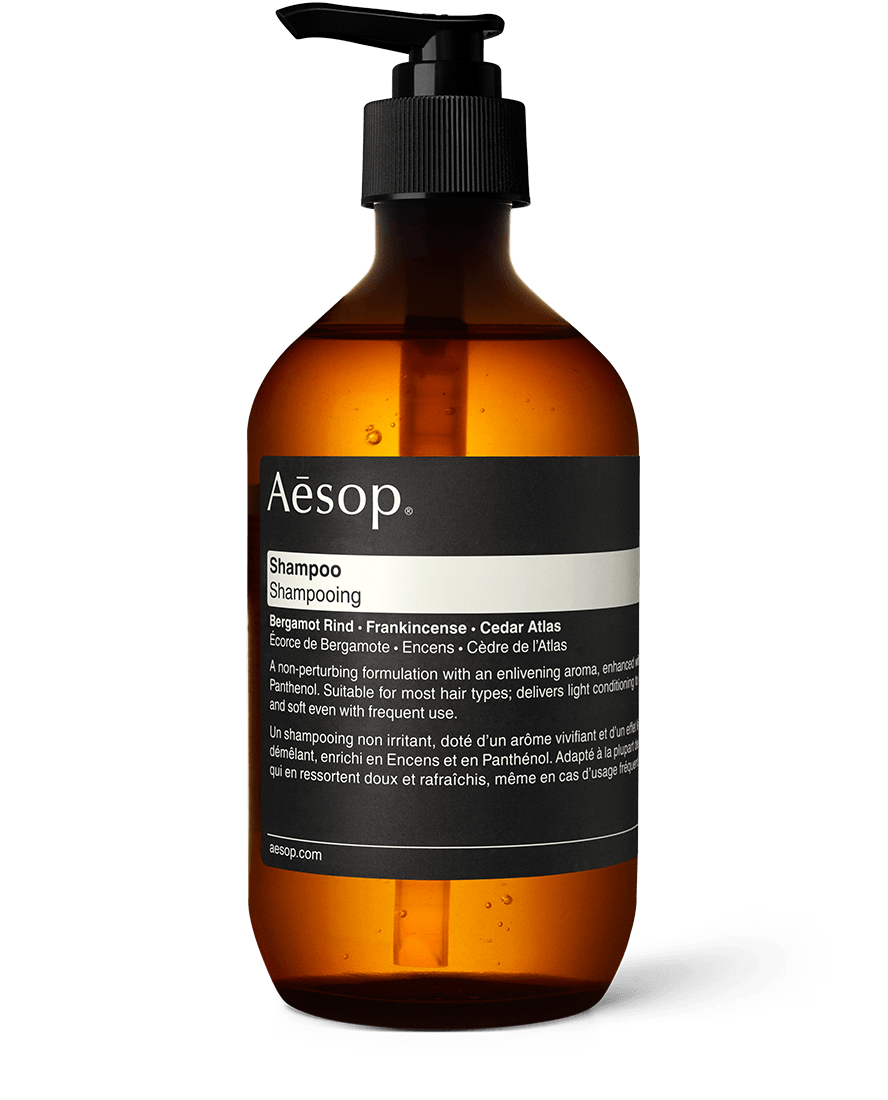 Are you searching for the perfect shampoo for dry hair? A dry and scratchy scalp can be triggered by a mixture of circumstances, including a change in climate or the items you are using.
Though it's difficult to establish the exact cause without consulting a dermatologist, the good thing is that, across most situations, the remedies are simple. Let's dive into the Aesop shampoo review and it just might convince you.
Aesop Shampoo is a revitalizing hair shampoo that contains a blend of complex components including Panthenol & Frankincense to purify hair and scalp while also promoting soft, glossy, and aromatic hair.
Bergamot Rind, Frankincense, and Cedar Atlas are all key ingredients. The best part about this shampoo is that it can be used on any type of hair. Whether you have straight or wavy hair, this product has you covered.
What The Customers Say About It
Sheri Brown, with a 5-star review, called it a perfect shampoo. She said "This shampoo rocks! It can be a little expensive but you get amazing quality. The scent is refreshing. It is also concentrated so you only need to use a tiny bit. I am a Hairstylist and it was a number one seller at our Salon. LOVE IT!"
Aesop Body Soap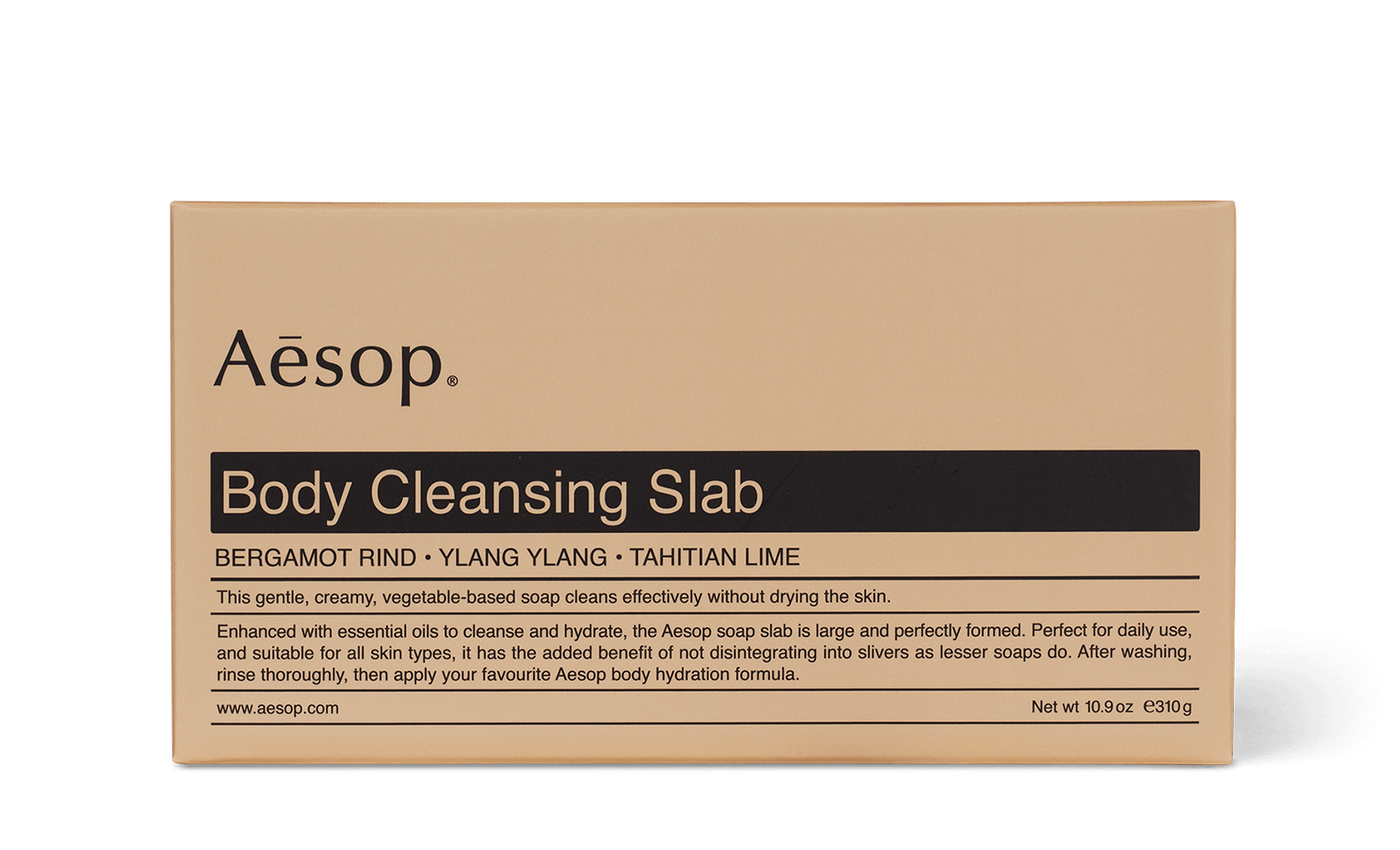 Perhaps you enjoy the feeling of cleaning your skin with that smooth, fragrant bar soap that you have used since childhood. Or perhaps you are unable to feel completely clean if you don't lather up the soap using a loofah.
Bar soaps dissolve the grime on the surface of the skin. Perspiration and pollution can sit on the skin & spread bacteria when it mingles with the body's natural oil. Bar soaps dissolve this oily coating, allowing germs to be washed away.
Some soaps, though, may dry up your skin, but not Aesop body soap.
This is a refreshing and cleansing vegan, PH balanced, non-drying, and organic bar soap with detoxifying botanical oils. This vegan soap has a fresh, citrus scent that will refresh your body and mind throughout the day while making your skin healthy, smooth, and nourished.
What The Customers Say About It
Travis B., with a 5-star review, especially loved the customer service and said "This is a great soap. It's pricey, yes, but it is good. It's the equivalent of around 4 regular bars of soap, so that makes it a little more competitively priced."
Jeanne I. Hatfield said, "The slab is huge & hard to hold until you get used to it. So at first, I held it flat in one hand & rubbed my scrubby against it several times & washed it with my scrubby. Worth the logistics b/c it is one of the best soaps I ever found. Beautifully scented but no irritants & very hydrating."
Aesop Geranium Leaf Body Cleanser Review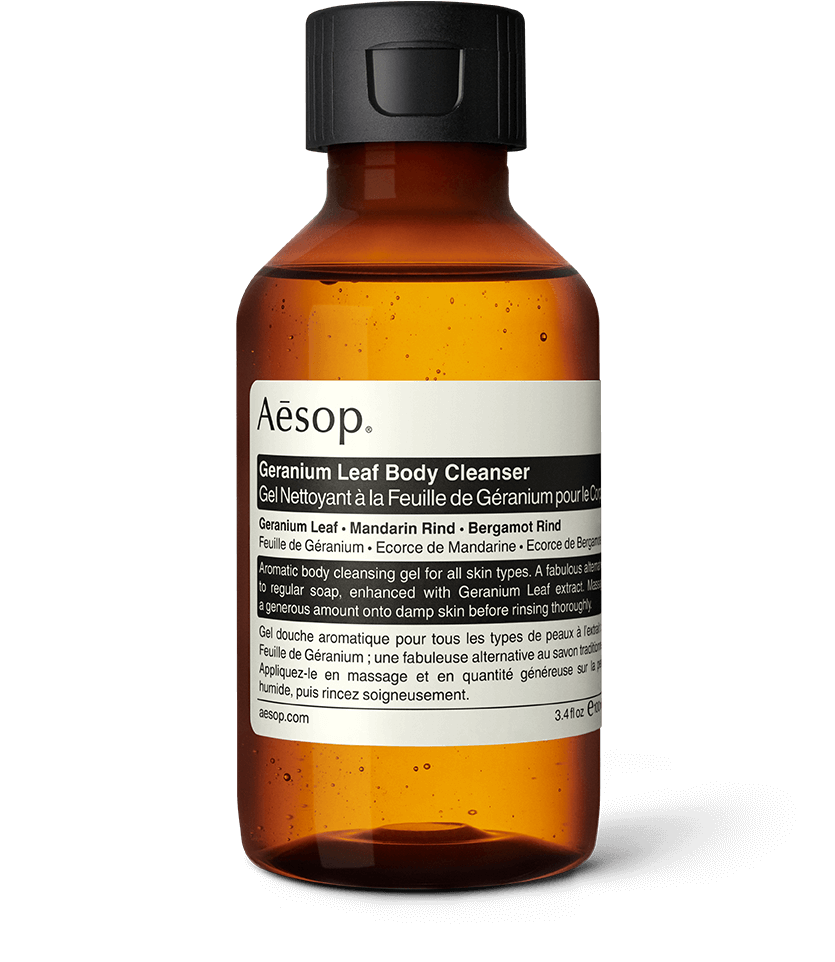 The best way to judge a product is through its reviews. Aesop is very transparent with its reviews. It is time for Aesop Geranium Leaf Body Cleanser Review since this is one of the customers' favorites.
With a perfect 5-star review, Jen said, "I loved the way this body wash feels. Cleans well enough with a pleasant smell."
Felice MA, a returning customer, also with a 5-star review said, "Aesop achieves the highest ratings for their products, highlighting both their choice of essential oil scents and performance. I love their body lotions, hand creams, bath wash, and toner."
Another customer said it was heaven in a bottle and absolutely loved the product.
With a 5 star review, she said, "As always Aesop is pure quality, this particular body cleansing gel smells like a garden of geraniums. It leaves skin gently cleansed, nourished, and soft. A little goes a long way so the price reflects cost-effectiveness. It's pure heaven in a bottle!"
Aesop Skincare Reviews from Customers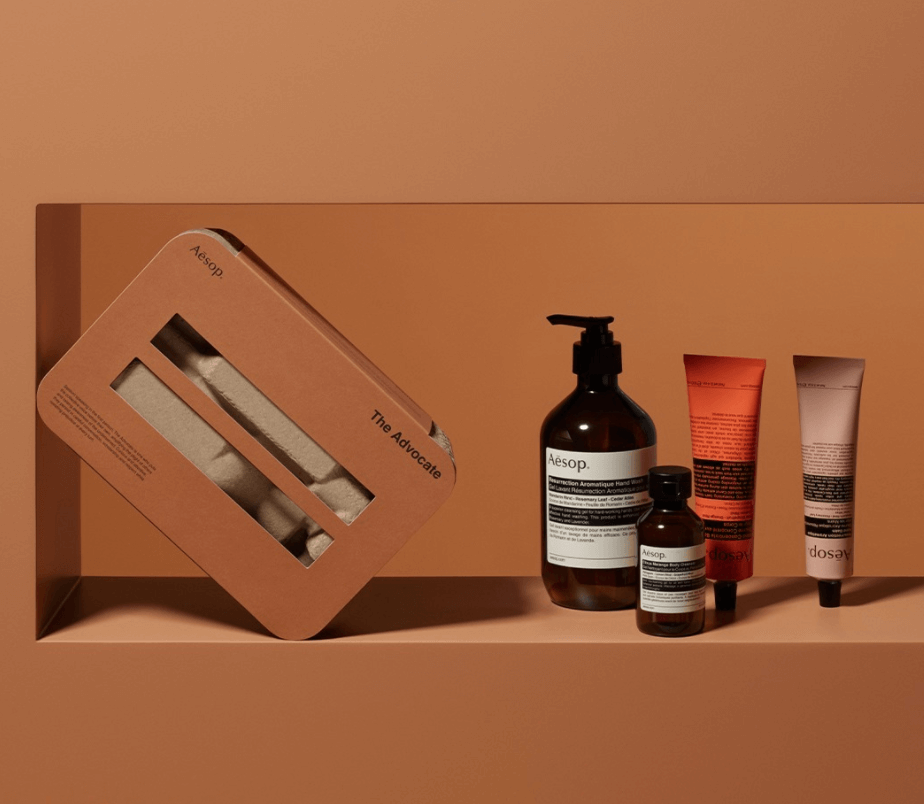 Here are some of the product reviews from our returning customers who tried the products and fell in love with them. Most of them are returning customers. Here's Aesop Skincare Review straight from our amazing customers.
Regarding Aesop Reverence Aromatique Hand Wash, Karen Jane, with a perfect 5-star review, said, "While this hand soap is pretty expensive, it is a luxury I want to treat myself and those I love with. Every time I use it, I feel like I've been to the spa! The smell reminds me of the temples of India and the fine grains in it make me want to scrub my hands for a long time because it feels so good."
Another customer gave it a 5-star review. Colin said, "If we've all got to wash out hands more frequently, then you might as well make it pleasurable. This hand wash is expensive, there's no denying that, but it's lovely and the addition of ground pumice will let you know that you've completely covered all the areas needed."
More Customer Review
Aesop Purifying Facial Exfoliant Paste is also one of the best sellers. With the perfect 5 stars, Ali said, "Unlike their body exfoliant/scrub, this is enough on the face to remain soothing but also clear the skin of impurities and debris. It is small, but a little goes a long way."
This product is quite popular in Japan and most of the customers left a 5-star review.
About Aesop Bitter Orange Astringent Toner, Elj said she loved the smell. With a 5 star review, she said, "This product has definitely helped with my oily skin. I love the smell. It does not burn even though it had alcohol in it. That makes me happy."
While Jay said, "Looks like my pores are smaller after using it for a week. Skin seems a little more oily than without it but I see the difference between my pores and the skin in general"
Sign Up for Aesop
Sign up for absolutely free of cost and I am sure you wouldn't be disappointed. By signing up you get points, vouchers, shipping discounts, and more! All you have to do is to enter your email.
Where to buy
If you are wondering where you can buy Aesop, look no further!
They have a LOT of stores and the good thing about it is you can use the find the store feature for your convenience.
Aesop Shipping and Return Policy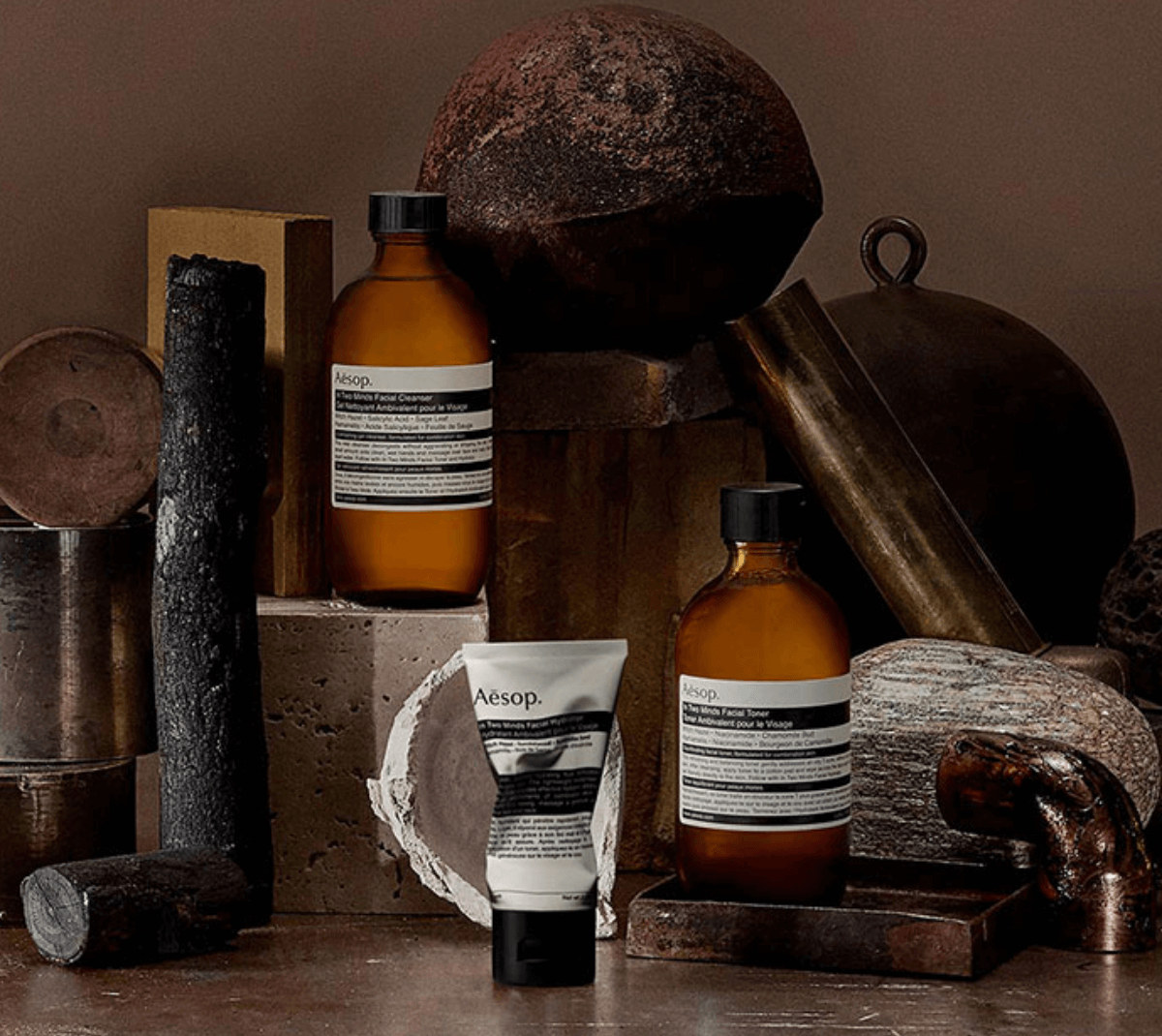 They offer to ship around the globe and depending upon your location and how much you spend, they even offer complimentary shipping. They ship from either France or Germany.
For the return policy, all products that are returned within 2 weeks after purchasing, in completely intact and original condition, are eligible for a refund. Please contact them if you wish to return a product purchased online.
Unfortunately, they do not accept returns for items that are bought in an Aesop signature store, retail store, or elsewhere online. All reimbursements are made to the original payment method.
Aesop Promotions & Discounts
They do offer promotions and discounts but they come and go so you might have to keep an active eye out.
Contact Aesop
Their customer service is excellent. You can seek a video consultation, phone call or simply just opt for live chat. You can find more information on their 'Contact us page' based on the country you are in.
Aesop Skin Сare Review: Editor's Verdict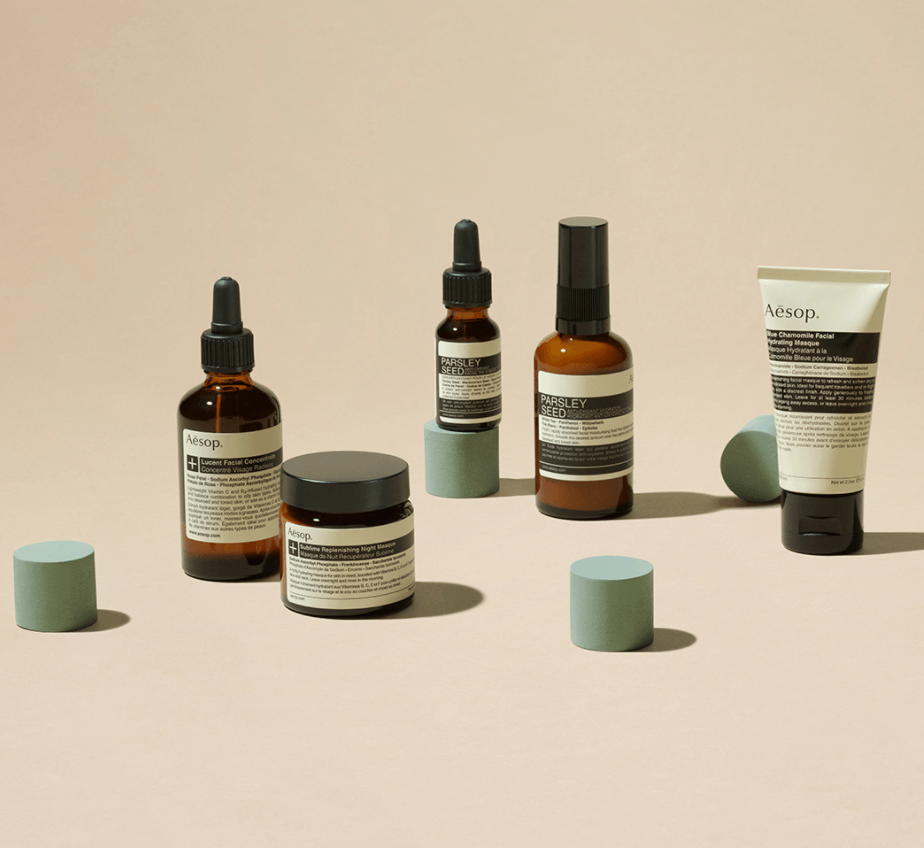 We are duty-bound to provide you with honest reviews. You can check out Aesop skincare reviews on the website or even on Amazon. Aesop skincare products are used worldwide and loved by customers. Whether you're using hand soap, face mask, or body lotion, you are guaranteed to have a one-of-a-kind experience.
In our honest opinion, some of the products are a bit overpriced for what they have to offer, you could possibly find more affordable products within the same category. With that being said, you are paying for a brand that has been present in the beauty world for a long time and their extensive research years have proven to be efficient. You are also paying for the aesthetics and packaging it offers, plus the services received from the Aesop customer service team.
All in all, Aesop skincare products are worth the hype and you should try out a few of them! Based on our honest Aesop skin care review, we find this brand amazing!
Still on the hunt for the perfect skin care products to feel better about yourself? Consider reading our popular beauty brands reviews such as Lush Review, Elemis Review, Blume Skincare Review, and Michael Todd Beauty Review.
Aesop Skincare FAQ
How does Aesop select ingredients for its products?
All of the components used in Aesop formulations have undergone comprehensive testing to ensure their safety. This is a typical protocol for any substance that is being considered, regardless of its nature. This method also ensures that the products are vegan and cruelty-free.
What is Aesop's approach to sustainable packaging?
The Australian Packaging Covenant, which advocates packing sustainability, has Aesop as a member. They use recycled cardboard mailing boxes for shipping.
How do Aesop test their products?
Their products are also subjected to accumulated irritancy screening on human volunteers through the development phase to ensure their safety.
Each of our products must also undergo an independent competent agency's Product Safety Assessment & Toxicological assessment before being released.
Do Aesop products contain plastic microbeads/microplastics?
No, plastic microparticles or microplastics are not found in any Aesop product, and they've never used them.
Are Aesop products vegan?
Yes. Aesop products have no animal-derived substances (such as honey, beeswax, or lanolin).