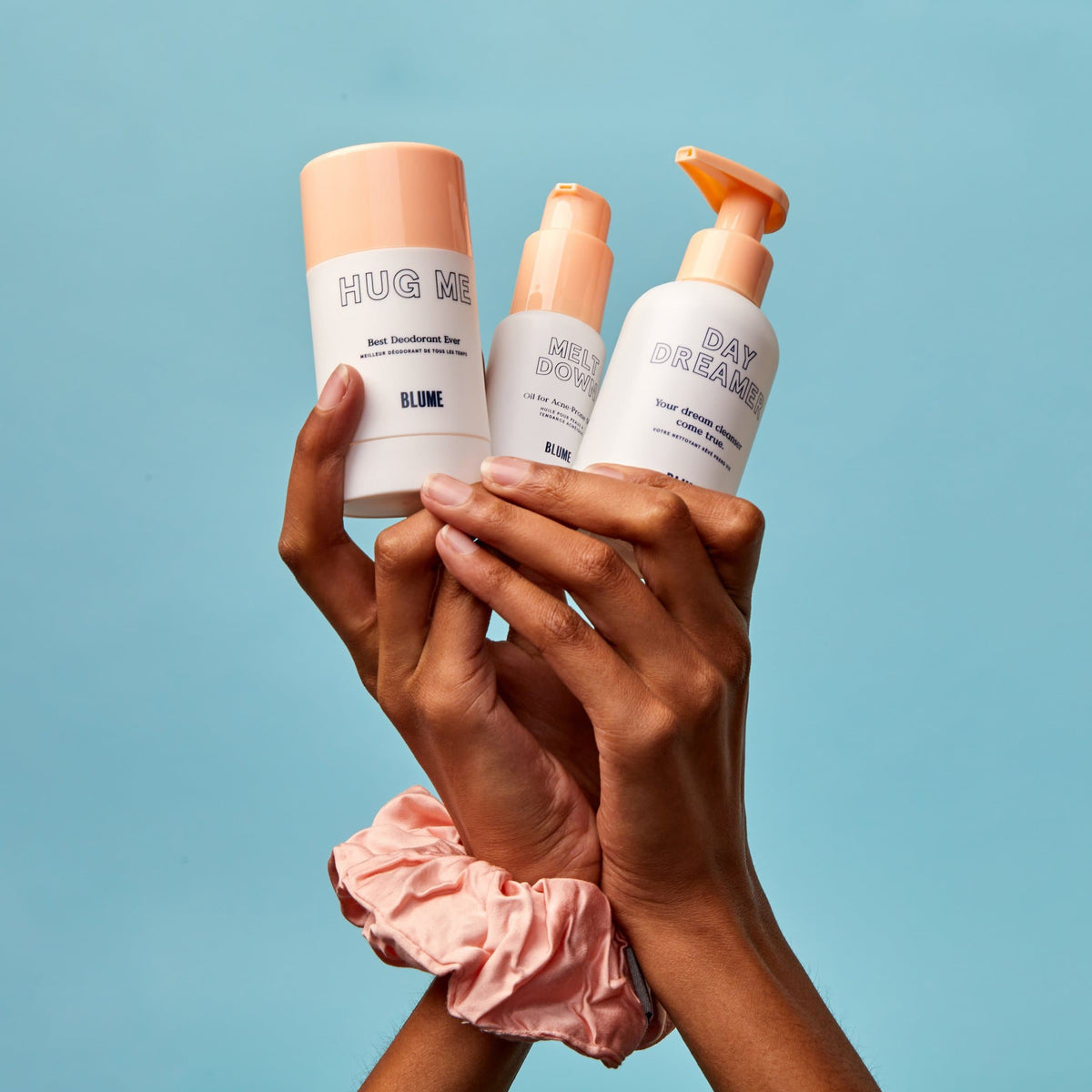 Blume Skincare is an innovative, woman-forward brand dedicated to bathroom and sanitary products that are "good for your body and the environment." The brand's "do no harm" and taboo-smashing ethos makes this a welcoming, inclusive skincare brand that teenagers and women everywhere can benefit from.
With promises to set "a new standard for skin, body, and period care," we were fascinated by Blume's story, and couldn't help but fall a bit in love with the desire to educate and promote higher self-esteem in women of all ages.
In our Blume Skincare review, we're going to look deep into the company. We'll learn where the founders came from and why they set up the brand, plus look at some of the best-selling Blume products and customer reviews. All so you can decide for yourself whether this brand is worth your attention.
About Blume Skincare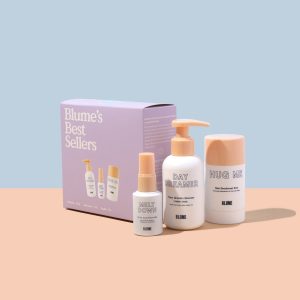 Blume skincare was created with a simple mission: "to make self-care easier and healthier." But the brand goes further than this, with a dedication towards "destigmatizing normal things like acne, puberty, periods, and sex-ed."
This women-forward brand was founded by WOC sisters Taran and Bunny, who found themselves asking questions about the taboos surrounding periods, puberty, and other 'do not discuss' subjects that almost every woman faces in her lifetime. They state they aim to change people's perception around beauty, and hope "the next generation will know healthy skin rather than p*rfect skin."
In addition to raising awareness and education towards "normal" bodily functions, Taran and Bunny have also worked hard to ensure all Blume products are made with the very best, natural ingredients that are good for our bodies and the planet. To achieve this, Blume products never "take centuries to biodegrade" and are free from "ingredients we can't pronounce." Instead, what you see is what you'll get: simple, effective, beautiful products that will help customers "learn, grow, and become their best naturally brave selves."
And if all that isn't enough to pique your interest in this innovative skincare brand, Blume Skincare also donates a portion of the proceeds of every sale to @daysforgirls: an organization that helps girls around the world access proper education and safe resources, whether they're on their period or not!
Pros
Blume Skincare offers a huge selection of health, beauty, and wellness products specifically engineered for women.
All Blume products are made from 100% clean, biodegradable, hypoallergenic, chemical-free, FDA-approved ingredients.
The Blume Blog is packed full of useful resources and information. Here, you'll find articles dedicated to female empowerment, BLM climate change, social justice, and much more.
Blume is Climate Neutral Certified and "proudly WOC founded".
A portion of proceeds from every Blume.com sale is donated to @daysforgirls.
Download and keep a FREE Guide to First Periods from the Blume website.
Cons
Blume.com doesn't offer any international shipping: Only available to customers within the US and Canada.
Blume Products Review
Now we know a bit about the company and what it stands for, it's time to focus our Blume Skincare review on the aspects that matter most: the products.
After all, it's one thing to have an ethos worth supporting, and another thing entirely to offer quality products that produce the desired outcomes.
Blume Acne Oil Review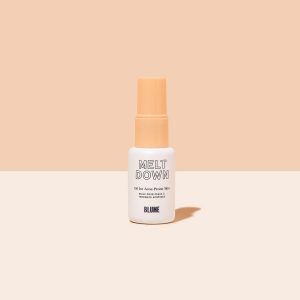 Blume Meltdown Acne Oil is probably the brand's most well-known and beloved product. In fact, when we were researching Blume Skincare reviews, almost every link we clicked on focused on the Blume Meltdown Acne Oil!
What makes this product so special is the unique blend of clean ingredients that work hard to cleanse the skin without compromising hydration. It's made from nourishing oils such as black cumin seed oil, chamomile flower oil, rosehip oil, and more to provide a powerful imperfection-fighting blend that won't leave your face feeling dry or oily.
Blume Meltdown Acne Oil is designed from the ground up to fight breakouts, redness, and scarring while minimizing the appearance of pores and helping to prevent future breakouts. It's suitable for all skin types (especially sensitive skin) and can be used as much as needed as a spot treatment or mixed into a moisturizer for full coverage.
One aspect that came up in our Blume Acne Oil review is that the oil doesn't include any added fragrances. The scent is comprised of a natural blend of essential oils that work hard to combat imperfections while smelling amazing!
Blume Acne Oil reviews are overwhelmingly positive. At Blume.com, Meltdown Oil scores 4.41-stars across 4,427 reviews. Customers call the product "a game changer!" and mention that their skin was noticeably "smoother and glowing after just one use."
That said, it does seem that this oil isn't for everyone. A few Blume Acne Oil reviews commented that the product made their skin worse. These sentiments are echoed on the Amazon page for the same product, so it's possible this oil isn't ideal for every skin type.
Blume Milky Fade Review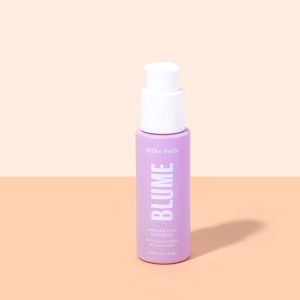 Another best-selling product, Blume Milky Fade Serum is built to reduce the appearance of spots, scars, discoloration, and more. While the product description verifies that spots and scars are part of "your beautifully unique story," it also accepts that acne-induced blemishes can be a common cause of low self-esteem in women. And when you're unhappy with your skin, Milky Fade is here to help!
Like many Blume products, a little goes a long way with Milky Fade! Simply apply one to two pumps twice daily to enjoy a "noticeable improvement in skin texture, scarring, discoloration, and brightness." The product is suitable for all skin types and comes unscented, so it's easy to wear overnight or while you go about your day.
There aren't as many Blume Milky Fade reviews at Blume.com, but the five that existed at the time of writing all rate the product a full 5-stars! With comments stating the product is "nourishing and effective," "my skin is feeling noticeably smoother," and "I love how this feels on my skin!"
Blume Superpower Clay Mask Review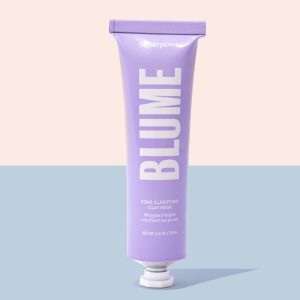 A pore-clarifying "secret weapon," Blume Superpower Clay Mask is "as powerful as it is gentle." The mask is made from three incredible clays: montmorillonite, bentonite, and kaolin. These clays work together to get deeper into the skin to tighten your pores and make your skin "instantly brighter."
With extra ingredients such as Vitamin E, aloe vera juice, and glycerin, Blume Superpower Clay Mask is an effective treatment for clogged pores, dull skin, and blemishes. Simply apply the mask for just 10 minutes to see immediate effects, no matter your skin type.
We love the pretty pink color of this clay mask, and the "super fresh" eucalyptus scent is sure to add a spring to your step while destressing tired skin.
Blume Superpower Clay Mask reviews seem to echo these sentiments, with an impressive 4.96-stars across 26 reviews at Blume.com. We love seeing plenty of before and after pictures of real customers using the product, and comments calling the mask "a new favorite," "wonderful," and "cleansing but not drying" make this a must-try.
Blume Daydreamer Face Wash Review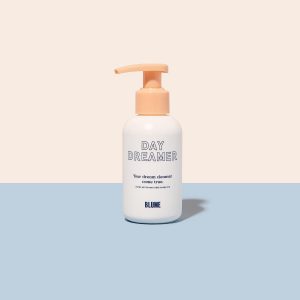 Blume's Daydreamer Face Wash is hyped as "totally fantasy-worthy." Its super gentle formula is suitable for all skin types and is equally fantastic as a wake-up call or for washing away the day. The non-lathering face wash utilizes soothing plant extracts to cleanse the skin, leaving it feeling "plump and supple," without stripping away natural, healthy oils.
Daydreamer is lovingly scented with a hint of lavender along with calming and nourishing ingredients like coconut oil, chamomile, and grapefruit extract to refresh and relax the skin and mind.  Naturally, it's free from any nasties such as alcohol, sulfates, parabens, artificial fragrance, etc., and users absolutely love how it "leaves your face blemish-free and moisturized and soft."
This beloved face wash scores an impressive 4.56-stars across 874 reviews at Blume.com and 4.5-stars on Amazon. Many Blume Daydreamer Face Wash reviews comment on how they "struggled to find a skincare regimen that isn't harsh," but finally found peace with this facewash. Less positive reviews tend to note that it's quite a thick cream cleanser that doesn't work with their personal preferences and may leave a "waxy feeling."
Blume Hug Me Probiotic Deodorant Review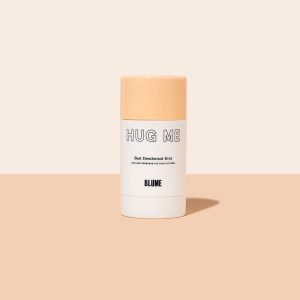 We're always on the lookout for a top-quality natural deodorant, and Blume Hug Me Probiotic Deodorant seems to tick all the right boxes!
The unscented deodorant features "all-star ingredients" such as coconut oil, jojoba oil, and probiotics to provide all-day protection from BO and sweat while nourishing your underarms and providing that "clean and soft feeling we all love."
Blume Hug Me has been featured in trusted publications such as Allure ("A clear-cut winner") and Marie Claire("Worthy of the hype") and scores a fantastic 4.39-stars across 722 reviews at Blume.com. After countless experiments with natural deodorants usually bringing lackluster results, it's awesome to find "the holy grail of natural deodorants."
One of our favorite things about this product is that it comes in a handy travel size, so it's easy to pop in a purse for whenever you need a little underarm TLC. Obviously, the deodorant is packed full of healthy probiotics that work hard to combat odor without causing harm, plus baking soda to reduce sweat and keep your underarms dry. Hug Me also features some gorgeous, nutritional oils to keep you feeling moisturized, and is free from any nasties that might irritate the skin.
Blume Skincare Reviews from Customers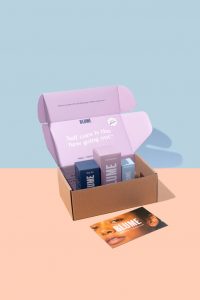 As you have probably noticed, Blume Skincare reviews are almost always incredibly positive. With basically all Blume products being rated 4-stars and above, it's easy to see how this brand has made a name for itself in the natural skincare market.
There are plenty of reviews on Blume products available on their website, plus a whole page dedicated to Blume Meltdown reviews… Including some interesting video testimonials from super-happy customers.
But we never rely solely on brand reviews from the company's own webpage. So, we looked a little further afield to see whether these rave Blume reviews are consistent.
Popular Alternatives to Blume Skincare
One of the first places we checked for Blume reviews was Amazon. Across the Blume products available on the platform, we found at least 4-star reviews on every item. Reviewers consistently commented on the effectiveness of Blume products, the gorgeous scents, and the do-good ethos of the brand. The few negative Blume reviews we found seemed to be personal preference… No skincare product will be 100% effective for every person, so it can be expected that there will always be a handful of customers who don't experience the benefits a product offers (as frustrating as that might be.)
We also found Blume skincare reviewed on Influenster. Here, we found a bit more of a mixed bag when it came to Blume Skincare reviews and the effectiveness of Blume products. While many customers commented on how the products left their face feeling "really nice, clean, soft," others found some of the products "a bit too thick and moisturizing for my liking." It seems many Blume skincare products are best for dry skin, so those with combination/oily skin may not find the same benefits.
Sign Up for Blume Skincare
Sign up for Blume and you'll receive a welcome email featuring a Blume promo code that offers 10% off your next order. You'll also benefit from standard perks like order tracking, etc.
For even more bonuses, you might also want to join Blume's loyalty scheme: Blumetopia. It's completely free to join Blumetopia, and members can earn "Blume Bucks" on every order, plus extra rewards for signing up, engaging on social media, or simply celebrating a birthday.
What's more, sign up for the Blume newsletter and you'll also receive 10% off your next order, plus plenty of "self-care tips, acne 101, and fun community surprises."
Where to Buy Blume Skincare
You can purchase the full range of Blume skincare products from Blume.com. Blume products are also available in over 1,000 retail locations and online.
Some authorized Blume stockists include:
Amazon
Sephora
Indigo
Urban Outfitters
Ulta Beauty
Walmart
Nordstrom
American Eagle
Blume Shipping and Return Policy
Blume shipping costs $5 for the US and $10 for Canada on orders under $25. All orders within the US and Canada over $40 will qualify for free shipping, as well subscription orders. Orders will usually be processed within 3-5 business days, and you will receive a shipping confirmation email as soon as your order is ready to go.
If for any reason you're dissatisfied with your order, Blume offers a 30-day return policy on everything except pads and tampons. Now, if you need to request a return, simply email [email protected].
If you wish to cancel or pause a Blume subscription, you can also do this at any time by logging into your account.
Blume Promotions & Discounts
You'll receive 10% off your next order by signing up for Blume or simply subscribing to the newsletter. However, the best way to make the most out of your Blume shopping is to become a Blumetopia member.
Blumetopia members will benefit from loads of exclusive offers such as merch, free products, and much more. You'll earn Blume Bucks just for signing up for the program, plus extras every time you make a purchase, leave a review, follow Blume's social media, or have a birthday! As you gain more Blume Bucks, you'll also climb the ranks to unlock bigger and better prizes, with Blume "soul mates" qualifying for free shipping on every order, plus loads of other perks.
In addition, Blume offers a valuable referral scheme. Refer a friend to send them $10 off their first purchase, and you'll also receive a $10 Blume coupon!
Contact Blume
The best way to contact Blume customer service is via email at [email protected]. You can also contact them on their Instagram page, @Blume.
If you want an immediate answer, Blume's FAQ section is filled with useful information, and there's also a live chat that you'll find in the bottom right-hand corner of every Blume webpage.
Blume Skincare Review: Editors' Verdict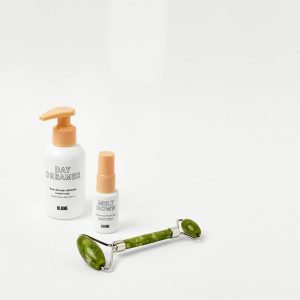 Overall, we were very impressed with Blume Skincare. The products seem to be of excellent quality, and we were happy to see that the company lived up to its promise not to include complicated ingredients that left us needing hours of extra research to understand!
Reading Blume Skincare reviews from around the web, we found that customers seem overwhelmingly happy with their Blume purchases. The scents seem subtle yet pleasant, and pretty much every item we looked at incorporated hydrating, nourishing natural ingredients that have been proven to offer a whole host of skin benefits.
Although not every Blume Skincare review was positive, this is to be expected. Because everyone's skin is unique, skincare can never be a one-size-fits-all, and it's inevitable that some customers will not receive the full benefits. We did find that although Blume claims every product is suitable for all skin types, some may be less effective for oily or combination skin… Something worth considering when shopping for Blume skincare!
In addition to the gorgeous selection of skincare, beauty, and sanitary products available at Blume, we were also attracted to the brand's story and priorities. We always love a brand that's committed to doing good, and Blume definitely hits the mark with its links to @daysforgirls and commitment to education and un-taboo-ing subjects such as puberty, periods, etc.
So, in conclusion, we'd definitely recommend Blume Skincare for anyone dealing with problem skin. We'd particularly recommend Blume to young women struggling with their self-esteem or who are nervous about their first period. This brand really does have your back.
Looking for some natural skincare, haircare, and body care products? Check out our popular beauty brand reviews of CAP Beauty, Bubble Skincare, Briogeo, and True Botanicals.
Blume Skincare FAQs
Where are Blume products made?
All Blume products are made in North America, Canada, or the USA.
What period products does Blume offer?
Blume offers organic tampons in regular and super sizes. You can also pick up organic pads (with wings) regular and overnight, plus liners. If you're struggling with period pains, Blume Cloud 9 Cramp Oil is a fantastic addition to your period care package, allowing you to "(literally) roll your PMS pains away."
Does Blume test on animals?
No. Blume absolutely never tests on animals. All products are 100% cruelty-free and vegan.
Does Blume offer products without a subscription?
Yes! Almost all Blume products are available as an ongoing subscription or one-off purchase to suit your needs.
How and where should I store my products?
Blume products are incredibly easy to store wherever is convenient for you. They won't freeze or melt, and can simply sit on your makeup counter ready for use. Blume recommends keeping water out of the bottles and using products within 18 months for the best results.