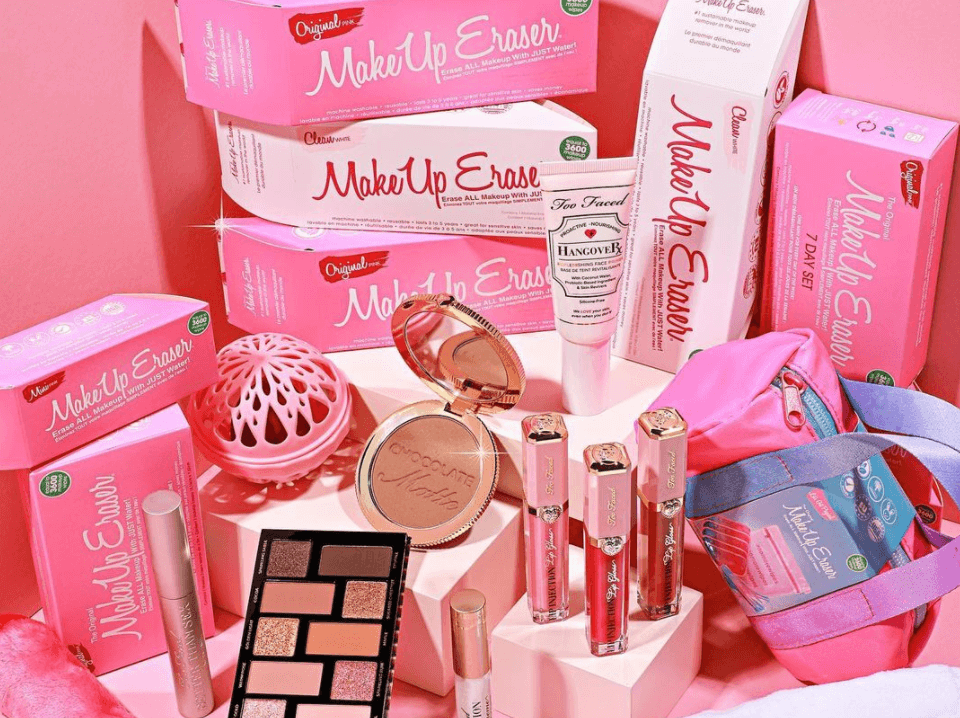 Makeup removal calls for a viable method of erasing up to the most stubborn oily mascara and lipstick. Therefore, you need a makeup remover that gives you an easy time. MakeUp Eraser is the world's leading sustainable makeup remover company. Each cloth is designed using a premium patented, polyester blend, and it sucks up oil, makeup, and dirt from your pores. They can also remove waterproof mascara, and you can reuse the clothes for up to five years. We'll look at MakeUp Eraser reviews to help you determine if its products match your makeup-removal needs.
About MakeUp Eraser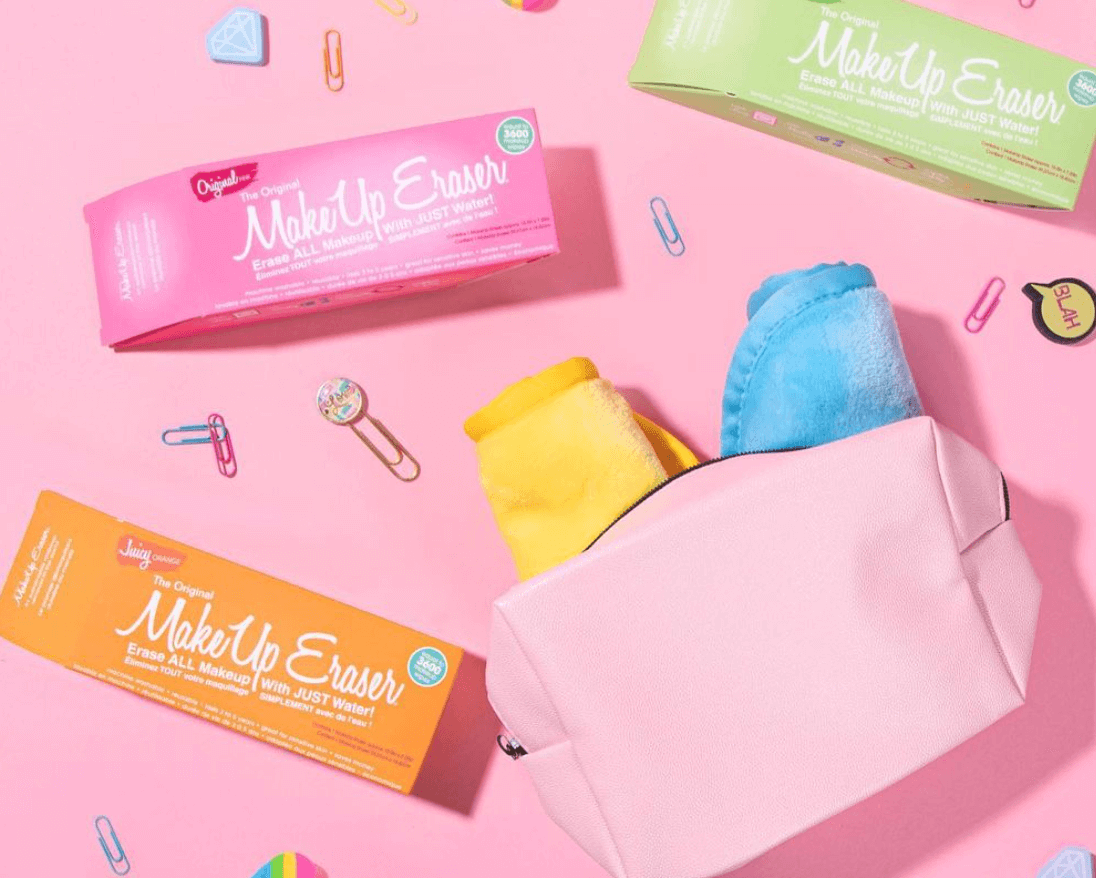 Elexsis McCarthy is the brain behind the MakeUp Eraser. The magic cloth idea crossed her mind when she wiped off her makeup with a wet robe gifted to her to use at the swimming pool.
McCarthy discovered that the wet robe effectively removed her makeup without using soap, chemicals, or oils.
After years of using the robe to remove makeup, Elexsis realized that she never spent a dime for makeup removers or wet wipes as she used to. She cut her robe into pieces that she shared with her close ones to experience the chemical-free magic she found out.
Friends and family were impressed by how the robe removed makeup so well. The result was exceptional, as she realized that the tiny fibers of patented polyester acts like a suction cup to pull makeup and oils off the skin.
The founder then decided to share the idea with the rest of the world.
MakeUp Eraser Overview
Elexsis is an entrepreneur, and the mindset became her motivation to venture into business for making softer and better material for removing makeup.
She officially launched the brand in 2013 for making patented, hairy antibacterial polyester that efficiently masks off all the makeup from the tiny pores of your face.
MakeUp Eraser is safe for all skin types, including the most sensitive skins. The brand has deepened its roots locally and globally, and it has over 1.2 million followers on Instagram.
Notable media outlets have also mentioned this company, including Marie Claire, Glamour, Vogue, Allure, and Cosmopolitan.  Additionally, their products have received numerous awards, including three CosmoProf 2017 Trendsetter Awards.
Pros
The cloth is sustainable and reusable, and it can last for up to 5 years
It is eco-friendly and vegan
Their products are kind on your skin
Cruelty-free product with dermatological approval.
The cloth does not contain any chemicals; it is hypoallergenic and antibacterial
The company ships locally and internationally
Cons
Free shipping only applies to orders worth $50 and above
No live chat feature on their website for real-time talk
Some customers complain about a slow delivery process
The company doesn't allow international returns and exchanges
MakeUp Eraser Products Review
Because MakeUp Eraser is reusable, it saves you a lot of money in the long run that you could have otherwise spent on purchasing wet wipes every other time.
Traditional wipes contain chemicals harmful to your skin, while a chemical-free eraser plays the role better for a long time. With that in mind, here are some of the brand's bestsellers, their benefits, and the features that make them stand out.
Original Pink MakeUp Eraser Cloth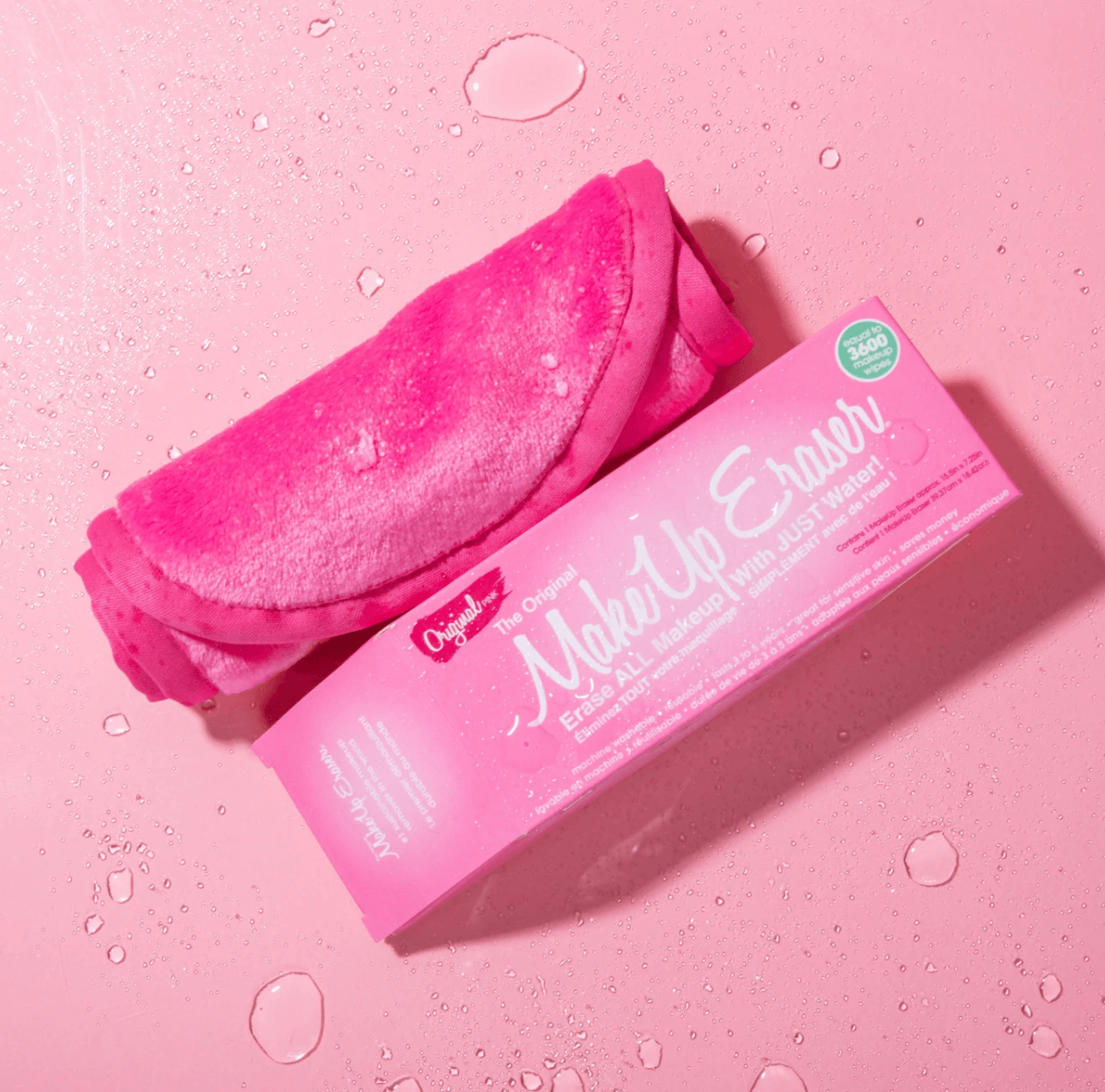 Many women have replaced traditional wipes with a piece of Original Pink MakeUp Eraser Cloth as it removes all the oily makeup in one go. It is also 100% vegan and eco-friendly, eliminating the use of wipes that are the ultimate environmental pollutants when excessively used.
This MakeUp Eraser cloth features 100% antibacterial polyester with zero chemicals. Furthermore, it's free of parabens, oils, alcohol, fragrances, sulfates, and astringents.
This product is easy to use and can serve you for 3-5 years if you take care of it properly. Wash your makeup cloth in a washing machine before using it for the first time to activate the fibers.
Machine washing your makeup towel will also block makeup spots from settling in and becoming permanent.
Before using the makeup-removing towel, soak it in warm water to make it wet. Use the side with shorter fibers to wipe makeup in a circular motion, section by section, then use the side with longer fibers to exfoliate the skin. The cloth is safe for all skin types, including sensitive ones.
Spongebob MakeUp Eraser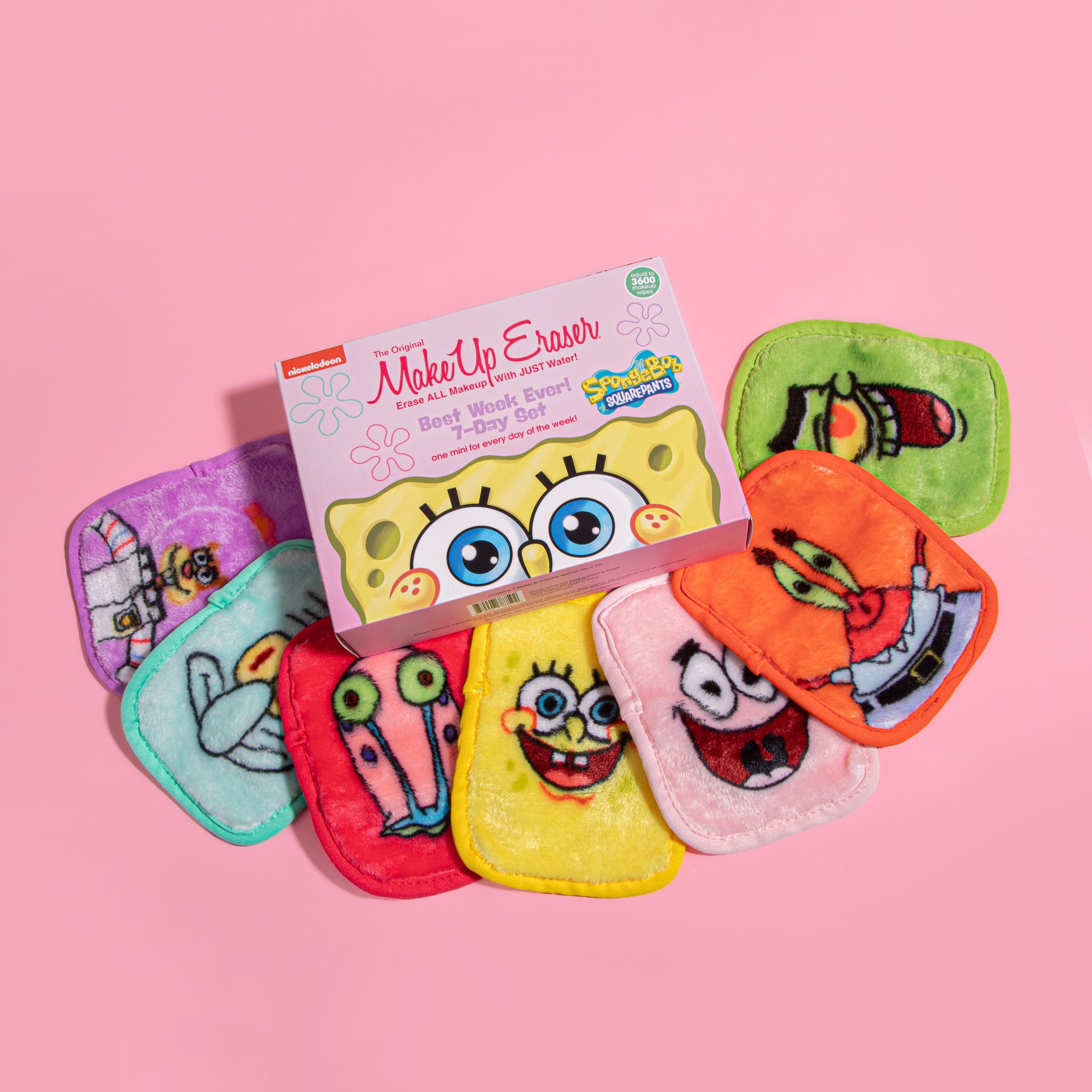 Everyone knows the animated television series Spongebob SquarePants, but you must be wondering what they have to do with this particular product. These cartoons love water, and so does the SpongeBob MakeUp Eraser.
The set consists of a Mini MakeUp Eraser collection that features characters from this classic animated TV series, including SpongeBob, Sandy, Gary, Squidward, Patrick, Plankton, and Mr. Krabs.
With this set, you will save yourself the money you spend on wipes from time to time. It also comes with a special blend of antibacterial polyester that works like a suction cup that 'sucks out' makeup from the pores.
The Spongebob towel is small in size and consists of millions of tiny hair-like fibers. This feature makes the set perfect for makeup and facemasks removal and toner application.
The cloth adheres to makeup and smoothly pulls it out of the skin. Based on MakeUp Eraser reviews, customers love this product because it's free from chemicals, parabens, astringents, alcohol, sulfates, oils, and fragrances.
Be sure to machine-wash the cloth before using it for the first time to activate the fibers. Soak it in warm water every time you use it, then wipe out the makeup in a circular motion.
MakeUp Eraser Sponge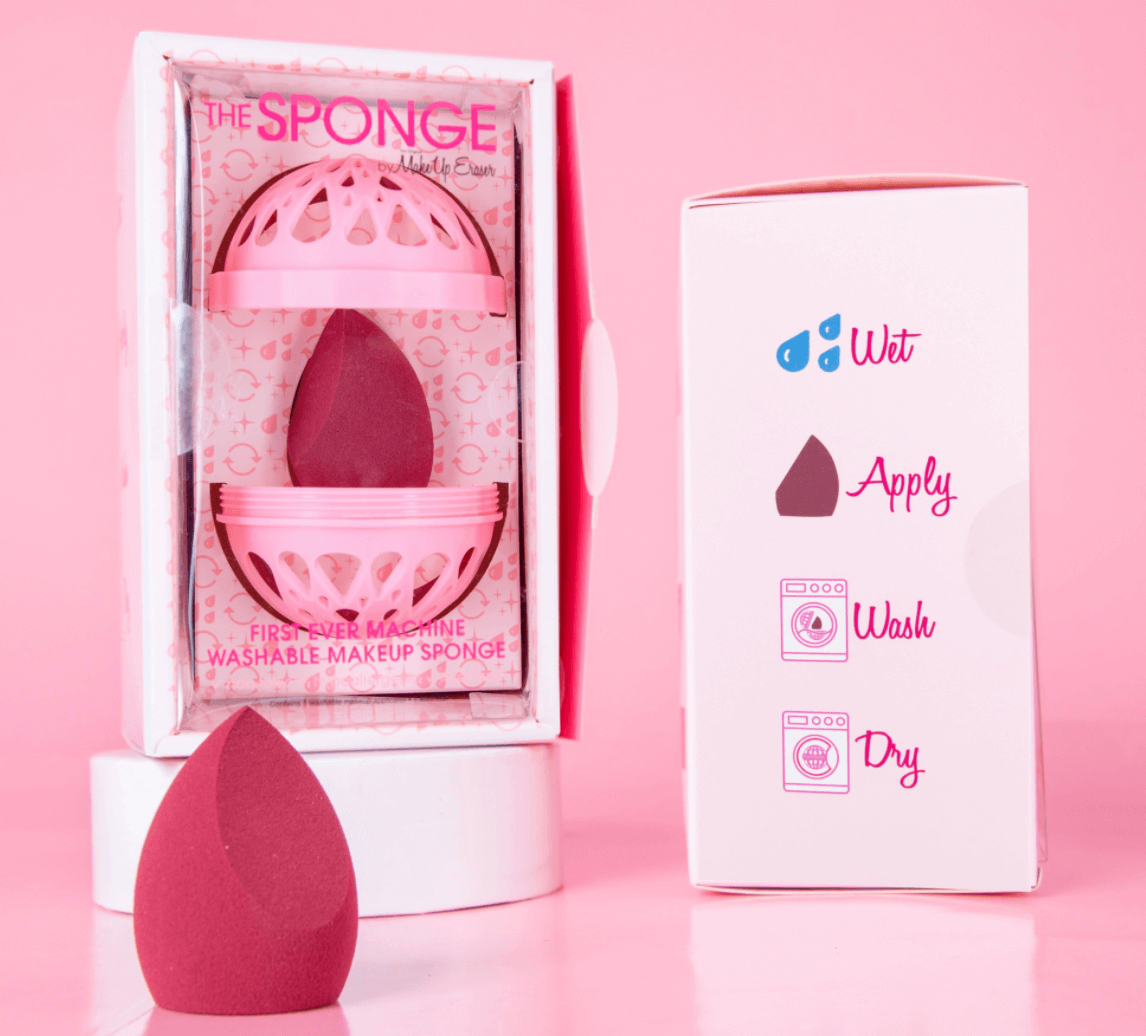 The cruelty-free MakeUp Eraser sponge is a soft and squishy piece with fibers similar to the Original MakeUp Eraser. The durable wash ball is a machine-washable sponge that allows the wet or dry application.
The sponge is free of chemicals such as sulfates-SLS, SLES, formaldehyde, formaldehyde-releasing agents, parabens, retinyl palmitate, oxybenzone, phthalates, mineral oil, hydroquinone, coal tar, triclosan, and triclocarban. It contains little synthetic fragrances that are below 1%.
MakeUp Eraser Sponge is made from non-toxic dye, and it's latex-free and hypoallergenic. It is reusable and does not require any cleanser to remove makeup on it.
MakeUp Eraser 7 Day Set
Say goodbye to harsh chemicals that can ruin your face once you start using this reusable MakeUp Eraser 7 Day Set. The 2 in 1 eraser offers a short-fiber side for makeup removal, and the other side has longer fibers perfect for exfoliating the skin.
MakeUp Eraser reviews from customers show that this set has impressive quality and style, thereby offering value for money. It is simple to use, as you only need to erase makeup with the short fiber side in a gentle circular motion.
Flip on the other side to exfoliate the skin still in similar motions.
The 100% vegan MakeUp Eraser 7 day set has no added chemicals harmful to your skin. With this set, you have one mini for each day. Machine-wash the set at least once a week to prevent the pilling of dirt and makeup.
MakeUp Eraser The Puff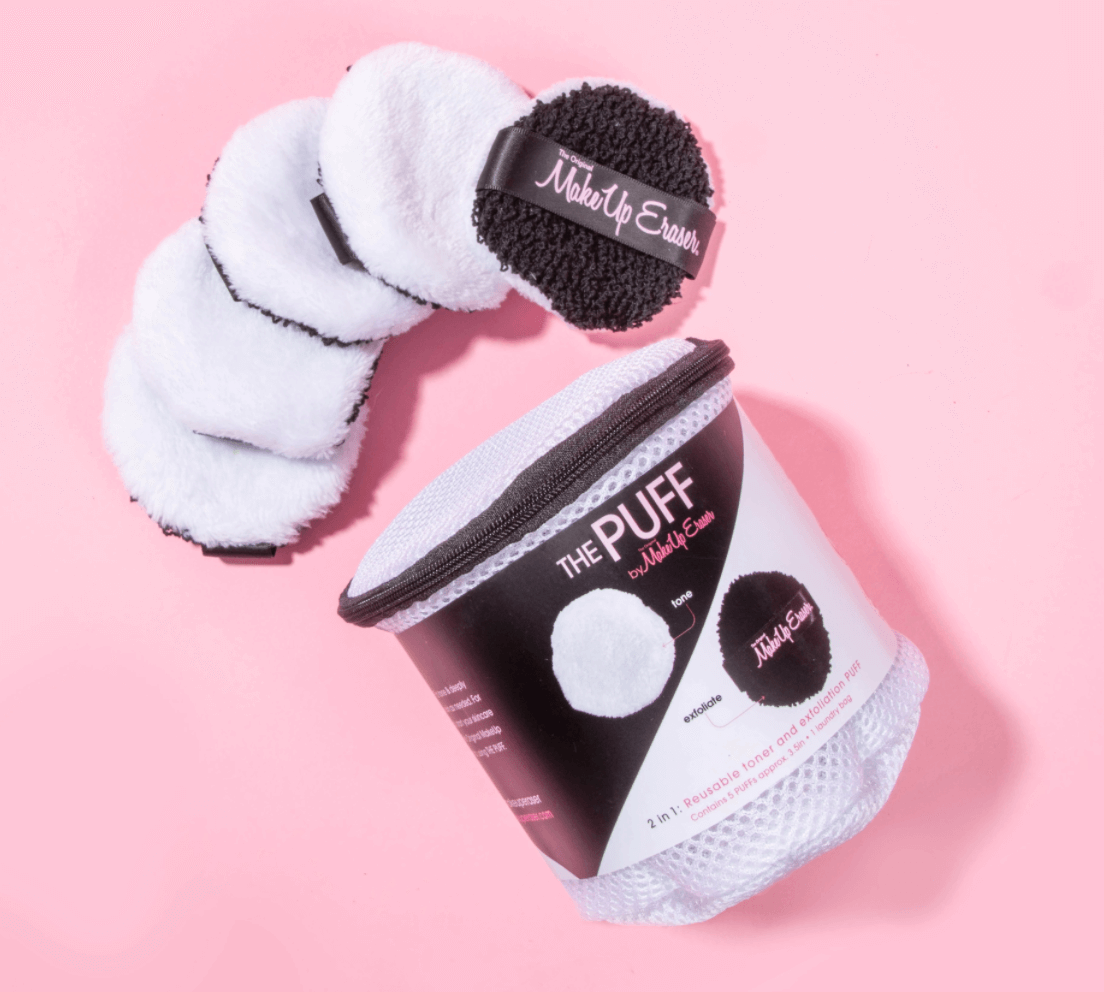 This set consists of 5 puffs and one laundry bag. The Double-sided MakeUp Eraser does not only remove makeup but can also be used to tone and exfoliate the skin. The plush side is perfect for toning and the other one for deep exfoliation.
The Puff is non-absorbent, meaning it doesn't waste your makeup or toner. The set is reusable and great for all skin types. Made of 80% cotton and 20% polyester, this product is 100% vegan, cruelty-free, and dermatologist-approved with zero chemicals.
To exfoliate your skin, wet the puff and make a gentle circular motion to give it a smooth and softer look. Use it dry for toner by patting gently and evenly around your face and neck.
MakeUp Eraser Reviews from Customers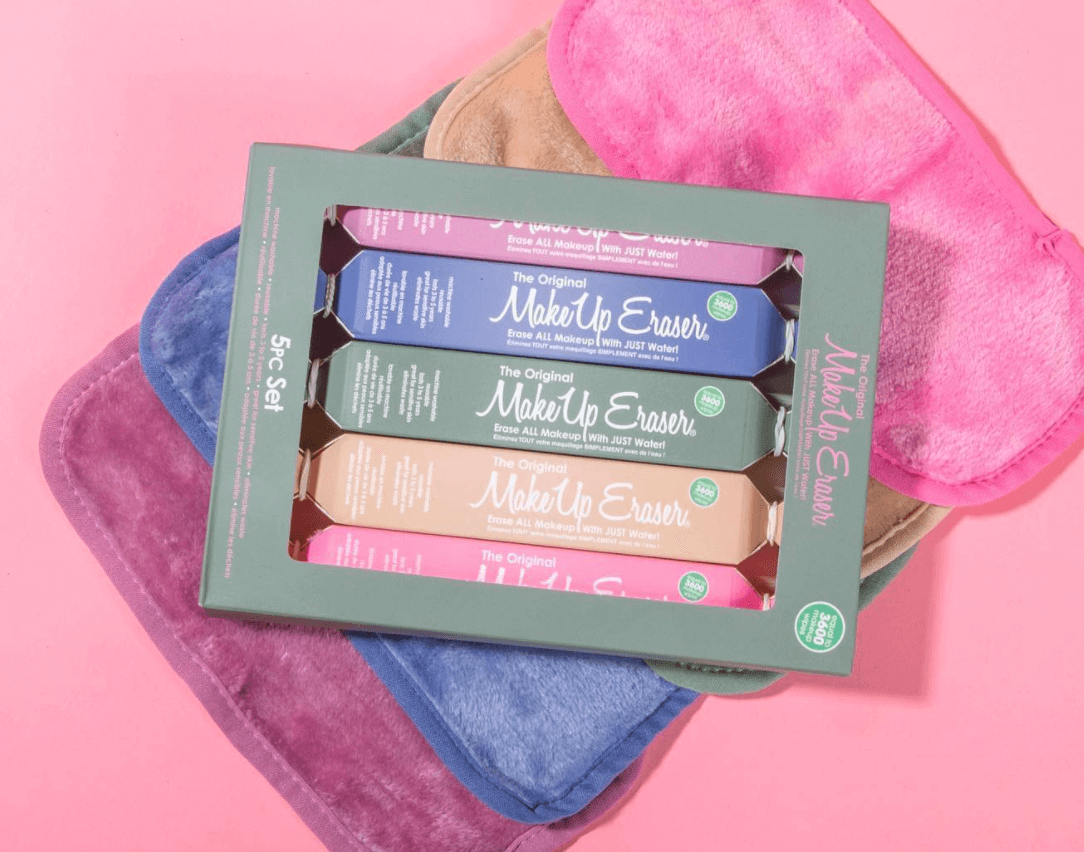 We checked on MakeUp Eraser reviews from customers and discovered that most of them prefer these reusable sets over the single-use wipes.
The brand has an average rating of 4.7 stars on Amazon, where customers talk more about the brand's efficiency. Customers applaud the high quality of the brand's products and their effectiveness.
Several appreciative customers are happy about having the best alternative to disposable wipes. On Trustpilot, the brand scored an average rating of 4.4 stars out of 5,249 reviews, with a high percentage of customers commending their products' sustainability and eco-friendliness.
Others were happy with how their products are easy to use. Some customers were delighted with the durability of the products.
However, one or two buyers left negative remarks. Some international customers complained about orders taking a long period to reach them, and they couldn't return or exchange items.
Sign Up for MakeUp Eraser
Sign up for MakeUp Eraser to enjoy great discounts and speedy checkouts. The registration process is a cinch, as your account will be ready in a couple of seconds.
Provide your first and last names, then create a password you will be using to log into your account. Re-enter the password to confirm, then click submit to complete the signup process.
Having an account with MUE means you are ready to start placing orders from the comfort of your home or office. You may choose to receive notifications about upcoming offers and deals whenever they are available via email.
Where to Buy MakeUp Eraser
To access the entire collection of the Original MakeUp Eraser, visit their official website MakeUpEraser.com. The brand ships orders domestically and internationally. You can also shop for their products from Amazon, Revolve, Sephora, or Ulta collections.
MakeUp Eraser Shipping and Return Policy
Shipping
MakeUp Eraser ships internationally, and it offers free shipping to products worth $50 and above. For free standard shipping, there is no guarantee of the delivery dates. In the first class category, packages under 1 lb take 3-5 working days at $3-$7.
Priority mail is for packages above 1 l, and it takes 2-3 working days at $7 and over.
International shipping costs vary with the destination and the weight of the package. You can track your order through your account by clicking the Order Lookup button. You'll then need to provide the order number and a valid email address.
The site will send an email to you with details of the package in transit. Remember that costs are not refundable.
If the tracking shows that the package has arrived at the destination, you will have to wait for 1-2 days for the carrier company to communicate to you. Contact them in case of any delays for further information or directives.
If you can't track your package, reach out to the support team within five days, and they will be glad to help you.
Always provide accurate information as the brand will offer no refunds or reship for packages sent to the wrong addresses. Customs, duties, and shipping costs are included at checkout.
Return Policy
MakeUp Eraser offers a 100% money-back guarantee within 30 days of purchase on all their products. The original shipping fee, processing/handling charges, and insurance are not refundable. The MUE approves all return orders in writing.
The customer support team will issue a return merchandise authorization number that displays on the outer side of your return shipping package.
Return shipping costs to and from the facility are the customer's responsibility. Be sure to include a note to the package indicating why you are unsatisfied with the product and your purchase order number, which stands in place of your order receipt.
Popular Alternatives for Makeup Eraser
MakeUp Eraser Promotions & Discounts
The MakeUp Eraser brand is currently offering a 50% discount, followed by 20% and 15% off discounts. The brand has 30 MakeUp Eraser coupons that you can use to shop online at their website.
The brand also offers a new MakeUp Eraser discount code after every six days. Buyers save $20 on average when shopping on their site. By signing up for the company's newsletters, customers can get discounts and early chances to purchase new deals.
For such benefits, you have to scroll down the brand's homepage and fill in your details under the "Join our MUE fam!"
Earn points are rewards under the MUE reward program, where you get 5 points for every $1 you spend on their website. Earn more points by following MakeUp Eraser on their social media platforms, referring friends, writing reviews, and posting with the hashtag #nomorewipes.
The more points you get, the greater the rewards you will enjoy. You'll also get free samples and the opportunity to access new deals.
Contact MakeUp Eraser
You can reach the support team through their email [email protected]. To talk to one of their customer service agents, you can use their phone number 1-800-575-9451.
You can also contact the company through its social media accounts, including Facebook, Twitter, and Instagram.
MakeUp Eraser Reviews: Editors Verdict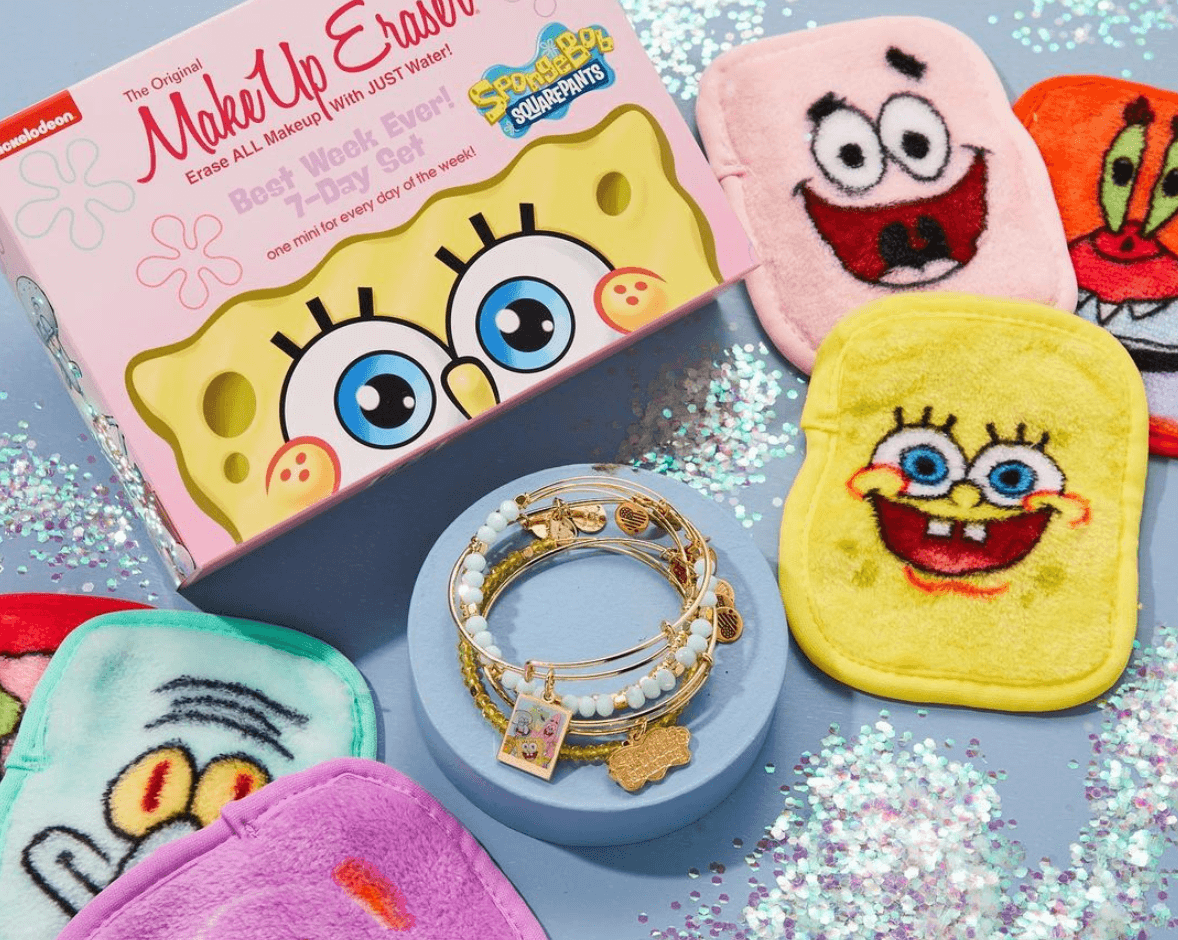 After checking the MakeUp Eraser reviews from customers, we recommend this brand for its sustainability and efficiency. Reviews on the brand clearly show that customers receive value for their money when they purchase its products.
Their products are cost-efficient as they allow you to save money that you could have wasted on traditional wipes. The products last for up to 5 years while serving you perfectly, allowing you to save money in the long term.
They are also eco-friendly, cruelty-free, have no chemicals, and are gentle to your skin.
The positive reviews from the majority of the people who have purchased their products give more confidence in their quality and effectiveness. Their collection also offers a variety of vibrant colors to meet everyone's tastes and preferences.
Despite having a few negative remarks from some customers, many of them trust the brand and its product. Several customers believe that despite having exceptional quality products, the brand can do better in terms of the shipping process.
But overall, this brand is worth checking out.
Looking for the right high-quality cosmetics brand to look perfect? Сonsider reading our beauty brands reviews such as Elemis, Sephora, Elf Cosmetics, and City Beauty.
MakeUp Eraser FAQ
How to use MakeUp Eraser? 
Are you stuck on how to use MakeUp Eraser? The process is simple. First of all, machine-wash it to activate the fibers, soak the makeup cloth in warm water.
Use the side with shorter fibers to remove all the makeup, then flip on the tag side with longer fibers to clear up leftovers and exfoliate your skin. Machine-wash it at least once a week and use it in sections.
How long does a MakeUp Eraser last?
A MakeUp Eraser lasts for three to five years.
Do you have to wash your face after using your MakeUp Eraser?
You have to continue with your usual skin-care routine after using the MakeUp Eraser. We advise that you remove the makeup and exfoliate the face with the eraser first before cleansing or washing your face afterward.
Is MakeUp Eraser sanitary?
Original MakeUp Eraser is antibacterial. It is made of tiny fibers making it impossible for bacteria to survive.
Can you use the MakeUp Eraser if you do not wear makeup?
Yes, you can use the MakeUp Eraser to remove dirt and oil from your face. Therefore, they are still Must-haves for people who don't wear makeup and for those no make-up days.