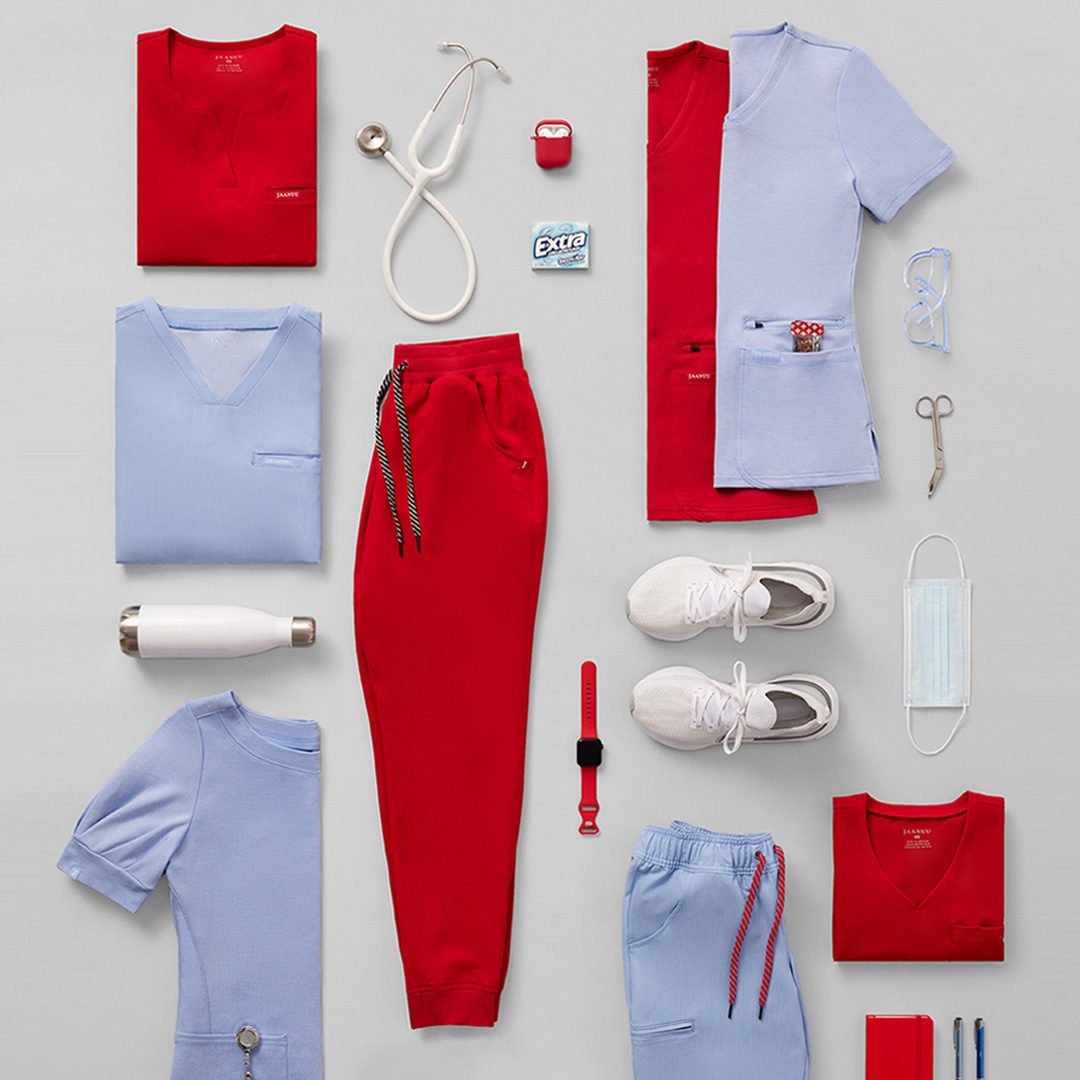 Uniforms are necessary for many fields, but this doesn't mean professionals have to suffer uncomfortable clothing. The same logic applies to scrubs for medical professionals and students. Just like uniforms in many other fields, comfy, stylish scrubs are available. However, you have to be looking in the right places. Luckily, we are bringing the right places to you with this list of the best scrub brands.
10 Best Scrub Brands
The brands on this list provide much more than scrubs, though. More than a few offer lab coats, under scrub wear, etc. They also have different selling points, from technology-aided fabrics and designs to sustainably sourced materials. One thing is constant, though; medical professionals consider them stylish yet functional. Armed with this knowledge, here are our ten best scrub brands you should consider as a student or health worker.
1. Jaanu Scrubs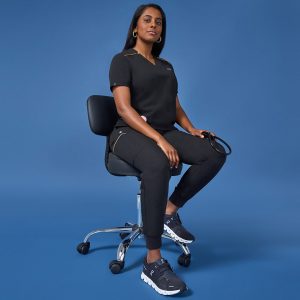 Jaanu is one of the top scrub brands because of the stylishness of its approach. The company strives to do away with bulky, ill-fitting, dull scrubs. Instead, they incorporate contemporary style choices to their medical apparel while maintaining the functionality expected of them. AS such, they have a wide range of stylish scrubs that are antimicrobial and comfortable.
Competitive pricing has also had as much a role to play in the success of the Jaanu brand as the innovative thinking they employ. For example, Jaanu scrubs cost between $39 and $54; if you're lucky, you could get them at much lower discounted rates. Fitting is also a consideration in their design, and the brand provides potential buyers with choices of slim, semi-fitted, or relaxed styles.
With Jaanu, you could also opt to add embroidery to your scrubs (at an extra price) or build a scrub set using tops and pants from the online shop. As the latter option implies, Jaanu stocks up on individual scrub tops and pants, as you would expect from one of the top scrub brands. Purchasing from the brand is a foolproof way to ensure you look good next time you kit up for work.
Although scrubs are the reason for its inclusion on this list of best scrub brands, Jaanu also deals in other medical apparel. Amongst their other offerings are lab coats, masks, and other accessories. 
2. Figs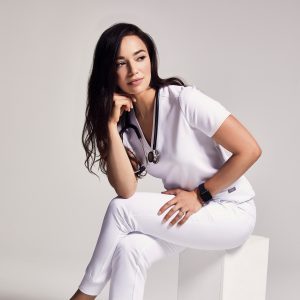 Figs is arguably one of the most popular scrub brands in the business. Its popularity is partly due to the effectiveness of its marketing campaign, the features garnered from notable publications, and the number of awards received so far. However, central to the reputation of the company is the style and comfort its scrubs ensure.
As expected, the best scrub brands cater to the needs of male and female professionals, and Figs is no different. However, the diversity of offerings is the least impressive attribute of fig scrubs. Instead, it is one of the most popular scrub brands, thanks to its soft, stretchy, moisture resistant, and antimicrobial FIONx fabric. This proprietary fabric is also anti-wrinkle and is the go-to brand for the company's scrub sets. 
Scrub sets are only one of Figs' offerings, though. Along with complete sets, they also offer scrub jackets, scrub jogger pants, scrub tops, high-waist pants (for women), etc. In addition, customers can order embroidered sets if they wish. However, the style is only so good as long as you are likable. Figs stays likable by giving back to the community where possible.
Founded in 2013 by a nurse (Trina Spear) and a fashion-conscious friend (Heather Hasson), the figs brand is also an active contributor to positive causes. One of such causes is their Thread for Thread initiative that donates scrubs to medical practitioners. In addition, the brand supports and donates to the Black Lives Matter movements as well. 
3. Care and Wear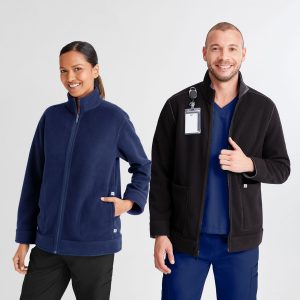 Care and Wear's claim to being one of the best scrub brands on the market is due to their customer-favorite status. The brand runs a customer-friendly operation determined to provide medical professionals with quality scrubs at an affordable price. Central to this operation is creative thinking, incorporation of input from medical personnel, and a full money-back guarantee. However, Care+Wear is more than just a customer-friendly scrub provider.
Unlike some of the best scrub brands to grace our list, Care+Wear doesn't have many features in classy style magazines. What the company has, though, is recognition from brands with a vested interest in functionality and quality products. Some publications to recognize the effectiveness of Care and wear scrubs are Cancer Wellness, wakeup Call, NPR, etc. In addition, the American Cancer Society currently endorses the company.
That endorsement is worth it, given what the brand has done to make patient life within hospitals more tolerable. Rather than limit their creative and comfy products to satisfying healthcare workers alone, Care and Wear have products targeted at improving patient comfort. The care and Wear catalog, thus, includes scrubs for workers, scrubs for patients, under-scrub garments, chest port access shirts for women, and PICC line covers. In addition, the charitable donation of 10% of its revenues to non-profits and foundations further solidifies its reputation as one of the best scrub brands. 
4. Cherokee Uniforms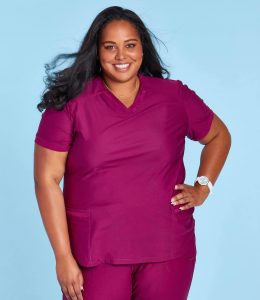 Cherokee fits the bill of scrub brands like figs because of its commitment to technology-guided apparel solutions. However, this brand is much older than figs, and is in its fifth decade of business. Having said that, like figs, the brand is insanely popular among health workers for its comfort, style, and enduring functionality.
Cherokee, however, is more than just one of the best scrubs brands; it is one of the best medical apparel brands. The company offers lab coats, scrub hats, individual scrub pants, and individual scrub tops to accompany their scrub sets. In addition, unlike other scrub brands with a similar range of medical apparel, Cherokee Uniforms stock them in more than the conventional colors.
Browsing through the Cherokee website should expose you to their collections of uniforms. Among these collections are Tooniforms (a range of scrubs employing cartoon-inspired prints), professionals, originals (which look like conventional scrubs), and Cherokee prints (with colorful floral patterns). There are also the Cherokee hosiery and Infinity footwear collections. The footwear collection is especially worthy of note. All products within it possess extra arch support, a heel cup, and air vents to improve comfort on long shifts.
In summary: though Cherokee is one of a few scrub brands like fig, it adds more personality to its products. This distinction makes it a favorite for medical professionals looking to express more of their fashion style with their scrubs on.
5. WonderWink Scrubs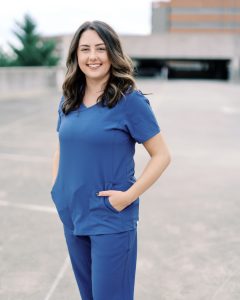 So far, we have introduced stylish scrub brands with a penchant for innovative, comfortable designs. However, we have yet to touch on a company that strives to compete with the best scrub brands while considering the environment's health. This is where WonderWink comes in. The brand possesses collections of easy-to-care-for scrubs and is famous for them. However, they have also recently released the WonderWink Renew collection.
The WonderWink Renew collection features scrubs made from recycled plastic bottles (five per scrub set) and spandex. In addition, products from the collection ship in biodegradable packaging are easy to care for and are water tested for quality and durability. Though the collection might not offset all of the company's other practices, it is a reasonable purchase for eco-friendly health professionals in an industry where few eco-friendly alternatives exist.
As we implied, the WonderWink Renew is one of many WonderWink scrubs collections. You can also check out the Four-Stretch Fashion collection, Lab Coats Value Collection, WonderWink Aero Premium Collection, WonderWink Pro Collection, and the WonderWink Fashion Prints Collection.
All of these collections contribute to WonderWink's standing as one of the most popular scrub brands on the market. In addition, they are all available for purchase in different colors. Finally, if you want something more unique, you can opt for some of the company's embossed print scrubs.
6. Life Threads Scrubs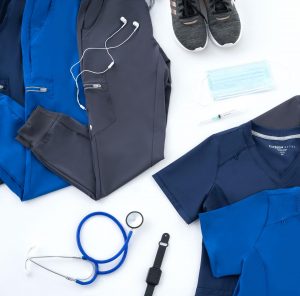 The fashion industry is very competitive, and the market for fashionable and comfortable scrubs mirrors the industry's competition. To carve themselves a sizeable market share, the best scrub brands have started to look towards technology for an edge. Figs does it with its FIONx fabric, and Life Threads does it with the antimicrobial VioFence+ technology in its fabric.
Life Threads fabric uses antifungal, antimicrobial, and fluid barrier techs to enhance its quality. For the antimicrobial tech, the fabric contains an EPA-registered that is lethal towards microbial pathogens and doesn't wash off from the material. The fluid barrier tech, on its own, repels liquid stains and reduces the need for regular laundering. In addition, Life Threads scrubs also exhibit a moisture-wicking effect which should come in handy for easy evaporation of sweat during particularly strenuous shifts.
In line with its industry position as one of the best scrub brands, Life Threads also provides custom embroidery on its scrubs (albeit on group orders). To complete scrub sets, the company deals with individual tops and pants and accessories like glasses, compression socks, and face masks.
7. Med Couture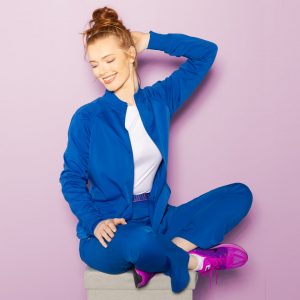 Health workers required to wear scrubs end up donning them for most of the day, and it can be difficult wearing scratchy, uncomfortable clothing for a long time. As the name implies, Med Couture brings style and comfort to traditionally uncomfortable professional clothing. The company offers scrubs for men and women. There are also lab coats, jackets, maternity scrubs, under scrub wears, and scrub dresses among its offering. Med Couture comfortable fits into the category of good scrub brands, but there's more to the brand.
For starters, the company designs and manufactures its scrubs in many collections. The most recent spring 2022 collections showcased on the brand's website are Peaches, Insight, Activate, Energy, Touch, and the RothWear Scrub for men. All of these are available in varying sizes and colors.  
Furthermore, the many collections of scrubs differ in styles, materials, and feel. Though all the collections are made from the same pool of fabric (polyester, rayon, spandex, and cotton), they contain different combinations of fabric and feel different. That is, except for scrubs within the lab wear collection, which according to the company, all possess unique fabric blends. However, all the lab wear is water-resistant, stain-resistant, and anti-wrinkle.
So far, the Med Couture scrubs continue to impress with the Activate collection, particularly a fan favorite. Its lightweight and comfy nature help it rank high on many buyers' lists. However, this brand is more than a one-collection outfit. It is stylish, creative ideas like incorporating drawstrings and utilizing different fabric blends that have elevated Med couture into the class of good scrub brands.
8. Dickies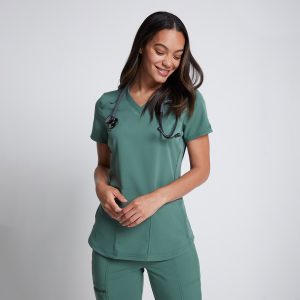 Dickies is another member of the most popular scrub brands class. This medical uniform provider owes its popularity to the quality of its apparel. This quality is all but inevitable, given that Strategic Partners Inc. manufactures its line of scrubs. The manufacturer is one of the top makers of medical apparel.
Nevertheless, Dickies doesn't rest on its laurels or depend solely on quality manufacturing. The company cements its status as one of the most popular scrub brands by offering many collections for varying needs. Many health workers have different preferences for how their scrubs should feel, fit and look. No medical apparel can rise to become one of the best scrub brands without attempting to satisfy a large portion of these health workers. With that in mind, Dickies tries to provide something for everyone. 
Some of the collections under the brand's banner include the Retro, Dynamix, Balance, EDS Signature, Essence, and Xtreme Stretch collections. As we stated, these collections are different in fit and look. For instance, the essence collection features two-way stretch scrubs, while the Xtreme Stretch collection features four-way stretch apparel. So if you want the best scrub for your shifts, endeavor to read up on each collection before purchasing.  
9. Barco Uniforms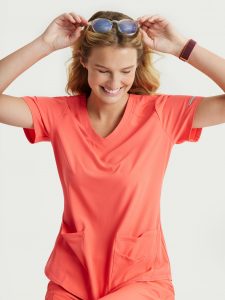 Barco Uniforms is another of the best scrub brands for individuals that want a medical apparel provider with an eco-friendly agenda and community wellness project. Like the WonderWink Renew collection, Barco scrubs are innovative with their fabric choice and recycle five plastic bottles for every scrub made.
The quality of Barco scrubs comes as no surprise when considering that the company has been around for over 90 years. They have had much time to understand what medical professionals need and what works. So much so that the company was the first medical apparel brand to utilize nylon for scrubs and make separate tops and bottoms for both sexes. Such a track record indicates that Barco scrubs are worth trying out if the brand pushes an innovative product.
For now, you must satisfy your fashion and professional needs with the present collections. Among the available supplies are the Barco One scrub, the Grey's Anatomy scrubs, and the Barco One Wellness scrubs. The company also makes quality footwear to carry the stress of a long day. However, the most significant indicator of Barco's commitment to healthcare and the betterment of life on the planet lies in its charitable gestures. 
The efforts of the Barco Nightingale Foundation during the peak of the COVID-19 pandemic have been well documented, as have their initiatives to provide meals and safe drinking water in Haiti. If you buy from Barco, you can rest assured that your money spent is being put to good use by one of the best scrub brands around.
10. KOI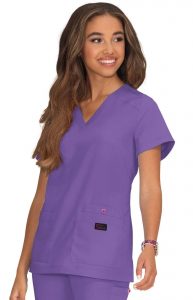 In the words of KOI's founder, Kathy Peterson, the brand simply sought to provide functional and fashionable scrubs. The goal was to help health workers wave goodbye to itchy and uncomfortable scrubs. That was in 2006. Today KOI scrubs grace 1000+ retail stores worldwide, and the brand is one of the top scrub brands in the medical apparel market.  
Like other top scrub brands, KOI has apparel for both men and women. It's their way of ensuring that no sex lacks an escape route from a life of disappointing work wear. However, though KOI tries to be groovy and colorful, it doesn't have the diversity in design and prints that other scrub providers on this list can boast of. 
So far, this limitation hasn't affected the quality or popularity of KOI scrubs. At the time of writing, a couple of KOI scrubs are among the top-selling scrubs on amazon. They are also highly rated as well. If that isn't an endorsement of KOI as one of the best scrub brands around, we don't know what is.
Popular Scrub Brands: Editor's Verdict
You don't have to settle for scrubs handed out by hospitals, but the choice to instead buy from the best scrub brands wouldn't be worth it if you end up splashing the cash on the wrong brand. We have collated this guide to help prevent such a possibility. There were many brands to choose from, but we trimmed it down to the contents of this article. We considered each in terms of stylishness, diversity of fits and colors, materials, and opinions of medical professionals sourced from various forums. 
At the end of our research, we got our list of the ten best scrub brands, and we are reasonably sure that you won't be disappointed were you to treat this as a recommendation. Having said that, this isn't a recommendation; it's simply a microscope to help you sort through the crowd and attain quality scrubs without much hassle.
Are you looking for other health brands? Check our reviews of the 10 Vitamin Subscription Brands, Feals, and Gaia Herbs.