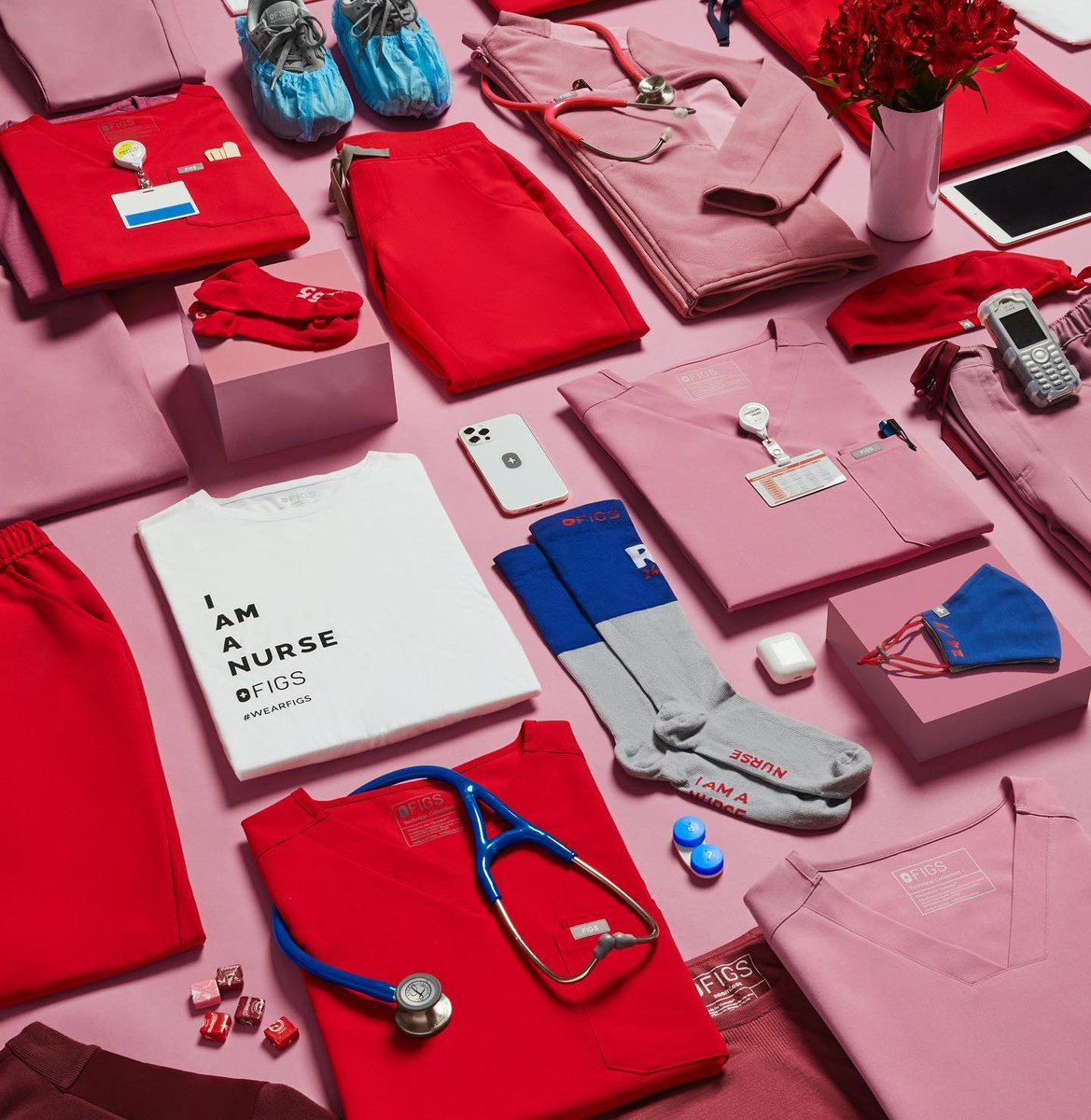 Figs introduced new technology to medical scrubs design, providing comfort even after a long workday. The company is famous in the medical world with popular promotional campaigns and multiple medical brand ambassadors. It promises an improved design of regular medical scrubs to ensure comfort, functionality, durability, and other factors. The brand operates on a massive scale with customers from all around the world. It has also been featured in media publications and has received several awards. This Figs Scrubs Review wants to know if the buzz about this brand is really worth the hype.
First, we'll look into whether or not, Figs scrubs actually benefit healthcare professionals.
About Figs Scrubs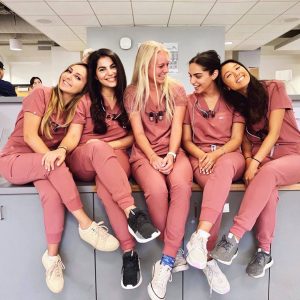 According to Co-CEO and Co-Founder of Figs, Heather Hasson, the idea for the brand came over a cup of coffee. She wondered how her nurse friend could work with her regular scrubs, which were boxy, scratchy, and uncomfortable. Upon realizing that nurses and medical professionals didn't have many options, she created Figs Scrubs.
The challenge for Heather and Figs co-owner Trina Spear was to revolutionize the industry with medical scrubs designs suited to healthcare professionals' needs. Heather's background in fashion pushed the brand forward with functional designs that allow nurses, doctors, and other medical workers to work long hours in comfortable clothing.
The co-founders explained the concept behind the brand, "At FIGS, we like to say that the highest standards didn't exist, so we created them." The company was founded in 2013 and has since changed the world of medical apparel as we know it. FIGS created a proprietary fabric that serves the demands of a day in the life of a healthcare professional.
More about Figs
The company's goal is to provide medical apparel that helps make the job of a healthcare professional easier. FIGS Scrubs' designs are created with innovation and a dedication to ensuring the highest possible standard in all their designs. It's based in Los Angeles with an e-commerce platform where customers can purchase their high-end, fashionable scrubs. They quickly became very popular and have more than 800k followers on Instagram and over 400k followers on Facebook.
In addition, FIGS is committed to making a worldwide impact and building a global community. For example, the brand developed a Threads for Threads Initiative sending clothing and outfits to medical practitioners in need and helping to reduce hospital infections by 66%. On every purchase, the brand donates a pair to a medical caregiver in a resource-poor area.
This way, you know that you're making a significant impact in the world with every Figs scrubs purchase. The brand also fully supports the Black Lives Matter movement. It records a donation of $100,000 to the National Black Nurses Association and the Student Medical Association.
"We pledge to do our part to support the long-term advancement of the Black community and protect those who are bravely making their voices heard at demonstrations and marches around the country."
Pros
Offers scrubs for both men's and women's categories
Moisture-wicking technology
Fabric is engineered with proprietary FIONTechnology for comfort and durability.
Team orders are available for medical facilities
Free shipping for US orders above $50.
International shipping to the UK, Canada, and Australia
Cons
Poor customer service ratings
Does not fit true to size
Figs Scrubs Men Product Review
Figs clothing apparel is separated into the men's and women's categories. Scrubs men offer high-end medical apparel designed specifically for men's wear. The clothing line is made with the brand's FIONTechnology to ensure comfortable, durable, and fashionable designs. This line features various clothing styles, including Shirts, trousers, and scrubs sets.
In this section of our review, we'll expand on some of Figs men's bestseller designs to give you a taste of what the brand offers. We'll also feature customer opinions on whether or not Figs Scrubs is worth your money's worth.
Figs Scrubs Sets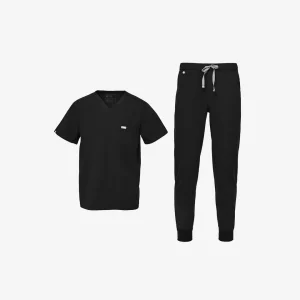 This Figs scrubs set is the easiest way to shop Figs clothing. It is the bestseller option for frontline workers working long hours during emergencies, especially during the Covid 19 pandemic. This set includes a Leon three-pocket scrub top and Tansen jogger scrub pants. Also, it comes in various colors, with navy blue as the favorite shade.
Each item is made from the FIONx fabric, which offers a four-way stretch, anti-wrinkle, moisture resistance, and it is ridiculously soft. It also includes a Silvadur antimicrobial technology to prevent the growth of bacteria, yeast, algae, and other microorganisms that cause odor and fabric damage. The top features a modern V-neck silhouette and a tailored fit.
In addition, the jogger pants feature five pockets in total, including an inner security pocket. It has a slim fit style to aid functionality and comes with ribbed ankle cuffs. The design also features an elastic waistband with an adjustable drawcord to ensure a comfortable fit. As it's engineered for premium comfort, you can work long hours with comfortable clothing.
This bestseller kit costs $86, and for an extra $10-$24, you can add embroidery to your outfit. Giving back is essential to the brand, and it donates a pair of this kit for every set you purchase.
Figs Scrub Jacket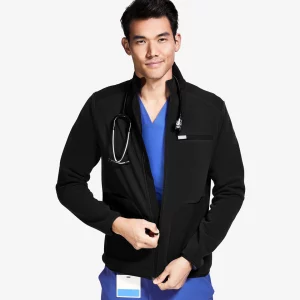 With this Figs scrub jacket, a bestseller during the cold and winter season, you can get more comfortable. Unlike a regular sweater jacket, the Figs on-shift jacket is not only built for comfort but functionality as well. It comes with 6 pockets, including auto-lock zipper technology for security.
The fox fabric is updated with an extra-plush double-sided fleece with an anti-piling finish. In addition, it features a stand-up collar with a cozy rib-knit and soft elastic binding at the hem. Also, the jacket is constructed with PrimaLoft technology offering high-performing, non-bulky warmth, softness, and lightweight comfort.
The On-shift jacket is very classy, and it gives your everyday work gear extra swag. It comes in four shades: black, navy blue, charcoal, and graphite. This Figs scrubs jacket costs $98, but it is currently out of stock on the brand's website. However, you can join the waiting list to get a notice when there's a new batch available.
FIGS Scrub Jogger Pants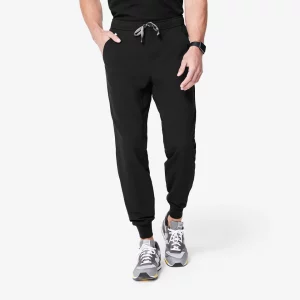 These Jogger pants are one of the bestseller items in the brand's men's collection. It comes with an elastic waist with an adjustable drawcord and is engineered for comfort. They also feature five pockets; two trouser pockets, two back welt pockets, and one interior security pocket. And it's a slim-fitting style with ribbed ankle cuffs.
For people with muscles and extra body fat, we recommend that you choose a size up to ensure a more appropriate fitting. The fabric and material are engineered for comfort with high-end features to prevent the spread of bacteria and microorganisms causing infections. You can purchase the FIGS Scrub jogger pants for $48.
FIGS Scrubs Women Products
Now that you have a fair idea of what FIGS scrubs entail for men, this section of our review focuses on the Figs scrubs women collection. The company offers a complete clothing apparel line for women in the healthcare profession.
You have many options to choose from, and this review will examine some of the brand's bestsellers for women's clothing below!
Figs Scrub Tops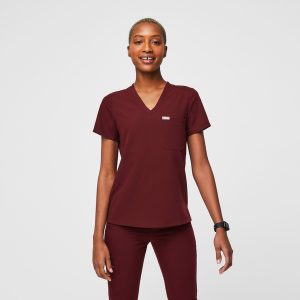 Figs Scrub Tops line features this modern high-end Caterina one-pocket scrub top. It offers the classic v-neck style made with a FIONx technology for extra functionality. However, figs scrubs are anything but basic. With the four-way stretch and ultra-soft feeling, this top makes working through long hours of shift more manageable and comfortable.
The design also has a darted back, a side-slit hem, and a single outer chest pocket. According to verified users, it is easy to put on. In addition, it offers a simple moisture resistance that protects against body fluids. You can choose from any of the 9 available colors, and this Catarina scrub top retails for $38.
Figs Scrub Fleece Jacket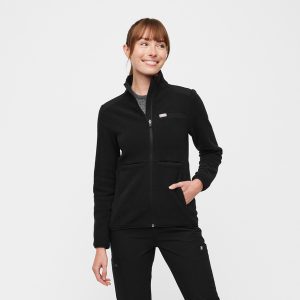 The on-shift fleece jacket is available in the women's collection with varied size options to fit a woman's build. It comes in five color options, including two limited-edition hues. You can get this ridiculously soft, four-way stretch, AC-proof jacket with 6 in-built pockets for $98.
Figs Scrubs Zamora High Waisted Pants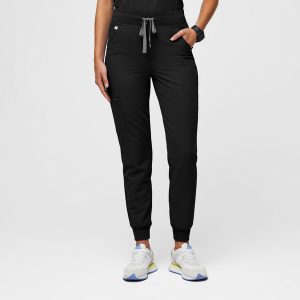 The Figs Zamora high-waisted jogger pants are what you need when working a 12-hour shift on your call day. It has a slim-fit design, and it comes in varied sizes and lengths, such as regular, petite, and tall. In addition, these jogger pants are built for comfort with a fashionable ribbed ankle cuffs style.
It also has a yoga waistband with an adjustable drawstring to ensure a perfect fit. They'll also stay fresh with the anti-wrinkle, moisture-wicking, and antimicrobial technology. You can keep your personal items in any of the six built-in pockets. The Zamora joggers are featured in the Figs Scrub Core set, and they can be styled with the Catarina top or Casma three-pocket top.
Figs Scrubs Review From Customers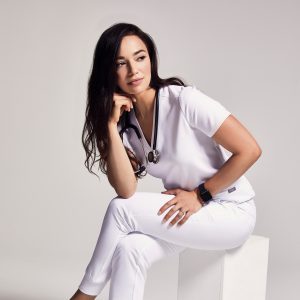 This section of our Figs scrubs review examines customers' satisfaction with the brand's products. We separated our review criteria into 5 different factors to determine the overall customer experience. These criteria include Comfort, Fit, Functionality, Material Quality, Cost, and Customer Service.
For the Fit and Comfort, many customers confirmed that the Sizing is tricky, especially for plus-sized users. This Amazon reviewer stated
"I struggled between an XXS and XS. I'm 5'3 and weigh 108lbs. Had to return the XXS. I also purchased another pair in XS, and it fit just right. The XXS fit, BUT I don't feel comfortable wearing tight pants to work. Love the material. Comfortable! Will purchase again soon."
Another customer complained, "Sizing was way off, just like many others who complained. As you can't try them on, if you want your name embroidered, then you can't return them. If there is no name and they fit or don't fit and return, then you don't have your name on them. Look on trust pilot; lots of negative reviews, just like on Amazon, where the number of negative reviews is astounding. BTY, I bought mine directly from FIGS and not from Amazon."
We also looked for what customers had to say about the functionality of Figs Scrubs for their call hours. A male nurse gave feedback on the Figs Leon Two-Pocket Scrub Top on Merch Foundary, stating, "I love these for 12-hour shifts. Lots of pockets, and ordering them in black means blood won't show up on your scrubs!"
Further customer reviews
Women also love the FIGS Kade Cargo Scrub Pants and confirmed that they are functional and helpful in carrying personal items like a phone and keys. "I love how soft and comfortable the material is, but I love the pockets. I always have stuff to tote around and need the extra space!"
Customers have mixed feelings about the Quality of FIGS products. While many users appreciate the moisture resistance and breathability, others do not appreciate the cheap quality of the fabric, stating,
"They look super cool, but the pockets have LOOSE THREADS. I bought 5 tops/pants, 4/5 if my top pockets TORE IN ONE MONTH. They have replaced the top, but the replacement tore as well."
FIGS also has poor customer service, which affects the users' experience in shopping with the brand. On Trustpilot, 80% of the customers complained about the unsatisfactory customer service. One user shared their experience,
"I'm in Canada, so not far in terms of shipping. The team canceled my order and replaced it; I did not receive any shipping information after this. I have been reaching out to customer service for over a month and have not received a response."
In addition, several users have confirmed that Figs products are pricey compared to other brands which offer the same quality for less. Finally, you can try out a Figs Scrubs set for yourself to see how it compares with your usual work gear.
Sign Up For Figs Scrubs
Sign up for a shopping account to manage your order and get exclusive deals directly on the brand's website.
Where to Buy Figs Scrubs
Suppose you're wondering where to buy Figs Scrubs. In that case, the brand uses an E-commerce platform to make its products available to customers. You can shop for your Figs Scrubs merch exclusively on WearFIGs.com. Some Figs products are also available on Amazon.
Figs Shipping and Return Policy
Figs ships to the United States and its territories and Canada, the UK, and Australia. It offers free shipping for orders above $50, but standard shipping costs $6, and the shipping period is 3-7days. You may also request expedited shipping which arrives in 2 business days and costs an additional $20 per order.
The Figs shipping policy recognizes USMCA and does not charge tax for Canadian orders $40 CAD or less. No customs duties are also charged for orders $150 or less. Standard shipping to Canada takes 5-10 business days, but express shipping to Canada is 2-5 business days. Shipping orders to Canada and United Kingdom takes 10-15 business days.
Meanwhile, FIGS' return policy lasts for 30 days after delivery. All Returns must be in new and unworn condition with the tags attached. Once your returns have been received and confirmed, you will get a refund in the original form of payment.
Figs Scrubs Promotions and Discounts
You will get 15% off your first order when you subscribe to the company's newsletters. Figs also offer a 15% discount to students and military persons. The military discount is available to USAA members, active, veteran, and retired persons with an active military service record from September 9, 1985.
You can also check the brand's website and social media to get a notice on any Figs scrubs coupon.
Contact Figs Scrubs
You can contact the brand's customer service through the online contact form or call or text at 424-500-8209. Figs customer service is available from Monday to Friday from 6 am to 8 pm PST.
Figs Scrubs Review: Editor's Verdict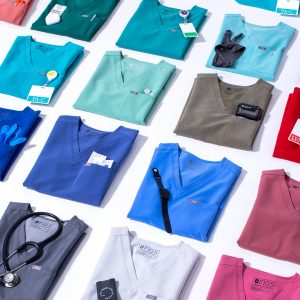 This Figs Scrubs Review rates the brand 3.5/5 based on Comfort, Fit, Functionality, Quality, and Customer Service criteria. Figs offer a unique approach to medical scrubs using its FIONx Technology to create clothing apparel for the medical practitioner that helps make their work easier.
The brand creates scrubs sets in different colors and designs, allowing its customers to mix and match styles. Asides from the ultra-comfort fit, it is water-resistant and odor-resistant. It also has a functional design that enables healthcare workers to move around quickly. Customers also love that Figs scrubs have extra pockets to hold their phones, keys, etc.
However, the Figs scrubs do not fit true to size, and many first-time buyers have sizing issues. Some customers have also complained that it's overpriced compared to other brands with terrible customer service. However, most of the negative reviews are based on individual tastes. You can try Figs Scrubs to confirm if it suits your taste.
Are you looking for more fashionable clothing? Check out our reviews of Anine Bing and The Frankie Shop. Or perhaps you'd like to read about 15 Brands like Reformation.
FIGS Scrubs FAQ
Do FIGS Scrubs shrink?
Your FIGS Scrubs will remain in premium condition for years with proper care and maintenance.
Does FIGS carry maternity scrubs?
Yes, FIGS maternity scrubs are included in the Core collection
Can FIGS make custom sets?
No, the brand does not sell custom sets
What are Core Scrubs and Colors?
Core Scrubs are styles that are always in stock and are the brand's most popular designs. The Core colors include Black, Ceil Blue, Graphite, Navy, Burgundy, and Royal Blue.
Can I wash my scrubs in hot water?
The brand recommends washing your FIGS scrubs in cold water with a low tumble-drying to ensure durability.