Toothpaste is an essential item for maintaining good dental hygiene. But, it is not always easy to find the best toothpaste brands among multiple fake products. For this toothpaste brands list, we discussed with our in-house dentists and selected products with the highest expert approvals and recommendations. In addition, some toothpaste products offer fluoride or are fluoride-free toothpaste options. Fluoride is an ingredient that helps to remineralize your teeth and offers protection from tooth decay. Meanwhile, some brands offer fluoride-free toothpaste, which can be helpful to the environment. Our list also highlights brands that sell toothpaste products with added benefits.
10 Best Toothpaste Brands
There are specific types of toothpaste for different concerns, from teeth whitening and gum repair to sensitive teeth and bad breath control. In addition, the best toothpaste brands offer budget-friendly prices to make their products accessible to a wide range of users. With high-quality toothpaste, you can maintain a healthy dental hygiene routine to prevent cavities or gum infections., This toothpaste brands list will guide you on the ten best products to look out for in the market. Keep reading to discover your new favorite products below!
1. Bite Toothpaste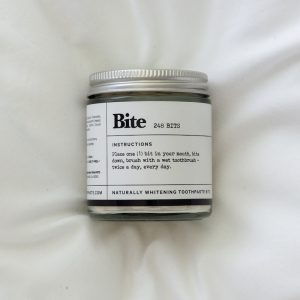 When it comes to your teeth's health, it's important to take no chances and shop from the best toothpaste brands that will not harm your teeth. Suppose you're looking for a product for a natural, eco-friendly and minimal waste regimen. In that case, you can shop from Bite. The brand is part of the effort to provide more sustainable personal care products that help the environment.
It has been featured in major publications like Oprah and Forbes. From the customer reviews, you can tell that this brand is doing something right. What makes Bite unique? Unlike most popular toothpaste companies, Bite offers clean, minimal waste dental products that are helpful to the environment. The toothpaste is free of any harsh chemicals and potential toxins.
Lindsay McCormick founded Bite as the first-ever cruelty-free and zero-waste company where you can bite mouth-cleaning tablets, also known as the Bite toothpaste bits. These toothpastes are stress-free and extremely effective for both adults and kids. It comes in various flavors such as Fresh Mint, Mint Charcoal, and Berry Twist.
The Mint Charcoal is designed to combat surface stains and encourage teeth whitening. Meanwhile, if you struggle with bad breath, the Bite Fresh Mint bits offer a clean feeling, and it helps to freshen your teeth. Meanwhile, the Berry Twist bits are a fun twist and a great way to encourage your kids to brush their teeth.
The Berry Twist flavor is a mix of mandarin orange and berries with a rich, fruity scent. In addition, Bite uses natural ingredients for its clean toothpaste formula, including, Xylitol and Erythritol, to combat bacteria. Calcium Carbonate is a cleaning agent to effectively polish the teeth; Sodium Cocoyl Glutamate encourages foaming, and Sodium bicarbonate helps to balance the PH levels in your mouth.
2. HiSmile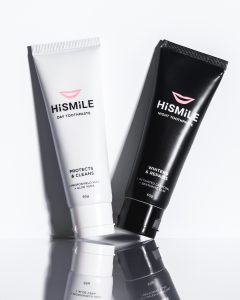 HiSmile is a reliable dental care company that supplies advanced teeth whitening kits that you can use from the comfort of your home. It allows using safe and healthy professional-grade kits that don't contain the peroxide bleaching used in most home whitening tools. The Australian dental company features this toothpaste brands list as an easy-to-use teeth whitening service for both professional and home use.
The brand's goal is to provide an effective teeth whitening system free from peroxide, and other harmful bleaching agents that weaken the teeth, increase sensitivity and cause gum issues. HiSmile products are also clinically tested to ensure that they are completely peroxide-free and do not damage the enamel. It even offers a PDF result of this clinical study on the brand's website.
HiSmile offers two unique types of toothpaste. One product contains the patented whitening ingredient, while the other product comes as a set. You can also purchase the HiSmile toothpaste set, which contains two tubes of toothpaste for the day and night. Each product contains different formulations set to the time you brush.
Most people don't realize that our teeth have different needs at different times of the day. If you're brushing your teeth in the mornings and evenings, you can purchase this HiSmile toothpaste set. It contains active ingredients that work to remove teeth stains and optimize protection after use. HiSmile is different from off-the-shelf toothpaste and is commonly used by professional dentists.
If your lifestyle and personal habits are particularly hard on your teeth, you should consider getting HiSmile's teeth whitening products. The brand curates all the essential tools you need to remove plaque and any film coloring your teeth. You can also get the HiSmile Color Corrector, which helps to remove yellow stains and improve the brightness of your teeth.
3. Snow Teeth Whitening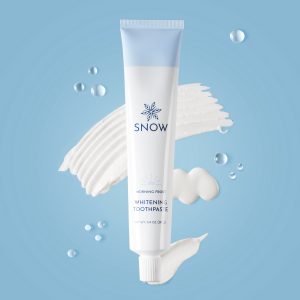 Everyone deserves a bright smile, but due to lifestyle, modern diet, and several other factors, our teeth need extra help to stay healthy and bright. One of our favorites in this toothpaste brands list is Snow Teeth Whitening. Snow offers professional-grade teeth whitening kits for home use from harsh chemicals and is gentle for sensitive teeth.
The company offers a wide range of dental care providers to help prevent bacteria and protect your teeth from gum diseases, cavities, and other problems. It is a 'revolutionary' alternative to expensive cosmetic teeth whitening salons or a trip to the dentist. Snow allows you to care for your teeth at home with a safe and easy-to-use teeth whitening system free from harsh chemicals.
Asides from the teeth whitening serum, the brand provides a high-quality toothpaste that you can use for your regular teeth cleaning routine. It helps you to maintain the whitening results on days when you're not using the Snow Teeth Whitening treatments to offer gentle teeth cleaning and polish your pearly whites.
Snow teeth use clean and well-tested ingredients that are safe for different teeth types and gum sensitivity. The Snow Teeth Whitening set includes a patented LED light mouthpiece you can control with your smartphone, one double-strength serum wand, and a shade chart for all your whitening goals. It is also vegan-friendly and gluten-free, and Snow doesn't conduct animal testing.
Snow's mission is to allow everyone a chance with white pearly teeth. The products are FDA approved and recommended by qualified dentists. A portion of Snow's proceeds goes to underprivileged children so that they can access any dental treatment they need. From customer reviews, we confirmed that Snow Teeth Whitening is trustworthy, and the brand offers results.
4. Crest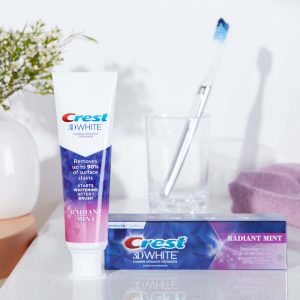 Toothpaste is the most important part of your oral hygiene, and to be safe, you must use a product that will protect your enamel and gums. Crest is a toothpaste brand that professional dentists recommend for your daily dental routine. The brand offers a wide selection of toothpaste for teeth whitening, bad breath control, gum sensitivity, and other concerns.
You can be sure of clean, safe, and high-quality ingredients when shopping with Crest. It is highly committed to oral care and ensures that all products are backed by clinical tests and trials. The company also has high sustainability ratings and commits to eco-friendly approaches. Crest doesn't tolerate animal testing; you can check the product info for the complete ingredient list.
Besides toothpaste, the brand offers a range of mouthwash, teeth whitening kits, and more. The Crest 3D Teeth Whitening Charcoal toothpaste is one of the brand's bestseller toothpaste. It contains activated charcoal, which gently whitens teeth and strengthens the enamel. It has a refreshing mint flavor which helps to keep your breath fresh throughout the day.
Many customers on the website confirmed that they started seeing excellent results shortly after using the product. It is also suitable for both morning and night use. Meanwhile, Crest produces kid-friendly toothpaste that gives protection from cavities. In addition, the Crest Kids Frozen-themed toothpaste has a bubble gum flavor that your kids will love.
By shopping with Crest, you can support local communities and be part of the brand's social impact movement. Crest's proceeds go to providing oral care for needy people. It also established dental school scholarships for minority students in need and partners with multiple dental professionals.
5. Hello Toothpaste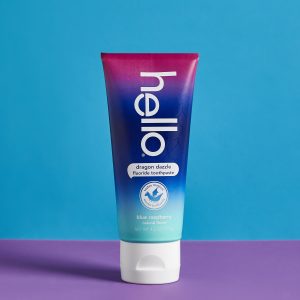 Hello is one of the few brands in the oral care market that are completely green and natural. Natural toothpaste brands provide an effective alternative to toxic and non-eco-friendly items often sold in many drug stores. It is featured as a trailblazer company in Byrdie, Business Insider, and Forbes Magazine. What sets it apart?
Unlike the bigger name brands, Hello utilizes natural ingredients in its formulas, and the brand focuses on protecting the environment. It pushes for ethically made and sustainable products with little to no damage to the environment. Hello, formulas are free of harsh chemical additives that are unclean and unsafe for consumption.
The brand offers a range of high-quality personal care products ranging from dental care to makeup items. It provides clean lip gloss, deodorant, mouthwash, and floss. However, the toothpaste section is one of the brand's high selling points. Hello offers the option of fluoride and fluoride-free toothpaste, so you can make your own choice.
One of the brand's most unique products is the Hello Antiplaque + Whitening Fluoride-Free Toothpaste. This double-action formula helps to remove plaque and restore your pearly whites to a beautiful shine. It doesn't contain any parabens or sulfates, but it works effectively. In addition, it is also flavored with peppermint, tea tree, and coconut oil.
6. Tom's of Maine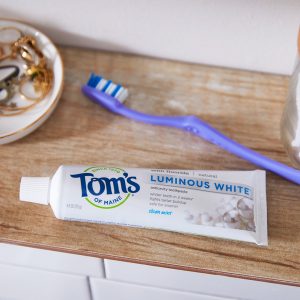 If you're looking for a family-friendly, clean, green, and natural toothpaste brand to try, we recommend Tom's of Maine. It is among the best toothpaste brands in the natural personal care industry. The brand is also mentioned on Allure, Insider, Family-Rated, and more media outlets for its eco-friendly actions.
It encourages more people to access natural solutions for all their beauty and oral care routines. The Tom's of Maine product line includes toothpaste, mouthwash, floss, deodorant, and bath & body wash. Additionally, the toothpaste category includes fluoride and fluoride-free items free of artificial flavors, colors, or preservatives.
Suppose you want to whiten your teeth without an expensive visit to the dentist. In that case, you can try the brand's Luminous Whites Toothpaste with Charcoal. It helps to whiten teeth by gently removing all the surface stains, which helps to remove any yellow color and restore shine. Many dentists recommend this product to their patients as the best for tooth enamel.
Additionally, clinical tests confirm the presence of RDA (Relative Dentin Abrasion), meaning that the formula works to protect your enamel. The main ingredient in toothpaste is sustainably-sourced plant-based charcoal. In addition, the toothpaste has a natural peppermint flavor that helps freshen the breath. It also offers 100% recyclable packaging, which includes the toothpaste tube.
7. Marvis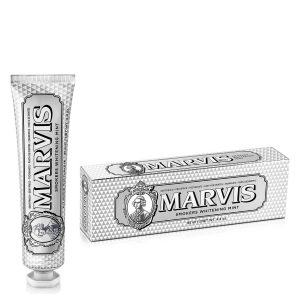 When it comes to your dental safety, it's important to choose a safe, clean brand that truly protects your teeth from damage. Enter Marvis, a trailblazer among the fluoride free toothpaste brands in the men's personal care sphere. It gained popularity in the early 70s among smokers for teeth whitening and plaque removal.
Additionally, Marvis prides itself in being the haute cuisine of toothpaste. It comes in lush, retro packaging for a more vintage appearance and is available in seven great-tasting flavors. The Marvis toothpaste formula helps to provide a bright white smile and long-lasting fresh breath. It also helps to prevent tooth decay and plaque buildup.
Like most, Marvis toothpaste contains common ingredients such as glycerin and sodium, but it doesn't use any fluoride. It is also cruelty-free, vegan, gluten-free, and paraben-free. Marvis toothpaste also contains titanium dioxide, which helps to whiten your dental pearls. To get premium results, you'll have to regularly use your toothpaste both night and day.
Meanwhile, we found many favorable customer reviews on the brand's website. Many customers appreciate the long-lasting freshness and intense flavor range. This toothpaste allows you to maintain good oral hygiene to prevent cavities, plaque buildup, and bad odor. It is also accessible, and you can get your Marvis toothpaste in your local drugstore.
8. BlanX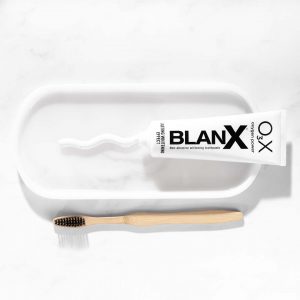 BlanX producers market their products as one of the best toothpaste brands in the world. This Italian-based toothpaste brand is sold all over Europe and most Asian countries. The brand offers a fast-acting formula containing the Arctic Lichen that works against the bacteria that cause plaque and teeth coloring.
For one, Blanx is unlike other toothpaste brands in the market. It employs innovation to find natural teeth whitening solutions that work just as effectively as standard home whitening kits.
Clinical tests on the BlanX whitening formula saw noticeable effects within 15 and 30 days of use. So you may have to use your BlanX toothpaste for 30 days before you observe any results.
Additionally, BlanX products are non-abrasive and free of peroxide to protect the tooth enamel and effectively whiten the teeth. Despite recent industry trends, BlanX only offers fluoride toothpaste from Arctic lichens and high-quality silicas. It is also free of toxic, unnatural chemicals that can harm your teeth' health.
With BlanX toothpaste, you can be confident to flash your pearly whites anytime. Customers adore this product and share that it cleans and refreshes the breath. BlanX toothpaste helps to prevent stains even after taking colored drinks or food. It also promotes gradual development and protects your teeth from damage.
9. Sensodyne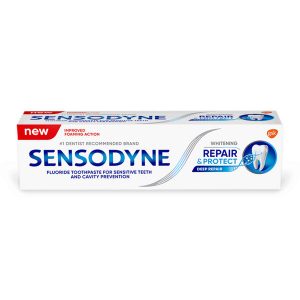 You've probably come across this product at the drugstore or your supermarket. It's one of the most popular toothpaste brands with a long history of providing high-quality and effective toothpaste. Sensodyne toothpaste offers an original formula that helps to rebuild enamel strength and give protection against everyday acids.
It helps you maintain healthy teeth and gums to avoid cavities and bad odor. In addition, Sensodyne is well-known for its range of toothpaste products for sensitive teeth. It prides itself on being the highest rated 'Dentist Recommended brand for sensitive teeth. The toothpaste relieves pain caused by sensitive teeth and provides long-lasting protection.
Meanwhile, you can use the Sensodyne Online check-up to get the best recommendations for your teeth. It will help you determine if you have tooth sensitivity and suggest products that will help you. If you want a standard toothpaste company that offers a different range of products for every lifestyle, then you'll love Sensodyne.
10. Colgate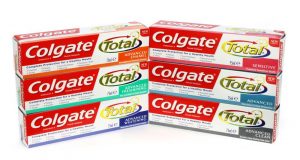 Colgate is an OG toothpaste brand that is commonly used all across the globe. It offers a time-tested toothpaste selection that helps to whiten teeth, build enamel protection and remove any bacteria causing cavities. The brand has been featured in notable media publications, including Insider, New York Magazine, and Allure, as one of the popular toothpaste brands.
In addition, Colgate supports sustainable and ethical production to ensure environmental safety. The brand offers an extensive product line for teeth whitening and protection against gum diseases and infections. You can also learn about proper dental nutrition and oral health for stronger, healthy teeth.
Best Toothpaste Brands: Editor's Verdict
Ultimately, you can have stronger, healthier teeth with the right dental care products. However, several oral care brands are in the market, so it may be hard to find a trustworthy company. Luckily, you have our list of the best toothpaste brands to guide you on your next toothpaste shopping adventure!
Are you interested in the best toothbrush brands to go along with these amazing toothpaste? Check out our reviews of the 10 Best Toothbrush Brands. Alternatively, read our reviews of the 10 Vitamin Subscription Boxes and 10 Best Vitamin Supplement Brands.