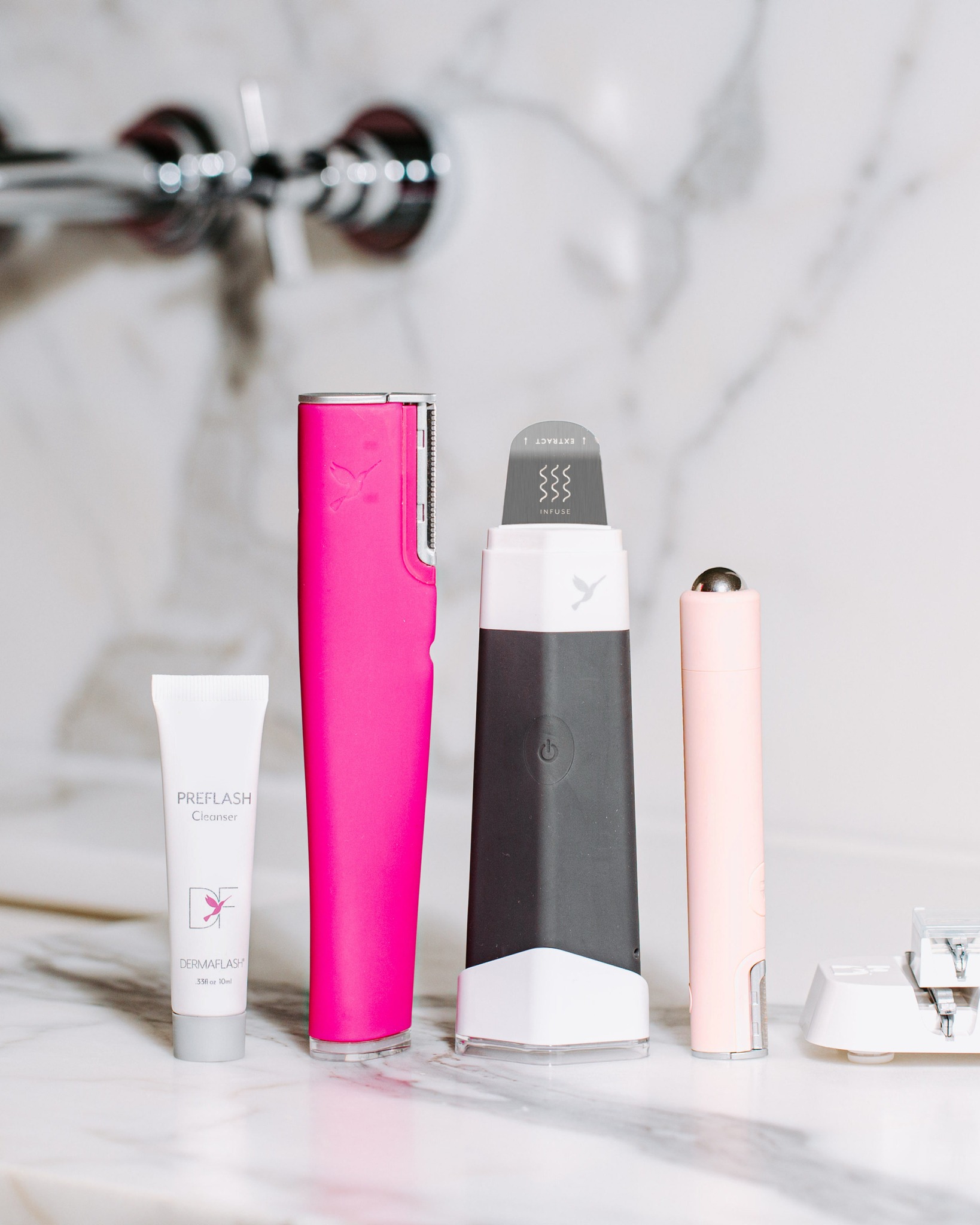 We find ourselves trying out different skincare routines in the quest to achieve smooth and flawless skin. The secret to smooth skin lies in dermaplaning. DermaFlash sells dermaplaning devices designed to help you look beautiful, radiant, and confident. They remove peach fuzz, pockmarks, and other imperfections, leaving you with a smooth complexion. We'll highlight the ins and out of this company, including DermaFlash reviews from previous customers, its return policy, and its best-selling products to help you determine if they are worth checking out.
About DermaFlash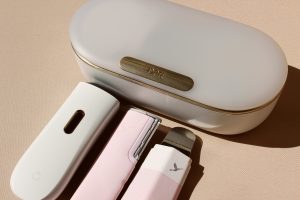 The story behind DermaFlash is fascinating. The company was founded by Dara Levy, a spa owner in Chicago. Dermaplaning was part of her skincare routine, and due to its instant results, she fell in love with the treatment method. Through the treatment, her skin began to improve gradually because her skincare products became more effective by improving skin absorption.
Dara opened her spa in 2009 and made dermaplaning the core service offered at the facility. She went ahead to trademark DermaFlash as the name of her dermaplaning treatment. After five years of operating her business, she was struck by the idea of creating a home solution that did not exist in the market. And she was constantly thinking of ways to grow her business. Levy always knew that the next step in her career was to create a skincare line, but it had to be unique, and she took it to the next level by coming up with DermaFlash.
Darmaflash was launched in 2016 as an at-home device used for dermaplaning. The product enabled all women who wanted to achieve smooth, flawless skin and did not have access to the spa to do the service. The cost of the procedure was also too high compared to getting the device. 
Due to the innovativeness of the product, DermaFlash has won numerous awards, including the Allure best of beauty 2018 awards. The company also enjoys a massive following across social media platforms, with 124K followers on Instagram.
Unlike other companies, DermaFlash is unique in that it's an all-women workforce, from the CEO to the other subordinates; this is because Dara, the founder, is dedicated to raising women in the industry. Before we delve deep into DermaFlash reviews from customers, let's take a look at some of their most popular products.
Pros
The brand offers high-quality devices and skincare products
DermaFlash has anti-aging benefits for it exfoliates the skin
Clinically proven that facial hair will not grow back faster or thicker
A significant number of users instantly saw results after using the product
The brand not only offers dermaplaning devices but also offers skincare products to be used with the devices
The company offers free ground shipping on all orders, and its subscribers enjoy amazing discounts and promotions
Cons
Some users complained of skin irritation after using the products
Customer support is not available 24/7
You cannot return Final Sale items
DermaFlash Products Review
Dermaplaning possesses several benefits to the skin, including anti-aging benefits. The treatment procedure helps your skin look young and refreshed by removing dry areas and helping to clear up different skin conditions. Most people have embraced the in-home DermaFlash device for convenience, safety, and value for money.
You don't need to book an appointment or worry about the cost of dermaplaning. All you need to know is how to perform the treatment yourself, and you are good to go. We'll now cover their bestsellers, including DermaFlash refills, DermaFlash Luxe, and DermaFlash Dermapore.
DermaFlash Luxe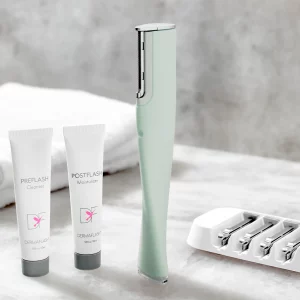 DermaFlash Luxe is the main product offered by the company; this innovative product is a facial device that helps remove the outermost layer of the skin, which includes facial hairs and dead skin cells. It leaves the skin soft and smoothes it almost instantly, creating a fresh canvas for your skincare products to work on effectively due to enhanced skin absorption.
If you are new to dermaplaning, you are probably wondering how DermaFlash Luxe works. It's pretty simple, and by simply going through this DermaFlash how to use the guide, you'll get the hang of it. Ensure your device is fully charged before you start the dermaplaning procedure:
Prep the skin- First, prep the skin with the pre-lash cleanser. Wet your hands and place a small amount of pre-flash on them to create lather. Gently massage it onto your skin, then rinse it and dry it well.
Flash -Press the power button to activate gentle vibration. Hold your DermaFlash Luxe at a 45 degrees angle. Then, hold your skin taut with your opposite finger from your ear to your cheekbone. Gently move over the entire face employing feathery strokes, avoiding the lips, eyelids, and nose.
Post flash care-After dermaplaning your entire face, apply a small amount of post flash. Gently massage the product into your face to soothe and hydrate your skin. It is advisable to dispose of your edges after use. Hold your DermaFlash into your bin and press the eject button to remove the edges.
Ensure that dermaplaning has become part of your skincare routine and repeat the process once every week for best results. DermaFlash luxe goes for $199, and it includes the device, pre-lash cleanse, post-lash moisturizer, charging dock and USB cord, and exfoliating edges.
DermaFlash Dermapore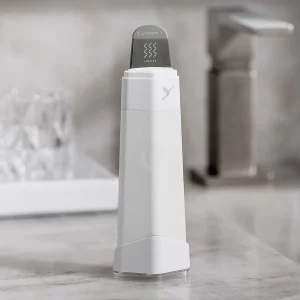 Used to unclog skin pores and infuse skincare products, DermaFlash Dermapore is a skincare device that helps you achieve healthy skin by reducing the sizes of your pores and extracting blackheads for clear and flawless skin. Based on DermaFlash Dermapore reviews, users love this unique ultrasonic device because it cleans their skin and removes dirt and excess oils from their pores; this enhances the absorbability of their skin to active ingredients in your skincare products.
It is pretty easy to use Dermapore, and according to DermaFlash reviews, most people learned how to use it quickly. Before you start using the device, ensure to cleanse your face. It is imperative to keep your face wet during the entire process.
Activate the device by pressing the power button once. A steady vibration will indicate that the device is in exact mode, and you can start the process. Glide the device over your face with a gentle yet firm press on the skin. The rounded spatula will gently remove dirt and oils from your pores for clean and healthy skin. After doing the procedure on your entire face, apply your moisturizer and serum.
Get Dermapore for $99, and the device comes with a protective cap, device stand, USB charging cord, and a detailed user manual.
DermaFlash Mini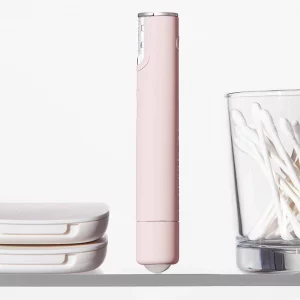 If you love the DermaFlash Luxe version, then you should also try out DermaFlash Mini: This is a compact version of Luxe. It is designed for peach fuzz removal for areas in the face that are hard to reach, like around the eyes, brow, and lips. It is travel friendly and thus can be anywhere and at any time.
Your fuzz-free skin will feel refreshed and smoother instantly, and you are guaranteed hair will not grow back faster. It comes with AAA batteries and thus does not require constant charging.
If you have learned how to use the lux version and Dermapore, you'll find it easier to operate the DermaFlash min. The only difference is that it is only used for specific areas of the face.
Incorporate the DermaFlash Mini into your weekly dermaplaning routine for best results. Be sure to dispose of the edge after use. Get this DermaFlash product for $69 with three precision mini edges, one AAA battery, and a detailed user guide.
DermaFlash Replacement Edges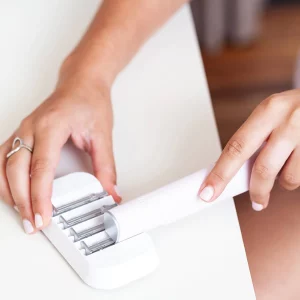 DermaFlash replacement edges are designed for each product; therefore, each replacement edge is only compatible with its intended device. DermaFlash Replacement Blades are built to remove dead skin cells and peach fuzz, just like dermaplaning blades. The edge may introduce bacteria to your skin if you don't maintain its hygiene.
It is, therefore, crucial to ensure that you dispose of the blade after each procedure and use a new blade whenever you flash. The 8-pack mini edge DermaFlash refills cost $29; the price varies based on the edge type.
DermaFlash Reviews from Customers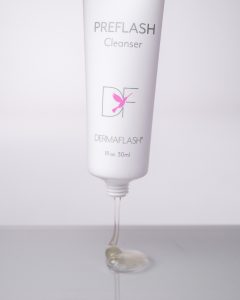 Our team went through several websites to see what customers think about these products. From Amazon, we came across several reviews, with most customers praising how effective their products are. DermaFlash Dermapore reviews show that customers love this uniquely-shaped spatula treatment head because it does a great job of unclogging pores and infusing their favorite skincare product.
One of the customers thanked the product for coming to her rescue. She was not sure what to use, but the moment she came across this product she decided to try it out. She only used it once, and the results were already visible. The product made her skin so smooth after getting rid of all the peach fuzz on her face. It made it easier for her makeup and made her skin appear to be treated by a dermatologist. 'No more dryness,' she stated.
Another customer gave the product a 5-star rating out of 5, and she gave all the reasons why everyone should get the creams from the brand.
Further customer reviews
The comment analyzed the tool as a mere razor that vibrates. Despite the tool being a hoax, the reviewer still praised the brand's excellent marketing and customer service. Others complained that their customer service took a long period to reply to their messages since they are not available around the clock.
Another buyer stated how they were not regretting purchasing the Dermapore. The comment stated how it clears pores as long as you get to learn the technique of getting the best results. He recommended facial devices for persons with blackheads and enlarged pores.
There was another customer who was happy with their products that she introduced her mother to start using DermFlash products. She had already tried several brands, but they were not effective.
She said that the product gives proper cleaning. The extractor also did magic to her face, and the product left their skin glowing, and her sebaceous filaments were taken care of.
There were a few negative reviews online. Some customers complained that they experienced skin irritation when they used DermaFlash products.
Sign Up for DermaFlash
Becoming a DermaFlash subscriber is very easy. Visit their website DermaFlash.com to create an account. You will be required to fill out your name, a valid email address, and password. Then you will click signup, and an account will be created. Ensure you remember these details, as you'll use them whenever you want to access your account. Once you are part of DermaFlash you'll receive discounts and promotions the company offers.
Where to Buy
If you are looking to include dermaplaning in your skincare routine, head to DermaFlash.com, where you will find all the products offered by the company. You can also get their products from third-party websites like Amazon and other websites. DermaFlash has plans to develop a store locator to help you find a store near you that sells its products.
DermaFlash Shipping and Return Policy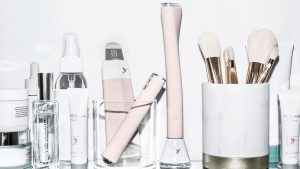 The company ships within the United States and other countries. They ship between Monday and Friday from 9 a.m. to 8 p.m. They offer standard free shipping within the US. Other shipping charges depend on the location and the method of shipping one chooses to use.
The brand offers a full refund on any items you are not satisfied with. The refund is only accepted up to 30 days from the original date of purchase. Also, the brand only gives rebates with a website's receipts.
Any other purchase from an unauthorized website or obtained from retail cannot be accepted. If your return meets all the eligibility, the items qualify for a return. You will then receive your return between 7-10 days, but you are responsible for the shipping cost. If you purchased through your DermaFlash account, you will log in and submit the return request.
Promotions & Discounts
The brand has so much to offer regarding promotions and discounts. They include:
 A 10% discount on your first purchase
10% off on orders via email after signing up with the brand.
20% off your purchase for a limited time when you use the DermaFlash discount code
DermaFlash offers free standard ground shipping on orders above $50 from their website to US customers only
For more information on their promotions and discounts, visit their website. Do not forget to sign up for their newsletter to access coupons' information earlier than other members.
Contact DermaFlash
If you have any queries or concerns, don't hesitate to contact one of the DermaFlash customer service representatives. There are several ways to reach out to their support team. You can call them at 800-381-6257; they are available Monday- Friday from 9 a.m. to 8 p.m. EST. You can also send an email or use the live chat feature on their website.
DermaFlash Reviews: Editors' Verdict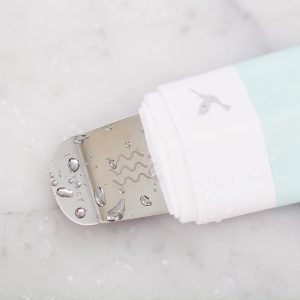 From the DermaFlash reviews we have gone through, we can confidently agree that this brand is worth it. If you have oily skin, dry skin, blackheads, congestion, or enlarged pores, this could be the remedy you have been looking for. You have to ensure you are well saturated for the best results.
Also, it is essential to learn and be patient with the products since a product that worked for someone else in a week can take months to work on you. Take your time to familiarize yourself with it and know what works best for you. To conclude, we recommend this brand to anyone looking for affordable and effective dermaplaning devices that can help them achieve a healthy facial glow.
Are you in need of other beauty brands? Check out our reviews of Glossier Review, Glamglow Review, Innisfree Review, and Gladskin Review.
DermaFlash FAQ
How to charge DermaFlash?
Wondering how to charge DermaFlash? It's relatively easy. Insert the USB cord into a charging block and plug it into a power outlet. Insert the other end of the USB cable into your device, and it will start charging. If it is charging correctly, the charging indicator will illuminate.
Will the hair on my face grow back thicker?
You have probably heard of the myth that shaving facial hair makes hair grow back thicker. DermaFlash is designed to remove facial hair on delicate skin. Therefore, you are guaranteed that your facial hair will not grow back faster and thicker. This is because the treatment removes the outermost layer of the skin, dirt, and peach fuzz. The company also conducted a clinical study to prove that nothing will change how hair grows.
Can this product be used if I'm pregnant?
Yes. You can use the product during pregnancy because it is a safe, non-toxic treatment. Due to hormonal changes, most women tend to experience increased facial hairs during and after pregnancy. However, you should consult your physician before you use any new products.
How often should I use DermaFlash?
For best results, it is recommended to use DermaFlash products once per week.
What age range is this suitable for?
DermaFlash is designed for all women; women under 18 are advised to consult their parents or guardians before using the products.