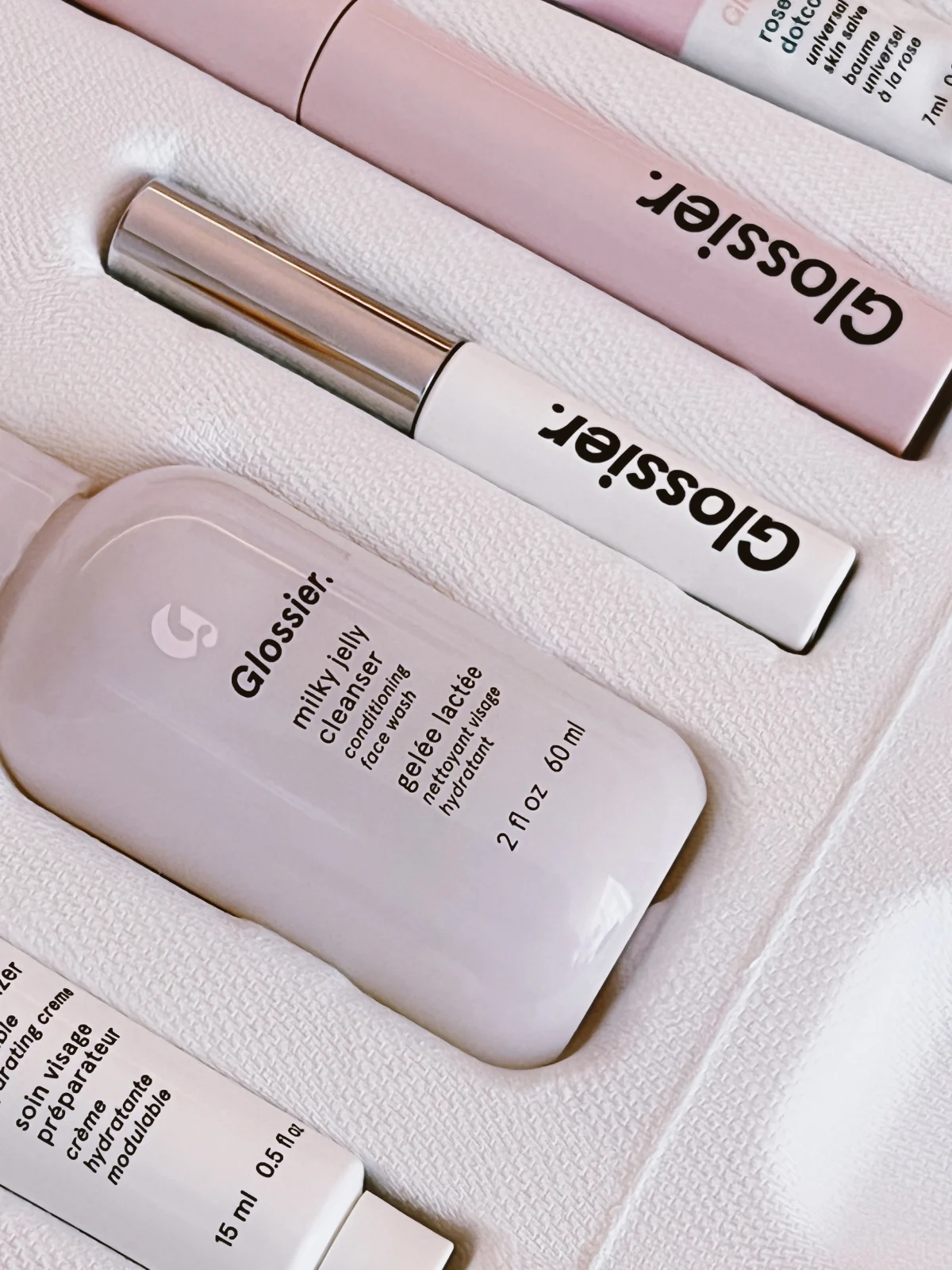 Clean beauty products are becoming a choice of more customers in the beauty industry. They do not contain toxic ingredients that can harm the skin. However, finding high-quality clean makeup can be tricky because the market is filled with loads of non-clean makeup products. Glossier is one of the leading beauty brands selling natural-looking makeup, body care, and skincare products. Their products are designed with women's real beauty in mind. This Glossier review will take an in-depth look at this brand, including its best-selling products, customer ratings, and promotions; this will enable you to decide if its products are worth adding to your makeup bag.
About Glossier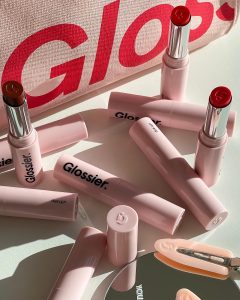 Glossier is the brainchild of Emily Weiss, a beauty blogger. The company was formed in 2014 from her blog Into The Gloss. The online platform served as a place where makeup lovers could discover new products in the market, share thoughts and inspirations and review different makeup and skincare brands. 
Emily's blog was very successful since she had been following beauty trends. She realized how hard it was to get clean beauty products and decided to fill the gap by launching a glossier.
Glossier produces natural makeup, skincare, and body care products designed to enhance natural beauty while ensuring the skin is protected and nourished. The company focuses primarily on enhancing the unique features of its users and showing off the true beauty of its clients. 
Emily's blog aimed at making beauty an element of personal style and fashion. This is because the beauty industry has been historically based on experts telling customers what to use on their faces. Due to the blog's success, Glossier became an internet phenomenon soon after its launch.
The company is one of the makeup brands with a massive following on social media platforms. It boasts 2.8 million followers on Instagram, 615k on TikTok, and more than 402k Facebook followers. 
Glossier has also earned features on top media outlets like Forbes, Glamor, Vogue, and Elle. Vogue describes the company as a revolutionary brand harnessing acceptance in the beauty world.
Now that you have some basic information on the brand, this Glossier review will look at the company's pros and cons.
Pros
The company offers tips on makeup, skincare, haircare on its blog, into the glow
The brand offers an expansive collection of cruelty-free and vegan makeup and skincare products
Their beauty products are ethically sourced and made in the U.S.
The company has a 30-day return policy and offers free returns
The brand creates products that cater to its clients and not societal norms
Loads of positive reviews from many third party websites
Cons
Some products are available in limited shades
To use a gift card, you must have a credit card
They do not offer phone support to their customers
Glossier Products Review
Glossier is known for producing high-quality natural makeup products. The makeup collection allows clients to achieve even complexions, rosy cheeks, fluffy brows, enhancing the client's natural beauty. If you are tired of looking for all-natural makeup products, this Glossier skincare products review will look at the brand's bestsellers to help you find out if you can add them to your makeup routine.
Glossier Boy Brow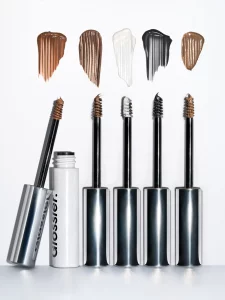 Designed to help you achieve a fluffy brow look, Glossier Boy Brow is a creamy wax that shapes and thickens brows into place. This fantastic makeup item will help you shape your hairs, keeping them in place, thus perfectly achieving fluffy brows.
The creation of this product was inspired by traditional hair pomade, but it does not have a waxy feeling. Apart from giving you a fantastic fluffy look Boy Brow also conditions the brows for it contains emollient ingredients. This also gives your brows a perfect fluff and defined arch.
The product is available in five shades: black, brown, auburn, blond, and clear. You can get the 0.11-oz Boy Brow for $20. You can pair Glossier Boy Brow with the Lash Slick to add volume to the lashes to complete the look.
Glossier Lip Finish Duo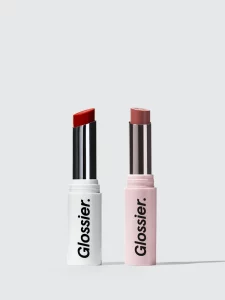 Finding the best lip color can be pretty challenging, especially if you don't know what exactly you want. The Glossier Lip Finish Duo can help you achieve matte lips with a glossy sheen. The best-selling Glossier Lip Gloss is Generation G and Ultra-lip.
It is a favorite of Glossier users because Generation G- is a lip color that gives you a light wash matte look and a blotted lip effect. It adapts perfectly to your natural lip color and is available in different shades to suit different lip colors. If you want to achieve a casual laid back look, this is the ideal product for you. You will love how comfortable and moisturizing it is to the lips.
Ultralip- this is a hydrating moisturizing balm that has a sheen of gloss for slightly dressed-up lip color. This Glossier lip gloss achieves a buildable lip tint without using multiple products. If you have dry lips, the Ultralip will moisturize them for hours. The formula of Glossier Ultralip combines everything you'll need for your lips. Get this fantastic lip finish duo for $30 and save $6.
Glossier Futuredew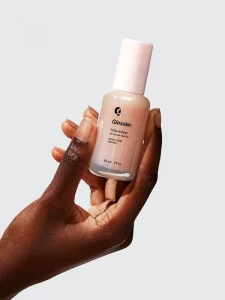 Most people want to achieve a fresh-looking face but don't know the product to use. The Glossier Futuredew is an oil serum that leaves the face looking super fresh and dewy.
Glossier reviews show that customers love using this skincare product because it is clinically proven to increase hydration and luminosity of the skin. This is due to its composition of moisturizing oils like jojoba oil, grape seed oil, and rosehip. This nourishing oil also contains plant-based squalane that mimics natural oils in the skin, locking moisture. This makes it just perfect for dry skin.
You can include Glossier Futuredew in your skincare routine for radiant skin. Use it as the last glow-up in your routine, pr you can also wear it under your makeup. The product is part of the brand's plant-based options that instantly makes your skin look brighter and radiant.
Achieve a moisturized gleamy look that lasts up to 12 hours for only $30 (1 fl oz.). Apply this oil serum over glossier priming moisturizer to achieve the best results.
Glossier Mascara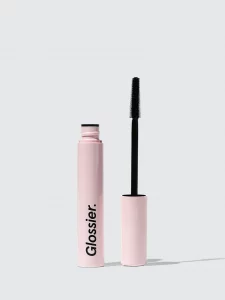 When picking mascara, the general rule is how the wand looks and how it's going to apply. The Lash Slick Glossier Mascara lengthens and lifts lashes, giving them a baby extension effect.
Lash Slick is popular among customers because it is weightless, flexible, and enhances the appearance of their natural lashes. It coats each lash, creating very defined separation and length, thus achieving a perfect look. This Glossier review discovered that, unlike other mascaras that go on wet, the lash slick mascara goes on evenly due to the tiny fibers of the brush.
This Glossier Mascara is water-resistant and can stay in place for 12 hours. It does not smudge or flake, and you can remove it easily with warm water. Add the lash slick mascara to your makeup kit for only $16.
Glossier Fragrance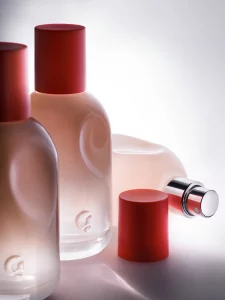 Glossier does not only offer makeup and skincare products. It also provides fabulous fragrances. The top-selling glossier fragrances have subtle aromas that enhance your natural smell.
Perfumes in the market tend to be quite overwhelming, and it can be pretty challenging to find a subtle fragrance. The Glossier You Perfume is quite different from other fragrances. It features a bright musky scent amplified by an individual's natural pheromones, allowing it to smell different on everyone.
This Glossier Perfume is an award-winning fragrance that includes notes of pink pepper, ambrette seeds, Ambro, and Iris; this gives it a nicely balanced fragrance that is very elegant and classy. It is designed to feel open-ended, and it will grow with you in every phase of your life.
Glossier You Perfume is designed to enhance your mood and lift your spirit. It also does a great job of keeping unwanted body odor at bay while ensuring you smell good throughout the entire day. In addition to making you look attractive, it boosts your confidence and works wonders on your personality.
Get yourself this 1.7 fl oz signature fragrance for $60; it is packed in a recyclable molded paper cartoon secured well for safe transit.
Glossier Review from Customers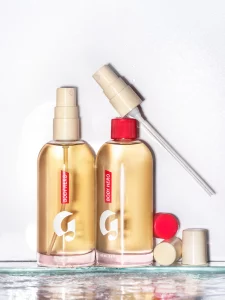 We could not finish this review without telling the customers what they should expect when it comes to using these products. We gathered reviews from several websites, including the Better Business Bureau, Influenster, TrustPilot, and the company's website.
The reviews on the website were impressive, indicating that the products were good. The first review we came across is among the top-selling and was rated more than a thousand times. The wide range of colors and the efficacy left the customers with testimonials. The site's average rating was 4.2/5 stars. The ratings of different products were as follows:
Lash slick got an average of 4.4/5 stars from 3,300 reviews
Boy brow has an average of 4.4/5 stars from 4000 reviews
Milky Jelly Cleanser has an average of 3.2/5 stars from 3.4k reviews
Generation G had an average of 3.8/5 stars from 3000 reviews
Futuredew has an average of 4.4 stars out of 5 from 1,400 review
The blush had several positive remarks, with most customers saying how naturally it made their face appear and lasted longer; no retouch is needed. Customers also testified that it was easy to apply and rated it as one of the best Glossier products. Most buyers found themselves returning to the site to purchase more of their favorite products.
Some customers still stated that their blush goes a long way despite its size. They judged how small the package was the first time it arrived, but it exceeded their expectation because it worked like a charm.
Popular Alternatives to Glossier
Further customer reviews
Shoppers on Influenster flocked the review section with the prices of Milky Jelly Cleanser, which rated 4.4/ 5 from 5000 reviews, and the Flavored Balm Dotcom Trio, which is rated 4.6/5 stars from1700 reviews. The reviewers stated how moisturizing it was and the after shine it provides. They also loved the packaging and how easy it was to control the amount they needed from the tube.
BBB's ratings were lower due to negative commenters who complained about the brand's gift card policy. Most reviews stated that the brand could have indicated on the gift card that there should be a credit card required rather than just rejecting the cards from people who did not know about it. The negative comments were rare on all the websites, and many customers seemed to be satisfied with the results of their products.
Sign Up for Glossier
Want to be part of Glossiers' family? Visit the company's website and scroll to the bottom page. Find the Into The Gloss button and click on it. You will be asked to give a valid email address and sign up. After signing up, you will be able to receive first-hand information on any new products from the brand or any promotions and discounts available.
Where to Buy
If you are wondering where to buy Glossier products, you can head to their official website Glossier.com. Its products are also available in its retail location in Los Angeles, London, and New York.
Glossier Shipping and Return Policy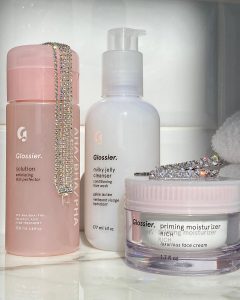 The period your products will take to be shipped depends on your location and the type of shipping you choose. Here is a breakdown of the shipping costs and methods.
United States: 5-7 business days for standard shipping
United Kingdom: 3-5 business days
Sweden and Denmark: 6-8 business days
Canada: 5-10 business days for standard shipping
Sweden and Denmark 6-8 business days
Ireland and France 5-7 business days
Though unavailable at the moment, Rush or Express shipping can take 2-3 days for shipping in the U.S.and Canada and 1-2 days in the UK. Check the shipping page to see the costs, but shipping US orders above $30 is free.
If the product is not what you expected you are free to return it. You'll have to include your order number and the reason for your return, and you will receive a refund.
Contact their support team via email to notify them about your return; this process should be done within the first 30 days after your purchase. And if the products meet the specified conditions, you will receive your refund within 5-10 business days.
Promotions & Discounts
Currently, there is no active Glossier promo code. But the brand offers free shipping for US orders worth more than $30.You can sign up for their newsletter to get updated on any future promotions and discounts.
Contact Glossier
If you still have some questions after reading this review, reach out to their support team. You can send them an email at [email protected]. They also have a live chat function on their official website that you can use to talk to their customer support team.
Glossier Review: Editors' Verdict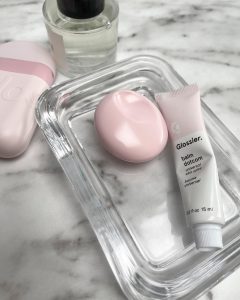 To sum up this Glossier review, our team found that this brand is worth checking out. It is transparent about its formulations and prioritizes its customers before anything else. The brand's products are not meant to hide your natural beauty but enhance it.
For some individuals, the shade range might be an issue in that some of the products like the Glossier Skin Tint have only 12 shades, and Brow Flick and Boy Brow products are very limiting.
There is a need to introduce more shades soon to accommodate all. However, based on the numerous positive reviewers that our team came across, we recommend this brand to anyone looking for clean, non-toxic, and cruelty-free beauty products. If you are looking to shift to natural beauty products, Glossier is the go-to place.
Interested in other skincare brands that do wonders? Check out our reviews of Caudalie, Leahlani, Babor and Alayka.
Glossier FAQ
How can I find out more information about a product?
For more information about the brand's products, email [email protected] and send you questions. They have a responsive customer support team ready to give you satisfactory answers.
What skin types are Glossier products suitable for?
Glossier skin products are suitable for every skin type. They are tested by dermatologists and proven safe for every kind. If you have very sensitive skin, you should try on a small patch and see the reaction before using them. You could find a product that works for others but does not work for you, so you need to choose what works for you.
Is Glossier cruelty-free?
Yes, Glossier is committed to being cruelty-free, as they do not test their products on animals in all stages of production. They go further to spread the same commitments to their vendors. Their products are certified by an internationally recognized certification organization for cruelty-free companies Leaping Bunny, which assures compliance and safety.
Can I sell the products on my site?
Unfortunately, once you purchase the brand's product, it is meant for personal use. You have to agree with the terms of not reselling the products or distributing them for commercial purposes. Glossier can reject or cancel an order when they find out it was meant for reselling.