Have you ever wondered what skincare routine did Marilyn Monroe have? What made the iconic actress's face look flawless on and offset? Well, the secrets have been revealed a long time ago. Marilyn Monroe's skin care specialist was no other than Erno Laszlo himself. Does that mean these products are to be trusted if Marilyn used them? In this unbiased Erno Laszlo review, we're going to look over the best products and why even after 95 years they are still so loved by consumers of today's world. 
About Erno Laszlo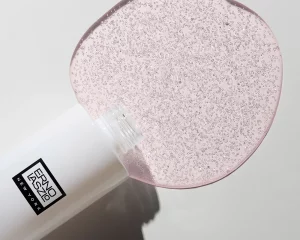 Who is Erno Laszlo? He was one of the first scientists who thought about helping women with their beauty rituals. Erno was born and raised in Hungary and studied skin pathology and skin disease at Budapest's University. In 1927 is when he opened the first institute in Budapest which was called dr. Med. Laszlo Insitute for Scientific Cosmetology. How did he become famous then? Through his research and study years, he was able to create a special foundation cream for the Princess of Belgium, Stéphanie to treat her acne. As you can imagine, being the specialist of a royal will take your name to other kingdoms.
With this magical cream, Erno's name was becoming more and more popular. The next person he treated was actress Frida Gombaszoegi, who was shot in the face and was in need of scar treatment. Due to World War II Erno had to move to New York and there he created the Erno Laszlo Institute. Thanks to this move, Erno created products for his clients, such as the Duchess of Windsor, Audrey Hepburn, Marilyn Mondore, Grace Kelly, and many others. 
Dr. Laszlo's dermatological discoveries were so groundbreaking that even today the brand is high prestige and luxurious. His legacy is still alive, people all over the world love the products. After all ''he not only heals the skin, he heals the soul'' as per Marlyn Monroe. Let's see the rest of the Erno Laszlo review as we dive into the products list. 
Pros
Trustworthy products thanks to nearly a century of research

Used by many celebrities both today and decades ago

Promise to become a 100% clean brand by 2025, although already introduced many changes over the year

Klarna is available as a payment option

Free shipping on domestic orders over $50

30-day return policy

Rewards system
Cons
A brand created for celebrities and rich clients, luxury price points not many can afford

International shipping is only available in UK and Canada (there is a possibility to email a brand ambassador if you wish to purchase products from another country)
Erno Laszlo Products Review
As we get into the Erno Laszlo reviews of certain products, we'll start to understand why after nearly a century his products and formulations still work. We'll be taking you through the ingredients list and examining if Erno Laszlo products are worth the hype and the investment. 
Erno Laszlo Cleansers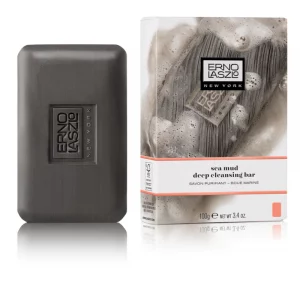 As we all know, cleansing the face is crucial today to remove our makeup, dirt or residues of outside pollution from our face. Having a reliable cleanser that doesn't break you out is key in every skincare routine. Some of them can really dry out the skin and create pimples.
The Erno Laszlo Sea Mud deep cleansing bar promises to detoxify, unclog pores, absorb excess surface oil but doesn't strip the skin of its natural oils. The ingredients used are:
Dead sea mud has the benefit of purifying the skin

Charcoal absorbs all of the toxins

Glycerin conditions the skin 
On the website, the cleansing bar is recommended to be used with the Detox Cleansing Oil first as one of Erno Laszlo's Double Cleanse methods. The oil will help moisturize the skin even more, while the bar will purify your skin. 
If you wish to try out both the Erno Laszlo black soap and the cleansing oil, it is available as the Detox Cleansing Duo. The bar alone costs $40 for 100g or 25$ for 50g, however, if you purchase both the price is $82. The Sea Mud cleansing bar received 4.7 stars from 257 customers.
Erno Laszlo Serums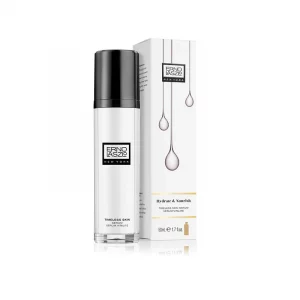 Alright, after you have used the Erno Laszlo exfoliate and detox system, it's time to start prepping the skin. Serums should be an added step to your skincare routine, they are not necessarily a must, but if anyone wants to see visible improvements, it is definitely worth purchasing one.
There are a few serums to choose from, but the best seller is the Timeless Skin Serum. There are a total of 161 ratings on the website and overall 4.8 stars received. Surprisingly it doesn't have a long detailed description. All it claims to do is provide a number of targeted nutrients for maturing skin. It has powerful ingredients, absorbs into the skin quickly, and lock in hydration. The serum is formulated with Meadowfoam Seed Oil which is rich in Vitamin E. 
It doesn't sound too revolutionary, yet the reviews speak for themselves. The Timeless skin serum retails for $185 and you get 50 ml product in a luxurious bottle. 
Erno Laszlo Moisturizers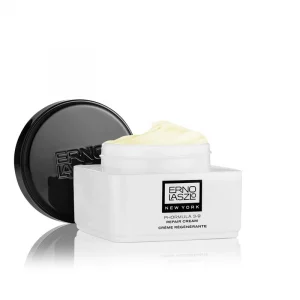 Within the moisturizers, we have to mention the famous Phormula 3-8 which is now called Phormula 3-9. This was created by Erno for Marilyn Monroe as she had a scar on her stomach. Today's formula is created for anyone who wishes to heal their skin from inflammation or stress. 
The cream contains Niacinamide which is a key ingredient for hydration, as well as Panthenol. Phormula 3-9 'reinforces the epidermal barrier' of the kin. There's also an ingredient called Kukui Nut Oil, its fatty acids will soften and smooth out the skin. This product should be used after applying your serum. Now, for 50 ml you pay $290! That is a lot for a moisturizer, but once again customers gave it 4.8 stars. After all Erno Laszlo's hydrate and nourish formula was created decades ago, so it must be working. 
If you're looking for another great moisturizer that also has SPF, try out the Erno Laszlo Firmarine Moisturizer. This has SPF 30 and it's a rich and protective cream. It contains mineral-drenched seawater and marine botanicals. 50 ml cream retails for $120 and out of 97 ratings it received 4.9 stars. We'll look into the customer receives later to see if they are the same on other websites too. 
Erno Laszlo Eye Treatments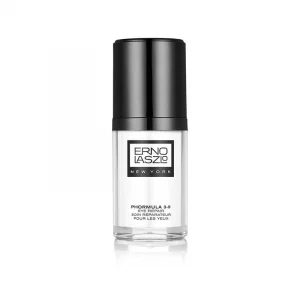 You should not neglect your under eyes as this is where signs of aging will show the quickest. Just like the Phormula 3-9 moisturizer, Erno created the Phormula 3-9 Eye Repair. What does it promise to do? Well, it targets the skin around your eye, the oils hydrate the skin to give you a youthful look. Ingredients such as caffeine or Squalance are present. The first one is a well-known ingredient used for puffy eyes and the second is the one bringing back hydration. 
As you can imagine, the Erno Laszlo eye gel cream also has a high price point. For a 15 ml product, you'll pay $198! But once again customers gave this 4.8 stars and have seen improvements when it came to their fine lines and wrinkles. They say that 'Phormula 3-9 eye cream is the best of them all'. 
Erno Laszlo also has a number of different eye creams, such as the Ocuphel Emollient Eye Cream or the Antioxidant Complex for eyes which also have some amazing reviews and are considerably cheaper than the Phormula 3-9. 
Erno Laszlo Masks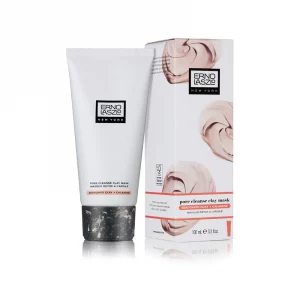 Masks are a great way to spice up your skincare routine and cleanse the skin without spending a fortune at the salon. The Erno Laszlo pore cleansing clay mask is a detoxifying mask that is supposed to cleanse the skin of impurities. At the same time, the formula was created to also nourish and soothe the skin. The two key ingredients are Bentonite Clay and calming Calamine. It 'sweeps away excess oil' and reduces the appearance of pores.
We have a list of ingredients for the Erno Laszlo mask and those are:
Bentonite Clay, a detoxifying and oil-absorbing key ingredients

Calamine to soothe the skin

Kaolin Clay is an exfoliant

Moisturizing complex of Sea Moss extract and mineral water extracted from sugar cane. This one will retain moisture levels.
We have to say that this product is one of the more affordable ones. It retails for $52 if you purchase it in a 100 ml form. Out of 78 customer reviews the mask received 4.6 stars, so it must be doing something great! 
Erno Laszlo Review from Customers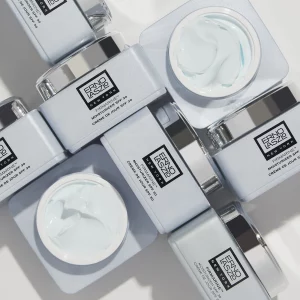 Erno Laszlo has received an overall of 4.5 stars on products on their website. We have looked into various different websites and retailers to check what customers have to say about the brand and the products. After all, this wouldn't be an unbiased Erno Laszlo review if we didn't include the not-so-good parts too.
We went on Influenster first. A total of 143 products have been reviewed, with over 3.5k reviews from customers all over the world. Looking at the list of the different cleansers, moisturizers and accessories, pretty much all of them have over 4 stars. The most rated product is the Erno Laszlo White Marble Translucence Cream which has 339 reviews and 4.7 stars. 
That's a great start, but what about the products we have included in our review? Well, the Erno Laszlo sea mud deep cleansing bar received 4.5 stars from 181 customers. That is more or less the same as on the website. The Phormula 3-9 Repair Balm only had 8 reviews and 4.5 stars as well. 
We also went on Amazon and found that there are only 52 global ratings and overall of 4.4 stars. It makes you wonder why this century-old brand doesn't have more customers. Is it because of the prices? That could be one factor, as an everyday person looking for a normal skincare routine would not want to invest nearly $1000. 
Regardless of how many people have bought the products, at least 90% of them enjoyed using them and would probably repurchase. It worked for Marilyn and many other celebrities after all, so it might also work for you! 
Sign Up for Erno Laszlo
Signing up with Erno Laszlo is very easy. You can create an account if you didn't have one before and will be easier to check your delivery afterward. The website doesn't indicate anywhere that you will receive any sort of discount upon signing up. 
Where to Buy
Erno Laszlo is available through the main website is ernolaszlo.com. Besides that, there are a few sellers within the USA. These are Walmart, Nordstrom, Amazon, Net-A-Porter, and Sephora.
For people living in the UK, it is available through their website, as well as John Lewis, Look Fantastic, and Harrods. 
Erno Laszlo Shipping and Return Policy
Erno Laszlo does not ship to many countries from the website directly. Although you can find the products on various different retailers, there are only three countries they ship to.
Ground shipping to USA, Alaska, and Hawaii

International shipping to UK and Canada
USA, Alaska, and Hawaii Shipping is free over orders of $50. Anything under this price will cost $5/order. They ship in 2 business days with Saturday delivery as well. If overnight delivery is available, FedEx will ship it out in one business day for a fee of $25.
International shipping is a bit different. Any orders over the price of $125 (calculate at the daily exchange rate) benefit from free shipping. Orders under this value will cost $25. Many companies do not even offer free shipping overseas for any amount of purchases, so Erno Laszlo gets points for doing this. 
It also mentions under the shipping page that if your country is not listed there and you also haven't found the products on retailers' websites, you can get in touch with the brand ambassador Anne McFadden by email at an[email protected] and she will be able to help further. 
Returns are also accepted within 30 days of the purchase date, but only on ernolaszlo.com. If you have ordered from any other website, you will have to get in touch with them individually. It mentions that there is a return slip in your original packaging, so we can only assume that the delivery is paid for. 
Returns should be shipped at the following address: 
Erno Laszlo C/O Market Speed Logistics
Attn: Returns
111 Melrich Road, Suite A
Cranbury, NJ 08512
Promotions & Discounts
As we go through the website there don't seem to be any sales going on. The products are listed at full price, there is no separate section for sales or promotions either. We have looked for an Erno Laszlo discount code and they are usually on the banner of the website. For example, at the time of writing there is a code SLEEPWEEK which will provide you with slippers and 2 eye serum masks for any orders above $75. It is definitely worth checking out the website for any freebies, discount codes, or promotions!
Erno Laszlo also has a Rewards system going on. You can join free of charge and collect points which then you can redeem. Upon signing up you already receive 50 points. Each time you shop you can collect the points and then redeem them for exclusive discounts. For every 100 points, you will get $5.00 off! You will earn 1.5/1$. So to earn 100 points you would have to spend $150 and then you'll receive the $5.00 discount. The more you spend, the more discounts and offers you'll have!
Contact Erno Laszlo
You can contact Erno Laszlo customer services in three different ways:
By phone 1.888.352.7956 Monday-Friday from 9:00 am to 5:30 pm EST

Via email [email protected]

There is also a chat option on the website 
Erno Laszlo Editors Verdict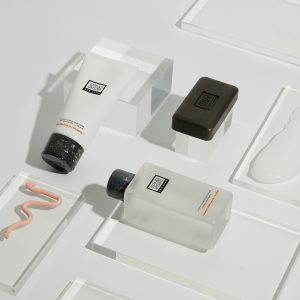 Now we have reached the end of the Erno Laszlo Review we are ready to give you our verdict. Is it really worth the hype and investment? Well, according to customers who have purchased the products in modern times, they think the brand is absolutely worth it and have seen improvements when it comes to their skin. We can no longer ask the long list of celebrities and famous people, so we would just have to take the customer reviews. 
Although there are many other brands that are much more affordable, Erno Laszlo is definitely a splurge. It is worth purchasing products if you are curious about his legacy, have been a fan of his, or you just simply want to find out whether the Erno Laszlo soap or Phormula 3-9 cream works. As always, we will let you be the judge of this! 
Still on the hunt for perfect beauty products? Check out our reviews of DHC Cosmetics Review, Avene Review, Ren Skincare Review, and Rare Beauty Review.
Erno Laszlo FAQ
Does Erno Laszlo test on animals?
Erno Laszlo has never tested on animals and they have no intention of doing so in the future.
Why does Erno Laszlo use parabens in their formulations?
Although Erno Laszlo uses parabens in their skincare products, they have confirmed that they removed any controversial parabens in their formulas. The brand is compliant with all local and international regulations and believes that parabens are important for their bactericidal and fungicidal properties.
Why does Erno Laszlo formulate products with Dimethicone and Cyclomethicone?
These two ingredients are commonly used in cosmetic formulations and they actually give the products a silky, smooth feel or ''slip''. They are non-comedogenic emollients and protect your skin from water loss. As you have already read through the review, Erno Laszlo has experience of 95 years in the industry and you can trust that the products go through all of the safety requirements.
How does Erno Laszlo conduct product safety testing?
Erno Laszlo does independent tests of human volunteers to ensure that the products are safe to use.