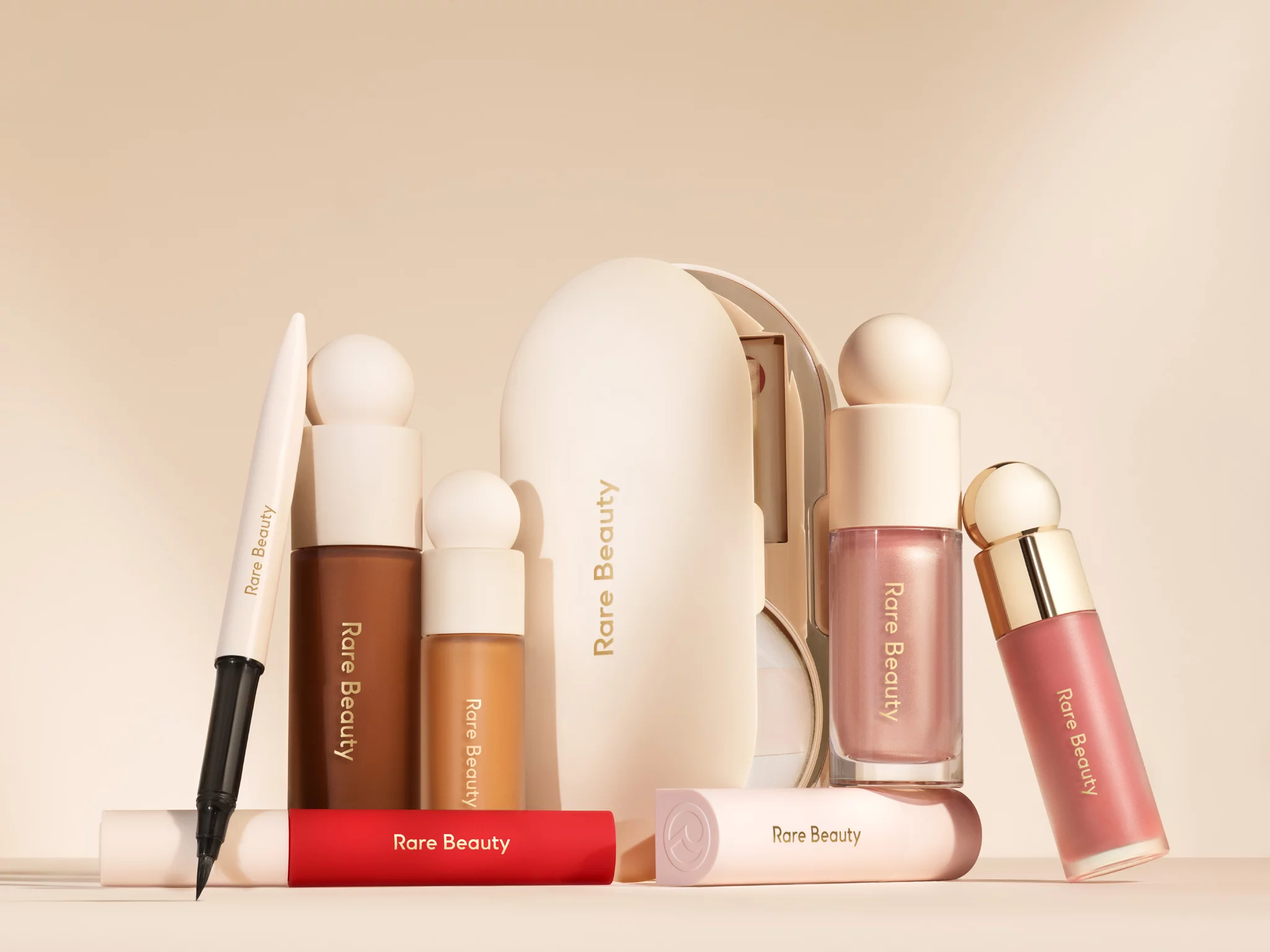 With so many makeup brands on the market, one would think we have enough and don't need new brands releasing products each year. Well, seems like we are wrong. As the beauty world is changing, so is our need for different formulas, colors, and products made for new purposes. We also need more brands that do not mask our own natural beauty, but rather bring out our inner beauty. That is exactly what Rare Beauty does and stands for. In this Rare Beauty reviews we will analyze the brand, what it stands for, why Selena Gomez created it in the first place, and if you should spend your coin on it.
About Rare Beauty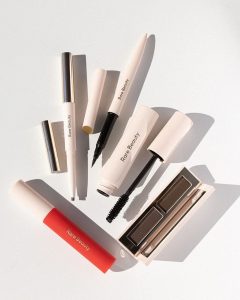 We couldn't help but wonder why Selena wanted to create a makeup brand. She already had a very successful career as a singer, songwriter, and even actress, but many of the artists turn to a different path at some point in their lives and we are here for that. Gomez created Rare Beauty for everyone to find their inner beauty and enjoy using makeup. Often times we view makeup as a tool to hide our "imperfections", rather than enhance what is already there.
Rare Beauty launched on the 3rd of September 2020, yes, in the middle of a global pandemic. Of course, with the financial background Selena already had it was easy to bring out so many products. The products she originally launched were:
Liquid Touch Weightless Foundation and Liquid Touch Brightening Concealer

Always An Optimist Illuminating Primer

Always An Optimist 4-in-1 Mist

Blot & Glow Touch-Up Kit

Perfect Strokes Matte Liquid Liner

With Gratitude Dewy Lip Balm

Lip Souffle Matte Lip Cream

Positive Light Liquid Luminizer

Soft Pinch Liquid Blush

Brow Harmony Pencil & Gel
Not to mention that the foundation and concealer all launched in 48 shades which is very impressive. Makeup brands usually just come out with a few shades, of which most are so light that the darker skin colors can only hope the brand will start thinking of them too, at some point. Rare Beauty has thought about this as well!
Rare Impact 
Selena Gomez is on a mission with Rare Beauty as it is "more than just a makeup brand". She created the brand as she was tired of trying to be perfect, she just wanted to be herself. The makeup she created is to make everyone feel their best self, because "Rare Beauty is not about being someone else, but being who you are."
With Rare Impact, Selena is focusing on raising $100 million over the span of 10 years and 1% of all sales made will go directly to the Rare Impact Fund which will increase mental health services. So far so good, Selena didn't just create makeup products that were already on the market, she created a brand that makes a difference and also products you get to enjoy and bring out your beautiful self. Let's see what the rest of the Rare Beauty reviews hold! 
Pros
Foundation and Concealer available in 48 shades

Rare Impact Fund was created to raise awareness over mental health

Amazing price point for high-quality makeup products

Great ingredients that help the skin

100% vegan and cruelty-free

Paraben-free and suitable for sensitive skin

No harsh chemicals in the products

Available in Sephora all over the world

Free shipping over $50 on the Rare Beauty website

30 days return policy
Cons
No international shipping from the website directly (only Canada and UK)

You have to pay for the shipping of your return products

Some customers complained they did not receive their products
Rare Beauty Products Review
Now that we have learned about what Rare Beauty stands for and what Selena meant to do with her brand, let's see if the products are really worth it and what is so special about them. Rare Beauty launched over 10 products at the same time and since 2020 they have been releasing even more of them. 
Rare Beauty Blush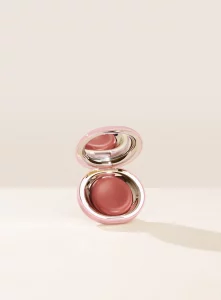 Starting our products review with the Rare Beauty blush, one that has a beautiful natural glow, melting into the skin and giving your cheeks a healthy-looking blush. This product was inspired by the flushed look we often get when we might be looked at by a cute person. The formula is weightless and it's supposed to last all day long.
Rare Beauty says that it's non-greasy and it is also water-resistant and will not clog pores! That all seems to be amazing, so let's look at the ingredients. Although usually, makeup doesn't have any special ingredients, however, considering the Rare Beauty blush is a cream formula they added ingredients to also help the skin. It is made with a Botanical Blend of lotus, gardenia, and white water lily, which are all there to help soothe, calm and nourish the skin.
It looks good on all skin tones, no matter which shade you choose. There are 5 shades available, some more toned down while others are a bit more daring. All you have to do is just apply it with your fingertips or a dense brush. Whether you do that over makeup or not, that is completely up to you! The blush retails for $21. Customers rated the blush 4.8 stars, this is out of 240 people. 
Rare Beauty Foundation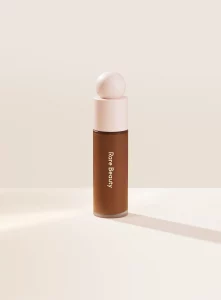 There are so many foundations on the market nowadays, it's quite difficult to choose a good one. One of the main problems is that there are never enough shades for every skin tone out there. The Rare Beauty foundation comes in 48 different shades, from the lightest shades to darkest ones, and with several different undertones. It is supposed to be a weightless foundation that feels more like a serum, but at the same time, it is also buildable to medium coverage. 
It is a rather 'liquidy' foundation that will even out your skin tone and smoothes out any pores. Since the formula is so thin, it will not clog your pores or cake up during the day. Rare Beauty also mentions it doesn't oxidize, therefore the color will stay the same throughout the day. 
Some of the ingredients are similar to what you can find in the blush. The Botanical Blend is present in this Rare Beauty foundation as well. Although you already prep your skin before applying any makeup, it never hurts to have makeup that will help your skin even more. 
The foundation received 4.6 stars from customers on the Rare Beauty website and it retails for $29. That is a very affordable price and it says that you should only use a small amount as a little goes a long way! 
Rare Beauty Mascara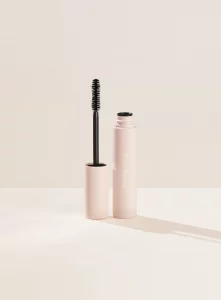 Selena really seems to have hit the nail with the Rare Beauty mascara. The Perfect Strokes Universal Volumizing Mascara was created for everyone. It doesn't matter what type of lashes you have, it will work for you. On the website, you can find different pictures with people trying out the mascara, each of them having different types of lashes. 
It is a weightless mascara, with an easy-to-build formula that lengthens, curls, and volumizes. Besides the formula, the brush is probably the most important part of mascara. Many brushes tend to just clump your lashes, however, this brush was designed to hold enough formula and make your lashes look amazing after each application. 
The mascara is not too wet or not too dry, it is also ultra black and water-resistant. So what do customers say about all of these? Rare Beauty mascara received 4.6 stars from 259 customers, which is quite a good rating. It retails for $20. 
Rare Beauty Concealer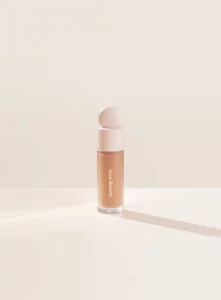 Concealer is always a must as it is so versatile and can be used in many ways. But just like the foundation, sometimes it's difficult to find the right color and undertone, but also the right formula that will not look cakey and will not crease under your eyes. Does the Rare Beauty concealer do all of these?
Well, according to the website, it is a hydrating concealer with buildable coverage. It's supposed to brighten your skin and give it a radiant finish. This concealer comes in 48 shades as well. When you select the shade, you'll see which undertones will match it. For example, shade 110N is for light with neutral golden undertones. The Rare Beauty concealer doesn't settle into your fine lines either, which many products seem to have these days.
Needless to say, the ingredients have the same mix of Botanical Blend. Selena has a video demonstrating what it looks like while she's applying it with a brush and it looks pretty amazing! A total of 719 people have reviewed it on the website and 4.7 stars received. That is a much higher number than for the previous products and customers really love it. There are plenty of pictures from real customers showing what it looks like on the skin. Rare Beauty concealer retails for $19. 
Rare Beauty Primer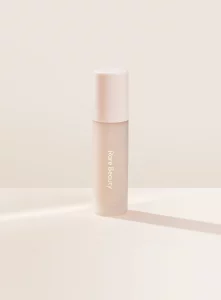 The Rare Beauty primer is loved by many and we just had to find out why. We have read so much good news about it, people with different skin tones and age groups enjoy using it and do not want to use another primer again! This primer is a water-based gel, that will smooth, hydrate, and illuminate your skin, it is the perfect makeup base. 
What's the best thing? While most primers are silicone-based, this one is not. The Botanical Blend is once again found within the ingredients list, so you already know that it will do wonders on your skin. You should be feeling fresh under the makeup and glow from within. 
The Rare Beauty primer retails for $26 and customers rated it 4.6 stars. A total number of 191 ratings were received on the website. Customers said that it's a "dewy perfection" or "the only primer I have". We have not read anything bad about this product so far! 
Rare Beauty Setting Spray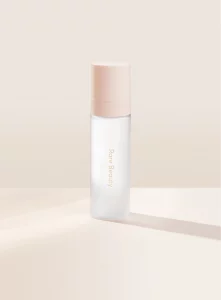 Now that you have a nice base, all you have to do is set it and lock it in for the day! The Rare Beauty setting spray has a 4-in-1 formula that is supposed to hydrate, prime, set, and refresh you. What does this mean? Well, you can use it before, during, and after your makeup as well as on your bare skin.
The primer was built to hydrate and nourish the skin, making it feel plump, smooth, and ready for makeup. It will help your makeup to be fresh and not cake up. The key ingredients are:
Niacinamide is the Vitamin B3 that brightens your complexion to diminish the look of pores and blemishes.

Sodium Hyaluronate helps with hydration and plumpness.

The famous Botanical Blend soothes, calms, and nourishes your skin.

Panthenol will moisturize and strengthen the skin barrier. 
The Rare Beauty setting spray was reviewed by 300 customers and out of those it received 4.9 stars! It must be really good. People who have oily skin have been praising the setting spray, saying it does not make them oily at all! Others mention that it is the "best setting spray I've used" and boy, there are a lot of them on the market. The spray retails for $24 and you get 85 ml of product, which is amazing. 
Rare Beauty Reviews from Customers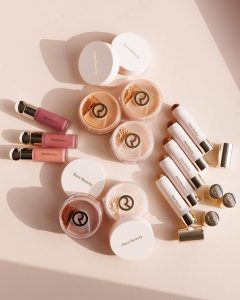 As much as we love Selena Gomez and Rare Beauty, we need to look into what customers really think about the brand and not just the individual products. Although the previously mentioned products had an overall of 4.6 stars, let's see what consumers have to say about the brand.
The first place we looked at was rarebeauty.com. Out of 120 reviews of the brand, customers gave it 4.3 stars. We already know why customers love the products, so why is it that there are only 4.3 stars? Well, the people who gave it one star all had a problem with their review. 13 people from 120 had a problem with the order, either not showing up or them not receiving an answer from customer services. Anyone who actually had a problem with the products, either had an allergic reaction or the lipstick didn't look the same as in the photo. 
Popular Alternatives to Rare Beauty
We also went on Influenster to check out what customers have to say if there are any product photos at all. A total of 117 products have been reviewed, almost 10k reviews, and 4,000 photos and videos uploaded. The liquid blush, concealer, and foundation received the most reviews and all of them are over 4 stars. 
It really seems like the only problem anyone would have is not specifically with the products, but either with customer care or not receiving the order. To be fair, even these complaints are so low and it is only natural that for such a big brand you have a few shipping/returns issues. 
Sign Up for Rare Beauty
Signing up for Rare Beauty is very easy. You can just create a new account with your name and email address. You'll be able to either receive emails of updates, special offers, and much more. There's no indication that you will receive any discount if you sign up, however, you will be able to keep a track of your orders. 
Where to Buy Rare Beauty
Within the reviews, there were a few complaints saying that Rare Beauty does not ship internationally. We will look into the shipping in just a second, for now, let's see where you can find the products. 
Rare Beauty is available on rarebeauty.com. Another place you can shop for the products is Sephora. Now, Sephora can be found in many countries, so yes it is available internationally! Currently, Sephora sells its products in North America, Europe, the Middle East, and Asia Pacific. 
Rare Beauty Shipping and Return Policy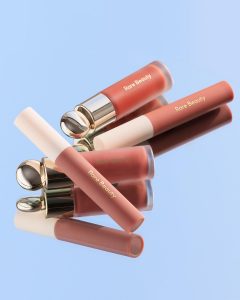 Rare Beauty only ships to the USA at the moment. Any products purchased directly from rarebeauty.com can only be delivered within USA territories as well as Canada. Shipping is also free on any orders over $50. 
Once you place your order, it should take around 1-3 business days to process the order and then another 3-5 business days to ship them out. There is an option of expedited shipping, which means if you place the order before 12 pm PT on weekdays, you'll receive it the same day. It does not mention however how much this would cost.
Rare Beauty's return policy is 30 days. The shipping fees will not be refunded, and you will also have to pay for shipping when you return the item as there are no pre-paid labels available. If you have received a faulty item, you should immediately reach out to their customer services team. There are no returns available for Canada! 
Rare Beauty Promotions & Discounts
After having a thorough look on the website we could not find any Rare Beauty discount code. There isn't a section for sales or discount codes on social media. That does not mean there never will be. It seems like they do not offer discounts as the brand is quite affordable considering what type of ingredients they use and the packaging. 
Contact Rare Beauty
You can contact Rare Beauty in three ways:
Live chat option is available on the website.

Call their number at 1-888-892-RARE (7273) Monday–Friday, 7am–4pm PT

Reach them via email at [email protected]. 
Rare Beauty Reviews: Editor's Verdict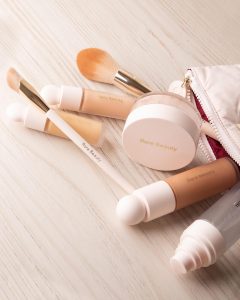 Now that you have come to the end of the Rare Beauty reviews, you must be wondering what is our verdict. After researching the products, reading the customer's reviews, the ingredients list, and the process behind creating Rare Beauty, we have to say that this brand is definitely worth the hype. Selena Gomez created a brand that is inclusive, thinking of bringing out so many different shades of products suitable for everyone.
Not only that, but she also made sure the products are formulated in a way that is natural. There are no harsh chemicals in them, all vegan and cruelty-free and perfect for sensitive skin. It is easy to tell that she didn't just want a brand with her name on it but was involved in the process and the products are dermatologically tested, paraben-free and non-comedogenic. 
If all of this was still not enough, we have to mention the price as well. Although it isn't a drugstore cheap, it is definitely more affordable than high-end or even mid-price makeup products. The foundation only costs $29 and considering you do not need to use a lot of products, it will last you a long time. We think Rare Beauty is worth the hype and Selena has created a beautiful brand, with beautiful products and a mission to help mental health in these trying times. 
If you are still searching for other high-quality makeup brands, consider reading our reviews such as Wander Beauty, Benefit Cosmetics, Vapour Beauty, and Anastasia Beverly Hills.
Rare Beauty FAQ
Are Rare Beauty products vegan?
Yes, all of the Rare Beauty products are 100% vegan. You'll see this under each product description.
Are Rare Beauty products cruelty-free?
Rare Beauty does not test on animals, they are 100% cruelty-free.
Was Rare Beauty packaging specifically designed for people with dexterity challenges?
The products were designed by Selena Gomez purely to emphasize ease of use. They were not designed for people with dexterity challenges, however, Rare Beauty is pleased to hear that their packaging helped someone with dexterity challenges. They are always prioritizing inclusivity and striving to be better.
What is special about Rare Beauty?
Rare Beauty was created by Selena Gomez to embrace inner beauty. She said ''Being rare is about being comfortable with yourself" and we couldn't agree more. You do not need to be perfect, you just need to embrace yourself. With Rare Beauty products, you can embrace your inner and outer beauty!
Is Rare Beauty safe for sensitive skin?
Yes, thanks to the carefully chosen ingredients list, Rare Beauty is a great option for sensitive skin as well.