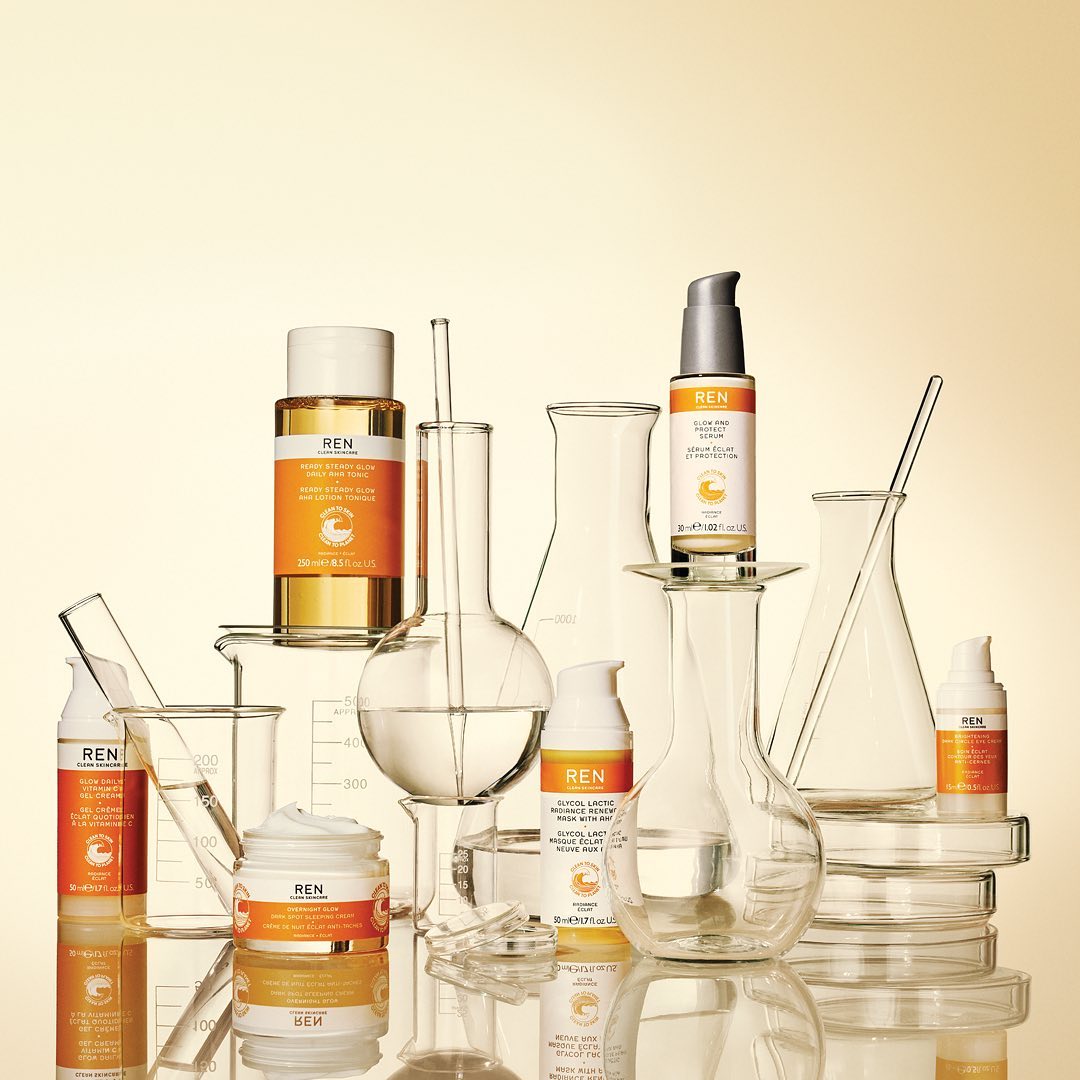 The popularity of natural, non-toxic skincare products has been rising rapidly for the last couple of years. Ren Skincare sells high-performance skincare products with clinically proven results and non-toxic ingredients that are kind to all skin types. We understand that shopping for new skincare requires quite some knowledge of the brand. Therefore, we'll explore Ren Skincare reviews from users, its bestsellers, shipping policy, promotions, and much more to give you an in-depth understanding of what they offer. In turn, this makes it easier for you to decide if you will add the brand's sustainable products to your skincare routine. 
About REN Skincare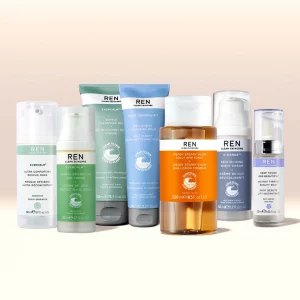 Ren was founded by Rob Calcraft and Antony Buck in 2000. The duo came up with a natural, non-toxic skincare line after Antony's wife developed skin irritation due to the skincare products she used during her pregnancy. 
The company was established in London, England, and has grown over the years, perfecting the formulas and creating excellent natural skincare products. Ren's products are of high quality and have clinically proven results due to the natural ingredients used in formulating the products. If you want to achieve visible results without irritating your skin, you should choose products that feature ingredients from sustainable sources.
The company has made many strides in ensuring they offer the best products. Ren pledged to ensure they employ 100% recycled and recyclable packaging materials by the end of 2021. They use bottles made of post-consumer recycled plastic and recycled ocean plastic in packaging their products. 
Ren has earned features in significant outlets like Cosmopolitan, Glossy, InStyle, She Knows, and StyleCraze. The brand also boasts a massive following across different social media platforms, with over 325K followers on Instagram,  38K TikTok, and over 65K Facebook followers.
Pros
Their products contain cruelty-free, natural, and non-toxic ingredients
The company uses 100% recycled packaging
Their products feature PH-balanced formulas
The company offers a free full-size gift to customers who spend $75 and above
If you are a Ren subscriber, you can collect rewards through the Ren loyalty program
They offer Afterpay installment as a payment option
Cons
The brand doesn't offer around the clock customer support
The company isn't responsible for return postage
They only ship to Canada and the United States
REN Skincare Products Review
Ren Skincare products are formulated with nature's best ingredients and do not contain harmful ingredients. Because the brand is committed to the needs of its customers and protecting our planet, all the products it produces are eco-friendly. With that in mind, below are some of the top-selling beauty products that REN offers.
Ren Skincare Aha Body Serum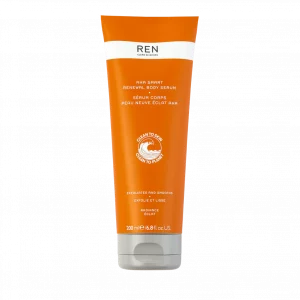 Designed to re-energize your skin and restore its natural glow, Ren Skincare Aha Body Serum is a moisturizer that will help you take good care of your skin. It's formulated with lactic acid (AHA) to gently exfoliate your skin and remove dead skin cells, which in turn, evens out your skin tone.
The product is also rich in shea butter, an ingredient that nourishes the skin while preventing water loss. To provide the skin with enough moisture, it contains xylitol derived from vegetable backs that make your skin smooth, silky, and look healthy.
Adding the Aha body Serum to your skincare routine restores your skin's natural moisture and softens it, leaving the skin smooth and hydrated. The product comes in a tube and cap designed with recycled materials.
Gently massage the smart renewal body serum onto your skin after cleaning it to achieve the best results. Make sure it's fully absorbed and avoid contact with your eyes. Be sure to wear sunscreen to limit exposure to the sun, as the serum may increase your skin's sensitivity to the sun. For only $45, the 200-ml bottle of the Ren Skincare Aha Body Serum could be yours.
Ren Skincare Aha Toner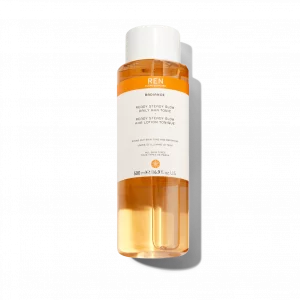 Toners are a must-have for people with acne-prone skin or oily skin. It is also advisable to get a toner if you want extra cleansing after using other skin products like makeup and sunscreens. Ren Skincare Aha Toner is known to have immense benefits, including exfoliating, brightening, hydrating, and tightening the skin leaving it smooth with an even tone.
The toner is very gentle on the skin; therefore, you can use it daily. It is formulated with Salicin and lactic acid, which effectively exfoliates your skin, removing dead cells and replenishing the skin's moisture. Salicin, on the other hand, helps tighten skin pores, making your skin smoother and more youthful.
To achieve the best result, you might want to apply the toner to your clean skin in the evening using a reusable cotton pad. If you've sensitive skin, dampen the cotton pad before using the toner to dilute it, and then apply it as usual.
If you want to include the toner into your skincare routine, you should cleanse your skin with a jelly oil cleanser, then gently dry the skin before applying the toner. After application, you can apply dark circle eye cream over and under your eyes. Finally, you should apply a dark spot sleeping cream over the face and neck. It is advisable to use sunscreen with toner to protect your skin from the sun
Bio Retinoid Serum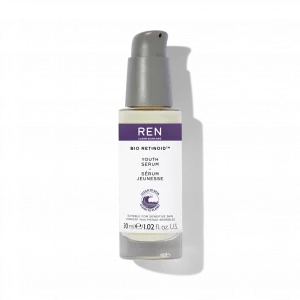 Getting the right product for sensitive skin can be quite a hustle because many skincare products irritate the skin and cause breakouts. Ren Skincare Bio Retinoid Serum is specially formulated for sensitive skin.
The serum is clinically proven to possess anti-aging properties. This is due to the plant-derived alternatives to Bidens Pilosa and retinol that leave the skin healthy and youthful.
Based on Ren skincare reviews, users praise this serum because it contains ceramides and niacinamide that tighten skin pores and reduce the appearance of dark spots, making their skin have an even tone. It also reduces the appearance of wrinkles in just less than seven days.
To achieve the promised results, apply the serum in the morning and evening by gently massaging it into the face and neck until it is fully absorbed. Before application, it is advisable to cleanse your skin well with a jelly oil cleanse. You can add the Ren Skincare Bio Retinoid Serum to your skincare routine for only $75.
Rose Oil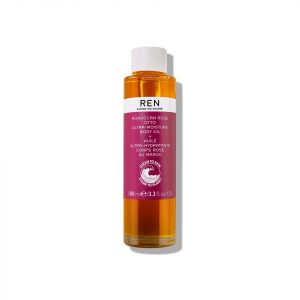 Specially formulated for dehydrated skin, Ren Skincare Rose Oil keeps your skin moisturized and plump to ensure it's healthier. The rose oil contains ingredients that target dull skin to rehydrate it to achieve soft and smooth skin. 
Available at $80, each pack of the Ren Skincare Rose Oil contains up to 12 plant oils with different elements. These include essential fatty acids, ceramides, and phospholipids known for restoring moisture and radiance. Apply the oil to freshly cleansed skin in the morning and evening under a moisturizer to achieve the best results.
Ren Skincare Kit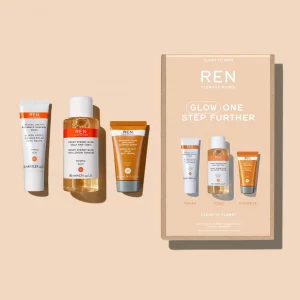 If you are ready to start an all-natural skincare routine and are looking for products to include in your daily routine, the Ren Skincare Kit is the perfect option. The kit is complete with a 7-step routine to take care of your skin and leave it hydrated and radiant.
The routine describes the different products to be used at different times of the day. For instance, in the morning, the kit provides a gentle cleansing gel to clean the skin. After cleaning and moisturizing the skin, you should use the Keep Beautiful Young Instant Firming Beauty Shot to tighten the pores of your skin. In turn, your skin will appear younger and rejuvenated all day.
In the evening, use the Rosa Centifolia Cleansing Balm to remove impurities and other products on the face. Your skin should be extra clean; you can achieve this by using the Ever Calm Gentle Cleansing Gel. Use the Ready Steady Glow Daily AHA Tonic to tone and brighten your skin and the Ultra-Comforting Mask to hydrate your skin.
The kit has six products, including a cleansing gel, a day cream, a firming beauty shot, a cleansing balm, a toner, and a night cream. You can get this kit for $198 and start your all-natural skincare journey.
Ren Skincare Reviews from Customers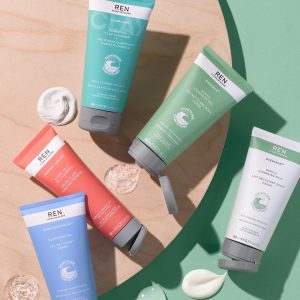 Our team checked Ren skincare reviews and found that customers love their products. From the Ren Clean Skincare website, the radiance Brightening Dark Circle Eye Cream has been rated 4.4 stars based on 291 reviews. A customer gave it five stars stating that the products proved immediate and had good results. They use the product once per day a week, and the results are evident; you can tell the big difference in skin. The eye area looks different, and despite their eye being reactive to all the other creams, it was the real difference with this. 
Nothing satisfies a customer like the best review from a fellow customer. And that is why we could not end this review without looking at what the buyers think about this product and why they should choose it. We gathered reviews from their website in the US, Amazon, and Sephora.
Further customer reviews
From Sephora, one user praised the ready steady glow daily AHA Tonic for good concealing and soothing face giving it an average rating of 4.1 stars out of 5 from 895 customers. In the review, the customer stated how tiresome it had been looking for something that works best for them and never found any toner that suits so well when it comes to handling occasional breakouts or dark spot concerns.
On Amazon, Evercalm Global Protection scored 4.5 stars out of 5 from 219 reviews. A customer who suffered from rosacea was able to testify to the cream for how it leaves your skin hydrated without disturbing your skin. The reviewer stated that using the cream late in winter is the best. Even in summer, the reviewer affirmed using it to provide moisture and avoid any breakouts. The user even went ahead to refer to anyone else who was suffering from rosacea, for it worked for them.
There are also incredible reviews on TrustPilot with score 4.2/5.
While there were tons of positive reviews from satisfied customers, we also saw a few negative ones. Most of the customers complained that they could not reach the company during holidays and weekends. Some customers did not like the fact that the company isn't responsible for return postage.
Sign Up for Ren Skincare
You need to create an account to join the Ren Skincare family. Visit their website and navigate to their Sign Up page, where you will fill out a registration form. You'll be required to provide your email address, phone number, and name. Be sure to subscribe to their newsletter to get updates on offers and new products. You will then get 15% off on your first order. 
Where to Buy
You can buy Ren Skincare products directly from their website usa.RenSkincare.com, which will give you access to the deals and promotions the company offers. You can also purchase their products at select retail stores, including eSkinCareStore, Amazon, Revolve, Nordstrom, Cult Beauty, Sephora, and Skin Store.
Ren Skincare Shipping and Return Policy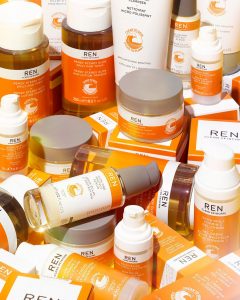 REN currently ships in Canada and the United States. If your orders are placed on the weekdays before noon PST, your order will be delivered on the same day. Ren skincare rates and delivery period are as follows:
2nd-day Delivery: It takes two business days, and it will cost you $10.
Next Day Delivery: This option takes one business day, and it requires $22.
Standard Shipping: Orders take 5-7 business days with standard shipping. You'll pay $8 or enjoy free shipping for orders above $50.
Canada Shipping. Canadian customers will pay $12 for shipping and enjoy free shipping on orders above $100.
If you are not pleased with your purchase, you can return the product within 30 days. But the company can extend this to 60 days. For your order to qualify for a return, ensure the kits and bundles contain all the items sent to you.
Ready to start your return process? Send an email to [email protected] or give them a call at (310)-356-4144. When their team receives your return request, they will deliver it within seven days. However, the company is not responsible for the return cost or any lost or stolen return packages.
Promotions & Discounts
Ren Skincare offers its new and existing customers discounts and other offers to help them save money. They include:
Free Shipping on Canadian orders of $75 and above
Two free samples per order
Free US shipping on orders above $ 30
 20% discount to teachers, medical staff, first responders, military, and veterans
The reward for REN loyalty members
15% off the first purchase after signing up for the newsletter
Free full-size gift on products above $75
20% off everyday heroes discount
The company has discontinued the student discount, but it will be back soon.
Contact Ren Skincare
If you want to reach out to the REN customer support team, use any of these contact methods:
Send a direct message on their Facebook or Instagram page
Send an email to [email protected]
Call them at (310)356-4144
REN Skincare Reviews: Editor's Verdict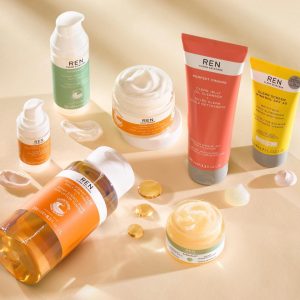 If you are asking yourself: Is Ren Skincare good? The answer is yes. Based on all the positive Ren skincare reviews we came across, we recommend this company to anyone looking for a reliable skincare brand that offers products with clean ingredients.
Their packaging can also be recycled and reused, making them a suitable product for the environment. Customers rave about their products because they produce great results in less than a month, making them worth the buy. Their products are suitable for all skin types, and if you are not happy with the results, you can always return them.
Are you looking for more skincare brands that will change your skincare game? Have a look at our reviews of Capri Blue, Aesop Skin Care, Dr Dennis Gross. and Bubble.
Ren Skincare FAQ
Where are Ren products manufactured?
The home base of most of Rens' Skin Care products is in the UK, except for Vita Mineral Lip Balm, which is manufactured in China.
Is REN paraben-free?
Yes, all the products are free from paraben. Their products do not contain synthetic fragrance, sulfate, urea, PEGs, TEA/DEA, silicon, or animal ingredients.
What should you do if your REN Skincare product dries up?
Fortunately, all the packaging of Ren Clean Skincare products is designed to keep contact between the product and air to a minimum by adding a little caplet to seal the product from the air. Make sure the seal is tight after each use to avoid your product from drying up
Can I get an allergic reaction from REN products?
Though very rare, allergic reactions might result from essential oils or other natural ingredients. REN advises an immediate halt to the usage of the product once one realizes an allergic reaction. Before you use these products and know your allergies, it is good to try some of the products in your palm. If there is any irritation and change of color, you should return it and request a refund.
Is REN's packaging recyclable?
Yes, most RENs packaging is recyclable and environment friendly. That means they can be used again, which reduces carbon footprint.