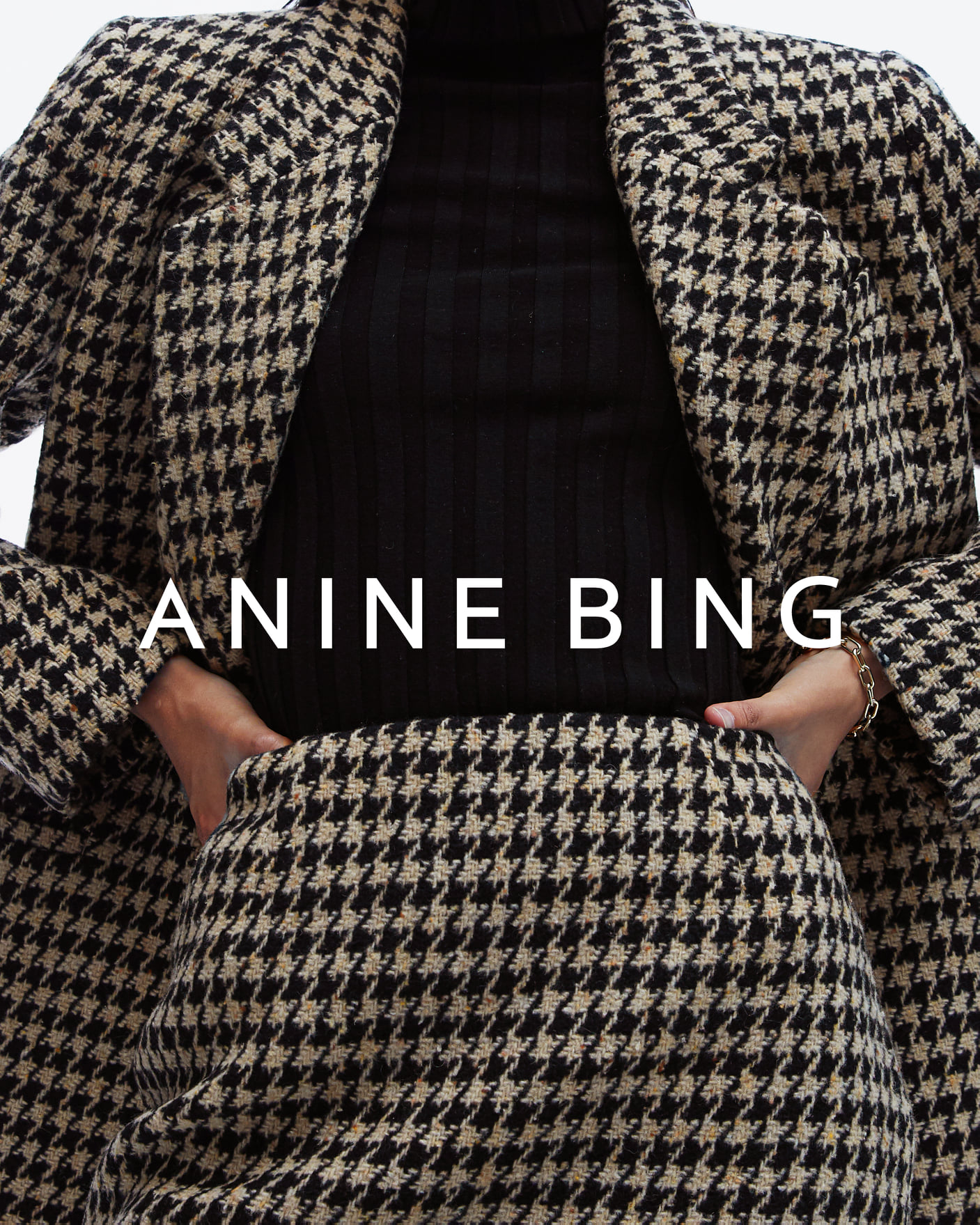 The very personification of the phrase 'triple threat' – Anine big is an influencer and model, turned million-dollar fashion mogul. This along with the fact that she is also a mother of 2, says a lot about what Anine Bing has achieved.  Most Anine Bing Reviews will focus on the brand and design of her clothes, but it is simply impossible to separate the two. Why? Unsurprisingly, with a self-named brand, Anine Bing is very much the soul and identity of her business.
Very much up–front and center when it comes to how things are done, Bing appears to be involved in everything from design and customer/audience relations, to marketing and outreach (in which she has quite the experience from her years as an influencer).
About

Anine

Bing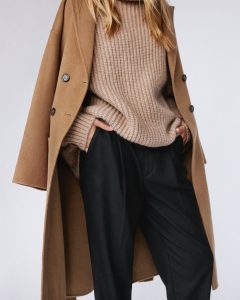 Ok, this is not quite a rags to riches story but Anine Bing did start her brand from her garage in Silver Lake. Apparently, she relied heavily on her team and of course, her following to grow her brand significantly to a global fashion house which is now available in big-name stores like Nordstrom, Bloomingdales, Selfridges, and Net-A-Porter – to name but a few.
Her line is known to feature chic but everyday essentials, as well as those all-important investment pieces that every woman needs (well, maybe just the one). There is a decidedly pared-back feel to the Anine Bing line and what appears to be an emphasis on tailoring. This is a line for the modern, confident woman who wants a timeless look with a slight edge.
Anine

Bing Products Review
Anine Bing reviews will tell you the same – this is very much an understated brand, with very little in the way of bold and experimental color or wildly outrageous prints or cuts (currently). That said, the brand makes up for this in droves with a line that's at once timeless and modern. This collection is perfect for professional women and is also great for a range of ages.
You get the feeling that the Anine Bing line is exactly what Anine herself would wear. Her outfits work well from day to night – which is great for mothers, workers, and students. Key pieces for her brand include tailored leather, blazers, printed knits, lots and lots of black, and of course her line of denim, which is one of the reasons why she launched her brand – to design the perfect pair of jeans.
Anine

Bing Sweatshirt
The Anine Bing sweatshirt range is the perfect blend of comfort and rock and roll! Some may find this a strange combination but in fact, the brand has both elevated a popular design style AND made it accessible at the same time – no mean feat. The truth is, the Anine Bing sweatshirt is comfortable but never boring.
They are cool, but not painfully so. The best thing about the Anine Bing sweatshirt is that it can be mixed and matched with sweats or denim, dressed up or dressed down. They even look great paired with leather jeans and a blazer. Whether you opt for the Vintage Bing, the Tiger Sweatshirt, or her classic varsity style sweatshirts – these are 'wear anywhere' and at any time sweatshirts.
Anine

Bing Blazers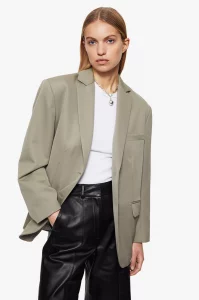 The brand's blazers are epic. Look, this company is well known for its range of denim and of course the cult-favorite – Anine Bing Charlie Boots. But Anine Bing blazers are exceptional – from design to color choice to cut. If there were ever an example of Anine Bing serving you looks with quality design – yes, her name literally is on the line – then just a look at her range of blazers and you will have the evidence you need.  
What is most noticeable about her range of blazers – alongside the exceptional tailoring, choice of hardware, and great color choices – is that every single blazer can be worn with denim. Even the sharply cut, satin collared tuxedo style jacket could be easily paired with a pair of her fitted jeans and ankle boots. The range includes a stunning herringbone (named Fishbone) jacket and a wonderful selection of fitted and loose fits. This is a line that is worth a look. 
Anine

Bing Jeans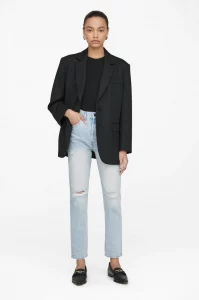 Now, Anine Bing's jeans are the very items that inspired the fashion mogul to launch her new global brand. Anine Bing jeans have become synonymous with stylish but wearable designs and have gained her a stronghold in the industry. So, what's all the fuss about? There are quite a few denim styles available – the colors range from faded black to indigo to blue and also white. There are cropped, distracted, straight, and shorts to name but a few.
The Anine Bing jeans range may not be vast but there appears to be a pair of jeans for almost every taste. We may say every taste…but not for every size. What lets this brand down is the lack of plus sizes. Their denim range goes from a size 23 – to 32 which leaves a whole group of plus-sized shoppers out of the loop.
The lack of plus-sized representation is also obvious from the choice of models on the site. In short, if you are over a size 32, this range of jeans may not be available to you. Anine Big claim they are currently working to extend the range of sizes available to their customers, but this cannot come soon enough in our opinion.
Anine

Bing Sweaters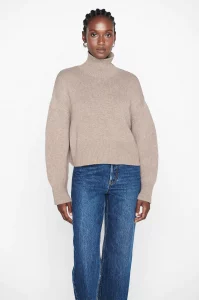 Anine Bing sweaters have one thing in common with the Anine Big sweatshirts range – the fact that they are very wearable, but more importantly very adaptable. Whether you are looking to dress up your denim for brunch, add some cool vibes to an evening look, or simply head out to work – Anine Bing sweaters can be worn for pretty much any occasion.
This is mostly due to the fact that Anine has kept this range both sophisticated and pared back – which means there are no jarring colors, just some carefully chosen designs and good tailoring.
Anine

Bing Charlie Boots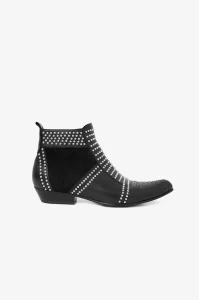 Ah! The ever–popular Anine Bing Charlie Boots. Anine herself says she designed them for when she did not want to wear heels because she spent most of her time running after her 2 small children (we totally understand!). Bing created a flat boot with silver studs all over them, for the perfect combination of glamour and comfort.
These boots have become very popular, and we can see why. Finding comfortable clothes that also look great can be tricky, these Anine Bing boots tick every box – they are comfortable enough to go from day to evening (or from the school run to work) very easily indeed.
Anine

Bing Reviews from Customers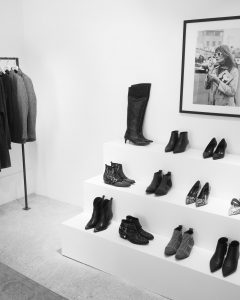 Unsurprisingly, there are a number of positive Anine Bing reviews to be found on the Anine Bing website, here are just a few:
"This dress is amazing! Great fit, high quality, it's actually even better than I expected. So happy with this."
"Gorgeous sweatshirt and very comfortable! My typical size is small. I sized up to a medium. Wish I even sized even more to a large, for an oversized fit to wear with leggings."
"I bought the Hutton shirt and other pieces from Anine Bing. They all fitted perfectly, except the shirt which I ordered in size small afraid that the xs will be too tight. I was wrong. Wrote to the concierge service and immediately received a response and got both the return label and an exchange shirt in size xs. Best customer service experience."
"Words can't describe just how gorgeous this tee is. I immediately ordered the sweatshirt as well. Hoping I have no issues once it's washed. But too good to pass up!"
Popular Alternatives to Anine Bing
Further customer reviews
These reviews look great, but it didn't take us long to find some negative Anine Bing reviews on Trust Pilot:
"Purchased a T-shirt which cost £90 + delivery. The quality is horrific. It was a cotton T-shirt and the material is paper thin and would rip easily when washed. I actually thought the item was faulty due to the quality. I am utterly shocked how a 'luxury' retailer can sell a T-shirt of such bad quality. You would get better in Primark."
"I bought the Ramona NY sweatshirt which is beautiful and really comfortable. However, after 1 week it was already damaged without doing anything specific. A bit disappointing for a 169€ sweatshirt… "
The difference in these reviews makes it very clear that Anine Bing has some very loyal and happy customers but also a few who are not very impressed with the brand's offering – we would always recommend trying out those products which get consistently good reviews first!
Sign Up for

Anine

Bing
You can sign up for an account very easily on the Anine Bing website. You can also sign up to receive the latest news, deals, and sales from the brand too. Simply add your details to the online form provided. 
Where to Buy

Anine

Bing
This is a global brand, which means you can find Anine Bing stores across the US, in Paris, and in London to name just a few. Here are Anine Bing locations for those who are looking to shop in-store:
Pacific Palisades

San Francisco

Soho

Madison

West Village

Sydney

Mayfair

Paris

Berlin

Hamburg

Aventura
Of course, you can also buy Anine Bing in departments stores – including Nordstrom, Bloomingdales Selfridges and online from the Anine Bing website and platforms like Net-A-Porter.
Anine

Bing Shipping and Return Policy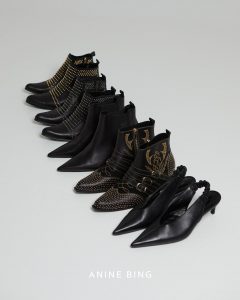 You will be happy to hear that most customers will benefit from free shipping – but this depends on where you are based in the world. There are actually two versions of the Anine Bing website, which means it is important to select your correct location when shopping online. Anine Bing says:
'The European store ships for free to Europe and Israel and our US store ships for free to the United States and the rest of the world outside of Europe and Israel.'
However, they also say:
'All UK orders remain subject to import taxes and duties, which will be automatically applied at checkout for orders above the EUR equivalent of 135 GBP, contingent on the exchange rate at the time of purchase. We continue to offer free shipping and returns on all full-price orders.'
Be aware that depending on where you are in the world you may have to pay out import taxes and duties assigned by whatever shipping carrier Anine Bing is using. Those additional fees should not come as a surprise to you – factor them in when purchasing online. As a final note, Anine Bing offers free returns on full-price purchases however customs duties are non-refundable when ordering online.
If you are wondering when your order may arrive, most Anine Bing orders ship within 1-3 business days. Although based on where you are this could at least double. If you are shopping on one of the websites during the sale, you could find that your order arrives a few days later than usual.
Anine

Bing Promotions & Discounts
If you are after an Anine Bing coupon code, scouring the web and heading to one of the many ominous sites is always at your own risk. Discounts and voucher codes are often best when sourced directly from the brand's website. That's said, Anine Bing does NOT currently offer any discounts to new customers.
For the more dedicated amongst you, you could sign up for the newsletter and follow the Anine Big Instagram account to be the first to know if any discounts appear. Anine Bing also sends out texts giving exclusive access to promotions (for US customers only).
Contact

Anine

Bing
Getting in contact with the Anine Bing team appears to be just an email away. In fact, they have a concierge team that is available around the clock. You can contact them via email: [email protected] or opt for the 24/7 live chat, which you can get to via their site. There is also a handy online form that you can use.
Anine

Bing Reviews: Editors' Verdict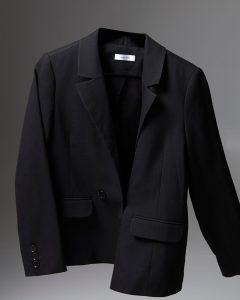 Anine Bing reviews are constantly being updated online and as we are a site that is very much focused on research, we would always recommend you check them when buying from any brand. The truth is, Anine Bing's designs are pretty darn good when it comes to style – they offer what a lot of brands are still trying to master…balance. Understated and glamourous, wearable and chic.
Most of us have busy lives that see us going from one situation to the next – the school run, to brunch to work, then out for drinks (and probably a hundred other things in-between!). The great thing about the Anine Bing line is that you can wear just one of her outfits to all of these events without having to change or feel uncomfortable. This is a brand who have been designed with their customers 'real lives' very much in mind.
Whether that outfit will last the distance after washing and wearing multiple times depends on a few factors – the care you take, how often you wear it, whether you follow care instructions etc. the list goes on. What is true is that if you want an outfit that will get you through a busy day, with zero changes and zero stress – you could do a lot worse than checking out the Anine Bing line.  
If you're looking for other fashion brands and subscription boxes, make sure to read our reviews of Curateur, The Black Tux, Chicloth, and The Frankie Shop.
Anine Bing FAQ
How often does Anine Bing launch new styles?
There are weekly 'drops' from the brand which happen every Tuesday.
Does Anine Bing offer extended sizes?
For those who have shouted about it, you may be happy to hear that as a result of your feedback, the brand is now expanding their size offerings. You can find extended sizes on key items (not all).
Are Anine Bing shoes comfortable?
Whether a brand offers comfortable shoes is a tricky one to answer - this will differ between shoe styles. Thankfully, Anine Bing offer (mostly) free returns - see above for more information on returns - for those times when you do not like the fit.
Where is Anine Bing made?
The brand makes their clothes in both Turkey and LA.