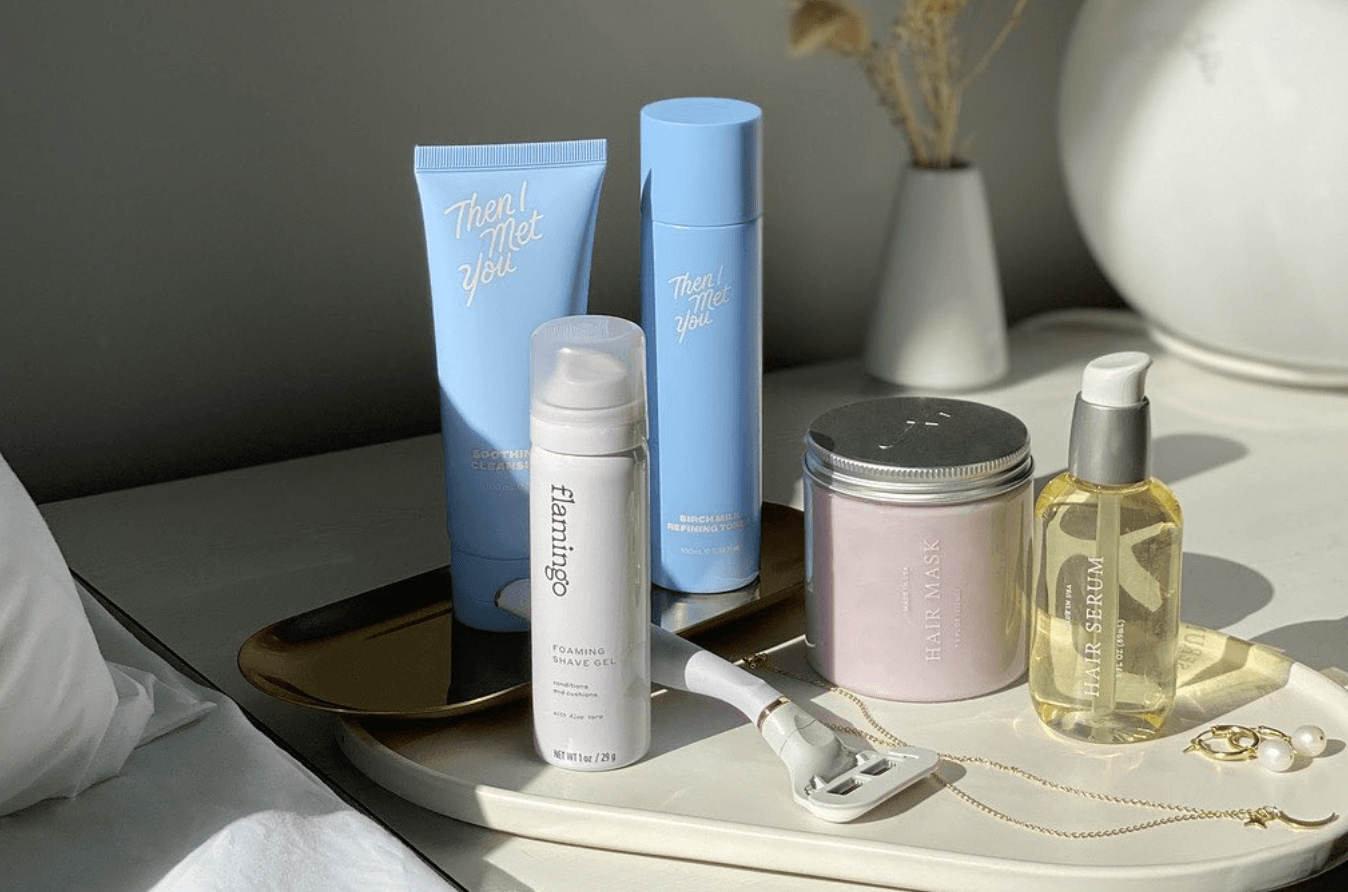 You might have heard about Harry's, a major successful razor company best known for its simple and effective shaving tools. It is one famous razor brand that most men use despite competition with other brands. After a successful run with Harry's, the brand opened another franchise to cater to women's shaving in particular. The brand has managed to sustain an impressive product line of sustainable men's razors with Harry's. But our honest flamingo razor review focuses on whether this new franchise is just as good or even better. Continue for more details about Flamingo razors and whether or not they're worth a purchase.
About Flamingo Razor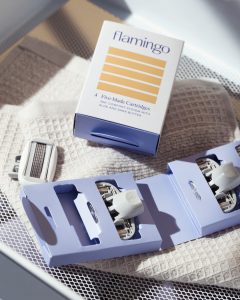 Flamingo was set up to offer shaving products that help make hair removal easier. It is the sister brand of Harry's, an established personal care company well-known for its quality razors. To make their products more accessible to women, Harry's team formed Flamingo that caters to women's hair removal.
It is managed by two top-rank leaders from Harry's, Allie Melnick and Brittania Boey. Their expertise and talent have kept things running. Flamingo markets a collection of budget-friendly, easy-use, effective hair removal kits with functional and stylish designs. It offers hair removal essentials such as razors, wax strips, blades, and more.
Following its partnership with a famous supermodel, Ashley Graham, Flamingo has been featured on Vogue, Vanity Fair, Allure, Glamour, and many other respected publications. It has also won several awards such as the Allure Best of Beauty Award, Essence Best in Black Beauty Award, and a Self Health Beauty Award.
Undoubtedly, Flamingo has generated a large following with its 92k followers on Instagram, with thousands of positive reviews on review sites. As proof of its passion for women's care, Flamingo donates 1% of all sales to women's charities.
It also shows inclusivity and diversity in all its products and marketing advertisements. Read our unbiased Flamingo Razor Review for more information.
Pros
Offers a variety of hair removal kits such as wax strips as wells as post-wax treatment
Affordable Price Rate
1% of profit goes to women support charities or foundations
Great Customer Service
Offers free returns and exchanges for all purchases
Cons
No international shipping
Does not offer promo or discount codes
Delivery is 10 – 14 business days, so you may have to wait a while for your order
Flamingo Razor Products Review
Flamingo Razors came from Harry's Inc., and they offer high-quality shaving tools to help with women's hair removal. The brand focuses directly on women's need for a clean and gentle shave. The shaving cream and shave gel you use will also have a significant impact on your shaving experience.
They also provide alternative hair removal options such as wax strips to include women who prefer waxing to shaving. 
Shaving can be a chore, and the correct razor can help to improve the entire experience. Flamingo understands this because they offer razors that are simple and do not include any complicated features. They also ensure that their products are gentle on the skin and suitable for all hair volumes.  
For the purpose of our Flamingo razors review, we examined some of the bestseller products that they offer. We also look at whether the products are different from other shaving tools from other brands. Check out what we have to say below.
Flamingo Women's Razor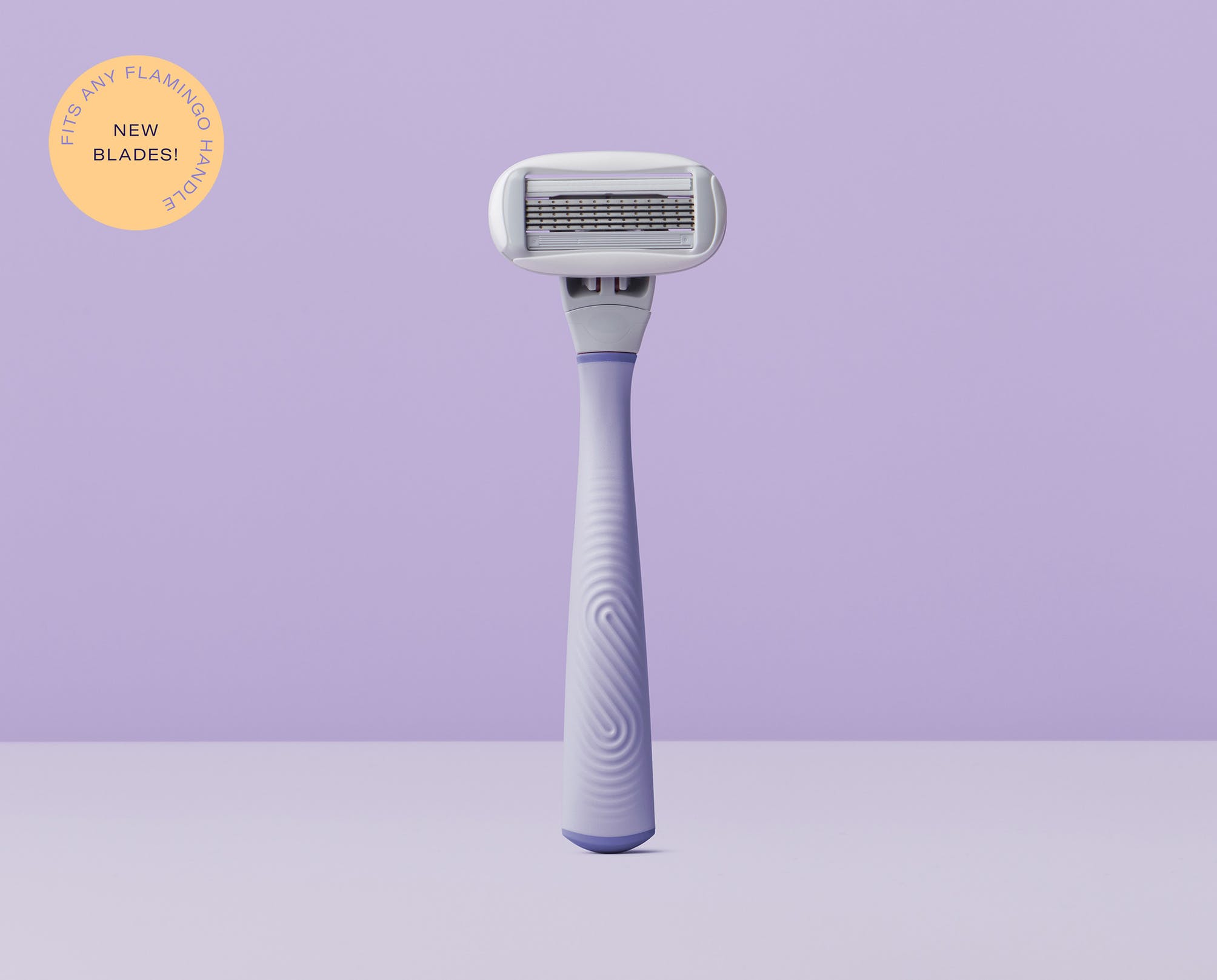 Flamingo Women's razors don't look that different from razors from other brands as they come in standard functional designs. However, their popularity is not based on their looks but on the quality of the razor.
They offer an advanced shaving experience with their efficient premium and high-end razor package.
Flamingo razors feature an ultra-thin layer 5 blades razor to provide a clean, smooth, and relaxing shave. The 5 razor blades help to provide a smooth shave even when working with stubborn ingrown hairs. It also has a flexible hinge that allows reaching hidden nooks and corners to offer a full coverage shave with an ergonomic handle for a firm grip. Pair it with your favorite shaving cream or shave gel for the best results. 
Shaving is effortless and pain-free with Flamingo razors because it contains a lubricating aloe and shea butter strip. It enables you to glide the razor over your curves and fold easily without causing any bumps or cuts. Flamingo women razors also come in four different color options: lilac, rose, sage, and papaya, from which you can choose.
A flamingo razor costs $9, and it can be used for multiple sessions without getting worn out. It is also pro-body hair, so it will give a clean shave no matter how much hair volume you have.
The razor also comes with a shower holder for safe-keeping and easy accessibility. No matter your shave routine, flamingo razors come with high-end features to serve all your needs. 
Flamingo Razor Blades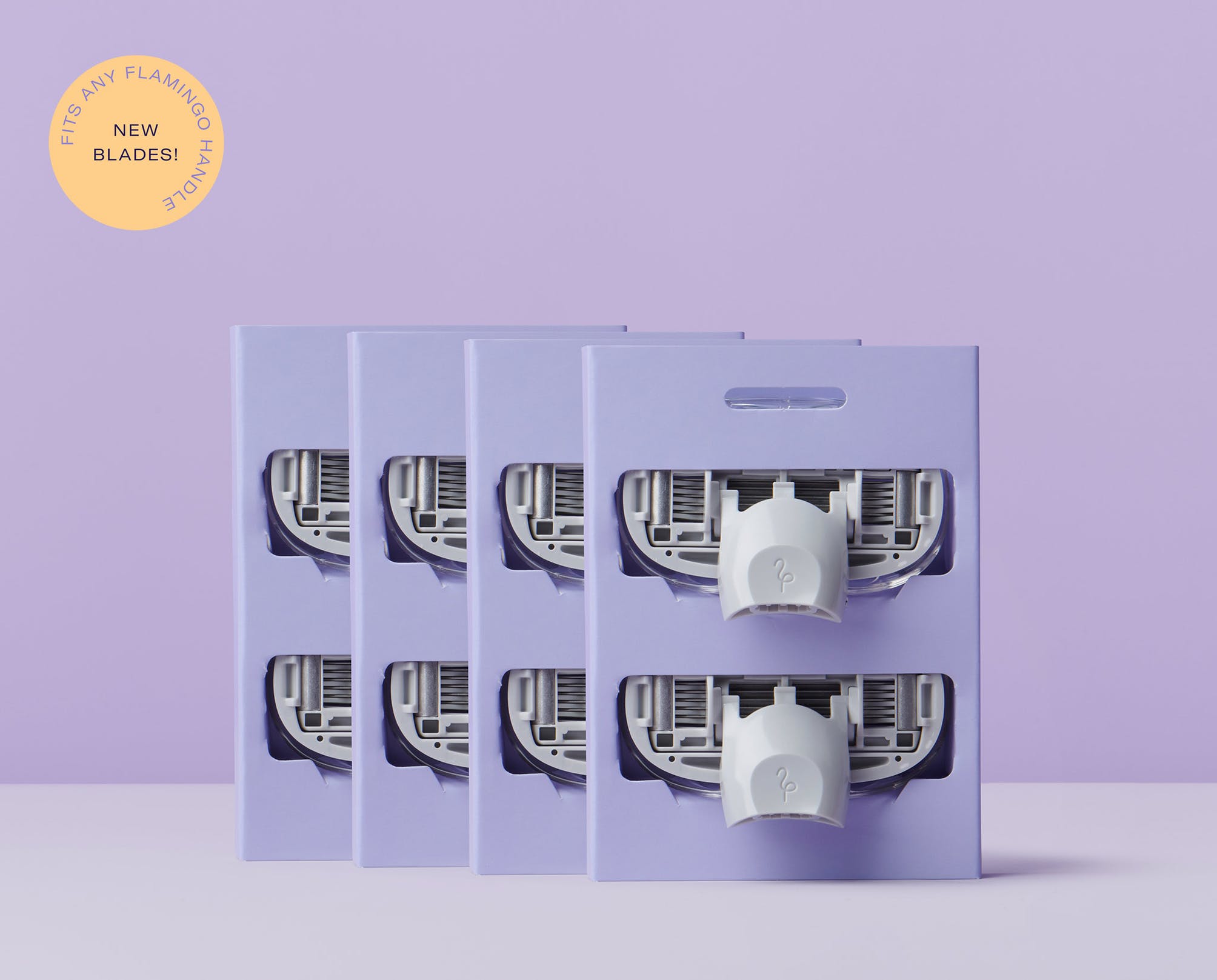 You can't have a comfortable shave if the blade is not correct. Flamingo ensures that its edges are engineered with high-quality steel amongst other materials. The blades have a gentle tug on the skin with a safety shave to prevent nicks or cuts. It is also built with a 360 aloe vera and shea butter lubricant. 
Flamingo razor blades don't pull at your hair, and they offer a simple, pain-free shave session. The blade is made with high-quality stainless skin that won't cause skin irritation or infections. Flamingo blades are manufactured in Germany, and they come in 5 blade cartridges. 
They are reusable, and you can replace the blade with a new piece. In addition, the brand provides a sustainable blade cartridge, so you don't have to buy a complete kit for your next shave. They offer packs in 4, 6, and 12 sizes at different rates of $2 per cartridge.
Flamingo Razor Refills Set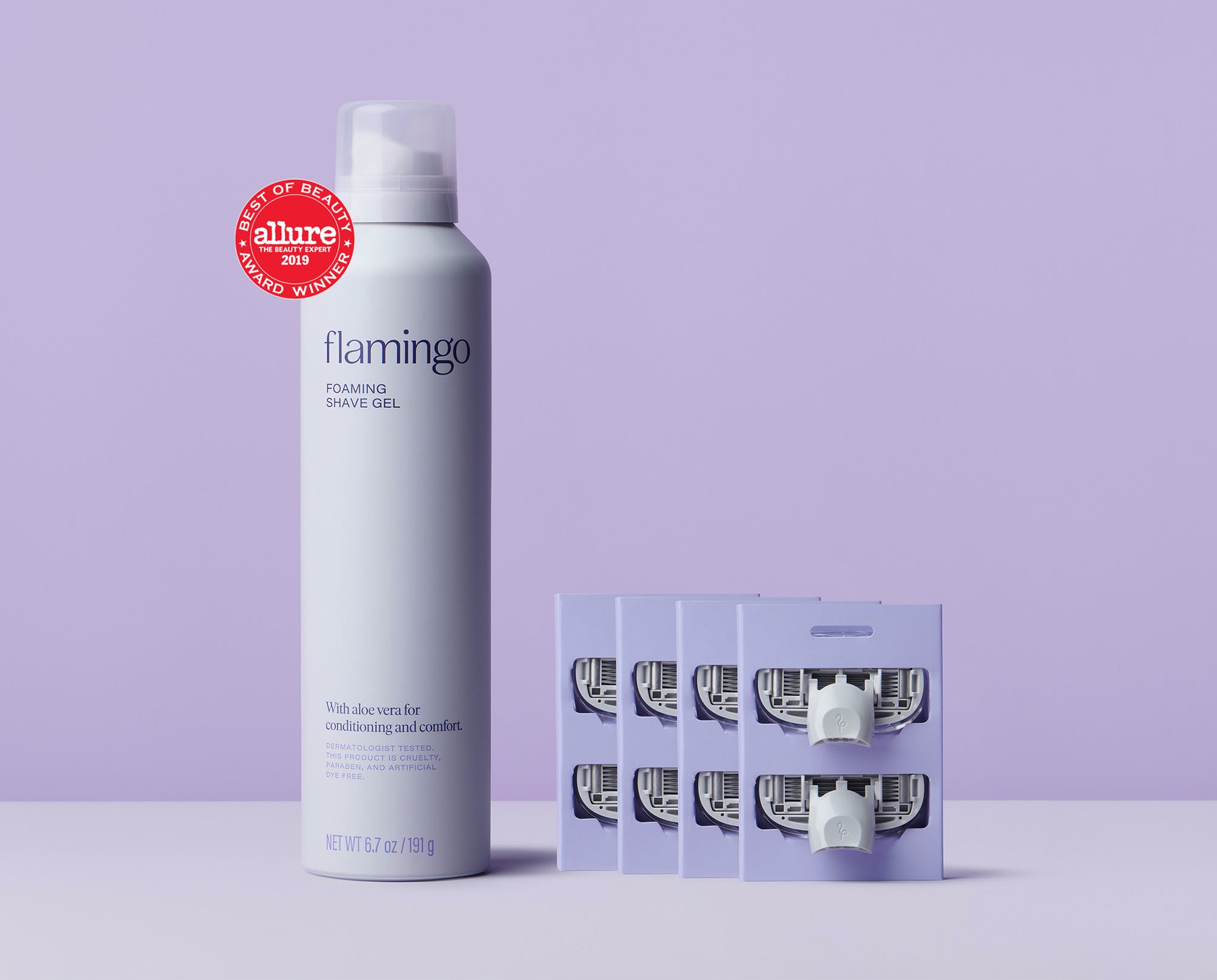 Next in our Flamingo Razor Review are the refills set. Flamingo razor refills sets are available for those who want a complete package to maintain a regular shaving routine. The shave refill sells a bestseller product featuring a 6.7-ounce foaming shave gel and eight 5-blade cartridges razor.
The shave refills can be used for at least 3 months, and they help shaving become a new, fun activity.
Flamingo's foaming shave gel is one of the most elevated products in the brand's collection. It offers a rich mountain of foam with only one pump. The foam is not too thick but soft enough to allow the blade to run smoothly. This is the shaving cream you've been dreaming of. If you tend to use men's shaving cream or shave gel and it stings, you really want to give this a go.
In addition, it has a lovely earthy fragrance and a moisturizer to prevent dry skin. The flamingo razor refills set comes at a budget-friendly rate of $21 for a complete set.
Flamingo Body Wax Kit
To provide an alternative option for non-shavers, Flamingo offers waxing products. Flamingo body wax consists of a gentle formula that helps to protect the skin and prevent reactions. In addition, they provide essential tools that will ensure a refreshing and moisturizing body wax.
The body wax kit consists of 28 wax strips and 6 post-wax cloths.
The body wax strips come in 20 large strips and 8 medium pieces that can be used for at least two pulls. In addition, it comes in a soft gel wax, which helps give a clean, smooth hair removal.
The brand boasts that their body wax strips are highly effective and will pull off even the shortest, spikiest, most delicate hair. It is also suitable for all hair and skin types.
The flamingo body wax kit also features post-wax cloths from the wax strips. The post-wax towels are helpful for after-wax care, and they also help clean up any extra wax.
If your skin is sensitive, you can still use the cloth as it comes dermatologically tested. It also helps to provide moisture and after-wax shine to prevent skin dryness.
In addition, the wax strips and wax cloths are made without any mineral oil, petrol chemicals, or parabens. Flamingo body wax results last for at least four weeks, and one pack of the body wax kit costs $10 while the two-pack deal costs $19.
It is also an excellent option for people who aren't confident using a razor. 
Flamingo Body Moisture Trio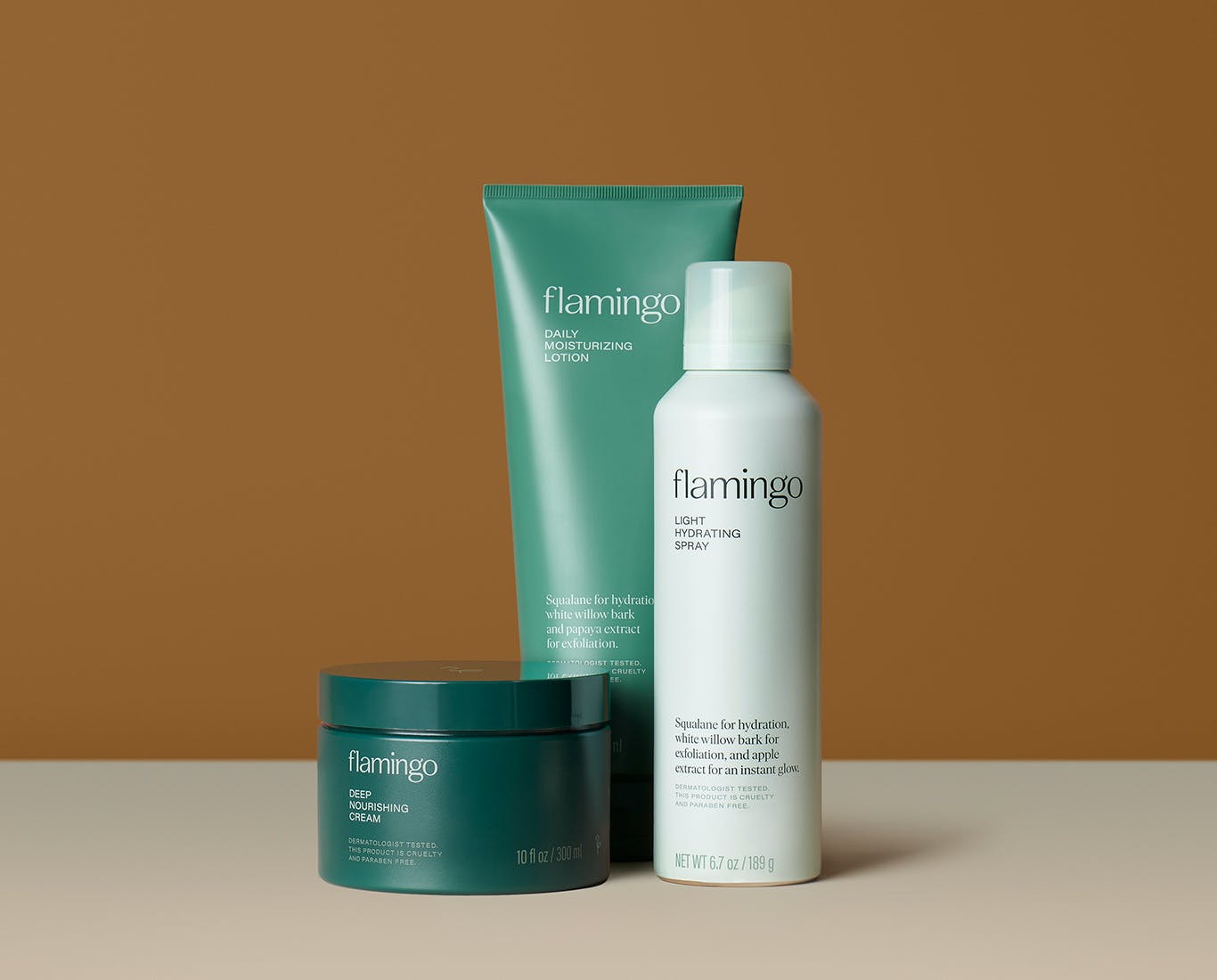 After shaving or waxing, you can complete your personal care session with Flamingo's body moisture set. The kit includes three moisturizing products for a triple-layer hydrating function. It features a Light hydrating spray, Daily moisturizing lotion, and Deep nourishing cream. Each performs a separate function to keep your skin looking fresh and hydrated.
The daily moisturizer helps to provide day-long hydration, and absorbs into your skin without any greasy residue. It includes plant-based ingredients and dermatologically approved formulas to preserve and restore the skin.
The main ingredients in the Flamingo body moisturizer include squalene, white willow bark, papaya extract, apple extract, shea butter, and Vitamin E.
 Meanwhile, it's recommended that you use these three products together to ensure more effective results. However, you can use them individually, which gets the moisturizing effect.
Also, instead of this three-product pack, you can get a regular body moisturizer that has all these ingredients combined. It also provides a $28 value for a budget rate of $25. 
Flamingo Razor Review From Customers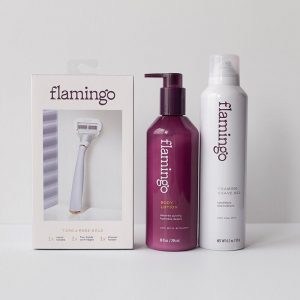 From our extensive product reviews above, you should have a fair knowledge of the quality and value that Flamingo offers. The brand offers a wide range of personal care products for women's hair removal with a diverse and inclusive approach.
If you want more information on whether a purchase is worth it, you can check customer reviews.
Impressively, Flamingo offers a customer review platform where customers can state their honest feedback and experience using their products. On the site, Flamingo razors get 5-star ratings from customers, and it comes with high recommendations.
For example, one customer stated, "I absolutely love this razor! The rubber handle feels secure in your hands even when you're shaving hard-to-reach areas…."
There are no negative reviews on the website, and all their customers express satisfaction with their purchases. The wax strips and lotion also have positive reviews, even from customers with sensitive skin types. From the Flamingo website, it's clear that the brand has no fault with customers and is just as good as they claim. 
Nevertheless, we also checked what trusted review sites say about Flamingo razors and wax kits. On amazon, Flamingo Razor Set scores 4.5/5 stars from 231 global reviews. Most customers are happy with their shave experience, amongst other positive reviews. Another customer said, "Great product – very comfortable, close shave. And, it's pretty."
Flamingo also has reviews on CVS Pharmacy, where it scores 4.8/5 star ratings and 162 reviews. Customers mostly comment that the brand has quality customer service and excellent product quality. In addition, Flamingo also has high customer ratings on many other review pages.
Sign Up for Flamingo Razor
A flamingo subscription grants you access to their newsletter updates on product releases and customer rewards. Signing up does not come with any discounts but helps to improve the shopping experience. You can also sign up, store your shopping profile and track any orders.
Where Can I Buy Flamingo Razors?
Flamingo is a direct-to-consumer franchise, and they make their products available on their website so you can browse and purchase your flamingo item from shopflamingo.com.
It also partners with retail outlets like Amazon, Target, Walgreens, Walmart, etc. You can also find flamingo razors on online beauty stores. 
Shipping and Return Policy
Flamingo only provides shipping within the United States and US territories. It does not ship internationally and, the site also provides that it does not ship to APO/DPO/FPO destinations. You can get free shipping for orders above $15, and any shipping under this amount costs $3.
It also supports multiple payment options such as MasterCard, American Express, and Discover.
The brand ships orders through DHL and, delivery can take about 10 – 14 business days. As soon as you place your order, you will get a confirmation email. You will find all the essential details about your order.
It also includes a link that provides the tracking information that helps you to track your order.
Flamingo offers a quality guarantee on all its products, so if you're not happy with your purchase, you can return it. In addition, they offer free returns on all products with a full refund at no expense on your part.
You can also contact the customer care service to request an exchange if your order arrives damaged or broken.
Promotions and Discounts
Aside from free shipping on specific orders and returns, Flamingo does not provide express promotions or rewards. For example, there is no Flamingo coupon code or discount code, and it does not give a bonus on any product. Ready to order your shaving cream and body lotion? Check out the best bundles.
The brand offers bundles and sets of Flamingo shaving or waxing kits at discounted prices.
Contact Flamingo Razor
If you need to get across to the brand directly, you can contact Flamingo through;
You can also leave a message on the review page to share your thoughts and experience using flamingo razors.
Flamingo Razor Review: Editor's Verdicts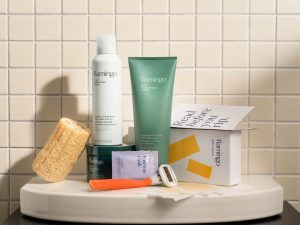 Based on the overall reviews and ratings and our own personal research, we score Flamingo a rating of 4.5 out of 5 stars. Flamingo is a direct-to-customer sister brand of Harry's Inc. that offers women's hair removal products.
The brand gives functional personal care tools made with quality high-end materials.
Flamingo razors feature a 5 blade cartridge to offer a clean, close and comfortable shave. It also provides wax strips, shaving cream, and a body moisturizer. You will find many positive reviews all over the internet, and they have also been featured in multiple reputable magazines.
Since its initial launch, Flamingo has stayed true to its top quality.
However, are Flamingo razors good, or is it just overhyped? From our objective flamingo razor review, it's clear that this brand is legit and that flamingo razors actually work. It does not cause skin irritation and is suitable for all skin types. However, these razors are much like regular razors and do not really have any special features.
You can easily incorporate Flamingo hair removal products into your shaving routine without inconvenience. The brand has good customer service and responds to feedback from customers to show that they pay attention.
Even though Flamingo does not offer any promotions or discounts, the brand is definitely worth purchasing.
Still looking for more women's personal care brands? Take a look at our reviews of AILLEA Review, ONDA Review, Foreo Review, and Kopari Review.
Flamingo Razor FAQs
Is Flamingo Razor Cruelty-Free?
We have confirmed that Flamingo is indeed 100% cruelty-free. They do not test their products on animals plus, their products are vegan and made with mainly plant-based ingredients.
Furthermore, Flamingo advertises a sustainable approach with all their products and, they offer only ethical, cruelty-free items.
How To Use Flamingo Razor?
If you don't shave and you're willing to try them out, then you must be wondering how to use Flamingo razors.
Flamingo razors feature a 5 blade cartridge, flexible hinge, and ergonomic handles. Before shaving, first, rub some shaving cream or foam on the area.
Then, you can just glide the shaving stick over your body in an upwards direction. Flamingo razors are very gentle on your skin, and the hair comes off easily.
The flexible hinge also helps to ensure that the razor covers hard-to-reach areas on your body. Once you're done shaving, you can use a body moisturizer to avoid dryness.
How often should I change my Flamingo Razor blade cartridge?
We all have different hair types and hair growth. With that being said, Flamingo suggests changing the cartridge at every 6-8 uses, or whenever you feel like the razor is not effective enough while shaving.
Are the Flamingo Razor wax strips safe to use on sensitive skin?
Anyone who has sensitive skin should always spot test before using a product. The same goes for Flamingo wax strips, before using them, just simply spot test.
They also recommend pausing the use of retinol, chemical exfoliants, or alcohol-based toners a few days before using the wax strips. For a step-by-step guide visit shopflamingo.com/wax.
Are Flamingo Razor products vegan?
Flamingo Razor products are all vegan except the wax strips, which contain beeswax.