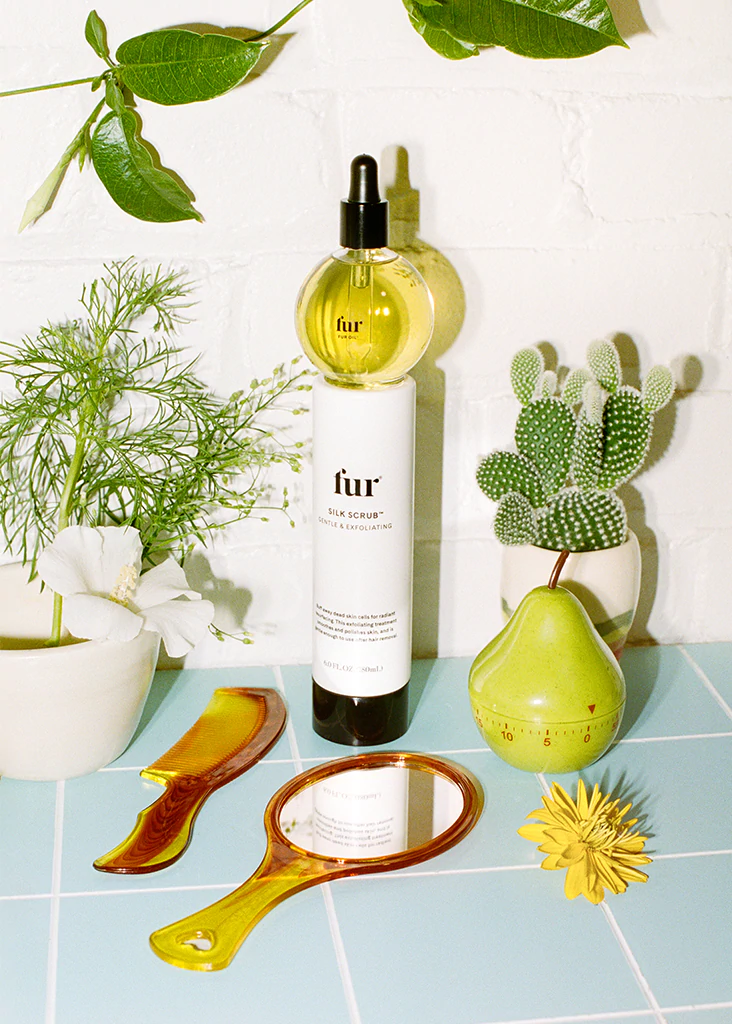 Fur You is one of the leading organic skincare and hair treatment brands in the market, and it focuses on intimate areas, unlike most companies. The company believes in natural, beauty care for all your body parts. Their super gentle formulas feature high-quality ingredients to smooth and soothe your skin while treating and preventing ingrown. They also soften and refine regrowth. We'll take an in-depth look at this brand, including Fur Oil reviews from users, its product line, and much more. You'll then be able to decide if this all-natural, hair and body skin treatment company is worthwhile.
About Fur You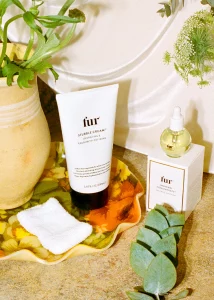 Fur You was founded in 2014 by Lillian Tung and Laura Schubert, who were best friends since childhood. Laura came up with the idea of Fur when she realized there was a gap in the beauty industry since there was very little talk on how to groom body hair. She then contacted a chemist and developed Fur pubic oil Tung tried out the oil and decided to quit her job at L'Oreal to join her best friend in launching the brand.
Over the years, Fur has created a wide range of products that are cruelty-free, vegan, and free from toxins. The brand's products are gynaecologically and dermatologically tested. That means you can trust they are safe and effective for all skin types. 
Due to their remarkable formulas in 2017, the brand got a boost when Emma Watson applauded its products in an interview. The renowned actress said that she uses all-purpose Fur oil to care for her skin. 
In March 2020, the two co-founders pitched the brand at the shark tank and managed to get a $ 500,000 investment from Lori Greiner. In turn, this increased the popularity of the company, and currently, the company boasts 84.9K followers on Instagram. The brand has also been featured in different renowned media outlets like Vogue, Allure, Forbes, Nylon, and Refinery 29. 
Before we check Fur Oil reviews and the brand's best-selling products, here is an overview of its pros and cons.
Pros
Their products are certified as vegan, non-toxic, and cruelty-free, and they are gynaecologically and dermatologically tested
The company offers great discounts and promotions
They accept Quadpay as an installment payment option
Free shipping within the United States for orders above $50
The company provides expedited shipping for customers who need the products faster.
They offer free returns
Cons
Free shipping is not available on international orders
No phone support
International orders may experience delays
Fur You Products Review
Fur products are 100% natural and do not contain toxic substances such as acids, phthalates, paraben, silicones, and any other substances that can harm your skin. They are also vegan and gluten-free. Fur's website provides potential customers with five-question quizzes to help them determine which products are perfect for them. That said, below are Fur's best-selling products.
Fur You Oil
The brand's top-ranked product is Fur You oil, designed to hydrate intimate regions like the underarms and pubic areas. You can also use it on the entire body, including the face.
Fur Oil is formulated with oils that gently soften body hairs to clear skin pores, thus reducing ingrown for healthy skin. Apply the oil to clean skin daily for the best results.
Fur Oil reviews reveal that users rave about this product because it's residue-free, and its scent disappears fast after application. You can add a few oil droppers into the bath to achieve full-body moisture.
Fur You oil ingredients include grape seed oil and Jojoba oil that hydrates the skin leaving it looking fresh and radiant. Tea tree oil is also a vital ingredient in this oil: it eliminates excess oils in the skin, hence preventing ingrown and clogged pores. Other components include Camphora Bark oil and lavender oil.
The Fur You Oil will help soften the hair's texture and combat dryness if you have itchy or dry beards, scalp, or body hair. You can also apply a few drops of the Fur Ingrown Hair Oil to incision scars to reduce inflammation.
Fur You Fur Trimmer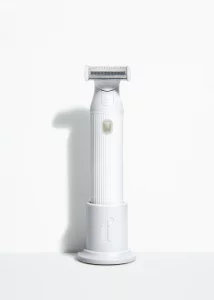 If you are tired of standard blades and razors that often cause irritations and bumps, Fur You Trimmer has got you covered. You can remove unwanted body hair with ease using this trimmer.
Unlike other hair removal devices, this trimmer is designed for all your hair removal needs, including armpit, leg, bikini area, and beard. It also allows you to customize your shave, as it features four different lengths for you to choose from.
If you are familiar with a standard razor, you don't need to feel intimidated with the Fur Trimmer, as it's pretty easy to use. All you need to do is stick an attachment head of your choice, press the on button, and start shaving with short even strokes.
If you want to achieve a clean shave, you don't need an attachment head. Once you have finished shaving, you can rinse your skin using warm water before applying Fur Hair Oil to condition and hydrate your skin.
Fur You Ingrown Concentrate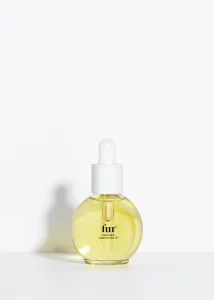 Hair removal can be tricky regardless of the method of removal you use. After the process, the battle may not be over yet, as you may get ingrown hairs.
Say goodbye to ingrown hair with the Fur Ingrown Concentrate; this product is ranked as the best in the market for it is an all-natural blend of antioxidants and essential oils. The concentrate targets raised bumps that cause soreness and irritation.
While you are still in the shower, after exfoliating the affected and drying yourself off, apply the ingrown concentrate and gently soften them, causing them to slip out gently. It will also soothe the area around the ingrown, helping it heal faster.
Fur You Ingrown Concentrate is enriched with Tamanu oil and coconut oil that penetrates hair follicles to soften the ingrown hairs helping them easily slide out. It also contains tree tea oil that eliminates excess oils to prevent ingrown.
Fur You Silk Scrub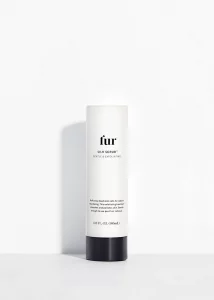 The brand offers a scrub that combines chemical and physical exfoliation to smoothen, soften, and brighten your skin. This is done by removing dead skin cells to restore your skin's radiance.
Use the Silk Scrub twice or thrice a week to achieve brighter, healthier-looking skin. You don't have to worry about the scrub irritating your skin as it is gentle enough to be used all over the body.
The Silk Scrub also helps prevent ingrown. To use the scrub, apply it in circular motions on damp skin while in the shower. Alternatively, you can use it as a mask and let it sit for about 10 minutes before you gently massage and rinse it off.
Fur You Kits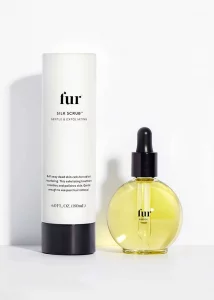 The company also offers products in bundles and kits. Fur Kits help you save money and time while purchasing the products that suit your needs. The brand offers a variety of kits that address different areas.
The Fuller Frontal kit includes products that target ingrown and razor burns. The kit has five products: 75ml Fur Oil, 150ml Shave Cream, 150ml Stubble Cream, 14ml Ingrown Concentrate, and 180ml Silk scrub.
Fur Oil ingredients include jojoba oil, an ingredient that mimics your body's natural moisturizing properties to make your skin and hair soft. It also features clary sage oil, which soothes post-shaving irritation and redness.
The Stubble kit comes with two full-sized Fur products: 5.0 oz of Stubble Cream and0.5 oz of Ingrown Concentrate. The Ingrown Duo is a survival kit perfect for your worst irritations and ingrown. It features Ingrown Eliminator 12 biodegradable mitts and 0.5 0z of Ingrown Concentrate.
You can include the KP Kit in your daily routine for only $138. This simple 3-step routine is ideal for eradicating Keratosis Pilaris or strawberry skin. The kit includes 5.0 fl oz of Stubble Cream, 2.5 fl oz of Fur Oil, and 2.5 fl oz of Silk Scrub.
Fur You Reviews from Customers
We could not complete our review without having to hear what the customers think about Fur You products. The brand's site gave the products an average star rating of 4.8/5 stars out of 613 reviews.
One of the customers stated that the product worked like magic. It helped her restore her confidence by treating the prolonged skin problems that never seemed to go away.
Another reviewer claimed to have suffered from ingrown hairs for a while in her bikini area, and Fur Ingrown Hair Oil did wonders, allowing her to wear her swimsuit with confidence once again.
Popular Alternatives to Fur You
On Influenster, the Fur Oil had a rating of 4.5/5 stars from 51 reviews. A buyer attested that they were in love with the product after applying it on their legs after shaving, as it got rid of inflammations or razor burns. If you are allergic to strange smells, the product has a light, refreshing citrus smell.
From the 76 ratings on Amazon, Fur You oil scored 4/5 stars. On Reddit, the thread had impressive reviews, as respondents were raving about the Ingrown Concentrate. One user stated how the Fur Ingrown Concentrate eliminated all the ingrown hairs.
To show how these ingrown hairs were stubborn, and she was genuinely testifying to the magical works of this product, the reviewer even referred to them as the dime-sized demons that appeared monthly.
Most of the 5-star ratings on the Fur You website were based on the fact that the brand focused on customer satisfaction more than anything. They made buyers review their products on third-party websites, confirming it as a genuine brand.
Some customers left negative feedback. Most of the negative reviews came from international customers who did not like that the company doesn't offer free shipping.
Sign Up for Fur You
To become a member of the Fur You team, you have to create an account on their website. Doing this will allow you to get the latest information on their promotions, discounts, and new product arrivals.
Where to Buy
Fur You products are available on the brand's official site FurYou.com to get the original products with guaranteed offers and discounts. You can also find its products in the major beauty retailers. Alternatively, you can get their products at Ulta, the Bay, the Fur Oil Sephora and Fur Oil Indigo stores, and Amazon.
Fur You Shipping and Return Policy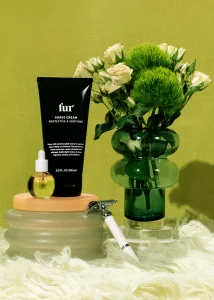 For discretion, Fur ships all its products in branded postal boxes. They ship all over the U.S. and internationally. The company has free standardized shipping via UPS and DHL that takes 5-7 days. The shipping cost of international orders depends on the location and shipping method.
If you are not satisfied with your purchase, you can return the item within 60 days. However, the company return policy is stringent to the website products alone. It does not accept returns from stock list stores.
Promotions & Discounts
The brand is so active when it comes to discounts and pro promotions. The first offer you'll enjoy after signing up for their newsletter is the 10-percent discount on your first purchase.
Signing up as a member does not only give you the first purchase offer but exposes you to any new coupons that arise within the brand. Do not feel it is a waste of time joining the brands club. Signing up to join their loyalty program will allow you to earn points that you can use to get a discount on your orders. Some of the privileges tied to the loyalty program include:
5% off on your birthdays
50 points when you become their follower on Facebook or Instagram, and if you share their page on Facebook
100 points after creating an account on Fur You's website
3 points for every $1 spent
100 points when you review their products
100 points when you tackle the Fur quiz
Leveling up for Fur loyalty status exposes you to earn more points. The points you earn depend on the type of loyalty membership. These include:
Fur family: 4 points per one dollar, $10 reward free domestic shipping, 100 tier entry, surprise bonus points, double points during sales, and 100-tier entry bonus points.
Fur fan: 3 points per dollar, free domestic shipping, a $5 birthday reward, and surprise bonus points
Forever: 5 points per dollar free domestic shipping, surprise bonus points, $15 birthday reward, early access to sales, and 200 tier entry bonuses.
They also have redeemable rewards from the membership. They include:
Fur Oil mini for 2800 points
Bath Drops sample for 800 points
Limited edition yellow Fur slippers for 2000 points
The brand makes it easy to redeem points for discounts, and you can redeem points to save money on your next purchase. You can redeem $1 with 100 points. You can also get an offer of $10 on your first order of above $50 when you refer a friend, and they make a purchase.
Contact Fur You
If you have any inquiries about Fur You or its products, you can contact its customer support. Here are the available options:
Customers who would like to cancel an order or exchange items can reach out to their support team via [email protected]
Any information about shipping the product, or general information about the brand, send your email to [email protected]
Fur wholesale and salon partnership inquiries, send an email to [email protected]
Fur You Editor's Verdict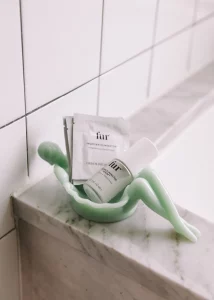 Based on the numerous positive Fur Oil reviews we saw, we can confirm that it's efficient and worth it. The brand is determined to end stigma and shame in individuals and restore their confidence. Using clean ingredients and not using animals as testers is a clear indication that the brand is sensitive about life.
Their marketing strategy is on another level in that it involves customers in making other market decisions; this indicates that the company is making many positive impacts on the marketplace. From the reviews that we read on the internet, we conclude by saying their products are worth checking out.
Are you still looking for other self-care brands? Check out our reviews of Feals, Foria Wellness, BlueBird Botanicals, and Prima CBD Skincare.
Fur You FAQ
Why do I need Fur?
Fur You oil provides all options for hair care and skin. For any natural products to smoothen the texture of your hair, the brand has it all. It is a solution to any ingrown hairs and razor bumps.
Which Fur products are suitable for me?
For any inquiries on the best product to use, reach out to their support team via the available contact methods, and they will be glad to assist you in choosing the best product.
Are Fur products safe?
Yes. Its products have been tested gynecologically and dermatologically to meet EU regulation standards. That means they are safe to use. However, if you experience irritation, stop using the product and consult your doctor about your specific situation.
Are Fur products tested on animals?
No, all Fur products are cruelty-free. They care about life and cannot expose animals to such risks.
Are the Fur products vegan?
Yes, all the ingredients used to manufacture your oils are vegan. That means they are good for your hair, body, and health. That means they cannot cause any skincare-induced issues like skin cancer or rashes.