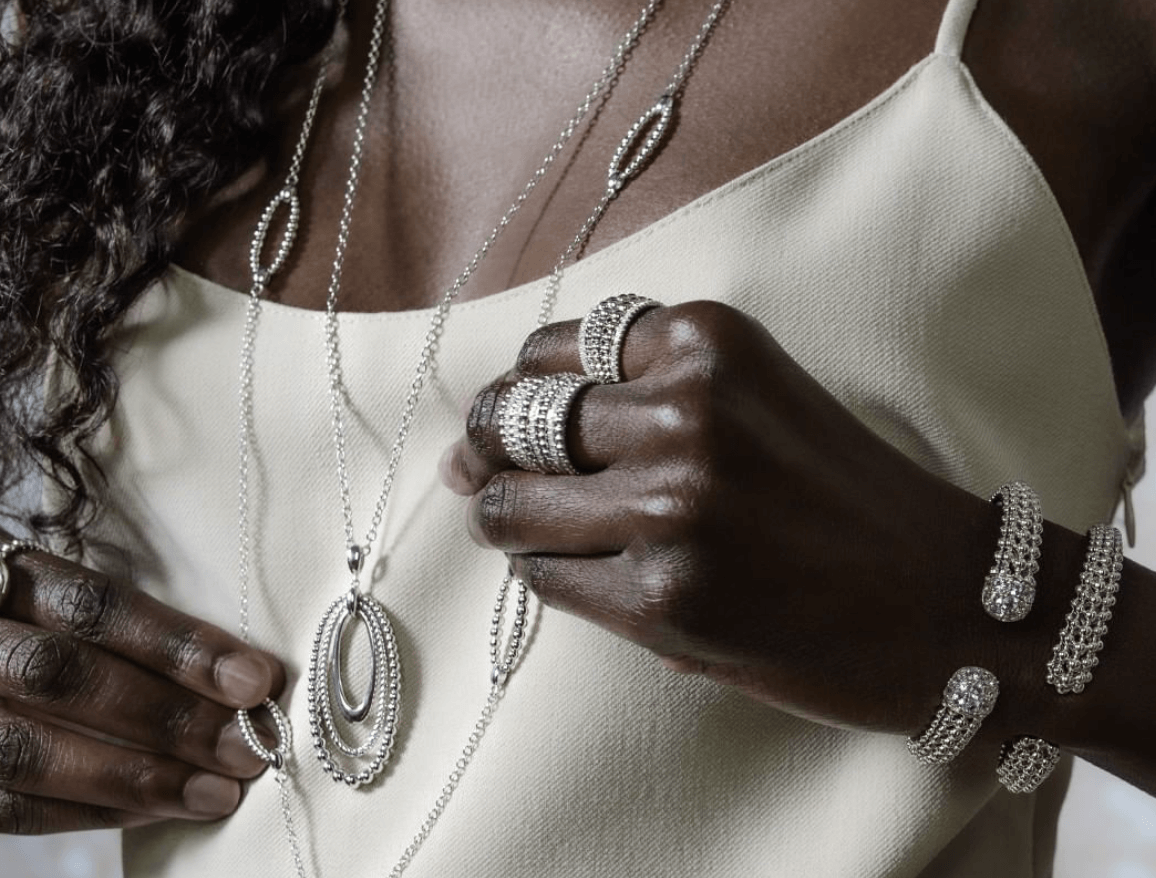 Good quality jewelry is a timeless asset. Whether it is a gift for yourself or for someone else, investing in a long-lasting set of beautiful jewelry is a great decision. Gabriel & Co Jewelry brings you exquisite collections of showstopping articles that will bedazzle not just your wardrobe but your outfit. Whether you want to mark an important day such as an anniversary or an engagement, or you want to compliment your clothes with the most beautiful of jewels, Gabriel & Co is where you go! Offering a number of different items in both masculine and feminine fashion, Gabriel & Co Jewelry has something in store for everyone, including both everyday jewelry and the articles reserved for special events. However, jewelry is something you should do your due research on before buying, so we're here to guide you with Gabriel and Co reviews about their products and why they are worth the money.
About Gabriel & Co Jewelry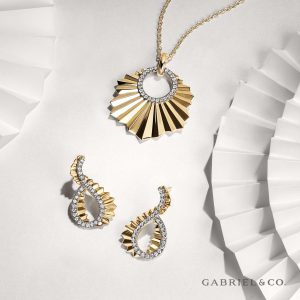 Gabriel & Co has existed for 3 decades as of 2022, providing its customers with stunning jewelry that is hand-crafted and personalized specifically the way the customers like it. The ampersand in their name symbolizes positive energy for them, and they hope that customers relate to it too.
Gabriel NY specializes in wedding jewelry and jewelry for special events. Many celebrities have been spotted wearing articles by Gabriel & Co, which goes to show how exquisite of a brand it is. Due to its quality and uniqueness, it was features in many publications, such as Forbes, JCK, National Jeweler, and many more. The brand has over 426k followers on Instagram and 4.9 million on Facebook.
They have a variety of designs, catering especially to modern-day jewelry with touches of sentimentality and originality. Our Gabriel and Co Reviews should help you determine which jewelry is the best for you.
Pros
Multiple colors and styles available
Reasonable prices for wedding and engagement rings
Lifetime warranty on all jewelry defects
Positive reviews from customers
Engagement rings can be exchanged within a year of buying them
Cons
Masculine designs are limited
Online orders cannot be returned at a physical store
Shipping only covers the USA, UK, Canada, and Australia
Gabriel and Co Jewelry Reviews
Gabriel & Co Jewelry offers a very wide array of items, styles, colors, and multiple other choices for their items. Below are some in-depth Gabriel and Co Jewelry reviews for their product range.
Gabriel and Co Engagement Ring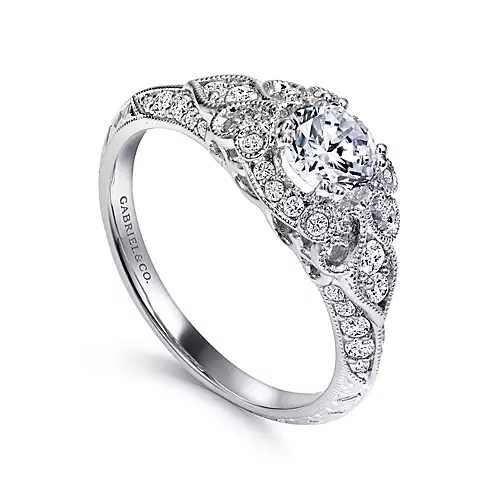 If you're looking to buy a symbol of your love, a Gabriel and Co Engagement Ring is the perfect fit. You can shop this particular vintage-inspired diamond ring by the weight of the diamond, the type of metal it is made of, and the shape that your diamond is cut in.
The metal types that you can buy this ring in are Yellow Gold, White Gold, or Rose Gold. If you want something other than gold, this ring is also available in Platinum.
As far as the shapes go, this particular ring by Gabriel & Co Jewelry offers you multiple available cuts. Your jewel shape can be Oval, Princess, or Cushion.
The shape of the center stone (diamond) will not affect the quality of your setting (the metal frame of your ring), so you can easily choose whatever you like.
The weight of your diamond can either be 0.25 carats, 0.5 carats, or 0.75 carats. Depending on the weight, the size and price of your setting will be affected too, with 0.25 carats measuring 4 mm, 0.5 carats measuring 5 mm, and 0.75 carats measuring 5.75 mm.
This vintage-inspired engagement ring is definitely unique. If you like a Victorian touch to your jewelry, this ring is perfect for you. It has a trail of diamonds along half of its band, which makes it even more beautiful and dazzling.
Furthermore, all Gabriel & Co Engagement Rings can be exchanged within a year of purchasing them with an item of equal or higher value, so if you're scared you or your partner may not like the ring, that shouldn't be stopping you from shopping at Gabriel & Co Jewelry.
Gabriel and Co Wedding Bands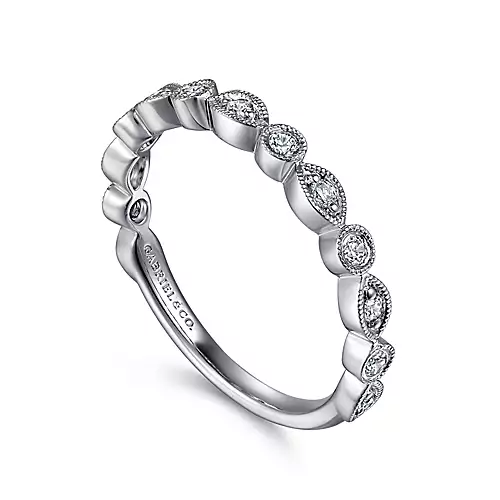 If you want to show how much you love your partner, buying them one of the Gabriel and Co Wedding Bands is a great reminder of how much you honor them. This vintage-inspired anniversary band is great for people who like something out of the ordinary.
It isn't a straight band, so it definitely stands out. Each crevice holds a diamond in it, and the band itself is 14 carat. It is also available in 18 carats.
This wedding band can be bought in White Gold or Platinum. It's available in sizes 3 to 15, with 0.25 increments. You can select the total diamond weight to be either 0.30 carat, 0.50 carat, 0.72 carats, or 1 carat.
This wedding band is also for people who like Victorian styles. The stones featured are round cut, and the design is round and marquise. This particular wedding band also features free shipping!
Gabriel and Co Necklace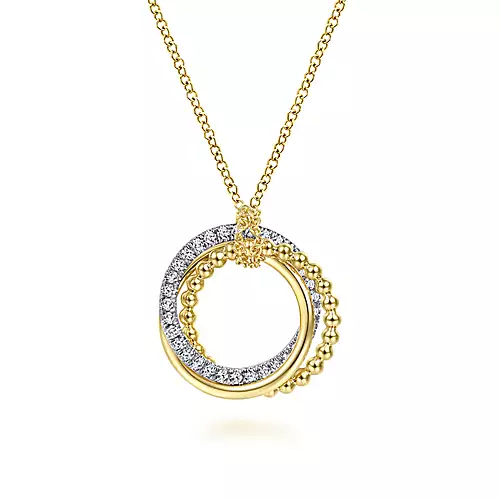 Looking for the perfect gift for your partner that isn't a ring? Get them a Gabriel and Co Necklace! This interlocking pendant features both silver and golden colors, so if you like jewelry that matches outfits easily this should be your pick.
It's a pendant-style necklace, and the diamond weighs 0.23 carat, meaning it has the perfect amount of bling for almost any age.
The chain is 17.5 inches long so the pendant rests about two inches below your collarbone, meaning it will go well with both covered high-neck outfits as well as a formal gown with a deep neck.
It features three circles, two made of yellow gold, and the other made of white gold. The white gold is where the diamonds lay, in a spectacular circular formation, which is what makes this particular article stand out so much.
One of the yellow gold circles is plain while the other one looks beaded. The three circles together create a very unique look that will elevate your outfit in an instant.
The chain has three clasp settings, so you can wear it as a choker necklace or drop it lower as you like. Also, this necklace is Ready to Ship and thus can be bought instantaneously. 
Gabriel and Co Earrings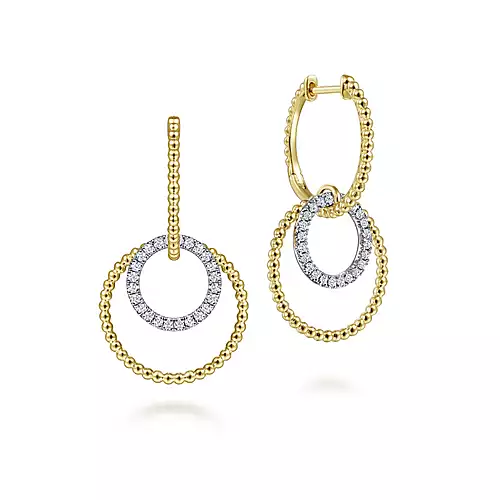 If you have lobe piercings, you need to buy Gabriel and Co Earrings right now! Earrings qualify as a mainstay in a jewelry wardrobe and will elevate any hairdo or outfit that you pair them with.
Whether you prefer gold or silver, this set of huggie drop earrings has a bit of both, meaning you can wear this pair with anything!
As for the price tag, this set costs $1045 for 0.23 carats of diamonds. The rest is gold, both white and yellow. Whether you're planning for a night out or having brunch with your office colleagues, this pair is incredibly elegant and will look beautiful.
It's practical in terms of wear, meaning it isn't too big or too heavy. It won't come in your way if you're planning to dance!
Gabriel and Co offer complimentary cleaning every six months so don't worry about your earrings ever looking dull. The Bujinkan pearly style of this earring set makes it very easy to care for, while also looking very elegant.
Gabriel and Co Bracelets
This Gabriel and Co bracelet is a stunning addition to your daily wear jewelry. It's not expens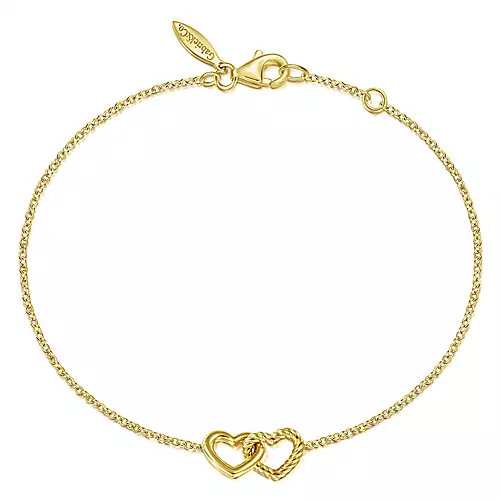 ive because it only costs $300 for a beautiful bracelet made of 14-carat gold.
It features two cute hearts being entwined with one another, so if you're looking for a gift for your best friend, this is it!
It's entirely in yellow gold and thus looks great on every skin tone. It can be a gift for both a romantic partner and a platonic friend because the hearts show love. The chain is delicate, and one of the hearts has a rope detailing on it.
Customers say that this bracelet is very easy to wear because of how lightweight it is. It doesn't get in the way of doing everyday tasks because the chain is quite thin, so if you're looking for jewelry you wouldn't have to take off, look no further.
This bracelet has the charm of looking pretty even after wearing it every day.
And, just like all other items by Gabriel and Co, this one also features complimentary cleaning every six months, so don't worry about any dirt settling in on the rope details on one of the hearts.
Gabriel and Co Reviews from Customers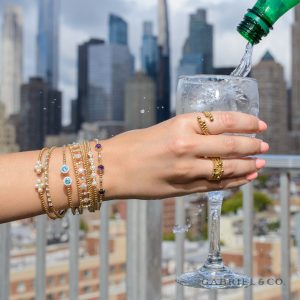 Gabriel Co Jewelry is no stranger to good and honest reviews from its customers. According to online reviews of customers both on and off their page, people are quick to point out how well priced their items are especially for the quality of their products.
Popular Alternatives to Gabriel & Co
Most customers rate Gabriel & Co Jewelry 4.8 stars out of 5 stars, with many buyers stating how intricate the designs are.
The designs, as said not just by ordinary customers but also by critics of jewelry, are very creative and original. They show a lot of thought and effort has gone into making the particular article.
Sign Up for Gabriel & Co Jewelry
You can sign up for Gabriel & Co Jewelry by creating an account on their website. This account can then be used to browse their online store and make purchases.
You can save your details so if you ever order again, all you need to do is log into your account. You won't have to input the details all over again.
This account can also be used to track any purchases or orders placed. Furthermore, if you sign up, they will email you promotional offers, so you may even end up scoring a discount.
Where to Buy
You can buy Gabriel & Co Jewelry online on their website, or head to one of the Gabriel and Co locations near you. You can use their website to find a store near you by entering your zip code or enabling location access.
Stores such as Mani, Direct Diamond, and European Boutique carry items by Gabriel & Co Jewelry. Furthermore, Precision Jewelers and Morgan Jewelers also sell Gabriel & Co products.
Gabriel & Co Jewelry Shipping and Return Policy
Gabriel & Co ships only on business days. If you have multiple products in your cart, they may not ship all in one order. However, even if you have multiple deliveries of the same order, you will only be charged a shipping fee once.
Orders usually take 3 to 5 days to arrive after they have been shipped. Delivery timings may vary if you have ordered a customized product that is not built ready to ship.
Gabriel & Co returns and exchanges your products within thirty days of delivering them. However, returns need to be unused i.e. unworn, and in a condition that is sealable. All packaging should also be there.
You can easily return their products by getting in touch with their Customer Service Department, who will then further guide you on how you can package it to be shipped back to them.
Promotions & Discounts
While Gabriel & Co is definitely worth the money, the price tag can be a bit daunting for some, and who doesn't love saving money on luxury? If you'd like access to many special offers, you can sign up for their newsletter.
Other perks such as free shipping inside the US on certain selected items are also included in the signup.
Promo codes come and go, so be sure to check their website and connected social media pages if you're looking for a promo code.
Sometimes they may send you one in your email, so be sure that emails from Gabriel & Co aren't landing in your spam folder!
Contact Gabriel & Co Jewelry
In order to contact Gabriel & Co, you can call them, visit them, or reach out to them through their website which will lead to a chain of communication through email.
Their working hours are 9 in the morning to 6 in the evening, Eastern Time. Their working days are Monday to Friday.
To call Gabriel & Co, dial (212)-519-1400.
To visit Gabriel & Co, head to 545 W 45th St, 3rd floor, in New York. Their postal code is 10036.
To reach out through their website, you can leave a message with your contact details and a representative will reach out to you for further conversation via email.
Gabriel and Co Reviews: Editor's Verdict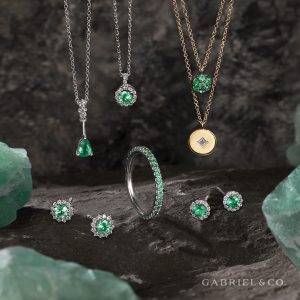 Listed above are Gabriel and Co reviews for the products they offer, and based on them and other customers' opinions, it's fair to say that buying jewelry from Gabriel and Co is a sensible decision to make.
Their jewelry articles are unique and one of a kind, which you usually will not find at a lot of jewelry stores. Furthermore, at their price point, what they offer is quite reasonable.
Perhaps the most attractive part about Gabriel & Co Jewelry is the fact that you can build your piece the way you like it, including being able to customize the gemstone and its weight, thereby creating a piece that very few people in the world own – because it is particularly your choice.
Another unique selling point about Gabriel & Co is selling jewelry by birthstone months and personality types. It communicates the effort you put into buying the perfect gift.
So, in conclusion, is Gabriel & Co worth it? Yes! Yes, it is!
Still looking for stunning fine jewelry for the special occasion? Take a look at our popular accessories reviews, such as Aurate New York, Rebag, Lightbox Jewelry, and Angara.
Gabriel & Co Jewelry FAQ
Does Gabriel & Co Jewelry provide a warranty?
Yes. They provide two different types of warranties. First, Free Lifetime Warranty for Manufacturing Defects covers their own mistakes in making the product. Second, One Year Warranty for Normal Wear & Tear, which covers any scratches or so on your end.
How to generate my digital Certificate of Authenticity and Stone Certification?
You can visit their website, enter the ID number on your jewelry piece, and your Certificate of Authenticity and Stone Certification will automatically be generated once you click "Submit."
Does Gabriel and Co offer gift wrapping?
Unfortunately, they do not offer gift wrapping right now.
Is Gabriel and Co ethical?
Yes, they use ethically mined diamonds and gemstones. Furthermore, all of their packaging is made of recycled materials.
Is Gabriel and Co jewelry good quality?
Yes, all products by Gabriel & Co are famous for their superb and fine quality.