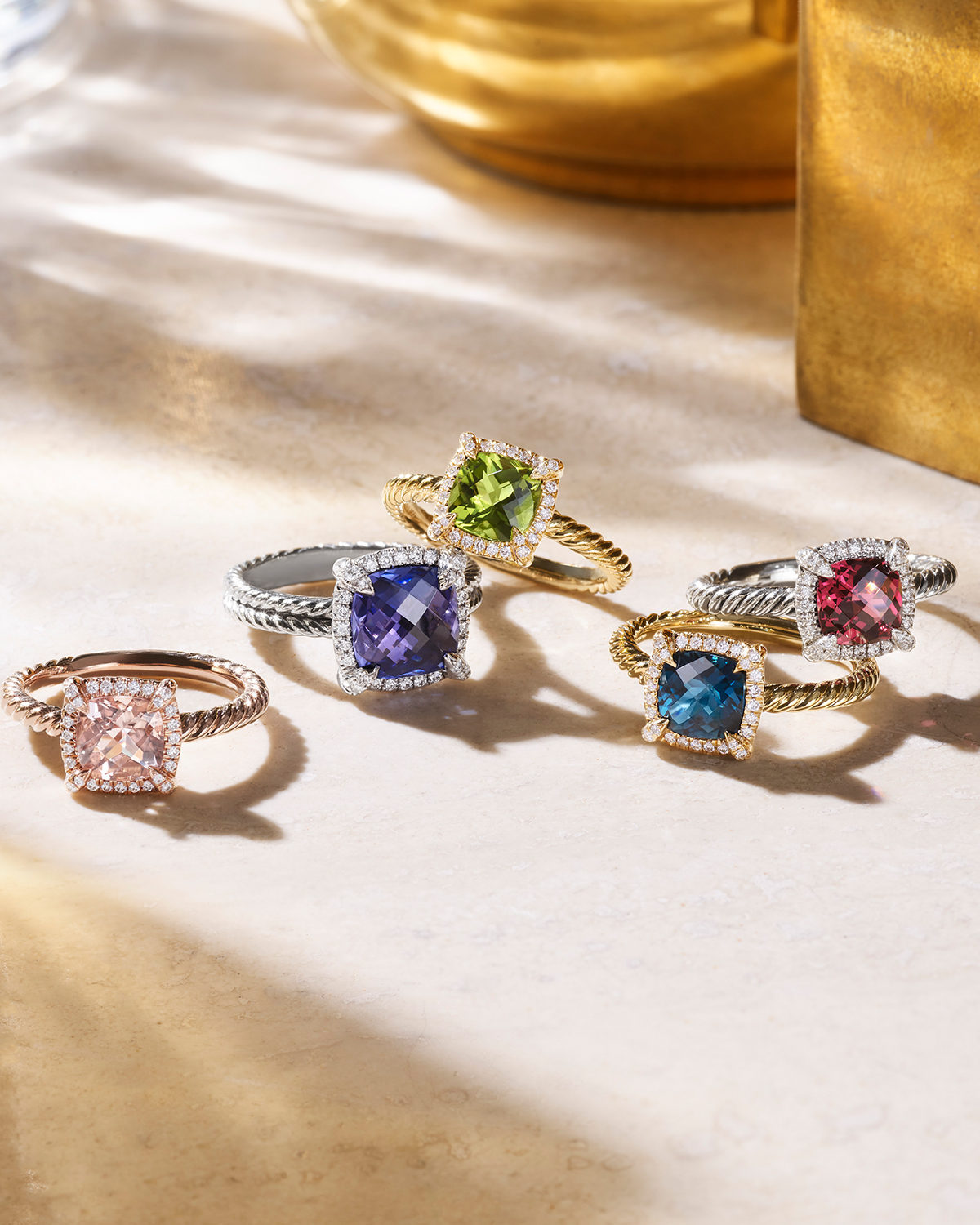 The hunt for a piece of good jewelry can be hectic or confusing in some way. There are so many designs and types of jewelry in the market, and identifying legit pieces is challenging. If you are looking for quality, two-toned and unique design, David Yurman jewelry is full of hand-crafted jewelry designs with glistening stones, contrasting textures, and modern twists. This David Yurman jewelry review will give you the low-down on this brand, including its best-selling products, what customers think about the company, and its shipping policy. You'll then determine if you will check out the company and add some glam to your jewelry closet.
About David Yurman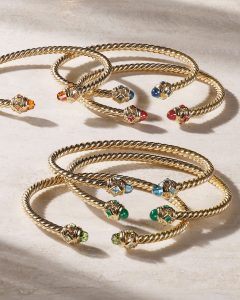 David, the genius mind behind the brand, was a New York sculptor. He crafted a necklace for his wife Sybill, and it caught people's eye, and others even offered to pay for it and own it. The pair decided to start a jewelry-making company incorporating the same idea that was in the fancy necklace. 
Sybil was a talented painter, and David was a renowned sculptor. The two combined their skills and talents and created outstanding pieces for modern women. 
The duo was passionate about their work, and this translated to the brand becoming highly desired. David added a collection that reflects life events, such as anniversaries and memorable trips. In 2003, Evan, their son, joined the business, introducing his creative ideas and voice to the selection.
The company introduced wedding items, engagement jewelry, and commitment pieces in the line in 2006. The brand has a very loyal clientele, and they also pull up socks every time and introduce newness for the customer's sake. 
This David Yurman jewelry review found that this brand has been featured in popular magazines such as Vanity Fair, Elle, and In Style. The brand has 473k Instagram followers and more than 640k followers on Facebook.  
Pros
The company offers a wide selection of jewelry, including necklaces, earrings, rings, bracelets, and more

They have designs for weddings, women, and men

The price ranges to suit different customer's budgets

45-day return policy

The company is entirely family-owned and run, and therefore, they do it out of passion

They offer free two days of shipping and gift wrapping
Cons
Some customers were unimpressed by the delay in the shipping processes

The company does not offer international shipping at the moment

They do not provide 24/7 customer support
David Yurman Products Review
When you come across the lovely colors, chunky designs, and oversized pieces, you'll feel like the brand is whispering to you: "come closer". The elegance of the pieces plus the quality they tag along will make you feel like exploring the line. Let's take a look at David Yurman's bestsellers. 
David Yurman Bracelets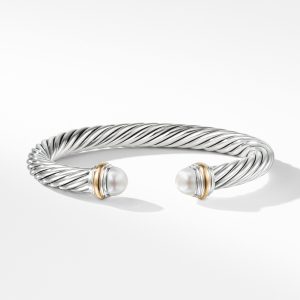 The brand offers a variety of men's and women's bracelets. They come in different designs to suit various tastes. If you want it simple but fancy, or creative and dramatic, David Yurman has something for everyone. 
The women's collection includes the DY Madison Chain Medium Bracelet crafted with sterling silver, while others of the type combine sterling silver with 18-karat yellow gold. 
Another very interesting and common design is the Cable Classics Bracelet with 18K Gold; this David Yurman bracelet is simple, classic, and fun to rock your day along. The design has different types, including the center station bracelet, the semi-precious stones, 4mm cable, and more. 
Each model is ideal for all occasions, whether you are out on a date, night-vibe, or having a walk around the city with your favorite pet. 
Men are also not left behind by David Yurman. The family business offers classic designs for men on the go. The David Yurman mens bracelet includes the wheat chain bracelet. 
As the name suggests, the piece features a design that mimics interlocked wheat grains going round. The bracelet is purely silver and matches out with outfits of all colors.
The spiritual bead bracelet is another unique and creative design for a modern man. It is available in black onyx and tiger eye color designs that add a statement around any man's wrist. The size guidelines are well stipulated on the company's website. Check it out before placing your orders.
David Yurman Rings
Don't keep your fingers bare while David Yurman is doing everything he can to see them accessorized. Whether you want a piece for yourself, to surprise a loved one, or something to symbolize your commitment, the brand has it all.
David Yurman rings are elegant, aesthetically pleasing, exquisite, and fancy when you wear them. Those planning to surprise their women or loved ones with an outstanding piece should try the Birthstone rock crystal ring. 
This beautiful ring features polished yellow golden brass and rock crystals in ombre birthstone colors. The ring is manufactured in Tai, and the crystals are available in various colors. 
At an engagement party, show your love to her with the dazzling Emerald-Cut Center with Trapezoid Sides Ring. The one among the many David Yurman Rings Women is silver in color, with a crystal-clear sparkling stone at the center. 
For men, options are endless, and you can never fail to get one that moves your heart. The Icon GG Thin Band Ring is available in 18K Gold, 14mm Albion Pave Diamond Ring with a twisted sterling silver open-shank band, and the silver miller stud ring, to mention but a few. Be sure to check the sizing chart to determine the exact size to order. 
Wedding rings are also available in plenty, and most of them come in two sets and different colors to suit different personalities.
David Yurman Charms & Amulets
Charms and amulets for women are available in silver, gold, sterling, and more. David Yurman spoils you for choice with the special jewelry crafted beautifully and to perfection. The collectibles add a new sense of self-expression, personalization, and meaning. 
One of the beautifully created David Yurman pieces is the Evil Eye Amulet in 18K Yellow Gold with Pavé Blue Sapphires/emeralds and Diamonds. This particular piece comprises a gold chain and pendant with blue sapphires/emeralds and a diamond at the center (on the eye design). There are other pieces available with the same design but in silver and sterling. Yours is to choose the piece that whispers to your heart.
Another well-thought-out amulet is the Heart Amulet with Pink Opal/mother of pearl and Pavé Diamonds. The piece is silver in color with a heart-shaped pendant highlighted in diamond crystals all around. Our David Yurman jewelry review discovered that this amazing piece is also available in 18K gold. The heart amulet symbolizes unity, a shape without the beginning of the end.
David Yurman's charms and amulets collection is very wide. Just browse through their products on their official website to identify a piece suitable for you or your loved one. 
David Yurman Necklaces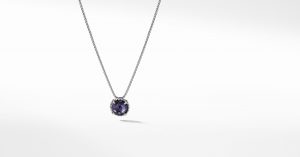 Available in a range of materials, the David Yurman necklace is durable and of high quality. An initial charm necklace with pave diamonds is one of the beautiful necklaces you'll find on their site. 
This piece is available in 26 colors to allow clients to have a variety of colors to choose from. This amazing piece can be a perfect gift to your mother, wife, or daughter on any of their special days. 
Women Curb-Link Necklace with 18K Yellow Gold gives a highly sculptural look with its curb chain design. It features a sterling silver cable heart linked to a smaller 18 karats yellow gold heart, the 2 appear to be leaning onto each other. It also has a 15" and 17" adjustable chain that allows you to wear it at whatever length you like. 
Those who fancy stones can grab the Heart Pendant Necklace that comes in 18 karat Yellow Gold with Garnet. It features a gold chain attached to a simple garnet pendant with a shimmering stone. The piece fastens securely with a lobster clasp and measures 18" in length. It can be a perfect addition to your jewelry box or a precious gift to the person dear to you. 
David Yurman Earrings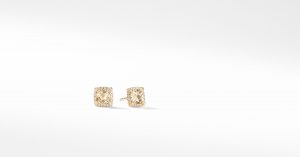 Are you a fan of loops, studs, or dangly creative earrings? Anything you want, you will get in David's earrings collection. 
The collection includes vintage aesthetics, beautiful stones, and creative textures. Stud admirers have the Crossover Stud Earrings with 18K Yellow Gold. The pieces are simple and suitable for any occasion, including official businesses or casual meetups. The pair features sterling silver, with decorations of 18K gold strands entwined together to form an appealing piece of art. 
Another dazzling pick from David Yurman earrings is the Small Cable Hoop Earrings. The design is simple and gorgeous, featuring a sterling silver body and golden posts to create contrast. 
The fashionable pieces match well with all colors of outfits, especially the classic black dresses. Davin Yurman donates 20% of the purchase price for these pieces to a non-profit organization supporting young women and gender-expansive youth of color – Lower Eastside Girls. 
Double Drop Earrings in 18K Yellow Gold with Black Onyx is another amazing piece for women who love dangle earrings. This David Yurman review found that the earrings come in various colors, including the black onyx, malachite, mother of pearl, and turquoise blue. 
The 18-karat yellow gold surrounds the circles creating a symbol of unity, no beginning, no end. The pieces are ideal for any undertaking, official or otherwise, you still come out classy and on point. 
David Yurman Jewelry Review from Customers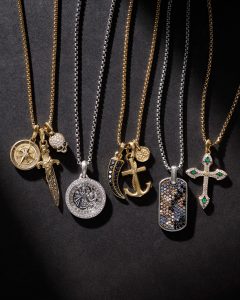 We explored the internet for customer opinions about the company and its jewelry collection. Most of the customers are impressed by the quality that tags along with the products, with most of them saying they received their jewelry in the exact shape and look they feature on the website. 
Customers praise the products' durability and the availability of endless beautiful options to match different fashion tastes. The products are thoughtfully crafted and worth the price tag.
At Nordstrom, 85% of customers find the products unique, simple, rare, and beautifully created. The majority of the reviewers portray the products as durable, luxurious, and dainty. They describe them as a perfect fit. 
Popular Alternatives to David Yurman
We came across many customers who expressed their delight in the professionalism of the customer service team that offered timely responses and addressed issues professionally. 
Although there were a couple of negative reviews regarding DavidYurman's delay on shipping orders on TrustPilot, many still believe that they can deal with that as long as the items are worth the wait. 
Sign Up for David Yurman
Sign up for the best jewelry from Yurman and enjoy exclusive discounts. Visit the company's login page on its website, provide the information required, and start rocking your jewelry box with amazing pieces. 
All you need is to fill out the form with your name and email address. You'll also have to create a password and don't forget it, as you'll need to for future use.
Where to Buy
To access David Yurman's products, head to DavidYurman.com, where you will find their entire collection. You can also visit any of its retail locations across Canada and the United States. You can also get the products from partner retailers such as Bloomingdale's, Saks Fifth Avenue, Neiman Marcus, and Nordstrom.
David Yurman Shipping and Return Policy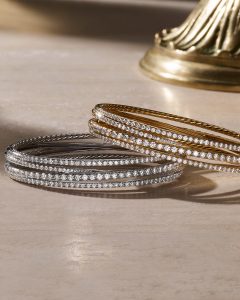 Shipping:
Orders processing takes a day then shipping time depends on the category you choose. Domestic FedEx Overnight Air (one business) and Alaska, Hawaii, and Puerto Rico FedEx Overnight Air (one to two business days and needs $17.) FedEx 2-Day Ground or Air takes 2-3 business days, and shipping is free.
You will get a confirmation email in your inbox with the tracking link once your order ships out.
David Yurman doesn't offer international shipping.
Return Policy:
Returns and exchanges should be done within 45 days from the purchase date. To initiate the return process, people coming from any of the 50 states should follow these steps:
Go to the "returns" section on the company's website

Print out the shipping label and attach it to the item you wish to return

Drop the package at the nearest post office
Promotions & Discounts
The brand offers complimentary 2 days of shipping and gift packaging with all of its orders.
Contact David Yurman
For further information or inquiries about the company's products, reach out to them by phone at 1-888-398-7626 or fill out the contact form provided on the contact page on the brand's website. 
The brand also has a live chat feature, where you can chat directly with one of the customer care representatives. Their customer support team is available from Monday to Friday, from 8:30 a.m. to 7:30 p.m., and Saturdays and Sundays, from 9:00 a.m. to 5:00 p.m.
David Yurman Jewelry Review: Editor's Verdict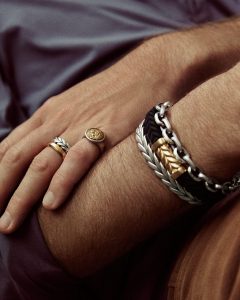 To sum up this David Yurman jewelry review, we are confident that the brand offers high-end, quality, and fancy jewelry. It is, therefore, the go-to place for women and men who want to flaunt their cuteness enhanced with a touch of shimmer and sparkle from quality ornaments. 
Following the positive customer reviews on reliable online websites, the brand offers value for money. The products are comfortable and available in plenty to match different fashion styles and tastes. 
The versatility and beauty are the reason the brand stands out in the industry. Additionally, having products that are creatively crafted and polished makes them irreplaceable. 
David Yurman's reviews further show that customers have a one-stop-shop for what they need as a piece of good jewelry. Even though some customers find their shipping process slow, the process is simple and straight to the point. 
The other downside that we noted is the unavailability of international shipping. But that doesn't compromise the brand's convenience to its clientele.     
Are you still looking for other jewelry brands? Consider reading out reviews of Ginette NY, Frost NYC, Aurate New York, and Alex & Ani Jewelry.
David Yurman FAQ
Can David Yurman rings be resized?
Depending on the ring's design, some can be resized. Select rings that can be resized or contact customer care for further information. If you have already bought the item and you want it resized, take your ring to a David Yurman boutique. They will then send it to their service center on your behalf.
Alternatively, you can mail your item directly to the service center. To begin, download and print the Repair Request Form. Upon receipt, the company's jewelers will evaluate the item.
How do I care for my David Yurman jewelry?
To clean your precious jewelry, gently wipe clean with a soft cloth. Remove any remaining impurities using mild diluted soap. Use warm water to rinse it, and then dry thoroughly. You can then store it in the provided jewelry pouch. Do not use abrasive cleaners, steamers, or ultrasonic machines.
Where can I get more information about sizing for David Yurman jewelry?
Size charts are available on Yurman's website for every item.
Does David Yurman offer appraisal or authentication services?
No, David Yurman doesn't offer appraisal or authentic services. For such services, contact an appraisal company with people with certified credentials in these services. You can also get in contact with an independent appraiser.
Every piece has a crisp copyright symbol - D. Yurman,' 'D.Y.' or 'David Yurman to mark its authenticity.