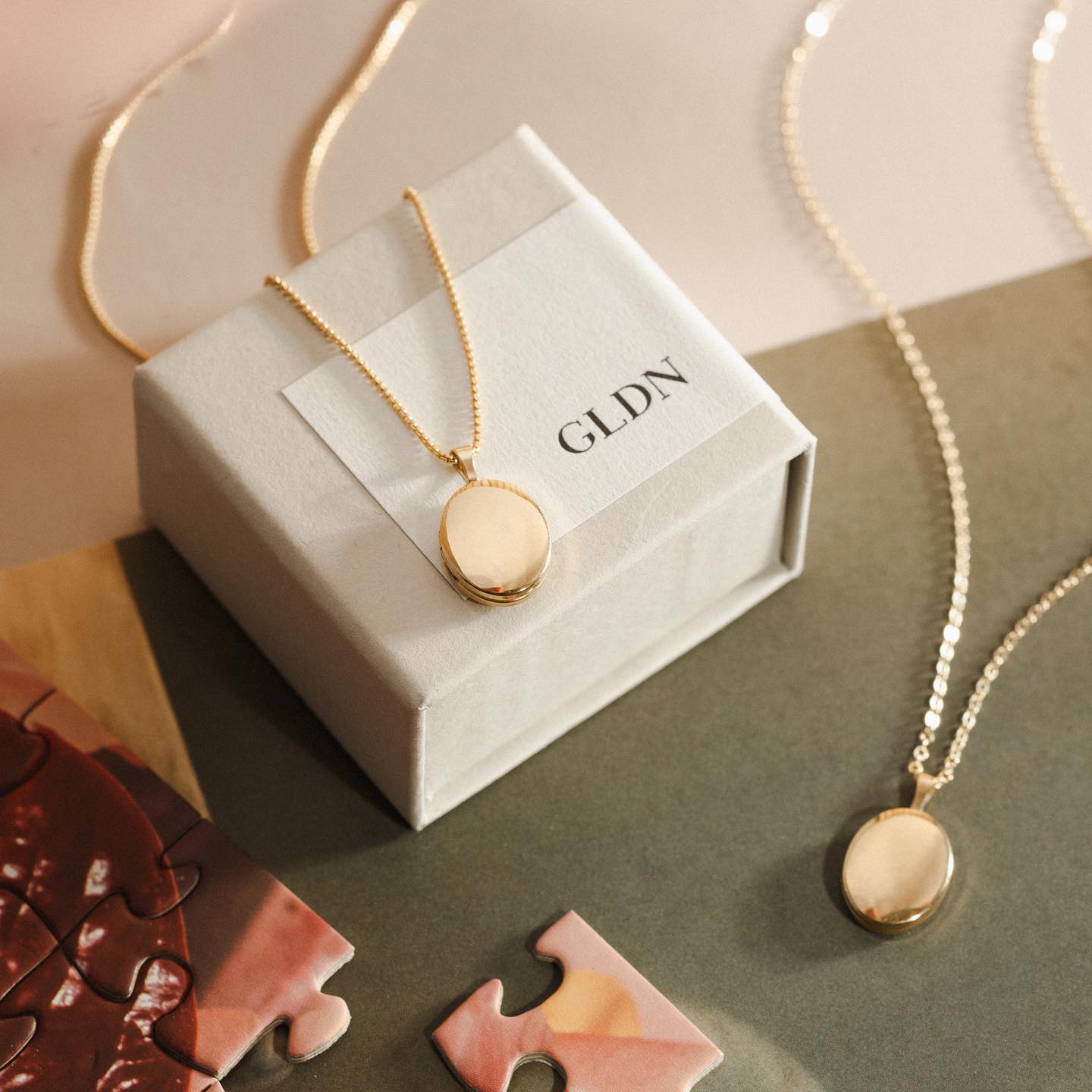 Finding high-quality, handmade, and nicely crafted jewelry pieces personalized to your preferences is challenging. GLDN offers jewelry pieces that feature the highest quality materials and craftsmanship. The company also provides customization services to help you create the perfect piece of jewelry for yourself or a loved one. We will look at the ins and outs of this company, including GLDN jewelry reviews from customers, its top-selling jewelry, discounts, and much more. This information will help you determine if their products are the right choice for you. 
About GLDN Jewelries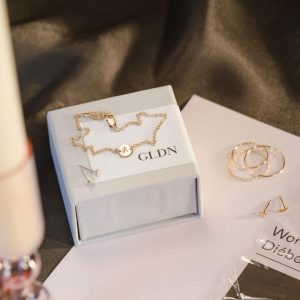 Chrissy Lavdovsky founded GLDN in 2012 to make high-quality, personalized jewelry accessible to everyone. At the time, she was a single mom with a passion for creating the perfect customized gifts. She started by crafting handmade and personalized jewelry pieces from her kitchen turned studio; she would then sell them on Etsy.
Eventually, she moved her production into her dining room for more space. At that moment, she felt as if she had made it big. Over the next six years, GLDN had grown to three workspaces and had 85 employees working on site. The pieces are still handmade and high-quality with your ideal customization. 
Today, the brand is one of the leading providers of personalized jewelry and offers an extensive selection of jewelry pieces. Numerous renowned publications have also featured the brand, including Elle, A Cup of Joe, Insider, The Strategist, The New York Times, New York Magazine, and AOL. GLDN has also grown its social media presence, with the GLDN Jewelry Instagram page having 247k followers while its Facebook page has more than 192k followers.
More information about the brand
Their personalization options help customers create pieces that have far-reaching meaning beyond seasons or trends. Located in La Conner, WA, U.S., the brand aims to design and provide jewelry that makes people feel confident and connected. They put people beyond profits and donate 10% of their brand profits to various charitable organizations that promote liberation, education, and community building.
Based on GLDN jewelry reviews, customers say that they love this brand because it allows them to shop for custom or ready-made products. The website offers extensive categories, including Necklaces, Bracelets, Rings, and Earrings. The brand offers four material options: 14K solid gold, sterling silver, and 14K gold fill. The 14K gold fill allows them to provide customers with high-quality gold accessories at pieces for lower prices. 
Pros
90% of all metals GLDN uses in creating their accessories are recycled
The brand makes 85% of all on order for a more sustainable enterprise
They donate 10% of profits they make from each piece to charity
They use various metals to ensure accessibility for their pieces
Customization options available
Customers enjoy a 30-day happiness guarantee
Cons
GLDN only offers refunds and not store credit
Pricey jewelry pieces, but worth every dime
The processing times of some items may take longer than others
GLDN Products Review
GLDN offers a wide variety of jewelry pieces, including necklaces, bracelets, rings, earrings, and wedding & engagement pieces. Below is a more in-depth GLDN jewelry review of the company's top-selling products.
GLDN Necklaces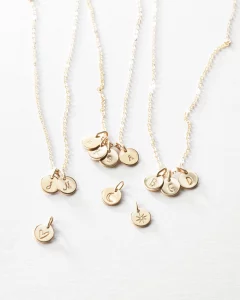 Any fashion enthusiast knows that a good necklace is an essential piece. The GLDN necklace collection includes chains, lockets, gemstone necklaces, initial pendants, and bars.
Bar Necklaces feature up to five 3mm x 16mm bar tags attached to a 12 mm holding chain; the bar tags comprise 14K Gold Fill, 14K Solid Gold, Sterling Silver, or Rose Gold Fill. Customization allows for a personal inscription on each of the bars. However, each can only hold up to eleven characters.
The holding chain offers various adjustable length options such as 17-19inches, 19-21inches, or custom length, to ensure a perfect fit. The GLDN team handcrafts your ideal piece 3-5 business days after your order. Depending on the material used, the necklaces come with different price tags.
14K Gold Fill – $60
Sterling Silver – $54
Rose Gold Fill – $60
14K Solid Gold – $ 274
Initial Pendant necklaces come with various-shaped pendants, including heart, round, square, and more. The pendants come in four different finishes: 14Kk gold fill, 14K solid gold, rose gold, and sterling silver.
The GLDN collection of pendant necklaces is extensive and offers numerous options for customers. The brand puts customer satisfaction and quality control at the forefront of its business. Therefore, they offer a free resizing and repairing service to all their customers.
GLDN Rings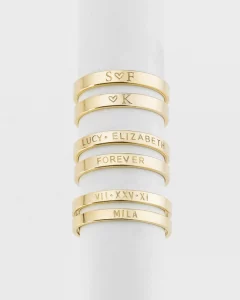 GLDN's range of rings is just as impressive as its necklaces. The brand offers a wide variety of ring styles, including personalized initial rings, stacking, and featured symbols.
Personalized rings are a customer favorite at GLDN and come with various-shaped pendants, including heart, round, square, and more. The pendants come in four different finishes: 14Kk gold fill, 14K solid gold, rose gold, and sterling silver.
One of the most popular personalized GLDN rings is their Initial Signet ring. The ring is a thick rounded wire of about 2.3mm thickness with a smooth finish and a 1.6mm bandwidth. Additionally, it comes with size options of 4-9 or custom sizing. The ring is handcrafted and personalized with an inscription of the first name letter.
Customers can purchase a pair for themselves and a friend or loved one as a sweet gift. The rings come at different price tags depending on the metal used. The price for the 14K gold fill is $58, and you'll need $160 for the 14K solid gold ring. For only $54, the sterling silver ring will be yours, while the 14k palladium white gold requires $220.
The Stacking Rings Set comes with two or more rings stacked together. The rings are available in various finishes, including 14K gold fill, rose gold fill, and sterling silver. Customers can customize their look by mixing and matching rings of different metals and stacking them on their fingers.
Feature symbol rings are another favorite category. These rings come in both men's and women's styles and utilize high-quality materials. They contain a ring head with symbols of different meanings, such as a feather for freedom or a lotus for growth.
GLDN Earrings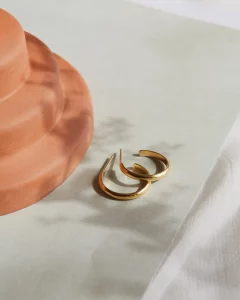 There are various earrings that are delicate and beautiful, ranging from simple hoop earrings to more intricate designs. GLDN earrings are available in different materials, including 14K gold fill, rose gold fill, and sterling silver. Customers can choose between studs, dangles, and hoops in various styles and sizes.
GLDN jewelry reviews show that the Simple Hoop Earring is one of the most popular earrings this brand offers. These earrings are a basic hoop style of 14K gold fill, rose gold fill, or sterling silver. They come in various sizes, including small-size hoops, medium, and large. The earrings are simple but elegant and ideal for everyday wear.
GLDN Pearl Earrings come in various styles, including studs, dangles, and hoops. The pearls used in these earrings are freshwater cultured pearls. One example is the Kena earrings, which come in a hoop style. The materials used are 14K gold fill or sterling silver with freshwater cultured pearls. The pearls used in these Kena earrings come from one 4th generation family-owned farm in China.
The round-barrel-shaped pearl measures 10mm x 11-12mm, while the base hoop measures 5mm thick and 20mm across. The price of these earrings varies depending on the material used: the price of 14K gold fill is $53, while Sterling silver needs $42. Personalized GLDN earrings allow customers to have their stud and other styles inscribed with an upper case first letter of their name.
GLDN Bracelets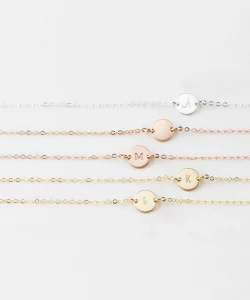 GLDN bracelets come in a range of styles, colors, and materials. Customers can choose between delicate personalized links, special links, gemstones, chains, and cuff bracelets.
Personalized links bracelets are a favorite due to their delicate and dainty design. These bracelets come in various colors and materials, including 14K gold fill, rose gold fill, and sterling silver. Customers can choose between numerous links to create their unique bracelet.
Each bracelet has a strong lobster clasp and an extension chain for a perfect fit. From star and heart-shaped pendants to circles and bar links, GLDN has an ideal design for everyone. An example of a personalized bracelet is the Frankie Heart Bracelet.
Made from 14K gold, sterling silver, or rose gold fill, this bracelet comes with a personalized heart charm. The team can engrave this charm with the first letter of your name or a loved one's name. The heart link measures 6mm x 7mm, while the chain comes with a sturdy cable measuring 1.5mm wide.
The Frankie Heart Bracelet offers four Length options: 6-7inches, 6.5-7.5inches, 7-8inches. Its price varies depending on the material used.
14K gold fill – $44
Sterling silver – $39
Rose gold fill – $44
14K solid gold – $209
GLDN Gemstone bracelets come in various designs, including beaded bracelets, charm bracelets, and link bracelets. For instance, the Mishko Pearl Bracelet contains a mix of pearls sourced from China and linking chains of sizes 6-7inches, 6.5-7.5inches, 7-8inches, or custom length.
It has 1inch tiny 2-2.5mm freshwater pearls, coupled with a 1.5mm wide chain cable, making for a dainty and timeless piece. The Mishko Pearl Bracelet is available in three different materials: sterling silver, 14k gold fill, and rose gold fill.
GLDN Jewelry Reviews from Customers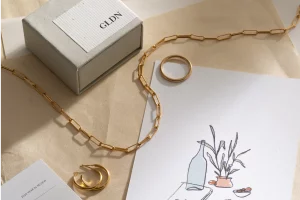 This GLDN jewelry review would not have been complete without checking what buyers had to say about this company and its products.
The brand has received many positive reviews from customers across the world. Customers have left testimonials that praise the quality of GLDN jewelry and the company's excellent customer service. Various accessory pieces have a 5-star rating on their site.
The affordability of GLDN jewelry is another aspect that receives praise from customers. They appreciate that they can find quality jewelry at a fraction of the cost of other brands. Many customers also appreciate the range of styles available at GLDN and the company's personalized jewelry options.
Popular Alternatives to GLDN
One customer left her review saying she loved the necklace she purchased from GLDN. She praised its quality as it exceeded her expectations. She also commented on the affordability of GLDN's jewelry and said that she would recommend the brand to anyone looking for quality, affordable jewelry.
A customer who purchased the GLDN signet ring said it was an excellent quality ring and was pleased with his purchase. He also stated that the customer service he received from GLDN was excellent.
However, there were also some concerns among customers. A couple of customers complained on TrustPilot that their products are pricey, but they praised their quality and the company's top-notch customer service.
Sign Up for GLDN
Open an account with GLDN to gain access to their exclusive deals and discounts. To sign up, head to their page and enter your first and last name, email address, and password. Subscribe to their mailing list to get the latest updates on new arrivals and upcoming GLDN sales.
Where to Buy
You can purchase GLDN jewelry on their website GLDN.com. You can also head to their Etsy shop, where you'll find their jewelry collection. Additionally, their products are available on select retailers, including Amazon, Nordstrom, and Macy's.
GLDN Shipping and Return Policy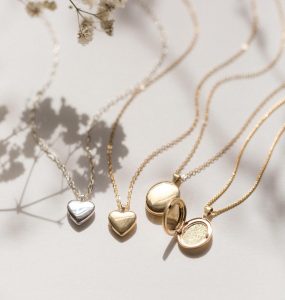 Shipping Policy
GLDN ships internationally, and standard shipping takes 4-6 business days and is free for orders over $95. Orders below this amount incur a fee of $6.95. Ruch shipping takes two business days and costs $5 for orders over $95 and $9.95 for orders below $95, with orders above $100 enjoying free shipping.
Super rush shipping takes one business day and costs $34.95 for orders below $95. Orders above $95 incur a $28.00 fee, while orders over $150 incur a $25.00 fee. International standard shipping takes 7-15 workdays and costs $7.95 for orders below $95 but free for orders above that.
International rush shipping takes 2-3 workdays and costs $26.95 for orders under $150 and $19.00 for orders above that.
Return Policy
GLDN offers a 30-day return policy for a full refund and a 60-day policy for repairs of most items. Repairing solid gold allows up to 3 years. Visit the returns page on their website for more information, or contact customer service.
Promotions & Discounts
GLDN offers a variety of discounts and promotions throughout the year. You can go online and get a GLDN jewelry promo code or a GLDN jewelry coupon code and use it to activate the discounts at checkout. Customers from the United States also enjoy free standard shipping on orders worth $75 or more and free rush shipping on orders worth $150 and above. Sign up for their mailing list to get updates on sales, promotions, a free shipping code, and other deals.
Contact GLDN
If you need to contact GLDN for any reason, you can reach out to their support team through text at 423.205.7115 or by email at [email protected]. For job inquiries, send an email to [email protected] and [email protected] for donations requests. For press inquiries, reach them through [email protected]. Alternatively, you can send a direct message to the GLDN jewelry Instagram or Facebook page.
GLDN Jewelry Reviews: Editors Verdict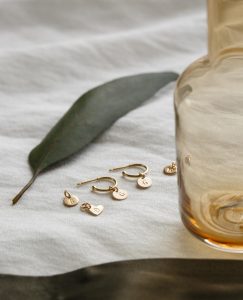 Looking at the various GLDN jewelry reviews, we can see that the company has a good reputation among customers. The majority of customers are happy with the quality of their jewelry and the customer service they have received. They also offer various discounts and promotions, making it an attractive choice for jewelry lovers. 
These essential aspects point towards a brand dedicated to delivering quality products and good customer service, making it a safe choice for your jewelry needs. So go ahead and sign up for GLDN to enjoy their exclusive deals and discounts!
If you're looking for other quality brands that create stylish and fashionable accessories, check out our reviews of Aurate New York, Angara, Adinas and Brilliant Earth.
GLDN FAQ
Is GLDN jewelry good?
If you are wondering: Is GLDN jewelry good? The answer is yes. The brand offers top-quality and meaningful jewelry pieces inspired by the world we live in. Reviews from customers show that shoppers love their pieces because they are aesthetically pleasing and built to last.
What metals do you offer?
GLDN only sources metals that are high-quality, authentic, and long-lasting. As such, you can never go wrong with any option you choose. The brand uses sterling silver, gold fill, rose gold fill, and solid gold.
How do I clean my jewelry, and how often should I clean it?
GLDN recommends using mild soap and water to clean your jewelry. Also, use a soft cloth to polish it. Cleaning your jewelry once a week should be sufficient.
Can I wear GLDN Jewelry if I have sensitive skin?
Yes. GLDN uses a thick layer of 14K gold over the brass core. Therefore, those with sensitive skin can wear the jewelry without issue. However, since people are unique, the brand recommends you test a small area first before wearing any new jewelry.
How do I know what size chain fits me?
The best way to ensure that a chain fits you faultlessly is to measure yourself. You will need a string and a measuring tape or ruler. Alternatively, take a previous chain that you own and measure it. Once you have the measurements, match them to the corresponding size on the GLDN chain sizing chart.