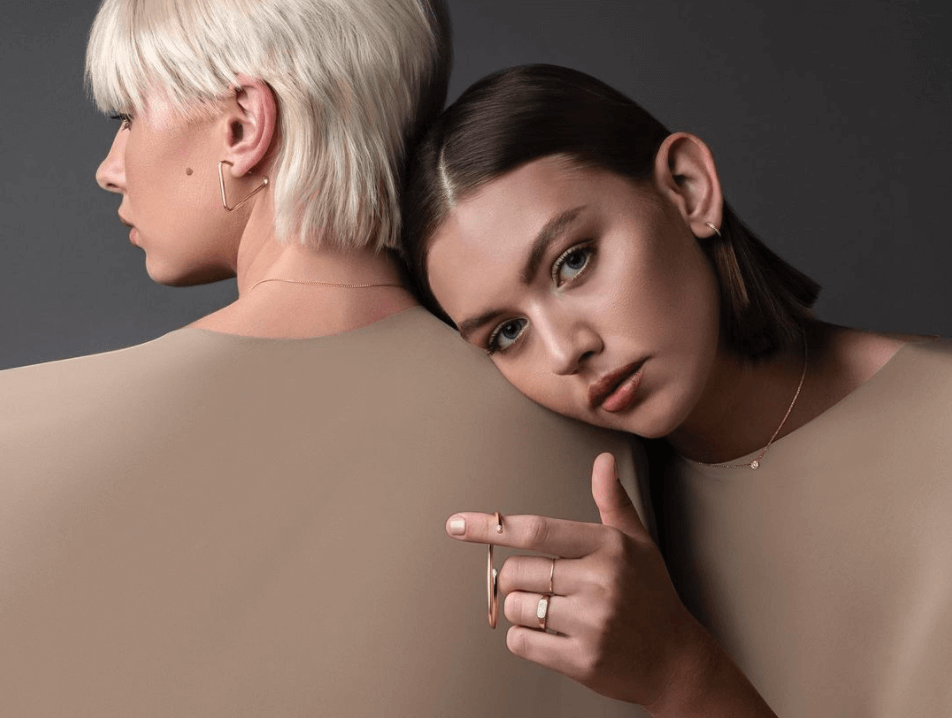 Since its inception, Miansai has meticulously designed and crafted men's and women's accessories using the best materials and the highest standard of craftsmanship. Their designers apply a distinct, aesthetic style that is the trademark of Miansai while using sterling silver, fine gold, other precious metals, luxurious leather, and military-grade threads to handcraft these accessories. This Miansai review looks at the great works from this jewelry brand and examines their customer reception to help you determine if it's worth checking out.
About Miansai Jewelry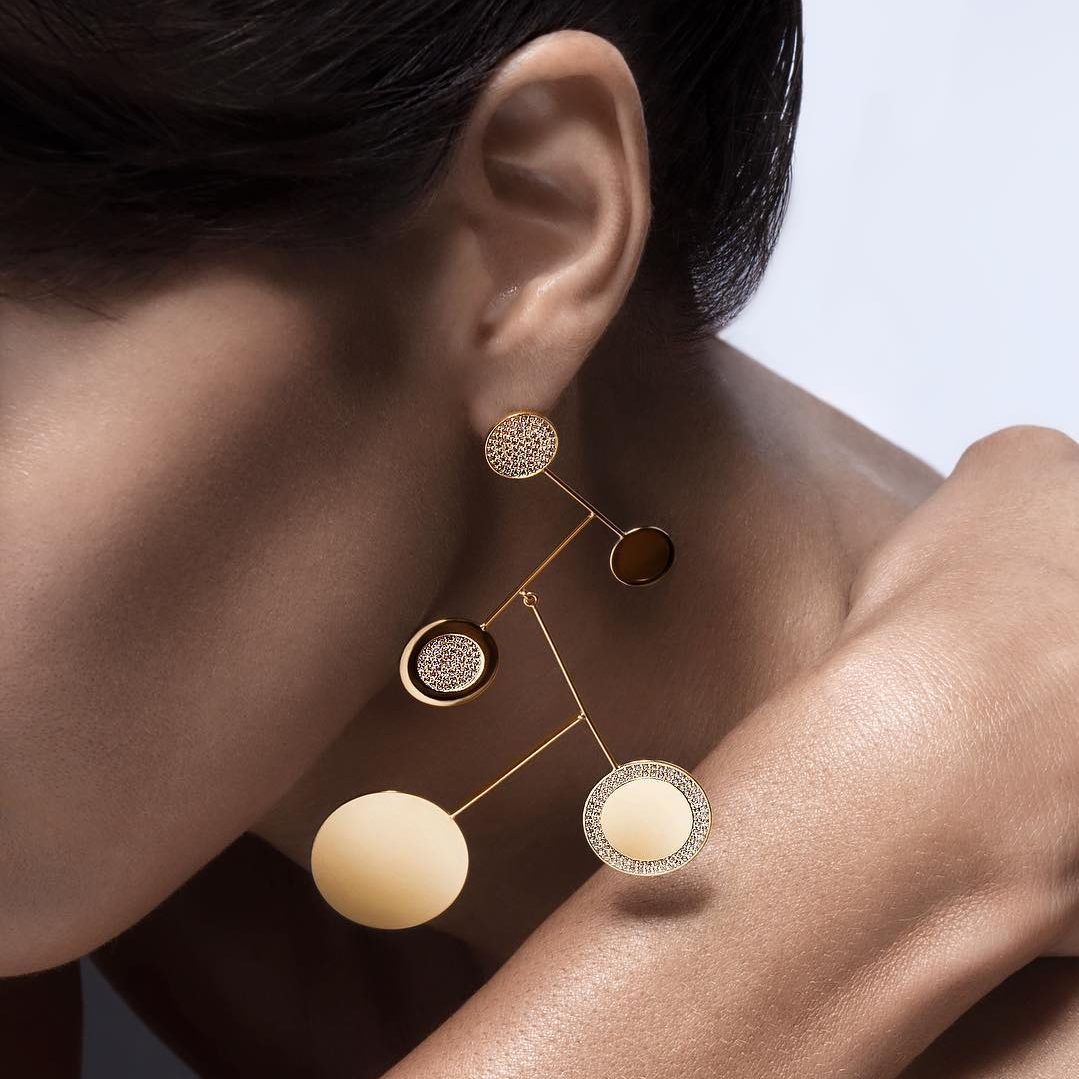 Founded by Michael Saiger, Miansai is a designer jewelry brand renowned for its timeless pieces designed from precious metals, marine-grade ropes, and pure Italian leather.
Saiger launched this company in 2008 while searching for jewelry pieces for men that were easy to wear and could become an integral part of any man's wardrobe.
When he couldn't find anything like that in the market, he created it himself and named it Miansai, an abbreviation of Michael Andrew Saiger — his legal name.
Shortly after, he gained wide recognition for his designs, with various celebrities donning his pieces. Since then, Miansai has defeated all odds.
Starting from his apartment in SoHo, Miami, it has grown exponentially from a single store to more than 200 boutiques located across the world.
Miansai Overview
Famous magazines such as Vogue and Esquire have featured articles about the brand showcasing their pieces and collection.
In recent years, Miansai has diversified from providing only mens' jewelry to including female pieces in their collection. This progress has earned them over 125k Instagram followers.
In the fashion world of Miansai jewels, creativity and curiosity are good and inherently entwined in a forever-evolving, artistic journey. They have over 30 artisans and skilled craftsmen who focus on discovery, beauty, and exploration of elevated designs.
With this, they can continuously innovate our jewelry with an eye for details and distinctive design elements.
Pros
They have an extensive handcrafted jewelry collection full of watches and other accessories
They offer customization options for adding personal touches
The brand allows installment payment but only on select items
They provide free delivery on purchases within the United States
Their customer service is top-notch
They use precious metals and premium leather as materials for their products
Cons
No live chat function
Some of their pieces might be expensive for some buyers, but they are worth the buy
They don't offer phone support
You cannot return Markdown sale or Final sale items
Miansai Jewelry Products Review
Miansai has an expansive range of bracelets, necklaces, earrings, and rings for both men and women. This Miansai review will look at some of their best-selling pieces.
Miansai Necklace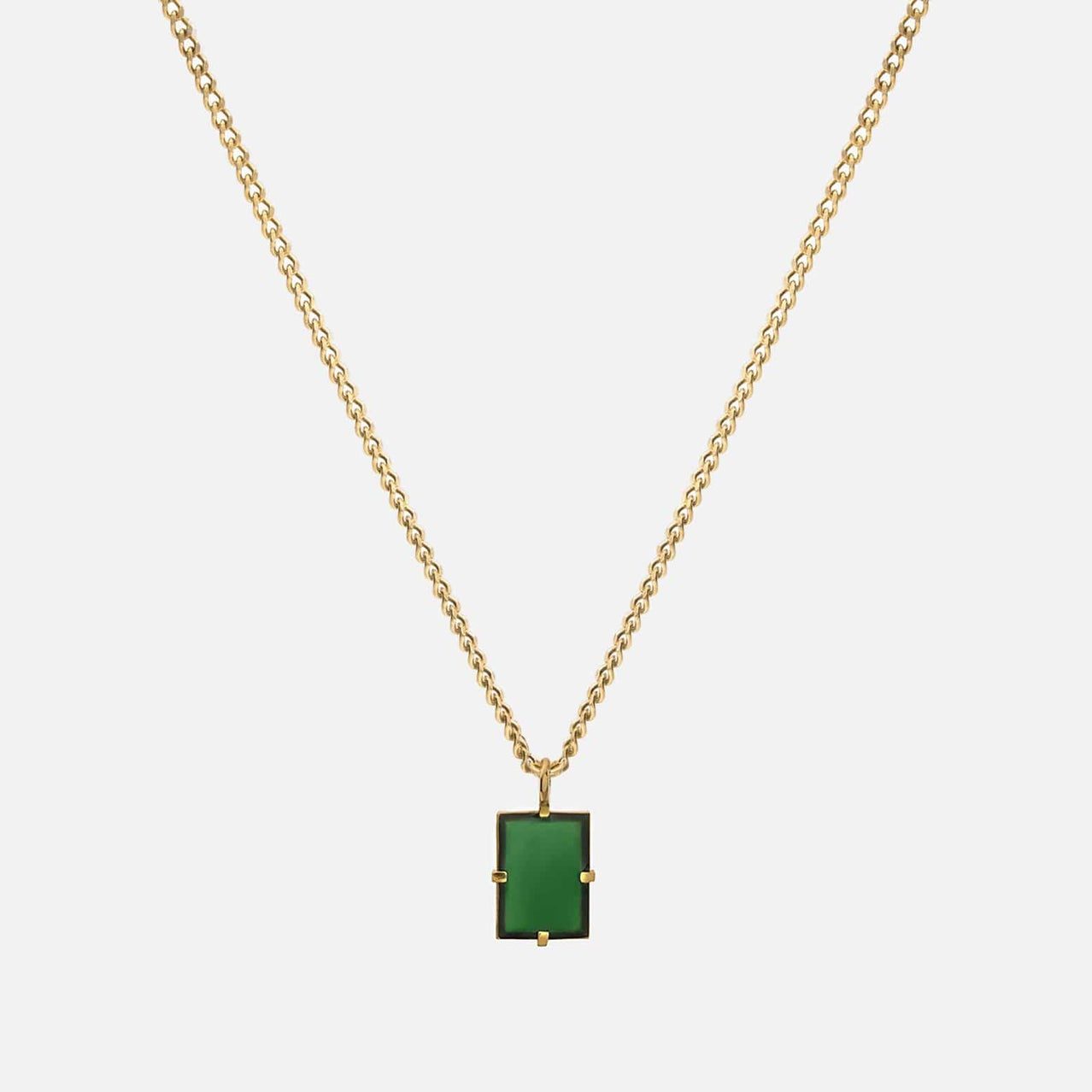 Designed to highlight your features and add that luster to your look, the Miansai necklace is among their most renowned products. Part of the reason is that it is a versatile piece for both sexes and looks good on men and women alike.
A piece like the Lennox pendant necklace is one of the best necklaces in the market today with its elegant use of vintage design blended with modernized materials.
It comprises a vibrant and polished green enamel set with a square-shaped gold vermeil frame that hangs on a silver chain 18 inches long.
They use 14k yellow gold to make the enamel and sterling silver for the chain. The 1.3mm gauge chain used is durable and looks good, with its varieties available for men and women, which allow for monogram personalization.
The design of the Lennox pendant necklace makes it ideal for casual wear, but you can still wear it for formal occasions. It is an affordable piece with monogram customization.
Miansai also offers other types of necklaces, each with its unique make. Designs such as Dove Necklace, Heritage Necklace, and Argyle Black Diamond Necklace are ideal for men's fashion.
On the other hand, custom designs like Numerus Necklace and Rey Necklace are perfect for women's style.
Miansai Hook Bracelet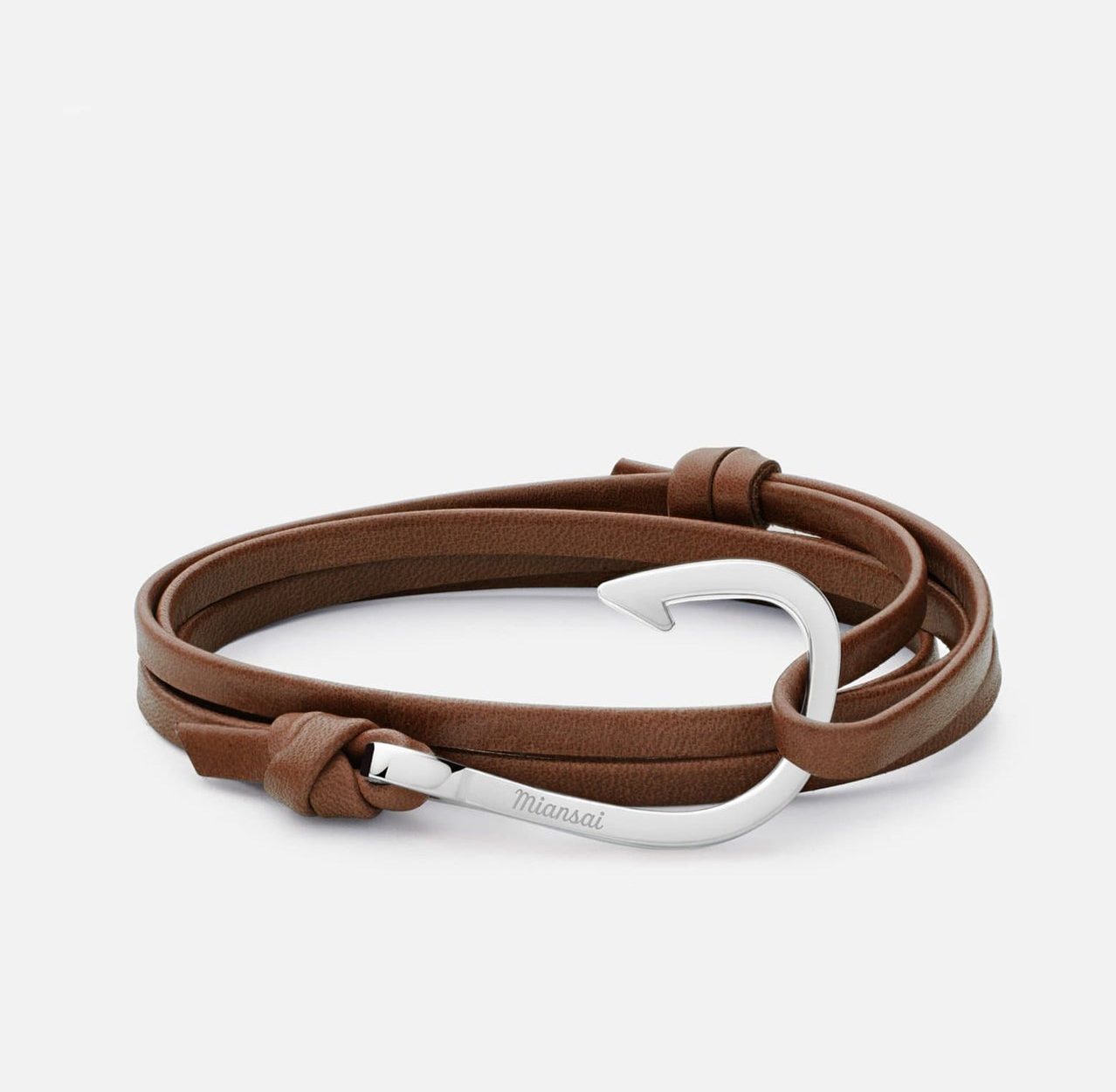 Built to enhance your look while boosting your self-esteem, the Miansai hook bracelet was one of their first pieces in the collection. It was the first design Michael came up with after founding the company.
Since then, it has become a favorite among customers and celebrities. It features a thick braided leather with a solid gold hook.
The Hook Leather bracelet is a personal favorite among men. Our Miansai review found that it's simple enough for casual wear but still ideal for formal clothing. The metal hook complements the leather.
It is one of the most versatile bracelets in the market today. The piece comes in three sizes that you can get customized to your fit.
Available for women and men, it comprises Italian leather from genuine cowhide that is soft to the skin. It has a hook made from either Sterling silver or Stainless steel and comes in several colors such as black and leather brown.
Customization options through engraving or personalization are available. Miansai men's bracelet collection includes timeless pieces, such as leather bracelets, rope bracelets, and minimalist chain bracelets that suit your style.
The Hook Rope bracelet is one of the Miansai bracelets available in their broad collection. The difference between it and the Hook Leather bracelet is that it has a rope strap instead of a leather strip.
It comprises a metal hook made of either Sterling silver or Stainless steel and has an adjustable rope strap. Color varieties such as navy blue and silver are available, and customization options through engraving or personalization.
Dawning this classic piece will give you a chance to accessorize your outfits, adding a touch of personal style.
Miansai Ring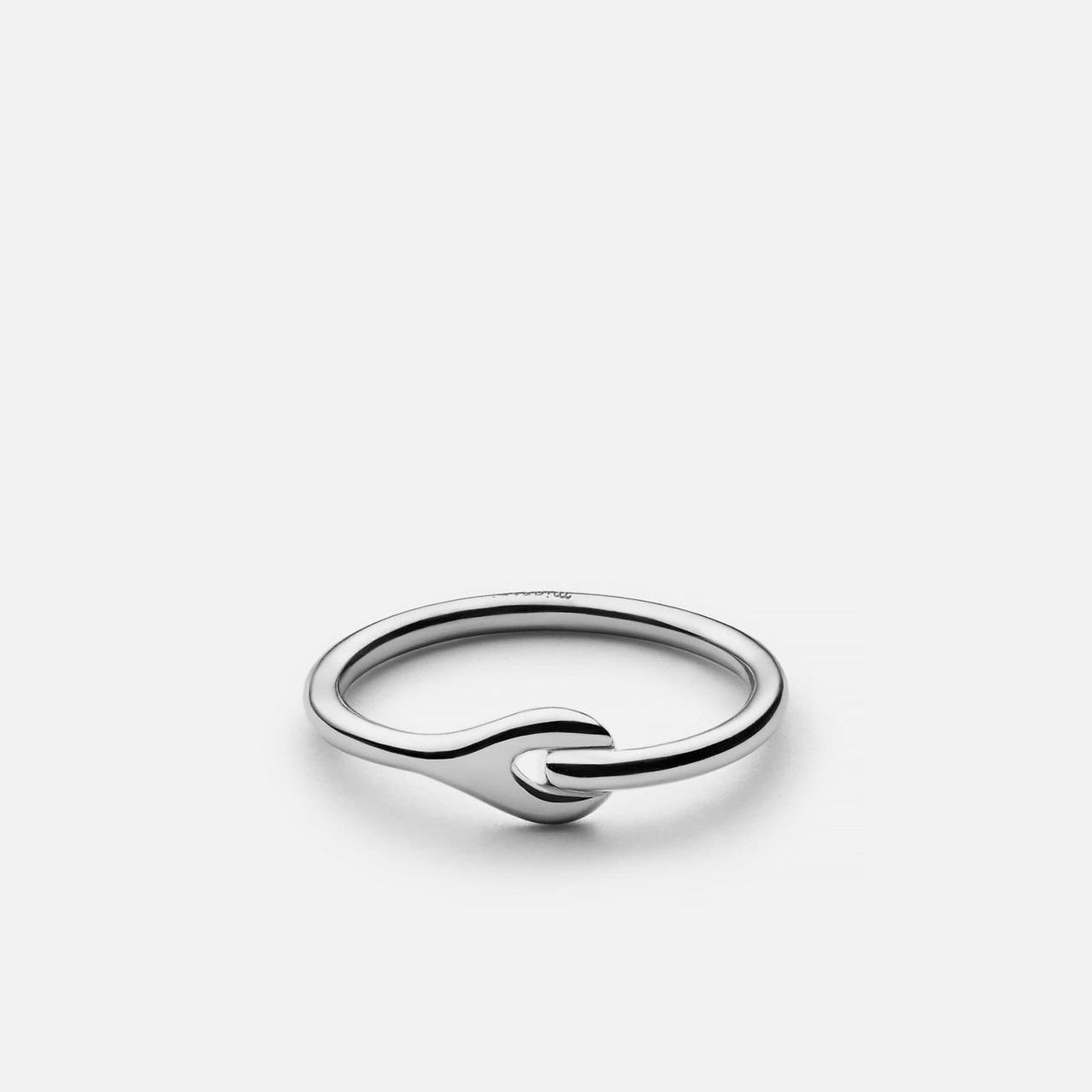 Rings are among the simplest yet essential fashion statement pieces. Miansai understands this and takes it seriously when creating their ring accessories.
Their selection of rings is abundant, catering to different tastes in people in terms of style and design. One of the most renowned pieces in the Miansai ring collection is the Neo Ring.
The Neo Ring is an art deco-inspired piece ideal for women looking for a fresh spin to elevate their favorite look. It features an almond-shaped spinel gemstone in the middle.
Made of Sterling Silver base metal and Rhodium plating, it comes in several sizes, including 5, 6, 7, and 8, and it does not have customization.
Miansai also offers other rings for women like the Trade Ring. Inspired by the architecture and skyscrapers around New York, this piece is for women who love to make a bold statement with jewelry.
Its design plays around with modernization while redefining what it means to have elevated aesthetics.
The piece features a ring shape with one semi circumference separating into three parallel lines. The design of this ring is unique and bold enough to garner attention and interest from your friends and fellow fashionistas.
Sterling silver base metal with Rhodium plating makes the ring a must-have. It is a statement piece that is perfect for your accessories collection.
Miansai Watches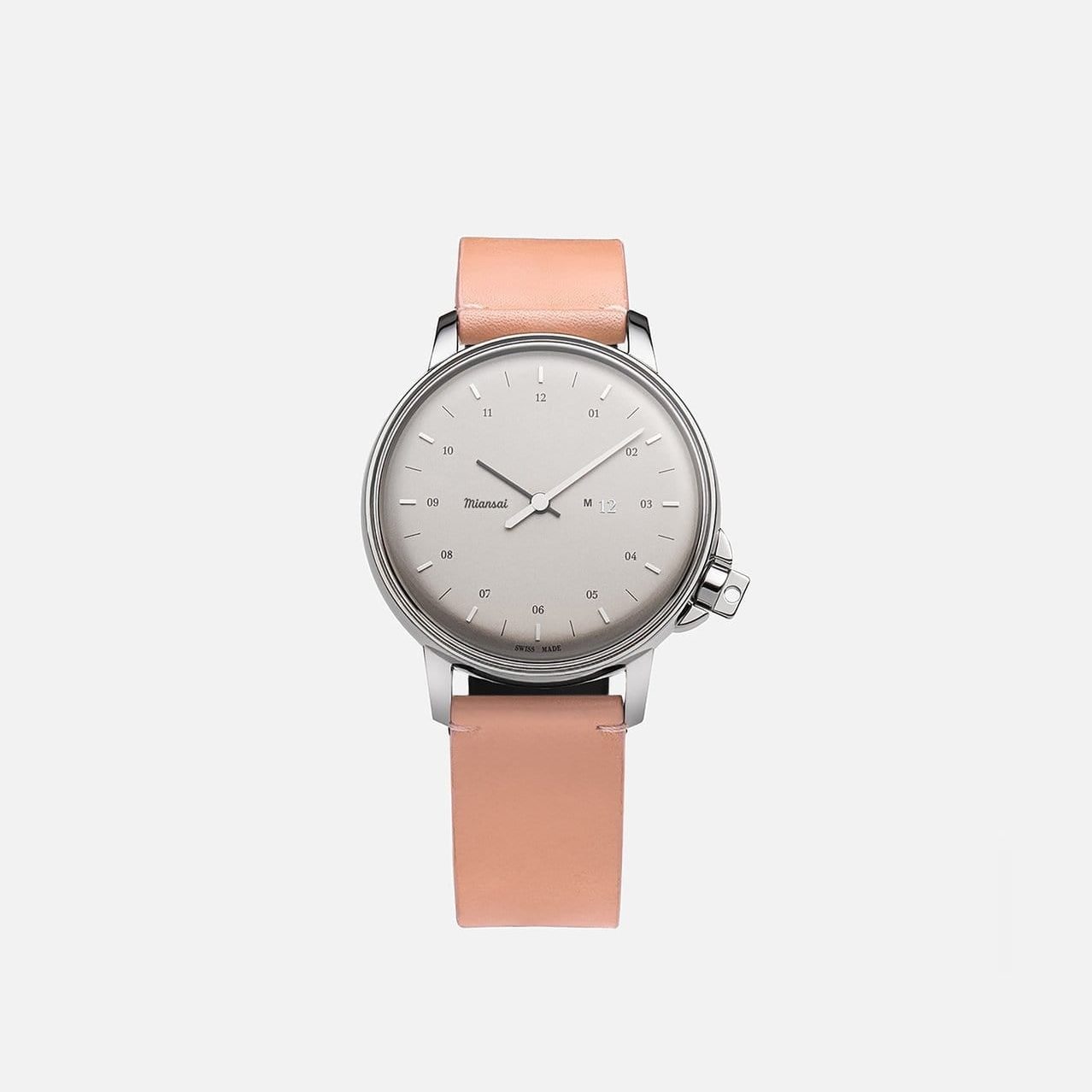 Aside from necklaces, rings, and bracelets, Miansai also offers superior quality timepieces that you can use as an accessory. Unlike other products, watches need to be more functional and reliable.
Miansai watches live up to the standard, providing a stylish timepiece at an affordable price. They have two varieties of watches: the M12 and the M24. These varieties cater to men and women with different styles and colors to match their tastes and preferences.
The M12 Miansai watch has a design that references the pure and bright aesthetic of the late 1950s. Developed from scratch meticulously in Miansai's Miami-based studios, it features a classic mineral glass face sitting on a Swiss quartz movement.
It also comes with a strap made of either premium Italian leather or nylon. The belt may also feature rock climbing webbing as a sign of Miansai's commitment to providing customers with durable watches.
Miansai's collections have various designs of the M12 watch for more selection options. Designs like the M12 Swiss Silver Salmon Leather Watch, M12 Swiss Silver Brown Shark, and M12 Swiss Rose|White Hunter Nylon Watches are some of their best items.
Miansai also offers the M24 watch, designed for effortless elegance. This timepiece exudes refined sophistication and appeals to both men and women. It provides a polished look that is perfect for daily wear.
The watch features a mineral glass face coupled with a Japanese quartz movement that is slick and two-handed.
The M24 comes with a rock climbing webbing that acts as a band. This band adds a strange design essence that evokes a contemporary yet outdoor feel.
However, Miansai also has varieties available with either nylon-made straps or Italian leather-made straps. Like the M12, the M24 also comes in different colors and designs for more options.
Miansai Anchor Bracelet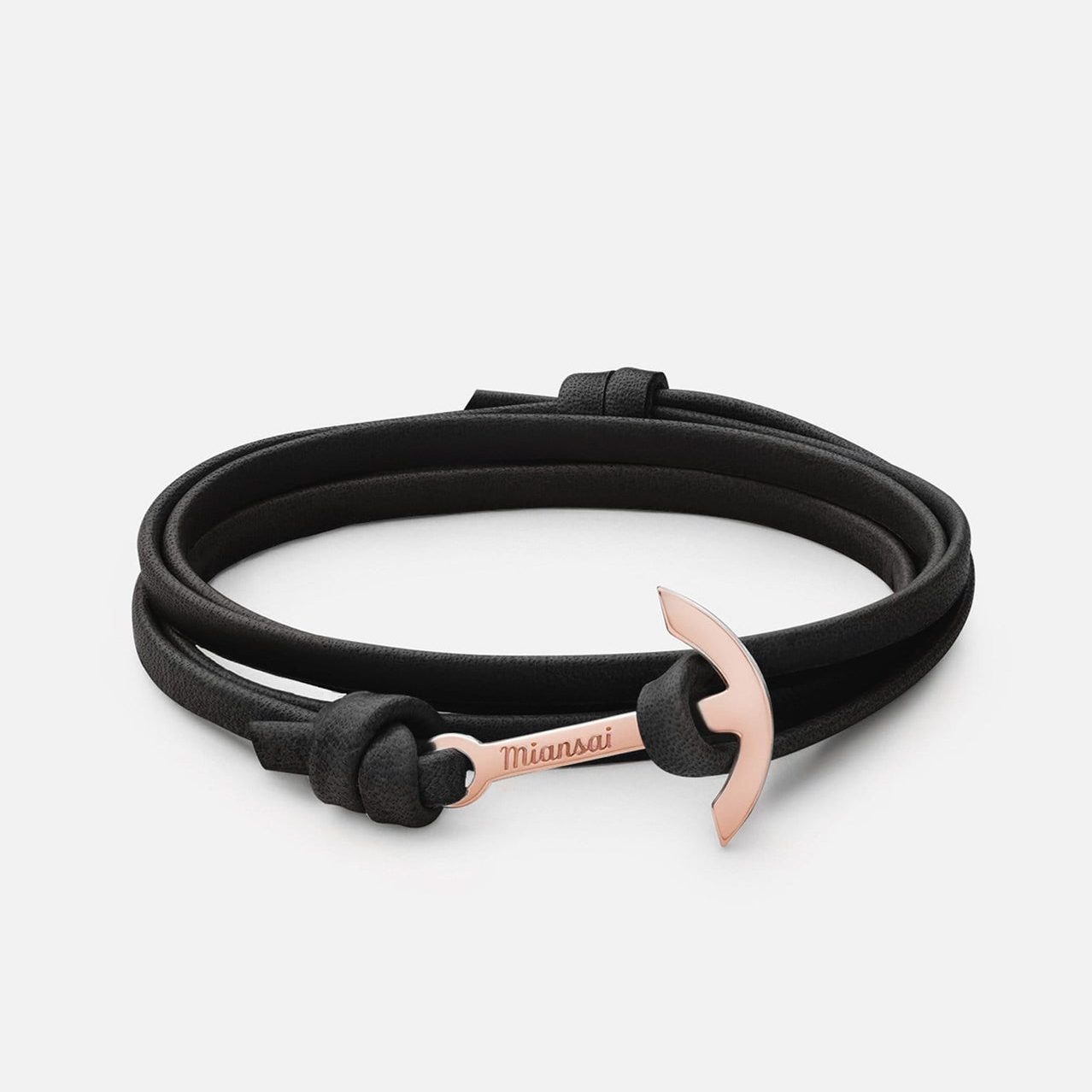 When Michael Andrew decided to open his fashion line of high-end men's accessories in 2005, the Miansai Anchor bracelet was the first piece he created. The bracelet stands out due to its contemporary design and quickly becomes the focus of an outfit.
The original anchor bracelet features straps made of Italian leather from genuine cowhide and an anchor to tie them together. This anchor design bonds well with sea lovers looking for accessories that complement their lifestyle.
The Miansai anchor bracelet comes in varieties, but the anchor is the focal point. One such design is the Mini Modern Anchor Leather, Rose. This piece features an adjustable black leather strap with a rose gold plated anchor to create a modern mix.
Its structure is versatile and caters to both men and women. The Miansai bracelet women's collection includes the silver-plated anchor containing a marine-grade rope. These pieces come in varying rope colors and sizes, allowing you to personalize them as a gift for a loved one.
Miansai Reviews from Customers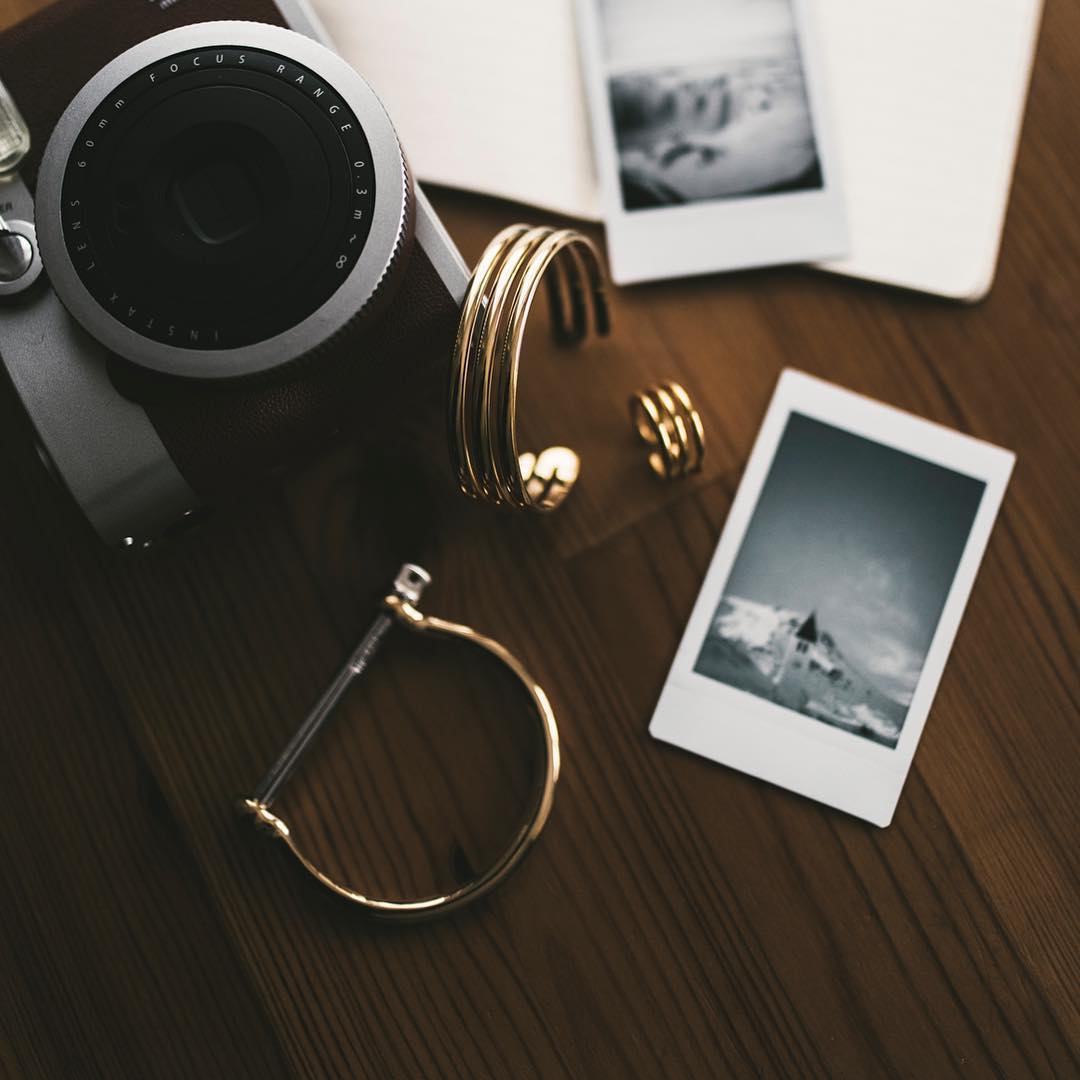 Looking at the Miansai reviews from customers, one can see that many people appreciate and commend the quality and design of their products. Most clients like how the items feature classic and timeless designs that complement various outfits.
Most shoppers have nothing but good things to say about Miansai's selection of watches, bracelets, and other accessories.
The brand has received an average 4-star rating on Amazon. Most clients say that they love their quick delivery time and stated that they would return for more. Other customers love the colors and designs of Miansai jewelry.
Popular Alternatives to Miansai
Such reviews seem to show that Miansai effectively provides customers with high-quality products. Of course, not all the reviews are positive, as a few clients complained that the accessories are way too costly. On TrustPilot customers provided 3 negative reviews, mostly regarding the customer service agents.
However, this is understandable because Miansai is a lifestyle brand, and the materials used for their watches, bracelets, and other accessories are of the expensive kind.
Sign Up for Miansai
Sign up for Miansai by creating an account on their official website. Once you have an account, sign up for news, events, and product announcements, and you'll receive 10% off the first purchase you make.
Where to Buy Miansai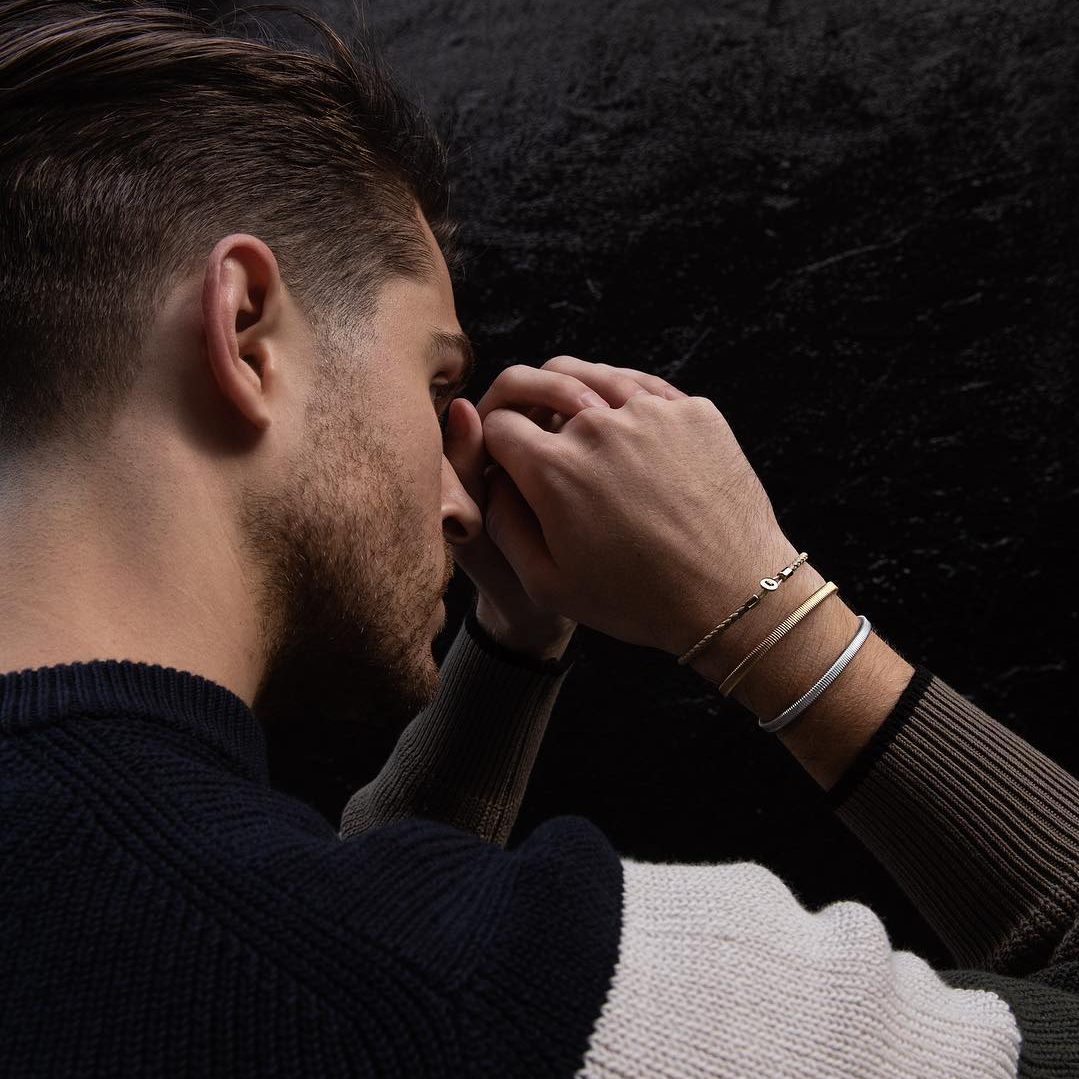 For customers wondering where to buy Miansai, their online store is the place to be. You can purchase their collection of watches, bracelets, and other accessories on their website Miansai.com.
You can also visit their physical stores in SoHo, New York City, Venice Beach, Los Angeles, or Miansai Fiatin in Miami to check out their items in person.
Miansai Shipping and Return Policy
Shipping
Miansai provides shipping services to Canada, the United States, the UK, and other international destinations. In Canada, they ship for free on all orders over $100. For international purchases, the shipping cost depends on the location.
The shipping fee for these locations might also depend on customs fees and taxes.
Across the U.S., Miansai provides free delivery through USPS. Their shipping policy also accommodates free priority shipping. Free 2-Day delivery is available for orders above $125, while you can enjoy free Next Day Shipping for orders above $300.
According to the standard shipping within the United States, delivery times may take up to ten working days. On the other hand, delivery time for international orders depends on the destination.
Customers within the United States who have orders awaiting pick up will receive an email containing a tracking number that allows them to monitor their order. International shoppers can track their orders via the Miansai order status.
Return Policy
Our Miansai review found that the company allows you to return items for either refund or exchange within 30 days at no cost. The process is fast, simple, and guided.
Once their team authorizes your return, you will receive a guide with step-by-step instructions on what to do. They will also send you an email with a prepaid shipping label.
Miansai covers handling and shipping charges on all first-time domestic returns. On the other hand, charges will apply for all international and repeated domestic shoppers returning items. International shoppers should go to the Global-E-Return center for their returns.
Miansai exonerates itself of any responsibility for any customer returns lost or damaged during transit. Their return policy also allows US customers to return online purchased items to any of their retail locations.
They will provide a full refund to most items returned within the 30-day time frame.
Although they will accept returns on most items, some are non-refundable, including custom items and monograms, markdown or final sale items, and damaged items due to accidents or wear and tear.
Once the inspection team at Miansai has checked your return items, you will get your full refund or exchange within two working days.
Miansai Promotions & Discounts
Miansai offers a 10% discount to all first-time subscribers. Using a Miansai discount code or Miansai coupon code during checkout will allow you to purchase products at a discounted price.
Contact Miansai
You can contact Miansai's support team by sending an email to [email protected]. The support team will respond within one business day.
Miansai Review: Editor's Verdict
To sum up this Miansai review, we have found that this brand has an extensive collection of high-quality watches, bracelets, and other accessories. We also discovered that their designs are one of a kind, and the materials used are rare and of high quality.
Their customers also feel satisfied with every aspect of their shopping experience, from the ordering process to after-sale support and the accessories.
Considering all these, we find the brand as highly attractive and a shopping destination of choice. Therefore, we recommend Miansai to anyone looking for unique and original jewelry accessories crafted with the latest fashion trends in mind.
Looking for some sparkling and stunning accessories to touch your outfit? Check out our fashion jewelry brands reviews such as Allurez, 4Ocean, and Alex and Ani.
Miansai jewelry FAQ
Is Miansai trustworthy?
Yes, Miansai is a widely recognized reputable company and has been around for over ten years.
Does Miansai offer a warranty?
Yes, Miansai offers a one-year standard warranty for their items. However, their Pave Fine and 14k solid gold jewelry receive a lifetime warranty.
Does Miansai tarnish?
No, Miansai does not tarnish because their items are rust-resistant and are resistant to scratches.
Who owns Miansai?
Michael Saiger is the owner and founder of the Miansai luxury brand.
Can I wear my Miansai silver chain in the shower?
There is no reason why you cannot wear your Miansai silver jewelry in the shower. However, it is advisable to rinse off any soaps and shampoos before you handle the piece.