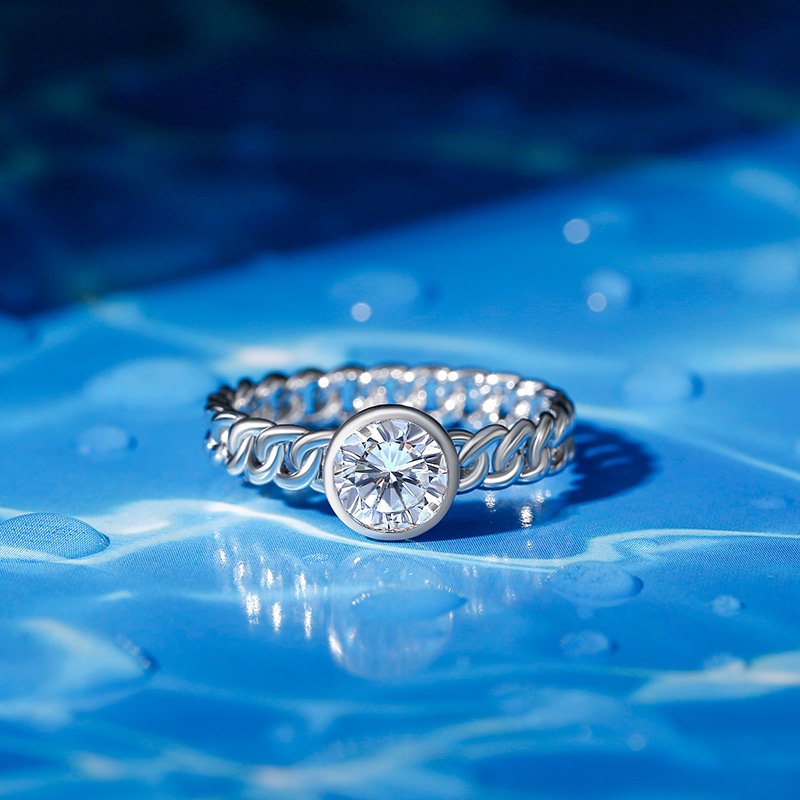 Jewelry is one of the world's top trends, and finding affordable jewelry can be challenging for jewelry enthusiasts who love to switch up their looks. Jeulia sells jewelry at a lower cost compared to other artisan jewelers. The brand believes that their jewelry is not just an accessory but the embodiment of their passion, love, and gift to you. We'll look at Jeulia reviews from customers, its bestsellers, mission, and more to help you determine if this jewelry brand is worth checking out.
About Jeulia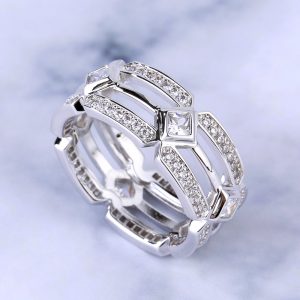 Jeulia is owned and run by Jeulia Limited; it was founded in 2015 with a mission to redefine jewelry by offering premium, meaningful, and bespoke jewelry that people can enjoy for years to come. 
Their dedicated designers work together to handcraft affordable, unique pieces that reflect your style. Through jewelry, people can personalize their look while evoking emotion and creating memories. That's the mentality of Jeulia: the brand creates premium, artisanal jewelry that embodies what you stand for and who you are as a person. 
Because of Jeulia's bespoke approach, they tailor-make each design to evoke an emotional connection and ensure it is a representation of the wearer. From traditional and timeless to bold and modern, this brand offers an immense range of jewelry options at a reasonable price to meet your needs and taste. 
The company's impeccable artisanship and expansive selections of materials combine to create a spectacular collection of jewelry pieces exuding both modernity and elegance. The brand takes pride in its craftsmanship. As such, it uses environmentally-conscious materials to make its products.
They design and handcraft their beautiful jewelry pieces at their Hong Kong-based state-of-the-art studio. True artisanship always comes from caring hands and not an assembly line. And that's the reason their workshop puts quality and customers first.
Coming into the jewelry industry with extra durability and lower prices, Jeulia boasts 405k Instagram followers and more than 2 million followers on Facebook. 
Before we jump into Jeulia reviews from customers and its top-selling jewelry pieces, check out its pros and cons. 
Pros
They offer affordable jewelry with wild designs

Loads of sales and discount codes are available to help you save money

Their jewelry pieces are unique and authentic as the buyers

Bountiful rewards program

Reviews on the internet rave about the sizing and quality of their jewelry pieces

Free standard shipping on orders worth over $99
Cons
Limited product warranty

They do not offer secure shipping options like most jewelry companies

The company does not offer exchanges and refunds on Final Sale, engraved, and personalized items
Jeulia Products Review
The company's products cover a range of categories, designs, and styles. We'll look at the best-selling Jeulia rings and jewelry sets. 
Jeulia Engagement Rings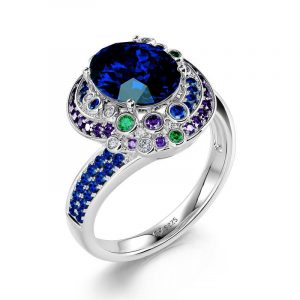 Their jewelry includes an immense range of engagement rings. Jeulia engagement rings represent the love, friendship, and commitment you plan to bring into your marriage. 
Unique and striking, the Classic Round Cut Sterling Silver Ring is set in one primary round stone. With an additional 164 stones on the sideband, this engagement ring oozes with splendor. To make things special for your fiance, you can design the stones and band to suit your preference. 
An exceptional choice that reflects your commitment and love, this engagement ring is undoubtedly a sparkling style that your significant other will be glad to accept. Weighing 6.06 g and crafted sterling silver, this dazzling piece of jewelry features a round-cut center stone in a remarkable setting paved with 
Crafted in sterling silver, this dazzling design showcases a round-cut center stone standing tall in a unique setting paved with sparkling, small stones. Finished with a brilliant polished shine, this engagement ring is as sophisticated as it is visually appealing. For only $135, this top-notch engagement ring could be yours.
Set in copper, the Jeulia "Courage and Communication" Natural Aquamarine Adjustable Ring comes in pristine condition. As a cherry on top, this engagement ring also boasts a polished appearance that screams perfection. 
Known as a stone of organization, truth, and courage, truth, aquamarine is a treasured gemstone with calming energies that quiet the mind and reduce stress. It has an affinity with sensitive individuals. Aquamarine can invoke tolerance of other people and overcome judgmentalism, and it gives support to individuals overwhelmed by responsibility. 
Additionally, it clarifies perception, clears confusion, and sharpens the intellect while sharpening intuition and opening clairvoyance. You can get this engagement ring for $45.
Jeulia Bridal Sets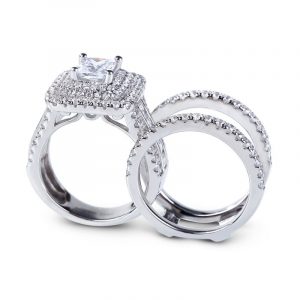 For those looking for convenience and fit, Jeulia wedding sets are the ideal option. Julia offers a variety of bridal sets, with each one coming with an engagement ring and matching band. 
Surprise your partner with the Butterfly Round Cut Sterling Silver Ring Bridal Set, and you'll take their breath away. It comes with a shimmering round center stone sparkling in the centerpiece of this gorgeous engagement ring. The size of this 3.5-carat- stone is 8 mm. 
The aquamarine side stones embellish the butterfly-inspired shank, which makes this engagement ring vivid and dramatic. You can complete this elegant ensemble on your wedding day by adding the beautiful coordinating contoured wedding band. Get this bridal set for only $159.
The brand's 3.6-ct Black Tone Round Skull Ring is crafted in sterling silver, and it comes with a black round cut stone at the center. It's encapsulated in a frame with small black round cut stones. The black skull heads are wrapped in 93 black stones, set on the right and left sides of the ring's shank. 
Set in a silver casing, the coordinating contoured band perfectly fits with the beautiful engagement ring to complete the ensemble. Essentially, skulls represent a celebration of being born again, individuality, and freedom. Available at $175.00, this skull ring set will seal your vows with a visually appealing style.
Jeulia Women's Bands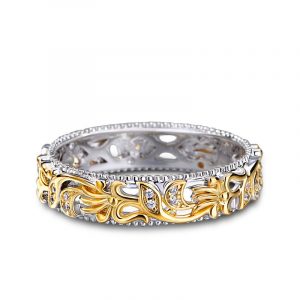 The brand also has an expansive collection of wedding rings for women. Jeulia wedding bands are a sign of commitment to your other half. 
The brand's Chain Link Round Cut Women's Band crafted in sterling silver is a chic, clever accessory that your significant other will love to wear. It has an intriguing look that shimmers with alternating dazzling round cut stones with polished links. This stylish choice is an instant favorite because of the brilliant buffed luster and glittering, small stones. You can get it for 
The Heart and Cross Faith Round Cut Ring crafted in sterling silver is also one of the best-selling Jeulia wedding rings. Exquisitely forged, this ring features two glittering round cut stones wrapped in rose gold hearts of delicate, openwork. 
You can use this cross ring to worship the Almighty with your kind and gentle heart. Keep the ring between your fingers to ensure God is always around you whenever you go and manifest your loyalty and faith in Him. You can get this cross ring for only $95 and give it to your wife. 
Jeulia Men's Bands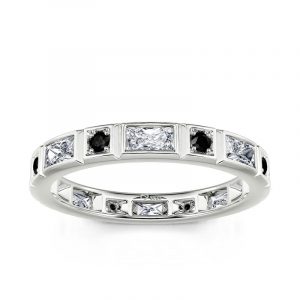 Because you'll be wearing it daily, your wedding ring should reflect your unique personality. In addition to the women's wedding rings, Jeulia also offers wedding bands for styling men.  
Created in sterling silver, the Cracked Design Red Stone Men's Band is bold and unique. This Jeulia ring is sculptured with irregular grooves, and the band is designed to give your hand a unique look. The round center stone adds a spark to this band. This men's ring retails for $110.
The brand's Moissanite Emerald Cut Men's Classic Wedding Band is available for $1,140. You can seal your vows in style and celebrate your devoted commitment with this stunning ring. This dashing men's band has a liberal brushed finish and comes with an emerald-cut shimmering stone enclosed in the refined band.
Glowing with shining solitaire, this wedding band provides a comfortable fit and is a sign of faithful and everlasting love. Best of all, the design of this band never succumbs to trends.  
You can have the Be My Love" Personalized Men's Ring crafted in sterling silver and personalized with your name and your partner's name. These meaningful couple rings allow you to celebrate your everlasting love. When you love someone, you cannot help but let them know how special they are. And these personalized rings are a perfect symbol of your two continued lives. For only $85, this men's band could be yours. 
Jeulia Jewelry Sets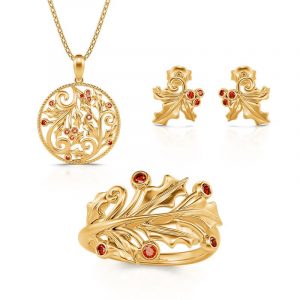 You can make your day special with the collection of Jeulia sparkling jewelry sets. The brand offers an irresistible combination of jewelry, including a matching necklace, bracelet, brooch, earrings, and rings. 
Jeulia wedding ring sets offer a great way to treat your other half to celebrate your everlasting love and passion. The Rose Gold Tone Round Cut Jewelry Set crafted in sterling silver is a perfect way to express your undying commitment and eternal love. 
Two rows of shimmering round cut stones are beautifully set into the polished piece. The stones at the center make the design unique. You can get this wedding ring set for $190.
The "Summer Fruit" Strawberry Jewelry Set has taken a fruity edge. Fresh, colorful, and richly graphic, clever use has been made of green and red stones to give you a realistic look. People have been praising strawberries for many years because of their taste and beauty. 
Fruit jewelry has taken the high stage this season. Unlike real strawberries, this jewelry set features a simple, classic design that won't go out of season. This strawberry jewelry set retails for $175.
Jeulia Reviews from Customers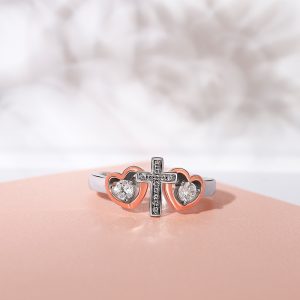 Our team searched the internet and discovered that there are lots of positive Jeulia reviews from satisfied customers. We visited the brand's site, SiteJabber, and Trustpilot. 
Jeulia scored an average rating of 4.94/5 from 188,066 reviews on its website. Of these, 17,7028 customers left 5-star reviews, while 10,828 buyers left 4/5 stars. Let's look at how individual Jeulia products hold up. 
The Cracked Design Red Stone Men's Band had 5/5 stars from 20 reviews

The Chain Link Round Cut Women's Band scored 5/5 stars out of 12 reviews

The Heart and Cross Faith Round Cut Ring received a 4/5-star rating from 28 reviews

The Moissanite Emerald Cut Men's Classic Wedding Band Ring scored 4.2/5 based on 31 reviews
On Trustpilot, the brand received 3.5/5 stars out of 1,955 reviews, with tons of impressed testimonials pouring in. A customer said the quality of their wedding ring sets was beyond their expectations. Another buyer stated they were pleased with their purchase. 
Popular Alternatives to Jeulia
One of the customers said they were surprised with the high-quality ring they ordered on the brand's site. They wanted something affordable to wear at work after damaging their wedding set. The ring arrived in beautiful packaging, as it had a bag, box, and cloth; this warmed his heart, and they stated they would recommend the brand's jewelry. 
We found mixed Jeulia jewelry reviews on SiteJabber where the brand scored 4.1/5 stars out of 6,556 reviews. Users on this site complained about the brand's return process. However, most shoppers were pleased with their purchase and said they would recommend the brand to their friends and family. 
While we found a few negative reviews, most customers praised the brand and its products. 
Sign Up for Jeulia
To sign up for Jeulia and become a member, visit the website and register your account. Then, click on the Login//register button and select the Free Register option. Provide your email and create your password before hitting the Submit button. 
Sign up for Jeulia's newsletter to get notifications about new jewelry pieces and deals. Once you have created your Jeulia account, you'll receive a gift worth $35 to use on your first order. You'll also join their Bountiful rewards program and start earning points every time you buy jewelry from their website. 
Where to Buy
You can purchase Jeulia products on their official site Jeulia.com. The brand's products are also available on Amazon. 
Jeulia Shipping and Return Policy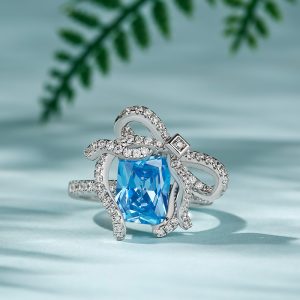 Shipping:
The company offers three shipping options for US customers. They are:
3 Day shipping takes three working days and costs $25

The Express shipping options will take between 4 and 6 business days and needs $20

Standard shipping takes 7 to 12 working days, and it requires $10
Jeulia offers free shipping on standard shipping orders worth over $99. You'll enjoy free shipping on the Express shipping option on orders worth more than $160. 
Return Policy:
The brand's 30-day return and exchange policy allow you to return or exchange items within one month of purchase. Engraved, personalized, and Final sale items are not eligible for returns or exchanges. 
Promotions & Discounts
We found several promotions and coupon codes on the brand's site. When you register an account with the company, you'll receive a gift valued at $35. The sale section also has numerous items you can get at a discounted price. 
Their buy one, get one promotion allows you to save 30% when you use the code H30. The brand also offers a 20% Military discount.
Contact Jeulia
If you have questions regarding Jeulia or its jewelry, you have several methods to contact them. They include:
Send a direct message to the Jeulia support team via their Facebook or Instagram page

Use the Live Chat function to talk to their customer support team between 8:00 a.m and 4:30 p.m, from Monday to Sunday (PST/PDT)

Call them via 1-888-219-8158

Outside Canada and the United States: 001-888.219.8158 (keep in mind that International phone roaming charges may apply)
Jeulia Reviews: Editors' Verdict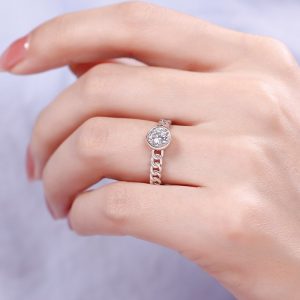 After sifting through Jeulia reviews, we find this jewelry brand worth it. They offer affordable jewelry pieces with stunning designs. We also found lots of positive comments from shoppers who love the sizing and quality of their statement pieces.
The company gives its customers fun, quirky designs that allow them to express themselves. We, therefore, recommend Jeulia to men and women looking for affordable handcrafted jewelry.
For other stunning jewelry brands, consider reading our Kwiat Diamonds, JTV, and Lightbox Jewelry.
Jeulia FAQ
Is Jeulia legit?
If you are wondering: Is Jeulia legit. The company has numerous positive reviews online from happy customers, which show that it's legitimate. They also have a large social media following, meaning many people love every image of their wild designs.
Where is the Jeulia company located?
Their main office is based in Los Angeles, CA; the design and manufacturing are located in Hong Kong.
Are the stones real diamonds?
The brand uses Jeulia® Stone on its products; this is a perfect alternative to natural gemstones, as it's resistant to scratching, making it ideal for everyday wear. It's more durable and has better optical characteristics than diamond. Using Jeulia® Stone also allows the company to maintain an ethical standard to protect the environment.
Will their jewelry turn my skin green?
Their jewelry cannot turn your skin green because they are crafted with 925 sterling silver, and International Institution SGS has verified the quality.
I'm worried that the color of my plated jewelry will naturally fade off
The brand has a rigorous quality control process that ensures the quality of its jewelry. The plating won't fade if you take good care of your jewelry.