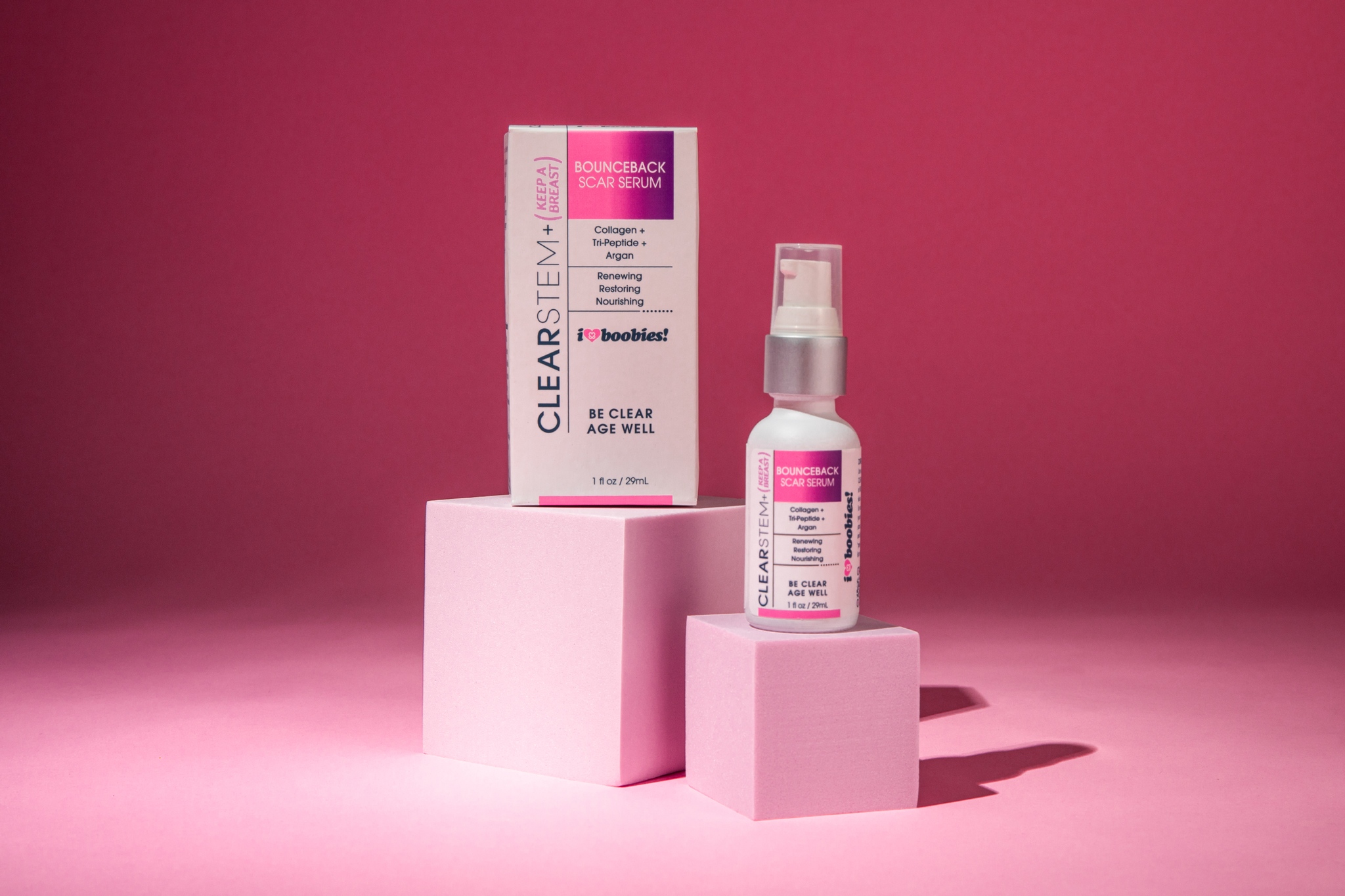 If you struggle with acne-prone skin, you're always looking for quick and effective skincare solutions to improve your skin condition. Many mainstream products may trigger skin irritation or impromptu aging as they take effect, causing more problems for your skin. However, from Clearstem skincare reviews, this brand is doing something right.
Clearstem skincare provides practical solutions for acne and breakouts without causing hyperpigmentation or rough skin. It has been highly successful in supplying products that offer both anti-aging and anti-acne functions. It comes highly recommended, from collaborations with skincare influencers to raving press reviews.
Our article below can learn more about this brand's bestseller products and customer reviews. Our unbiased Clearstem skincare reviews will help you make an informed decision on whether or not it's worth a purchase!
About CLEARSTEM Skincare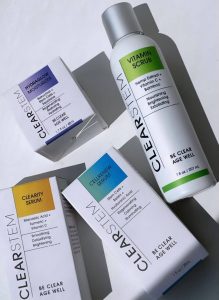 As a patient, famous holistic nutritionist Kayleigh Christina was introduced to Danielle Gronich, owner of San Diego Acne Clinic. Soon after, the two women discovered a mutual passion for nontoxic skincare products with fast results. In 2017, they founded CLEARSTEM, a high-profile skincare line that offers nontoxic and clean products for acne-prone skin.
CLEARSTEM  provides effective treatments for acne, anti-aging, and scar reversing with premium, high-active ingredients. Danielle is openly known as 'The Acne Gure.' Examined the anti-acne market using her biological knowledge, noting how many mainstream companies use abrasive, toxic remedies that promote premature aging.
The combination of expertise and personal experience inspired the idea behind Clearstem skincare. The organic, nontoxic Clearstem serum is the first product the brand released. After the serum's success in markets, it introduced a complete range of skincare lines, including moisturizers, cleansers, eye creams, sunscreens, etc.
Clearstem prioritizes real human connections and seeks to ensure that more people can feel confident about their skin. It provides basic skincare formulas specifically created for people with sensitive, acne-prone skin types. The brand is managed by a team of skincare experts that work to help you achieve clear, radiant skin. Let's get onto our Clearstem skincare reviews!
Pros
Offers botanicals-infused, non-toxic, gluten-free, vegan skincare products
Products offer anti-aging and anti-acne functions with a gentle application process
CLEARSTEM products are suitable for all skin types
Provides a 6-minutes online skin quiz for customers
Customers can join the 4-week' Ditch Your Acne' course, complete with all the materials you need to understand how to treat your acne.
15% off original prices for CLEARSTEM subscribers
$10 store credit when you join the e-newsletter
Provides international shipping
Cons
Returns are not guaranteed except for allergic reactions.
Clearstem Skincare Products Review
Clearstem skincare products are targeted at customers with acne-prone skin. It offers sensitive care treatments that clear breakouts, prevent scarring, and provide anti-aging functions. The brand has gained public attention with a strong following of 27k on Instagram and collaborations with famous skincare influencers like Jess Clarke.
The brand also provides helpful tips for your skincare routines. It has been featured on notable media like Forbes and Women's Wear Daily. This section of our Clearstem skincare review will explore some of the brand's bestseller products.
CELLRENEW – Collagen Stem Cell Serum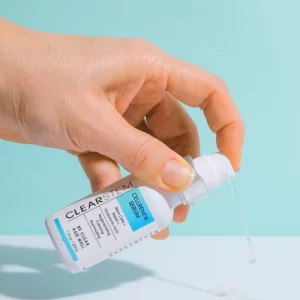 The CELLRENEW is Clearstem's most original and bestselling product. It consists of a high-profile stem cell technology formulated with palmetto, green tea and reshi mushroom. The formula helps to balance oil production and regulate hormonal acne. Also, the turmeric and B5 contents help slow inflammation, which allows the skin to heal and rebalance.
Many customers love this serum because it helps cure acne scarring and dark spots from sunburns. It is also anti-aging, anti-acne, relaxing and completely free of toxins. The collagen stem cell is also infused with botanicals and hyaluronic acid, which helps to improve your complexion and ensure smooth, radiant skin in all conditions.
The serum offers other functions such as post-peel care, laser treatments, micro-needling, and hair removal. It helps to soothe inflammation after any heat treatments or exfoliation. Also, it aids in rejuvenation and cellular renewal and reduces any chance of skin irritation. This serum is suitable for all skin types and retails for $62.
CLEARSTEM Power Duo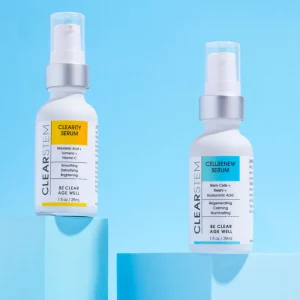 The CLEARSTEM Power Duo contains Clearity and Cellrenew. Bott products include high active ingredients infused with botanicals that help clear breakouts and promote skin repair. It is a short, two-step process that you can add to your personalized skincare routine to clear hyperpigmentation and promote radiant, glowing skin.
CLEARITY serum includes a potent dose of AHA mandelic acid (gentle acid) that helps clear active breakouts. In contrast, turmeric and Vitamin C helps with hyperpigmentation and brightening. The CLEARSTEM CLEARITY serum also dissolves blackheads and builds collagen. It is a fast-acting ingredient that leaves your skin looking noticeably firm, smoother, and brighter.
The second product in the Clearstem Power Duo kit is CELLRENEW. It is a hydrating serum that soothes, moisturizes, and promotes hormonal balance. This serum helps repair visible signs of stress resulting from sun exposure, acne scars, fine lines, and inflammation. And, also the combination of the CLEARITY and CELLRENEW helps to smoothen and rejuvenate the skin.
It also comes with gentle ingredients suitable for all skin types with fast results. If you have acne-prone skin or try to clear breakouts, you can add this process into your skincare routine. The brand recommends that you use the CLEARITY first to decongest the skin, and the CELLRENEW helps complete the process. You can make a one-time purchase of this product for $120.
HYDRAGLOW Stem Cell Moisturizer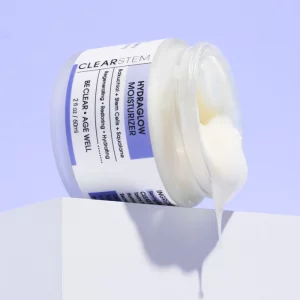 Finding a moisturizer that supports acne-prone skin types can be tricky. Still, Clearstem helps solve this problem with their HYDRAGLOW Stem Cell Moisturizer, perfect for sensitive skin types. The formula contains bakuchiol, a gentler substance than retinol and olive squalene for softer, younger, healthy skin.
The HYDRAGLOW Stem Cell Moisturizer contains botanical agents that encourage collagen production even as you sleep. It absorbs into your skin to replenish your skin barrier, and the stem cells serve as a superfood for your skin. CLEARSTEM also offers zero pore-cloggers and zero-toxins ingredients to ensure that your skin gets the best product.
The brand recommends using the HYDRAGLOW moisturizer after the CELLRENEW in the morning and night. You'll feel the effects of the treatment working even after you remove it, and it also helps to hydrate the skin barrier. CLEARSTEM HYDRAGLOW  moisturizer is suitable for all skin types, and this product retails for $56.
GENTLECLEAN- Vitamin Infused Calming Wash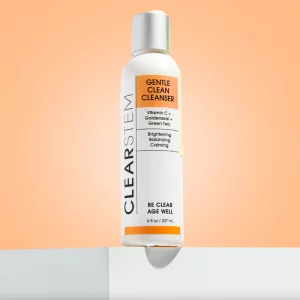 You may need an effective, gentle cleanser free of toxins, pore-cloggers, or substances that can irritate the skin, causing hyperpigmentation. While you're trying to clear breakouts, it's essential to use gentle products that will aid skin rejuvenation and help to improve your complexion. GENTLECLEAN is a calming face wash perfect for all skin types.
It cleanses the skin from dirt, impurities and excess oil without stripping the skin of its natural oils. This cleanser helps to nourish and restore the crude oil production of your skin while removing pore-cloggers to allow the skin to breathe well. The key ingredients in this calming wash include Green Tea, which is a natural antioxidant that gently combats acne.
In addition, Gentleclean is also infused with Goldenseal and Vitamin C, which offers antibacterial and anti-inflammatory properties. It seeps through your pores to enable skin repair from the inside out and helps to reduce redness due to acne. This Vitamin-infused face wash is also makeup artist-approved and recommended for makeup removal.
BRIGHTEYES Eye Gel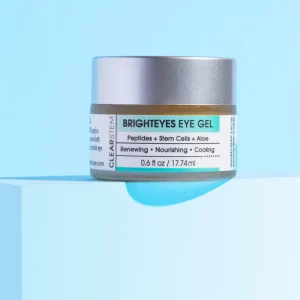 The Brighteyes eye gel formula offers nourishing, hydrating and anti-ageing benefits to ensure you get a perfect, younger-looking skin. It was created to combat crow's feet, dark circles, and puffiness. The formula contains an effective combo of stem cells, brightening botanicals such as Green Tea and other natural antioxidants.
In addition, peptides aid skin repair and collagen production, which quickly creates firmer and smoother skin. You can expect to see results within the first week you start using this product, and it is entirely safe to use on the entire eye area. It offers a calm, gentle tingling sensation, with a natural fragrance obtained from the mango extract.
The brand also claims that you can use this product as a lip treatment to achieve a smooth and plump pout. We recommend that you add this treatment to your skincare routine to ensure that you get rid of wrinkles, fine lines and other signs of ageing. It also requires that you use it both morning and night for best results. And this Brighteyes Eye Gel costs only $54.
CLEARSTEM Skincare Reviews From Customers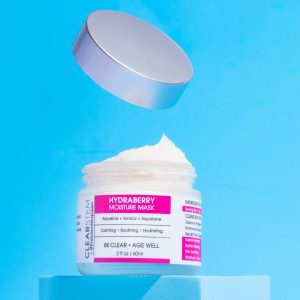 Reviews help determine whether skincare brands offer reliable products to serve your skin well. Luckily, Clearstem offers real customer testimonials with life before and after products so you can see the effect of particular products. The brand also features video testimonials for potential customers to see what customers think about their products on the review page.
Meanwhile, every product page includes customer ratings and comments on individual products. For instance, the CELLrenew Stem Cell serum is one of the brand's bestsellers, with 4.9/5 customer ratings from 244 reviews. Many customers shared that they got immediate results and that it offers gentle care for sensitive skin.
One customer stated, "I have been using Cellrenew for three months now, and I must say my skin has never looked so radiant. I no longer have hormonal acne and therefore don't have to wear foundation. My skin just glows and feels so soft. The serum smells lovely too."
For the Hydraglow Stem Cell moisturizer, customers shared that they loved using the products on their skin. It is widespread among people managing severe acne and breakouts as it helps to provide a soothing, calming sensation. With 4.8/5 stars, this is another bestseller. But, some customers had minor complaints about the foul smell and moisture.
A particular user shared their experience, "I've enjoyed this product. It goes well and doesn't clump up under sunscreen and other layers. It's kind to my sensitive skin and leaves it feeling soft and refreshed. The only downside, in my opinion, is that the smell is a bit strong."
Further customer reviews
We also observed that many customers appreciate Clearstem's efforts to educate customers on their routine's positive tips and skincare hacks. On the brand's Facebook page, a customer stated:
"Clearstem Skincare is absolutely life-changing! I took the 'Ditch Your Acne Course,' which I recommend for everyone. It taught me about all different types of pore-clogging ingredients, gut health and nutrition. The course and the products together are all the tools you will ever need to combat acne forever!"
Popular Alternatives to Clearstem
We checked external reviews outside the brand's website to see more unsponsored and objective customer feedback. On Amazon, the CELLRENEW serum has 4.4/5 stars from 221 customer ratings. Many users shared that they loved their overall taste experience using the product, and they got fast results. Some customers also stated that the effects outweigh the price; as this user below shares,
"I've struggled with acne for over a decade. I've spent thousands of dollars going to the dermatologist and buying all these prescribed creams, but none worked. I'm already on day 3 using this product, and I have yet to have a breakout. My old acne scars seem to be fading away. This product seems too good to be true… it's pricey, but the stuff works."
However, some customers complained that the product did not work for them despite the high reviews. One unhappy customer reported that they got more breakouts and acne scars, stating, "it never reduced the scars nor helped heal the breakouts, and it dried out my skin." But, this only appears to be an individual experience based on the overall positive outtakes.
Sign Up For CLEARSTEM Skincare
Clearstem provides all the tools you need to ensure a smooth, healthy, acne-free complexion. The brand offers effective skincare solutions in the form of moisturizers, cleansers, serums, and gel that helps to promote skin repair. It also provides educational content and tips to help customers learn effective skincare routines to solve particular skin conditions.
All you need to do is take the CLEARSTEM skin quiz on the website to determine your skin type and get the best selection of suitable products. You can also sign up for a personal account to shop conveniently and ensure that you can manage your order. All you need to do is fill out the registration form with your name and email address.
Where To Buy CLEARSTEM
All Clearstem products are available on the brand's website, and customers can also shop for particular products directly from Amazon.
CLEARSTEM Shipping and Return Policy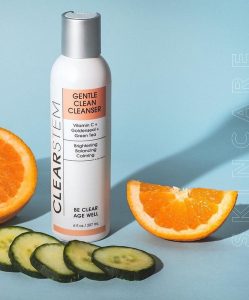 The brand offers free shipping for all domestic US orders above $75. Expedited and international shipping costs will be calculated at the checkout page since the price varies depending on your location. Also, the entire shipping times and delivery processes depend on location and display the correct information on the checkout page.
Regardless, the customer will pay all additional fees such as custom or import duties attached to your order. And the company also uses the Delivered Duty Unpaid international shipping method, ensuring that all products arrive safely at the intended destination. You'll receive a confirmation mail once your order has been shipped so you can monitor the delivery.
Meanwhile, the company's return policy only covers incidents where a customer has an allergic reaction to any product. The brand provides that returns must be made within three weeks of receiving the product, and all refunds will be paid in full. However, other returns are not guaranteed, but you can contact the customer care service to address your complaints and request refunds.
You can also cancel or join the CLEARSTEM subscription anytime you want. However, it is essential to take care when placing your order to ensure you get the correct products. You can also change your subscription dates and stop your membership as you like.
CLEARSTEM Skincare Promotions and Discounts
You can also save money when you buy directly from the website. The brand offers a $10 store credit for customers who join the e-newsletter. All Clearstem subscribers enjoy a 15% discount on the original prices of all the skincare items. If you purchase CLEARSTEM kits, you'll enjoy more items at discounted prices up to 35% off.
Contact CLEARSTEM Skincare
Did we not answer all of your questions in this Clearstem skincare reviews? The brand encourages customers to connect with the support team and get further assistance through the online contact form. You can submit your name, email and complaints, and you'll receive a prompt response from the customer care team.
CLEARSTEM Skincare Reviews: Editors' Verdict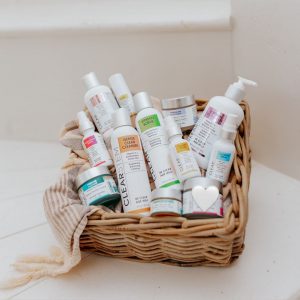 From CLEARSTEM skincare reviews from customers and our product research, it's evident that this brand isn't just selling quick fixes to people's breakouts and acne-ridden skin. It is created by a team of experienced experts to provide effective anti-acne solutions. Co-founder Danielle Gronich is the San Diego Acne clinic owner and is well known as 'The Acne Guru.'
The brand is committed to providing effective solutions for breakouts and skin blemishes and ensuring that the skin remains healthy and smooth. It offers direct consultation with customers and responds to requests with expert tips on how to achieve your skincare goals. With excellent customer care and a reliable product line, CLEARSTEM offers value for your money, and it's worth a try.
Curious to learn more about other beauty brands? Check out our reviews of Gleamin, Glossier, Function of Beauty, and Farmacy Beauty.
CLEARSTEM Skincare FAQ
Who owns CLEARSTEM Skincare?
It is owned by co-founders Danielle Gronich and Kayleigh Christina.
Is CLEARSTEM Skincare cruelty-free?
Yes, all CLEARSTEM products are 100% cruelty-free
Are CLEARSTEM Skincare Products Natural?
The brand offers nontoxic, vegan and cruelty-free products.
Does CLEARSTEM Skincare offer a skin quiz?
Yes, it does! The 6-minute quiz examines your skincare concerns, diet and skincare goals to offer personalized products and suggestions.