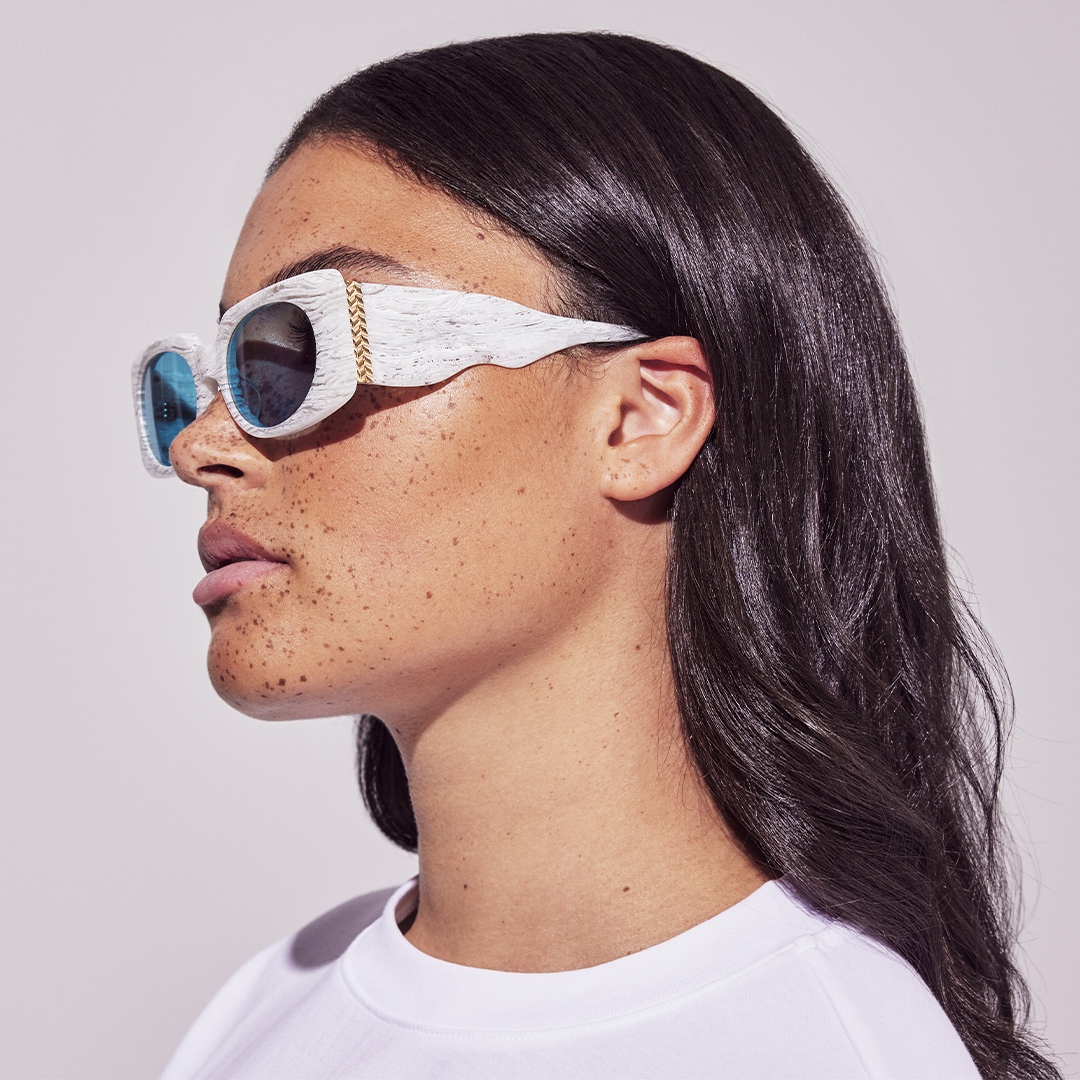 Sunglasses are essential as they protect your eyes from harmful UV rays while making you feel and look good. It is crucial to wear high-quality sunglasses to prevent eye strain when out in the sun. Le Specs sells a variety of classy, stunning, and fashionable sunglasses at affordable prices. This in-depth Le Specs sunglasses review will examine the company's top-selling products, customer testimonials, promotions, discounts, and more to help you determine if this eyewear brand is right for you.
About Le Specs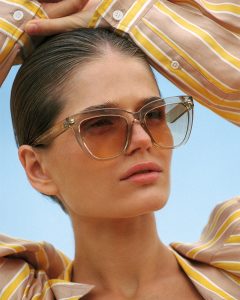 Le Specs is an Australian-based company famous for its trendy styles and celebrity fan base. They offer a wide variety of optical sunglasses for men and women.
The company was founded in 1979 by an Australian company called Australis. The beginning was challenging for the company before Sunshades acquired it in 2005. 
After the acquisition, they appointed a designer named Hamish Tame as the company's creative director. Hamish Tame rebranded the company and launched it to a bigger fan base.  
As the creative director, Hamish designed striking silhouettes that have become a favorite for many. According to him, he worked extensively with different lifestyle and specialist optical stores to create stylish lifestyle sunglasses. 
The brand's breakthrough came when American model Gigi Hadid shared an Instagram selfie wearing Le Specs The Last Lolita. As a result, these sunglasses were sold out right out of the gate, and it has become their bestseller. 
Le Specs has partnered with Tree Distribution to be its authorized retailer in Germany from 2019 and Austria in 2021. Tree Distribution also helped Le Specs to be showcased at fashion trade shows, such as Frankfurt Fashion Week. 
Currently, the brand ships its products to over 90 countries worldwide. In 2020, they launched a sustainable collection called le sustain. 
In addition to the large celebrity base, Le Specs boasts 233k followers on Instagram and over 23k Facebook followers. Glamour, Harper's Bazaar, Allure, BuzzFeed News and Cosmopolitan have also featured the brand. 
Before we delve further into this Le Specs sunglasses review, check out the pros and cons of this eyewear brand.
Pros
They ship internationally

Free shipping for all orders above €50

They have a 60-day return policy

Their sunglasses are affordable

The virtual try-on allows you to get sunglasses that fit perfectly

They have a quiz for customers to determine the best sunglasses
Cons
They do not offer around-the-clock customer service

They don't cover return duties, customs, and shipping fees

The company does not offer returns on products sold through other retailers
Le Specs Products Review
The brand has an immense range of sunglasses in different designs and colors. Their sunglasses are suitable for men and women. Here are the best-selling Le Specs sunglasses.
Le Specs Air Heart
If you are a fan of Tommy Lee Jones and Will Smith in Men in Black, then you are likely to love Le Specs Air Heart Sunglasses; they are a modern upgrade of the glasses Hepburn wore. Celebrities like Meghan Markle and Olivia Palermo have been spotted rocking these iconic sunglasses.
The notable features of Air Heart sunglasses include oversized and dramatic portions designed to resemble a cat's eye. The metal top inlay is black and thick. The metal inlay is also fitted with high-quality zero base flat lenses.
The best thing about these sunglasses is they are designed to suit all face shapes. If you are looking for cool sunglasses that are a statement maker, head to Le Specs and grab one of Air Heart Sunglasses.
These glasses are available in five colors: black, caramel, black polarized, oatmeal, and tort. 
These Le Specs sunglasses are made from polycarbonate plastic, which makes them lightweight. The material used makes it ideal eyewear for people with strong prescriptions. Lightweight sunglasses are less likely to slide off your nose and are comfortable for everyday wear. 
They are specifically designed for women and have a UV protection of category three, providing extra protection from visible and UV light. They also have a smoke mono lens, which gives it a trendy and minimal appearance. Get the Le Specs Air Heart for only $69, and make a statement.
Le Specs Outta Love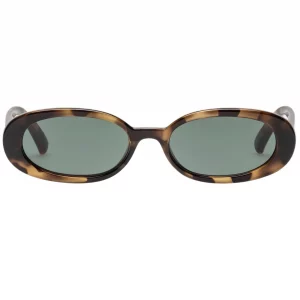 Travel back in time to the 90s with Le Specs Outta Love sunglasses. These sunglasses resemble the iconic 90s sunglasses, which were famous for having colored lenses, a small structure, and thick frames.
If you want to return to minimalist fashion, you can do so in style with the Outta Love sunglasses. The main characteristics of Outta Love are petite outlay, slimline, and oval frames. They also have an outline feature with a modern flat profile.
These sunglasses are also designed with the original Le Specs gold metal hardware. Outta Love sunglasses stand out because they are made with a minimalist approach, making them perfect for those who want sunglasses that compliment their look. 
These sunglasses are available in different colors, including tort, black, caramel-tan, latte, and vintage tort. The vintage tort Outta Love sunglasses is a top-seller in this category; it is made with BPA-free polymer plastic, which makes them lightweight, impact resistant, and durable. 
Vintage tort has polycarbonate lenses, which are scratch resistant and shatterproof. In turn, this makes them last longer than standard plastic lenses. 
These sunglasses are ideal for women, and they come with the additional benefit of a six-month warranty. Evoke the Nineties minimalist aesthetic with the Outta Love sunglasses for only $59.
Le Specs Bandwagon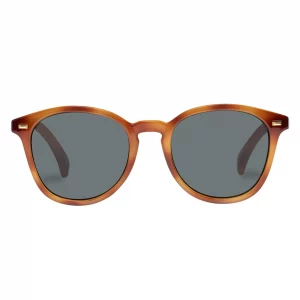 The Bandwagon is a stunning and fashionable pair of sunglasses that will always be trendy; this timeless pair of glasses will always stand the test of time.
Le Specs Bandwagon sunglasses are inspired by vintage and elegant fashion details. These unisex glasses have a perfect round frame, which gives them an ageless aesthetic. 
The distinguishing characteristics of Bandwagon sunglasses are a keyhole-like space between the eye frames and refined angles. It comes in a mid-size with additional details made from the discreet metal rivet, which makes it strong, corrosion-resistant, and lightweight. It is also made from the iconic Le Specs metal hardware.
The shades are available in 12 colors for both sunglasses and blue light protection. Some shades are black, toffee tort, matte stone, vintage clear, and forest green. Keep in mind that every shade has its price. 
Meghan Markle owns a pair of Crystal Clear Polarized sunglasses. The crystal clear sunglasses have a translucent clear frame and black lenses that give them a perfect contrast. 
The lenses used on these glasses are khaki mono polarized lenses, which give clear vision, especially when you are out in the sun, as it reduces eye strain. Another benefit of these lenses is that it decreases glare and reflection and blocks harmful UVA/B light, giving you 100% visual comfort. 
The crystal clear lens has a UV protection of category three and six months warranty. You can rock these beautiful sunglasses for $69.
Le Specs The Last Lolita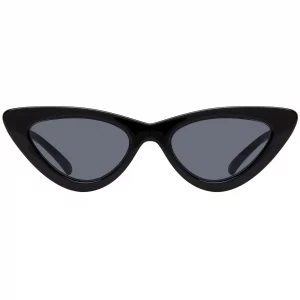 The Last Lolita is a recognizable pair of sunglasses that made Le Specs famous. Reviews show that many people love these sunglasses, and the pieces are always sold out.
The sunglasses are also famous among celebrities, including Beyonce, Rihanna, Miley Cyrus, Kendall Jenner, and Katy Perry. The Last Lolita is a visually appealing Le Specs cat eye sunglasses available in four colors: black, opaque red, white, and emerald. The finishing depends on the color of the frame, and it features a tonal dark lens. 
You don't have to worry about scratching your sunglasses because the frame is made from polycarbonate plastic, a lightweight, scratch-proof material.
The type of lens depends on the color of the frame. For instance, the emerald frame has a green mono flash lens that blocks UVA and UVB light, and you can walk outside comfortably knowing your eyes are protected. 
Unlike other sunglasses, The Last Lolita has a one-year warranty. They are perfect for summer, and when you wear them, they give you a touch of color and an attitude of confidence. Depending on the color you are interested in, these sunglasses cost between $49.99 and $59.9.
Le Specs Neptune Deux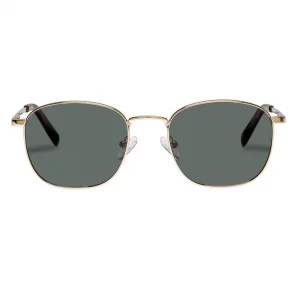 If you are looking for classic sunglasses ideal for any face shape, check out the Le Specs Neptune Deux sunglasses; they have minimalist features that make them perfect to wear any day and any time. The sunglasses are available in different colors, such as black, gold brass, bright gold tort, and gold polarized. 
Gold Brass Mirror is an epic eyewear under this collection. You can make this your everyday wear sunglasses. The nose pads come cushioned with allergy-free PVC, and the glasses are fitted with adjustable nose pads and spring hinges, making them comfortable to wear. 
These sunglasses are unisex and come in mid-size, which makes them a perfect fit for any face shape. Gold mirrored soft lens makes it stunning eyewear that will make you unique with its effortless modern look.
The frame is square and has a sturdy metal for extra strength and durability. The lens of these sunglasses is made from brass mirrors, allowing it to provide better vision than tinted lenses. 
When you receive your order, it will come in a protective pouch and microfiber clothing for cleaning the lenses. Get these sunglasses for only $89 and protect your eyes from harmful UV rays.
Le Specs Sunglasses Reviews from Customers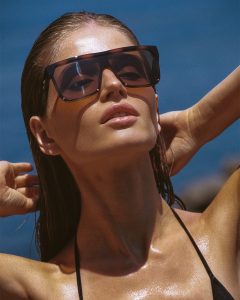 This Le Specs sunglasses review combed through the web to check customer testimonials and found that most buyers love their sunglasses because they are of high quality and are available at an affordable price. Most customers relate to their products because of the celebrity hype from A-list celebrities, such as Beyonce, Rihanna, and Katy Perry, who rock Le Specs sunglasses.
We visited the company's website and found that Air Heart Black is one of the top-selling items, with 5/5 stars from 29 reviews. Most customers love these sunglasses because they have a classic style that suits all face shapes. 
One of the reviewers bought these sunglasses and stated they were happy with their purchase. They love the Air Heart Blac because they are stylish. Another reviewer describes them as fun and wears them whenever they want to look extra fabulous.
Men's Bandwagon Matte Tort Polarized is one of the sunglasses with high ratings; it received a 4.8-star rating from 24 reviews. All these reviews have nothing but praises for the sunglasses. 
Popular Alternatives to Le Specs
Further customer reviews
One couple left a funny review and wrote how they always argue who gets to wear them because they looked good on them. They love these sunglasses because they are lightweight.
The Last Lolita is also a favorite among many women customers. It has a 4.9-star rating from 29 reviewers. Most buyers said they love them because they made them look great without breaking the bank, and they would recommend this product to their friends. Others praised The Last Lolita and stated it is perfectly crafted.  
Our team also found a couple of negative Le Specs reviews, with most choppers complaining that this eyewear brand does not cover return duties, customs, or shipping fees. 
Interestingly enough, there are not many reviews on TrustPilot or Influenster.
Overall, the number of positive reviews overshadows the negative feedback, which shows customers love their sunglasses.
Sign Up for Le Specs
To get started with Le Specs and join their community, visit the company's official website and set up your account. Remember to subscribe to their newsletter so that you will be among the first people to get notified when this eyewear brand has active promotions and discounts.
Where to Buy
If you are interested in buying Le Specs Sunglasses, you can get them on their website LeSpecs.com. Leading retailers worldwide also stock their products. Visit their Stockist page to find a nearby retailer.
Le Specs Shipping and Return Policy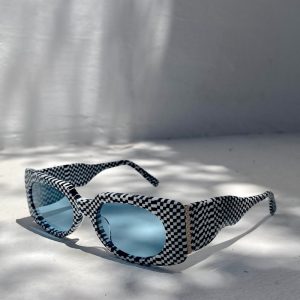 Shipping:
Le Specs ships its sunglasses worldwide, and the company offers free shipping on orders worth over $50. Orders less than this amount have a flat rate of $10.50. Expect your order to arrive in 3 to 5 business days. However, for international orders worth over $58, you'll have to pay a flat fee of $14. The shipment will take between 10 and 15 days to arrive. 
Once your order is dispatched from the warehouse, the company will send a confirmation email with a tracking number. 
Return Policy
If you are 100% unsatisfied with your Le Specs order, you can return the product within 60 days from the date of purchase. 
The customer is responsible for the return and postage costs. To initiate the return process, visit their website and follow instructions on how to make a return. 
Promotions & Discounts
Le Specs has various promotions and discounts that new and existing customers can take advantage of and save money when buying their sunglasses. You will get 10% off when you subscribe to their newsletter. For additional discounts, visit their website in the sale section, where you can purchase select sunglasses at a discounted price. They also offer free shipping on all orders worth over $50.
Contact Le Specs 
If you have questions after reading our Le Specs Sunglasses review, contact the company via their phone number at +61 2 8303 7300. You can also send them an email at [email protected], and their support team will respond as soon as possible.  
Alternatively, you can send them a message on the Le Specs Facebook or Instagram page. Le Specs customer care representatives are available between Monday and Friday, from 8 a.m. to 5 p.m. AEST.
Le Specs Sunglasses Review: Editor's Verdict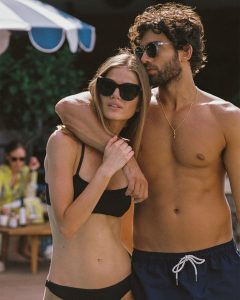 If you are looking for a luxurious pair of fashionable and affordable sunglasses, Le Specs has got you covered. The brand has an iconic selection of classy silhouettes that will make you feel like Jennifer Lopez.  
Le Specs ships internationally, so you can get their products regardless of where you reside. Based on the numerous positive comments from satisfied customers, we conclude this Le Specs sunglasses review by stating their products are worth checking out. Head over to their website and grab yourself one of their cool sunglasses.
Do you love sunglasses and glasses as much as we do? then you must read our Bonlook Reviews, Designer Optics Reviews, Glasses USA, and Diff Eyewear Reviews.  
Le Specs FAQ
I have received a faulty product in my order, what do I do?
If you receive a faulty item, contact the Le Specs customer support team for assistance. You can help them resolve this swiftly by sending them a few photos showing the item with the fault or defect with your initial inquiry.
Are Le Specs sunglasses suited for prescription?
Le Specs has a wide variety of handmade and optical sunglasses that are suitable for a prescription. Any other sunglasses outside this category are not suitable. If you have any questions, contact the company, and they will be glad to help you choose the right sunglasses.
What is the brand's Le Sustain range?
The company created the Le Sustain collection to make eyewear more sustainable; this collection implements sustainable, meaningful business practices that allow them to reduce environmental impact across all the aspects of production, supply chain, and packaging. The brand desires to make sunglasses sustainable, and every material they use in production is carefully selected to reduce environmental impact. They also encourage their customers to reduce, recycle and reuse.
What is the Luxe range?
Le Specs luxe range is a collection of luxurious frames for men and women. They are modern silhouettes that come in a limited edition of each style.