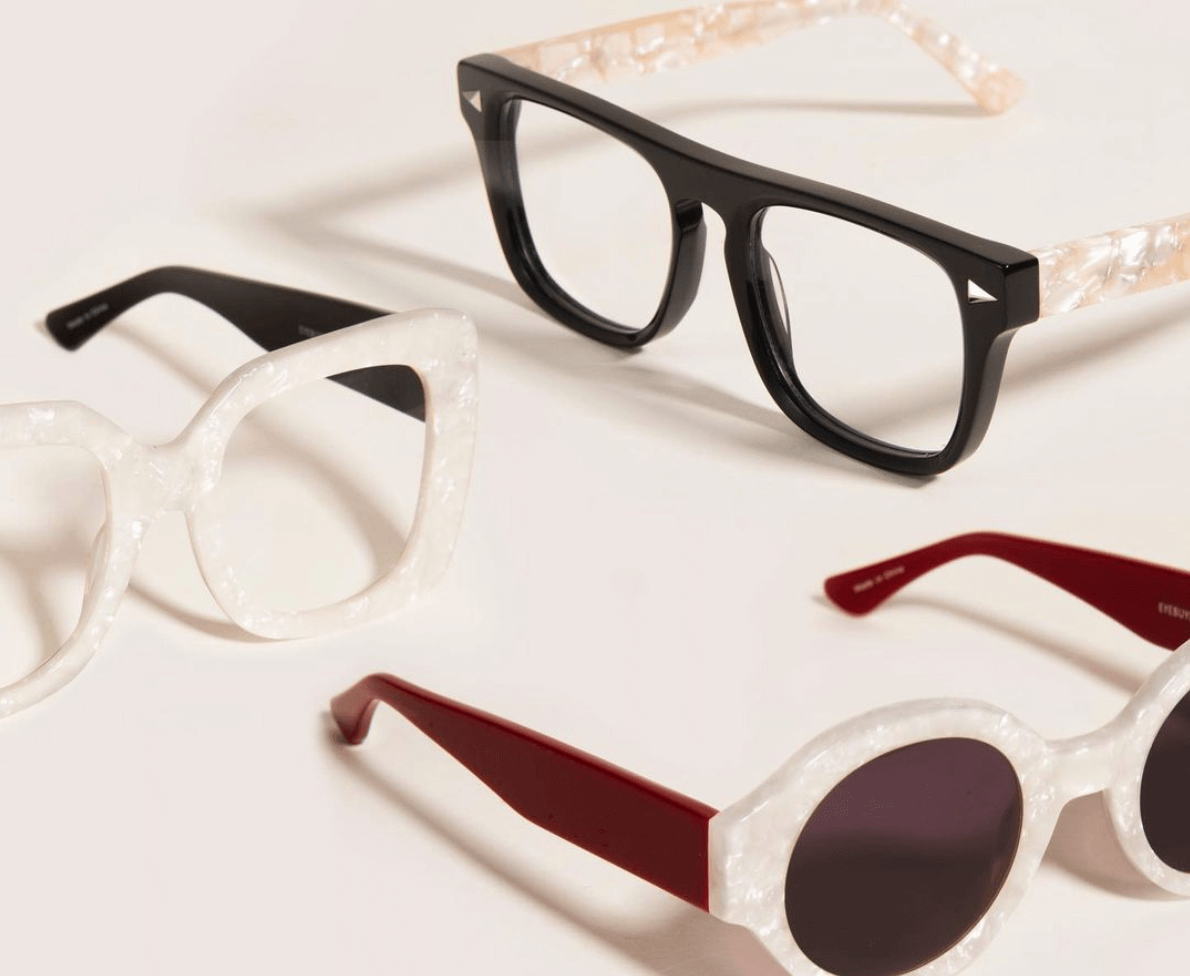 Located in Austin, Texas, EyeBuyDirect is a fast-growing company that offers a wide range of glasses and sunglasses for men and women. Their eyewear products are not only fashionable but functional and affordable. This comprehensive Eye Buy Direct Review will give a low down on this company and its products.
Since its conception in 2008, the company has been evolving steadily to serve its customers with prescription sunglasses, blue light glasses, and more. Numerous customer reviews indicate that most people are satisfied and love these products.
Keep reading to find out if EyeBuyDirect will be your preferred choice for your eyewear needs and prescription lenses.
About EyeBuyDirect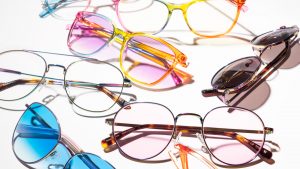 Founded by Roy Hessel in 2005, EyeBuyDirect is an online glassware American company based in Austin, Texas. They provide eyeglasses and sunglasses exclusively designed to be affordable and trendy.
To ensure optimal customer satisfaction, their team obsesses over every detail of the frames from initial design to production. This devotion to excellence is a brand aspect captured in their motto: reframing the eyewear game.
Being an online company, they try to simplify the online shopping process and make it more accessible. They also make their glasses exceptionally affordable so that even if you misplace yours or accidentally break them, It doesn't cost you a lot to get new ones.
The brand was featured in USA Today, NY Times, Forbes, Good Housekeeping, and NY Post. EyeBuyDirect also has great social media presence on Instagram, Facebook, TikTok, and Twitter.
Pros
Highly affordable products
More durable glasses than the conventional ones
Large selection of frames and lenses
Intricately detailed designs
Technical support in the virtual frame fitting process
Desirable return and shipping policies
Cons
The virtual frame fitting and the measurements-taking process can become a little tedious
You may pay a one-time replacement shipping fee
They don't offer refunds on EBD Credits or replacement pairs
Eye Buy Direct Glasses Review
Our reviewers looked at some of the top-selling products that Eye Buy Direct offers to see if they offer value for the money. Although some brands might offer cheap glasses, the quality is not the best at the time.
Eye Buy Direct Computer Glasses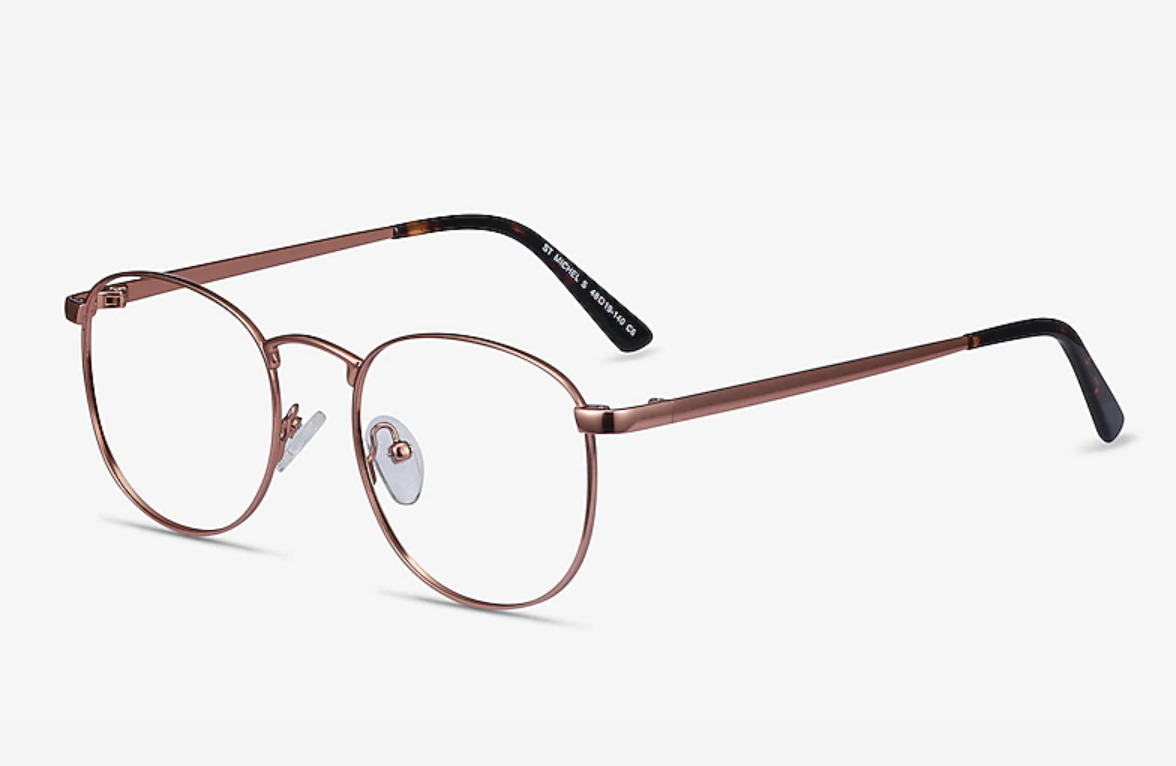 Many people spend most of their time on digital devices, either on social media, streaming, or working. Staring at the screen for an extended period can negatively impact your eyes.
Your eyes can start straining to see; you have headaches or suffer from insomnia. Despite these adverse side effects, you don't have to worry since there is a solution. Eye buy direct computer glasses block the blue light, decreasing the screen glare.
Once you wear these glasses, you can comfortably work on your computer for a long period without compromising your health.
The majority of the eye buy direct computer glasses that are stylish, comfortable, and versatile. They come in different designs, colors, and they are cost-effective.
Thanks to the shiny rose gold frames, EyeBuy Direct Round Rose Gold Eyeglasses by St. Michel eyeglasses look trendy and add elegance to your face. They are made from high-quality materials, making them durable and providing high performance.
These anti-blue glasses come in multiple colors to meet the various needs of men and women.
Our Eye Buy Direct review discovered that these glasses are waterproof, shock-resistant, and lightweight compared to conventional lenses. Besides, they are not easy to scratch or break.
The adjustable nose pads make it easy to wear the glasses and offer a custom fit. In addition, they have hinge links frame and leg for smooth opening and closing.
Eye Buy Direct Party Glasses
A stylish party outfit remains incomplete without a pair of Eye Buy Direct Party Glasses. These glasses are a fun way to add a little extra style to your bash getup.
EyeBuyDirect has a great selection of party glasses, from the highly coveted Aphrodite to the exquisite-looking Dahlia.
EyeBuyDirect Dahlia glasses are chic, stylish, and sophisticated looking. These are must-have pieces for all bold vintage eyewear lovers. They have oval lenses and a thick silhouette that oozes vintage style with the various finishes they come in: tortoiseshell, black, and tortoise/cream.
The tortoise/cream Dahlia has cream-colored arms that accompany a sturdy tortoiseshell finish acetate face creating an intricate contrast. The glasses only cost a mere $39 and come in varying sizes to suit your specific needs.
EyeBuyDirect Aphrodite glasses are stunning and will make you stand out. They feature captivating frames with evocative tortoiseshell acetate and a heart-shaped set of lenses.
Romance is always in the air, but when wearing Aphrodite party glasses, the romance is always in your line of sight as well. They are also affordable, costing only a mare $39.
EyeBuyDirect Osmanthus glasses have a classic, slim design that will never go out of style. They feature a sleek and long face with an elegant full-rim acetate build with a low bridge fit that maximizes comfort on larger nose pads while minimizing sliding.
The Osmanthus comes in three distinct finishes: tortoiseshell, floral, and black. The colorful finish of the floral pattern that runs along the temples of these glasses makes them very unique and eye-catching.
If you want a pair of party glasses that will flatter almost any outfit, the Osmanthus glasses are the ones for you. You only need $39 to own these fashion-forward party glasses.
Eye Buy Direct Safety Glasses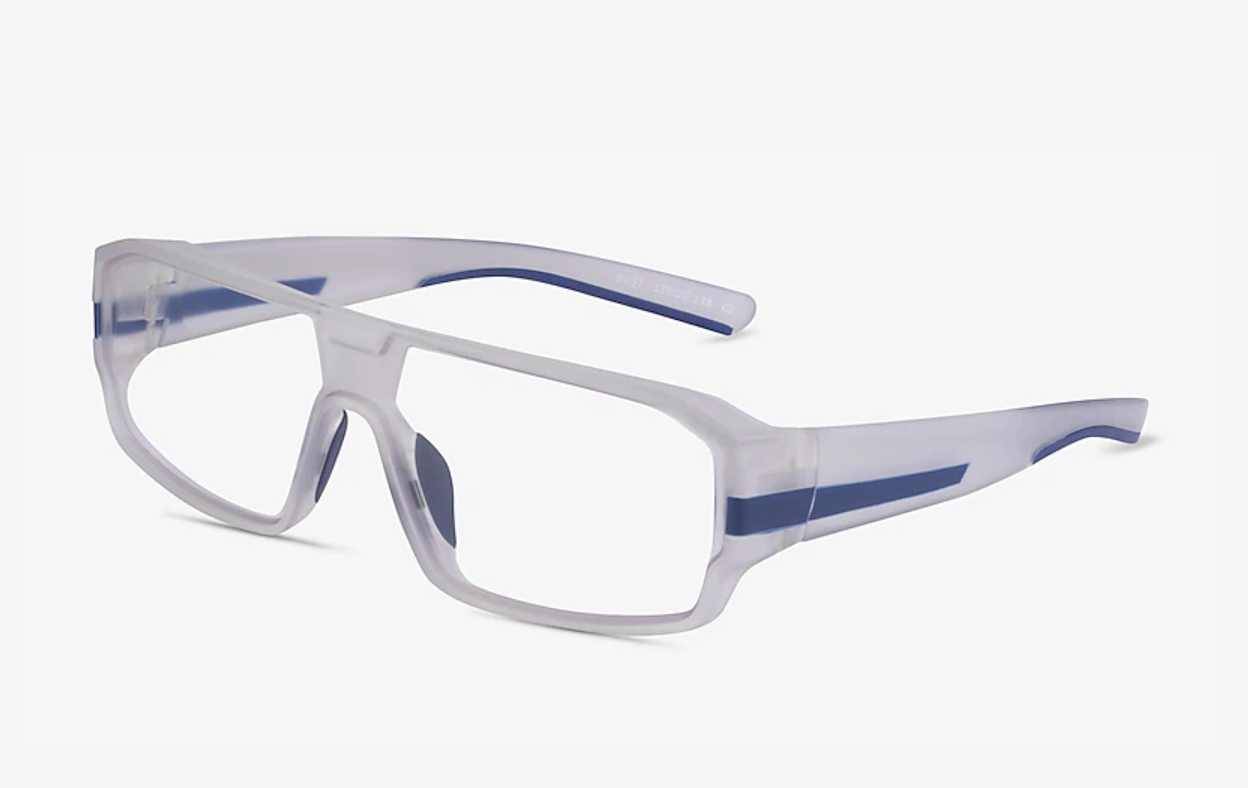 Designed to protect your eyes against debris or foreign objects, Eye Buy Direct Safety Glasses are made from high-quality materials and custom-fitted to ensure your comfort all day long.
The company offers a variety of safety eyeglasses for men and women, including rectangle eyeglasses for all occasions and rectangle prescription glasses.
Dust Rectangle Clear Navy Eyeglasses are lightweight and flexible. They feature a functional design and do not distort your vision when you wear them. The lightweight frames are ideal for everyday wear since they do not add weight to your ears and nose.
These Plastic eyeglasses are hypoallergenic, so some people with allergies may also wear them. The full-rim around the lens is built to reduce the risk of injury.
These glasses are designed with a rounded rectangle lens that fits comfortably in your field of vision. Those likely to dislodge their glasses unexpectedly should opt for these full-rim frames.
Navy blue-tinted lenses provide 100% optical clarity throughout the lens, giving users the closest possible visual experience to what they would see in natural light. The lenses are typically used indoors to protect workers from impacts.
These safety glasses are perfect for working on construction sites or any job site where debris may be kicked in the air. Dust is a magnificent pair to have at eye level and will never let you down when it counts.
EyeBuyDirect Plano Sunglasses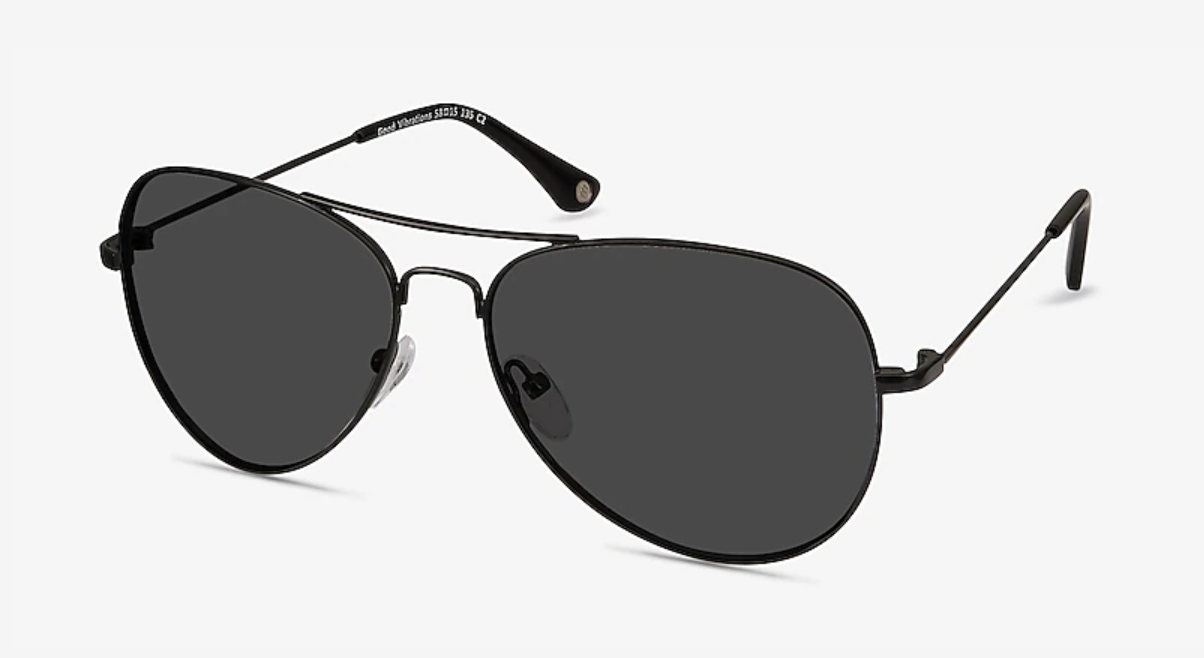 Available at an affordable price, EyeBuyDirect Plano Sunglasses come in multiple varieties in terms of size, shape, color, material, and rim. These trendy sunglasses offer protection from the sun's burning UV rays and can be a perfect stylish addition to your summer outfit.
They are lightweight and very comfortable to wear, thanks to CR39 and polycarbonate plastic that EyeBuyDirect uses to make all its sunglasses. Polycarbonate is also strong, safe, and it can withstand strong impact without damage.
The CR39 lenses have exceptional strength and resilience and are among the most popular plastic lenses.
EyeBuyDirect Plano Sunglasses come in different sizes ranging from extra small to extra large and can also be customized to your favorite size. You can select from the various shapes available, including rectangular, oval, square, and square, to name a few.
Furthermore, you can choose from the multiple rim configurations available, including full-rim, semi-rim, and rimless.
These sunglasses come with various additions and extra options, including anti-glare, anti-scratch, UV protection, and water repellent.
The company offers sunglasses for men, women, and children, and you can select from the various categories, including prescription, polarized sunglasses, mirrored sunglasses, and reading sunglasses.
You can also get glassed with different styles of frames. The sunglasses are priced modestly at between $19 and $50.
Ray-Ban Glasses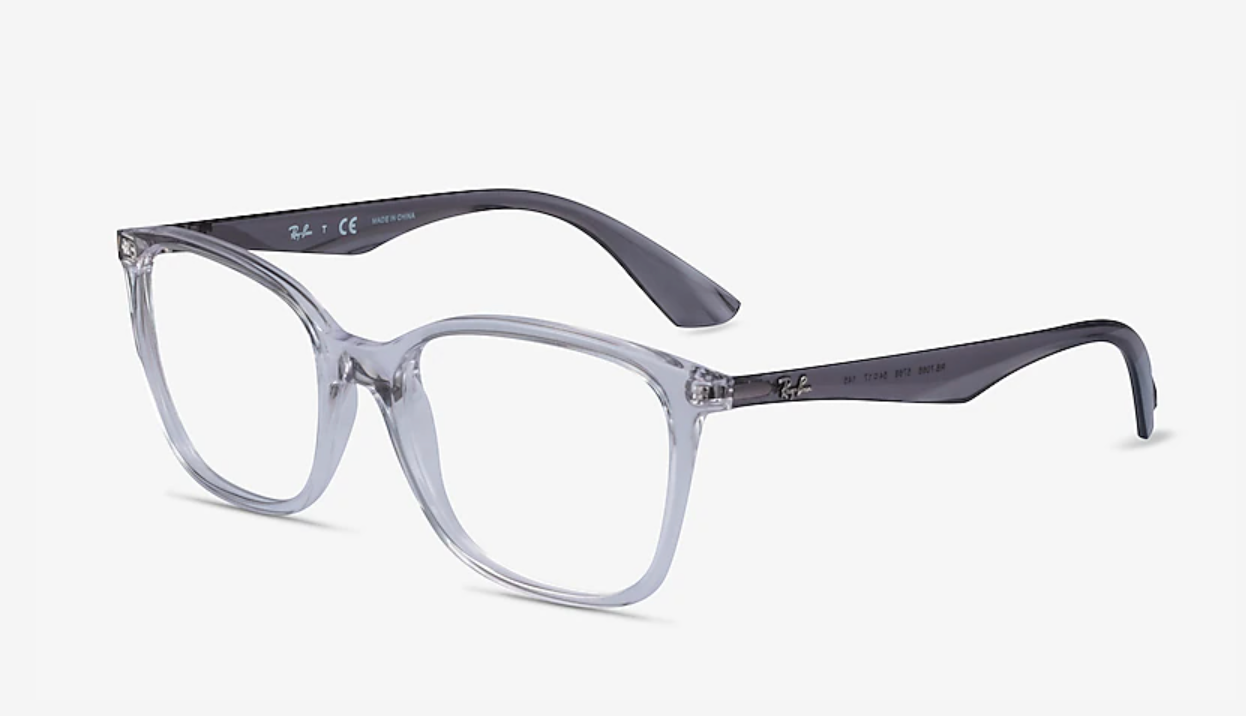 Create a new chapter by carving out a new look with this pair of EyeBuyDirect Ray-ban glasses. These glasses allow you to stay safe and stylish while in the sun, as they offer UV protection and come with string and durable frames.
EyeBuyDirect Ray-ban spoils you for choice with their broad and impressive glasses and prescriptions designs. The brand has tons of options in its collection designed to match every eyewear taste and preference out there.
When they say that the light doesn't strike one place twice, disapprove them by grabbing a pair of sleek sunglasses at Ray-ban. Our Eye Buy Direct review found that these sunglasses are available in various shapes and colors to complement different styles and outfits.
The brand offers classic frames and enthusiastic alternatives. Therefore, the power to select your type of lens is not limited.
Additionally, prescription lenses are comfortable and well thought out. Eye Buy Direct Ray-ban glass section has several categories and models for prescription eyeglasses. This wider selection allows you to take home a pair that complements your facial features.
The categories include single vision, multifocal lenses, bifocal, computer glasses, progressive, and reading. For a perfect fit, you need to have your optometrist's recent prescription and your pupillary distance to compare with the models that grab your attention.
Depending on your taste, Eye Buy Direct Ray-ban glasses have full-rim, semi-rimless, or rimless frames to suit your preferences. The materials used to craft the brand's glasses vary, too.
You'll enjoy the flexibility to choose a model made from acetate, metal, titanium, plastic, aluminum alloy, mixed wood, or carbon fiber.
EyeBuyDirect Reviews from Customers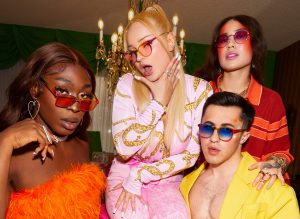 Going through customer reviews from EyeBuyDirect.com, it becomes clear that most people love their glasses. They commend the company for its user-friendly website and love that they get to try on frames virtually before purchase.
Some customers stated that they love how easy it was to use the website, make orders, and how they delivered their Eye Buy Direct glasses fast.
Trustpilot gave EyeBuyDirect a 4.5-star consumer rating from 20,233 reviews, which shows that most customers are satisfied with their purchases.
Popular Alternatives to EyeBuyDirect
Most customers commended the variety of glasses the company offers, saying that they have been shopping for glasses online for a while but they found EyeBuyDirect to have one of the widest selections of glasses.
They also loved the prices because they are competitive and the quality is great.
Many customers also praised EyeBuyDirect on other independent websites such as Sitejabber and Influenster.
Although some clients did complain about the difficulty they faced when taking their measurements, they were satisfied with the products. Such reception shows that EyeBuyDirect is a reputable and dependable company that produces affordable glasses of excellent quality.
Sign Up for EyeBuyDirect
Sign up for an account and you'll get to enjoy all the services and products that EyeBuyDirect offers. The site will require you to provide your full name and email address.
You will also have to create an account password, input your date of birth, and provide your phone number. Once you have signed up, you become eligible for a 15% discount on your first purchase.
Where to Buy Eye Buy Direct Glasses
Being an online shop, you can purchase eye buy direct glasses from their official website EyeBuyDirect.com Select the glasses you want and place your order on the platform. They will then deliver your order to you within about two days. You can also find their products on Amazon.
EyeBuyDirect Shipping and Return Policy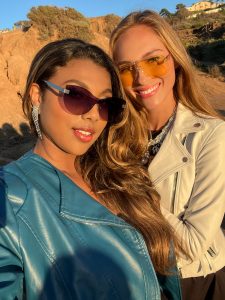 Shipping
In this eye buy direct glasses review, we evaluated their shipping policy and found that EyeBuyDirect ships their products directly to you, which means there are no middlemen between them and their customers. In addition, they offer different levels of delivery plans.
The first plan is USPS First Class, which offers free delivery for orders above $99. Using this plan, you will receive your order in 7-14 working days. For orders below this amount, you pay $5.95 shipping fees.
The second plan is UPS Express, where you pay $19 shipping fees and receive your order in 7-10 business days. The other UPS option is free, and you receive your order in 2 days.
During the delivery period, the Eye Buy Direct Track Order option enables you to know where your delivery is at all times.
The company also has delivery options for Canada, Australia, and other international destinations. For Canada, they charge a shipping fee of $9.95 and use Canada Post to deliver your order in 7-14 workdays.
For Australia, you pay $10.95 and receive your glasses in 7-14 days via Australia Post. They charge starting from $19 for international destinations and make the deliveries in the same amount of time.
Return Policy
Eye buy direct return policy allows you a one-time return for a refund or replacement. The policy dictates that you can return your glasses within 14 days of receiving them for free. In the event of a replacement, you pay for shipping fees.
However, note that they do not take returns or replacements caused due to improper care, negligence, or accidents. For a refund or replacement, notify customer care after shipping the items back.
Eye Buy Direct Promotions & Discounts
With EyeBuyDirect, there is no need to wait for a big sale to purchase your desired eyewear. They offer customers various eye buy direct coupons for lenses and frames each day. These options are:
$30 off on orders costing $100+
25% off all orders costing $110+
20% off all orders costing $75+
30% off all blue light blocking lenses
After choosing your preferred option, and making the purchase, remember to use your coupon code at the checkpoint to receive the discount.
Besides the coupons, they offer promotions such as the referral program, loyalty program, student discount, veteran discount. For this, you will need the Eye Buy Direct Promo Code to qualify for the promotions.
Eye Buy Direct Customer Service 
You can contact Eye Buy Direct customer service agents via live chat on their website. Also, you can contact them through their hotline 1-855-393-2891, which is active 24/7. Alternatively, you can use the contact form that the brand has provided on their site.
Eye Buy Direct Review: Editor's Verdict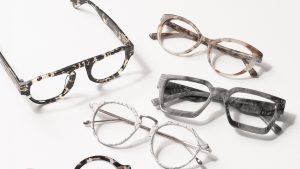 While doing this Eye Buy Direct review, we were impressed with the company, the prices, the fast delivery, and the market reception. We also found that their customer services, both their online chat and hotline, are on point.
The company also offers discounts and coupons that make purchasing even more affordable.
After reviewing their customer's comments, we found that most of them love their glasses and seem happy with their purchases. Therefore, we recommend EyeBuyDirect to anyone looking for a reliable online optical store.
Still looking for quality pair of glasses to touch your style? Consider reading some more accessories brands reviews of Blenders Eyewear, Maui Jim, Rudy Project and Peepers.
Eye Buy Direct Glasses FAQ
Where can I get my prescription?
You may get your prescription from your eye care professional.
Does EyeBuyDirect offer glasses that turn into sunglasses outdoors?
Yes, they offer proprietary photochromic lenses. First select your eyeglasses frames and then select LIGHT ADJUSTING after you enter your prescription during lens selection.
Are EyeBuyDirect glasses sturdy?
Yes, their glasses frames are firm and sturdy.
Where is the EyeBuyDirect factory located?
Their headquarters are in Austin, Texas. However, they have opened offices in Shanghai and Los Angeles.