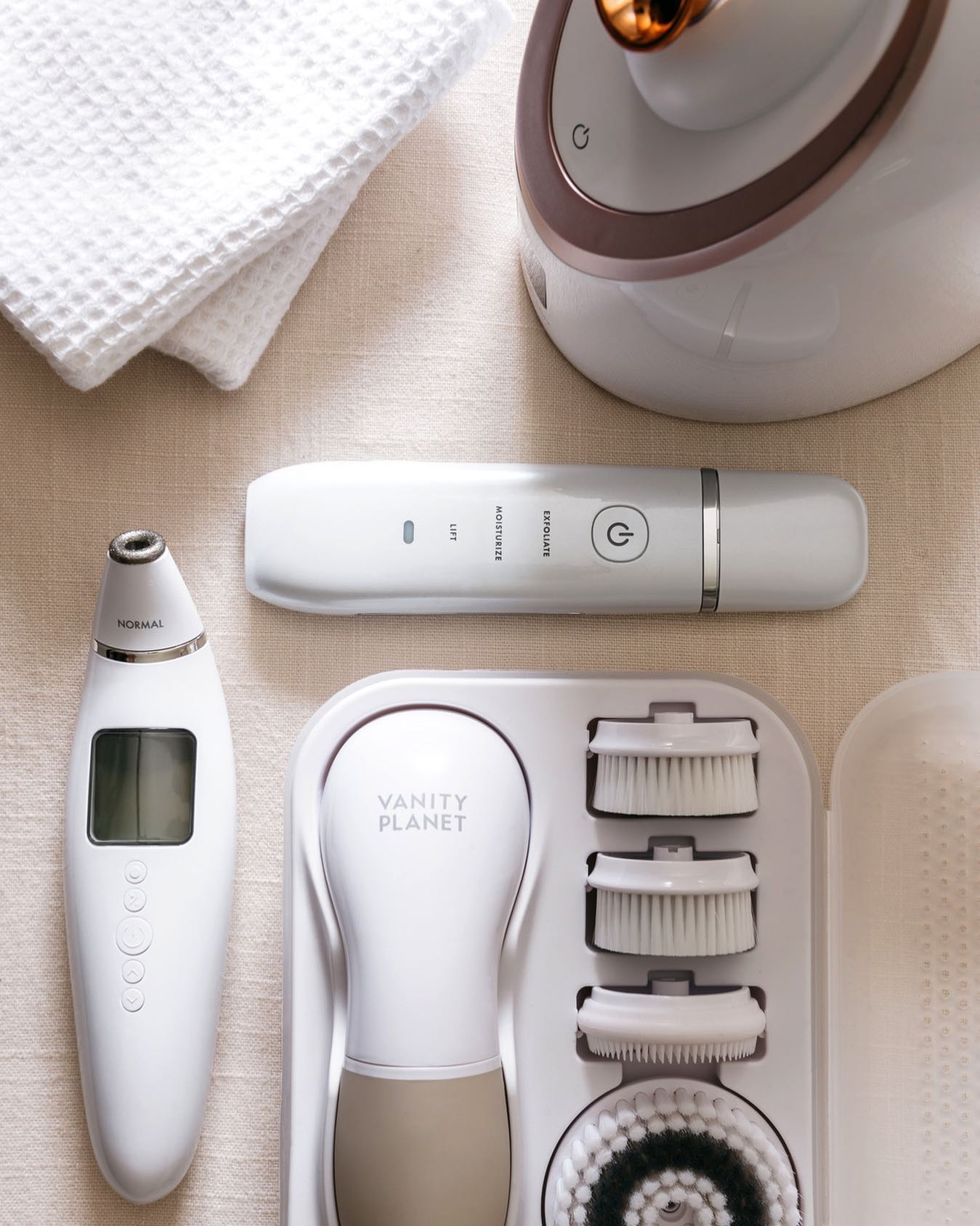 Based in Newport, California, Vanity Planet specializes in skincare products, including facial brushes, oral care, skin exfoliators, and at-home microdermabrasion. In short, those beauty tech products you didn't know you needed but now don't think you could live without! Let's have a look at some details within our Vanity Planet review!
As an e-commerce business, Vanity Planet has been up and running since 2014. And while their website is bustling with a huge array of must-have products, there is not a great deal of information about the setup. But they certainly do seem popular in the affordable at-home beauty market, so we felt compelled to dig a little deeper.
We've looked at the story behind the brand, analyzed customer reviews, and taken an unbiased view of their bestselling products so you can decide whether you need Vanity Planet in your bathroom cabinet.
About Vanity Planet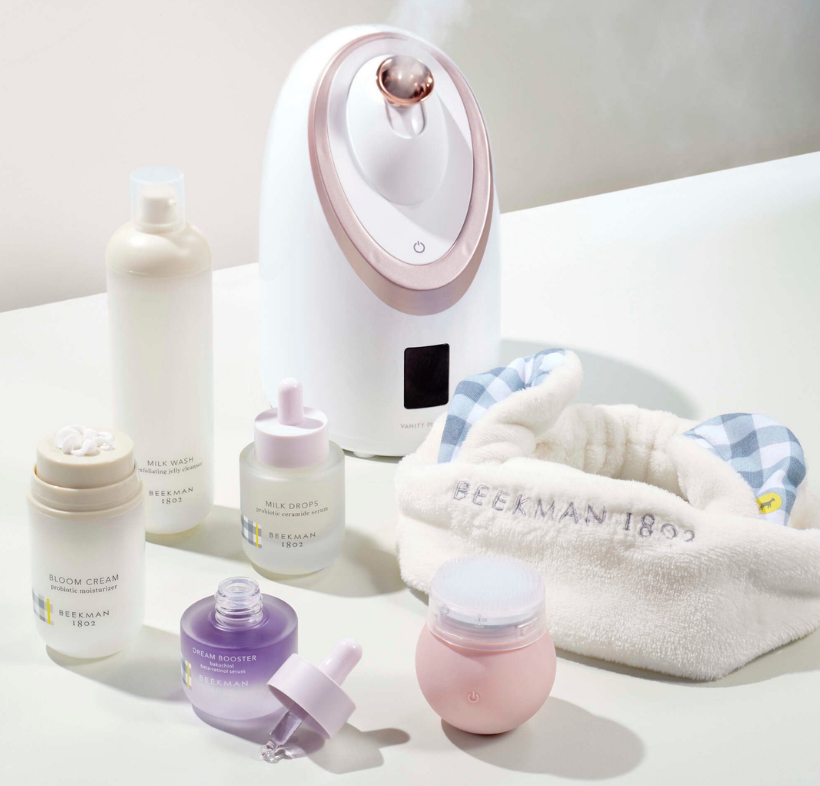 Vanity Planet has been in business for just over seven years but in that time have accrued quite the following with their wallet-friendly beauty gadgets that can help you get clear, smooth, and healthy skin.
There is not that much information on the internet about Vanity Planet. Their own website has little on how it all started. Except that it is the brainchild of entrepreneur, Alex Dastmalchi who wanted to rival the more premium skincare device brands on the market.
It is believed the skincare tech world attracted Dastmalchi as he had suffered from acne scarring as a young man and wanted to source an affordable option to the expensive salon treatments he had been offered. And so, with its first skincare device sourced from China, the Vanity Planet brand was born.
Originally from Iran, Dastmalchi clearly has a talent for selling affordable beauty products as well as maximizing marketing through digital channels. With Vanity Planet at the heart of his business hub, the company also has its own oral health care and health and fitness brands.
The brand was featured in Vogue, Beauty Independent, Women's Wear Daily, and Pop Sugar. They are also very popular on social networks, counting several hunderd followers on Instagram, Facebook, and Yotube. With their brand message of 'high-performing, skin-inclusive, self-care essentials — for everyone' Vanity Planet currently sells more than 1.3m Vanity Planet products a year in the US, and now have their sights on global expansion. Let's get on with our Vanity Planet review!
Pros
An impressive range of skin care gadgets, supported by skin care products for all skin types
Compared to their premium-brand competitors, Vanity Planet is pitched at a good value price point
They have an ethical pledge, so avoid harmful chemicals and only use cruelty-free, vegan ingredients
They have a good social media presence with plenty of followers
Their customer service is pretty open and fast to respond
Cons
With their cheaper price-point, their products are not as high quality as premium brands
Customers do seem to complain about product breakdowns
Batteries are not included with any of the Vanity Planet range
Their website is a little over-facing and can confuse when it comes to the product ranges
Vanity Planet Products
Now that we have got under the skin of the Vanity Planet brand a little more, it's time to turn our attention to their product range. Within this Vanity Planet review, we'll have a look at some of their bestsellers. Furthermore, we'll assess quality, usability, potential results, and value for money.
Vanity Planet Facial Steamer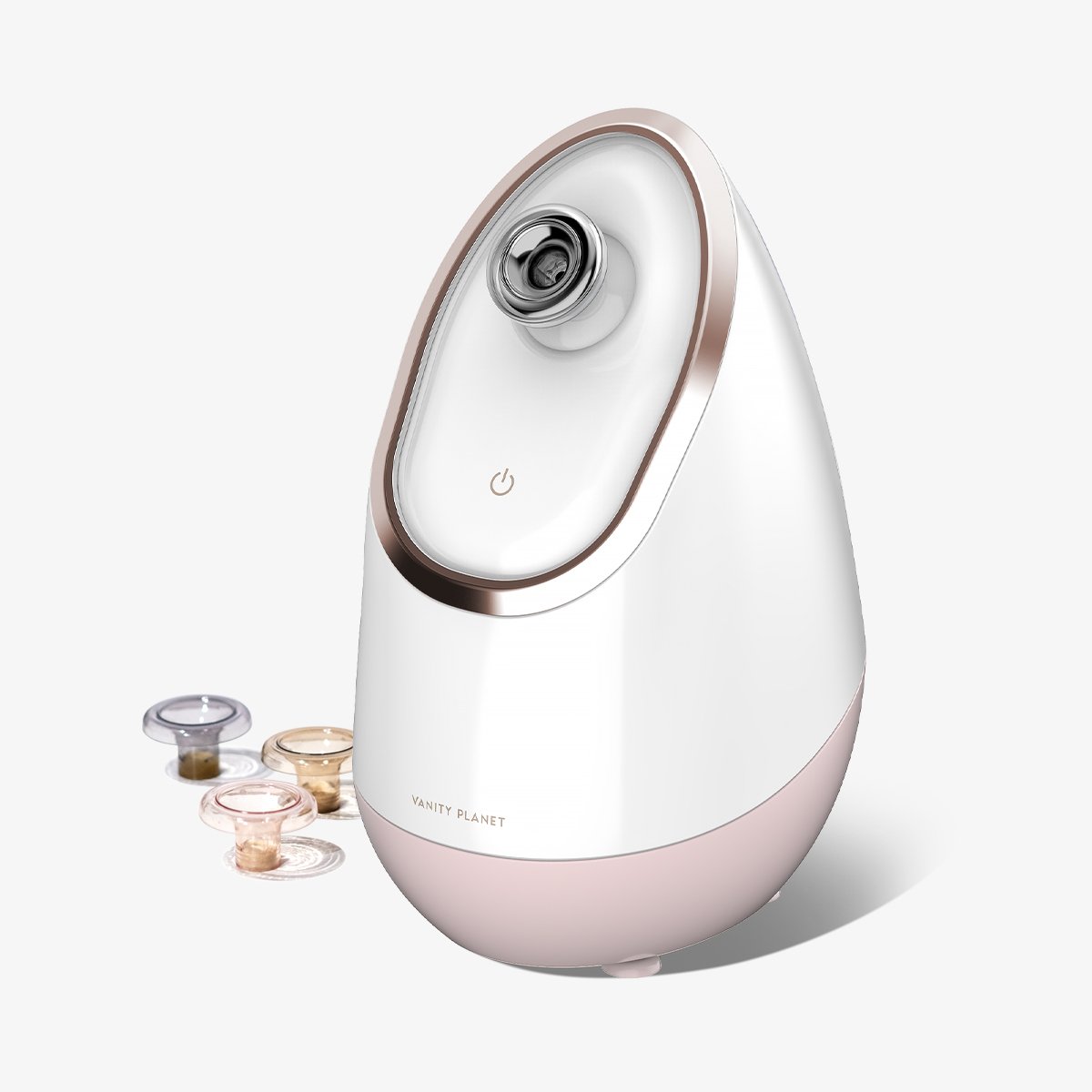 Let's have a look at the first product within our Vanity Planet review! One of their core products and a customer favorite, the Vanity Planet Facial Steamer is designed to give you that 'just been to the spa' feeling. All in the comfort of your own home. Moreover, this product can attract some significant savings thanks to Vanity Planet's discount offers. This of course depends on when you decide to purchase it.
Ideal for all skin types, even sensitive skin, but especially congested and breakout-prone, the Aira facial steamer deep cleans and detoxes your skin, without being too harsh or drying. It also features essential oil foam heads, so you can get a lovely relaxing treatment into the bargain.
The plug-in unit itself is a well-thought-out size in a choice of two colors which is easy to use without taking up too much space. Although reviewers do report that the water tank is a little small size and can be fiddly to remove. Another potential downside is you need to use distilled water, not from the tap.
For your money, you get a Vanity Planet steamer that can be used with or without therapeutic oils. It also uses an ion generator to enrich the water molecules as they convert into steam, enabling them to penetrate deeper into your skin. As well as improving skin clarity, the Aira can also help to boost circulation as well as prepare your skin for other beauty treatments and products.
For an affordable way to relax and add a bit more glow to your skin, the general customer consensus is that the Aira is a win.
Raedia Facial Cleansing Brush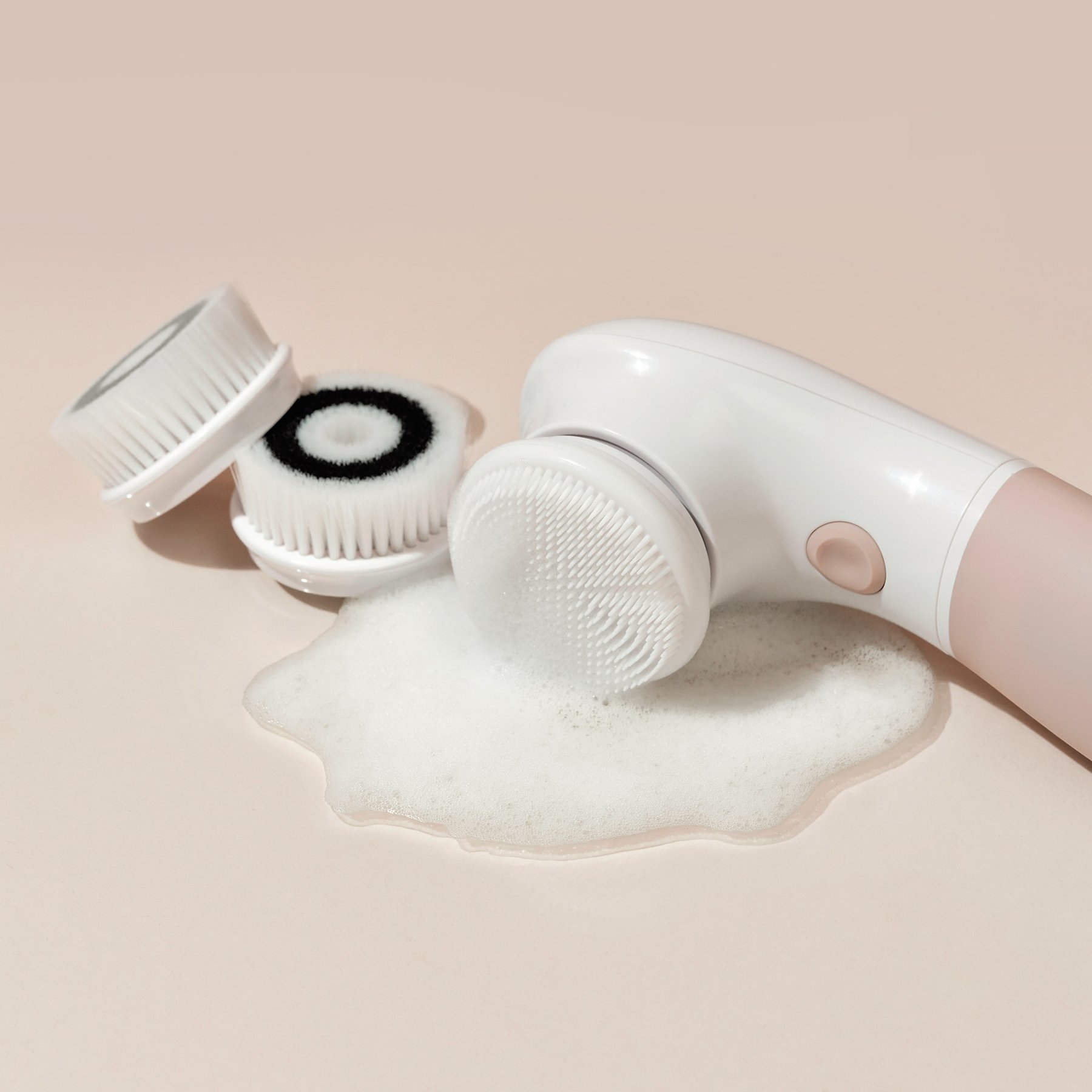 If your usual wet cleanser or facial bar doesn't seem to cut the mustard when it comes to that deep clean feeling, then check out Vanity Planet's super popular Raedia Facial Cleansing Brush. Complete with its own compact carry case, and with a choice of two settings and three interchangeable heads, this Vanity Planet spin brush is gentle enough to use daily and can help to also smooth and exfoliate your skin.
Turn up the power to slough off dead skin and remove makeup or dial it down for a gentle and relaxing face cleansing routine. However, this is a battery-operated device, and we think Vanity Planet is missing a trick by not supplying the AAs you need to get up and running. However, we do like the addition of the carry case, meaning you can also take this Vanity Planet brush set with you on your travels.
Another bonus to the design of the Raedia is that it is safe to take into the shower and its ergonomic handle prevents any hand slip. However, reviewers do advise drying the Raedia thoroughly after every use to keep it spinning as it should.
Vanity Planet Microdermabrasion Wand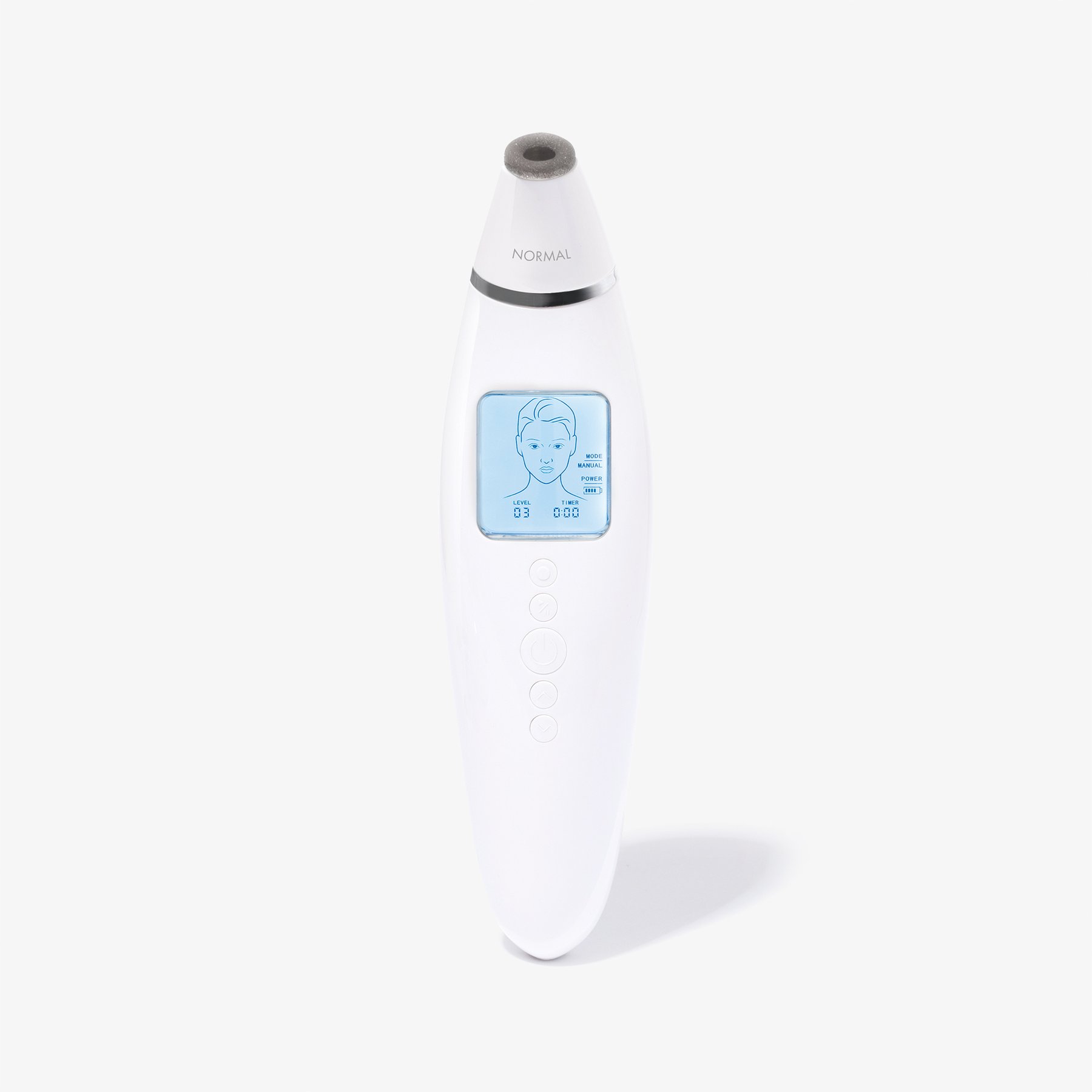 Microdermabrasion can be an effective way to exfoliate and deep cleanse the skin but can be a little pricy as a treatment down at the salon. So, for a more cost-effective and convenient way to keep on top of your skin, check out Vanity Planet's Microdermabrasion Wand. Safe to use on sensitive skin as well, this wand can be particularly useful on blemished, sunspot marked, or acne-prone complexions. It can also help to stimulate collagen production, softening fine lines and wrinkles for smoother, glowing skin.
This wand is equipped with medical-grade diamond heads to sweep away dead cells that can clog your pores while boosting circulation in the skin. The strength is also customizable so you can match its suction power to your skin type as well as comfort levels.
Just be a little careful when you first start out as some vanity planet microdermabrasion reviews have reported there's quite a bit of power under the wand's hood. Powered by a rechargeable lithium-ion battery (which is included), the Microdermabrasion Wand is one of Vanity Planet's pricier products, but it will save you on repeated sessions in the beauty salon.
Pose LED Travel Mirror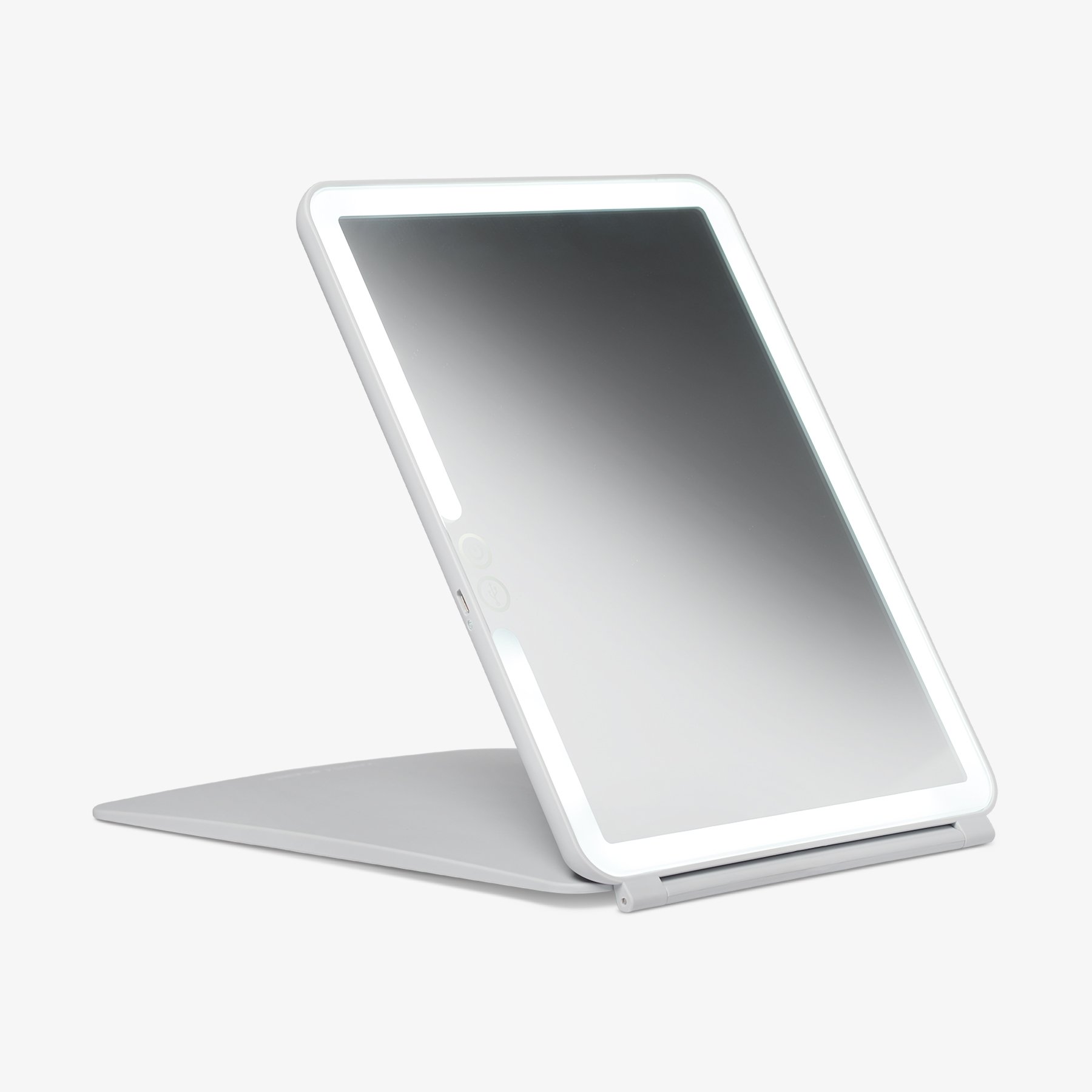 Vanity Planet doesn't just do skincare devices and products, they also back up their core ranges with some cleverly selected accessories, of which this LED Travel Mirror stands out. With its smart tablet looks and easy-to-use design, it fits perfectly in your travel bag but is equally as useful at home. The case opens out to double up as a stand, and the LED lights flash into action, powered by a rechargeable USB.
However, the no-battery convenience of the USB is hampered a little by its hit-and-miss charge life. But when it is at its best, the LED lights of this Vanity Planet travel mirror are brilliant at illuminating the mirror for flawless makeup application. You can also adjust the light to suit your needs. And, added to Vanity Planet Makeup Brushes and you have a lovely gift.
Overall, a practical solution to make up on the go, although reviews do indicate it might not be as robust as it seems, so you still need to be mindful it is made of glass when you take it on the road.
Body Analyzer & Digital Scale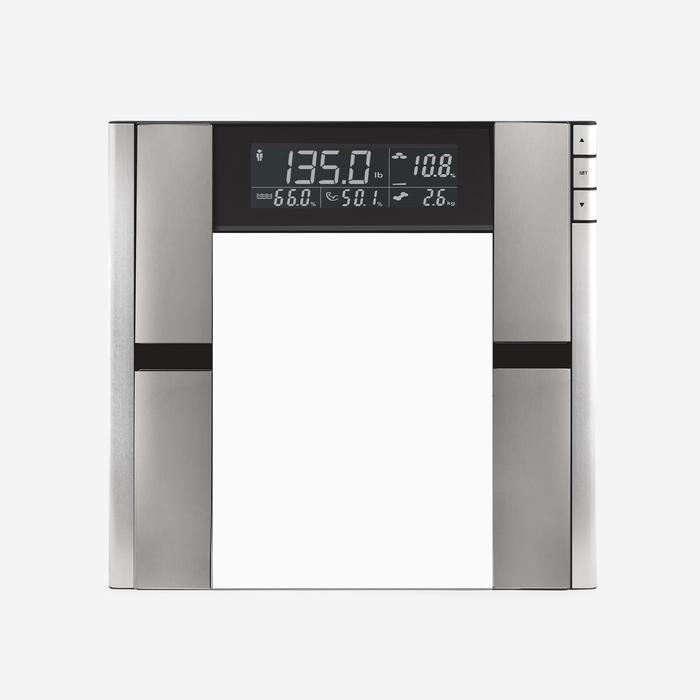 Connecting with its health and fitness collection, Vanity Planet has added this well-priced Vanity Planet Body Analyzer & Digital Scale to its main product range. While not the cheapest home weighing scale you can buy, this makes up for the price tag by also adding in body stats so you can keep track of your health.
So that means as well as weight, and it also measures your body composition, including fat percentage, water percentage, bone, and muscle mass. Bring all this data together and you can also set targets and track your fitness.
As a general weight scale, the accuracy is also generally good although customers have highlighted that the design could be better if it had an associated app, or the data collected could be synched to your smartphone. And the initial setup of your personal information could be made a little easier.
Vanity Planet Toothbrush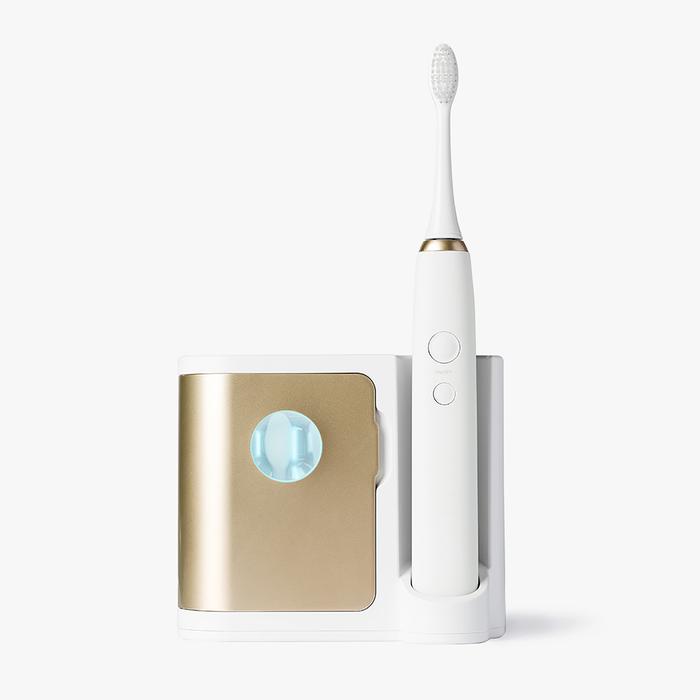 While the electric toothbrush market is already competitive, with plenty of trusted and well-known brands, Vanity Planet has been bold enough to launch its own, albeit with its own unique spin.
Competitively priced, this model doesn't necessarily have all the high tech and super-functions of some of the more premium-priced brands, but it has everything you need to get squeaky clean teeth. And the bonus of the Vanity Planet Toothbrush is that it offers UV sanitation, which sterilizes the brush head after every use.
But back to the business of teeth cleaning – you get 40,000 brush strokes per minute (which compares to 300 a minute for a manual brush) as well as four brushing modes, including a lovely massage that gives your gums some love. The head is not rotating, but a side-to-side glide, so your preference may make your final decision as to whether to buy, but overall, this Vanity Planet product rates highly.
Revive Professional Facial Ice Roller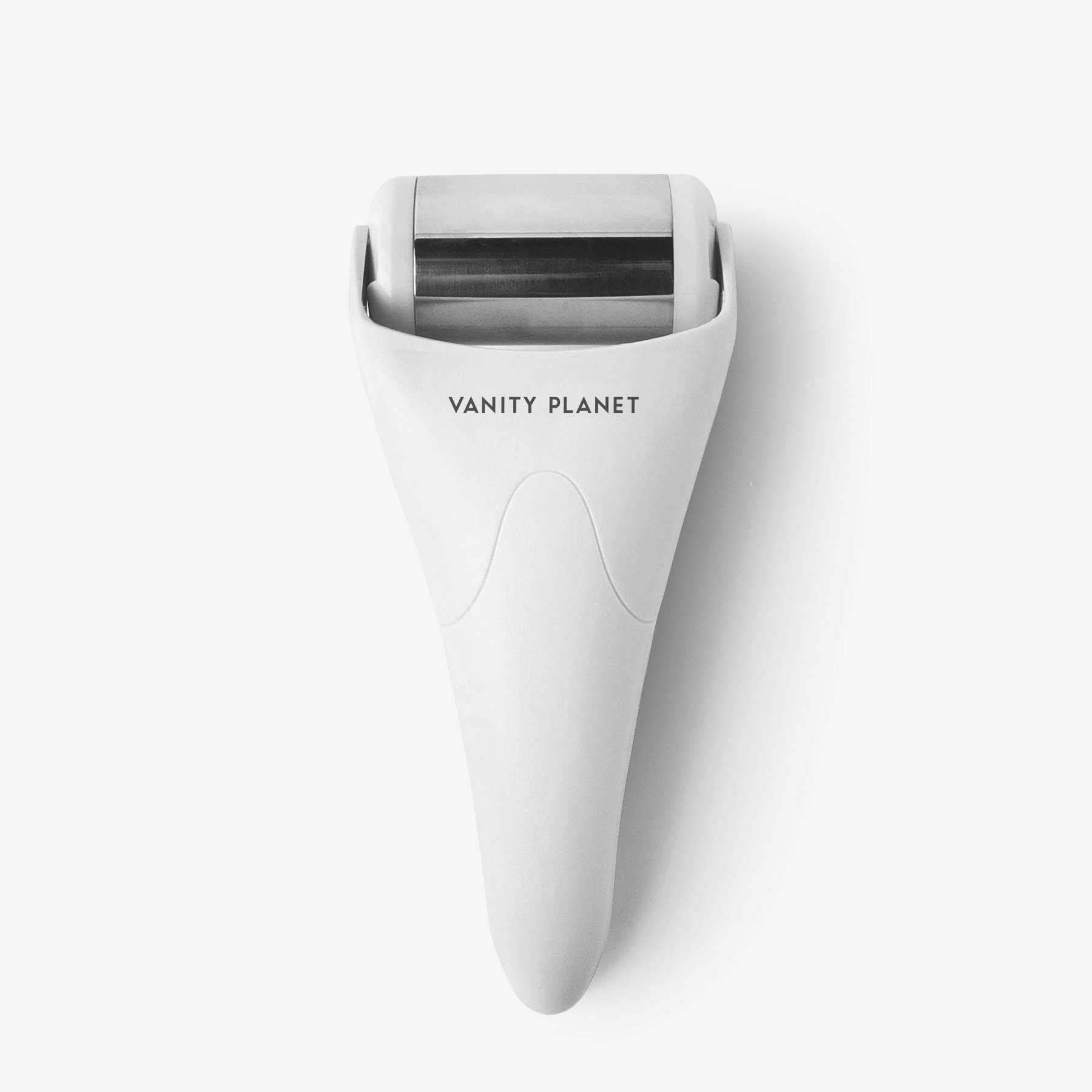 Our final Vanity Planet product is a cool one – quite literally – and one that falls into the 'I didn't know I needed it, now I can't live without it' category. The Revive Professional Facial Ice Roller has numerous benefits for the skin on your face – from reducing pore size to calming down puffy skin.
It also soothes and reduces redness and helps to boost circulation and reduces fluid retention in your face. It can even help if you suffer from a headache thanks to its cooling effect and as an easy-to-use device, it can give cool relief on a hot summer's day.
We like how it has been ergonomically designed and has a detachable steelhead that you pop into the freezer. The promo blurb states it can keep its cooling properties for up to two hours but if the reviews are anything to go by, it looks like on average it is less than that. Some customers think it is a little too large, but that can add to its versatility, as it can also be used to ease sore muscles.
Vanity Planet Review by Customers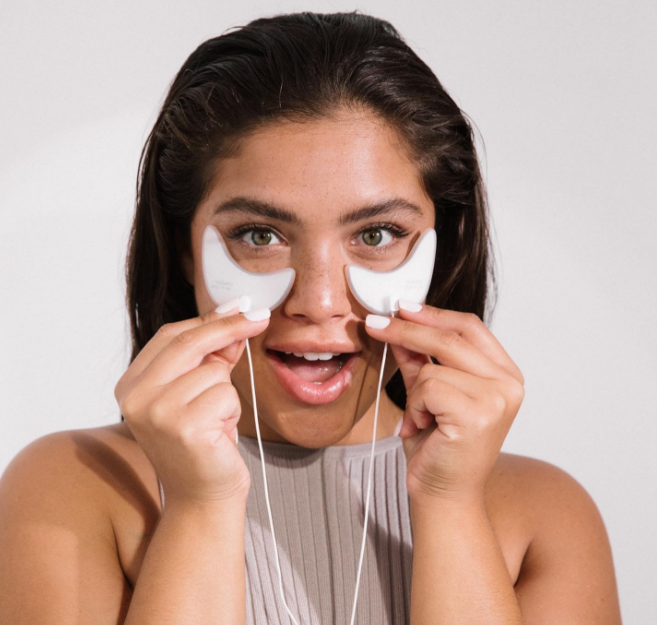 Our first port of call for customer feedback is Vanity Planet's own website, where their products score at least 4 out of 5 stars. But when things are not quite right, customers are happy to point out issues, making it more balanced when you look further into the detail.
Most of their products score highly when it comes to performance and results, with comments such as 'met my expectations', 'easy to use', and 'feel like I've been to a spa' setting the tone. The overall Vanity Planet Facial Steamer Review results stand out, which is not unsurprisingly given this is one of their best-selling products, as do the Vanity Planet Microdermabrasion reviews. This shows that the products do provide desired results, albeit in varying degrees.
Move away from the Vanity Planet website and the brand's overall scoring does drop, with Trustpilot giving the company an average of 3.6 (out of 8.763 people) and reviews on Amazon being more generous at around 4.3.
When it comes to negative comments, the main bugbears are products failing, and issues with battery life and holding their charge. Long shipping times and issues with refunds also regularly crop up.
What does make the Vanity Planet brand stand out when it comes to reviews, it how proactive the company is in responding, which just reinforces its expertise in the digital sphere. And that has a knock-on effect on the perceptions of their customer service and overall customer satisfaction.
Where to Buy Vanity Planet Products?
The best place for the complete Vanity Planet collection is via their own website. However, products from their range can be bought from a few other retailers, including Vanity Planet Walmart, Urban Outfitters, and, of course, Amazon.
Vanity Planet Shipping and Return Policy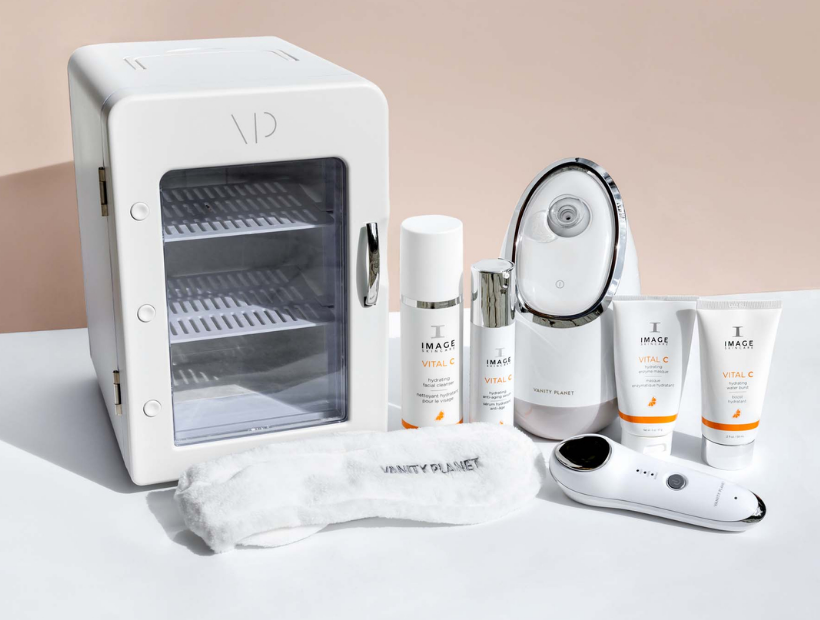 Vanity Planet does offer free shipping on all orders, but only if you are a member of MVP – My Vanity Planet. For non-members, shipping will be calculated at check out, starting from $5.99, with free ground shipping currently offered on domestic orders over $100.
Looking at the website, there is no clear answer to the question, 'where does Vanity Planet ship from?'. However, all shipments are either via the Postal Service or a courier, with estimated delivery of between four and seven days, depending on the carrier.
International shipping orders are sent via Shipwire and will take a minimum of 15 days for delivery. Again, individual shipping charges on international orders will be calculated at checkout. However, there are countries Vanity Planet does not ship to and these currently include Russian Federation, China, Venezuela, and the European Union.
All Vanity Planer products come with a one-year warranty. They also offer a 30-day 'customer satisfaction' guarantee meaning that if you are not happy with your purchase for any reason, you can return it within 30 days for a full refund. You must submit a returns request within 30 days for the return to be eligible. Once the team received the request, you'll be issued a pre-paid returns label. Although they will not refund your original shipping charge.
The Vanity Planet returns section on their website currently states that refunds can take 10 to 15 days after your return has been received to be made.
Returns made after the 30-day period will only be eligible for a store credit.
Promotions & Discounts
The next step on our  Vanity Planet review is checking the promotions the brand offers! There are several ways you can access promotions and discounts from Vanity Planet. First up is an offer for new customers with 15% off your first order if you sign up for their email updates. Then there are the very regular price reductions across the whole range.
But at the heart of their promo activity is the My Vanity Planet – or mVP – member club. You do need to register and set up an mVP account, but you can then save an additional 10% on orders. And, as an mVP member, you can access one-time discounts and coupon codes that are not available outside the member club. Plus, there's a loyalty scheme where you can accrue points as you spend.
Vanity Planet Customer Service
There appears to be no customer service line you can call, with all contact encouraged through their inquiry online form or via email – [email protected]. The website also states that the customer service team is online, Monday to Friday between 8 am and 4 pm (PST).
For the more basic questions, it could be easier to check out their FAQ section on vanityplanet.com as you may well get your queries answered in a quicker time.
Vanity Planet Review: Editors' Verdict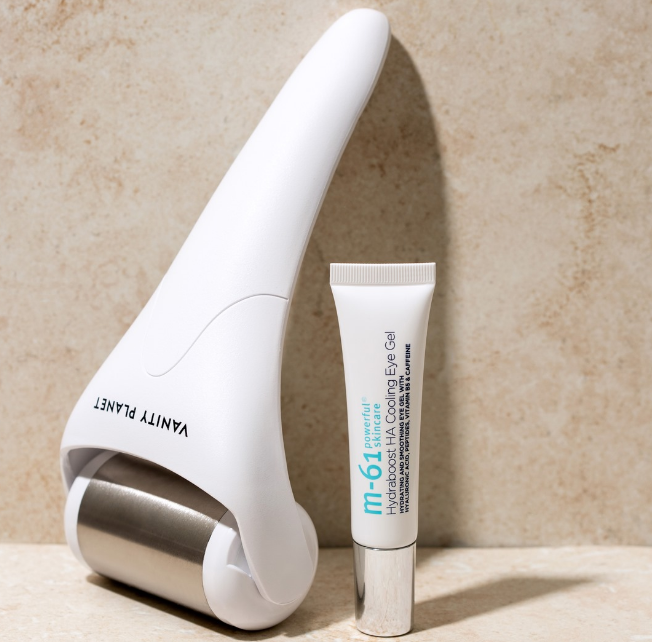 While the finer detail on the brand has been a little difficult to find, there is enough to know about Vanity Planet to confirm that they are a legitimate company committed to offering affordable beauty and skincare solutions. They are pitching themselves in a premium market space and so their products may not have the quality of more expensive models. But they do offer gadgets that hit the mark when it comes to addressing skincare concerns and general maintenance at home.
Their reviews indicate a loyal and satisfied following as well as some customer concerns, not least durability, and battery life. But their customer service generally appears responsive and proactive when it comes to resolving issues and for the price point, many of the Vanity Planet products represent good value for money. This means for anyone on a budget who is looking to emulate salon skincare treatments in their own home, Vanity Planet comes into its own.
If you are looking for more popular skincare brands to consider, read our reviews of Three Ships Beauty Review, Curology Review, Clearstem Skincare Review, and Nu Skin Review.
Vanity Planet FAQ
How do you use Vanity Planet steamer?
Always follow the instructions included with the product but as a guide, the Steamer should be used for 15 minutes, no more than 2-3 times a week for best results. To get started, fill the water reservoir with distilled water to the indicated levels then plugin and adjust the height to your preference. Now press the blue button and wait around two minutes for the steam to rise. Close your eyes and lean your face forward into the steam and relax. The whole device will shut off after the allotted time.
How to open Vanity Planet steamer?
You will need to open and remove the water tank to fill it up and while some customers report it can be a little fiddly, the instructor manual indicates that it should clip out. Once it has been removed, you then need to unscrew the plug so it can be filled. Then replace the plus and insert the tank back into the steamer until you hear it click into place.
How do you clean Vanity Planet brush heads?
Vanity Planet recommend that the brush heads for its facial cleansing brush should be changed every 2-3 months. In-between changes you can keep them in tip-top condition by rinsing them thoroughly after each use, cleaning any discolored, or particularly dirty brushes with warm, soapy water.
What batteries does Vanity Planet use?
The batteries required for many of the Vanity Planet products are AA, which are typically used in multiples of three or four. It's important to note that batteries are not included in Vanity Planet products, so you will need to supply your own.
Is Vanity Planet Cruelty-Free?
The Vanity Planet website features a cruelty-free stamp, which indicates its 'VP Clean' pledge. Reading the pledge, means they are committed to responsibly sourcing non-toxic ingredients for their skincare products and only working with suppliers who adhere to the same ethical codes.
As a result, Vanity Planet only uses vegan ingredients and can certify that every bottle is harmful chemical and animal cruelty-free.