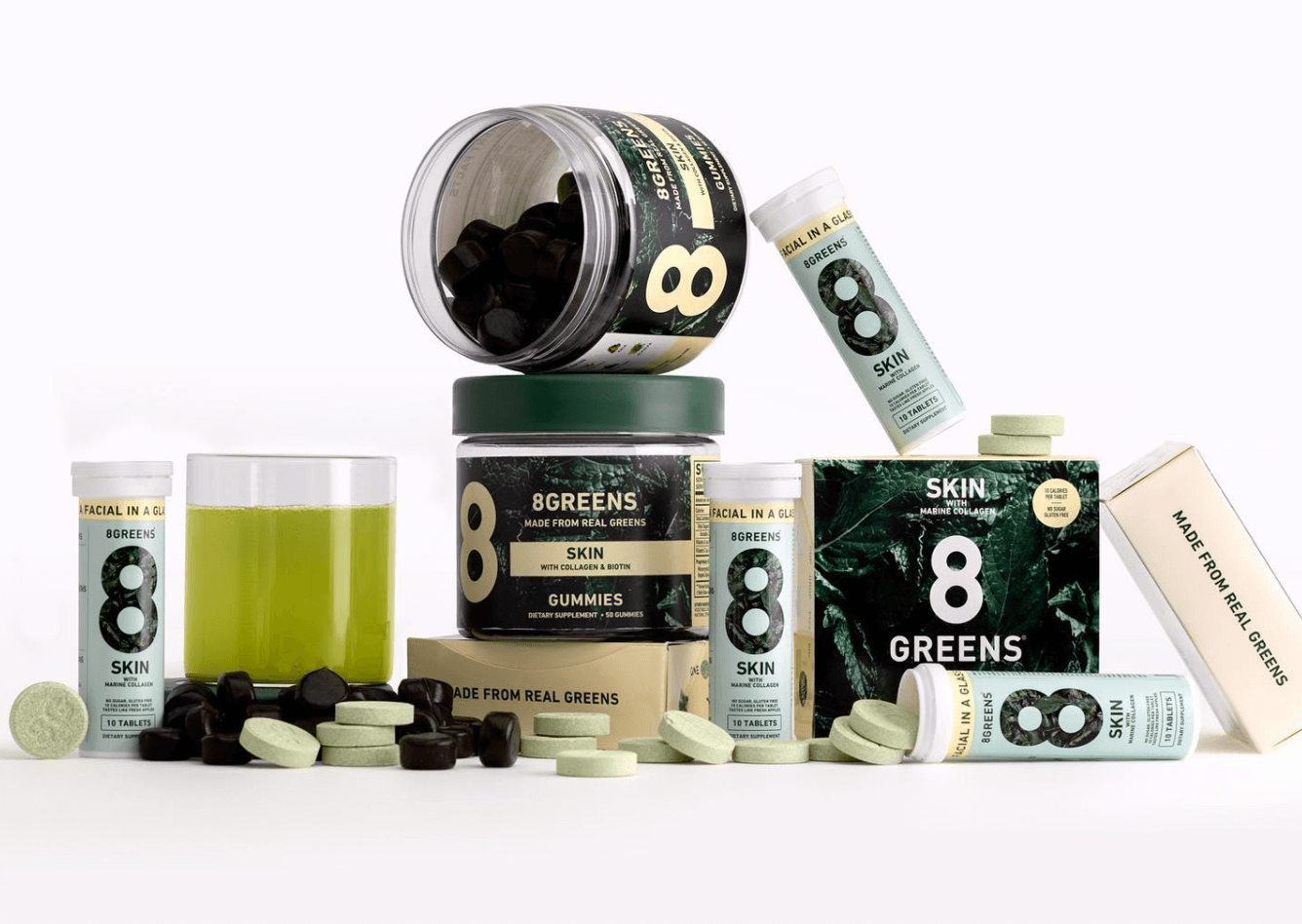 Taking care of your physical health is an essential part of leading a healthy and active lifestyle. As crucial as it is to adopt a consistent fitness regime, it is equally important to manage your diet. However, as many of you might agree, managing your diet can get quite tedious. There are many limitations such as the place you live in and the products and services available there. On top of that, the lack of reliable health products in online stores only adds to the list of problems. Well, an all-natural, wellness brand known as 8Greens might just be the nutritional boost you need to maintain a healthy body. And you don't even have to sift through a ton of 8Greens reviews because this review will cover everything you need to know.
About 8Greens Gummies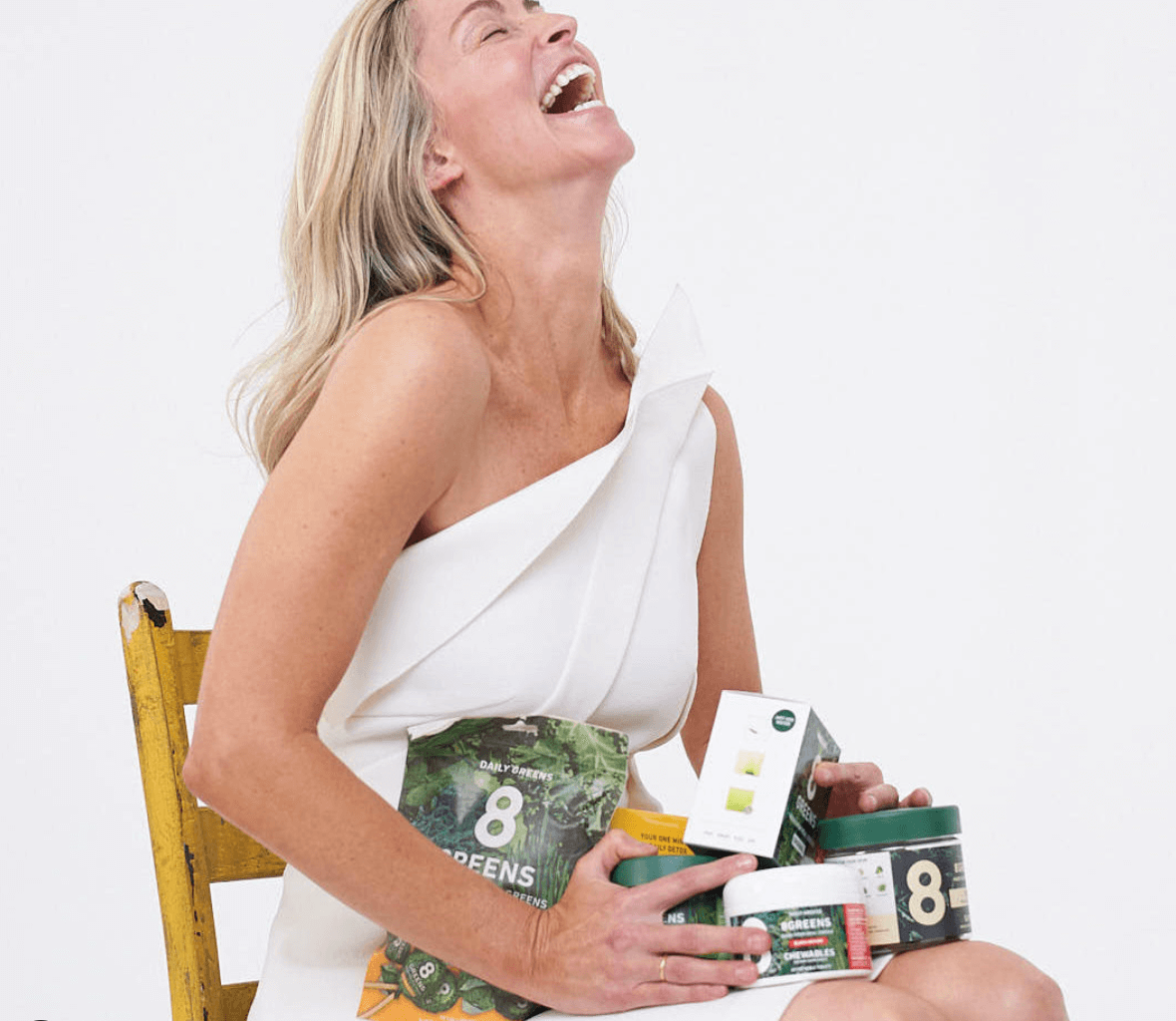 8Greens was the result of its founder, Dawn Russell's, 15-year journey of trying to conveniently take her daily greens alongside her schedule as a busy mother. In doing so, she made the daily consumption of healthy green vegetables accessible and convenient for everyone.
Having been appreciated by actors like Zac Efron and Keri Russell, 8Greens is a favorite among many celebrities. They have also been featured in a number of media sites, including Vogue, Refinery29, Forbes, and New York Magazine
8Greens combines all the benefits and nutrition of 8 essential, green vegetables into one small pill. Their flagship product, an effervescent tablet made of fresh ingredients from real produce, is still one of the most popular products among the brand's customers.
There are 2 categories of essential vegetables in 8Greens supplements – the Daily greens, which are the 8 original greens, and the Skin greens, which provide additional nutrition for healthier skin. The 8 vegetables in each category are given below.
Daily Greens:
Aloe Vera
Barley Grass
Blue-Green Algae
Chlorella
Kale
Spinach
Spirulina
Wheatgrass
Skin Greens:
Alfalfa
Aloe Vera
Broccoli
Collard Greens
Green Tea
Kale
Peppermint
Spinach
Besides the effervescent tablets, 8Greens also offers a wide range of organic products: chewable tablets, gums, and lollipops.
They seem to have something for everybody. Recently, 8Greens gummies have been introduced as an alternate choice for people who might not prefer effervescent tablets.
But is it true that all the nutrients of a balanced diet can fit in such a small serving size? Does 8Greens really work and is it worth it? Let's dive in and find out.
Pros
All-natural, fresh produce acquired from organic-certified suppliers
All supplements are gluten-free, dairy-free, and contain no preservatives
A wide variety of products catering to many preferences
Supplements come in a decent range of flavors
No prep and no waiting. 8Greens' products can be conveniently taken on the go, so it's easy to incorporate them into your regular diet
Through their partnership with the Save the Children foundation, 8Greens supports various wellness initiatives to make nutrition accessible for underprivileged kids
All 8Greens products and practices are HACCP-compliant and CGMP-compliant
Cons
Oftentimes, the supply is unable to keep up with the demand so you might find some of your favorite supplements to be out of stock for a while
8Greens Products Review
So far it's clear that 8Greens offers safe, healthy, and quality supplements, backed by top-notch, certified practices and it's one of the best vitamin supplement brands. It's time to decide whether the brand's excellence is backed up by its product line.
The purpose behind the creation of 8Greens was to make daily nutrition more accessible for everyone. The first product towards achieving this goal came in the form of effervescent tablets.
Then, to cater to the varied preferences of the masses, chewable tablets, lollipops, gums, and gummies were introduced. This review will cover some of the most popular products in each category.
Daily 8Greens Gummies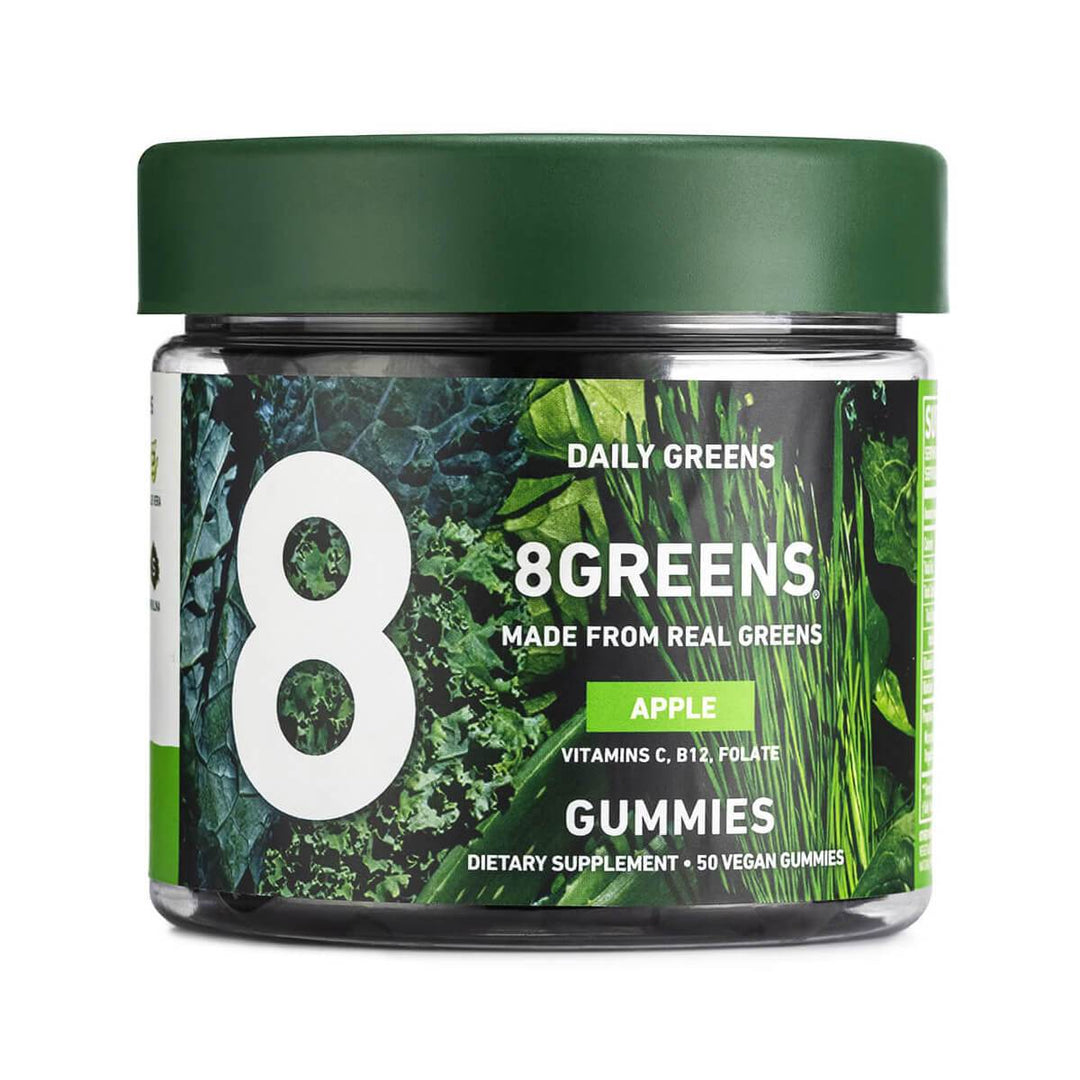 The latest addition to the 8Greens line-up is the 8Greens gummies. These delicious supplements are made from the 8 original greens (Daily Greens), additionally including Vitamin C, Vitamin B12, and Folate.
The 8Greens gummies boost your nutrition intake by providing the natural energy required for a healthy body and mind. They contain a healthy amount of antioxidants and help strengthen your immune system as well.
All these benefits are packed in the form of tasty and nutritious gummies. If you don't prefer tablets and chewables, then these gummies will definitely appeal to your taste buds.
The recommended dose of 2-4 gummies is enough to provide you with the energy to get through the busiest workdays.
8Greens gummies are available in 3 different flavors: Apple, Citrus, and Strawberry. These gummies are a non-GMO supplement, meaning the flavors are added from real fruits.
Containing 50 gummies in each jar, you can make 8Greens gummies a part of your regular diet for $18.99.
Daily 8Greens Chewables
Offering the nostalgic taste of sugary candies without any of the extra calories, 8Greens chewables are an excellent substitute for effervescent tablets. These supplements are packed with the same high nutritional value as tablets.
Boasting a healthy range of ingredients, 8Greens chewables are made from the 8 original greens including kale, aloe vera, blue-green algae, and spirulina.
The combined benefits of these ingredients boost your immune system and provide your body with the essential nutrients it needs.
These easy-to-take supplements provide even more convenience since they require no prep and no waiting. This makes 8Greens chewables suitable for those who have a busy daily schedule since you can easily take these on the go.
The chewables are available in blood orange flavor so they have a tangy and sour taste. The flavor might not be everybody's cup of tea but with the amount of nutritional value each chewable contains, it's something that can be compromised.
If you'd like to try 8Greens chewables to help elevate your energy levels, you can get a jar of 50 chewable tablets for $25.
8Greens Effervescent Tablets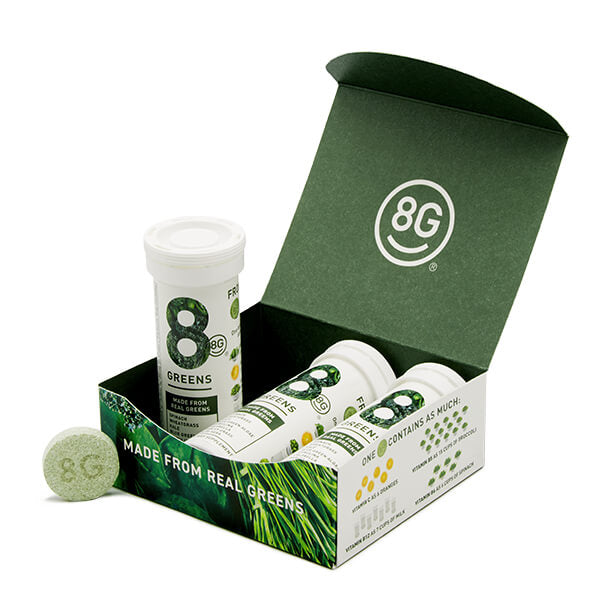 The first supplement introduced by the brand, the 8Greens effervescent tablets is a flavorful dose of energy and nourishment. The tablets are perfect for those who prefer to drink their supplements rather than eat them.
Simply add one tablet in a glass of water, wait for it to dissolve completely, and sip away.
Kale, spinach, blue-green algae, and barley grass are just some of the 8 original greens used to pack the essential nutrients our body requires, into each tablet. Loaded with antioxidants, each tablet contains as much vitamin C as 6 oranges and as much vitamin B12 as 7 cups of milk.
8Greens effervescent tablets come in 3 pleasant flavors – Lemon-lime, blood orange, and melon. The cool and light lemon-lime flavor is a fan favorite, boasting over two thousand 5-star customer reviews.
If you want to make the 8Greens effervescent tablets a part of your wellness journey, you can get the 10-count pack for $13.99 and the 30-count pack for $39.
8Greens Lollipops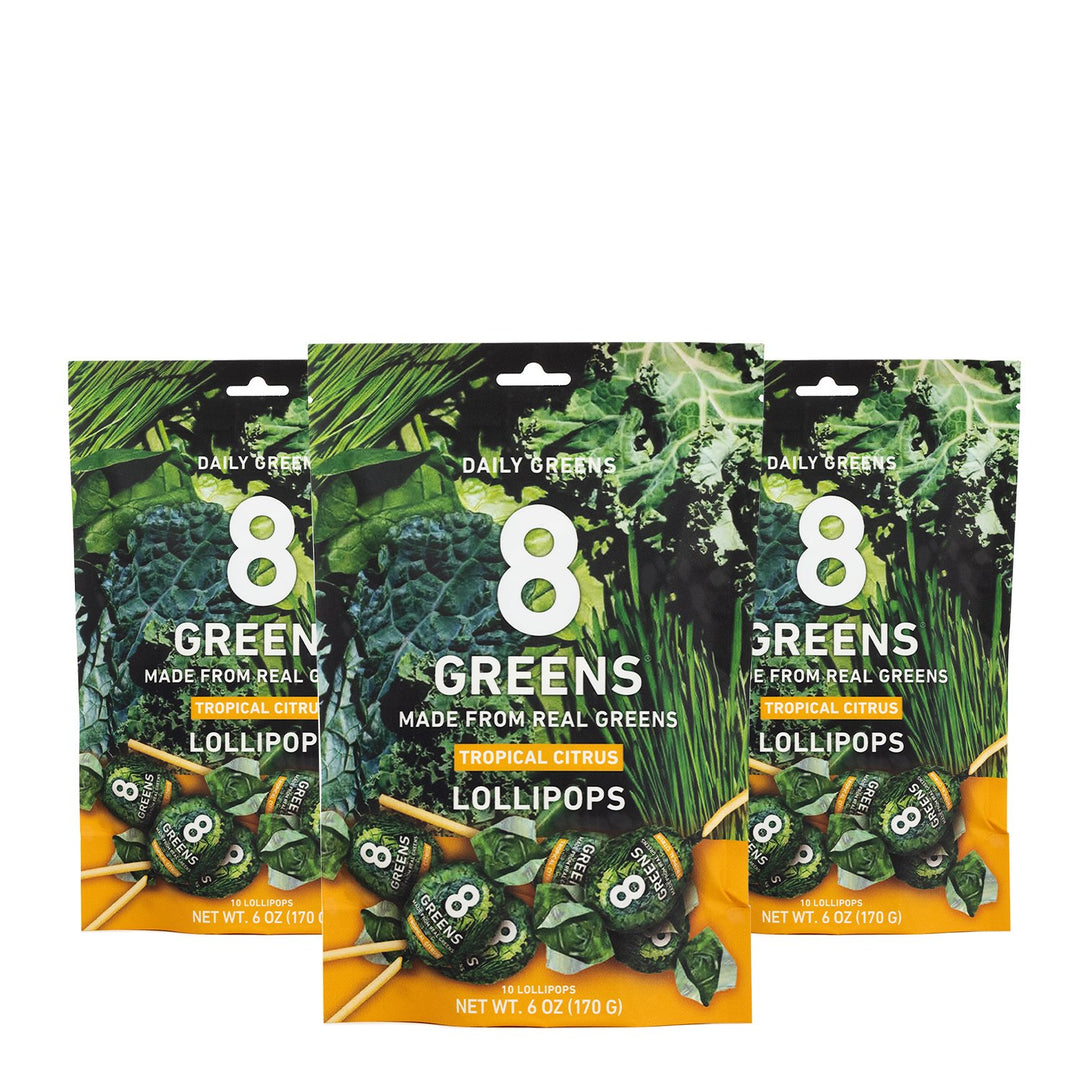 More popular among the kids but still healthy for everyone who has it, the 8Greens lollipops are a first of their kind. These unique lollipops hold the nutritional value of 8 green veggies, providing your body with increased energy levels and a stronger immune system.
8Greens lollipops feature a lemony pineapple flavor called Tropical Citrus. The flavor is acquired naturally and adds a refreshing zing to the supplement. The texture of the lollipop is two-fold. First, there is a hard outer shell which is followed by a juicy filling in the center.
This candy-like supplement not only holds the necessary nutrients to boost your wellbeing, but it also contains no artificial flavors or colors.
Now you can ensure your kids are getting their daily dose of healthy greens by incorporating 8Greens lollipops in their diet. The 10-count pack costs $13 and the 30-count pack costs $37 on the 8Greens website.
8Greens Skin Review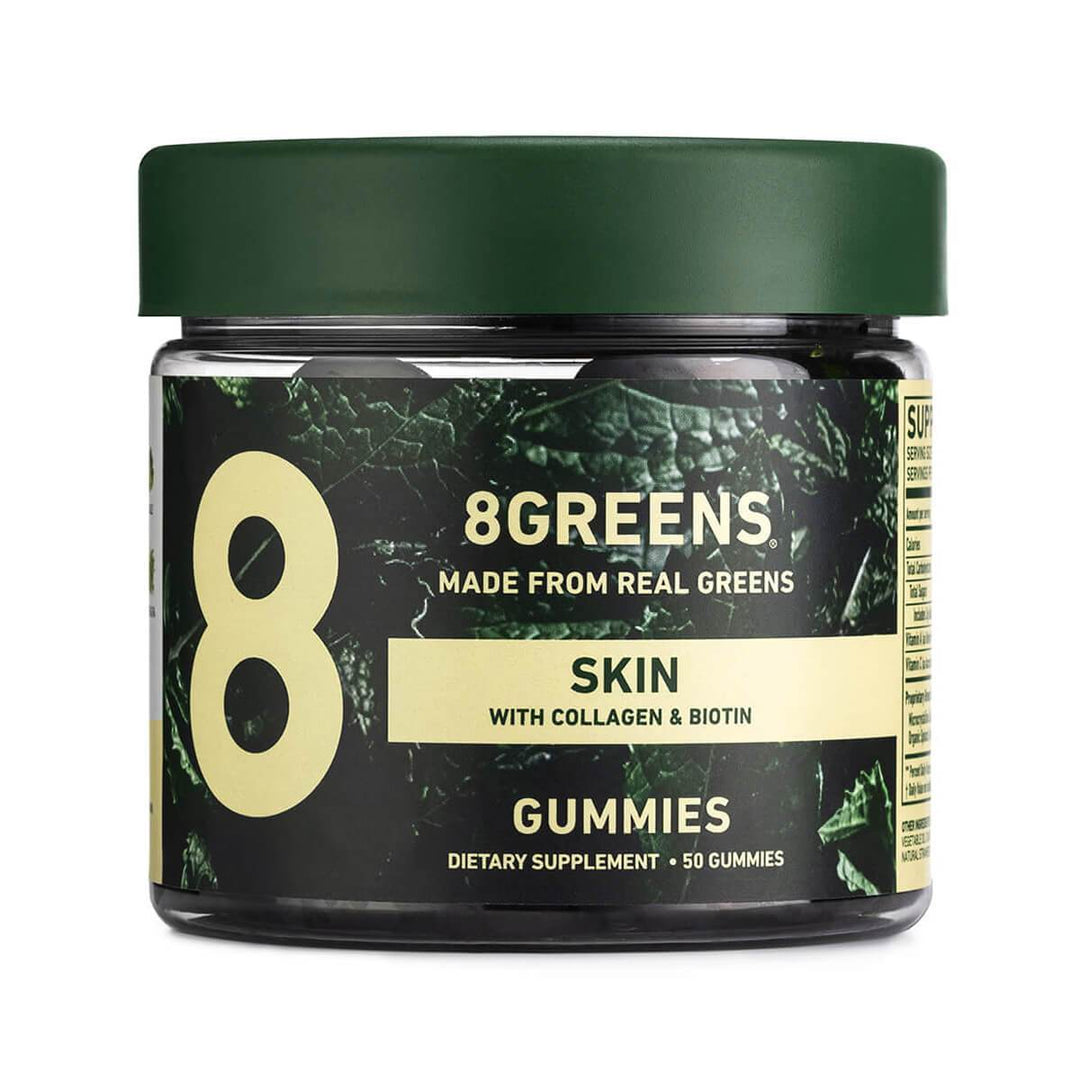 We'll finish up this detailed assessment with an 8Greens skin review. Diversifying the 8Greens product line is the 8Greens skin gummies. These gummies are perfect for those working towards maintaining a balanced diet for healthier skin.
Available in a natural strawberry flavor, these fruity gummies are made from 8 real greens (Skin Greens) as well as Biotin, Collagen, and Hyaluronic acid. These ingredients help your skin glow naturally, improve skin elasticity, and reduce signs of aging.
In addition, they keep the skin properly hydrated which reduces acne and redness.
These gluten-free, non-dairy supplements not only boost the nourishment of the skin, they even support the healthy growth of hair and nails. You can add all these benefits to your daily routine by getting yourself a jar (50 gummies) of 8Greens skin gummies for $23.99.
8Greens Gummies Reviews from Customers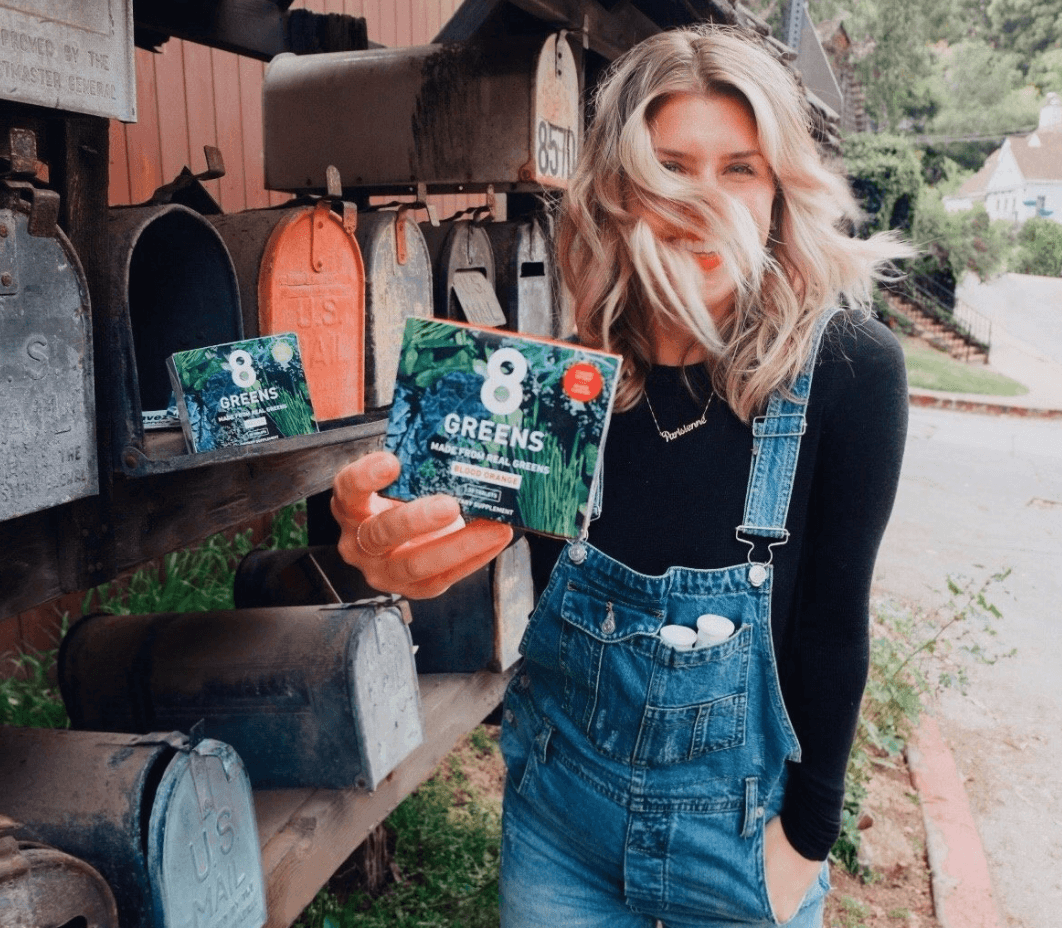 Based on the reviews on their online store, 8Greens has garnered the support of thousands of satisfied customers.
The most highlighted benefit of the supplements was the convenience they provide compared to eating different fruits and vegetables for the same amount of nutrition. "Not a fan of veggies but ordered these gummies and love them." said one happy customer.
Many customers also spoke positively about the boost in their health due to the supplements. They reported higher energy levels and feeling more active and rejuvenated.
One very healthy customer said, "I just love the results that I am getting. Feeling better, healthier than ever and my cholesterol is lower!!"
Popular Alternatives to 8Greens
8Greens supplements also boast excellent ratings on retailer websites as well. The lemon line effervescent tablets have a commendable rating of 4.6 out of 5 stars on Amazon, with almost 3500 reviews.
Even though the majority of the feedback is positive, there have been a few points of concern. Some customers on Amazon have stated that the use of natural sweeteners has resulted in abdominal pain, bloating, and severe gas.
So if you're someone with a sensitive stomach, it's advised that you consult a health practitioner before committing 8Greens supplements into your diet.
Sign Up for 8Greens
By creating an account on 8Greens, you can subscribe to the 8Greens Newsletter. This will keep you updated with 8Greens products and promotions. You'll also receive health and wellness tips from the founder of 8Greens, Dawn Russell.
If you're interested in becoming part of the 8Greens community, you can sign up here.
8Greens Gummies – Where to Buy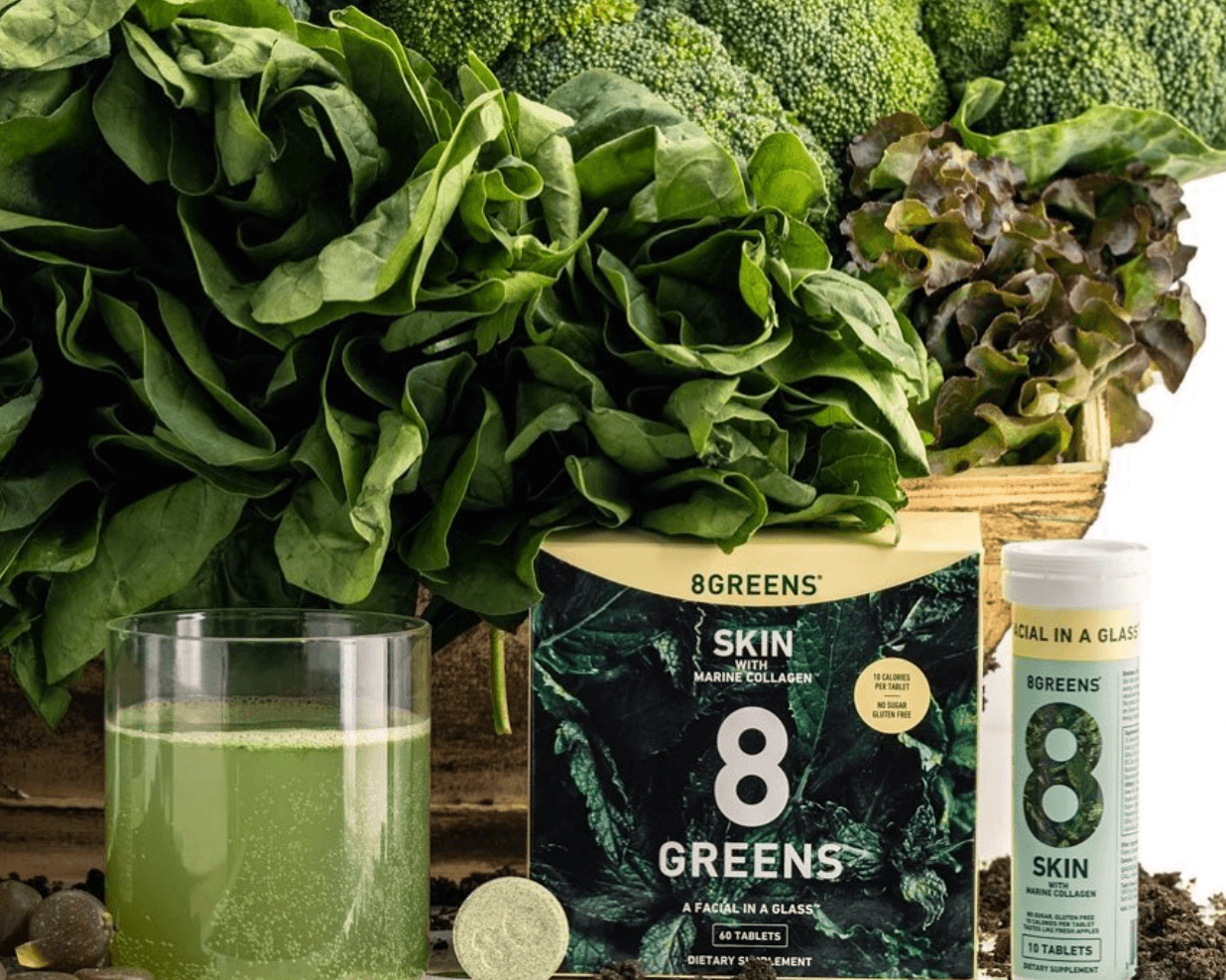 The best place to purchase genuine products is through 8Greens online store. In addition, 8Greens supplements are also available at select retailers.
In the North American region, you can find 8Greens at the retail and online stores of:
Sephora
Amazon
Neiman Marcus
Nordstrom
Bloomingdale's
Shen Beauty
Urban Outfitters
Bergdorf Goodman – NYC
There are several other independent retailers to choose from as well. You can find the complete list on 8Greens' website.
8Greens Shipping and Return Policy
8Greens offers worldwide shipping through 3 delivery options – Standard, Priority 2 Day, and Priority Overnight. Through USPS, they deliver to all APO/FPO addresses as well.
Tracking your order is fairly simple. Once your order has been processed, a confirmation email with a tracking number will be sent to you. You'll then be able to use this number to track your order.
Keep in mind that you can only begin tracking on the night the order is processed (after 8 p.m.).
The 8Greens return policy allows customers to authorize a return if they are not satisfied with the product. The only condition is that they must be returned within 30 days of the purchase. You can initiate a return authorization by sending an email at [email protected].
Return requests are likely to be processed within 10 working days after the package arrives at your doorstep.
Lastly, it should be noted that the return or exchange of any purchases made directly from retailers must be arranged with the retailers themselves.
8Greens Promotions and Discounts
While there are no active discounts and promotions on their website at the moment, 8Greens' monthly subscription plan does allow you to save a little bit. By subscribing for a monthly subscription, you get 15% off on most of their products.
Other than that, 8Greens also offers a variety of bundles with different supplements. These bundles give you a cheaper rate than if you were to buy those supplements separately. You can make use of these deals while you wait for an 8Greens promo code to come out.
Contact 8Greens
If you'd like to get in touch with 8Greens regarding medical queries or customer service needs, you may contact them via phone.
Phone number: 1-844-BUY-MY-8G
For any forms of inquiries, you can always email them at [email protected].
8Greens Reviews: Editor's Verdict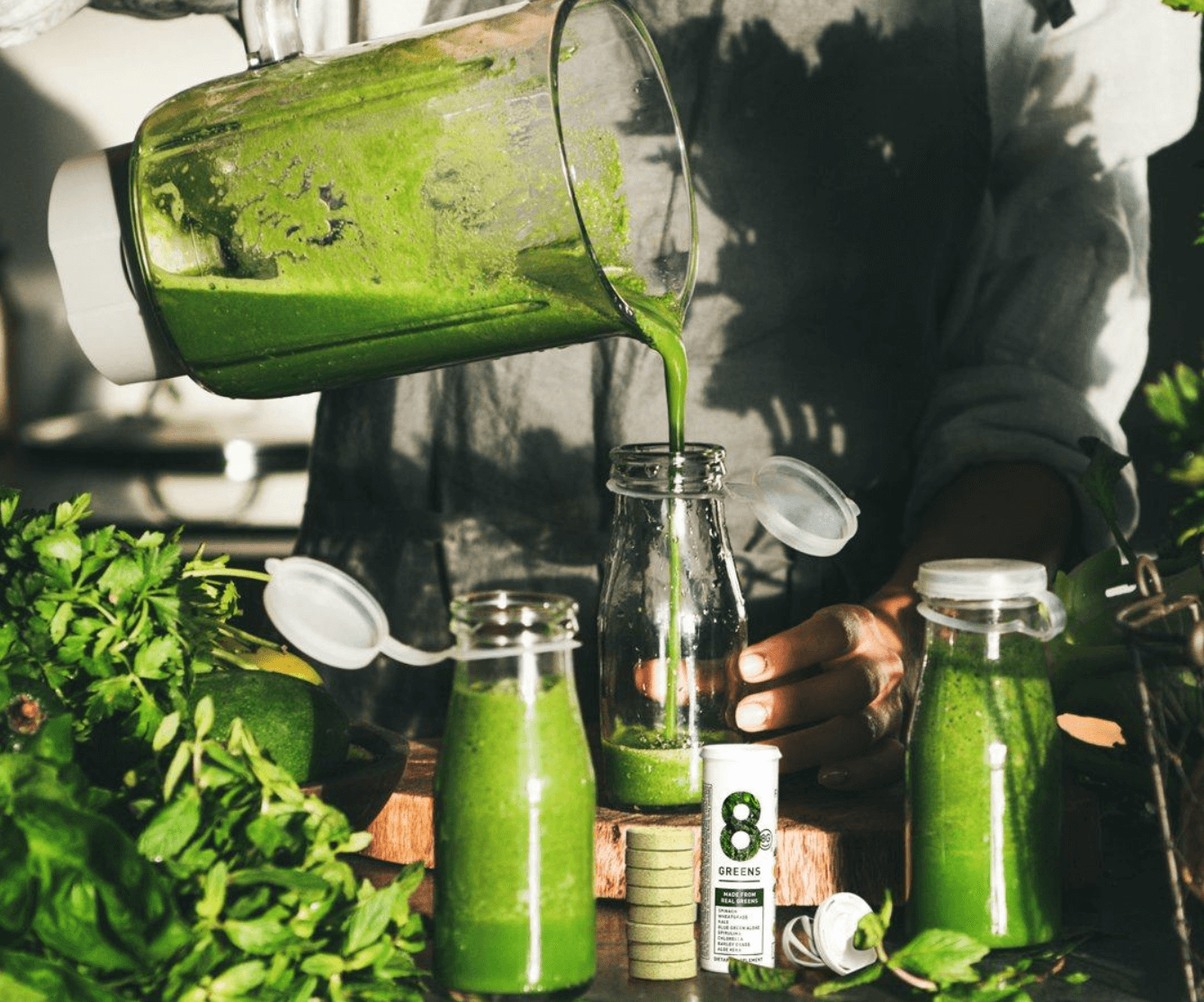 8Greens has figured out the right balance between proper nutrition and accessibility. Their supplements are convenient, can be easily added to your daily routine, and provide all the essential nutrients of a balanced diet.
Other, more mainstream forms of nutritious lifestyles are glamorized and can be too difficult and expensive to follow. Compared to them, 8Greens provides a far more manageable solution that anyone can incorporate into their lives.
It's also important to highlight that 8Greens uses real vegetables sourced from suppliers who are organically certified, CGMP-compliant, and HACCP-compliant.
The brand's support towards welfare organizations to improve the accessibility of a balanced diet for those in need adds to their credibility.
In the end, the huge amount of nutritional benefits, the convenience, and the variety of supplements make 8Greens worth investing in.
Still looking for other supplements to improve your health and wellness? Consider reading our reviews of Flo Vitamins, Thrive Market, Ritual Vitamins, and Physician's Choice.
8Greens FAQs
Where is 8Greens located?
8Greens is located in New York.
What is the full ingredient list?
All 8Greens supplements contain 8 essential vegetables and some more organic ingredients based on the nature of the supplement. The full ingredient lists for the tablets, chewables, and gummies are given below:
Daily Greens Effervescent Tablets:
Micro Crystalline Cellulose
Spinach
Organic Aloe Vera
Organic Wheatgrass Powder
Kale
Spirulina Extract
Turmeric (color)
Organic Barley Grass
Organic Blue-Green Algae
Organic Spirulina
Organic Broken Cell Chlorella
Citric Acid
Sorbitol
Natural Flavors
Corn Starch
Safflower Oil
Stevia Leaf Extract
Skin Effervescent Tablets:
Micro Crystalline Cellulose
Organic Matcha Green Tea
Organic Broccoli
Organic Aloe Vera (inner leaf)
Organic Kale
Spirulina Extract
Turmeric (root) (colors)
Organic Spinach
Organic Collard Greens
Organic Peppermint Leaf
Organic Alfalfa
Citric Acid
Sorbitol
Natural Flavors
Corn Starch
Safflower Oil
Stevia Leaf Extract
Limited Edition Gummies:
Micro Crystalline Cellulose
Spinach
Organic Aloe Vera
Organic Wheatgrass Powder
Kale
Spirulina Extract
Turmeric (color)
Organic Barley Grass
Organic Blue-Green Algae
Organic Spirulina
Organic Broken Cell Chlorella
Organic Tapioca Fiber
Organic Cane Sugar
Water
Vegetable Oil (Canola, Sunflower)
Carnauba Leaf Wax
Gelatin
Natural Flavor
Citric Acid
Pectin
Can I take 8Greens when pregnant or breastfeeding?
If you are pregnant or breastfeeding, it's advised that you should consult a doctor before incorporating 8Greens in your diet.
How many 8Greens can I take in a day?
Different supplements have different approved doses. For effervescent tablets, adults (18 and over) can take a maximum of 3 tablets per day. Children between the ages of 4 to 18 can take 1 tablet per day only.
For the limited edition gummies, a quantity of 2-4 gummies per day is recommended.