In today's stressful and fast-paced life, maintaining a healthy lifestyle can be challenging. No matter how many fruits and vegetables we try to add to our diet, certain vitamin and mineral deficiencies are unavoidable. This is where multivitamins can help, or at least, good-quality multivitamins can. One such multivitamin is Ritual. The company has been featured in a number of major publications, including Vogue, The New York Times, Healthline, Forbes and more. Ritual vitamins are making waves within the industry. And it's no wonder why. It is marketed as a "for skeptics by skeptics" brand that specializes in supplements backed by science. Ritual claims it's all about quality, traceability, and sustainability. But is this true? Are Ritual's vitamins really some of the best ones out there? In this Ritual Vitamins review, we try to answer that and many more questions you might have about this popular brand.
Here, we take a close look at the company, their offer, ingredients, customer reviews, and more so you can decide for yourself if their vitamins are worth buying.
About Ritual Vitamins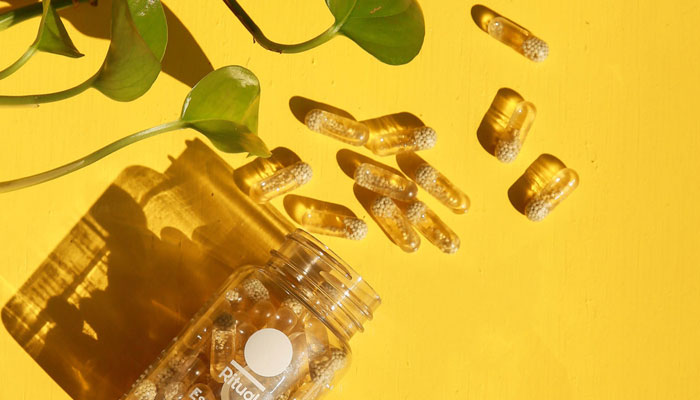 Ritual is a relatively new supplement brand that specializes in multivitamins for women, men, and children. Founded in 2016 by Katerina Schneider who wanted to create the perfect prenatal multivitamin, Ritual uses only high-quality, non-GMO and traceable ingredients to provide the best micronutrients to a wide range of customers.
The best thing about Ritual is the transparency behind every product and ingredient: "At Ritual, true transparency isn't just something printed on a label. We're committed to sharing the choices we made that impact you and the planet.". Not only does Ritual tell you that its omega-3s come from microalgae, but it also tells you that the microalgae in question are grown in sustainable plots in Saskatoon, Canada. Their Vitamin D? It comes from sustainably sourced lichen from Nottingham, UK. This type of information is available for every single ingredient that Ritual uses in its products.
Another great thing about Ritual is that their multivitamins are backed by scientific studies. The company has even invested in a university-led clinical trial in order to access the impact of their multivitamins for women.
Pros
High-quality, vegan, gluten-free ingredients with zero fillers
Products backed by extensive research and scientific studies
An honest, transparent philosophy
Fully traceable ingredients
Targeted products for different age groups, including women, men, kids, and prenatal
Easy on digestion even if taken on an empty stomach
Free shipping
Cons
Pricier than typical drugstore vitamins
As it is a supplement, it is not FDA approved
Shipping available only within the USA
Ritual Vitamins Ingredients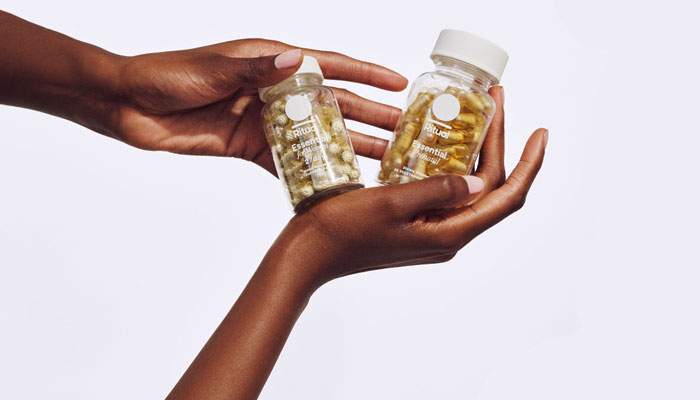 As mentioned, all the ingredients Ritual uses in its products are completely traceable. You can get full information on the ingredients present in all products. Including where they are obtained from, in what way, and what their use is. Needless to say, this is one transparent company.
The most common ingredients found in Ritual supplements include vitamin D, omega 3 fatty acids, folate, vitamin B12, magnesium, iron, and boron. It's worth noting that some of the Ritual multivitamins lack certain common vitamins and/or minerals. The company doesn't believe in "overstuffing" their multivitamins and usually avoids those ingredients. The reason for that is simple. You can easily get them from foods. For example, both Multivitamin 18+ for women and Multivitamin 18+ for men don't contain vitamin C, calcium, and copper. They are a part of a balanced diet.
Ritual believes in a delicate balance of nutrients. According to the brand, "too much of one thing can impact another" and having too much of one vitamin or mineral can actually be harmful long-term.
Before we dive deeper into our Ritual Vitamins review, let's take a look at the major pros and cons of the brand.
Ritual Multivitamins Review
This supplement company seems to have it all. There are so many different types of vitamins available, for different age groups. Usually brands just create one type of supplements for each age group. However, with Rituals, you'll find it isn't the case. Let's see what these vitamins contain!
Ritual for Women 18+ vitamins review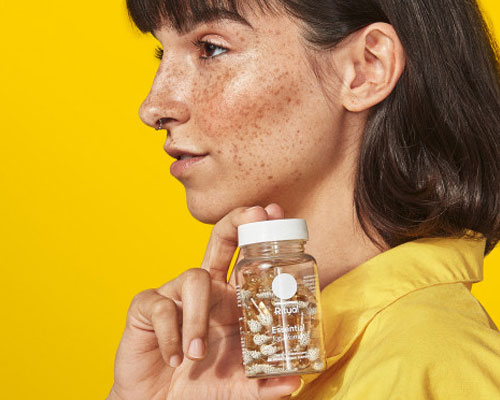 Even with a healthy and balanced diet, it's not uncommon to develop a nutritional deficiency. To help women fill this nutritional gap, Ritual has come up with their women's multivitamin called Essential for Women 18+. It is supposed to be great for brain health, bone health, blood building, and antioxidant support. Sounds impressive; but does this Ritual supplement really deliver on its promises?
According to the ingredients this supplement contains, it certainly seems like it. With 9 traceable ingredients, including Folate, Omega 3, vitamin B12, Vitamin D, Iron, Vitamin K2, Boron, Vitamin E, and Magnesium, this supplement contains practically everything an adult woman needs to thrive. Omega-3 DHA from microalgae and methylated vitamin B12 act in synergy to support brain health. Vitamin D3 from lichen, and Magnesium and Boron help support bone health. Chelated Iron and methylated Folate, on the other hand, help promote red blood formation. Vitamin E obtained from mixed tocopherols, provides antioxidants for a strong immune system and energy boost.
Although a little heavy on the pocket when compared to standard vitamins, the Women 18+ Ritual Essential contains ingredients that can be difficult to find in other multivitamin pills, including folate (most standard supplements contain folic acid). We also like that each bottle has a mint tab that helps keep things fresh. Furthermore, it makes taking your daily capsule every morning an enjoyable experience.
Ritual for Women 50+ vitamins review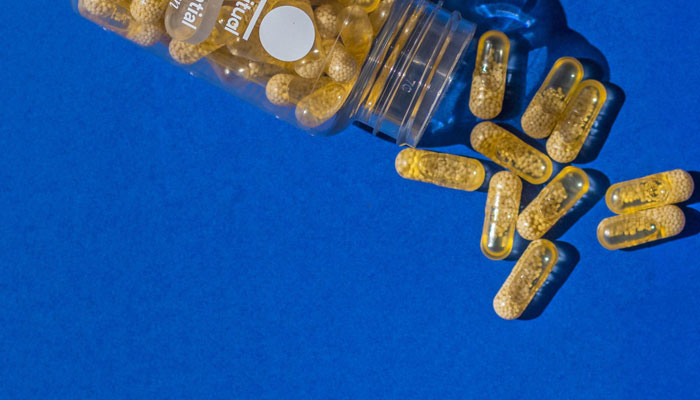 As we age, our nutritional requirements can dramatically change: our bodies may require more of some nutrients while needing less of others. This is especially true for women post-menopause who may need some extra nutrients to remain not only healthy but thriving.
The Ritual Essential for Women 50+ is designed exactly for this purpose, to help support healthy aging in women post-menopause. This supplement supports normal immune and muscle function, promotes heart health, and provides bone support. It contains 8 traceable ingredients:
Folate
Omega 3
DHA
itamin B12
Vitamin D (Vitamin D3 from lichen)
Boron
Vitamin K2
Vitamin E
Magnesium
As women in this age group do not require much iron, the supplement does not include iron. You can find all the information about your Ritual products and their composition on the Ritual website. Everyone should be more aware of exactly what you are putting in your body. As the company does not want to risk over-supplementation, these capsules do not contain Calcium either. However, other helpful nutrients are present to promote bone health, such as vitamins D3, K2, and minerals Magnesium and Boron.
While great at bridging the gap in nutritional deficiencies, do bear in mind that Essentials for Women 50+ cannot help treat menopause symptoms.
Ritual's Essential Prenatal Vitamin Review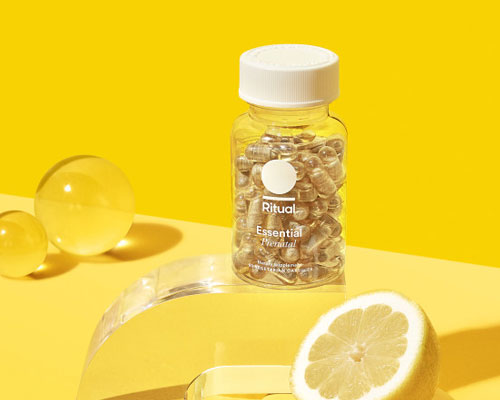 Before and during pregnancy, a woman's body requires extra nutrients both for the health of the mother herself and her fetus. It seems that Ritual's Essential Prenatal perfectly understands the needs of women in this critical period. It contains everything a body needs to prepare for pregnancy.
Prenatal Vitamins Ritual contain methylated Folate, Omega 3 DHA from microalgae, methylated vitamin B12, Choline, Iodine, Biotin, Vitamin D3 from lichen, Iron, Vitamin K2, Boron, Vitamin E, and chelated Magnesium. All of the ingredients are carefully chosen by Ritual's in-house team of scientists. Why is that? Well, to make sure that the pregnancy is a healthy and happy experience for every woman.
The Essential Prenatal from Ritual provides neural tube support, enhances blood building, boosts brain health, and provides bone support. When taken with water, the capsules leave a citrusy lemon taste in the mouth, which makes taking them every morning a rather enjoyable experience. However, when we were doing research for our Ritual Vitamins review, we noticed that despite the lemon flavor, some customers complained about a fishy smell and taste when they burp due to the omega-3s that the pills contain. And yes, this is possible even when the oil is derived from seaweed, unfortunately!
On the bright side, Ritual Prenatal is completely vegan and very gentle on the stomach as well. Since you need to take two capsules a day, we recommend subscribing to Ritual, as you will get your pills every 30 days. This way, you do not have to worry about your stock running out.
Ritual's Essential for Men 18+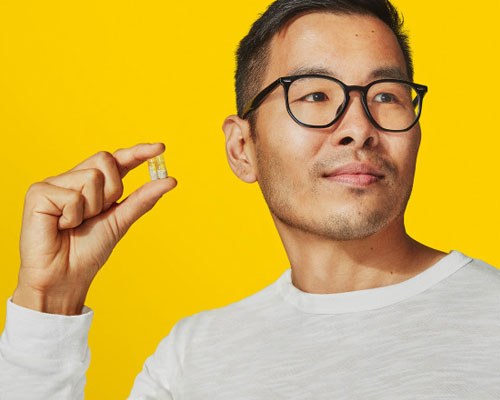 Like women, men have specific nutritional needs that sometimes can't be fulfilled through a regular diet. To help fill this nutritional gap for men aged 18 to 49, Ritual has developed vegan and gluten-free supplements called Essential for Men 18+.
The Ritual multivitamins for men come with 10 traceable ingredients, including Omega 3 DHA, Vitamin A, Vitamin D, Magnesium, Zinc, Vitamin K2, Folate, vitamin B12, Vitamin E, and Boron. As you can probably tell, the ingredients are a little different from what you get in Women's Ritual multivitamins; namely, they contain Zinc, plus different levels of minerals and vitamins.
The Essential for Men 18+ capsules contain micronutrients that help boost foundational health in men, specifically brain and heart health, normal muscle, and immune function. And with their delayed-release design and mint taste, they're easy to take and digest even when taken on an empty stomach.
What makes Ritual multivitamins different from other products on the market is that they do not contain non-essential nutrients; they only include micronutrients that most men cannot get/find hard to get from regular food. For this reason, not all men taking this multivitamin will experience obvious positive results. However, if you do not see any change in your energy levels and overall health after a minimum of six months of taking Ritual capsules for men, it might be time for a switch.
Ritual's Essential multivitamin for Men 50+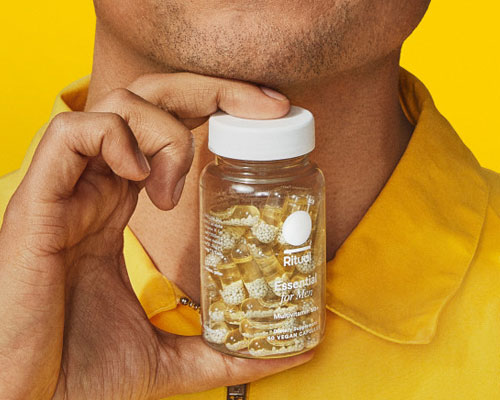 If you're over the age of 49, you might want to consider taking a supplement specifically designed for men in this age bracket. Men over 50 are most likely to be deficient in vitamins D and B12, as well as magnesium and zinc even when they're eating a healthy, balanced diet. This is where the Ritual products, Essential for Men 50+ can really help.
This scientifically-developed supplement for men contains 10 micronutrients, including vitamins D, B12, A, K2 and E, minerals Magnesium, Zinc, Folate and Boron, plus Omega 3 DHA. As usual, all the ingredients are of high quality and are completely traceable. But what are they good for?
Among other things, a combination of these micronutrients is good for the heart and bone health, as well as muscle and the immune system. As you can see, Ritual has left out Calcium and Vitamin C from their formula. According to the company, "less is more" when it comes to easy-to-get nutrients such as these two. Most men get adequate Calcium from their diets, so Ritual focuses on helper-nutrients for bones like Vitamins D3 and K2, and minerals Magnesium and Boron. Same thing with Vitamin C – most adult men get plenty of this micronutrient from standard foods, so Ritual doesn't add it to their multivitamin.
While we like this approach, we should mention that it may not be ideal for everyone. If you live a very fast-paced, super-busy lifestyle and don't have enough time to eat a wide variety of healthy foods regularly, this supplement may not be enough for you and you may have to supplement with extra Vitamin C.
Ritual's Essential for Kids 4+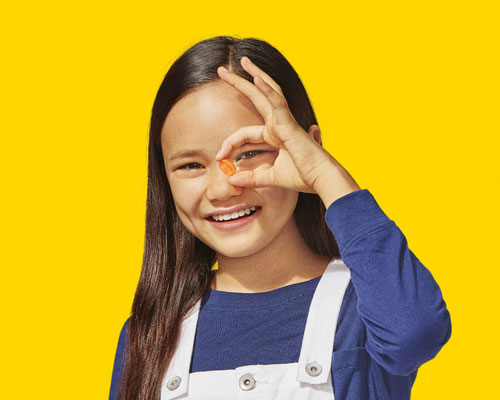 Just like adults, children need adequate amounts of vitamins and minerals for their health. In the majority of the cases, they can get the required nutrients from a balanced diet but how many kids are actually happy about having their daily dose of fruits and vegetables? Keeping this in mind, Ritual has come up with a supplement for kids.
The Essential for Kids 4+ is made for picky eaters so the gummy pills are tasty but completely sugar-free. The supplement includes 10 traceable micronutrients: Vitamin A, Vitamin D, Vitamin C, Vitamin E, Folate, Vitamin B12, Zinc, Choline, Iodine, Omega 3 DHA, Vitamin K2, and Fiber and Prebiotic Blend. The Chelated Zinc, Vitamin D3 from lichen, Vitamin K2 and Vitamin C enhance bone health and promote normal immune function, while the nature-identical Choline and Omega-3s from microalgae boost brain health. The added fiber and probiotics are a welcome addition here as they contribute to digestive health.
This particular multivitamin is formulated with key nutrients for kids aged between 4 and 12, and true to regular supplements for kids, it has a mild and pleasant flavor. But, unlike standard gummy multivitamins, Ritual's Essential for Kids 4+ doesn't contain any sugar, including any artificial sweeteners, as well as stevia. The pleasant citrus flavor comes from lemon oil and raspberry extract.
Ritual Vitamins Review from Customers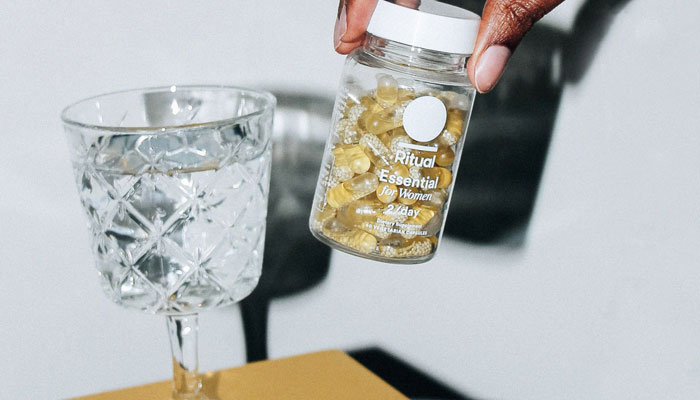 For our Ritual Vitamins review, we've looked at a couple of different websites, including, of course, the Ritual's official website, as well as Trustpilot.
The Ritual's website boasts hundreds of mostly positive reviews. At the time of writing, the Essential for Men 50+ has the highest rating, 4.8/5 stars, followed by Essential for Women 18+ with 4.5/5 stars. The vitamins for Women 50+ is not far behind with its 4.3/5 rating, while Prental has a 4.1 rating.
One customer writes: "I love Ritual vitamins! I took the prenatal for two years and loved it so much. I just started taking the women's 18+ multivitamin, and I really like it too. Just a suggestion, I loved the lemon scent/flavor of the prenatal. Not a huge fan of the mint – I'd be so excited if the women's multivitamin was offered in lemon. But overall, very happy. I love this company and the amazing customer service I've received! Favorite vitamins for sure!"
Popular Alternatives to Ritual Vitamins
Another review reads: "These vitamins are fantastic! My daughter told me about them. Very nice to have them delivered every month. The peppermint is a positive so the vitamins do not disturb my stomach. The fish oil is very strong, my only slight negative."
As for the reviews on Trustpilot, the company has a 3.7 out of 5-star rating (at the time of writing), however, there are only 10 reviews at the moment. Most customers are happy with their products, but the common complaint is the poor subscription service. Apparently, sometimes vitamins take long to arrive so some customers are without their stock for a few days.
How to Sign Up for Ritual
Signing up for Ritual vitamins is super simple and you can do it by visiting the website and creating an account. Once you create your account, you can log in easily. After the sign-up process, you can shop from the website directly. You can also sign up for the subscription by entering your email id.
Where to Buy Ritual Supplements and Vitamins
You can only buy the Ritual vitamins online and cannot get them at a store. It is best to buy them from Ritual's official website where you can also get other product options as well.
Ritual Shipping and Return Policy
The company only ships to addresses within the United States. By purchasing a subscription you can get a shipment containing a 30 day supply of supplements, which you will receive every 30 days until you cancel it. You will be charged every thirty 30 days for this subscription. If you do not wish your account to renew automatically, you can change or cancel your Membership.
If there is a defect in the products received or you want to get a refund due to any reason, you can send an email to [email protected]. But the refund will be issued at the sole discretion of their customer service team.
Ritual Promotions & Discounts
Ritual offers various promotions and discounts on its products. However, most of these offers are only for new customers and the ones buying the product for the first or second time. These discounts range from 10%-15%. There's also a Military Discount for all military service members: 20% off for the first 6 bottles.
Contact Ritual
In case of a query, the customer service team of Ritual is available at [email protected].
Ritual Vitamins Review: Editors Verdict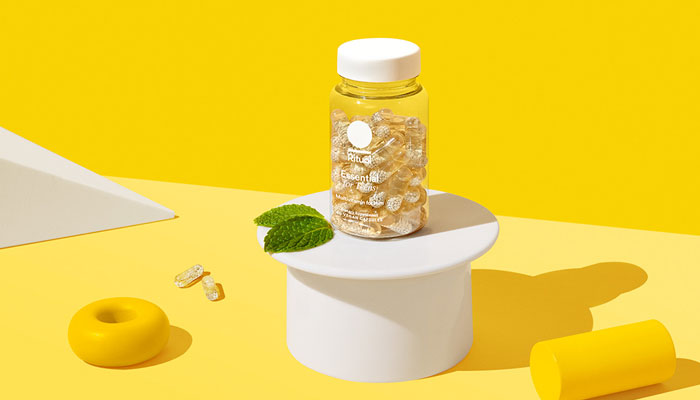 And now, for the most important part of our Ritual Vitamins review: are these pricy pills really worth it?
While more expensive than standard multivitamins you can buy at your local drugstore, we believe that Ritual supplements are indeed worth it. Here's why: their multivitamins are scientifically-backed, containing only top-quality ingredients with zero fillers and questionable chemicals. Most importantly, each ingredient is fully traceable so you know exactly what you're putting in your body. We particularly like their choice of omega-3 fatty acids as they're vegan and sustainably sourced. Most reviews are highly positive as well, with people praising the supplements' ability to boost their energy levels. Another thing we appreciate about Ritual is their products are a lot more targeted than your average dietary supplements.
If you are curious to try sustainable and pure multivitamins, but you also have the budget for it, Ritual is worth trying.
Still on the search for health supplements for full-body wellness? Here are a few more options to consider: Dose and Co, Botanic Choice, Gaia Herbs, and HUM Nutrition.
Disclaimer: This website does not provide medical advice. Our health-related articles are based on information coming from the brands' websites and online reviews.
Frequently Asked Questions
Does the FDA recommend Ritual?
By law, the FDA does not approve vitamins and multivitamins. However, the products of Ritual are manufactured in accordance with the FDA's current Good Manufacturing Practices (cGMPs), which exist to ensure products' quality and safety. The company also completes third-party lab testing for a wide range of contaminants, including metals, allergens and microbes.
Are Ritual vitamins vegan?
Yes, the Ritual Vitamins are not only vegan but also gluten-free. They also contain only non-GMO ingredients and are without any artificial colorants.
Is Essential Protein organic?
For a product to be organic it must have a minimum of 95% organic ingredients, while the other ingredients must be either organically produced or permissible on the national list. While made from organic pea protein, Essential Protein is not organic per see as its formulation comprises certain ingredients that are not on the national list, such as L-Methionine (added to provide a complete amino acid profile).
Does Ritual recommend taking multivitamins and protein together?
Yes, Ritual recommends taking their multivitamins and protein together.
How long until I feel results from taking an Essential Multivitamin?
Results may vary from person to person, however, Ritual suggests that it can take up to 3-4 months for the vitamins to take effect.