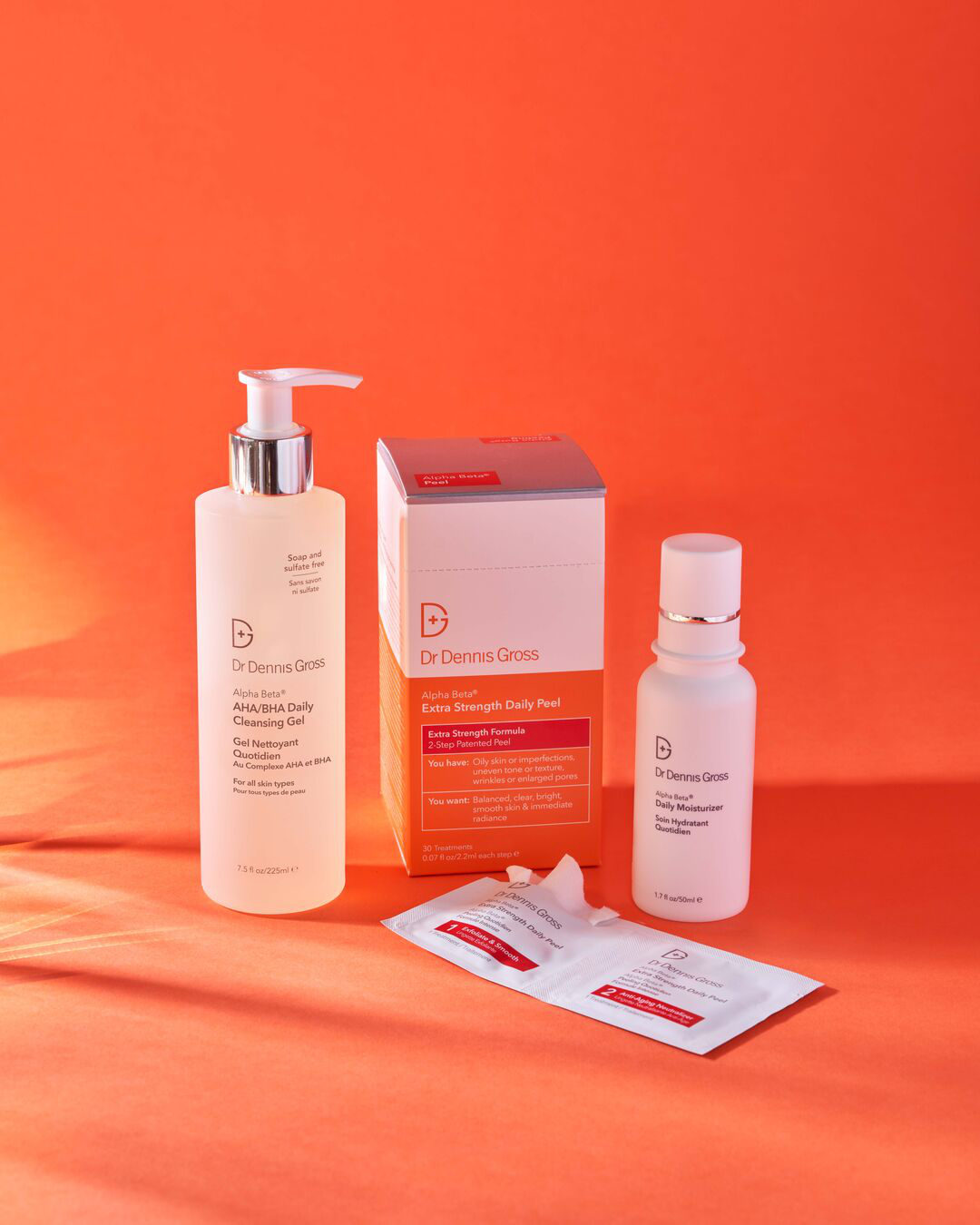 Skincare products tailored to my exact skin type and a company that's with me every step of the way? Yes, please! Dr. Dennis Gross's website promises the kind of service we expect to pay expensive spa prices for. But with a much less hefty price tag, and all from the comfort of your own home. In this detailed and unbiased analysis, we're going to be looking at everything from Dr. Dennis Gross reviews to the Dr. Dennis Gross Skincare system itself. We'll discover whether these DIY peel treatments and other products stand up to scrutiny.
About Dr. Dennis Gross Skincare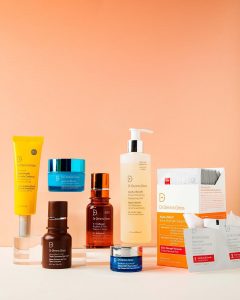 Dr. Dennis Gross was founded 25 years ago by doctors Dennis and Carrie Cross. Since its inception, the company has grown to include a whole family of skincare products. The brand aspires to be a one-stop shop for all your skincare needs. It provides easy access to the trusted experts necessary to get the most out of your skincare journey.
The company is adamant that there is a daily peel for every skin type. Furthermore, sticking to one of their recommended skincare routines will improve the tone and appearance of skin without redness. How? By gently removing dead skin cells.
Every Dr. Dennis Gross skincare journey begins with a free consultation from a vetted professional to determine your skin type and recommend the best products for your needs.
You'll then be recommended the Dr. Dennis Gross peel pads product which best fits your skin type and receives advice on your skincare routine. You'll also receive recommendations on any additional treatments that could help get the best from your skin.
More about Dr Dennis Gross Skincare
The system sounds ideal for anyone who wants an alternative to the hefty price tag of salon peels or wants to maintain the fresh-faced look between treatments.
In addition to the products themselves and the free consultation process, there are regular Dr. Dennis Gross skincare events including tutorials, seminars, and blogs, to ensure you're not left hanging as soon as the sale is made.
Dr. Dennis Gross reviews concerning the company as a whole are few and far between, with no claimed TrustPilot page and limited responses on most independent aggregators. The company has been given an F by the Better Business Bureau with ten complaints filed against them in the last three years and only three resolved or responded to.
The independent reviews we've seen seem very much at odds with those on the company website, with some of the claims made by the founders.
In our own Dr. Dennis Gross Skincare review, we're going to take a closer look at some of the top-selling products in the range. We'll also investigate some of those worrying Dr. Dennis Gross reviews to see if we can get to the bottom of the discrepancy.
Pros
Free personal consultation when you sign up.
Ongoing tutorials, blogs, and seminars are available on the website.
Complete skincare system from a single source.
Suitable for all skin types.
Sort reviews by skin type/skin concerns.
Vegan and cruelty-free ingredients promise.
Cons
Customer services are difficult to impossible to contact.
Not responsive to negative reviews and complaints.
Some customers report significant soreness or redness.
Vegan claims for products containing collagen.
Dr. Dennis Gross Products Review
Dr. Dennis Gross skincare began with the innovation that led to the creation of the Dr. Dennis Gross peel pads 25 years ago. It has evolved from a simple home peel system to include a wide range of products to cover all your skincare needs.
The founders hope to provide everything you need to keep your skin in tip-top shape in a one-stop shop, regardless of your skin type or sensitivities.
In this Dr. Dennis Gross Skincare review, we're going to take a closer look at a small selection of nearly a hundred products available through the online store and selected independent suppliers to find out whether they're really worth the hype.
Dr. Dennis Gross Sunscreen Review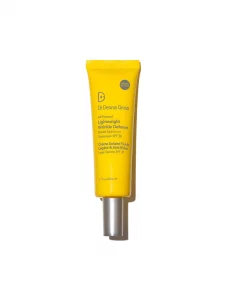 Dr. Dennis Gross sunscreen is a 100% mineral sunscreen which claims to protect against the blue light emitted by phones and other screens to help prevent wrinkles and reduce the signs of aging.
The unscented and non-greasy sunscreen is easier to blend under makeup or use as a primer on sunny days, while the mineral formula means there are no chemical UV filters that some people find problematic on sensitive skin. All without losing the UVA and UVB protection you need in delicate areas on the face.
Most customers seem to have a positive experience with this and other Dr. Dennis Gross sunscreen products, but some have found it makes their acne break out or doesn't absorb properly, leaving a white cast on the skin.
On the webshop, you can filter Dr. Dennis Gross reviews according to the listed skin type and concerns of the person leaving the review, so it's easy to match them up with your own skin needs and check if there are any reactions to be worried about.
Dr. Dennis Gross Eye Serum Review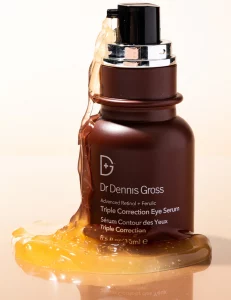 Dr. Dennis Gross eye serum is formulated from all-natural ingredients to smooth out fine lines, boost hydration, and provide lift to the whole eye area from one bottle.
The patented Phyto-Retinol blend provides the benefit of salon retinol treatments without the irritation that some users experience – all in a serum that is safe to apply twice a day. It also absorbs quickly into the skin and is suitable for use as an eye makeup primer.
Reviews are, again, mostly positive with a few customers stating it didn't make enough difference for the price or absorbed poorly into their skin.
Just like the sunscreen reviews, it's possible to sort reviews by skin type for the Dr. Dennis Gross eye serum and head off any problems that might be specific to your skin type or conditions before they start.
We noticed that quite a few older reviews complained about the pump bottle this product was supplied in and the fact that a lot of the contents could be wasted without fiddly poking around to get out the last bits.
After a few responses promising an updated design the company delivered and the new airless pump bottle is designed to get the last drops out without ever needing to be unscrewed.
Dr. Dennis Gross Moisturizer Review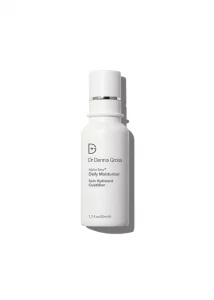 An oil-free moisturizer that's still capable of producing the dewy and hydrated finish you might only expect from a more greasy product, Dr. Dennis Gross moisturizer is suitable for use on even the oiliest skin types.
This lightweight moisturizer can be used twice a day to support your skin's natural moisture barrier, reduce the appearance of fine lines, and make skin appear softer and more supple.
This is another product with very positive reviews and only a few users found the scent wasn't for them or it didn't work well with the type of foundation they were using.
Dr. Dennis Gross Eye Cream Review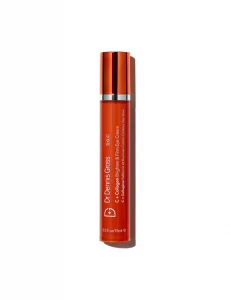 This isn't the only Dr. Dennis Gross eye cream as the range of eye care is quite large. We're focussing on the Brighten and Firm Eye Cream with vitamin C and collagen for a closer look at just one part of this vast range.
The amino acids and collagen in this product will especially target the thin skin around your eyes and produce a firmer and more even texture, reducing the appearance of fine lines, bags, and wrinkles.
The light-reflecting particles in this Dr. Dennis gross eye cream work with all skin types and shades to produce a brighter appearance around the eyes and improve dark circles.
Most customers leaving reviews have good things to say about this cream but a fair few are mourning the loss of previous formulations or other products in the Dr. Gross eye range that they felt worked better for them.
Dr. Dennis Gross Alpha Beta® Universal Daily Peel Review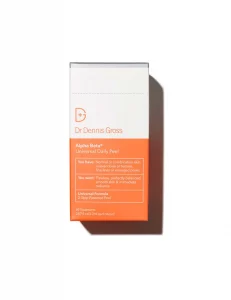 The Alpha Beta Universal daily peel is the recommended Dr. Dennis Gross peel pads product for first-time peelers with combination or balanced skin and up to moderate blemish or signs-of-aging concerns.
The Dr. Dennis peel pads system works by using the two pre-packaged pads, one after the other, twice a day: in the morning and before bed.
The first pad removes dead skin cells and provides a gentle peel experience and exfoliation, while the second pad deactivates the natural acids, cleanses, and rehydrates skin cells.
Make sure you use your free consultation with Dr. Dennis Gross' experts to choose the correct peel pads product for your skin type or if you're unsure or have any questions about the system.
As with so many skincare products, the results seem to vary a lot more than you might be led to believe by advertising, and while many notice a huge positive difference, there are a number of reviews saying customers' skin broke out or they experienced unpleasant rashes.
This seems to be a fairly aggressive treatment and it's important to carefully research the reactions of people with similar skin types and try the product on a small area first, especially if you have sensitive skin.
Dr. Dennis Gross Reviews from Customers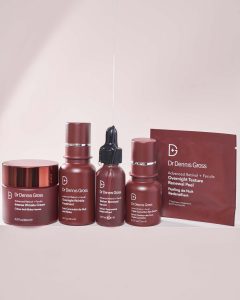 Reviews from customers in the Dr. Dennis Gross website and in other online retailers stocking the products seem to be mostly positive, with the usual smattering of complaints that the product did not work as well as a particular individual expected.
In our experience, this isn't unusual with skincare products; since skin can be so varied and how 'beautiful' the results of any treatment are can be extremely subjective.
Although some customers seem to have had a negative reaction to certain products, there is nothing dangerous or unnatural in any of the ingredient lists we've checked and the majority of customers have no issues.
Once we start examining reviews for the company instead of those for the products though, quite a different picture emerges. A worrying number of customers have experienced serious customer service issues.
Popular Alternatives to Dr Dennis Gross
On both Trustpilot and the Better Business Bureau, we noticed several negative reviews. However, Dr. Dennis Gross' customer service team very rarely responds to any complaints.
Of the 10 complaints registered by BBB in the last three years, only three have received an update, and only one has been resolved to the satisfaction of the customer. In many cases, customers have returned to add that they've had no contact at all after months of waiting.
Even on the website, many products feature complaints about poor post-sale service or desperate attempts to have returns acknowledged, or erroneous orders canceled.
It doesn't give us much confidence in the overall customer service when we see reviews like this. Customers rarely resort to leaving a review about simple returns and errors unless something's gone very wrong in correcting the mistake.
Sign Up for Dr. Dennis Gross
Signing up on the Dr. Dennis Gross website is the easiest way to track orders and streamline your checkout experience. You can sign up with an email and password or by connecting any of your social media accounts.
You can also use your account to sign up for events such as the free skincare masterclass and keep up to date on product developments and offers. Subscribers will also receive 15% off their first order.
Where to Buy Dr. Dennis Gross
Dr. Dennis Gross Skincare products are available in stores and spas nationwide. You can find your closest outlet using the handy store locator on the website.
A range of products is also available from other online marketplaces and skincare providers.
You can shop the entire range on the Dr. Dennis Gross website and take advantage of exclusive offers and deals by creating an account.
Dr. Dennis Gross Shipping and Return Policy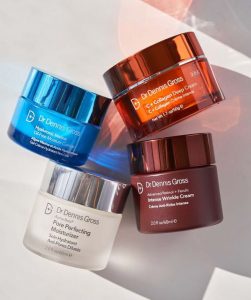 Orders over $75 ship free. Otherwise, shipping is calculated at checkout. Most orders are packed and shipped from the nearest warehouse within 3 business days, when you will receive a tracking number for the carrier.
Dr. Dennis Gross allows you to return any product that is defective or simply not right for you
within 30 days for a full refund. They do not cover postage and packaging on returns. You will need to ship your items back to them and email details according to the clear instructions provided in the website FAQs.
Dr. Dennis Gross Promotions & Discounts
Once you sign up on the Dr. Dennis Gross website you become eligible for a range of offers, such as 15% off your next order in return for one-time sign-ups to updates and social media.
If you refer a friend then you both receive $15 off your next order once they have created an account and placed their first order.
Joining the auto-replenishment subscription service will also give you 15% off every order and make you eligible for free shipping.
Contact Dr. Dennis Gross
The website features several ways to get in touch with the people behind Dr. Dennis Gross skincare including live chat, email, and even a good old-fashioned phone number. But from what we've seen in reviews on independent websites these are often unmonitored.
In fact, customers sending emails have repeatedly resorted to leaving poor reviews after waiting weeks for a response and, with a 30-day return policy, many customers feel cheated out of both products and money when they've had no confirmation of returns.
Customers calling the provided phone number have encountered endless ringing, answerphones that take messages that are never responded to, or the line simply cutting off after a period of waiting.
Dr. Dennis Gross Reviews: Editors' Verdict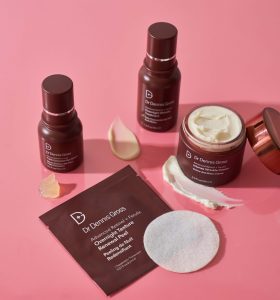 We've examined a lot of Dr. Dennis Gross reviews and, while we think that many of the products hold up well to company promises, we're not convinced they've cracked customer service… Even after 25 years in the industry!
Customers who know which products they want and have already had success with their skin type and skincare routine get access to some fantastic offers by signing up on the Dr. Dennis Gross website, but if you're trying these products for the first time we suggest purchasing from an outlet you already trust to handle any complaints or returns efficiently.
What's perhaps more concerning for some readers is that non-vegan ingredients appear in some products, despite claims on the website that the entire range is vegan and cruelty-free. The vast majority of collagen in the skincare industry is manufactured from beef or marine by-products that are not suitable for vegetarians or vegans.
It's one thing to accidentally use a product that doesn't meet our ethical standards, but some shellfish allergies are triggered by marine collagen, and sufferers looking for a vegan icon to prove safety could be put in danger if it's not made clearer which products are or are not vegan.
We'd like to get some clarification on the collagen issues or the removal of the vegan logo on pages relating to these specific products.
Do you love skincare products but are unsure which brands are worth the type? If that's the case, just read our honest review of Augustinus Bader, Gladskin, Beverly Hills MD, and First Aid Beauty.