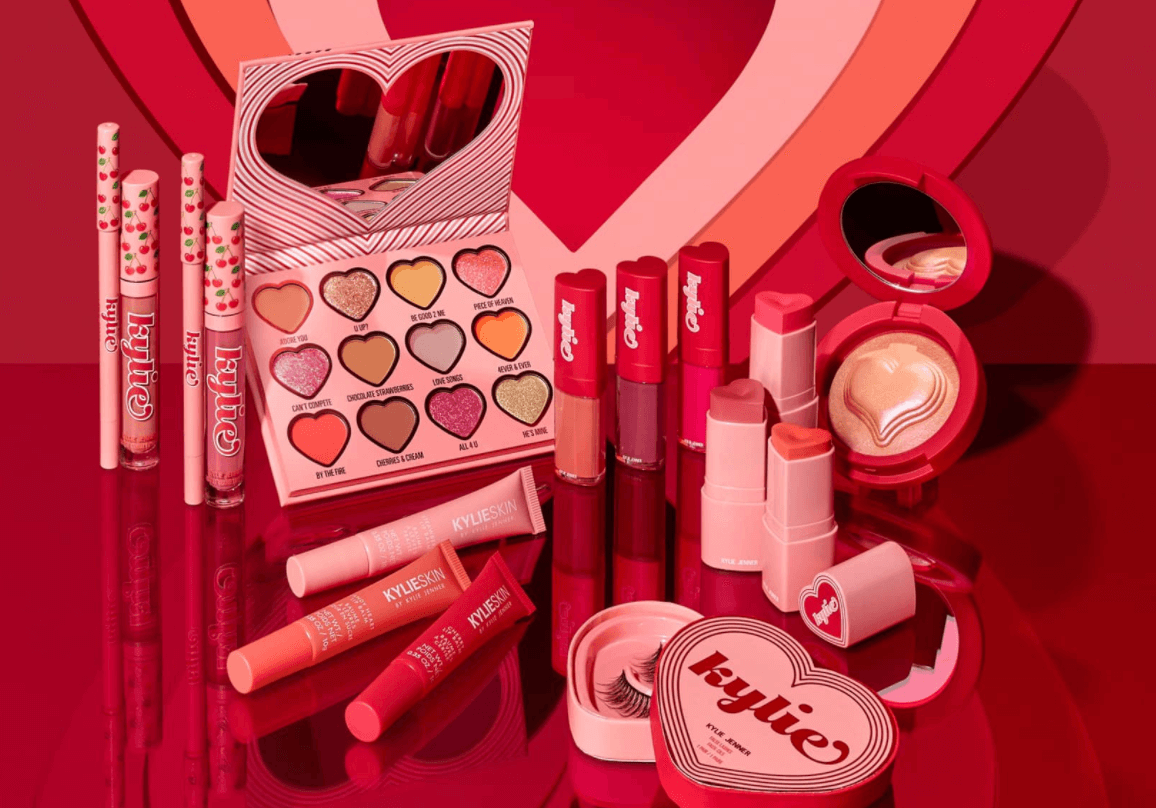 Kylie Cosmetics was plunged into the limelight in 2015. Not only because it is owned by one of the most famous, teen influencers of this generation, but also as a result of online gossip and the infamous "Kylie Jenner lip challenge". But what we're all dying to know – is it really worthy of a Kardashian? Or is it simply another overpriced brand created by a much-loved celeb? In this Kylie Cosmetics review, we're putting the brand under the microscope. We'll be taking a look at best-sellers such as the beloved Lip Kit, and even diving into real customer reviews, to see what they have to say! Not only this, we're gonna cover some of your most frequently asked questions about the brand and leave no stone unturned.
Look no further for a detailed and honest review of one of the hottest cosmetic brands on the market right now. Read on and decide whether your hard-earned cash should be spent on the latest releases, or whether you should take your business elsewhere.
About Kylie Cosmetics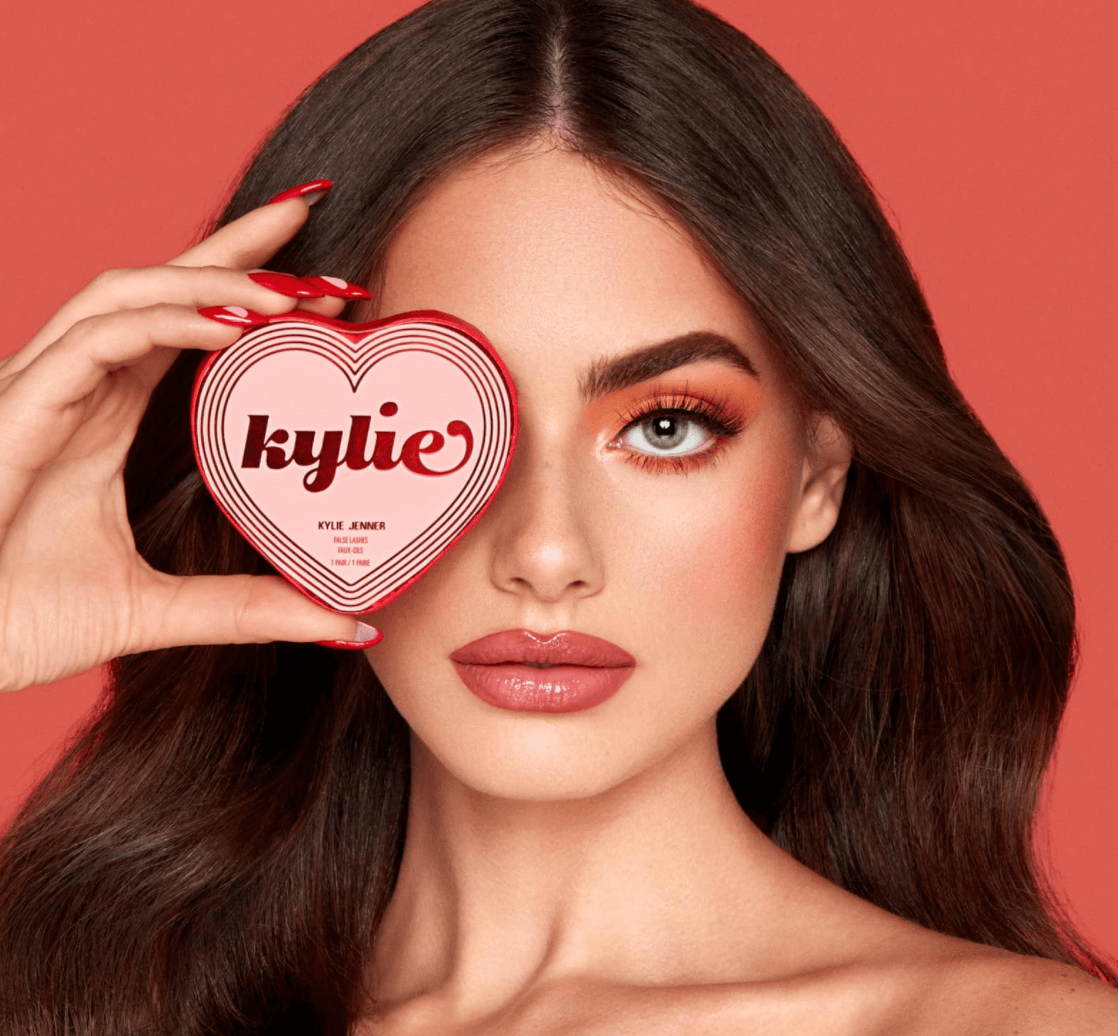 Owned by the youngest Kardashian sister, Kylie Jenner – Kylie Cosmetics is an American company that sells makeup and skincare products.
If you're a fan of Keeping Up With The Kardashians, you'll know that Kylie Cosmetics was the reason Jenner earned the title of the youngest self-made billionaire of all time.
After its debut in 2015, Kylie's status in pop culture and drastic new look made the brand a hot topic on the internet. Not only is Kylie Cosmetics popular in the US, but all over the globe. Shipping to just under 200 countries, the brand is accessible in drugstores in the UK too.
Starting its life as 'Kylie Lip Kits', the brand's product range consisted of lip kits in 3 different shades. Each kit contained lipstick and the corresponding lip liners.
After a complete sell-out in under 10 minutes, Jenner soon realized that the sky was the limit and the only way was up.
Shortly after the original launch, the first Kyshadow eyeshadow pallette was introduced in 2016, containing nine shades of neutrals and bronze shades.
Many collabs, new products, and collections later, Kylie Cosmetics remains a popular brand but that doesn't mean talk has always been good. It's cheap after all…
Kylie Cosmetics Review
The 2017 makeup brush 'scandal' involved many customers, fans, and even PR list influencers calling out the poor quality of the expensive makeup brush kits she had released that same year. Kylie quickly responded to the backlash and apologized, telling her fans: "I hear you".
Marketing is also a big part of the Kylie Cosmetics brand and is mostly done through social media.
Since the launch of her company, Jenner has been extremely hands-on with the marketing of her products, utilizing platforms such as Instagram and Snapchat to advertise. The Kylie Cosmetics official Instagram account posts daily and has over 25 million followers!
Now there's no wonder why the brand is so popular…
Pros
There is a great variety and comprehensive range of products for the face, lips, and eyes!
Kylie Cosmetics is 100% cruelty-free and vegan, making it accessible to everyone and environmentally friendly
The famous Lip Kits include two full-sized products and are reasonably priced despite this
The Kylie lipsticks are long-lasting with excellent pigmentation
The brand is BBB accredited, which is an accreditation that considers commitment to deal with customer complaints amongst other important standards
Cons
The cosmetics are pricey in comparison to competitors of a similar standard and sometimes do not meet the high level of quality that other high-end brands do
The lipsticks can feel quite drying on the lips and are consequently hard to remove without an oil-based makeup remover
Some of the blush names, including 'Virginity' and 'Hot and Bothered' have been deemed 'provocative' and inappropriate for younger fans of Kylie
Kylie Cosmetics does not accept returns, exchanges, or refunds so if you're simply unhappy with your product and it isn't what you had expected, there's not much you can do about it
Just like anything, there are negatives and positives with the Kylie Cosmetics brand. But this brief overview only covered a few, broad issues with the company.
Kylie Cosmetics Products Review
Let's put some of the most popular products in the hot seat and see what we think…
We have selected some of the most popular products from Kylie Cosmetics and considered everything from price, quality, and even some genuine customer reviews!
Kylie Cosmetics Blush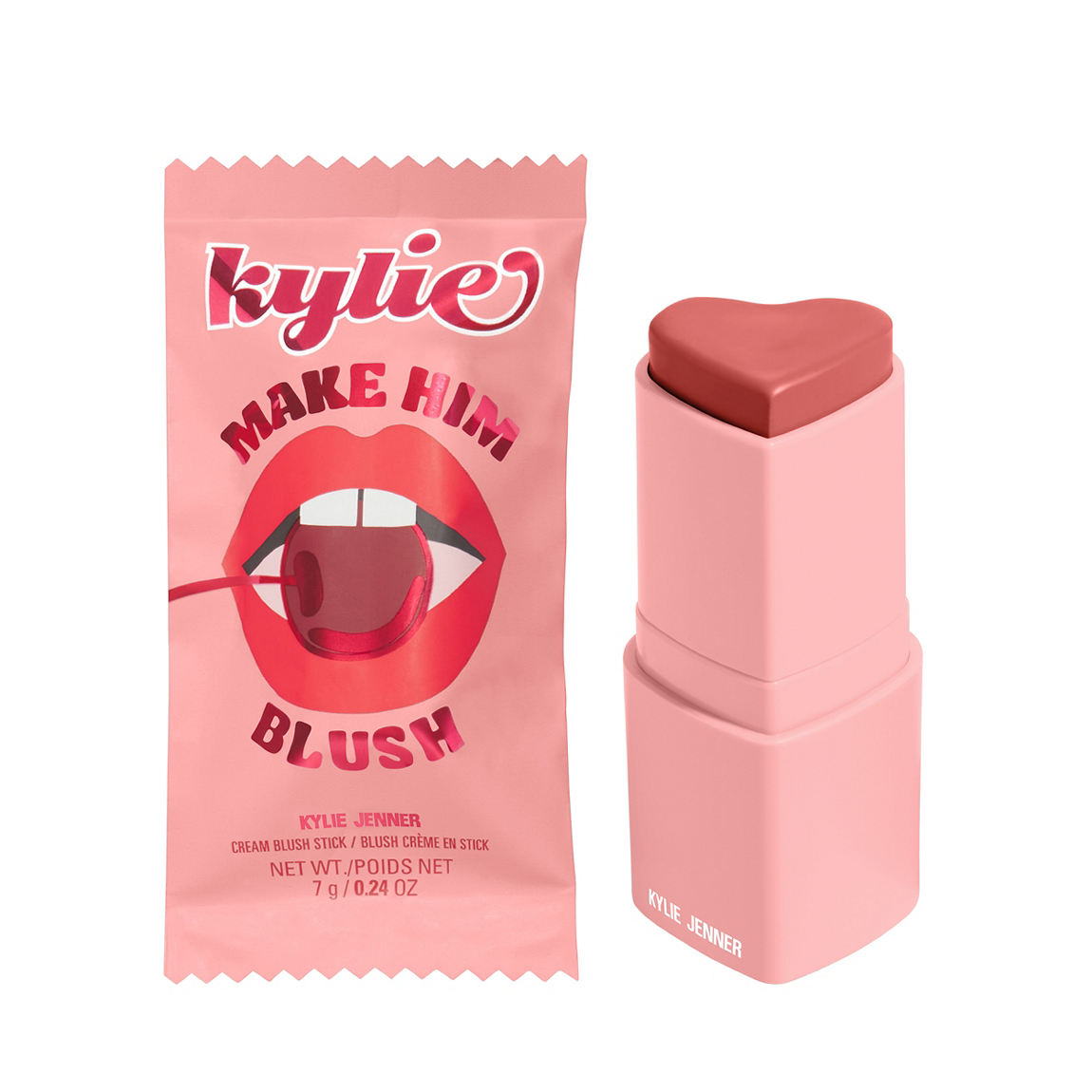 Available in 9 shades, ranging from light pinks to deep rose and orange tones, this Kylie Cosmetics blush is priced at $18.
Cruelty-free and vegan, just as every other product from the brand, the compact soft matte blush comes in adorable pink packaging!! But… does it deliver?
Claiming a lightweight formula that blends seamlessly into the skin, reviews agree with these claims. 100% of customers also agreed that the blush was comfortable to wear and did not dry the skin.
The product is described to have buildable coverage, which seems to be the case, however many customers claimed that pigmentation was lacking. It seems that a lot of product is necessary in order to achieve the desired result, however, this may depend on personal opinion.
This is important to note in terms of value. It may mean that if you are someone who likes a lot of pigmentation when it comes to blush, you should avoid this product!
Kylie Cosmetics Lip Gloss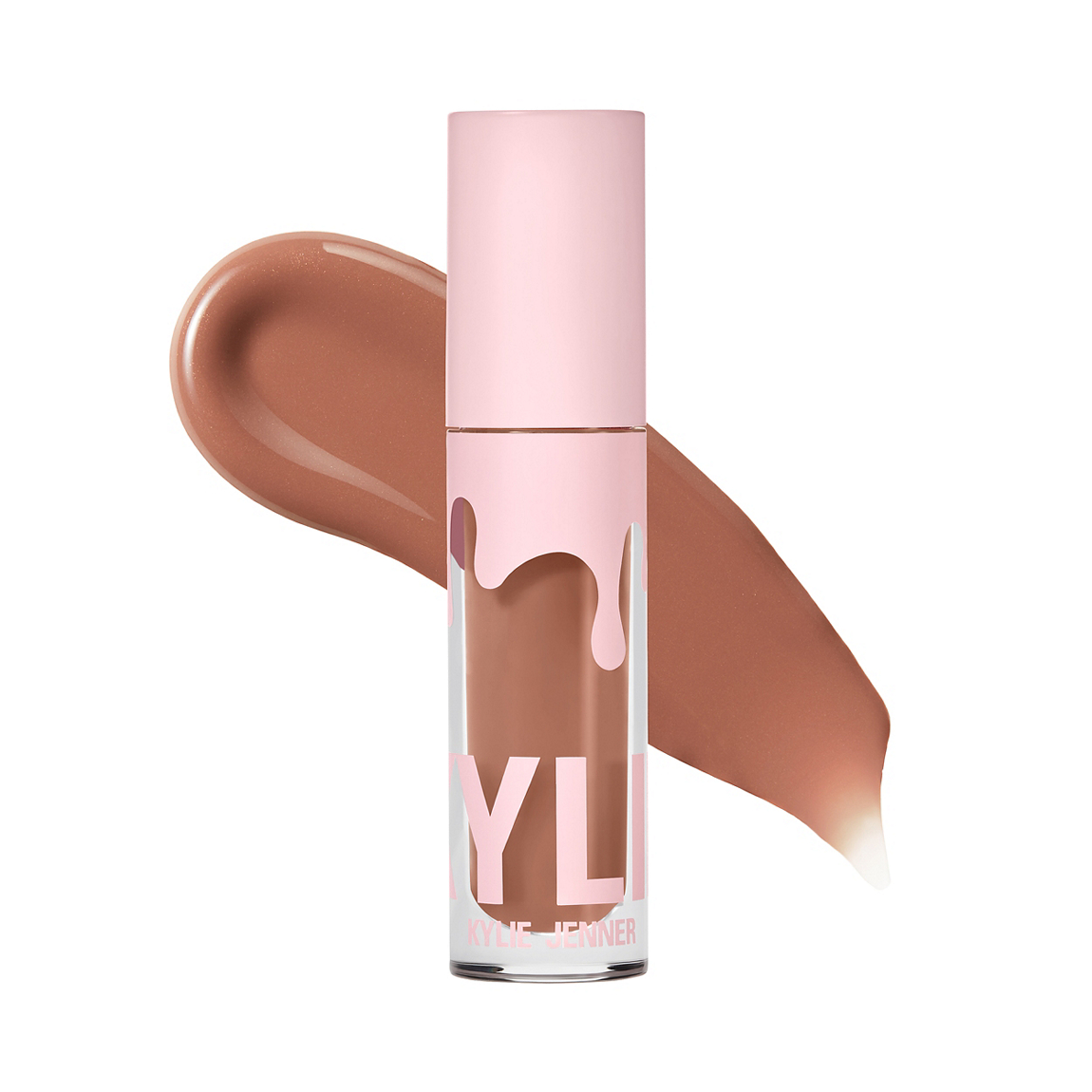 In the Kylie Cosmetics lip gloss range, there are 30 shades of 'high gloss', as well as an 'all-over gloss' and lip serum from the 24k Birthday Collection.
The high gloss range includes shades that range from deep, rosy pinks to sheer shades and light nudes. Some of these glosses also have glitter in them, so keep an eye out for this if it's something that you are not a fan of.
Priced at $16 (ouch!), the product is claimed to provide a "multi-dimensional shine… without stickiness". Aaaand customer reviews speak for themselves, with many claiming that the gloss feels smooth and not sticky.
100% of customers (based on a sample of 50 participants) also claimed that after application, lips felt instantly soft, and fine lines were visibly smoothed. Wow. This one has our vote!
These glosses can be used alone or over your favorite lipstick too!
Kylie Cosmetics Eyebrow Kit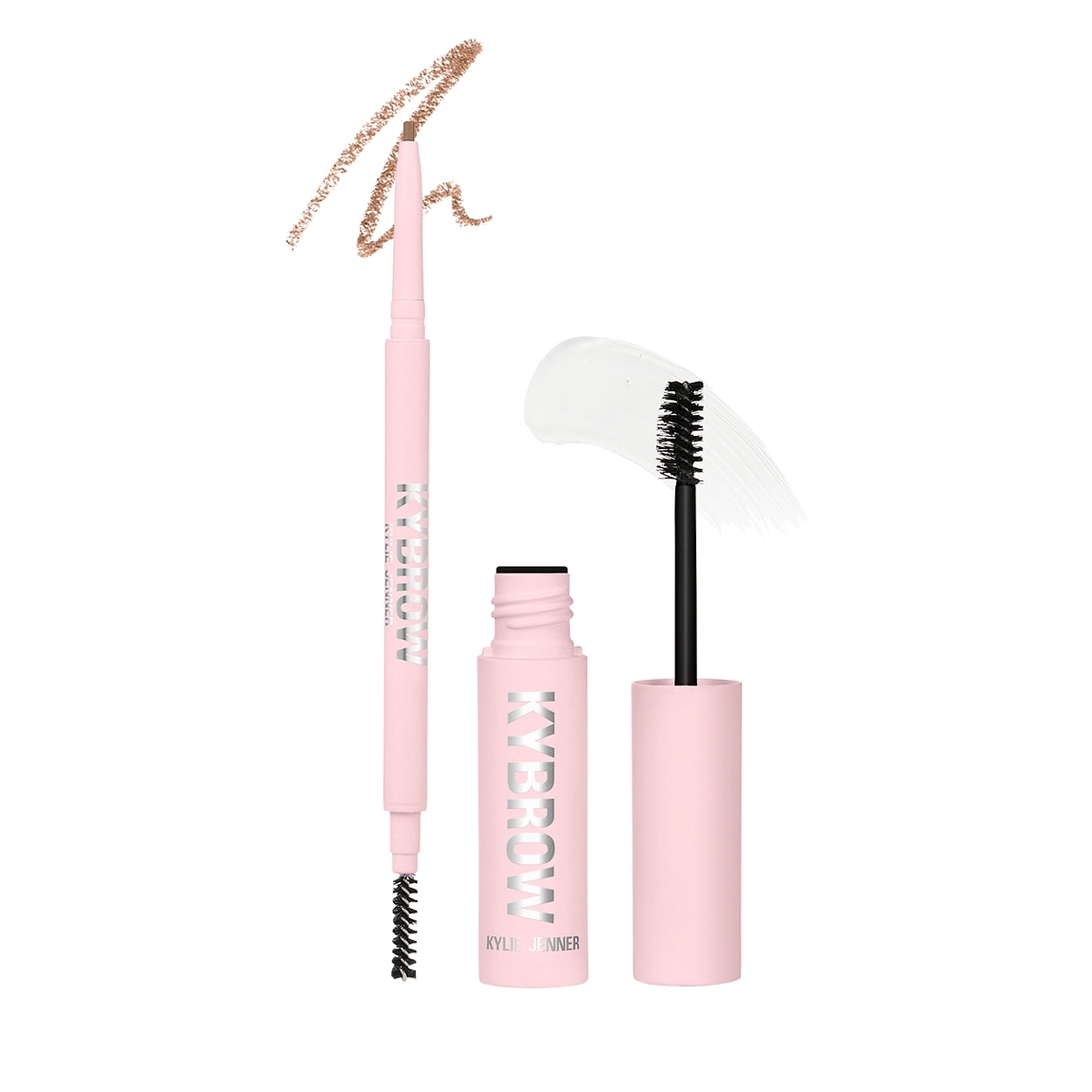 The Kylie Cosmetics eyebrow kit includes a 'Kybrow' pencil and a clear eyebrow gel. Retailing at $34, these products can also be bought separately, however, the price remains the same.
These kits are designed to shape, style, and fill in the sparse areas of your brows. In other words, you will NOT require another eyebrow product ever again if these claims are accurate.
The eyebrow pencil is supposed to be smudge-proof and water-resistant, however, this feature was not extensively mentioned in customer reviews. However, 100% of customers agree that the brow gel delivers a natural result and 96% agree that the pencil delivers a precise application.
Reviews also agree that the gel is long-lasting and does not cause flakes. This is a big problem with many eyebrow gels that are on the market today!
Kylie Cosmetics Eyeliner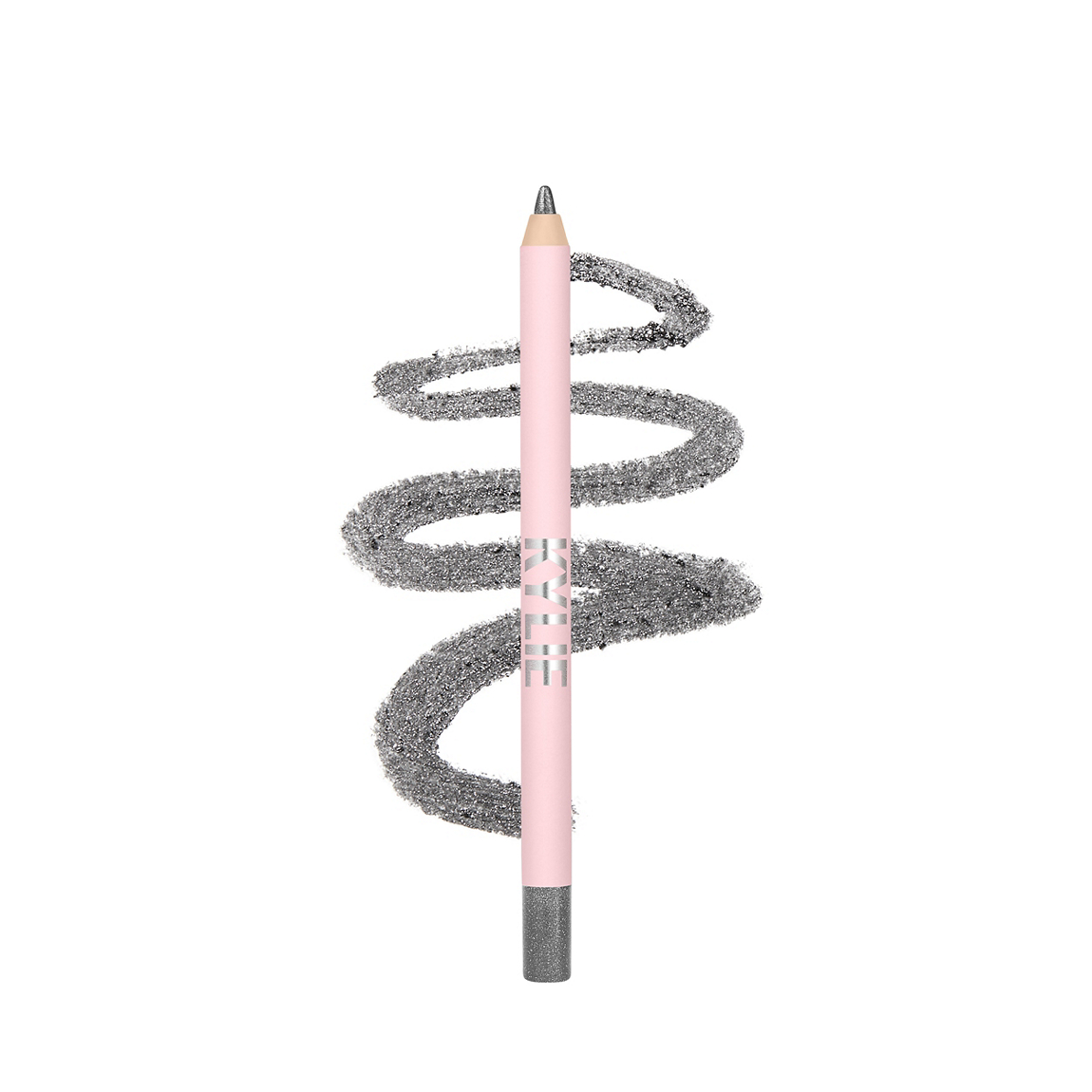 There are two types of eyeliner in the Kylie Cosmetics eyeliner range. The first and most popular is the kyliner liquid eyeliner in ultra black. There is also a range of gel eyeliner pencils in many colors, with some available in a matte or shimmer finish.
The liquid liner in the range has a brush tip that is said to deliver precision and control when applying. Priced at $18, it is a bit steeper than your average liquid liner but seems to be worth the hype.
100% of customers agree that the product delivers an ultra-black color payoff and also that it does not run! Customer reviews also claim that this liner is 'easy to use and 'doesn't bleed'. Oh just take our money already!
Moving onto the gel eyeliner pencils in the range.
They retail at $15 and claim to be of a creamy consistency with an 'ultra-gliding' formula. They also claim to be waterproof and transfer-free, which are actually pretty big claims for a gel eyeliner…
100% of customers agree that the formula is ultra creamy and provides an 'ultra-gliding' application. Reviews support this with claims of an easy application and a long-lasting formula.
Kylie Cosmetics Lip Kit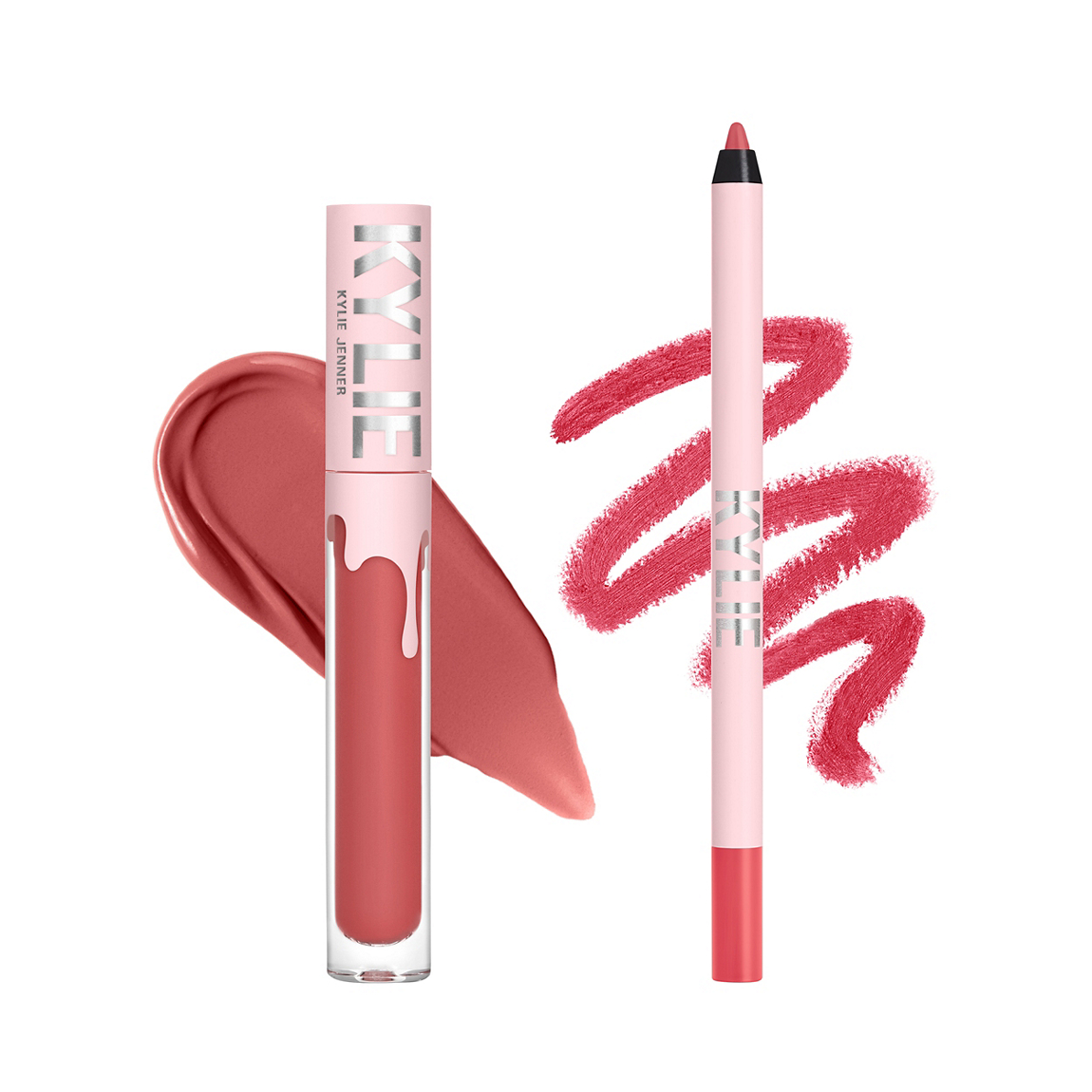 The Kylie Cosmetics lip kit range has become something totally different from what it once was. But it still leaves a trace of its 3 lip kit OGs…
Growing to an impressive range of 38 lip kits, you will find anything that you could possibly need. From light pinks such as One Wish Kylie Cosmetics liquid lip to dark reds such as Bite Me liquid lip.
Motivated by the lack of matching lipstick and liner combos, Kylie started her company in hopes to provide everyone with the perfect duo. Including a matte lipstick and lip liner, the Kylie Lip Kits retail at $29, which is a fairly reasonable price.
Claiming to be smudge and transfer-proof, 100% of customers who have tried these kits agree that the lip liner included prevents smudging of the lipstick.
The product also claims to be set with an instant color payoff and has an ultra-creamy formula. 100% of customers agreed that the lipstick included in the kit was non-sticky and set quickly, which is important in a good quality liquid lipstick.
Customer reviews also noted that the liquid lipsticks smelled nice and lasted a long time without flaking'.
However, many reviews claimed the same thing. The colors that the shade appeared to be on the website were significantly different from the color in person and when being worn. This raises an issue when Kylie Cosmetics refuses to accept returns or exchanges, so BEWARE of this!!
Kylie Setting Powders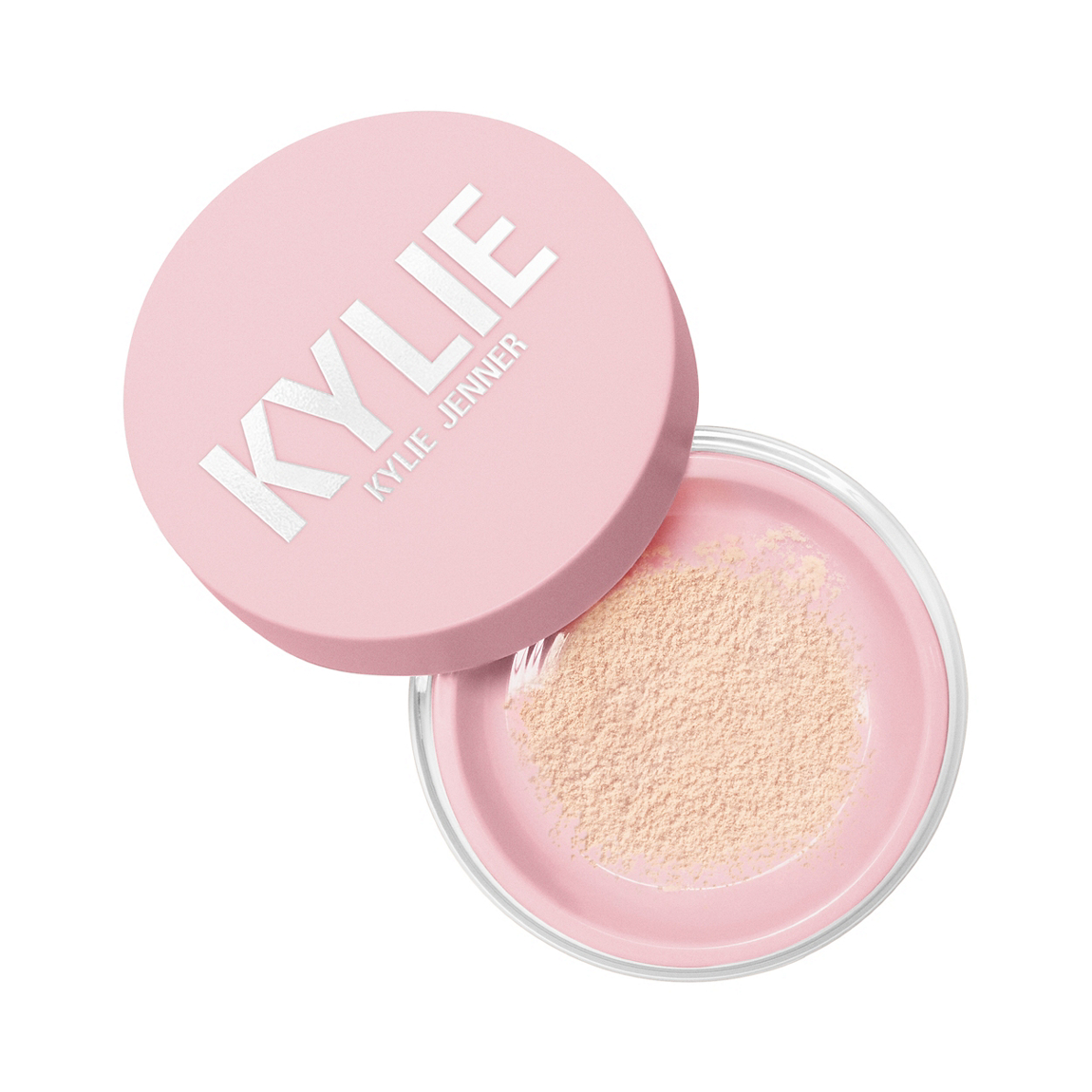 These Kylie Cosmetics setting powders are loose powders available in six shades. The translucent powder is perfect for those who do not want any color payoff, while others such as yellow and dark deep should be matched to your skin tone.
These powders claim to leave a stunning matte finish, without making the skin feel dry. It should also help to set makeup perfectly and prevent it from settling into fine lines and consequently making them look worse.
If we're honest… this is not much to ask when you're paying a whopping $24 for 5 grams of the product. Customer reviews addressed this, claiming that the product might be good but the 'value isn't there'.
However, the performance and effectiveness of the powder are applauded. 100% of customers who tried it claimed that it helped to perfectly set their makeup in place and that it 'doesn't look cakey'.
It is difficult to find a setting powder that can lock your makeup into place without drying out the skin or leaving it looking 'cakey'. However, the benefits definitely come at a price with this one.
Kylie Cosmetics Reviews from Customers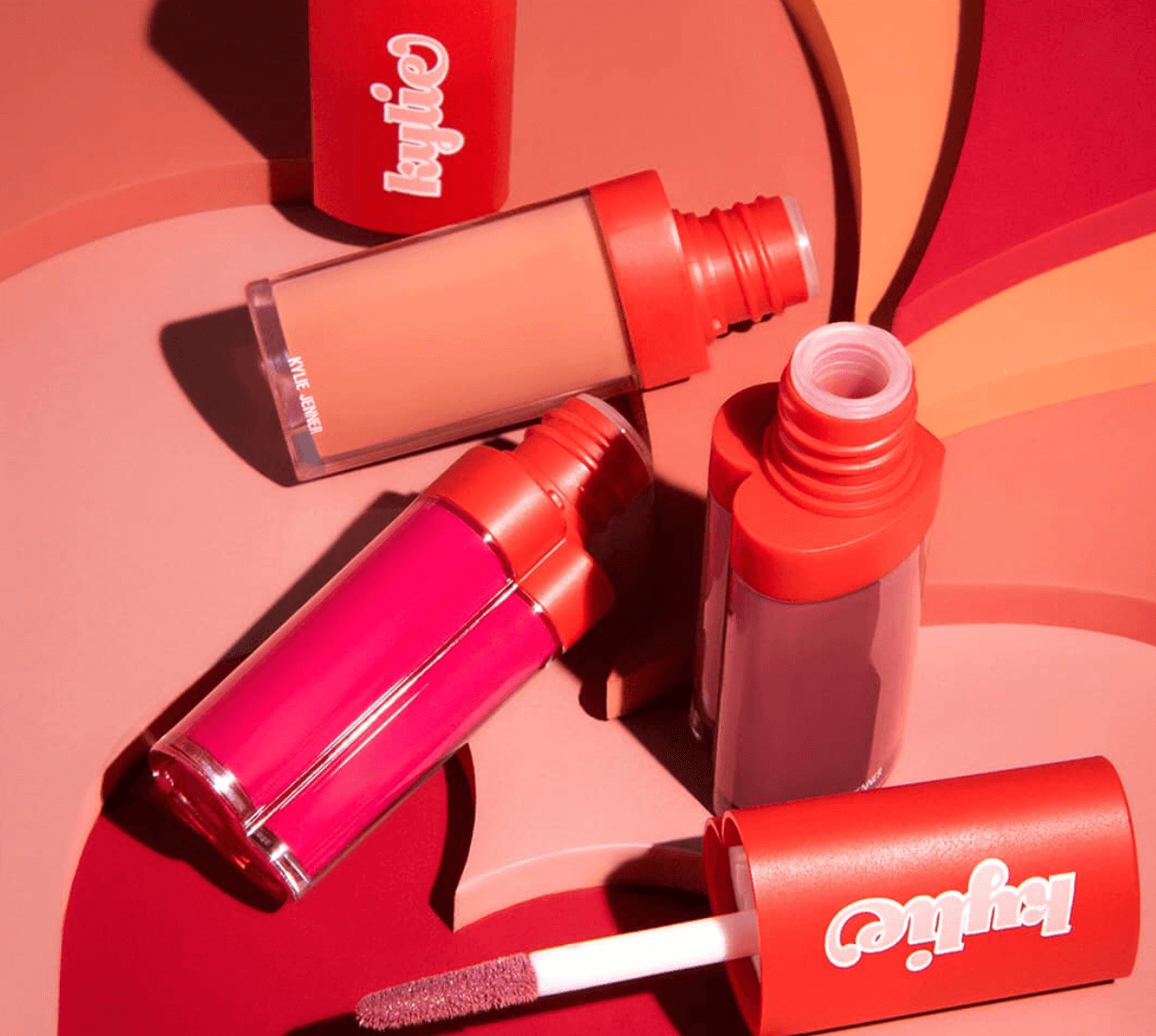 There is a lot of opportunities to look for customer reviews of every Kylie Cosmetics product, due to the review section on the website itself. This feature is extremely helpful and gives a generally good impression of the brand.
However, this is not the same on every reviewing platform, so let's take a look!
Kylie Cosmetics is rated a mediocre 3.1 / 5 stars on Trustpilot. 49% of total reviews on this site were in the Excellent category and rated the brand 5 stars.
Generally, people praised the quality of the products, the color ranges, and the fact that Kylie's cosmetic range is incredibly kind to skin. These reviews can be backed up by customer reviews and claims in the product descriptions.
Many customers also took to SiteJabber to review Kylie Cosmetics. The positive reviews were generally similar too, discussing the high-quality products and fast shipping.
Popular Alternatives to Kylie Cosmetics
However, on SiteJabber, the majority of all reviews were extremely negative which is surprising. Some customers discussed inconsistencies, with some products being incredible while others such as the Nightmare on Elm Street Collection, were "chalky" and bad.
The issue of color not looking like the photos was also mentioned several times on this site. Although this is a difficult problem to overcome, perhaps watching YouTube videos and searching for swatches would be a good option before purchasing.
Trustpilot also had 48% 'Bad' reviews, mostly discussing the way quality and service have been affected by the rebranding. This involves the reformulating of beloved liquid lipsticks, which seems to have affected the quality too.
Sign Up for Kylie Cosmetics
If you're a fan of Kylie Cosmetics or plan on buying from there in the future, you might benefit from creating an account.
For exclusive perks such as discounts, sneak peeks of new product lines, and updates on the brand, you should think about signing up today.
If you're not ready for this kind of commitment, why not sign up for email updates? Baby steps…
Oh and enjoy a small discount as thanks!
Where to Buy Kylie Cosmetics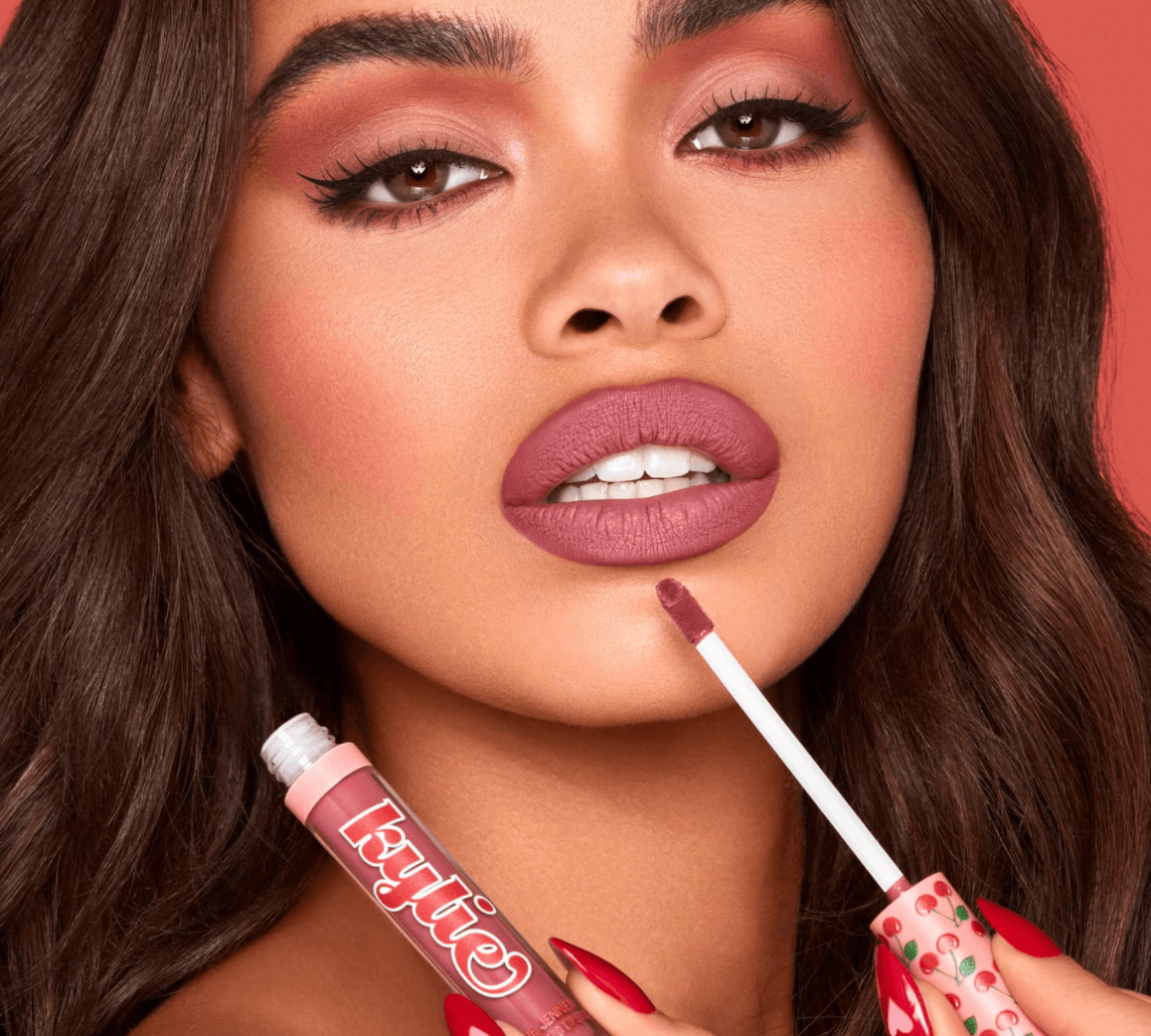 Aside from the obvious place to purchase some KC goodies, there are many places you can go to get your hands on them! Online and offline.
If you're in the US, Kylie Cosmetics can be found at Ulta and Walmart. There are also many online locations to purchase your Kylie makeup, such as Amazon.
Stores such as Boots and Selfridges in the UK stock Kylie Cosmetics. However, KylieCosmetics.com does ship worldwide so there's no need to panic if there are no stores near you.
Kylie Cosmetics Shipping & Return Policy
Shipping
For all US customers, orders from Kylie Cosmetics can take 3-5 business days to process and a further 3-6 to be shipped.
For UK customers, the processing time for all orders is 72 hours and delivery should be expected 2-3 days after dispatch. Though, it should be noted that these timings can differ in busy periods and holidays.
UK shipping is also a £6.95 flat rate, however, orders over £40 are free.
Returns
Kylie Cosmetics is unable to accept returns.
If you have received incorrect or damaged items, this should be reported within 48 hours of the receipt. Pictures and screenshots should also be provided as proof of this.
Contact Kylie Cosmetics
US customers can contact the KC customer service team by emailing [email protected] or calling the toll-free telephone at 833-545-9543 (833-54 KYLIE).
UK customers should use a different email address if they want to contact KC customer service:
[email protected].
Kylie Cosmetics Review: Editor's Verdict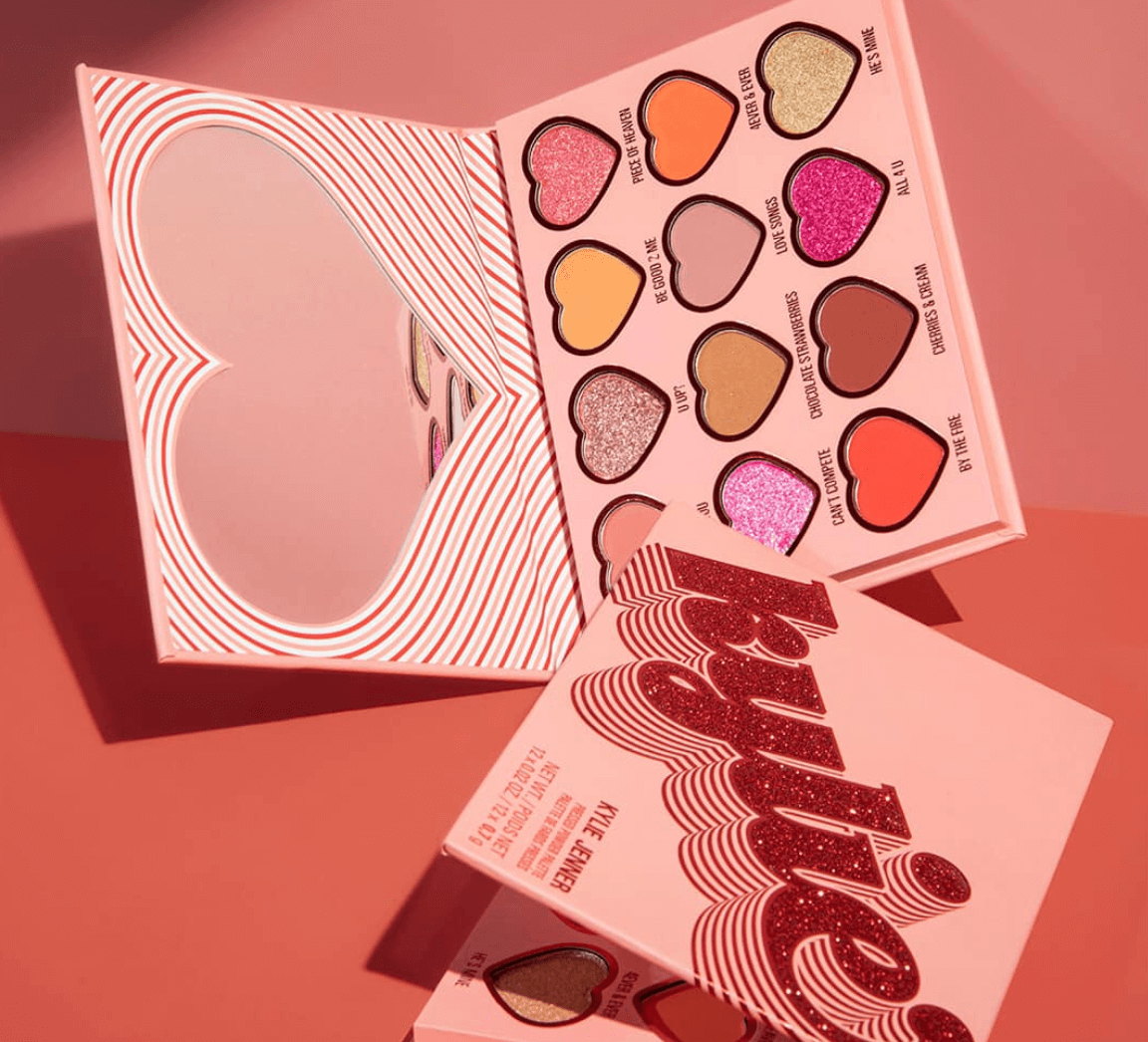 Overall, Kylie Cosmetics has proven to be an impressive brand that offers high-quality products that deliver.
We think that the best products from the Kylie Cosmetics range are the famous Lip Kits and Kyliner. Taking customer reviews into consideration, they seem to perform exactly as they are expected to and are extremely long-lasting.
The usage instructions provided in the description of each product are a very nice touch and help people who may not be familiar with a particular aspect of makeup.
All products being vegan and cruelty-free is obviously a huge plus, with ingredients that are free of fragrances and parabens, meaning they are kind to skin!
The review section on the website is an excellent feature. It is easy to navigate, extremely well 'signposted', and honest. This includes any negative reviews too, which many company websites fail to do.
However, the bad reviews on other websites such as Trustpilot and SiteJabber do not match with the reviews on the company website. This may not be a coincidence, but it could also be a result of customers talking about sites that have similar names.
Kylie Cosmetics Overview
Although, as a whole, we have found Kylie Cosmetics to be an impressive and trustworthy brand, there are a few things that should be mentioned!
The issue with shades looking different on the website should be handled, or refunds should be allowed. It does not seem fair to be led to believe you're paying for one thing and receiving something completely different.
Prices could also be lowered to reflect quality and size in some cases.
Despite this, Kylie Cosmetics seems to deliver good customer service and a variety of high-quality products.
If you're still on the hunt for the perfect makeup brands, don't forget to check out our reviews of BH Cosmetics, TheBalm, Makeup Geek, and Ciate London.
Kylie Cosmetics FAQs
Is Kylie Cosmetics cruelty-free?
Yes, every product sold by Kylie Cosmetics is cruelty-free and suitable for vegans!
Who owns Kylie Cosmetics?
51% of the brand is owned by Coty, an American multinational beauty company. However, the rest is still owned by Kylie Jenner herself.
Does Kylie Cosmetics offer free samples or gifts?
No. KC does not offer free samples or gifts with or without purchases.
Does Kylie Skin use parabens or sulfates?
No. All Kylie Skin formulas are cruelty-free, vegan, gluten-free, paraben, and sulfate-free.
Are Kylie products safe for all skin types?
None of Kylie's products have been declared unsafe to use by industry standards. However, there may be certain ingredients in some products that could irritate sensitive skin or people with skin conditions.