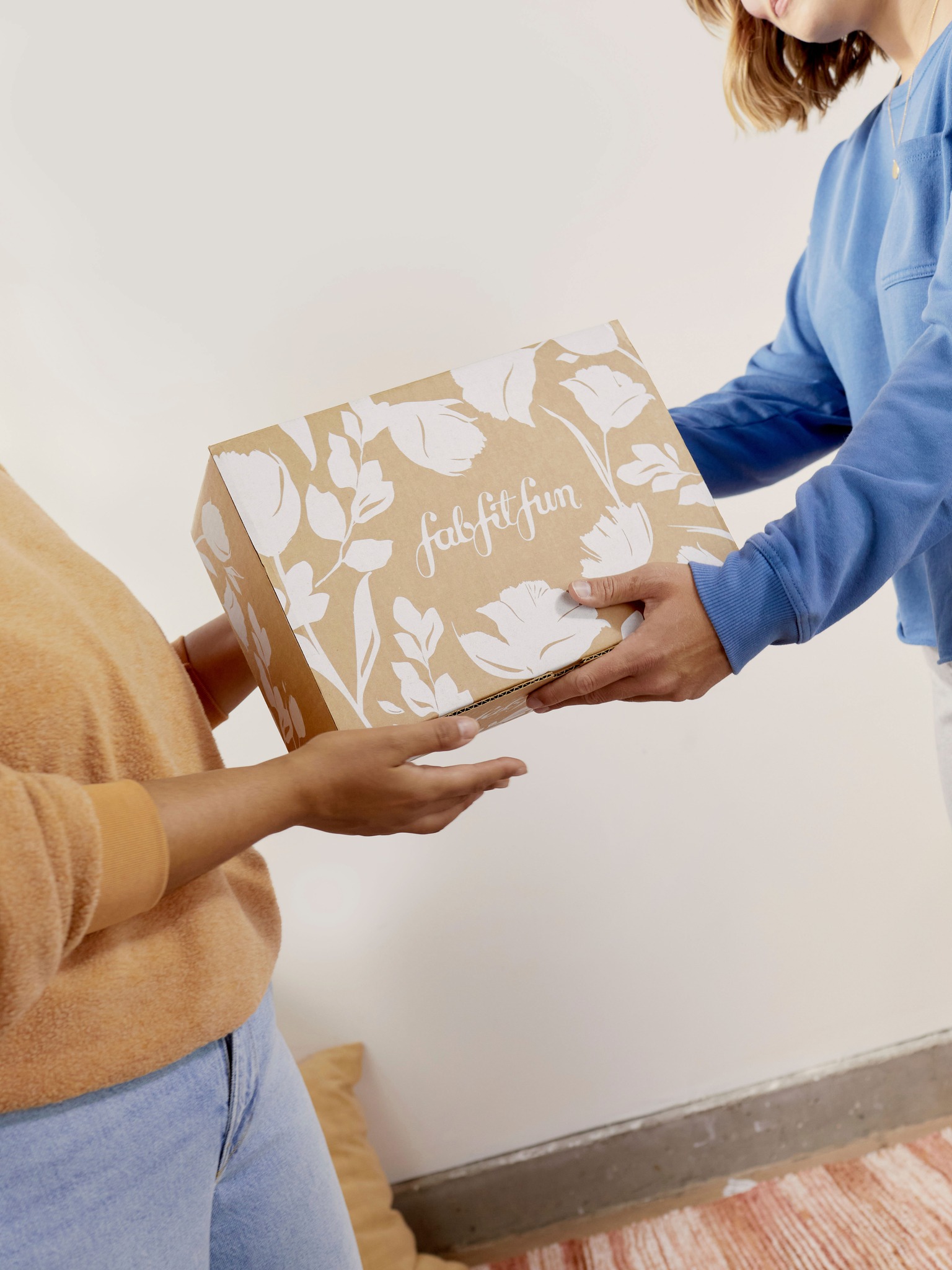 If you're someone always excited at the beginning of a new season, and you like to keep up with the latest trends, FabFitFun might be for you. The company offers self care subscription boxes of fashionable items such as clothes, makeup, beauty and wellness products, lifestyle items, home decor, and even tech stuff. The idea behind the boxes is to constantly update your wardrobe and home with cool items without spending too much money per item. Undoubtedly, it sounds amazing, but we are going to find out more. Our FabFitFun review is going to take an in-depth look at how subscription plans work, what additional perks members can benefit from, and what type of products are included in the boxes.
After analyzing customer reviews, and sharing with you all the info you should know about customer service, we will give you our 100% unbiased verdict.
About FabFitFun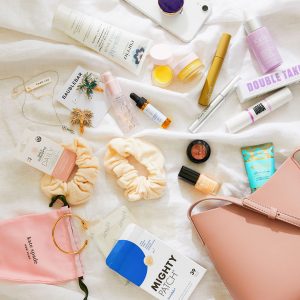 FabFitFun was founded in 2010 by co-CEOs Daniel and Michael Broukhim and Editor-in-Chief Katie Echevarria Rosen Kitchens. The trio wanted to create a subscription-based membership that allows customers to get access to a broad range of products while saving money. The company's flagship product is the FabFitFun Box which includes a selection of full-size products.
These include fashion, beauty, fitness, wellness, home, and tech items. While some boxes are curated by a dedicated team of experts, others can be customized by the member. In terms of brands, the boxes include products for both well-known brands like Fenty Beauty or Free People and emerging companies that you might now have heard of yet.
But before we dive deeper into our FabFitFun review, let's take a look at the pros and cons you should know about before signing up:
Pros
Boxes include a various selection of full-size beauty, wellness, fashion, fitness, home, and tech products

Products are both from well-known brands and emerging companies

Members can enjoy many additional perks

You can add extra items to your box
Cons
The company does not accept returns

There is no phone number you can call to reach the customer service

You might be asked to pay a few extra dollars for certain products
How it Works?
To help you understand the process, here are the steps you need to follow to get your FabFitFun box:
Make it official: This step includes choosing your plan. There are two membership plans you can opt for, the Annual and the Seasonal. We will immediately share more info about both. Then you should fill in the contact form with your personal information, shipping address, and payment info.
Pick your products: In the Customization window, you can select some of the products you want in your box. You can also add additional items from the Add-Ons category.
Enjoy the perks: While waiting for your (next) box, you can enjoy a broad range of perks such as Exclusive Offers, Sales, the FabFitFun Community, etc.
FabFitFun Summer Box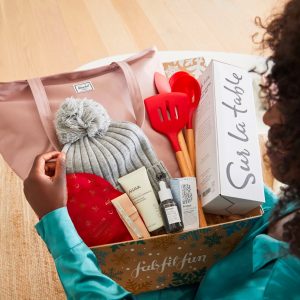 FabFitFun summer 2022 takes off once the Summer box becomes available on the website. The good news is that you can already order the box. This means that we can give you some ideas on what you can expect to be in a FabFitFun box.
The summer box comes with various fashion, beauty, home, and tech goodies, and based on your membership, you can select 6 to 8 items. In the fashion category, you have not one, but two bag options, such as a Neoprene Beach Tote bag by Summersalt and a blush pink shoulder bag from Samara. Furthermore, the fashion category includes a baby pink Cara Seamless Bralette from Free People.
It's definitely a good summer essential you can wear under a top or an oversized flowy shirt. Then, the beauty section offers products such as the OUAI Scalp and Body Scrub, a Protect + Glow Daily Sunscreen Gel SPF 30 by TULA Skincare, a Legendary Dream Hair Shampoo and Conditioner Bundle by IGK, and the very popular Full Frontal Volume, Lift and Curl Mascara by Fenty Beauty.
And this is not all. Among your options, there is a Foxy Bae Rose Gold Blowout Dryer Brush Pro, a Lilly Pulitzer Lounge Towel, a Draper James Woven Seagrass Tray, a Multi-Use Storage Duo by Z Gallerie, and last, but not least, a Sea Salt and Citrus Soy Candle by Lasting Smiles.
The selection is not bad and seems that it is worth the amount you're paying for the boxes/piece. However, keep in mind that if you want to put the Foxy Bae Rose Gold Blowout Dryer and Brush Pro in your box, you will be required to pay $10 extra.
FabFitFun Membership Options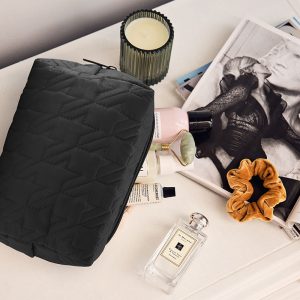 The FabFitFun summer 2022 is undoubtedly exciting. However, if you want to get your first FabFitFun box, first you need to decide on your plan. There are two plans you can opt for: the Annual membership and the Seasonal membership. Here is what you should know about each one:
The Annual Plan:
Costs $49.99/box; you will be billed 199.99 annually
You will get a $20 instant discount
Includes 4 boxes with up to 8 full-size products
Unlimited swap for credit
You can customize the entire box
Cancel anytime
You will get early access to Customize, Add-Ons, and Edit Sales
You will benefit from early shipping
The Seasonal Plan:
Costs $54.99/box; you will be charged quarterly
Your first box will cost only $32.99
Includes 4 boxes with up to 8 full-size products
Unlimited swap for credit
You can enjoy 4 Customizations
Cancel Anytime
FabFitFun Spring Box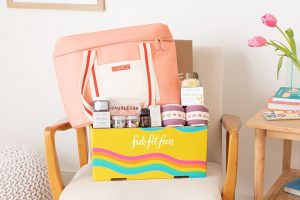 The latest FabFitFun Spring Box honors Women's History Month. For this box, the company selected items from women-founded brands, to celebrate and support creative women. Here's the list of the products members could choose from:
L*SPACE Coastal Cooler Bag: A spring/summer essential
Glamnetic Virgo Magnetic Eyelashes + Magnetic Felt Tip Eyeliner in Deep Space: Magnetic eyeliner and eyelashes duo
KORAL 1lb Ankle Weights: A pair of luxe 1lb ankle weights
BaubleBar Build Your Own Bracelet Kit: a fun kit of eccentric and colorful jewelry pieces that allows you to get creative while creating accessories
EARTH HARBOR GLOW JUICE Refining Enzyme Mask: a calming, soothing, and rebalancing natural face mask made of ocean nutrients and organic island botanicals
The NUE CO Topical – C: a powdered Vitamin C supplement for your face proven to boost collagen production, fight sun damage and support firm skin
FabFitFun Winter 2021 Box
As a part of our FabFitFun review, we have also taken a close look at the past year's  FabFitFun winter box. This box included thoughtfully selected items that are perfect for the cozy season. All members regardless they are subscribed to the Annual or Seasonal plan, had the chance to choose from 3 Customization categories.
To give you a few examples, in the beauty category members could choose between the next items: Sunday Riley A+ High-Dose Retinoid Serum, Sunday Riley Luna Sleeping Night Oil, GLAMNETIC Virgo Magnetic Eyelashes + Soo Future! Mini Magnetic Felt Tip Eyeliner Pen in Deep Space, Dr. Brandt skincare Collagen Serum, True + Luscious Lucky Glow Palette Vol. 2, etc. The fashion section offered products such as the Michael Kors Beanie with Pom, the Soia & Kyo Woven Scarfigan with Fringe, or a Herschel Mica Tote bag.
FabFitFun Review from Customers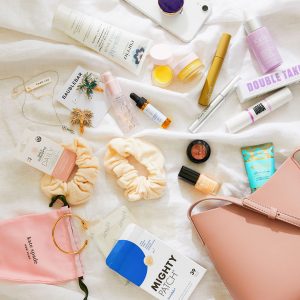 At this point, we are sure you are pumped to find out what FabFitFun customer reviews say about the experience with the brand. No need to worry, in the next section, we are going to dive deep and take a look from every angle at the customer service, product quality, shipping, etc.
A review right at the landing page reads: ''Have any of you noticed that you save a ton of money by not shopping at Ulta, Sephora, Nordstrom, on gifts for people, etc. because you get all the stuff from FFF? I love it!" It is true, looking at what type of products you can select to put in the boxes, saving money with FabFitFun is a legit thing. The majority of reviews on the official website are very positive. People are happy with both the amount of money they pay per box and the value of the products they get for the price. However, to give you a better insight, we gathered reviews from other sources as well. On Trustpilot, for example, FabFitFun has a 4.0 rating out of 5 based on 3016 reviews. 67% of reviewers say that the company is excellent, which gives the company great credibility.
Popular Alternatives to FabFitFun
Further customer reviews
People describe the customer service as excellent and reliable, and there are no complaints either about shipping. "They rock! They are a customer-centric company and their response time is quick, knowledgeable, and efficient!" says a subscriber about the customer service. Another one mentions: "Fab Fit Fun is a great company with amazing products. They have excellent customer service and are very equipped to handle concerns."
Feedback shows that you shouldn't panic either if things get messy, as the customer service team is ready to jump to your help: "I had a box go missing, turns out it was either lost in transit or stolen during that time. I reached out to customer service and they responded the same day. They offered to resend my box and refund my add-on simply because they were sold out of the items I had purchased. Everyone I spoke with was very professional and kind."
Sign Up for FabFitFun
To become a FabFitFun member, first, you will need to select your plan. As we have mentioned above, you can either go with Annual or Seasonal. Then, when you scroll down, the company will ask you to fill in the form with your account info, shipping details, and payment info. As the first step, you can also select your first item. There are multiple options you can choose from, but you can also decide after completing the checkout process. Your account info includes your email address and password, while the shipping info is your delivery address. In terms of payments, you can either select a credit or a debit card or choose to pay with PayPal.
You can also sign up for the company's email list. This will allow you to get notified about special offers, product launches, sales, and other goodies.
Where to Buy
Being an e-commerce company, to purchase a FabFitFun box you will need to head to the company's official website, fabfitfun.com. You can also find FabFitFun on Amazon. However, looking at their Amazon account, most items are out of stock and there is no possibility to subscribe to their plans.
Shipping and Return Policy
When it comes to shipping, the company has a dedicated page on its website with the exact billing and shipping dates and frames. For both Annual and Seasonal members, there is a strict process with a set timeframe to follow. This is based on 7 steps:
Add-Ons Open
Customization Open
Add-Ons and Customization Close
Billing Day
Processing
Shipping
Transit & Delivery
According to FabFitFun, processing starts immediately after successful billing. Shipping to the United States, UK, and Canada usually takes 7-10 business days. Orders from Hawaii, Alaska, and Puerto Rico can be expected to arrive within 9-14 business days. Last, but not least, APO, DPO, and FPO orders take up to 45 business days to arrive.
In the contiguous US, you can benefit from free shipping on Seasonal Boxes. Seasonal Box orders from Hawaii, Alaska, Canada, and Puerto Rico are subject to an $8 shipping fee. Shipping of Seasonal Boxes to the UK will cost you $10.
In terms of the return policy, there's not much to talk about. The company does not accept returns, and all sales are considered final. In case you received a damaged, defective item, or not the item you asked for, or your package got lost, you have 2 weeks to contact the customer service. To do this, you will find a black Support widget at the right bottom of the official website.
Promotions & Discounts
As part of our FabFitFun review, we have also collected all the perks that can help you save money on both plans:
Upon signing up and becoming a FabFitFun member, you might receive a promotion that you can use for the first box. This is only available for Seasonal plans.  At the time of writing our FabFitFun review, the company offers a 40% discount on the first box for Seasonal memberships.
If you opt for the Annual Plan, you will benefit from a $20 discount instantly.
It is worth signing up for the newsletter, as there are occasional perks and offers you should miss out on.
Once you become a member, you will get access to FabFitFunTV, a member-exclusive Shop, Add-Ons, Sales, the Exclusive Offers page, and last, but not least, you will join the Community Forum.
Contact FabFitFun
According to the website, the customer service team is available 24/7. They typically reply within 24 hours. To contact the FabFitFun, you have 3 options:
For urgent matters, you can rely on the in-built online chat on the company's website/
If you have a general question that doesn't require immediate assistance, send the company an email by filling in the contact form.
For lost packages, and damaged items hit the black Support widget at the right bottom of the website.
FabFitFun Review: Editor's Verdict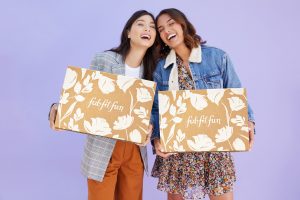 Now that we got to the end of our FabFitFun review, it is time to give you our 100% honest and unbiased review of the brand. We think you won't be surprised when we say that we are100% confident that this company is worth your trust and money. Their subscription boxes contain high-quality, fun items from all categories, yet the overall price is very affordable. If you are someone who enjoys collecting the trendiest items each season, we highly recommend this company.
In case you're looking to try out other fitness brands or workout apps, have a look at our reviews of Maxpro Fitness and Marcy Home. Alternatively, we have an in-depth review of Gaiam Yoga Mat. 
FabFitFun FAQ
What perks are included in the membership?
On the FabFitFun website, you will find a long list of perks and goodies included in the membership. To help you get an idea, we collected the most exciting ones:
A subscription box includes a mix of beauty, wellness, fashion, fitness, home, and/or tech items

Access to the members-only Exclusive Offers and Shop

Annual members can customize their boxes, while Seasonal members can pick some of the items for their next box

Access to super discounted Add-Ons that are products available at a special price

Boost My Box options

Exclusive access to a library of workouts and cooking ideas

You can also use the FabBitFun App, the FabFitFun TV, and become a member of the Community Forum
When do Add-Ons & Customization open?
For both Annual and Seasonal memberships, there are set access dates for Add-Ons and Customization. Annual Members and those having a military address (APO, DPO, FPO) enjoy early access to both. To find out when Add-Ons and Customization open for the current season, head to the company's website.
Can I just buy one box?
As a member, you can purchase additional boxes when they are available. These you can find in the Shop, Add-Ons, and Edit Sales sections. Non-members cannot purchase only one box.
Does FabFitFun ship internationally?
Currently FabFitFun ships to Canada, the UK, and Puerto Rico. Seasonal Box orders to Canada and Puerto Rico are subject to an $8 shipping fee. In case you order your Seasonal Box from the UK, you will be charged a $10 shipping fee.